Global launch of Conquest V.H.P.
A new milestone for quartz technology
Longines has leveraged its outstanding expertise in quartz technology to create the ultimate high-precision wristwatch: the all-new Conquest V.H.P. This collection constitutes another milestone in the history of quartz timepieces, successfully incorporating many features of today's smart connected watches, such as ultra-precision, technical sophistication and a sporty feel, without any of the drawbacks, and all this while preserving the brand's signature elegance. The watch also has an in-built system that resynchronises the hands after exposure to a shock or a magnetic field, a world first that guarantees timekeeping which is as accurate as the new-generation quartz movement itself. Around 100 journalists from across the globe had the opportunity to see this technological breakthrough for themselves as part of a guided tour of the history of the watchmaking brand.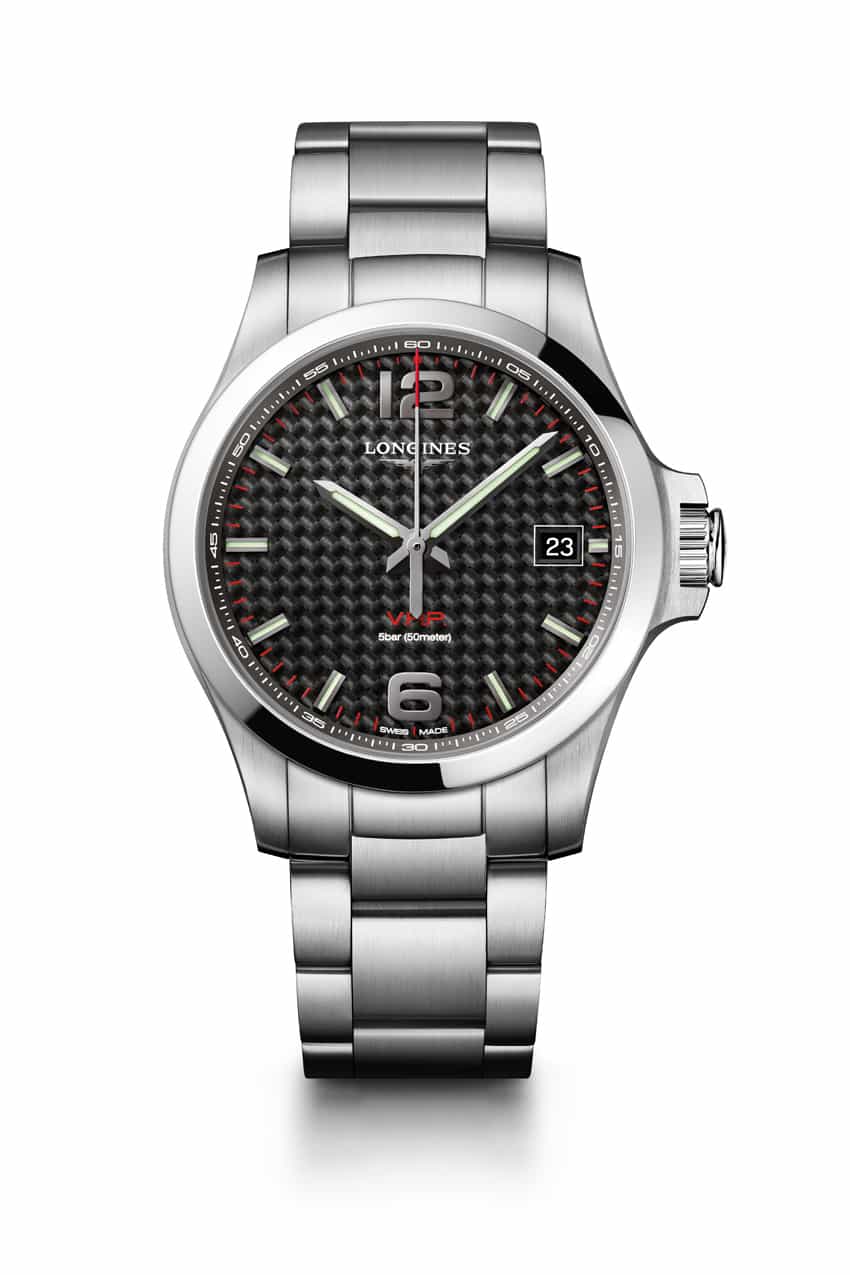 For Longines, the Conquest V.H.P. signals a return to a technology that it has pioneered and perfected over the years, especially in relation to its timekeeping activities. The global launch of the new Conquest V.H.P. (Very High Precision) was held at Neuchâtel Observatory, a setting as spectacular as the timepiece itself. It was also at this iconic venue that the first quartz clock by Longines set a series of precision records back in 1954. Some 100 journalists and influencers from around the world attended the unveiling of this collection that celebrates precision and perfection. In this intimate and informal setting, Mr Walter von Känel, President of Longines, and Mr Juan-Carlos Capelli, Vice-President of Longines and International Marketing Director, accompanied guests on a fascinating journey through the history of Longines and its close relationship with quartz technology, from the very early days right through to the 2017 launch of the new Conquest V.H.P.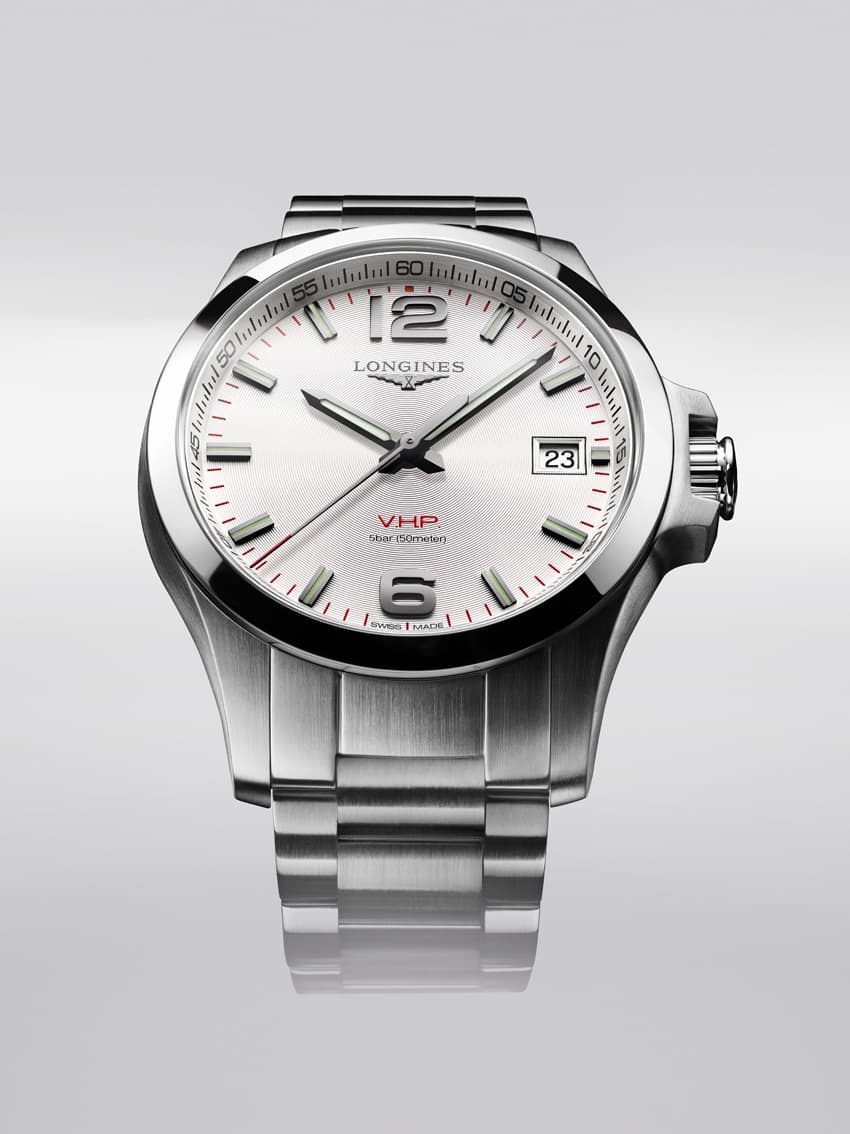 The global launch was also an opportunity to free guests, albeit briefly, from the confines of the hyperconnected world. The fact that smartphones were not permitted inside the Observatory meant that everyone was able to immerse themselves fully in the experience. A temporary museum erected under the Observatory's glass dome retold the Longines story and the many technical and technological innovations it has achieved during its history. Following a few explanatory words by the hosts, guests were led to a second room, a veritable cabinet of curiosities, to finally feast their eyes on the Conquest V.H.P. Outside the Observatory, a special interactive space was created where guests were able to take a much closer look at and handle the timepiece, as well as chat to Longines management. All in all, a fitting end to this very special presentation.
Longines' history with quartz has been one full of technical innovation and feats. In 1954, the brand developed a first quartz clock, which would quickly set a long series of precision records at the Neuchâtel Observatory. It was housed in the mythical Chronocinégines, an instrument that became a pioneer in the history of timekeeping, as it provided judges with a film strip composed of a series of prints at 1/100th of a second, allowing them to follow the movement of the athletes at the moment they crossed the finish line. In 1969, technological mastery led Longines to reveal the Ultra-Quartz, the first quartz wristwatch conceived to be mass-produced. A huge stride was made in 1984 with the quartz calibre fitted in the Conquest V.H.P., setting a precision record for that time.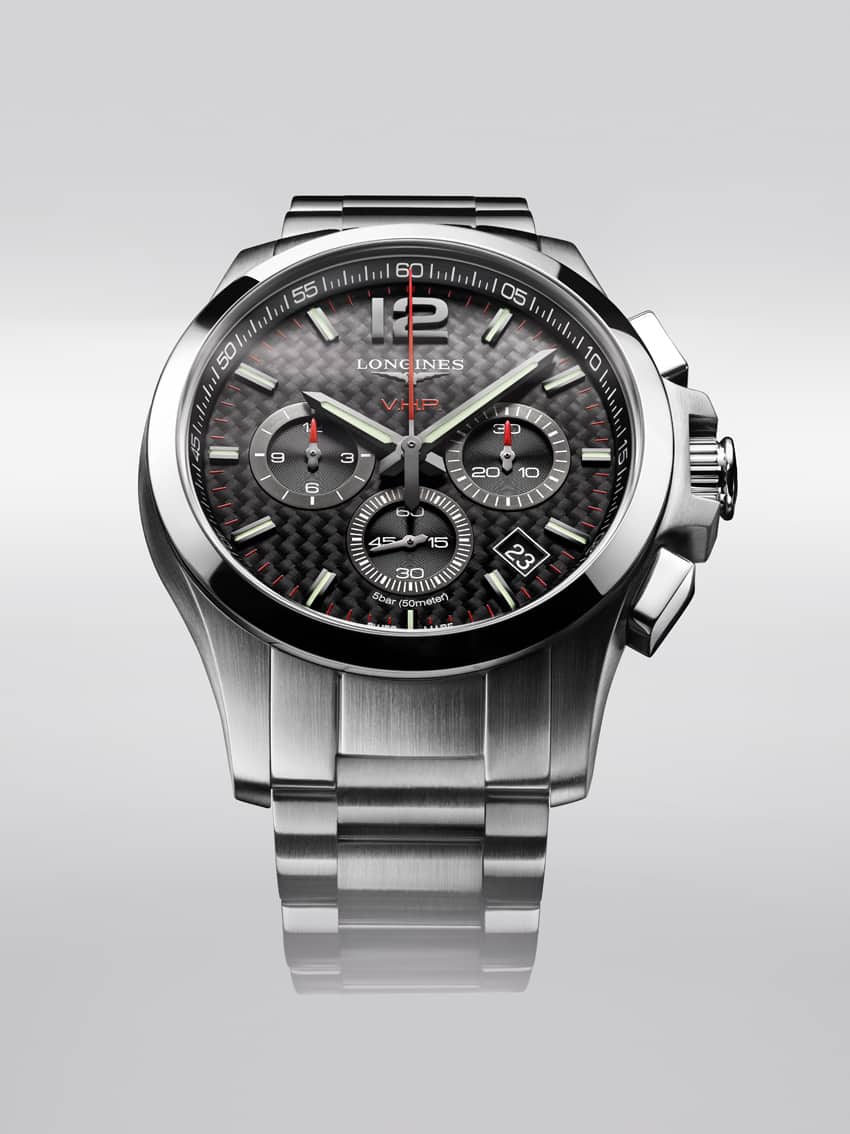 As an extension of these historic milestones, the winged hourglass brand is now presenting its new Conquest V.H.P., equipped with a movement developed by the ETA manufacturing company exclusively for Longines. This movement is renowned for its high degree of precision for an analog watch (± 5 s/yr) and its ability to reset its hands after an impact or exposure to a magnetic field, using the GPD (gear position detection) system. These attractive features are likely responsible for its exceptional movement status, to which a very long battery life and a perpetual calendar must be added. In the true essence of Conquest, the ultimate sports line, this exceptional timepiece brings together high technicality and dynamic aesthetic. In its own way, and compared to connected watches whose disadvantages in terms of waves and recharging batteries it does not have, the Conquest V.H.P. has positioned itself as the standard-bearer of extreme precision.
These steel watches are available in the 3 hands/calendar (41 and 43 mm diameter cases) and chronograph (42 and 44 mm diameter cases) versions. The chronograph displays hours, minutes and seconds, a 30-minute counter at 3 o'clock, a 12-hour counter at 9 o'clock and a 60-second counter in the centre. On each model, changes are made using the intelligent crown, while the E.O.L. indicator can preventatively signal the end of battery life. The Conquest V.H.P. collection models display blue, carbon, silvered or black dials. A steel bracelet with a folding safety clasp completes this exceptional piece.
For more information please visit the official Longines website.