Rolex GMT-Master History And Overview Of All Major References
Historical timeline of the world's most desired GMT watch
The Rolex GMT-Master (II) finally stepped out of the shadow of its diving brother, the Submariner. With the introduction of the ceramic Pepsi and Batman (on Jubilee) recently, the hype is real. Long waiting lists and market prices far over retail result in disappointed customers, but that doesn't seem to slow down the demand. On the contrary.
I can imagine why the Rolex GMT-Master II is so much in demand. It is a great daily companion, with the added value of an extra timezone. I had my share of GMT-Master watches, including a few vintage 1675s and a GMT-Master II 16710. When I was ready to purchase a GMT-Master II 'Ceramic' or 'Batman' in 2017, I was confronted with the above-mentioned demand for them. I had to choose between a waiting list or pay over retail, and I decided to wait a bit to see if the prices would come down. But they didn't. In fact, it has become even worse since. A modern GMT-Master is still on my wishlist, but I just stay low and wait till something crosses my path. In the meantime, I don't even care anymore whether it's the discontinued black ceramic GMT-Master II, a black and blue 'Batman' or the ever popular ceramic Pepsi.
Rolex GMT-Master History
The reason I want a Rolex GMT-Master II is that it is simply one of the most iconic travel watches. For a long time, it was a bit in the shadow of the Rolex Submariner and Daytona, but undeserved. It is a great tool watch, which I love, even with the Oyster bracelet with the polished center link (often referred to as 'pcl') or with Jubilee.
In this article, I will share with you the amazing Rolex GMT-Master history.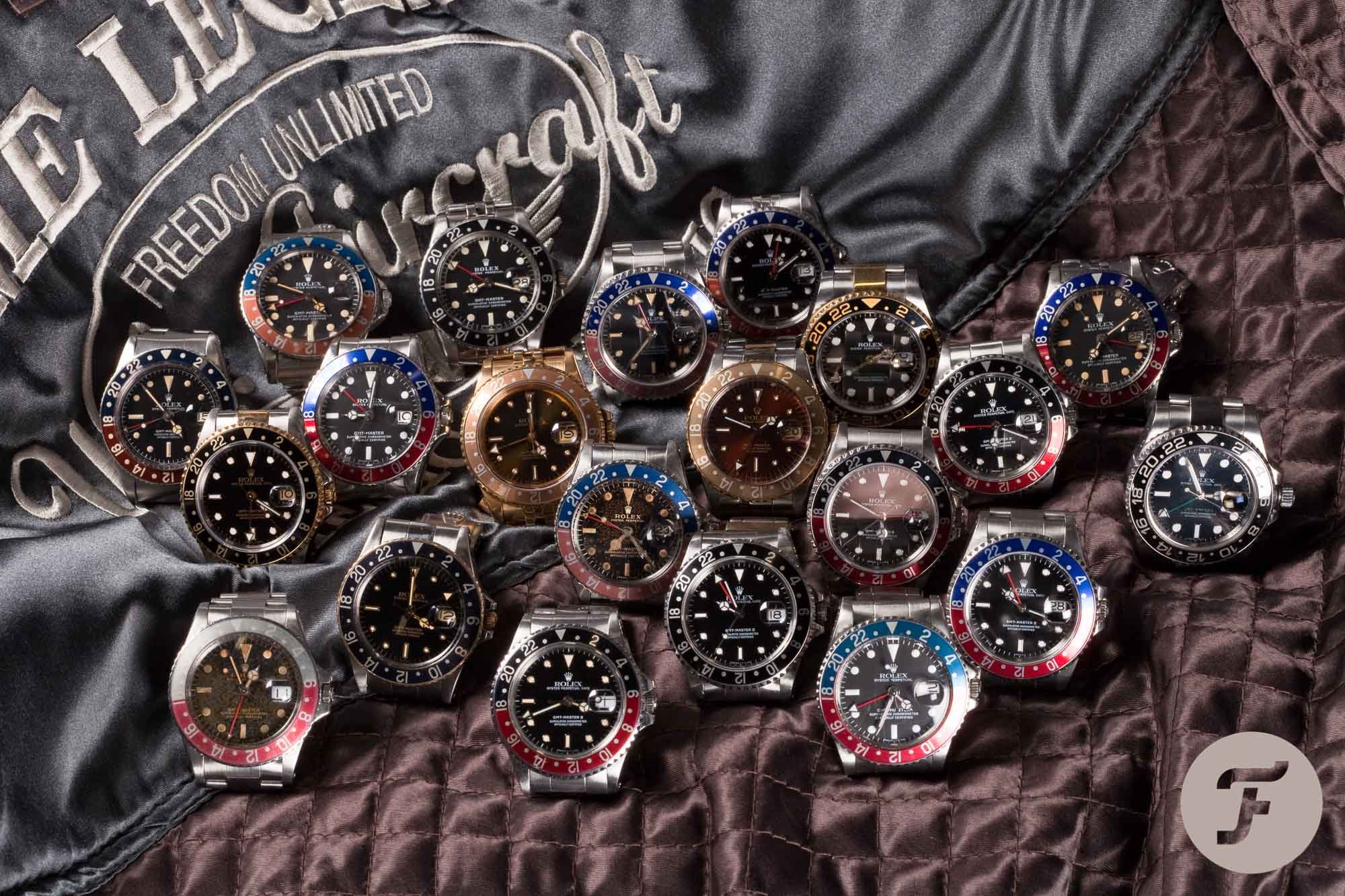 The Pan-Am Connection
It all starts with a request from the former airline Pan-Am for a proper pilot's watch. Not just a very readable pilot's watch (there were many out there already), but one that was capable of displaying an extra timezone. A useful for pilots on transatlantic flights, as Pan-Am was about to do so. An accurate and reliable timepiece was a necessity, and adding an extra timezone would make it perfect. Pan-Am inquired at Rolex, and they came up with the GMT-Master. A watch with chronometer specifications and displaying an additional timezone.
As we know now, the Rolex GMT-Master wasn't only popular amongst Pan-Am pilots (or civil aviation), also NASA (Jack Swigert of Apollo 13 wore one) and US Air Force pilots wore them. Also, people who travelled to different time zones for their jobs started wearing the Rolex GMT-Master, as reading home time and local time at the same time has a positive [mental] effect on fighting jet lags. Over the years, the Rolex GMT-Master became a very popular watch. Also for people who aren't flying that often, or do business all over the world. It has become – like it or not – a symbol of success and wealth, like many other luxury items. For watch enthusiasts, the history of the Rolex GMT-Master (II) plays an important role. It is part of the fun when owning and wearing such a watch.
I would like to give you a short trip down memory lane, starting by the very first Rolex GMT-Master model introduced in 1954 till the latest in 2019. You will find that although the GMT-Master underwent a lot of changes and innovations, they are still clearly related to each other. It is one of the (important) ingredients in my opinion that makes it an iconic watch, or, better said perhaps: a classic.
Reference 6542
In 1954, the first GMT-Master that Rolex introduced was reference 6542. It featured a bakelite bezel (which was replaced after two years by an aluminium bezel because it cracked very easily) and had no crown guards. The James Bond fan also might recognize this watch as it was on the wrist of Pussy Galore in the Goldfinger movie. The Rolex GMT-Master ref.6542 was in production till 1959. Rolex used several movements for this reference, like calibers 1036 (1954-1959), 1065 (1957-1959) and 1066 (1957-1959).
Reference 1675
Perhaps one of the most popular vintage Rolex GMT-Master watches is ref.1675 (we recently talked about it in this article). Introduced in 1959 and it has been in production till 1980, a very long time. This is also the reason why you can still find a vintage Rolex GMT-Master 1675 in decent condition without too much hassle. Till the late 1960s, the extra hour hand featured a small triangle and was succeeded by a red hand with a larger triangle through-out the 1970s. Early models also featured pointed crown guards and a chapter ring. It was also the first Rolex sports watch that became available on both the Oyster (reference 78360) and Jubilee (reference 62510) bracelet.
Movement upgrades
The first 1675 watches came with Rolex caliber 1565. Until 1965, when Rolex started to equip them with caliber 1575. This movement had a higher ticking number (19,600vph instead of 18,000vph). Later on, caliber 1575 was modified to have a hacking feature (seconds will stop when the crown is pulled out). This was done in 1971.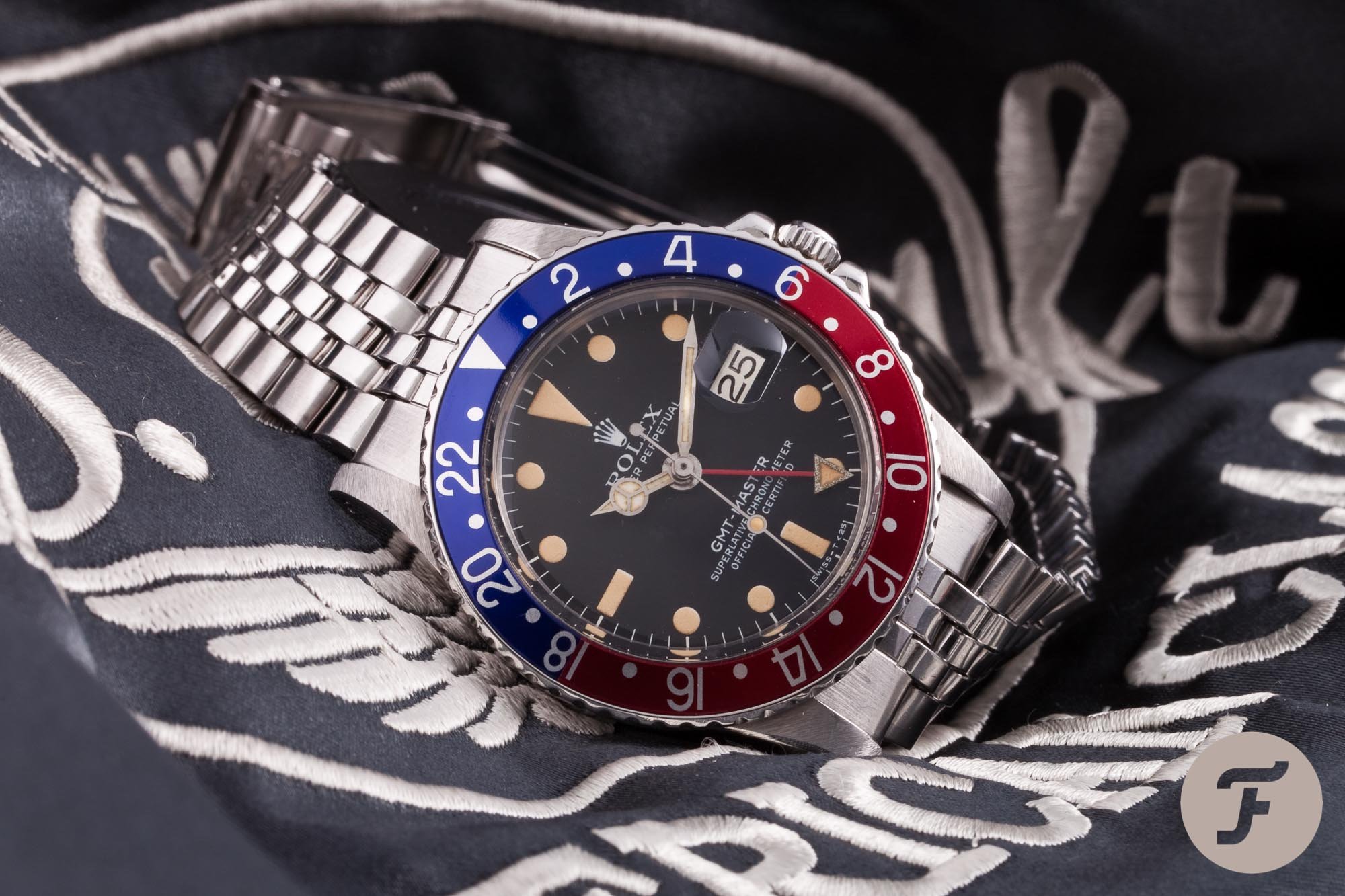 Reference 16750
Then, Rolex introduced the GMT-Master ref.16750 in ca 1980, a model with a new movement and featuring glossy dials. Rolex started using the caliber 3075 movement, which featured a quick-set date. The movement also had an increasing ticking number of 28,800vph. This model was in production till 1988. Just a short period in time, which makes it a sought-after model of the GMT-Master series. However, probably not as much as the Rolex GMT-Master II 16760 aka 'The Fat Lady' (or 'Sophia Loren'). This was the first GMT-Master II and had an advancement over the regular GMT-Master, which is the functionality to read time of three different timezones. Besides that, the 'Fat Lady' had a thicker case, thicker crown guards, sapphire crystal and only available in the 'Coke' configuration, which is a red/black bezel. The Rolex GMT-Master 16760 used caliber 3085.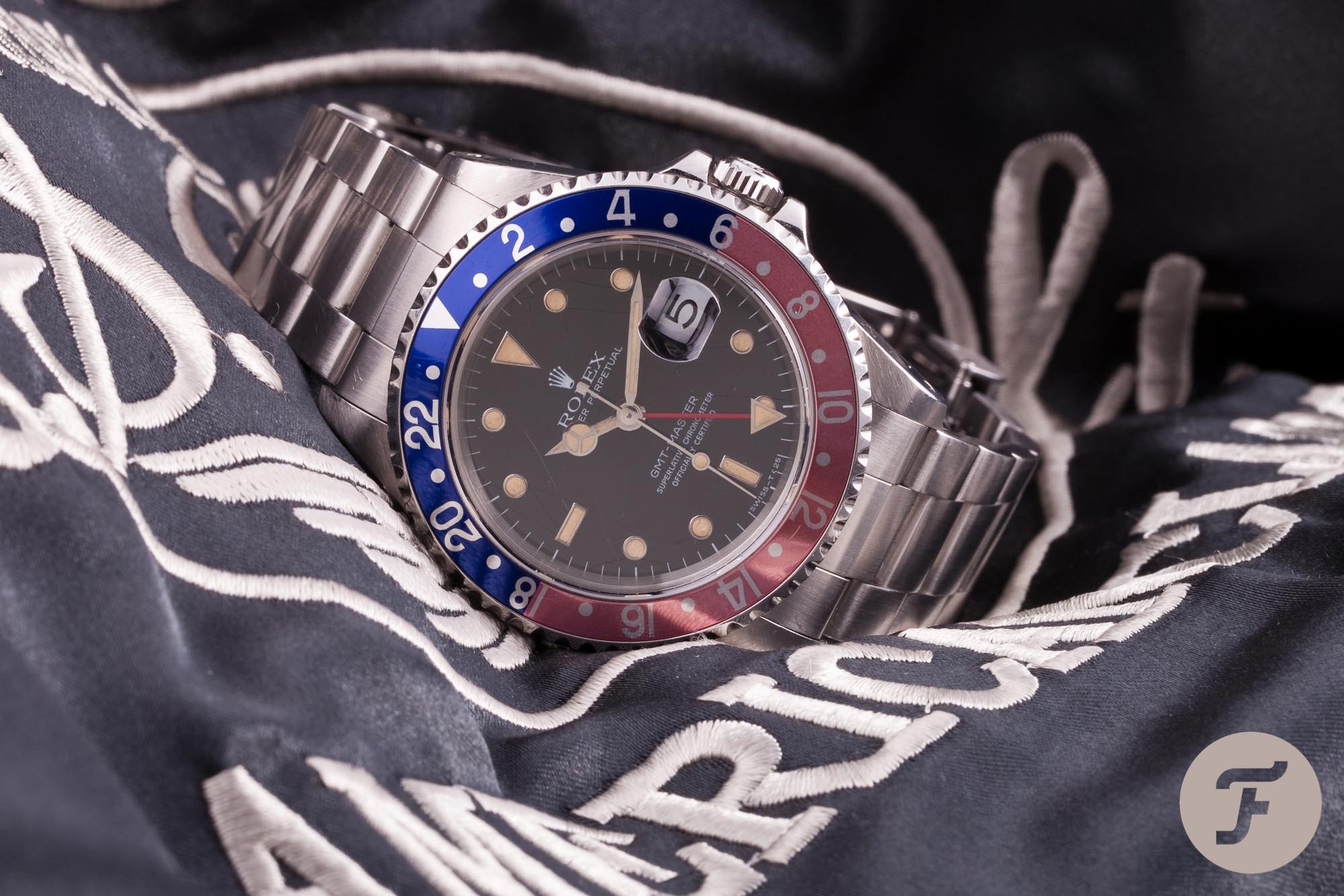 Reference 16700 and 16710
The Rolex GMT-Master ref.16750 was replaced by the GMT-Master 16700 in 1989. Rolex also introduced the reference 16710 (we recently did an in-depth article on this reference here), the successor of the Fat Lady. At first, the tritium dials were still used but in approximately 1997 this changed towards Super-LumiNova.
In production next to the GMT-Master II 16710, Rolex ceased the production of the 16700 in 2001. What drastically changed was the movements (in both the 16700 and 16710). They now had caliber 3175 (16700) and caliber 3185 (16710). The construction of these movements changed and now featured a double balance-wheel bridge. The available bracelets were the Oyster (reference 78360) and Jubilee (reference 62510). Very quickly after introduction, the Oyster bracelets received the famous Oyster-lock (fliplock). This Oyster bracelet had reference 78790.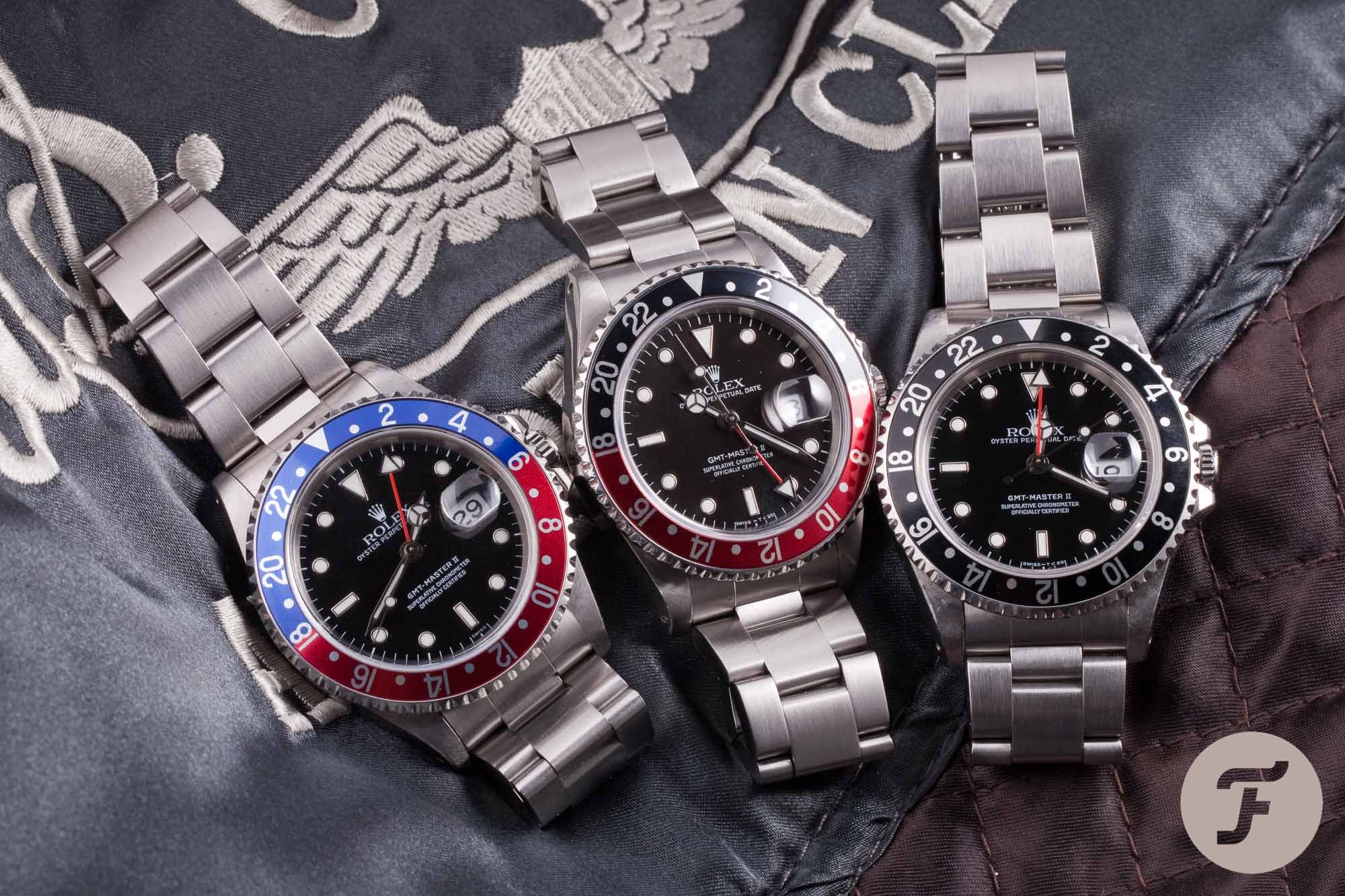 16710 Iterations
It seems that Rolex GMT-Master reference 16710 went through a lot of changes from 1989 till 2007. This watch started out with a tritium dial and ended with the Super-LumiNova dials, the bracelet got Solid End Links (in 2000) and the pin-holes in the case disappeared. The last ones sold came with the plastic warranty cards instead of the paper certificates. Before we forget, the box set changed as well for this model to the current one. Available with three different bezels, as shown above. Also, in 2007, the movement of the Rolex GMT-Master II was upgraded to the caliber 3186. Most important change for this caliber was the use of the Parachrom hairspring. The short-produced Rolex 16710 with caliber 3186 movement (M- and Z- serial numbers) fetch amazingly high prices.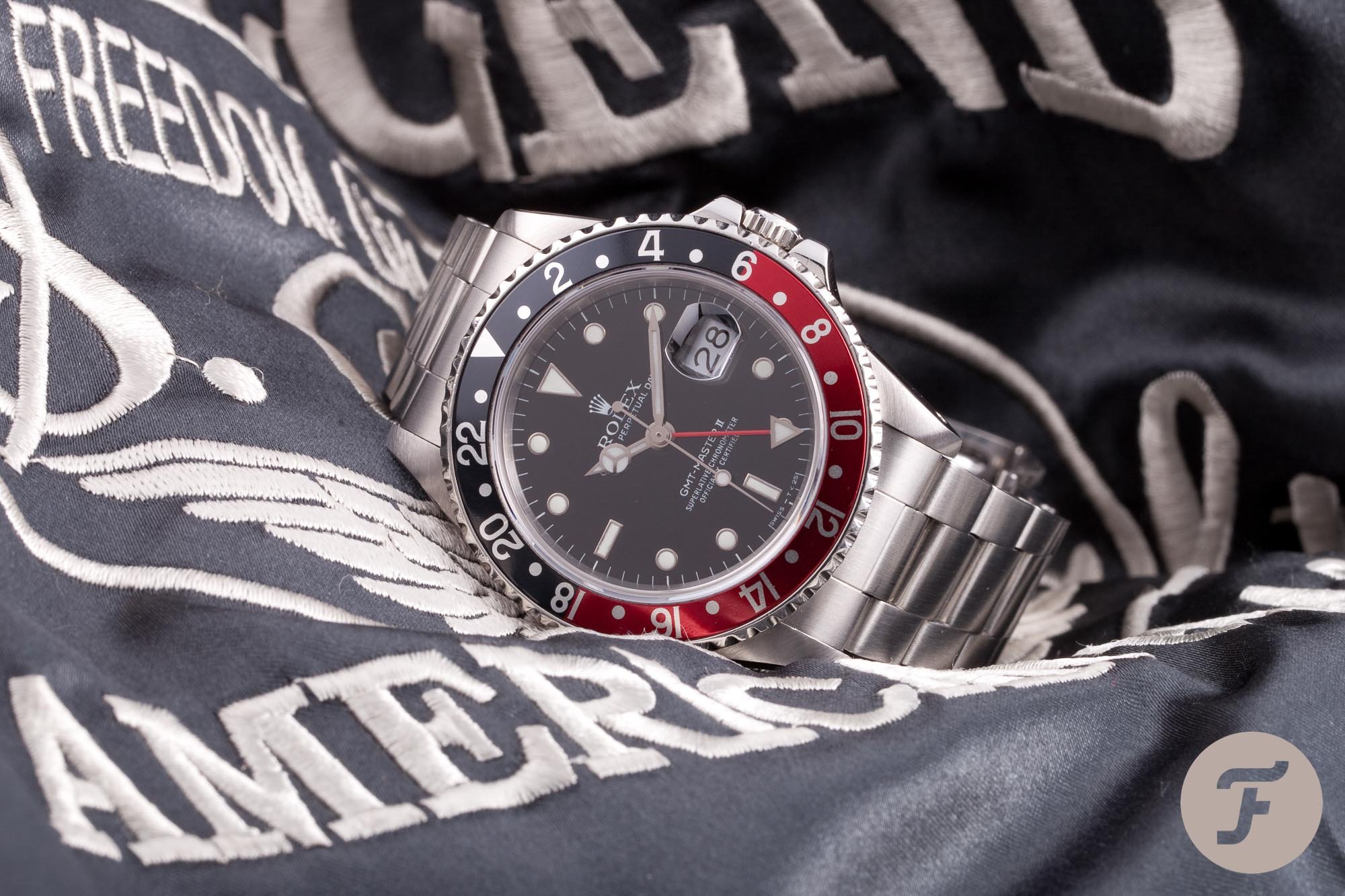 Reference 116710LN and 116713LN
From 2008 till 2019, the GMT-Master II 116710LN (Lunette Noir) was in the collection. The watch case received a slight redesign, the Twinlock crown has been replaced by a Triplock crown, the aluminium bezel has been replaced by a ceramic bezel and the case of the watch has grown a bit (still 40mm, but with beefier lugs and crown guard etc.). The dial has become a 'maxi dial' with large numerals and the hands have become wider. This also results in a watch that is perceived bigger than its predecessor, while still being 40mm. Since 2016, all watches are now within a -2/+2 seconds a day deviation and guaranteed to perform so for 5 years. All watches have been chronometer certified of course, but afterwards (when being cased) stringent tests have been performed in-house by Rolex.
Also, the bracelet received a small update to the joy of many Rolex aficionados. It has the Easy-link system that enables you to widen or tighten the bracelet by 5mm (the old models required a toothpick). It is also the first generation of Rolex bracelets that don't have that famous 'rattling' sound when you wear it (a lot of people like that though). The center links have been polished ('pcl'), which is not to everyone's taste. It adds a touch of glamour to the 'tool watch' though.
Below, the version in steel (ref.116710LN). The all gold version (reference 116718LN) was already introduced in 2005. For this generation of watches, Rolex uses their caliber 3186 movement.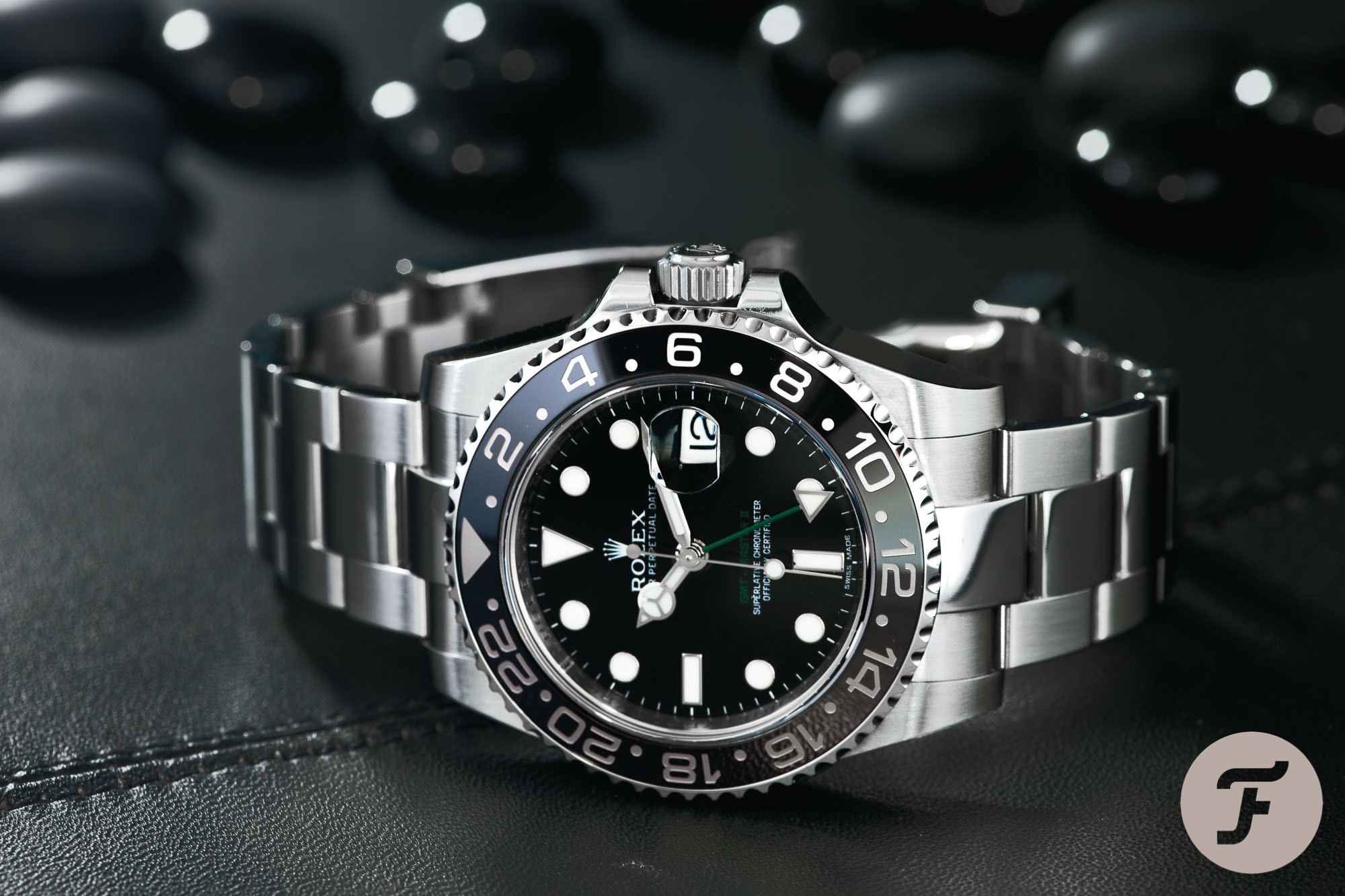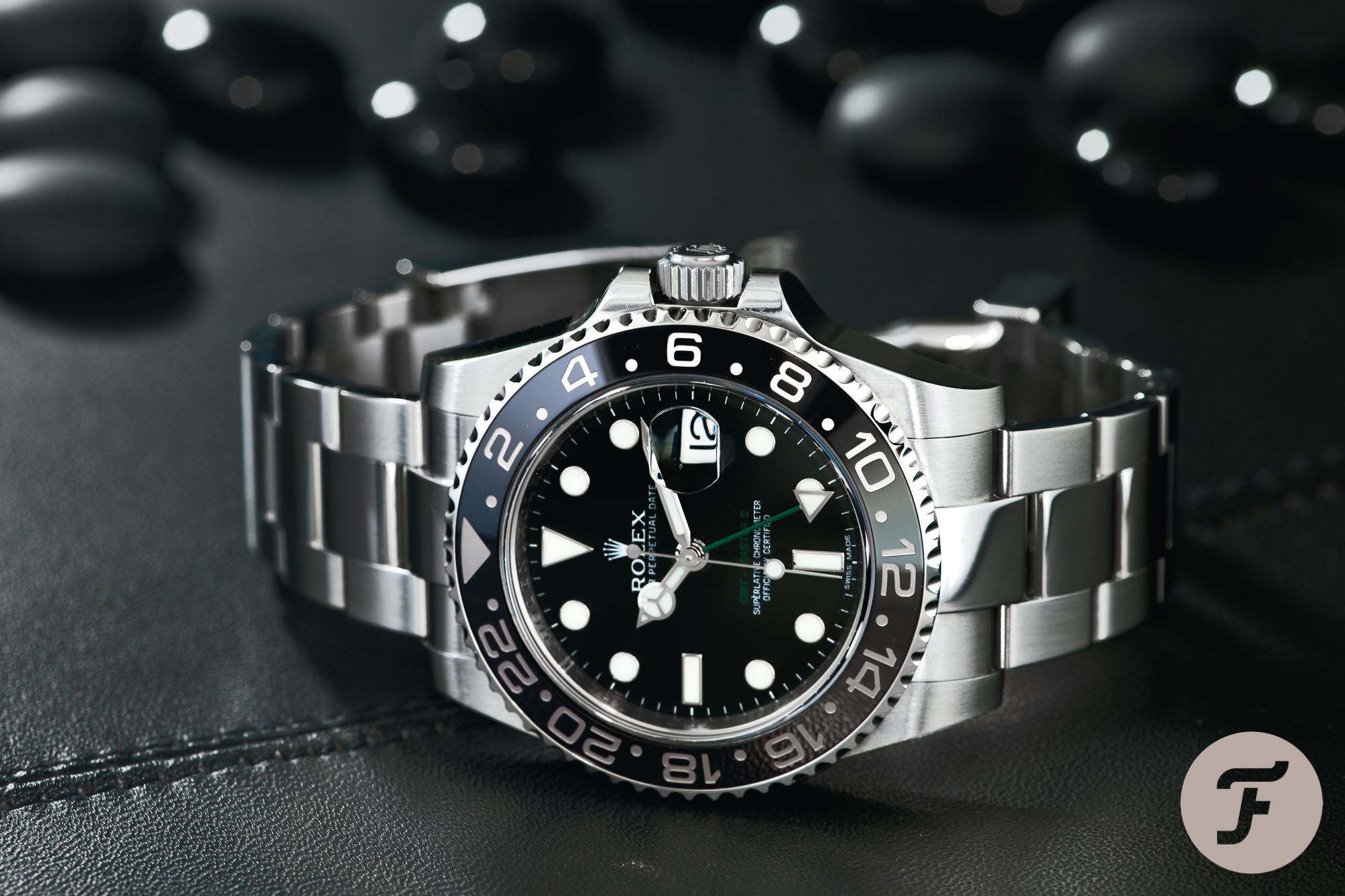 Reference 116710BLNR 'Batman'
In 2013, Rolex introduced a new version of the GMT-Master II 116710, but this time, with a black & blue bezel. And a blue GMT hand. This version received the 116710BLNR reference number, where BLNR stands for Blue & Noir.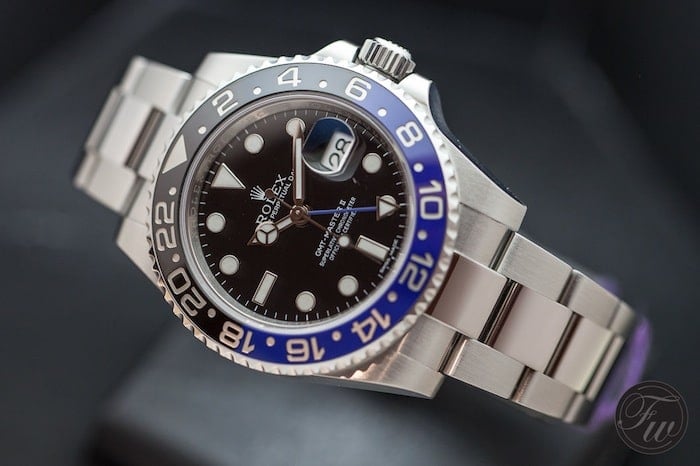 Reference 116719 and 126719
Then, in 2014, comes up with a combination that all Rolex (GMT-Master) fans have been waiting for. A new style Rolex GMT-Master II with a Pepsi bezel. Hence, Rolex comes up with their reference 116719BLRO (Blue & Rouge). However, as Rolex does, it is not completely what people expected. The new Pepsi Rolex is made of white gold. Rumours were that this was done to keep the production low, as it seems to be difficult to get the red and blue ceramic bezel produced in larger quantities. This was strengthened by the fact that some of the bezels showed different tones. As you can see, we would say that the blue of the white gold version has a slightly different tone than the blue they used in the past. The Rolex GMT-Master II reference 116719BLRO also used caliber 3186.
In 2019, the white gold reference 116719 with black dial has been discontinued. The white gold Rolex GMT-Master II is now available with a blue dial (reference 126719BLRO) and with a meteorite dial (same reference number as the blue dial). There's a price difference of approximately 1450 Euro for the meteorite dial. The standard price for the 126719BLRO is €33.900,-.
Reference 126710BLRO
Finally, in 2018, Rolex introduced the long-awaited 'Pepsi' configuration in stainless steel. Those who weren't able to stretch their budget for the white gold Pepsi had been waiting for this. Interesting is the choice to only offer this new reference 126710 on a Jubilee bracelet. Compared to the 116710 there are a number of changes; the use of the blue and red bezel, Jubilee bracelet, a slightly different case profile and a new movement. The movement inside is their caliber 3285. It has all the recent innovations packed in there, including the 70 hours of power reserve, the -2/+2 guaranteed maximum average deviation and the five-year warranty. The bracelet is not the standard Jubilee, but a new reference (69200) that was specially made for this Rolex GMT-Master II reference 126710.  We wrote a lengthy article on this specific reference here. The Rolex GMT-Master II 126710 has an €8550,- retail price (Dutch price including VAT). The availability on the GMT-Master II 126710 is very low, officially because Rolex is unable to increase production without making concessions to the quality of the watches. But, you know as always, they are available if you are ready to pay over retail.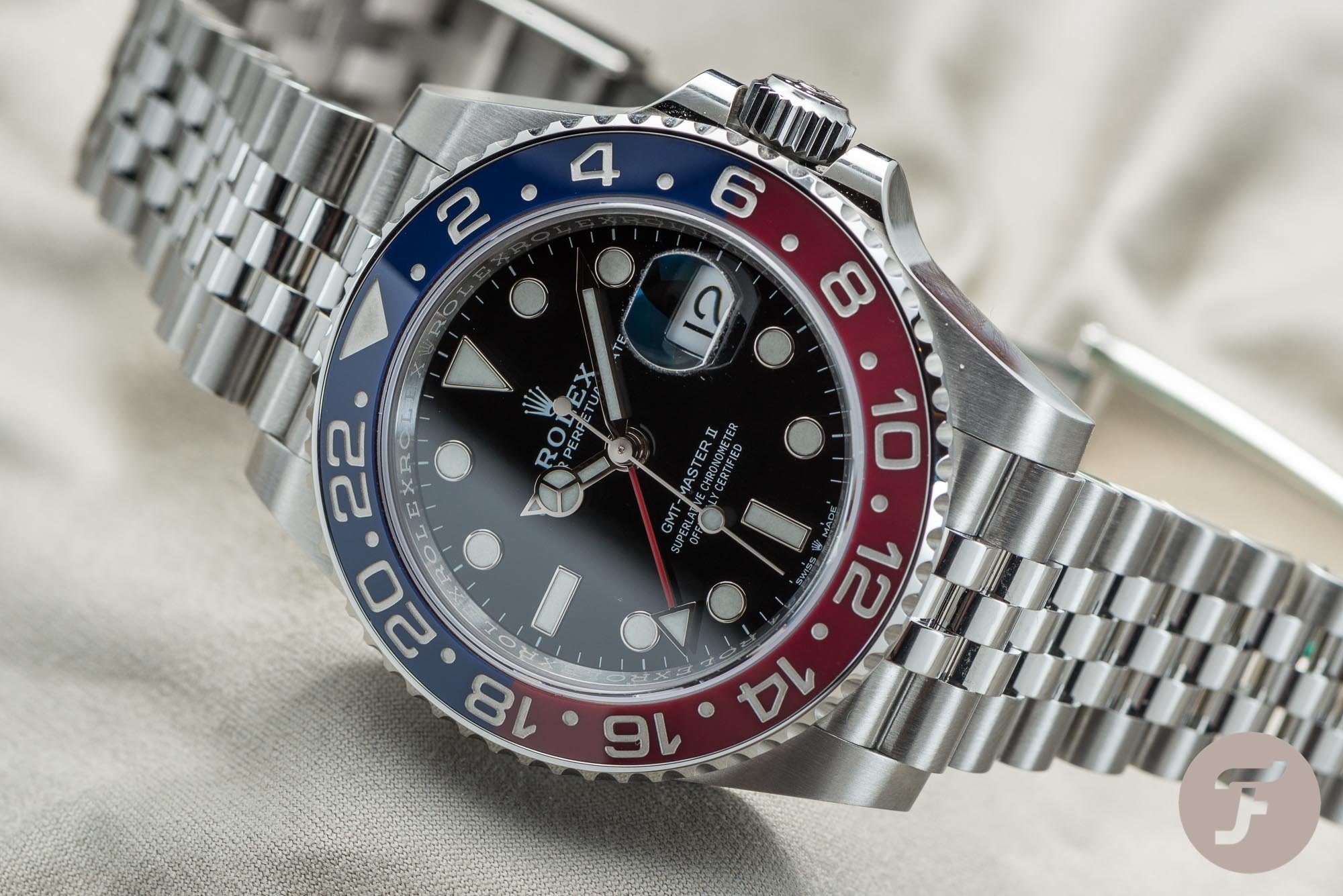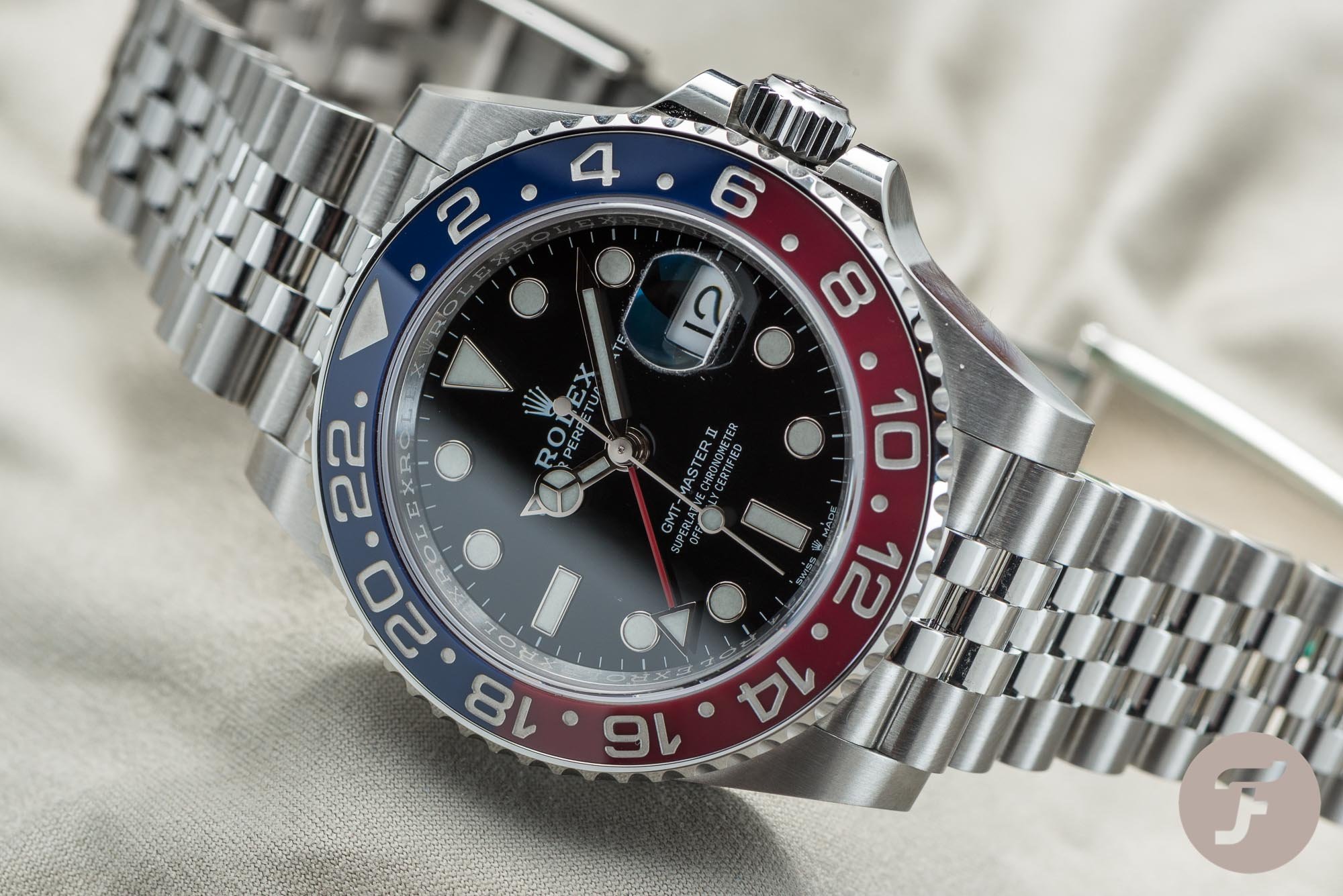 Reference 126710BLNR
When Rolex introduced their latest, the GMT-Master II 126710BNLR (Batman), they also communicated that from now on, all stainless steel Rolex GMT-Master models will only be made available with the Jubilee bracelet. It means that currently, there are two steel GMT-Master II versions in the Rolex catalogue. The Batman version below, and the Pepsi version. Both on the new Jubilee bracelet. All specifications of the 126710BLNR are identical to the 126710BLRO (Pepsi), including the retail price. We did a write-up on this new Rolex GMT-Master Batman here.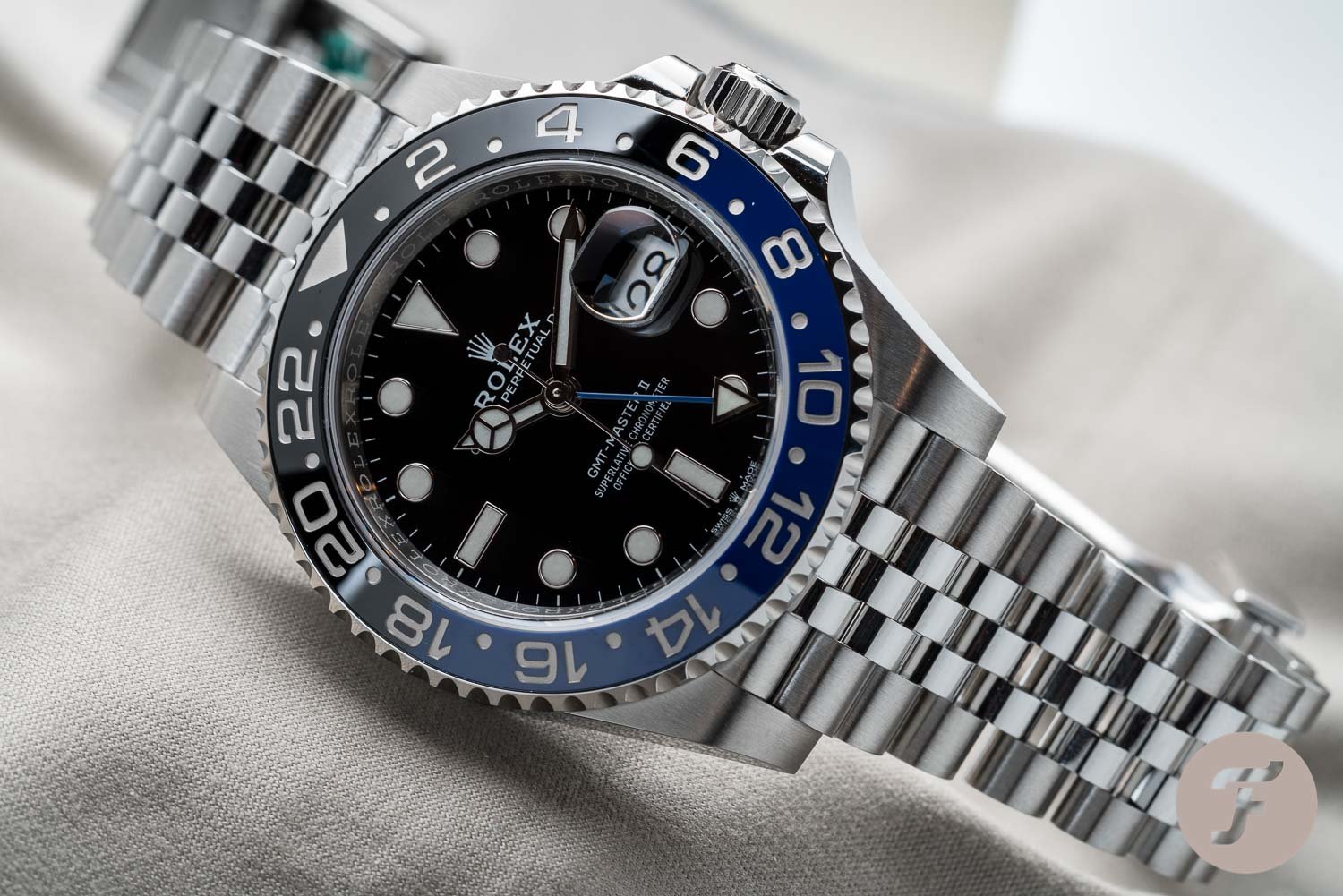 But of course, it doesn't end with the latest Batman 127610BLNR. There are some other variations that need to be in this overview. What about the bi-colour watches that we have brought up here at Fratello more than once?
Root Beer, Nipple Dials and Tiger Augen
I would also like to add that the GMT-Master was already available in the gold/steel combination a long time ago. Root beer, nipple dial and Tiger Augen are the nicknames of these models from the past.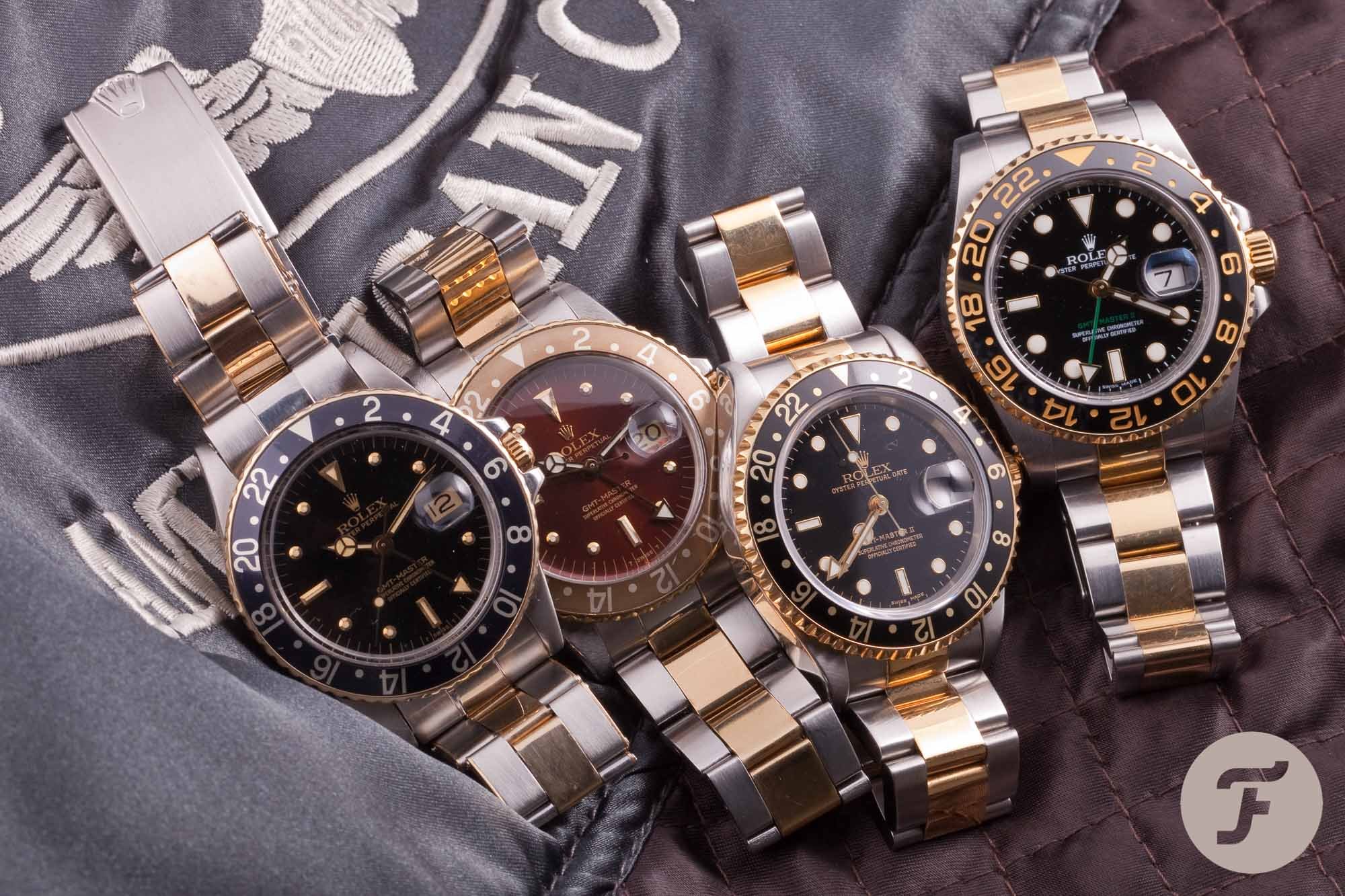 Some of the historic GMT-Master references have an /8 added to it, which means the watch was made out of solid gold. Later references had the 8 as the last digit in the number (e.g. 116718LN).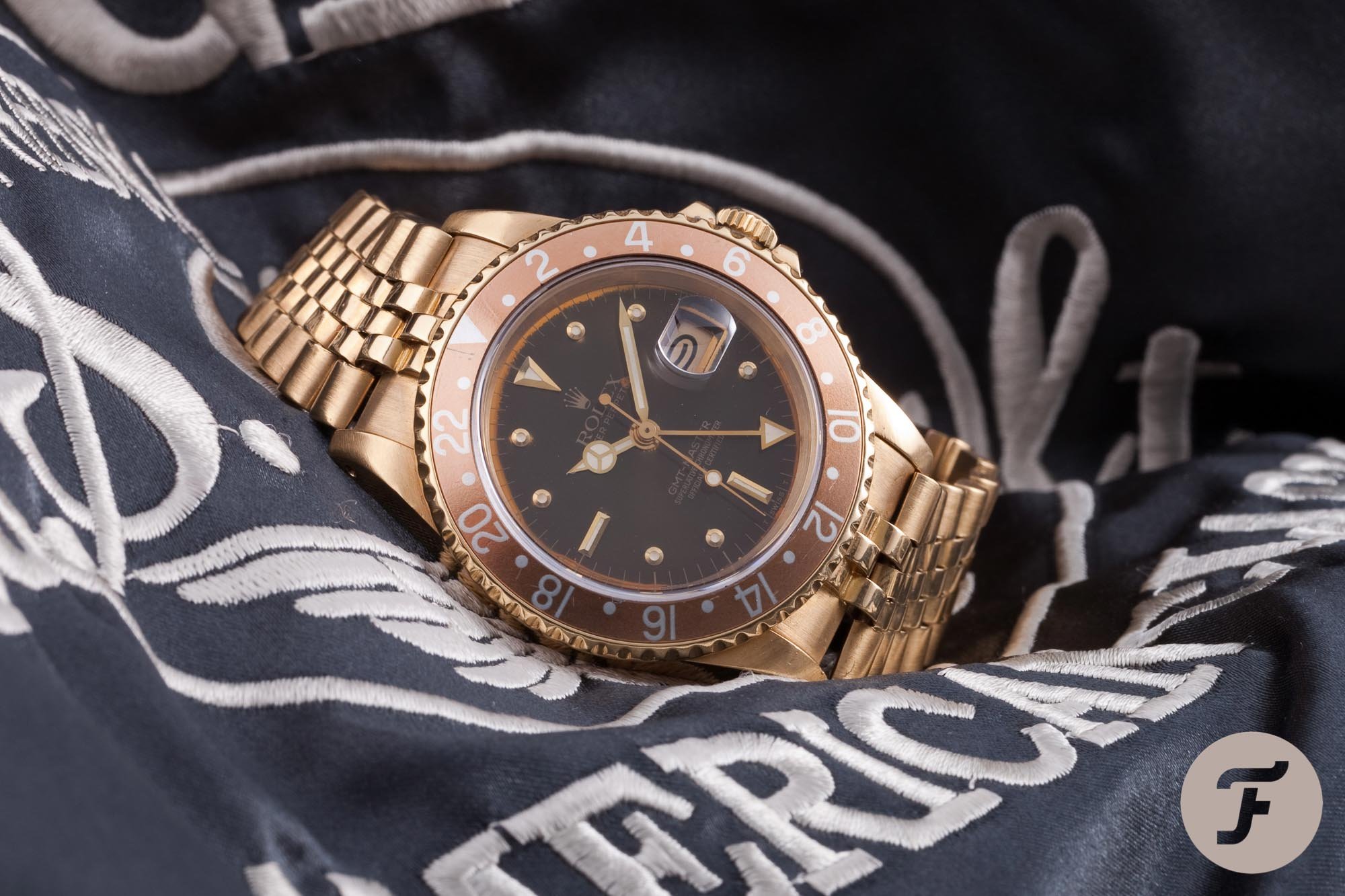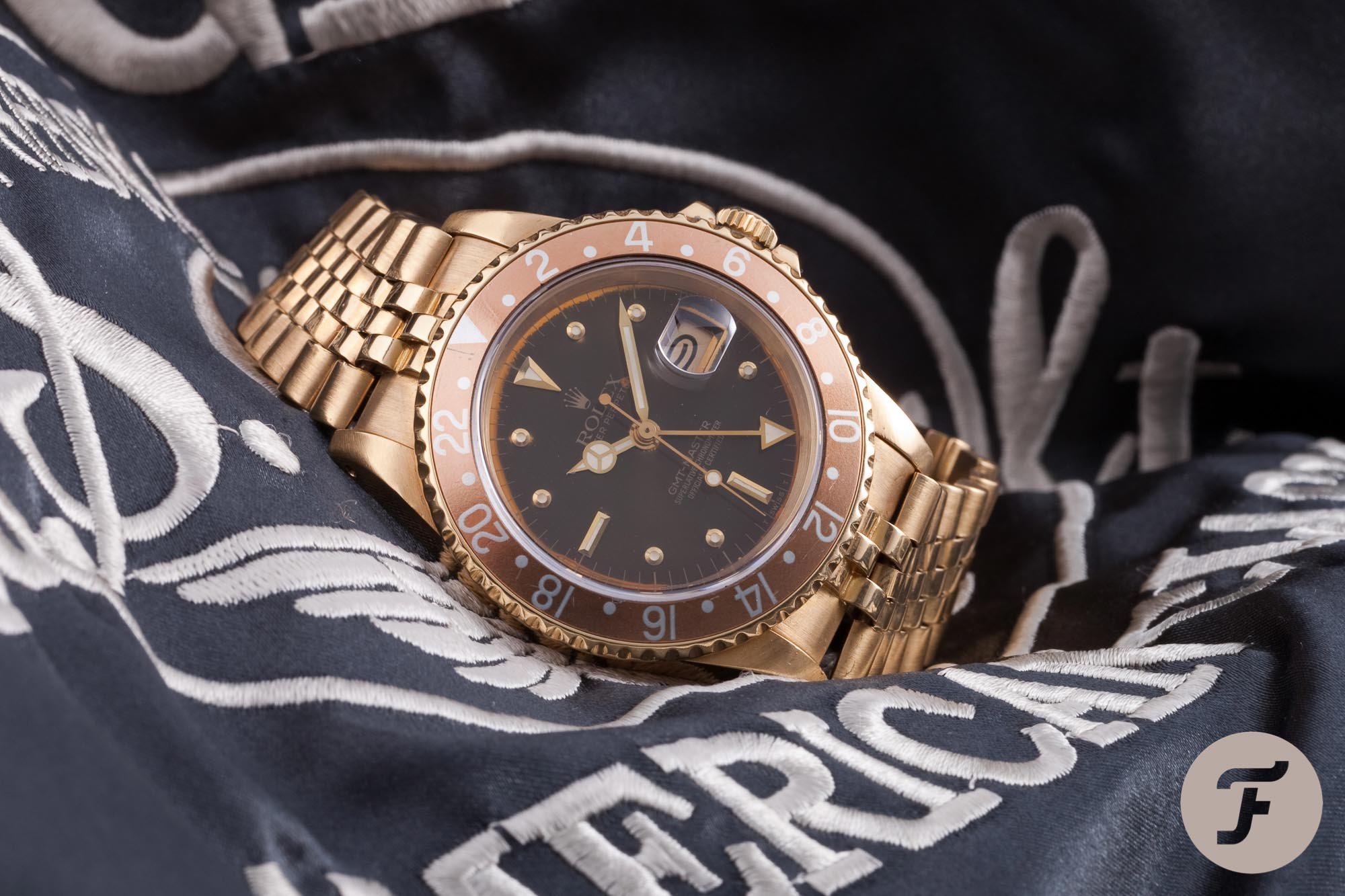 Most recently, in 2018, Rolex added the gold & Everose gold GMT-Master and full Everose gold version to the collection.
Reference 126711CHNR and 126715CHNR
Based on the modern ceramic GMT-Master II watches, Rolex introduced the ref.126711CHNR and 126715CHNR. These watches use Rolex' special rose gold alloy, that will always maintain the same tone. Where normal rose gold tends to become yellow again after (a lot of) wear, the Everose alloy will ensure that the rose tone stays. Interesting to note is that while the bi-colour variations of the GMT-Master II were the ones that you would be able to buy with a little bit of discount in the past, the new Rolex GMT-Master II 12711CHNR is not even available. The retail price of this watch is €13.000,- (Dutch retail price including VAT), but the market is so hot for these models that you need to pay over the retail price if you want one without being on a waiting list.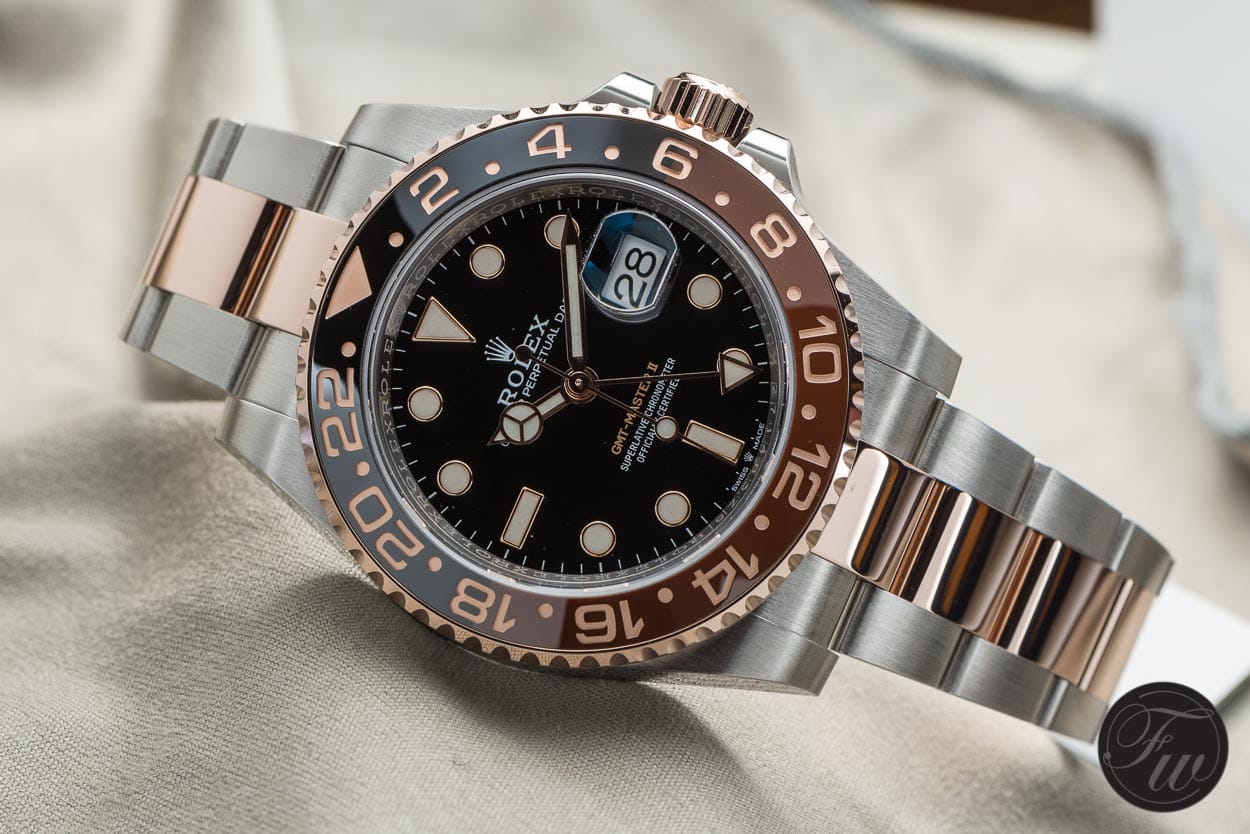 Then, there's the full gold version, reference 126715CHNR, with a retail price of €33.000,-. All specifications besides the material for the case and bracelet are identical to the bi-colour GMT-Master ref.12711CHNR.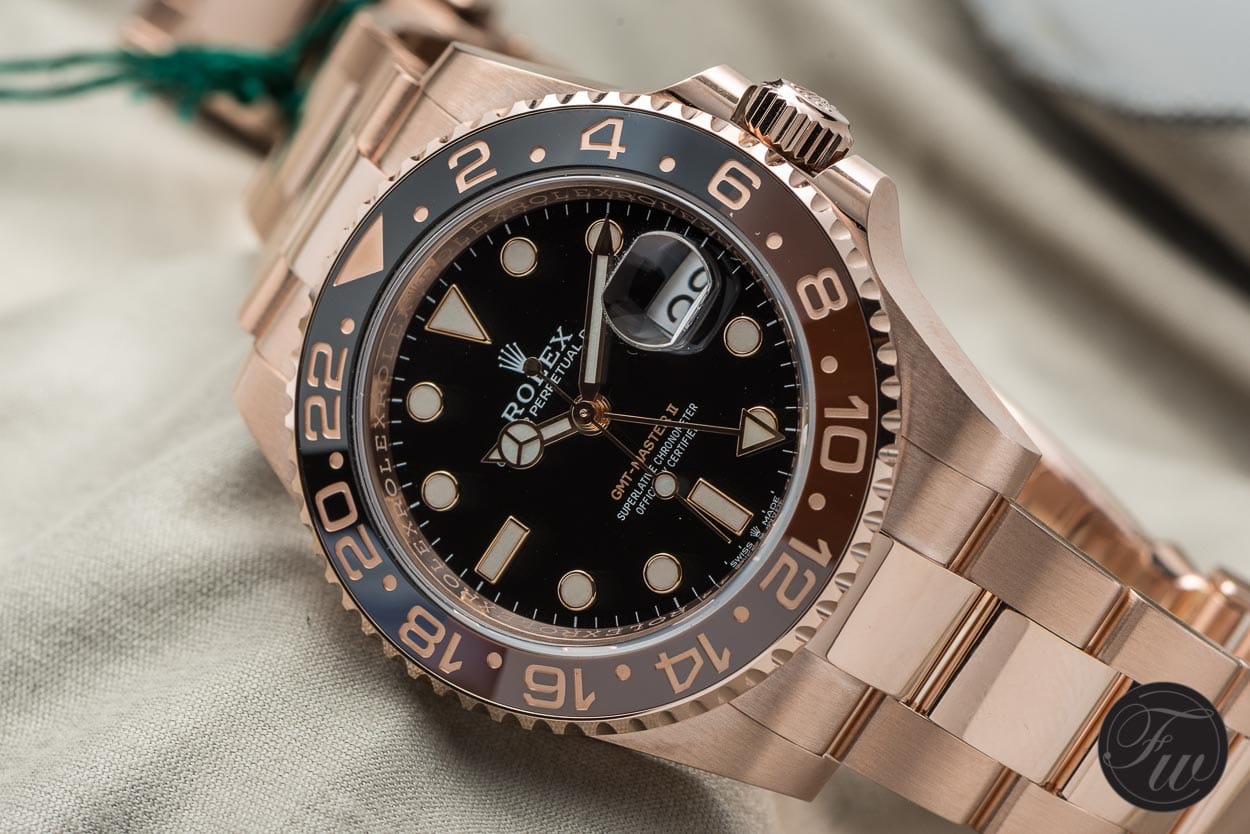 Conclusion
The Rolex GMT-Master is the most recognizable traveller's watch in the world. One of the successful ingredients for this is that Rolex always has been consistent regarding the design of the GMT-Master. Whether it is a white gold Rolex GMT-Master II with a ceramic bezel or the very first reference 6542, anyone can see that these watches are related to each other. Even a full gold reference 1675/8 can be connected to a 'Batman' 126710BLNR. That is also something that makes Rolex such a strong brand, as their consistent design is applicable for almost all of their watches.
Whether you are hunting down that perfect vintage GMT-Master 1675, 2000s Rolex GMT-Master II or simply entering an authorized dealer to buy one of the new references (good luck!), you can't go wrong. We hope this overview gives you a good idea of all different models and references. It is not complete (we skipped a couple of variations per 'major' reference), but we will keep updating this article in the future.
More information via Rolex online.
*This article originally appeared on January 3rd 2012 on Fratello Watches already. But we updated its contents, photos (more & larger versions) and did a more thorough description of all the major references mentioned.