You are not a real watch guy unless you own a Rolex – you hear this comment pretty often in our community. Up to a certain extent I can agree with this. Rolex is the only brand everybody knows regardless of their country, status, annual income, gender etc. you name it. For over a 110 years (the company was established in 1905) Rolex has been a leader in the world of watches with lots of innovations and patents and is able to make people literally run to their booth at the annual BaselWorld exhibition to be among the first to see what's new. This week's #TBT is about the famous Rolex GMT-Master 1675.
Rolex GMT-Master 1675
We all know the story how PanAm commissioned Rolex to make them a watch that they could equipped their pilots with. We also know that because of the matching color scheme between aforementioned company and a world famous beverage the watch got the nick name Pepsi (the ones with the blue-red bezel, anyways). If you want to know more about the history we have covered it in the past, make sure you check it out here. It's a pretty cool, vivid and ever-growing tale. Rolex still offers the GMT-Master in their current collection, though already by the name GMT-Master II but still with the signature blue-red bezel (only available with the white gold case nowadays, click here) among the many other variants. But let's get back to the Rolex GMT-Master 1675. This reference was the second version of this iconic watch, 6542 being the first and 5 more coming after it until today. This exact execution was in production between roughly 1959 and 1980 under the name Rolex GMT-Master, from reference 16760 it's officially called Rolex GMT-Master II. On the other hand, even among the 1675s we can differentiate 2 layouts but we will talk about this a bit later.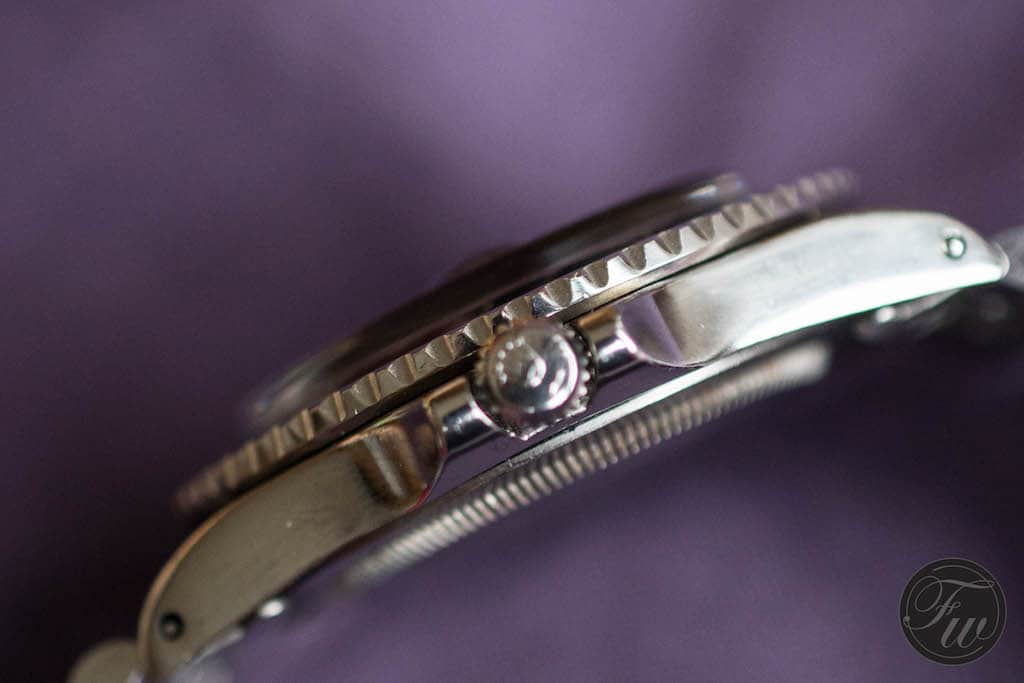 The case of the watch is surprisingly small by measurements being 38mm (!!) without the crown and crown guard and 41mm including them. Thickness would be 11mm only. Interestingly enough however the watch does not feel small when worn. I have a 7.5" wrist and even though it's not my largest watch, it feels comfortable and well-sized on my wrist. Well, you be the judge, this is at least what I think.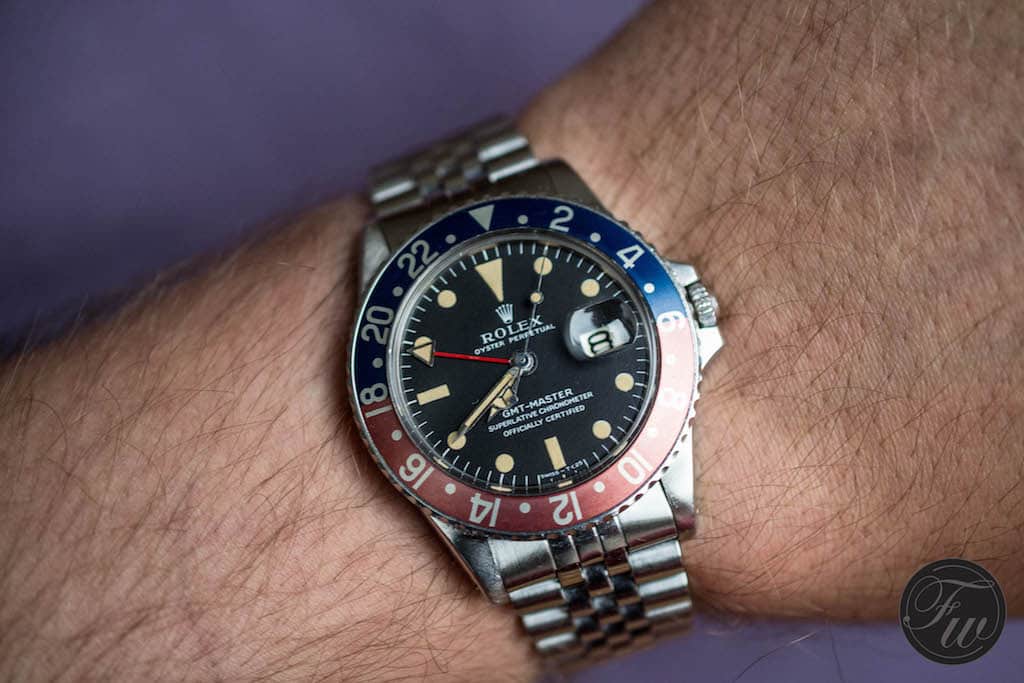 We have to mention that the Rolex GMT-Master 1675 was the first model to feature a crown guard. As I said before there is a difference between early (mid- or late-1960's) 1675s and late ones (mid- or late-1960s until around 1980). The early models had a pointed crown guard (aka El Cornino, referring to the guards as "horns") and the later ones had flat crown guards, as you can see on my watch.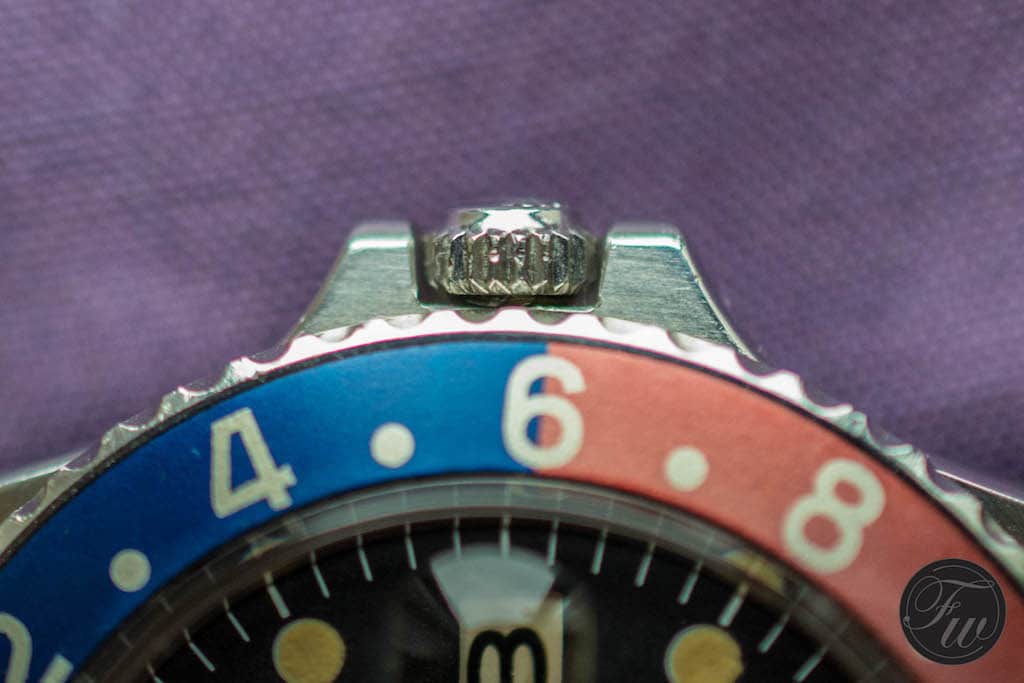 The lugs are drilled, something I never really paid attention to on watches but came to love recently, especially when I'm changing bracelets or straps. Between the lugs at 12 you can see the reference number and between them at 6 the serial number of the watch. As you can see mine is 1.7million putting it to 1967. The watch was water resistant until 50m which was not much at the times but the GMT was meant to be a pilot's watch, unlike his famous brother, the Submariner.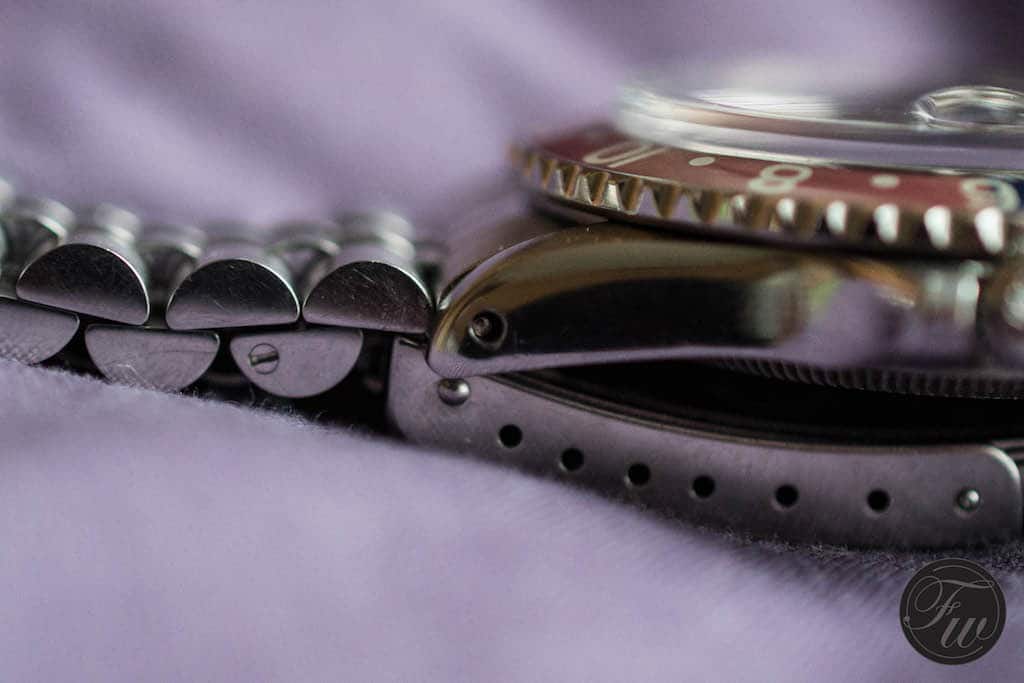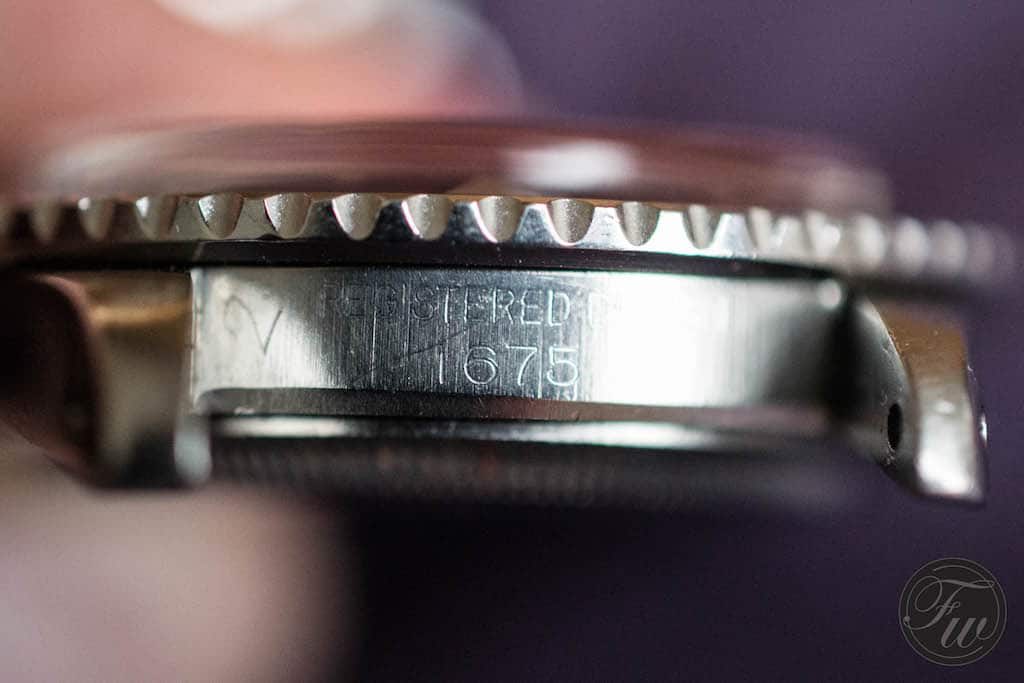 It was released with a red and blue bi-directional steel bezel nevertheless during the early 1970's an all-black bezel was also introduced.  Very rarely do you see the Rolex GMT-Master 1675 with an all blue bezel, the so-called Blueberry bezel. The history behind this is not quite clear but most sources state that these watches were either sent as military supplies (UAE had many batches ordered from Rolex for instance) or to certain dealers like Tiffany or Cartier. Either way these bezels are so rare that one in great condition can easily get very close to an actual Rolex GMT-Master 1675 watch in price.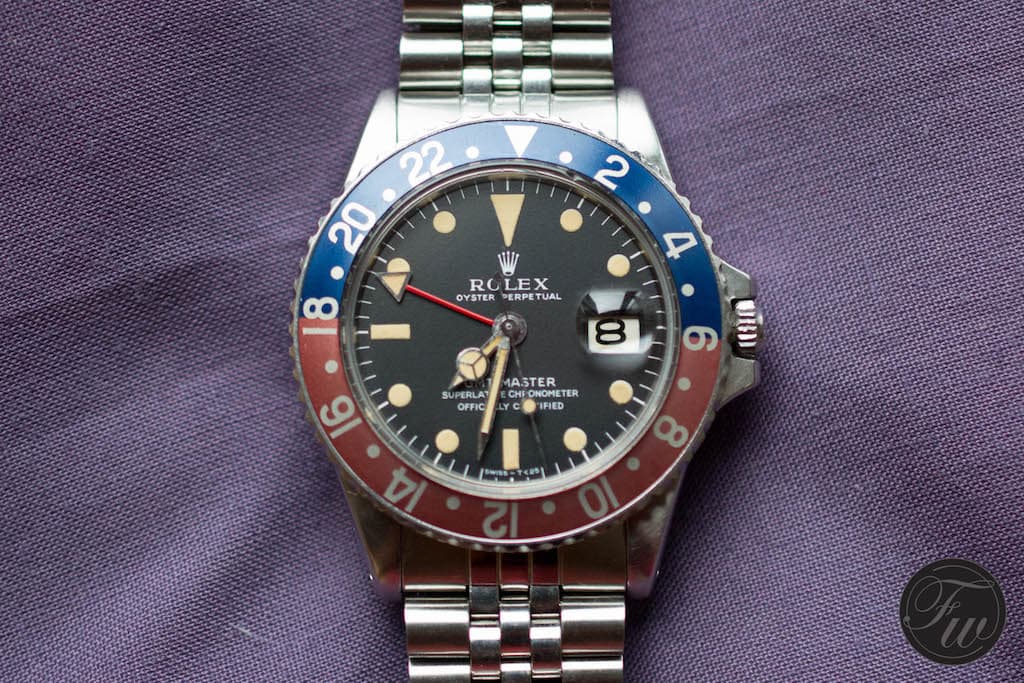 If the Rolex GMT-Master 1675 reference had a few bezel variations, imagine how many different dial designs they featured during those roughly 20 years they were in production. The two main groups are gloss dials for the early versions and matte dials for the later version. Now within each group there are numerous types which I will not discuss here. Let's just say that only from matte dials there were at least 5 variants. These differ in the shape and size of the logo, the fonts, the length of the indexes and so on. My watch has a Mark I matte dial, which would be historically accurate as my model is from 1967 and at this time these dials were already in production for the 1675.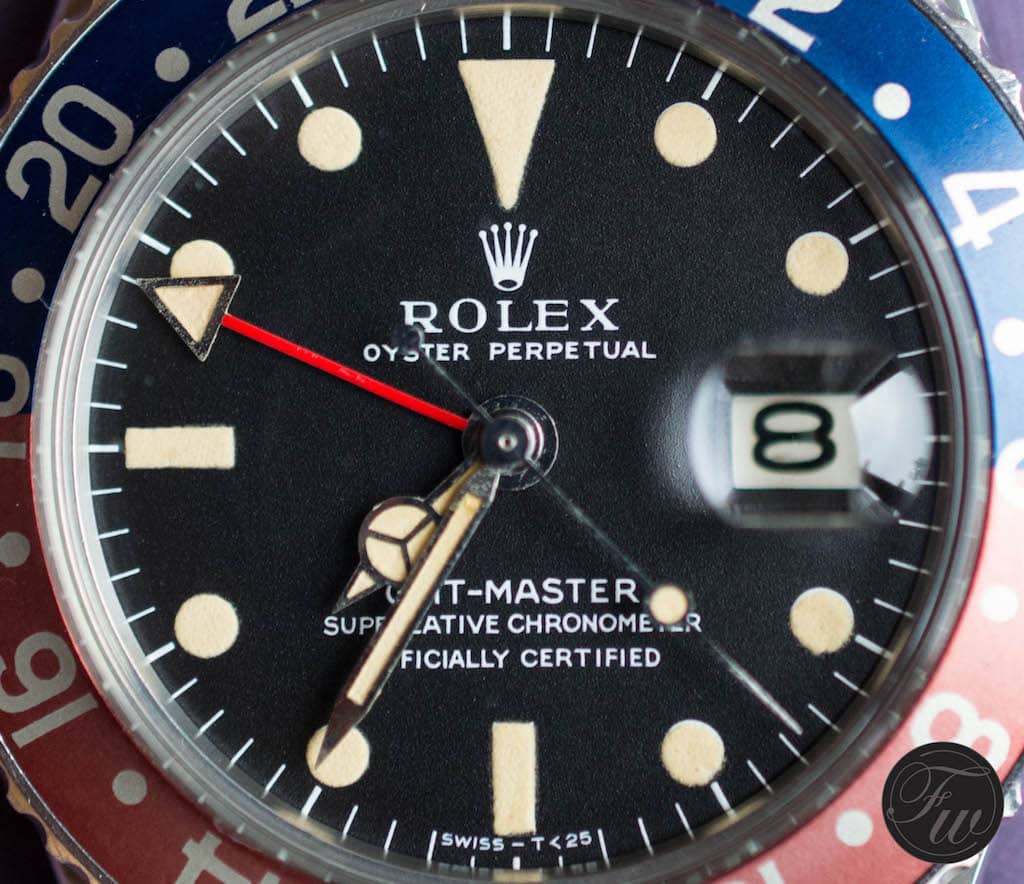 The dial features the Rolex logo and name plus "oyster perpetual" under the 12 o'clock. Above the 6 o'clock marker you see the model line "GMT-Master" with the inevitable "superlative chronometer officially certified" written under it. All texts were printed white while the gilt (or gloss) dials had gold texts. No numerals were used but large Tritium, covered indexes. 9 and 6 were rectangle in shape, the rest were round and the index at 12 was an upside down triangle. Rolex designer must've loved geometry.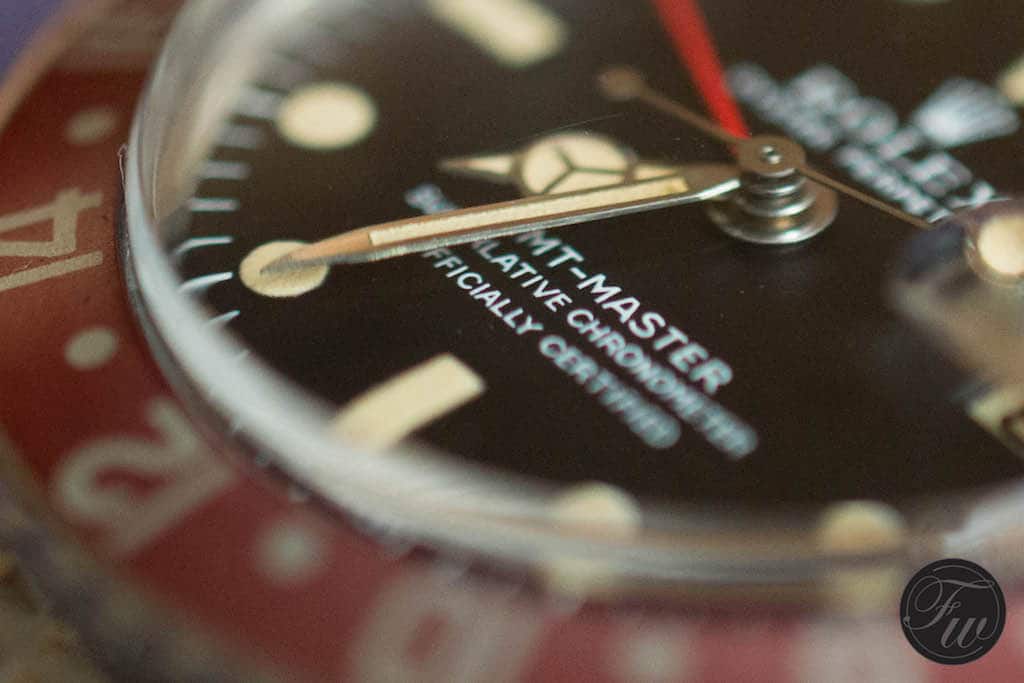 Another important feature is the set of hands Rolex used on the 1675. The main differences between the early and late hand sets were distinguished by the GMT hands. Early models had small GMT hands and later, just like mine, had the larger triangle ones. The hour hands were the so-called "Mercedes" hands and the second indicators were "lollipop" hands. The order of the application of the hands starting from the dial was GMT, hour, minute, second.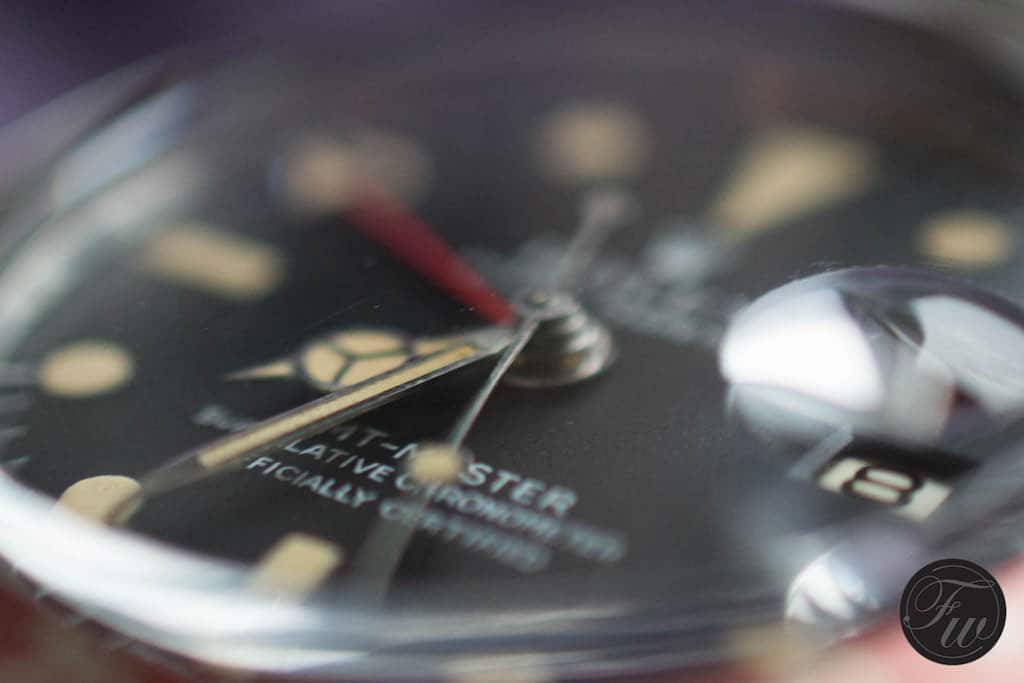 If we really want to get into details, we should mention that there were many types of date wheels used on the Rolex GMT-Master 1675 most watch lover differentiates between the ones that had open 6s and 9s or closed ones. My example had a closed one, whether this was how it left the factory or maybe it got changed during a service I have no information of. Everything is possible, though I doubt I'd get an open 6 date wheel given that the prices for those are getting insane. If you have a spare one and want to help me out however, feel free!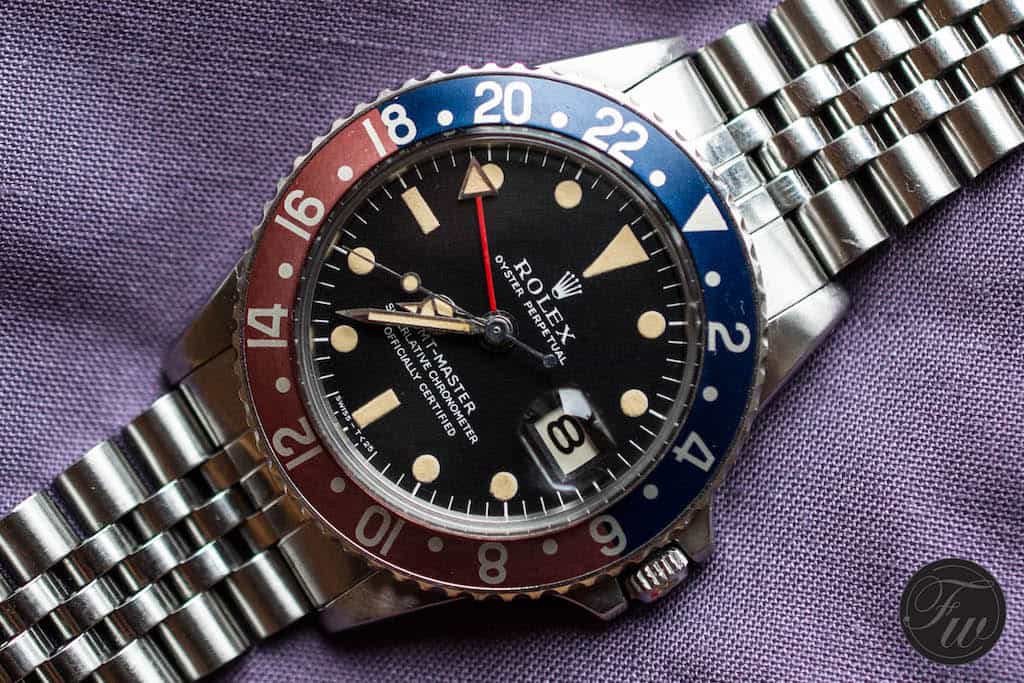 The heart of the Rolex GMT-Master 1675 is a chronometer certified, automatic movement. It's either Caliber 1565 or in case of later version like mine, Caliber 1575. Cal. 1565 was produced from 1959 until 1964, this was a 25-Jewel movement with 44 hours or power reserve and 18000 A/h. it had a date feature and a sweep secondhand as well as the GMT of course. Then in 1965 Rolex changed the movement in the 1675 to the new Caliber 1575. This movement was in production until 1980 when the model line changed to the reference 16750. The Caliber 1575 was also a chronometer certified automatic movement just like its predecessor. Still 25 jewels but already 48 hours of power reserve and a higher A/h rate at 19800. Again sweep secondhand, date and GMT feature and for this first time hack feature – after 1971 models. This allowed users to set the time much more precisely since when the crown is pulled out to the 2nd position the seconds hand stops, allowing you to set the watch to the exact second. Both movement were regarded as highly precise and trusty and proven to be pretty much bulletproof.
The Rolex GMT-Master 1675 was introduced on 2 completely different types of bracelets. You could either have it on a Jubilee bracelet, a dressier and classy option. The Jubilee was also used by Rolex dress watches like the Datejust. The reference number for the Jubilee would be 62510H with 550 end links. I have the exact bracelet and end links on my watch and it does look very elegant probably thanks to the small links of the Jubilee. It softens the watch quite a bit and separates the watch head and the bracelet visually.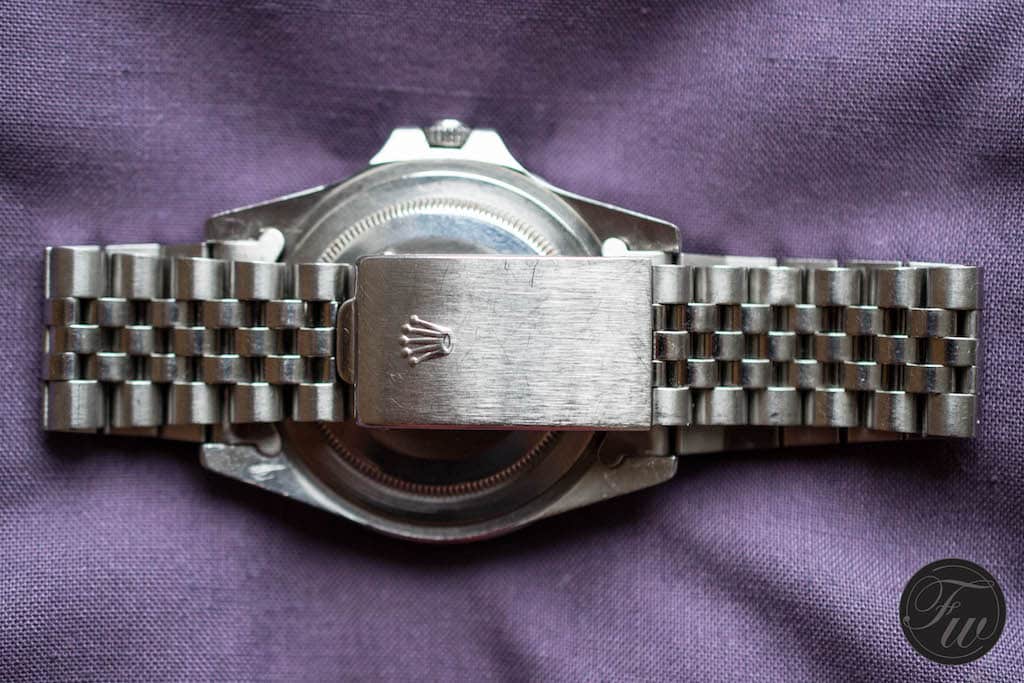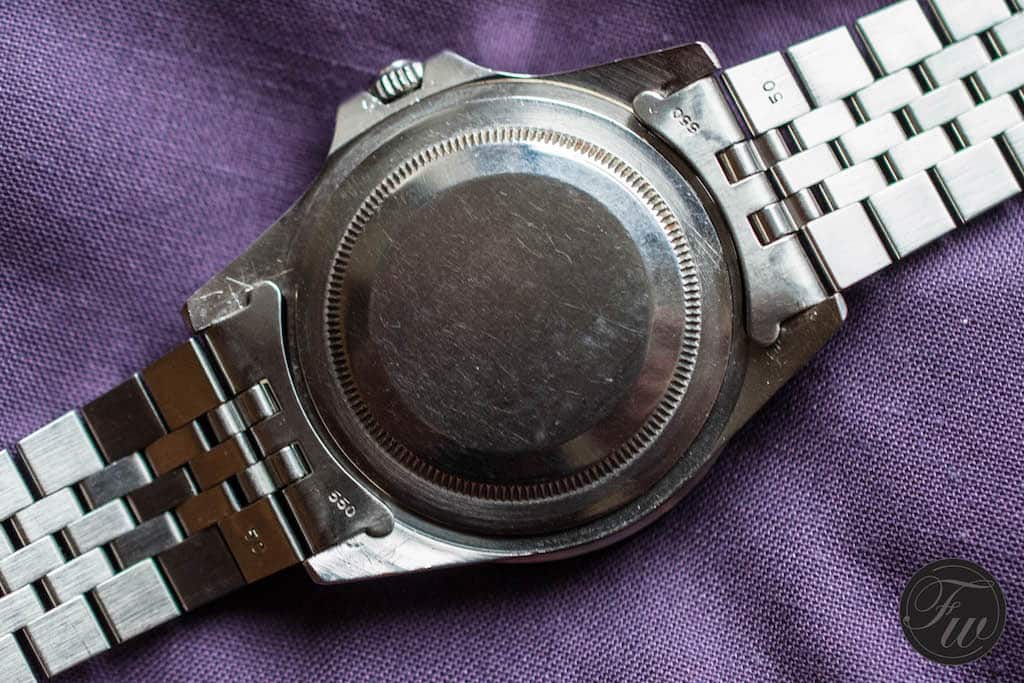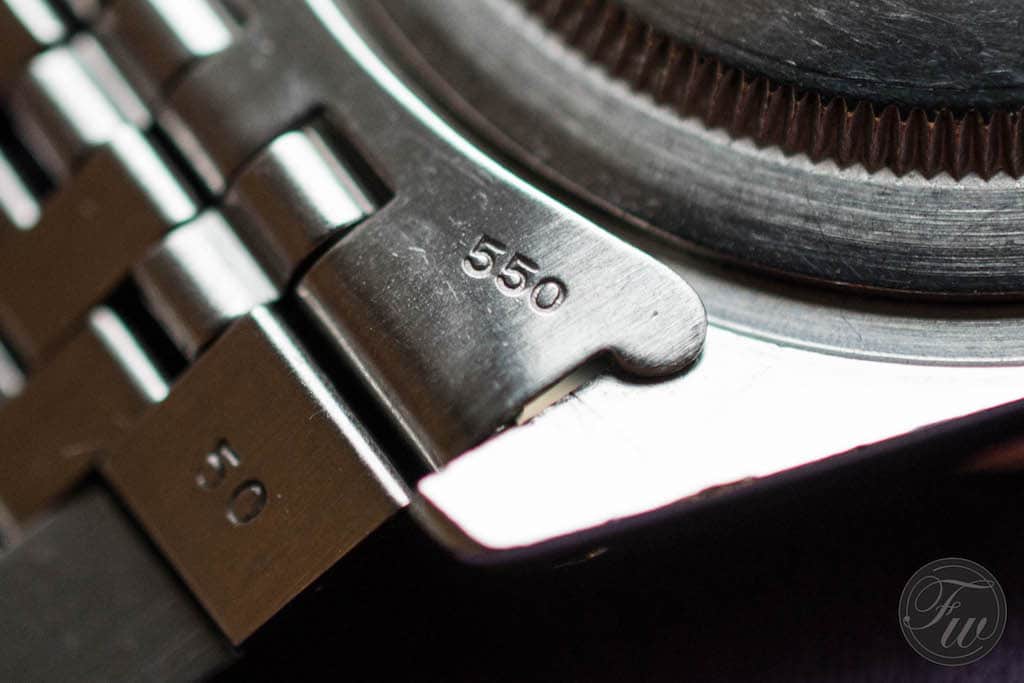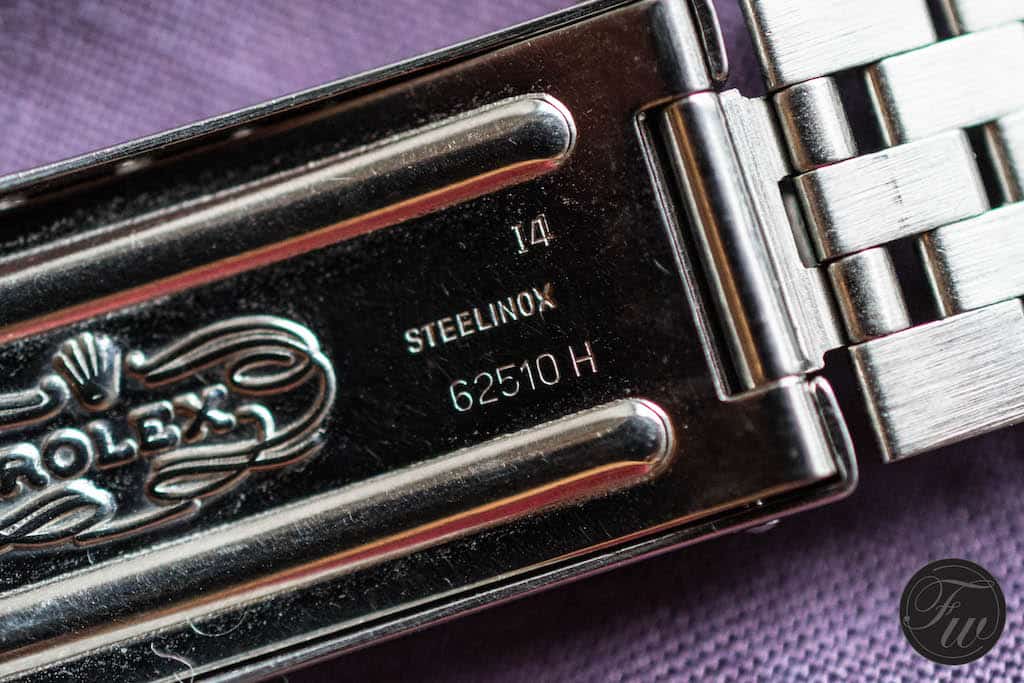 The other option was of course the legendary Oyster bracelet, as seen on most Rolex sports models. As a matter of fact, most of the early Rolex ads had the watch featured on this bracelet. It is no doubt that the Oyster finds the sporty angle of the 1675 and displays it as a more rugged watch. The Oyster also complements the watch head nicely and makes it look inseparable. The reference for those bracelet would've been 78360 with 580 end links, 7836 with 280 end links or even 7206 with 58 end links. Of course you could also sport your Rolex GMT-Master 1675 on a leather strap but let's be honest this watch deserves to be worn on a cool bracelet.
I think my earliest memory of the GMT is watching Magnum P.I. many many years ago. I remember one scene where Magnum has a flashback of himself as a kid being at his father's funeral. The little boy is saluting as the casket is being placed in the grave and on his wrist is a watch worn by his dad. The watch is on an oyster bracelet and has red/blue bezel; the Rolex GMT-Master. Since that scene I always noticed Magnum wearing the watch and it implemented in my mind. Maybe it was the looks, maybe it was Magnum's personality, the fact that he was driving a Ferrari or that he was living in Hawaii. Either way the watch was on my radar since that point. I always said if I ever buy a Rolex it has to be the GMT, as much as I love and adore Rolex sports models for me the perfect Rolex has always been this one. I'm happy that I have it and intend to keep it for a long time. Would I add a Submariner to my collection? For sure! But the GMT will always have a place in it, and on my wrist.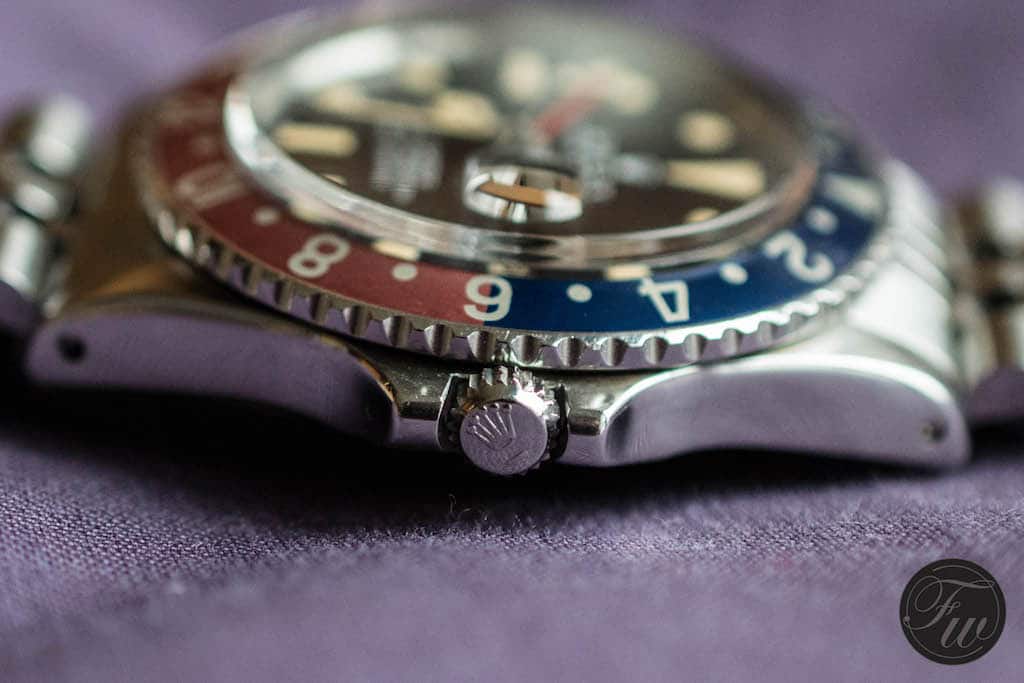 In recent years, as with most vintage watches, and especially vintage Rolex models the prices increased quite a bit. Still there are some nice deals out there. I got my watch through European Watch Company in Boston and the experience was more than pleasant, so thanks to them and my connect (you know who you are). There are loads of dealers on watch sites like Chrono24, offering these models not to mention the numerous eBay sellers. The key is doing your homework before buying watch but luckily the internet is full of useful information. I hope this little write-up will help you as well. Enjoy the hunt and bring one home!
Balázs joined Fratello Watches in 2014 and he has been a fan of watches as long as he can remember. His passion for watches really took off in 2007 when he purchased his first fine Swiss timepiece. From 2007 up to recently, he was also an active and involved member of a number of on-line watch communities. Balázs has a weak spot for vintage Omega watches and vintage watches in general.
Latest posts by Balázs Ferenczi (see all)