Hands-On: Rolex GMT-Master II 'Batman' On Jubilee 126710BLNR
Enter Jubilee, exit Oyster bracelets (on all steel models)
Although the Rolex novelties leaked one day before the official release, it is still good to see the watches in the flesh before commenting on them based on just one picture. That said, Rolex didn't make it easy for us.
Rolex doesn't make it easy for anyone at the moment. The official explanation is that due to high demand, they can't fulfil all orders because Rolex does not want to make concessions regarding quality. Meaning, if you want a Rolex GMT-Master II 'Batman' or 'Pepsi' for example, you will only get a smirk from your authorized dealer (really, we tried, we received a smirk). It would not be so frustrating when there are more than 350 brand new Rolex GMT-Master "Pepsi" and "Batman" watches for sale on Chrono24, listed as brand new in box, offered to you for sometimes twice the retail price. So, it was with a few mixed feelings to enter the Rolex booth in Baselworld to have a look at their new watches. You can't get them at your authorized dealer, but you can at your preferred grey market dealer. I can imagine that Rolex doesn't like to see this happening. I hope they will solve the issue of not delivering watches to their faithful clients rather sooner than later. That said, let's have a look at the new updated Rolex GMT-Master II ref. 126710BLNR 'Batman' and hope they will be able to actually deliver it within reasonable terms.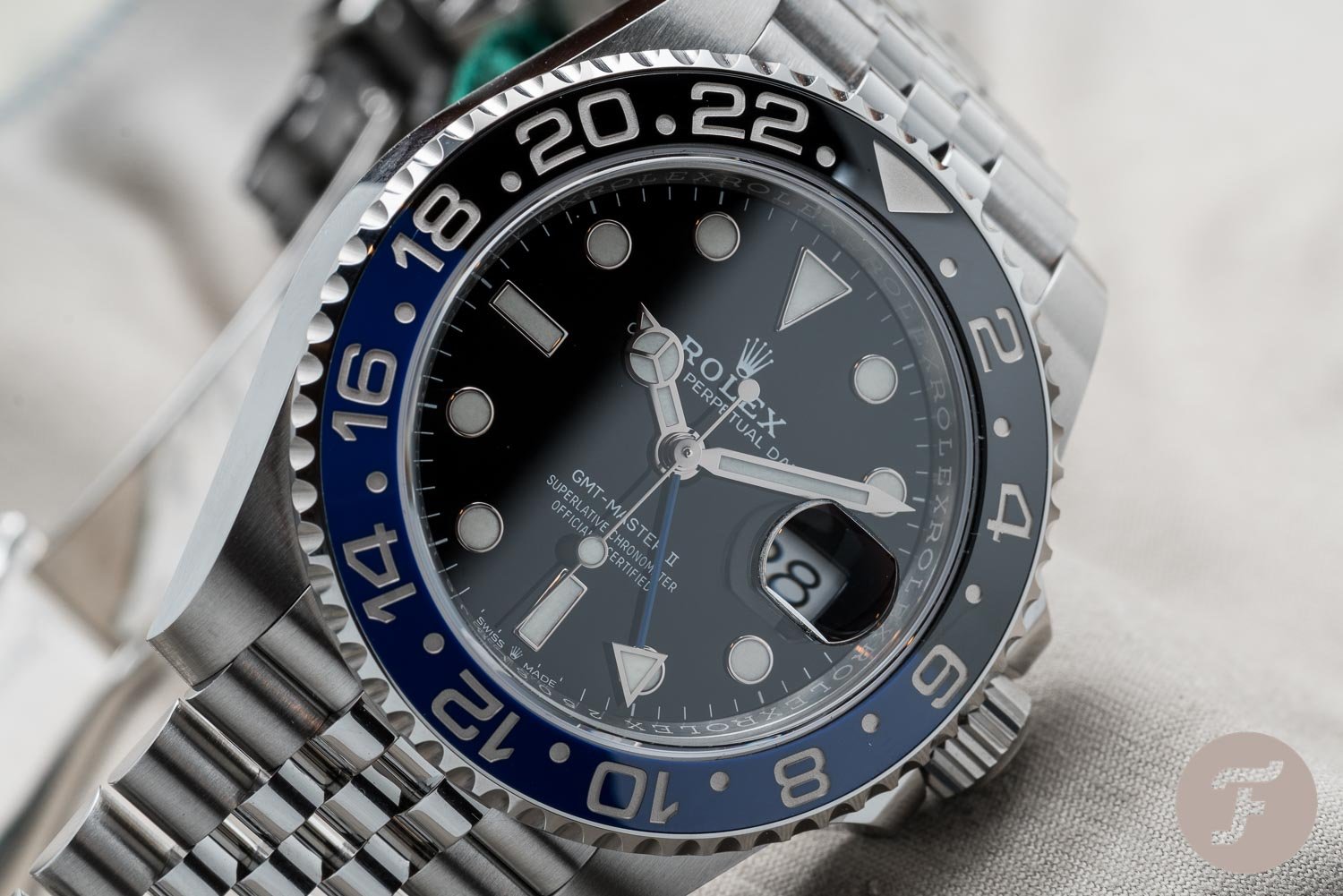 Rolex GMT-Master II 126710BLNR
We will cover the other Rolex novelties later on, but let's start with this Rolex GMT-Master II 126710BNLR, as it actually came with the most surprising side note. Let's start with what's new about this GMT-Master II 126710BNLR 'Batman' though. Besides the Jubilee bracelet, there's the new caliber 3285 movement. This movement, with 10 patent applications filed during its development, is promising you 70 hours of power reserve and being as accurate as -2 / +2 seconds a day on average. That's well within chronometer (COSC) specifications. It has a Parachrom hairspring that is able to deal with shocks and temperature variations in a better way than before.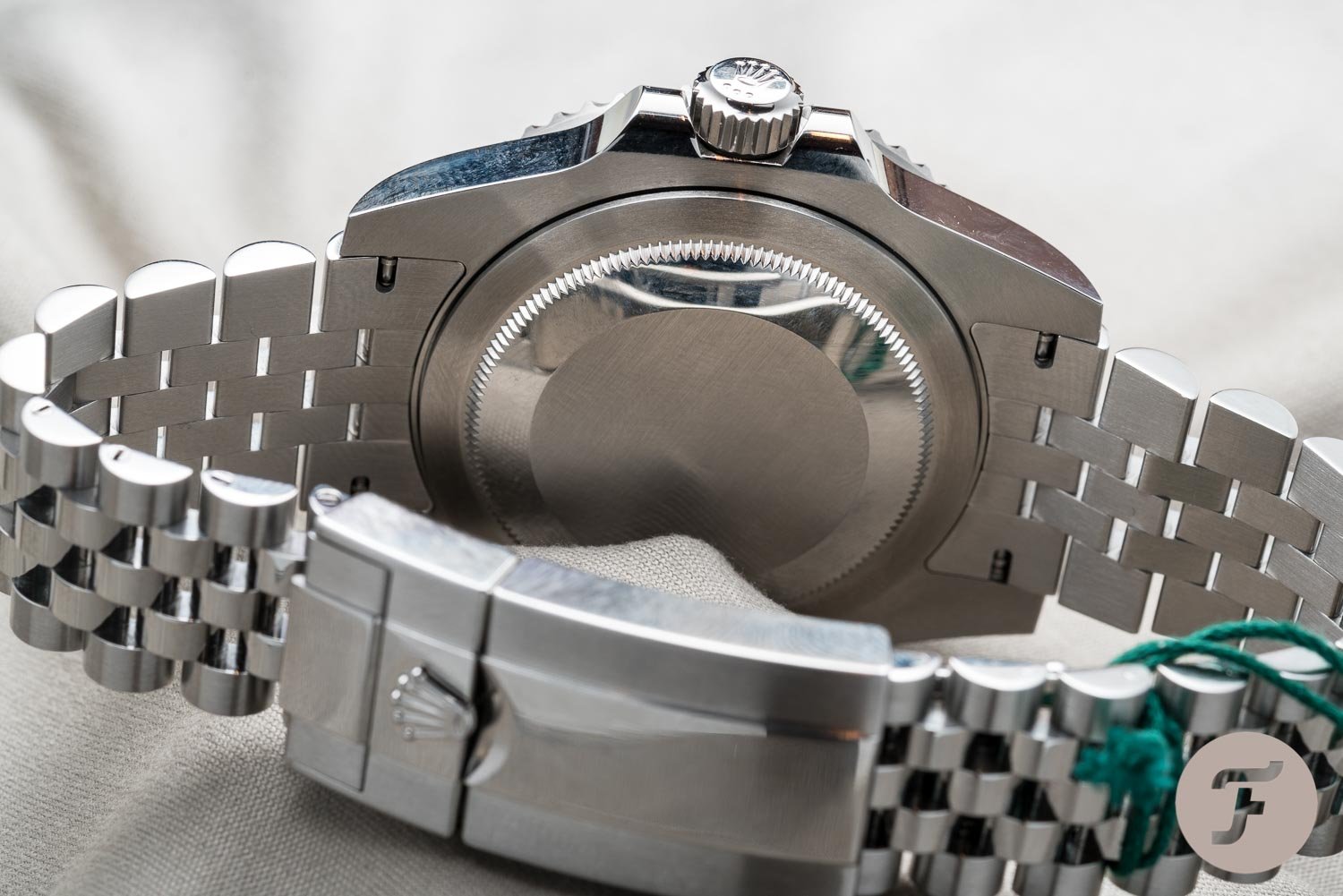 The real novelty is the Jubilee bracelet of course. Where we were told last year that an Oyster bracelet could not be fitted on the new Rolex GMT-Master Pepsi, we noticed that it actually could be done, and also noticed that a Jubilee could be fitted on a Rolex GMT-Master II 'Batman'. But this year, Rolex comes with an official Jubilee bracelet for the Rolex GMT-Master II 126710BLNR 'Batman'. It looks great, in all honesty, although I have a slight preference for the Pepsi of last year.
The 40mm case of the Rolex GMT-Master II 126710BLNR 'Batman' is a perfect size and feels bigger than it appears based on specifications. In fact, it wears and looks larger than watches with a diameter of more than 40mm. This probably has to do with the thick lugs. The Jubilee bracelet is one of the most comfortable bracelets on the market, and this one on the Batman is no different. It fits perfectly and to be honest, I can't imagine someone would disagree. You might not like the looks of the Jubilee, but it is comfy for sure.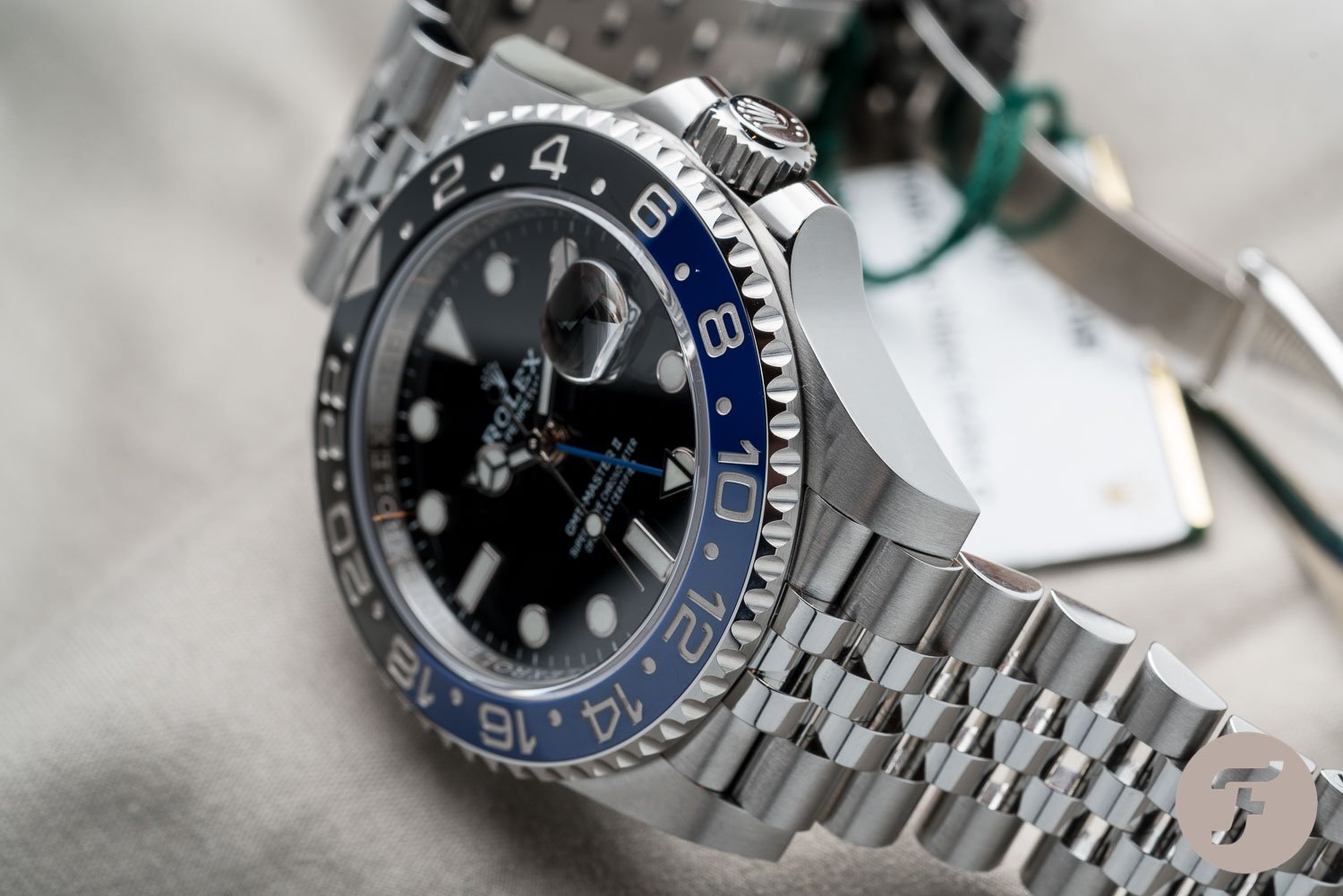 All other specifications of this Rolex GMT 126710BLNR 'Batman' are basically the same as the reference 116710BNLR that was introduced in 2013. The original Batman was already hard to get, and now it will be discontinued so chances are very small you are able to get one at all, at retail.
No Steel GMT-Masters On An Oyster Bracelet Anymore
In fact, and here's the side note, Rolex decided to discontinue all stainless steel GMT-Master models that come with an Oyster bracelet. The stainless steel GMTs will only come on a jubilee bracelet from now on. The Oyster bracelet will be kept for the GMT-Master II in Rolesor (Gold/Steel) or full gold. A bit of an awkward move to be honest, but on the other hand, you could say that the GMT-Master II lost its 'tool' watch when Rolex introduced the PCL (polished center link) with the ceramic Rolex GMT-Master II (here's a full overview of the GMT-Master history and timelines).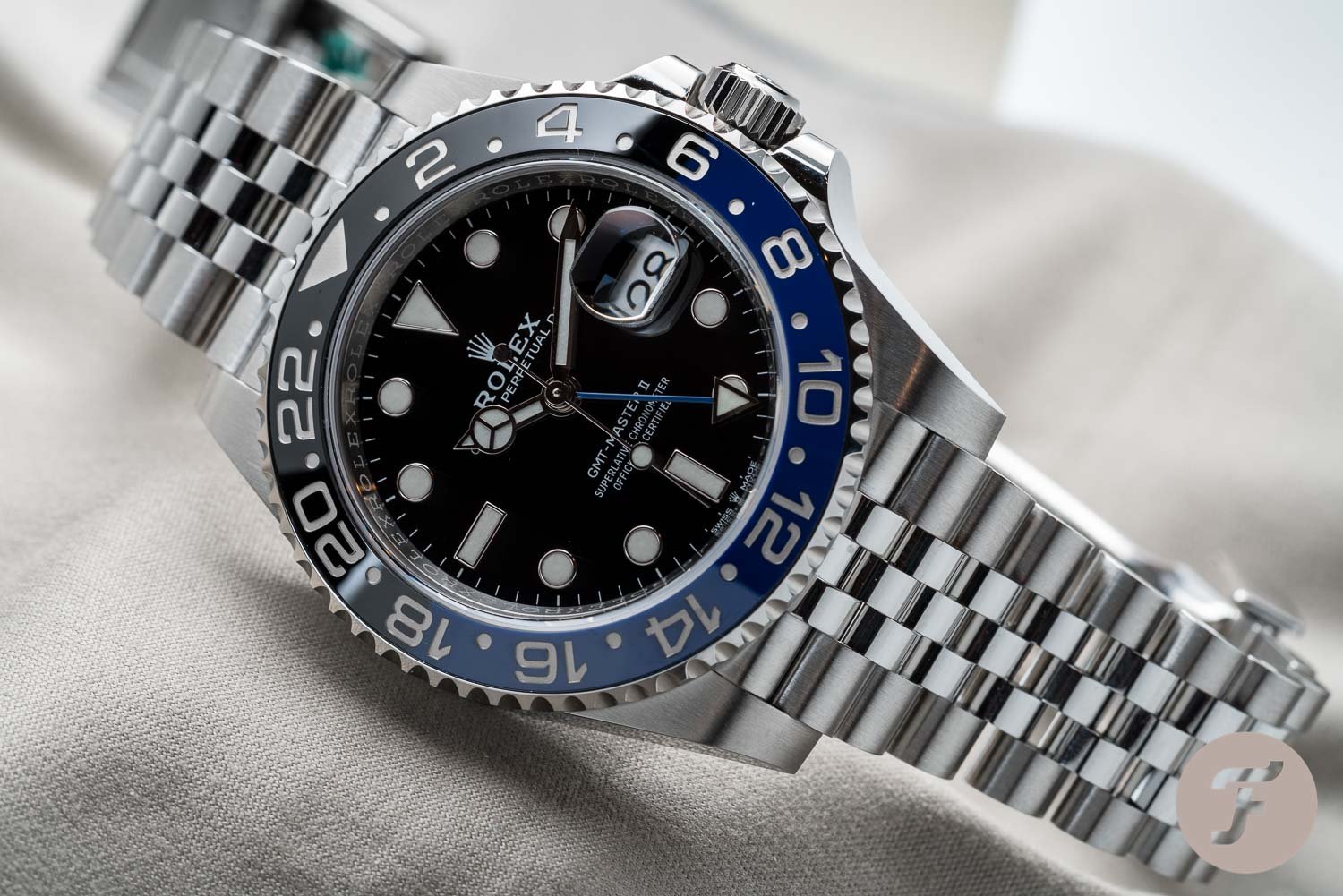 Let there be no mistake, I love the Rolex GMT-Master II and although I never had one of the ceramic bezel references (only a Submariner with ceramic bezel), I wouldn't mind owning the new Pepsi or the bi-colour model that they introduced last year. Those are far away from the GMT reference 1675s or even 16710 that I used to have, but I like them still. But from a historical perspective, I like the idea of being able to choose between an Oyster bracelet and a Jubilee bracelet. It can be done, as people have shown in some of the forums or on Instagram and Facebook, but it will cost you (an additional bracelet). Perhaps, just perhaps, something is cooking at Rolex and they will introduce an all matte finished Oyster bracelet again for the GMT-Master II. Let's wait and see.
More information via Rolex online.
Watch specifications