On April 18th 1891, a train crash in Kipton, Ohio took the lives of 11 people and was caused by railroad engineer's watches not being in sync (4 minutes difference). This accident led to new strict standars for railroad watches in 1893. Where today's trains are controlled by high-tech systems using GPS, in those days the network heavily relied on the railroad watches to safely operate and control the train time table.
Due to the 1891 accident (and many accidents before), the Railroad Timepiece Standards Commission presented new guidelines, referred to as the General Railroad Timepiece Standards. These guidelines consisted of:
Be open face (no lid over the dial), size 18 or 16 (size 18 equals 44.86 mm, size 16 equals 43.18 mm)
Plain white dial, bold black hands, and bold Arabic numbers
Have the winding stem at 12 o'clock
Be lever set (to set the time, the case had to be opened, lever pulled out to set the hands, to prevent an accidental change, rather than pendant set)
Have a minimum of 17 jewels, a double roller, steel escape wheel, micrometric regulator and grade on back plate
Be adjusted to at least 5 positions (stem up, left side up, right side up, face up and face down)
Temperature compensated for 34 to 100 degrees Fahrenheit
Keep time accurately to within a gain or loss no more than than 30 seconds a week.
By adopting these standards, the watches used by railroad engineers would be reliable, more accurate and easier to read. Some railroad companies adopted more strict guidelines for the watches used by their engineers. Many had an officer that was responsible for maintaining, setting and repairing these watches. Engineers were not allowed to reset the watches themselves, for example.
Of course, we are talking pocket watches here. These watches were mainly made by manufacturers such as Ball, Elgin, Waltham and Hamilton. Although wristwatches were already widely available after WW1, the railroads kept on using the "railroad grade" pocket watches for quite some time. The last ones were said to be delivered until the late 1950's even. Between 1891 and the 1950's, the trains changed and this also required more strict guidelines for the watches that were being used. I can also imagine that anti-magnetism played a role for these watches.
In the 1950's the wristwatch was also used by the railroads, using the same type of specifications for accuracy and esthetics. Ball introduced the Trainmaster for example, and Elgin and Bulova (with their tuning-fork movements) followed as well. All have white faces with bold Arabic numerals on the dial, for good readability. In the 1970's, brands like Seiko and Pulsar were introducing railroad watches with highly accurate quartz movements.
Longines RailRoad Watch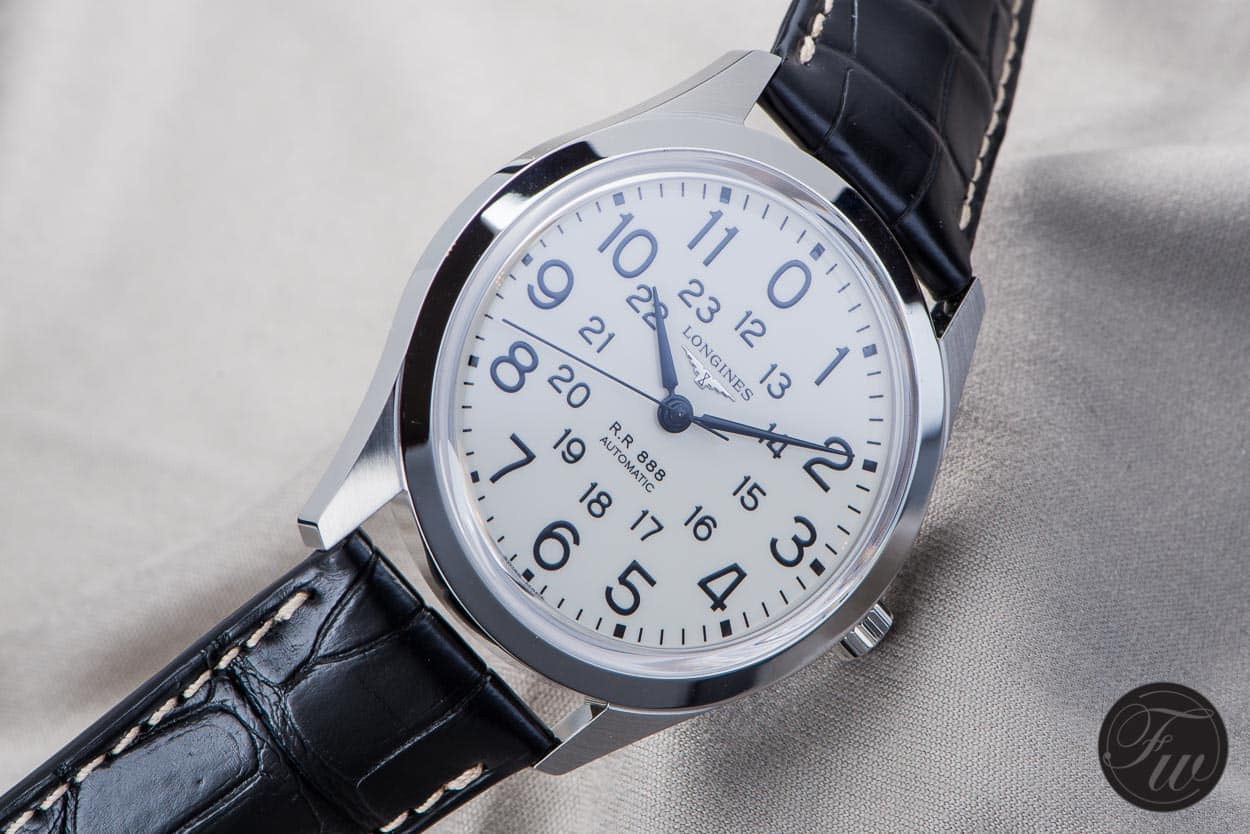 These wristwatches bring me also to Longines. This year, Longines introduced their Longines RailRoad watch. A beautiful white faced piece with black Arabic numerals and a reference to the original 1960's model that beared R.R.280 (RailRoad 280 caliber) on te dial, only now featuring R.R.888 on its dial (referring to today's caliber L888.2). The hand-wound caliber 280 has been used in other Longines watches as well, like the Sport Chief.
The RR280 was used for the railroad watch by Longines (that was used by the Canadian railways for example) and was a modified version of the regular caliber 280. It had an additional hacking feature, a swan-neck regulator for fine adjustment and it was regulated in 5 positions. Below, an image of the original Longines Railroad watch with RR280 movement (photo from Matthew Bain's website):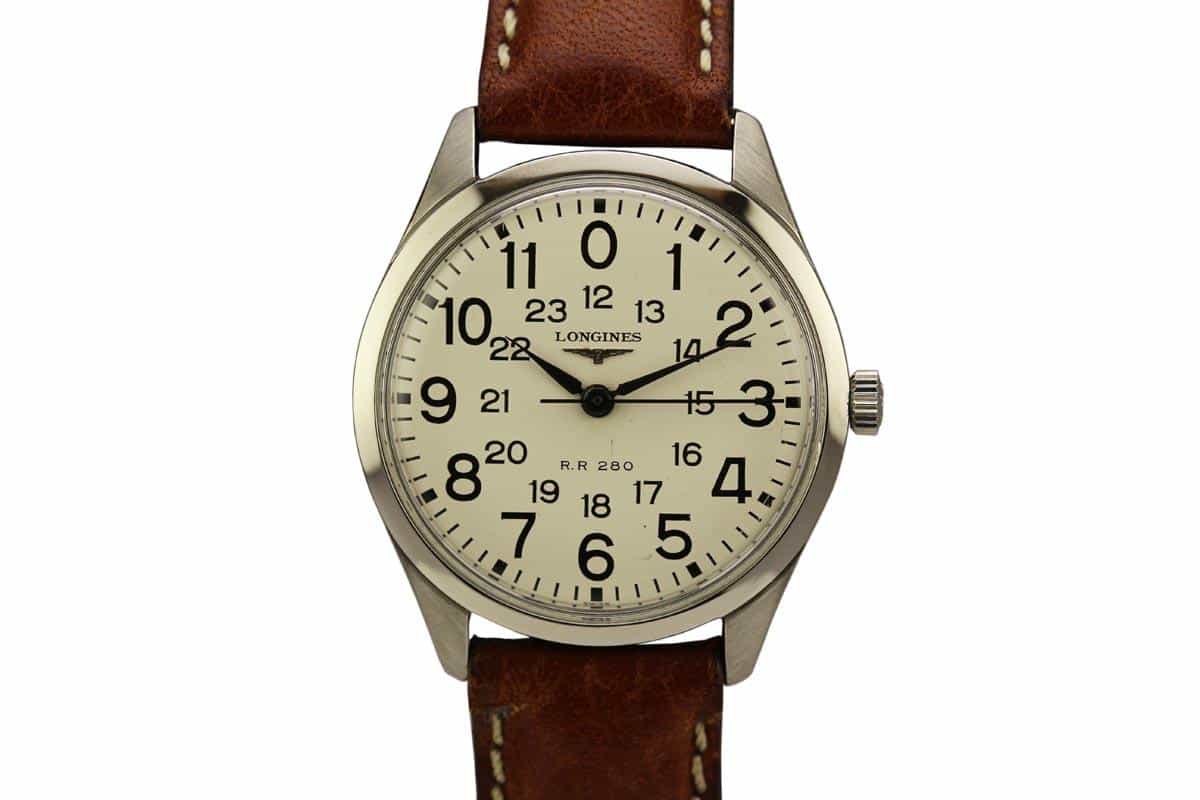 The new Longines RailRoad (reference L2.803.4.23.0) is much bigger than the original version, that measured 35mm instead of the 40mm of today's model. However, a lot of details are very similar on this Longines Heritage version of the RailRoad RR.888.
The Arabic numerals, the reference to the movement caliber on the dial, the Longines logo, shape of the hands, case and bezel. A very good re-interpretation of that 1966 Longines railroad watch. On the new Longines RailRoad, you'll find the word "Automatic" printed on the dial, below the RR.888, which is something I do not particularly fancy (nor see the use of it), but that's about the only thing I can criticize about it. Oh, the lug size of 21mm will also make it more difficult for people who like to put it on another strap as 21mm is not a very common size (like 20mm or 18mm).
On the positive side, this watch has no date window which is to me much more important than the "Automatic" wording on the dial. Kudos for Longines to 'get it' that heritage pieces don't need a date window in most cases (like the Longines Legend Diver that we reviewed here).
The caliber referral is a smart thing by Longines, especially when it concerns a caliber that has '888' in its name. Longines is very popular in Asia, and '888' on the dial surely won't harm additional sales.
An off-white dial with black painted Arabic numerals give a wonderful contrast and follow the General Railroad Timepiece Standards of 1893 for sure. The black hands are very readable and I have to say that I love the leaf shaped hour and minute hands and the long slender seconds hand. The Longines logo has been applied just below the "Longines" wording on the dial.
I don't get the '0' on the dial to be honest, perhaps it is a train-thing though. However, the pocket watches as shown in this article do not show a '0' but just a '12'. Also the later quartz Seiko railroad approved watches have a '12' instead of a '0'. In any case, the original 1960's Longines railroad watch also has the '0' on top of the dial.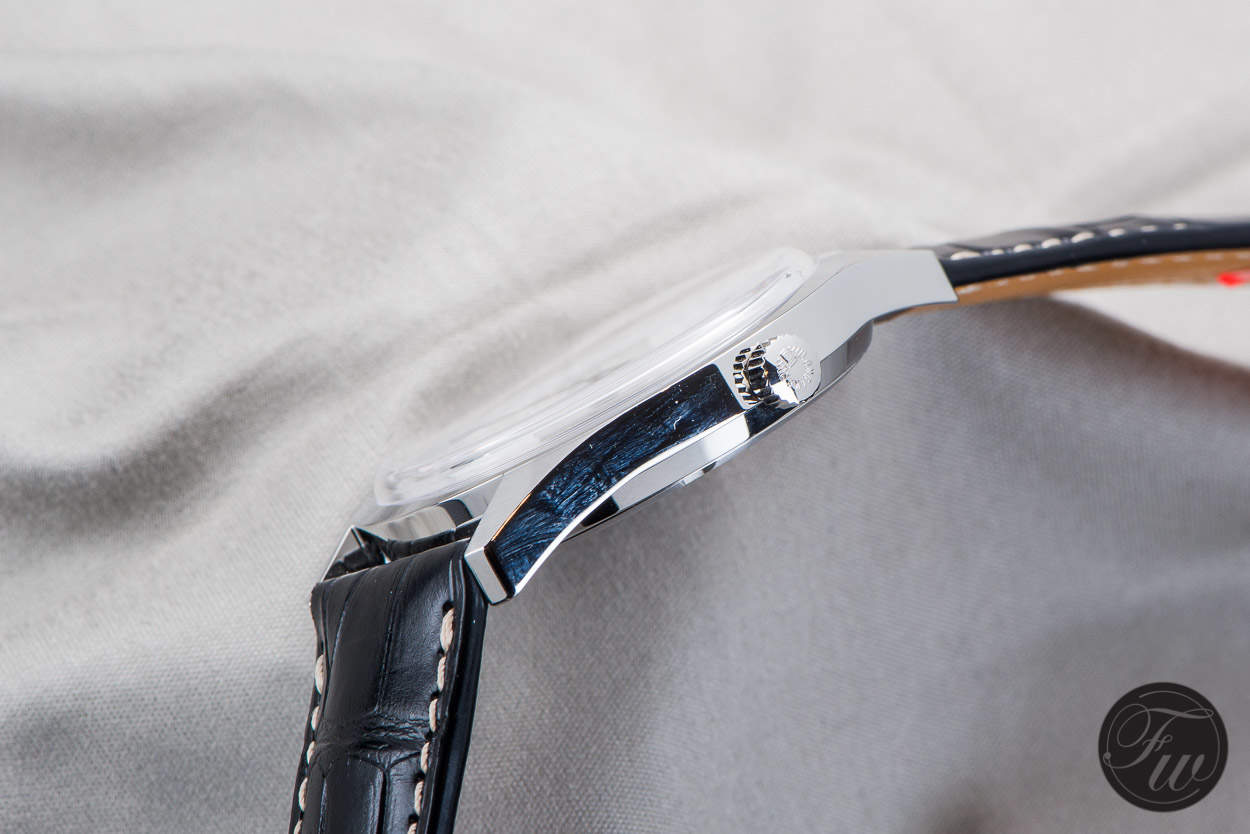 The 40mm case is made of stainless steel, with a nice polished finish on the sides and bezel and brushed luges. The signed Longines crown fits the watch perfectly, not too small and certainly not too big. A slightly domed crystal with anti-reflective coating has been used on top.
The back of the watch shows an engraving of a train, inspired by those used on pocket watches. "The Longines RailRoad" has been engraved in there as well, as it were a book title. Next we find some engravings on water resistance, Swiss made, sapphire crystal, stainless steel, a serial number and the reference number. TMI, but I've touched that subject many times before.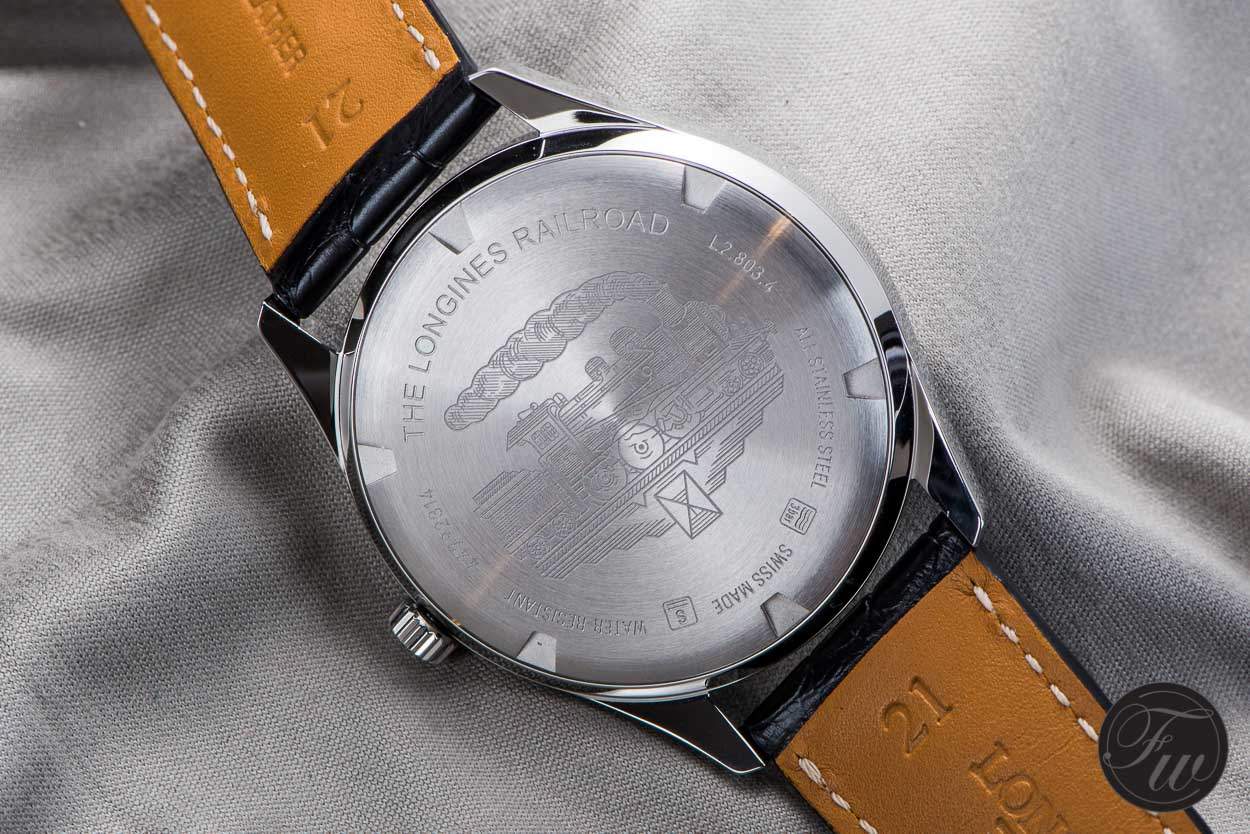 Under the hood there is Longines caliber L888.2, a movement exclusively built for Longines by ETA (caliber A31.L01). It has a power reserve of 64 hours, which is quite a lot. Both Longines and ETA belong to the Swatch Group as you probably know, so Longines has a nice advantage of using ETA movements exclusively developed and produced for them. Since 1984, Longines has not been producing in-house movement nor do they want to (as you can read in the interview I did with Longines CEO Walter von Känel here), instead they use ETA movements but tadaaa… ones that are not being used by other watch manufacturers (within or outside the Swatch Group) in case of these exclusives. It doesn't make the movements in-house, but in the end the result is more or less the same, exclusivity of specific movements.
Then there's the price of the watch, which is €1580 Euro (including 21% VAT). The minor things like the 21mm lug size and "automatic" wording on the dial are marginal stuff compared to all the things that are good about this watch. The Longines RailRoad L2.803.4.23.0 is simply a good watch and a great buy for a couple of reasons: the heritage of railroad watches and the Longines railroad from the 1960's in particular are an interesting story to this watch, the exclusive Longines caliber L888.2 has a big power reserve and the white dial with two Arabic numeral scales printed in black make this watch different from most other watches out there.
More information via www.longines.com
Thanks to Matthew Bain for the image and info on the original Longines railroad watch and RailsWest for the information on the railroad grade watches.

Robert-Jan Broer, born in 1977, watch collector and author on watches for over a decade. Founder of Fratello Watches in 2004.

Latest posts by Robert-Jan Broer (see all)