Maurice Lacroix Pontos S Regatta: It Has The Specs, But Does It Sing To Us?
Just last weekend, I talked to a guy who has this classic looking Maurice Lacroix watch from the 1990s. We talked about watches for a while, but there was no real interest in it other than 'just having a nice watch'. Oh, and about service costs, but that is an entirely different story for another time. I realized that his 1990's Maurice Lacroix watch is so different from the brand's current collection, even watches from their Les Classiques collection show no similarities. Now I might be wrong, but at least in my perception I think I saw more Maurice Lacroix watches 'in the flesh' 15 years ago then I see people wearing watches from their current or at least more recent collections. And believe me, I do my 'watch spotting' wherever I go.
I do not want to make it sound like I am bashing Maurice Lacroix for mentioning the above, but I feel it needs to be said as the watch brand certainly deserves the respect from watch enthusiasts more than ever, with their current collection. To me, Maurice Lacroix is much more interesting now than it was 15 to 20 years ago (perhaps like most brands) and that is something I'd like to stress before talking about their new watch in detail. Maurice Lacroix did surprise me over the last few years when they introduced their new collections. In a positive way that is, as their models are far more daring and interesting than they were in the 1990s. To me anyway. Perhaps with the exception of their Masterpiece Collection, those models always appealed to me, especially their Retrograde models.
Everything needs to time, especially in the world of luxury watches I guess, so I am still positive that Maurice Lacroix can be seen on a lot of wrists again in the future. They deserve the attention and recognition of watch enthusiasts, as they develop and produce very interesting timepieces. Not only that, they also seem to keep their prices on the affordable side, especially compared to the competition offering watches with similar specifications and functionality.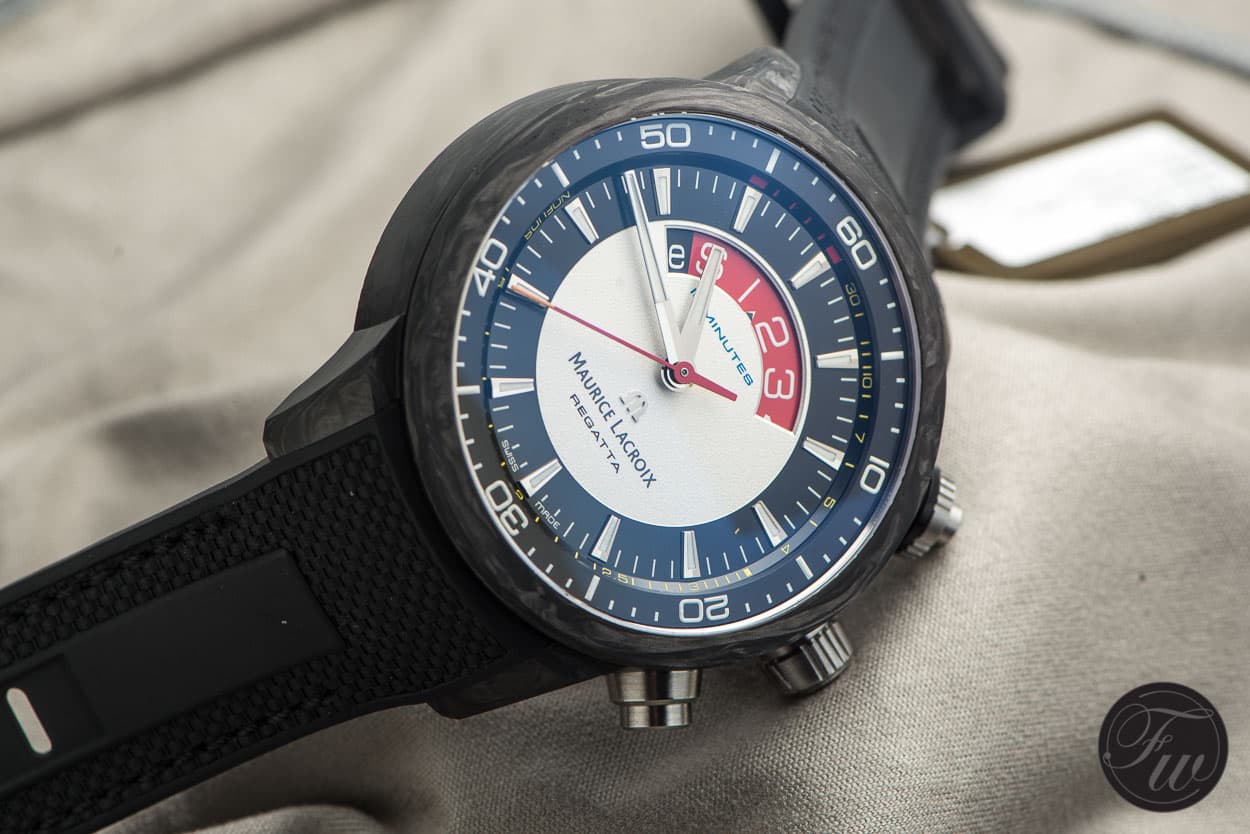 Maurice Lacroix Pontos S Regatta
The Maurice Lacroix Pontos collection is something I had and have high expectations of. We reviewed their Pontos S Diver watch when it was introduced and thought it was one of the nicest affordable watches we encountered at BaselWorld that year. Today we have a look at their Maurice Lacroix Pontos S Regatta. At the one hand, this watch with a price tag of nearly € 7000 Euro is a bit far away from most other Pontos watches, but on the other hand it also differs quite a bit from the rest. Not only does it have a regatta timer on board, that enables you to countdown 10 minutes, separates over 2x 5 minutes (indicated in red and blue) but it also has a case made of a carbon composite. In that respect, the €6990 Euro price tag is – compared to other brands – very interesting.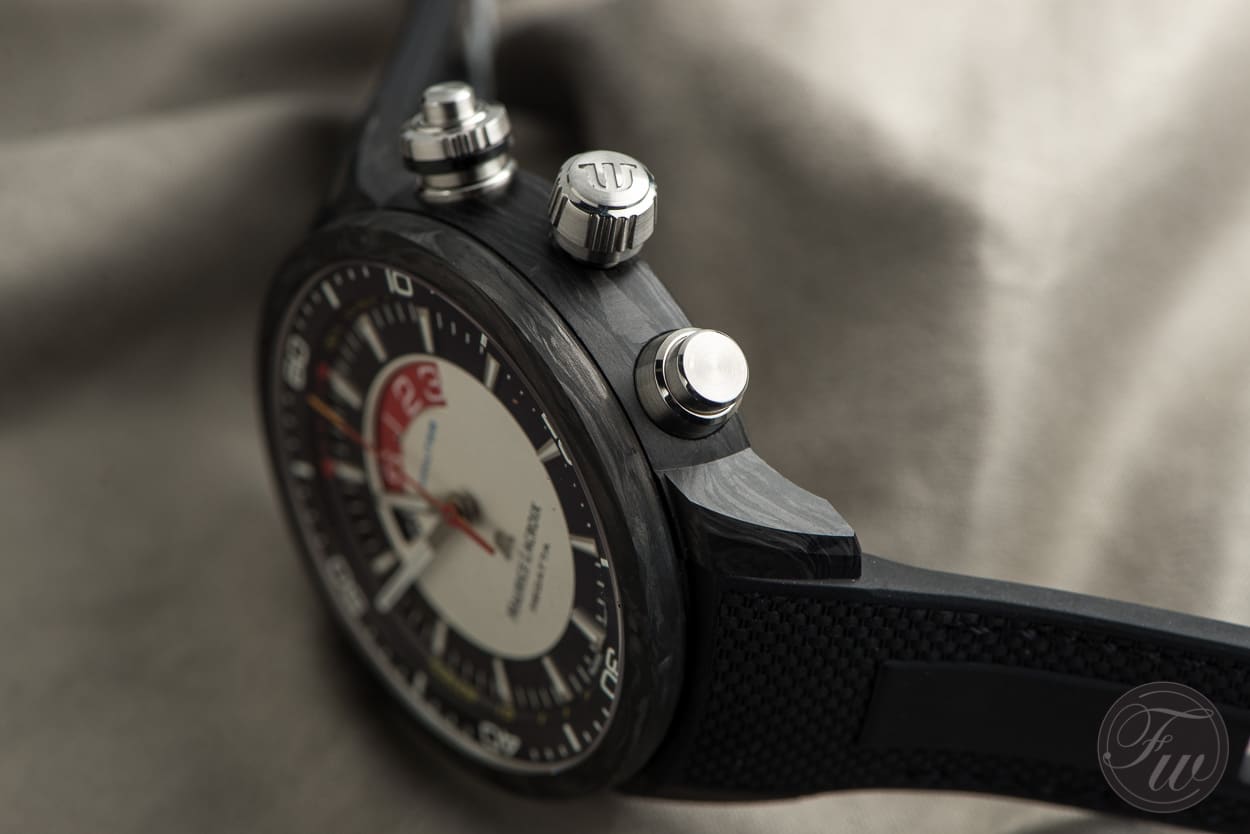 The design of the case and pushers is typical to the Pontos collection, and it is no different for this Pontos S Regatta model. However, the appearance is totally different from the other Pontos models due to the carbon composite material and the black dial with contrasting big silvery white sub dial. As always, the interesting part of watches is mainly within the details. Maurice Lacroix did a great effort to give the Pontos S Regatta a lot of these details. Look at the grain on the black part of the dial and the texture on the silvery white inner dial, it is something we were unfortunately unable to capture on our own photos but the stock photo shows it very well. The hour markers and hands are polished and play nicely with light due to the edges. The use of red, white, blue and yellow for markers, scales, regatta disc and second hand are nice and contrasting enough to make it a very readable and therefore usable watch. Maurice Lacroix applied Super Lumi Nova to the hands and dial to enhance readability in low light conditions, of course.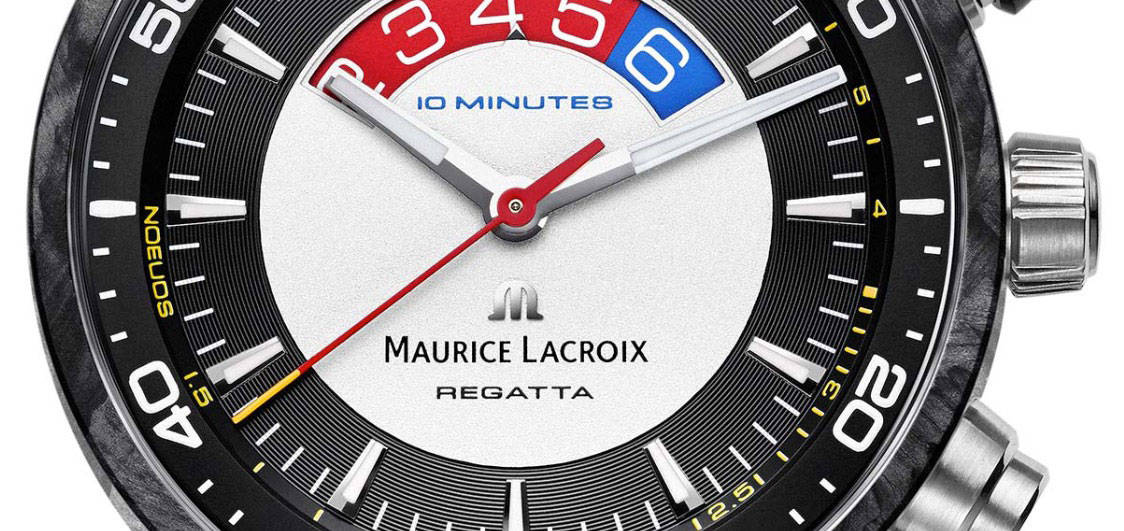 The crown is for setting the time and winding the Maurice Lacroix caliber ML 162 movement, the pushers operate the regatta timer. The chronograph second hand is in red, and has this orange tip. I am not sure why they did this, as the red color would be contrasting enough already. However, I am not a designer, so there might be a good reason for it that I am unaware of. The Maurice Lacroix logo and symbol is located at 6 o'clock as well as the 'Regatta' model indication. Just below the regatta disc, you see '10 minutes' to indicate the countdown time in total. Perhaps a bit unnecessary for the regatta professional, but it gives the dial design a well-balanced look.
As written above, the case is made of carbon composite and measures 45mm in diameter. A sporty sized watch that should be tried on the wrist before buying one for sure, it will not fit everyone. Forged carbon is not only strong, it is also very light. Although it can scratch though! The surface is not entirely scratch resistant so don't confuse this with ceramics. Maurice Lacroix is not the first brand to use forged carbon on a watch (Audemars Piguet, IWC, Panerai, Hublot and Linde Werdelin for example use it as well), but you could say it has the friendliest price tag compared to the others mentioned. Another interesting thing about a carbon composite case is that the structure is unique for every watch. This Maurice Lacroix Pontos S Regatta is limited to 125 pieces only, so I don't think you will have much to choose from when it comes to the unique pattern of the carbon composite case.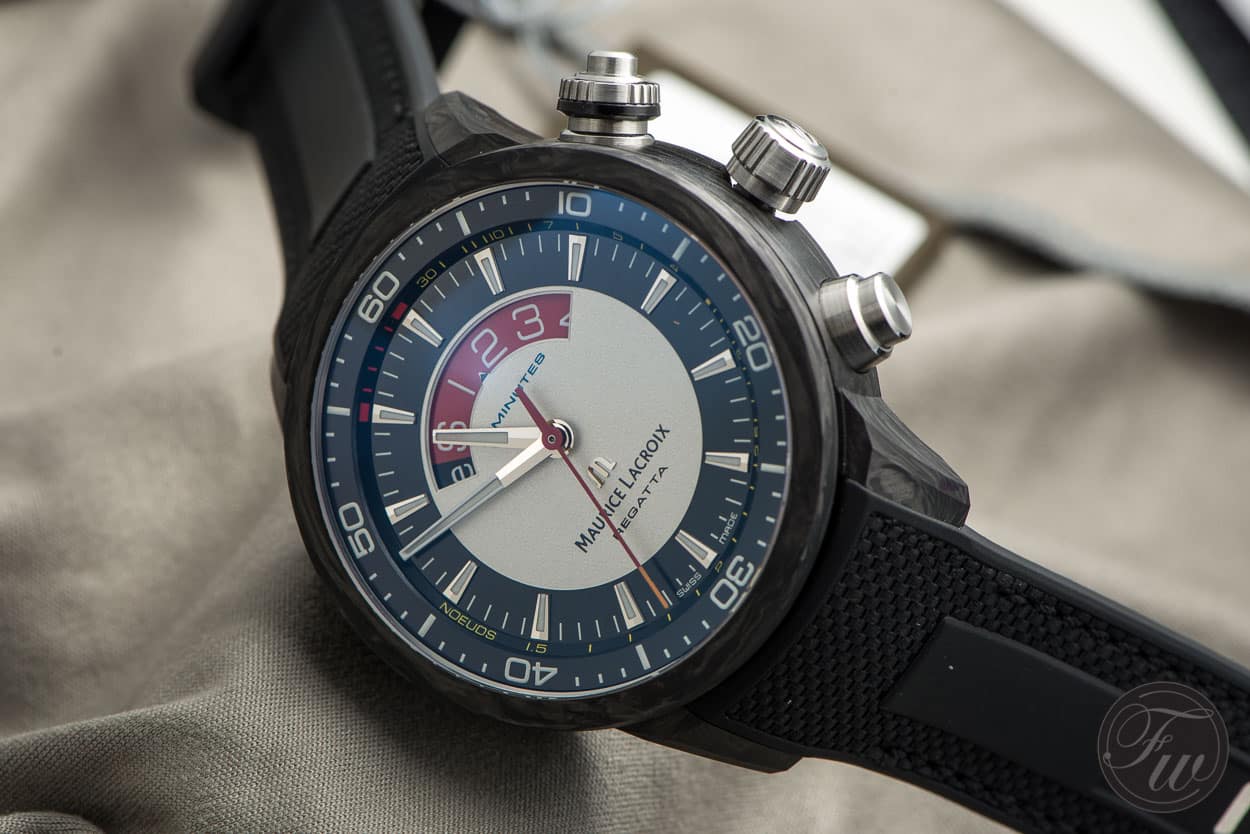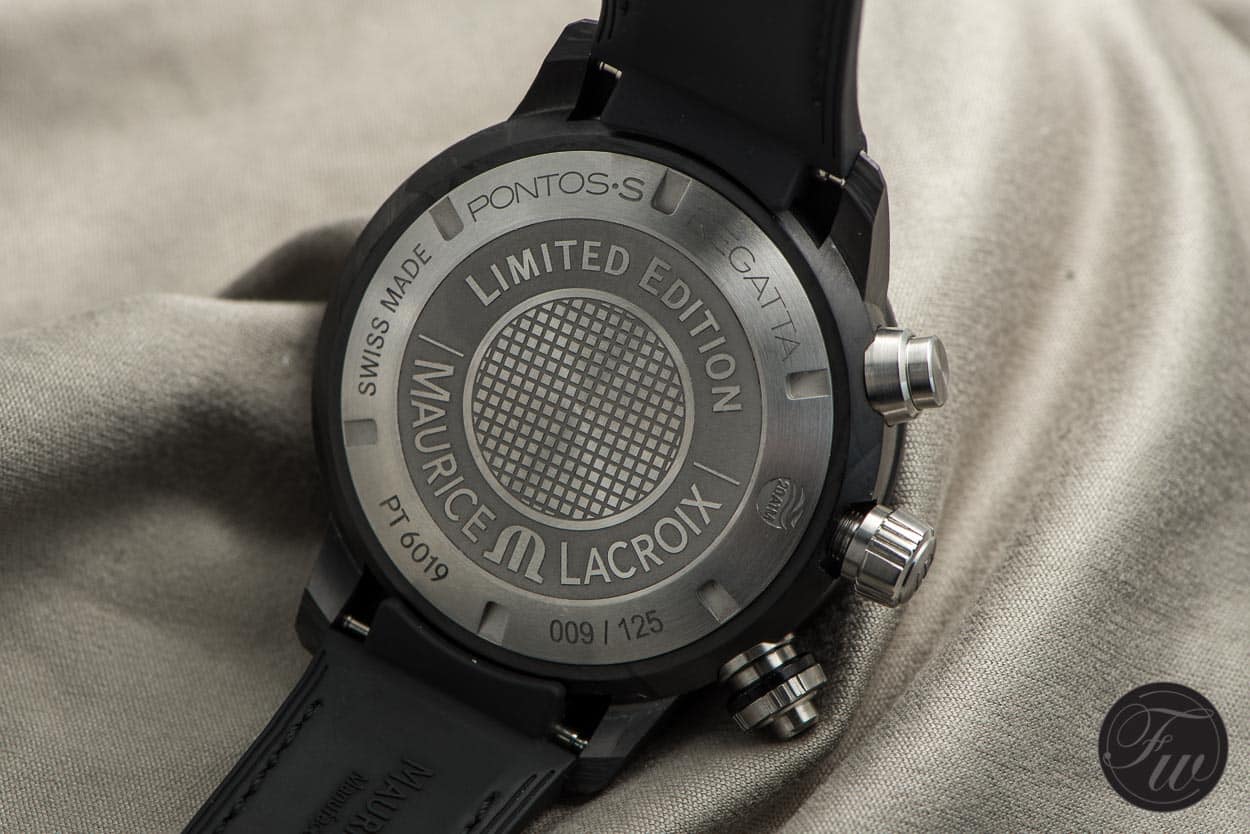 With this Pontos S Regatta watch, Maurice Lacroix accomplished to introduce a very interesting and professional timepiece for a relatively friendly price. The question is whether you will find use for the regatta timer if you are not active in these nautical events. I am not, but could find use for a 10 minute countdown I guess, and the chronograph second hand might come in useful as well. In the end, I also don't 'professionally' use the chronograph watches in my collection. So it is more or less about style and whether this fits you (or not).
In that respect, the Maurice Lacroix Pontos S Regatta does sing to me. I love the forged carbon look and feel and the fact it has an unusual complication on board. A complication that has not been developed in house, nor was the movement (Sellita), but for me personally that is of less importance.
Technical Specifications
Model: Maurice Lacroix Pontos S Regatta
Reference: PT6019-CAB01-330-1
Case Material: Carbon Composite
Case Diameter: 45mm
Crystal: Sapphire with AR coating on both sides
Movement: Maurice Lacroix ML162 (38 hours power reserve)
Water Resistance: 200 meters / 20 bar
Strap: Black rubber with PVD buckle
More information can be found on Maurice Lacroix's website.