Mr. Jones Watches Want To Make You Smile
Sometimes a watch is about passing time, not knowing the time
What if I told you there was a watch company interested in producing watches that don't tell the time? With so many watch companies desperately clinging to some element of practicality and relevance in a digital world, Mr. Jones Watches fully embraces being obsolete. The brand does it so well, you might call it elevated obsolescence — haute nihilism, anyone? From a barely readable birds-eye view of a lone person floating in a pool — fittingly named "A perfectly useless afternoon" — to an elegant paper crane slowly soaring across a mythical sky, Mr. Jones Watches has explored many ways a watch can avoid telling the time. Beauty, whimsy, and joy are the focuses here, with a level of design and craftsmanship that might cement these watches in a collector's permanent collection, though they're well under $1,000.
Mr. Crispin Jones (the Jones behind the brand) set out on a mission to liberate watches from their utility. Technically, what his company makes are watches. They have cases, watch bands, and use various movements within to achieve the desired effect. Some, in fact, even have numbers on the dial. But unless you become very, very acclimated to the quirky way in which any given model displays the time, you will not be telling the time with a quick glance at your wrist. And that's kind of the point. Mr. Jones Watches demand a level of interaction and observation before conveying any practical information. For a company so dedicated to acknowledging the apparent uselessness of the wristwatch in the modern age, it does an excellent job rekindling relationships between a watch and its wearer.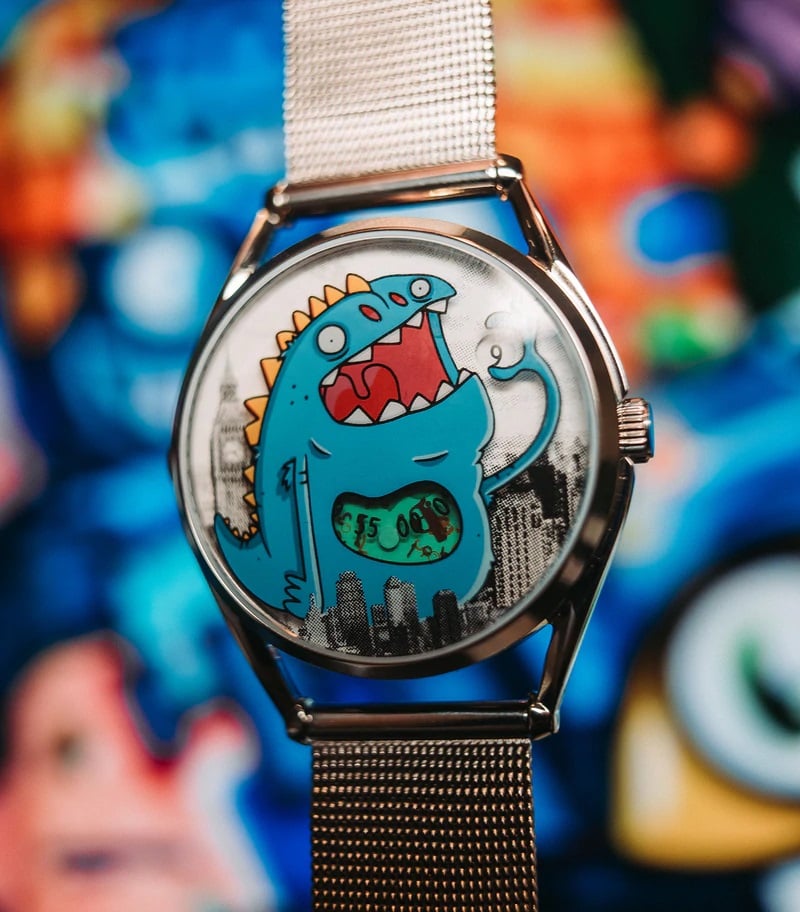 Mr. Jones Watches are a whimsical delight
Instead of shopping specs or complications (though there are options in how a watch displays the time, per se) Mr. Jones Watches is all about shopping feelings and aesthetics. The brand's wide range of collaborations with independent artists and unique approach to printing and use of materials creates a rotating catalog that ranges from melancholy, joy, the morbid, and absurd.
No matter the design or its location of origin, all Mr. Jones Watches are printed/crafted and assembled at the brand's studio in London. And though the movements are off the shelf and fall decidedly within the range of "budget", the execution of craft and limited nature of many of designs are far from it. This makes for watches that are whimsical in art but serious in their intention to be cherished and remain with the owner. Not only that, at prices that make purchasing an easy decision. Most case sizes and designs fall within the realm of gender-ambiguous, though the brand regrettably still attempts to divide its catalog by gender on the site. But if the design is something you dig, that makes picking whatever Mr. Jones watch you resonate with easy… or, perhaps, that much more difficult.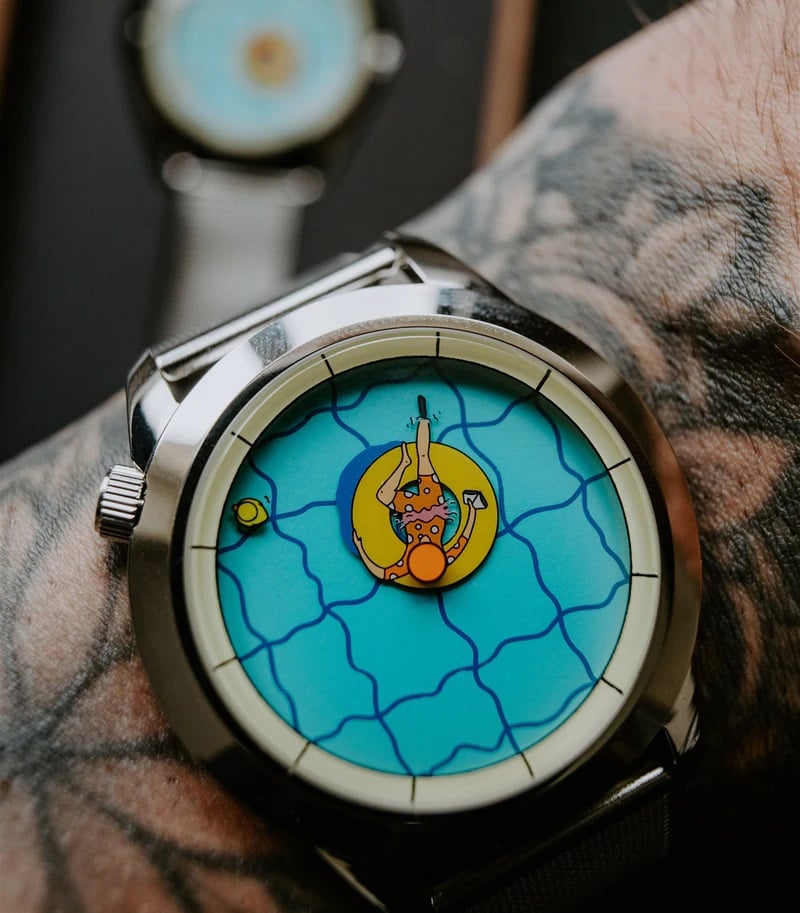 A perfectly useless afternoon XL
To perfectly illustrate what exactly I'm talking about is the watch — "A perfectly useless afternoon XL". Mr. Jones Watches creates a watch that appears to be anything but, using layers of transparent plastic upon which the different elements are printed. If you were to casually observe the watch dial throughout the day, you would notice that the person floating in the inner tube and the little floating rubber ducky slowly swirl around the pool. This is, in fact, the watch at work. The foot of our anonymous floater points to the hour; the location of the duck indicates the minute.
This version — the XL — comes in the rare 45mm stainless steel case. Perhaps a bit beefy for some (myself included), it's an excellent case for the dial. The added margin of the bezel only works to enhance the pool illusion. "A perfectly useless afternoon" does come in Mr. Jones Watches' more standard 37mm case size as well, which Tomas reviewed here.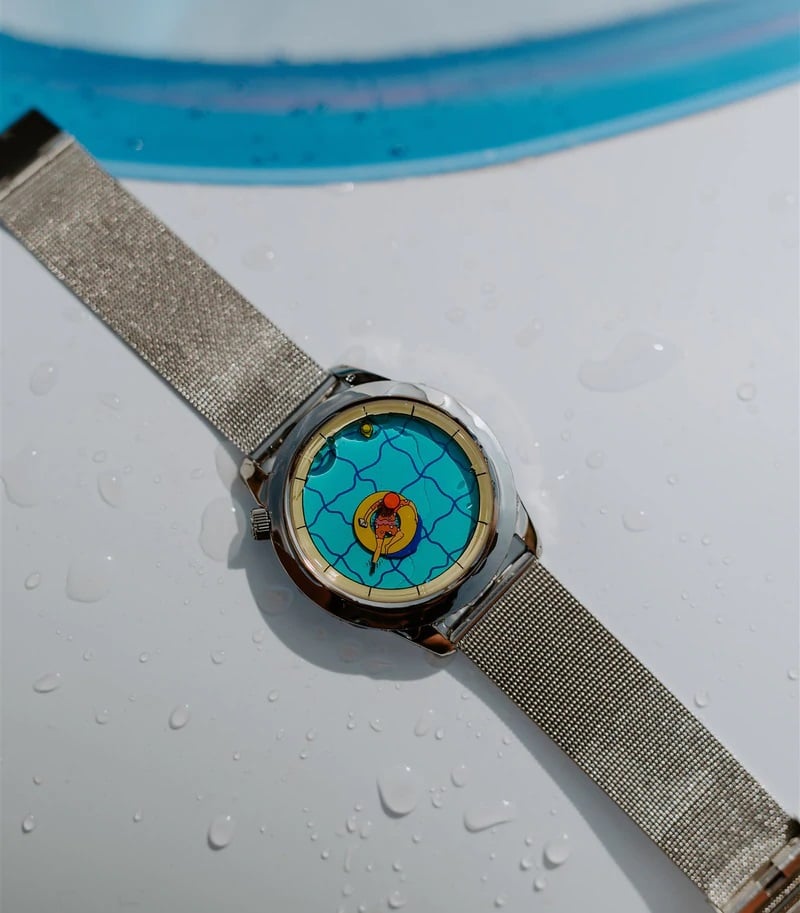 The boring specs
I believe Mr. Jones Watches' entire catalog of offerings comes in at 5-bar water resistance. As such, they're only perfect for casual water exposure. In case you couldn't tell, these are not sport watches — the art is the most extreme aspect. The cases are 316L stainless steel, sometimes coated, often not. The movement used in "A perfectly useless afternoon XL" is an automatic Seagull ST2130. Like the subtitle denotes: not exciting. But it does the trick, and at $425, any automatic movement and the sapphire crystal are welcome features.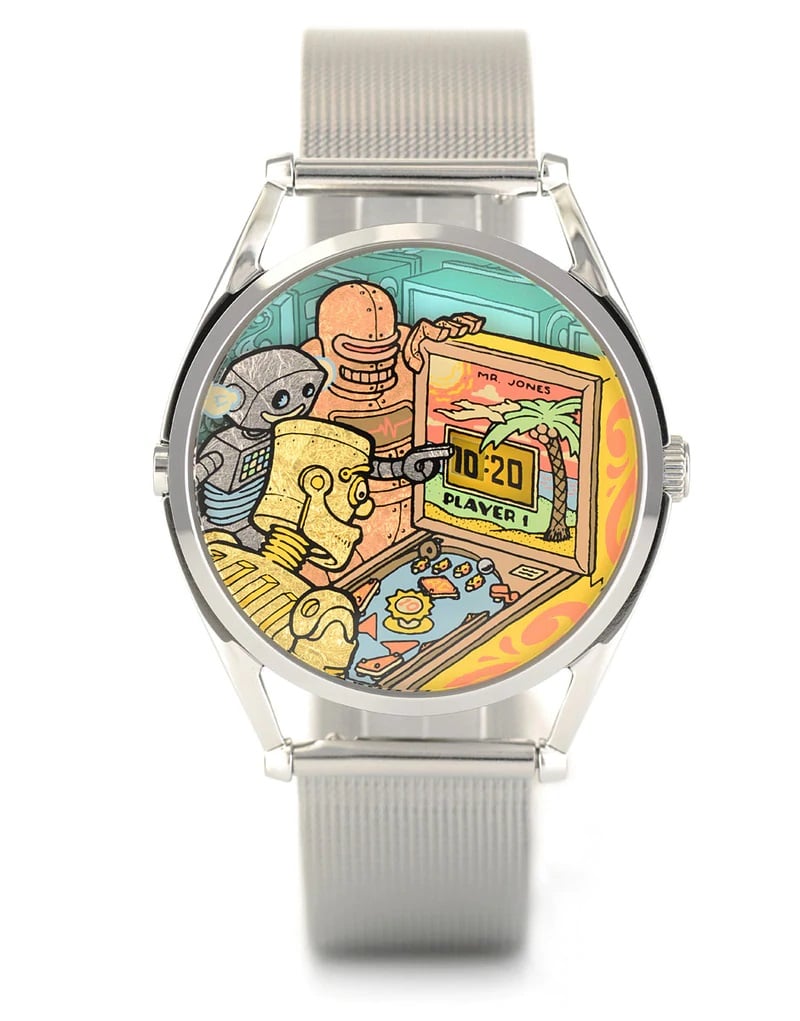 Ricochet
Perhaps the most fun of the trio featured here (I'll let you make that call though), "Ricochet" wastes no square millimeter of the modestly sized dial. Featuring three different robots around a pinball machine, the business of the presentation may make it harder to read the time than the previous model, even though this one uses numbers. The scoreboard of the pinball machine is where the time is displayed. The Seagull ST1721 automatic movement's jumping hour means that — unless you're dedicated, quick, or lucky (not unlike what's needed to succeed at pinball) — you won't see the hours tick over. The minutes on the right cruise along in a more typical fashion.
But why look at the time? The richness of detail is enough to warrant looking at the watch. Each robot is gilded in metal foil of different kinds — rose gold, palladium, and gold for the robot at the controls. It's a fun watch, and while the connection that time has to pinball may not seem obvious, the artist — Ryan Claytor — portrays some of the timely and timeless elements pinball has to offer to the discerning player.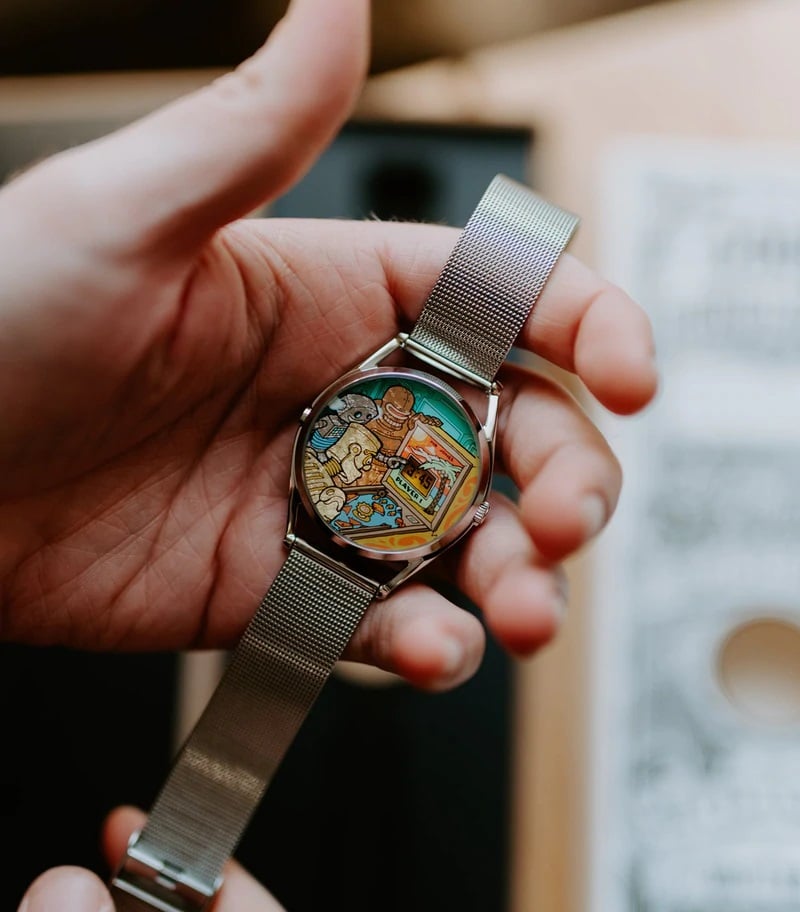 Impressive press
This introspection into time and how it relates to the theme of a Mr. Jones watch is present in every piece, accompanying each watch. As Mr. Jones Watches collaborates constantly with different artists, the brand makes a point to include an element of each artist's background and viewpoints relating to the design and/or to time with its watches. Of course, with such far-out designs to choose from, you'd be just fine to disregard the artist's interpretation and form your own. What does a number-eating, city-destroying blue monster mean to you? I don't know either.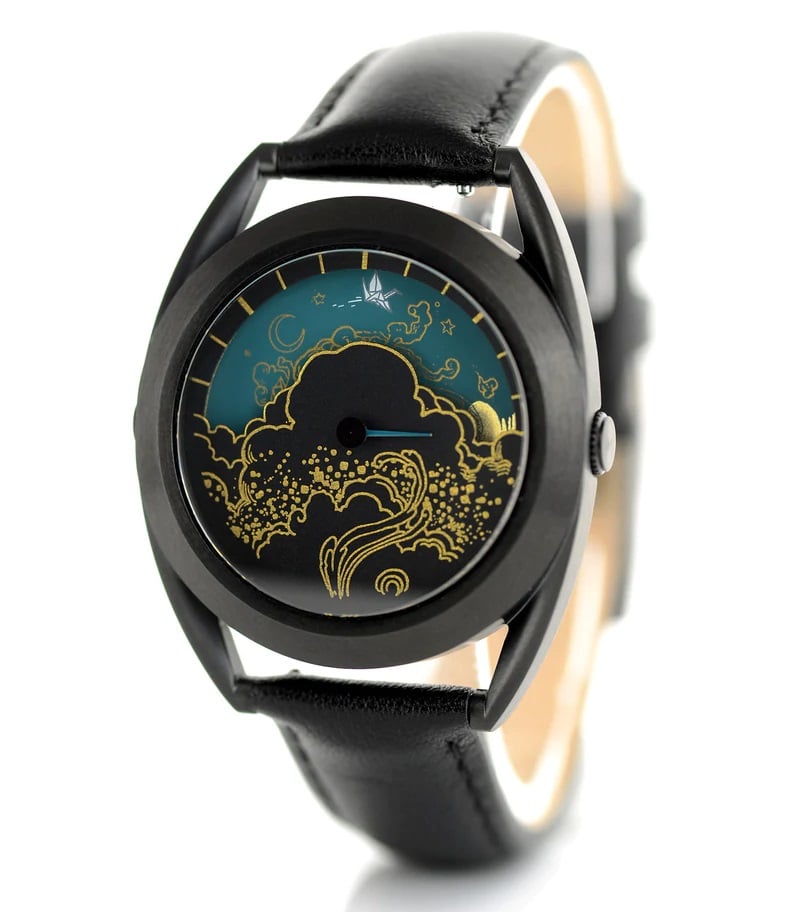 Paper Crane
Perhaps my favorite of the three — and a mood in which Mr. Jones Watches really shines — is in the mystical elegance of "Paper Crane". This watch employs my favorite display format that Mr. Jones uses — a slowly rotating outer ring partially obscured at the bottom. In this watch, the hour is denoted by a crane — paper or red, depending on the time of day — that tracks 12 hours each, from 6:00 to 6:00. It is, if you haven't figured it out, a very elegant way of using a 24-hour display.
…the appearance of real gold at this price point — even if just a few microns thick — is a breath of fresh air.
This is achieved with a quartz Ronda 515-24H. There is a subtle blue minute hand at the center of the watch, but it seems to be a perhaps necessary afterthought to give use to the otherwise neglected minute hand. The real show is the movement of the cranes, tracking the day into night and then back into day. Gold and black play heavily across the watch, and the gold is — like with Ricochet — 22K gold leaf. In a watch world rife with yellowish PVD treatments attempting a gold appearance with cases that (in my opinion) were better off left steel, the appearance of real gold at this price point — even if just a few microns thick — is a breath of fresh air. It may, in fact, elevate Mr. Jones Watches to a level approaching true art.
What is an art watch anyway?
I think the typical perception of an "art watch" is one that's hand-made in limited numbers by skilled artisans that portray unique scenes/settings/ideas and cost a fortune. Well, if you remove "cost a fortune" and keep the rest, you have Mr. Jones Watches. Is it art? You tell me. I know that no one else is doing watches like this, and they certainly aren't for telling time, at least not easily. When you have a watch that exists for reasons other than just being a watch, well… that sounds a lot like the irony and abstraction contemporary art rides on today.
But instead of costing many thousands of dollars, Mr. Jones Watches come in below $500 apiece. I don't know where else to get small-batch, hand-crafted "art" watches anywhere near that price point. And as far as I'm concerned, Mr. Jones Watches' catalog makes me smile, think, and feel a lot more than any Vacheron Constantin Métiers d'Art ever has. Mr. Jones Watches states that its watches' separation from utility opens up other avenues for watch design. I'm happy that Mr. Jones Watches' separation from high prices allows its work to be accessible and exist for itself and not as some status symbol or investment. Mr. Jones Watches exist for the sake of bringing joy, and they do so well.
Check out the Mr. Jones Watches website to see the full catalog, and please let us know your thoughts on the brand's offerings in the comments!