Traveling With the New Oris Big Crown ProPilot Worldtimer
Roughly a month ago, Oris reached out to us and asked if we'd be interested in testing a new watch prior to the lifting of a press embargo (yes, you're looking at a watch released "out of cycle" – not at Baselworld). Naturally, we answered affirmatively to the rhetorical question and the mystery watch was on its way. A week or so later, I received what's known as the new Oris Big Crown ProPilot Worldtimer and I have to say that I was interested from the first glance.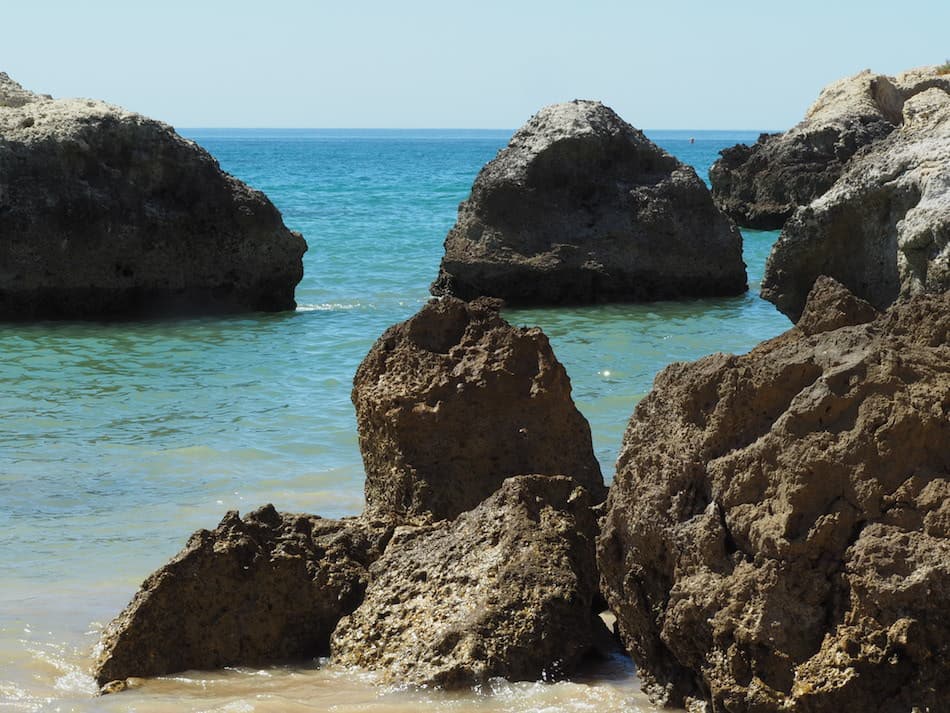 Let's take a trip to the beach where I fought the quickly rising tide and even encountered a shy, but ultimately compliant crab. With pictures shot solely in the Algarve in Portugal, enjoy seeing how this new release fared.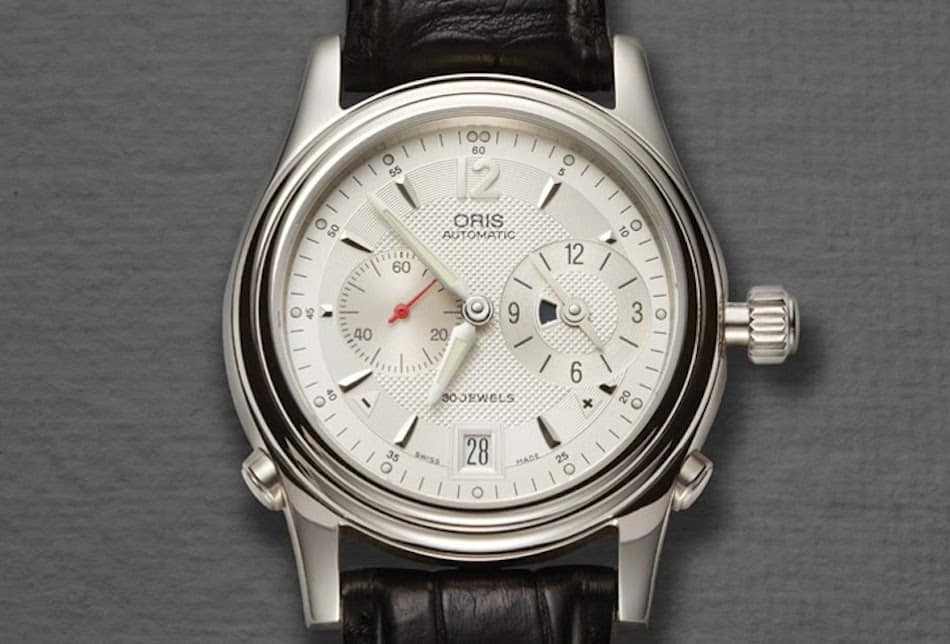 The New Oris Big Crown ProPilot Worldtimer
With the Oris Big Crown ProPilot Worldtimer, the brand expands on the theme of its original Worldtimer launched back in 1997 (as seen above). This was a novel watch when released, and it's honestly still a unique take on the multi time zone complication, as it uses pushers at both 4 and 8:00 to either advance or decrease the main hour hand (local time) by an hour with each click. The advantage of this Oris-derived function is that one doesn't have to stop the watch, fiddle with any screw down crowns, or even remove it from the wrist to set the local time zone upon arrival at a given destination. With the new ProPilot version, even the most passive observer will notice that the pushers are long gone from the watch, which begs the question of how local time is achieved.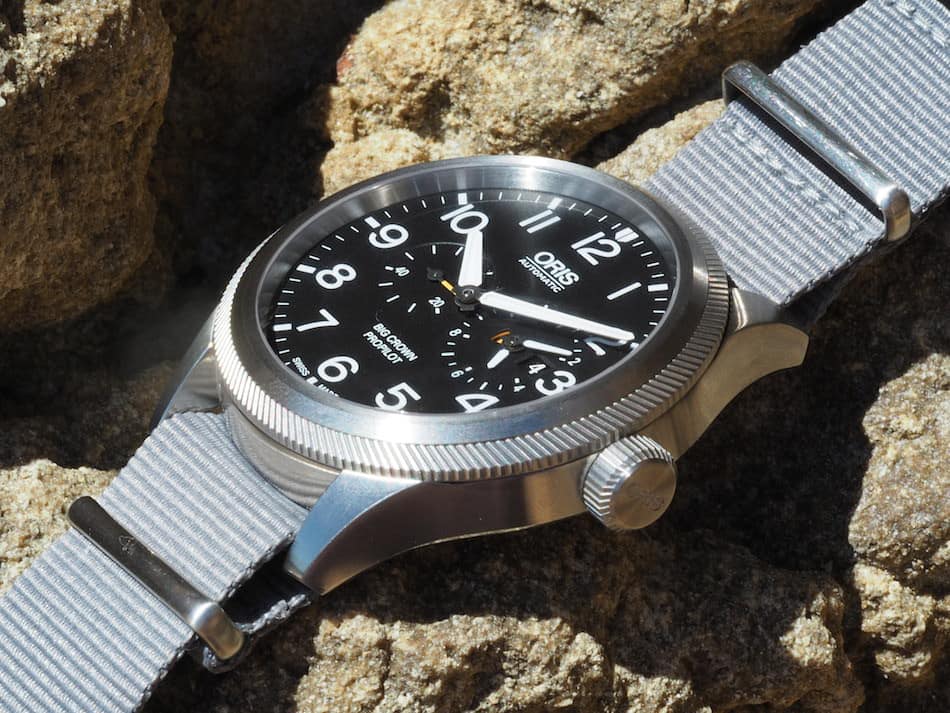 A New Method of Adjusting Time Zones
The Oris Big Crown ProPilot Worldtimer introduces a really handy, no pun intended, method of changing the local time zone by means of twisting the coin-edged bezel. Twist clockwise or counterclockwise and the spring-loaded bezel, with just enough resistance, clicks into the next detent and the main hour hand moves along with it. It's simple, effective, and likely a lot easier to use than a pusher system with gloves if you're truly an aviator. From my testing, I liked the bezel system as it deletes two pushers that don't strike me as ocean friendly.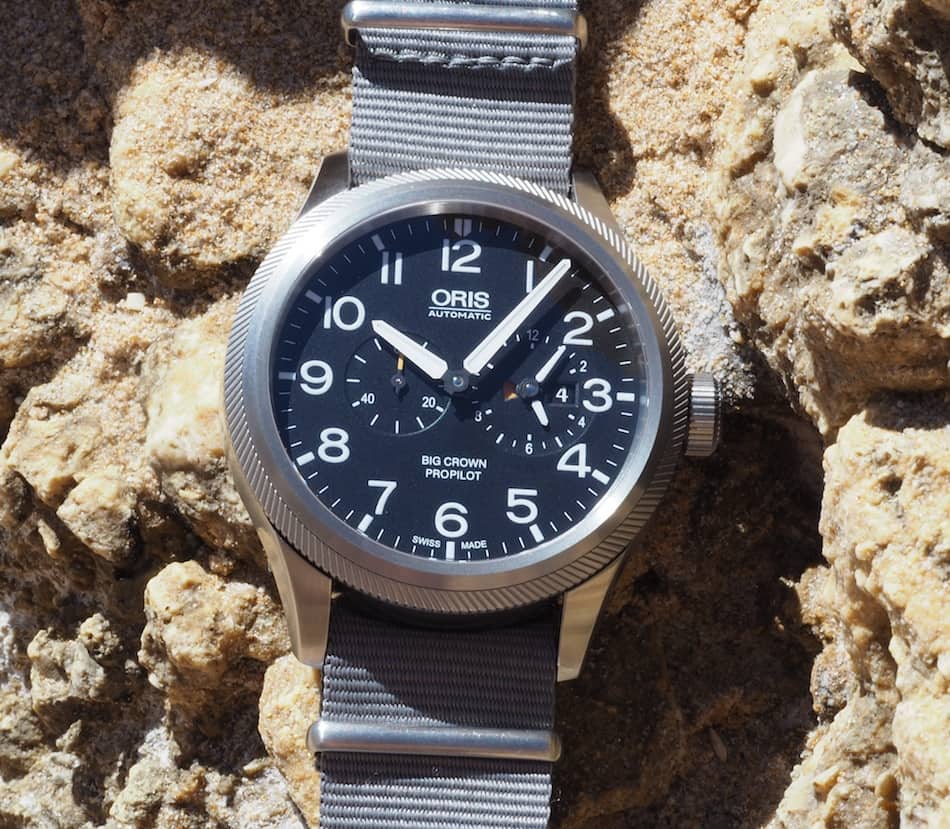 Two Dials to Choose From and a Variety of Straps and a Bracelet
So, now that we've introduced the main innovation on the Oris Big Crown ProPilot Worldtimer, let's run down the main specifications. The stainless steel watch comes in at a largish 44.7mm in diameter with 22mm lugs. It features a large knurled screw-down crown and a see-through case back that exposes the nicely finished Oris Caliber 690 – an ETA 2836-2 with an in-house module for the dual time zones.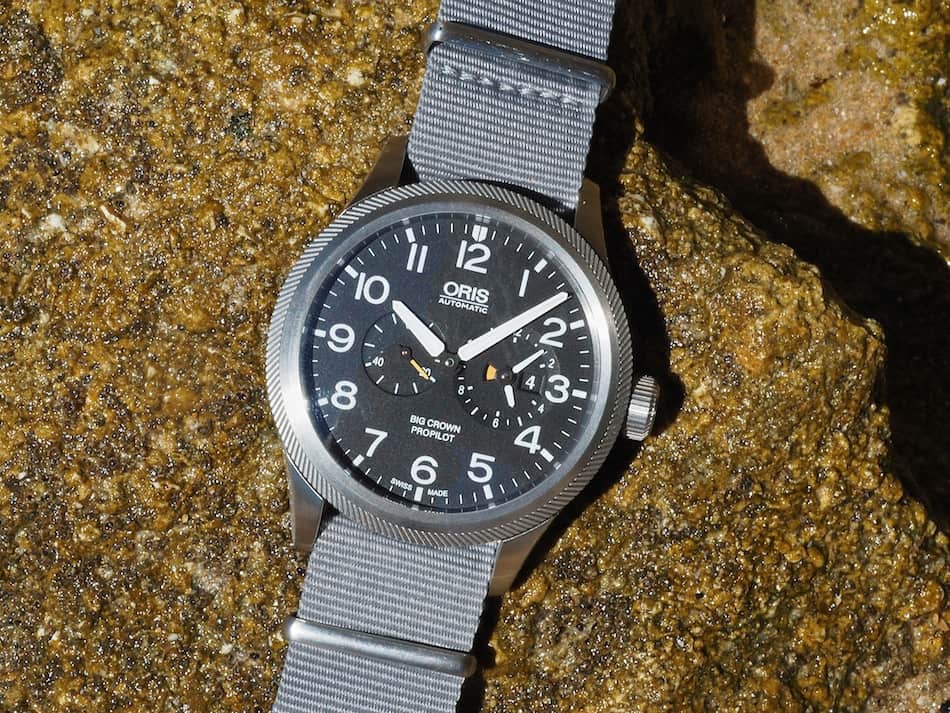 The version you see here has a matte black dial with orange accents and came with a black textile strap and "seat-belt" style buckle (which i neglected to shoot, but if you're familiar with the brand, the clasp is also familiar). An olive strap, Louisiana crocodile, or steel bracelet is also available. Alternatively, the ProPilot can be dressed up with an anthracite dial version sans orange and more polished surfaces around the bezel area. The lightly tabled sapphire crystal is coated with anti-reflective material on both sides and water resistance is a capable 100 meters.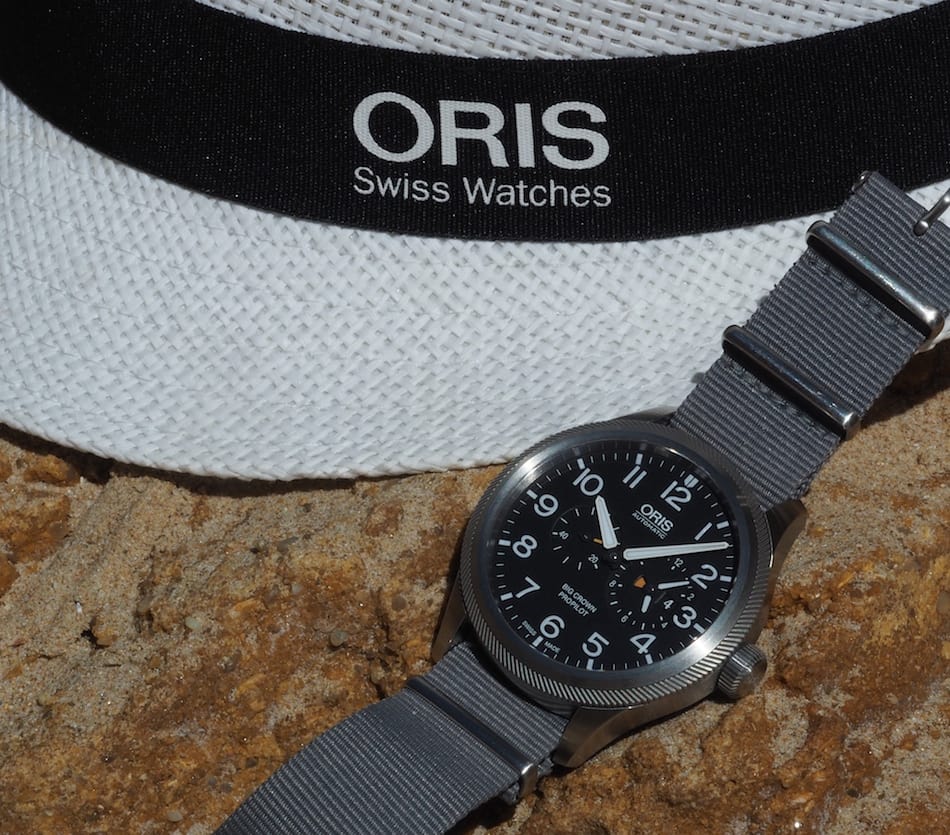 Prior to leaving for Portugal, I attempted to size the textile strap of the Oris Big Crown ProPilot Worldtimer. It's basically done via folding the end of the strap under the buckle and, naturally, I experienced a lot of overhang due to my small wrists. That being said, it was comfortable if not a bit stiff and the buckle was extremely tactile to use. But, since I knew I was beach bound, I swapped the strap for a simple 22mm grey NATO and that made for a good Summery look.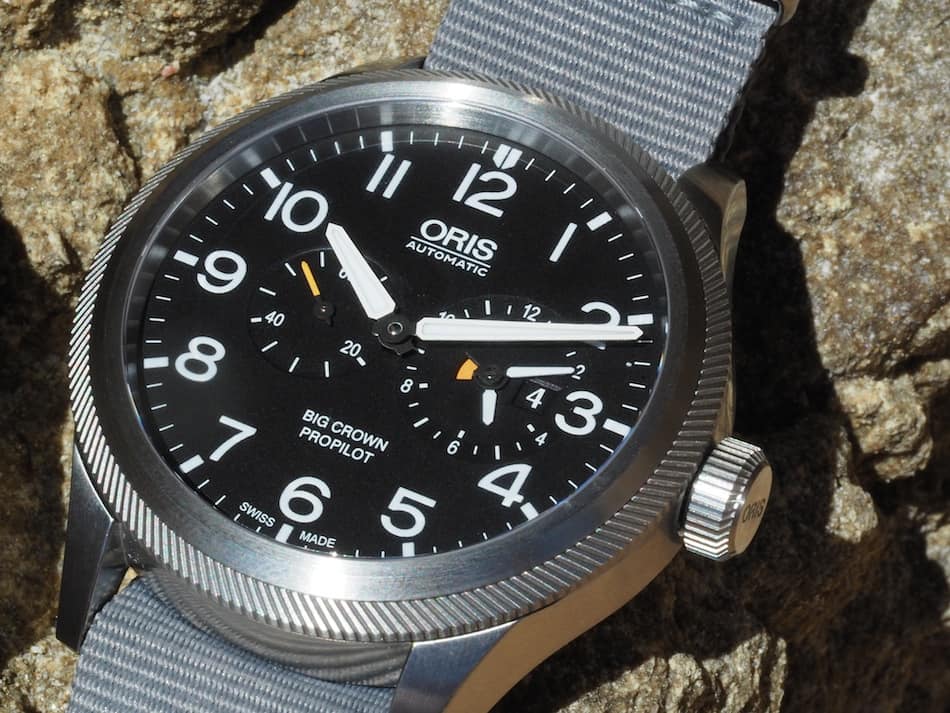 Clear Pilot's Looks but with Something Different
A quick look at the Oris Big Crown ProPilot Worldtimer won't leave anyone thinking that the watch is anything but a pilot's watch, but it's far more detailed than most. Personally speaking, I really like the twin register look on the dial. It's completely different than any other Worldtimer that I can think of and it's very easy to read. The left register is for running seconds while the right register shows home time. It's a neat experience to set the watch as both the main hands and the right register move in unison when the crown is turned. Essentially, the user sets the home time on the small register whilst taking care to note the day/night aperture that shows orange for daytime. Once this is done, the bezel can be twisted to set local time. If the date needs to be adjusted, this is quick set. All in all, it's easy to use and aside from when a large hand obscures the view of the right register, everything is very easy to see. As said, it's nice to see something a little different than the standard GMT.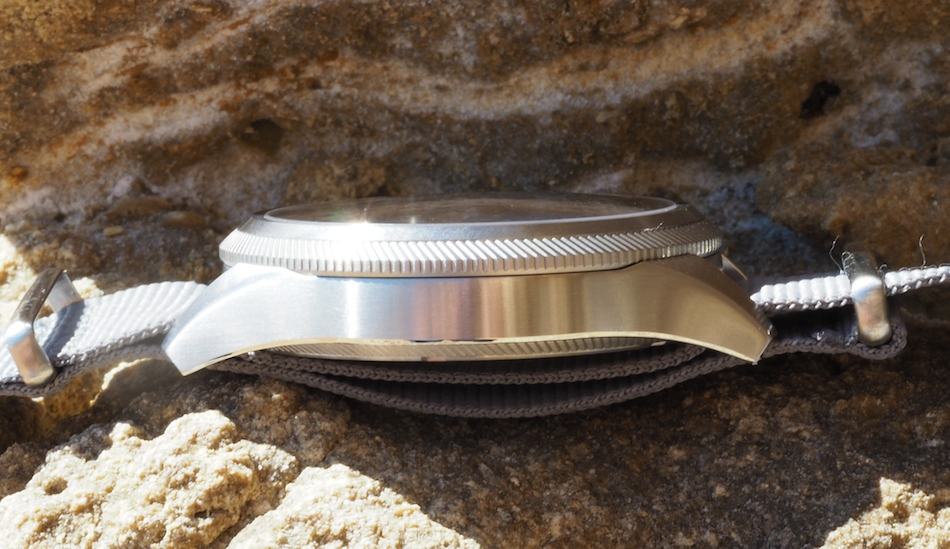 If I take a look at the rest of the dial, there'd be no question that the black-dialed version of the Oris Big Crown ProPilot Worldtimer would be my choice over the anthracite dial. The very subtle orange accents on this version add just enough contrast to make the watch interesting without making it too tactical in appearance. And while the coin-edge bezel has a really strange feeling to the fingertips – it's almost "tacky" if that makes sense – it's seriously easy to grip even your fingers are wet.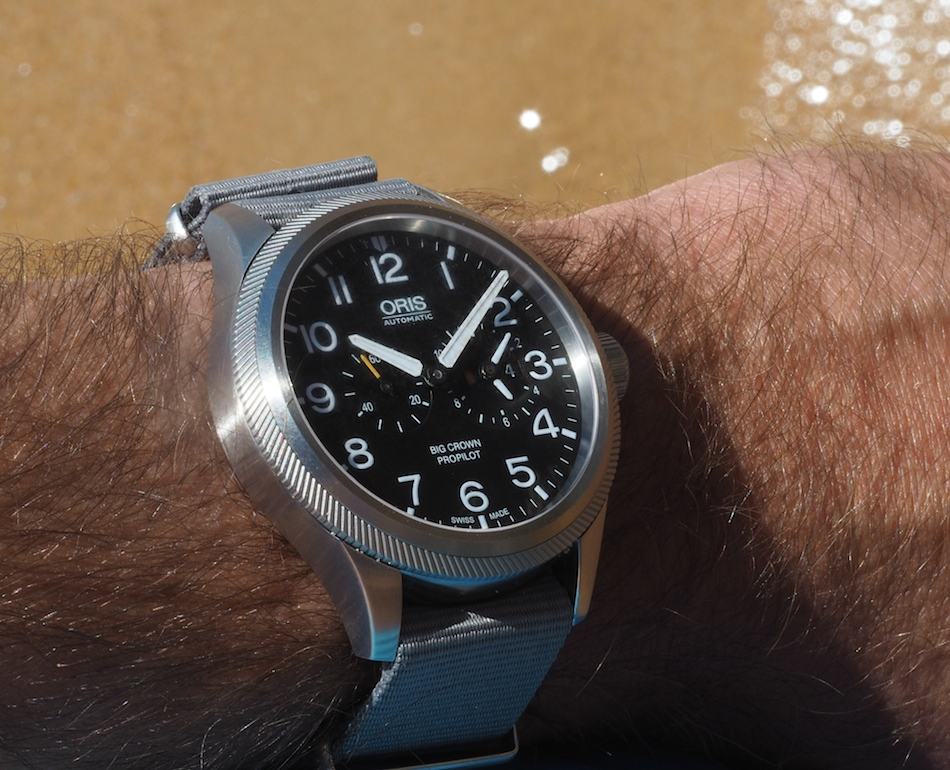 The ProPilot Worldtimer is Comfortable for a Large Watch
From a wearing perspective, I found the Oris Big Crown ProPilot Worldtimer to be a comfortable and great looking companion. In fact, we met some friends for dinner while in Portugal and the watch was noticed and I even had to pass it around the table.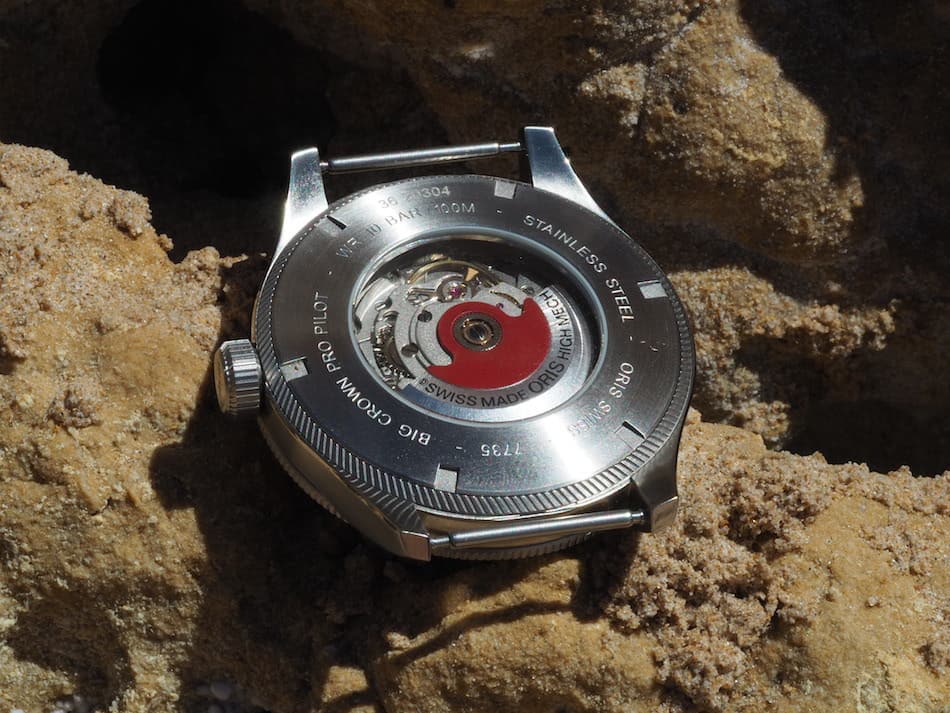 And while I don't really care either way for a display back, the younger set was wowed by it. In the water, the Oris performed well and I didn't have any issues with sand getting into the bezel.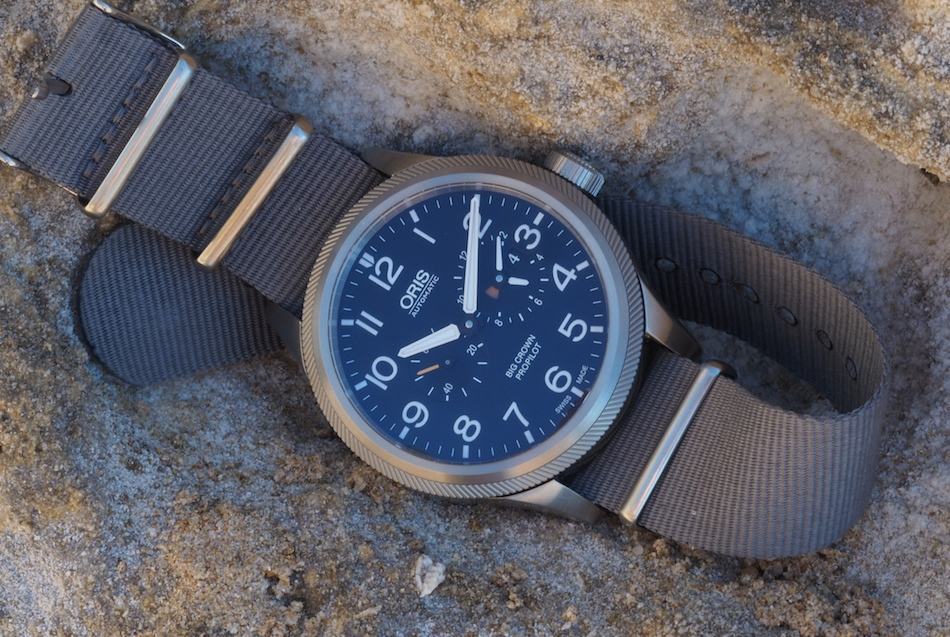 At night in a darkened hotel room, the SuperLuminova glowed brightly. At 44.7mm, I was a bit concerned about the size, but I found the lugs short and curved enough to allow the watch to sit decently on my wrist. For me, it might be a tough fit under a dress shirt, but the size wouldn't likely pose an issue for many of our readers.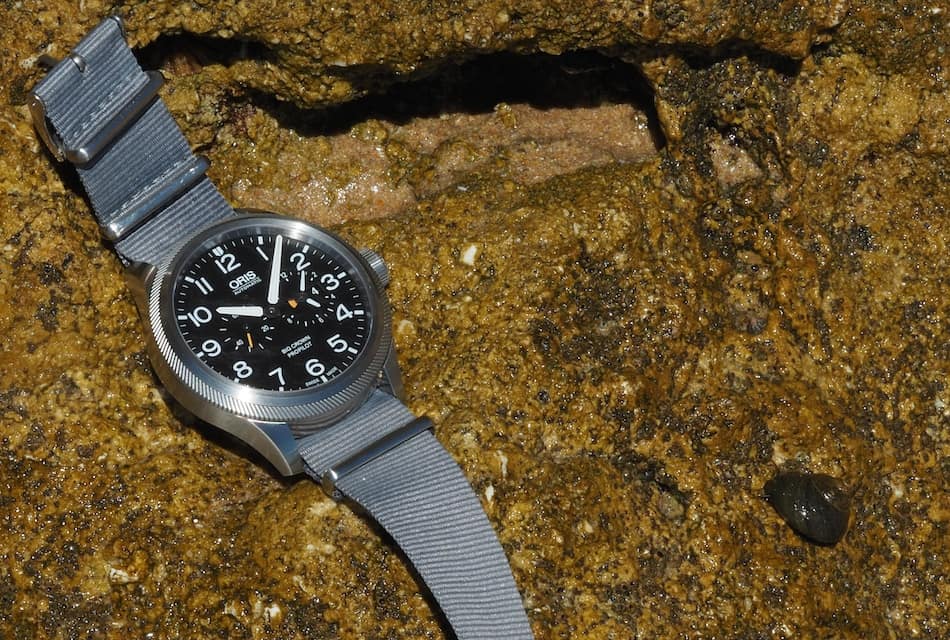 Aside from an IWC Mark XII and a couple vintage military chronographs, I don't own many true pilots' watches. That actually made testing the Oris Big Crown ProPilot Worldtimer a bit of an adventure and I certainly didn't have too many preconceived notions. What I came away with is that this watch possesses some practical and well-designed innovation; a second time zone is honestly the complication I use most now. The unique bezel via an in-house modification is also another example of Oris not remaining content with simply using a stock movement.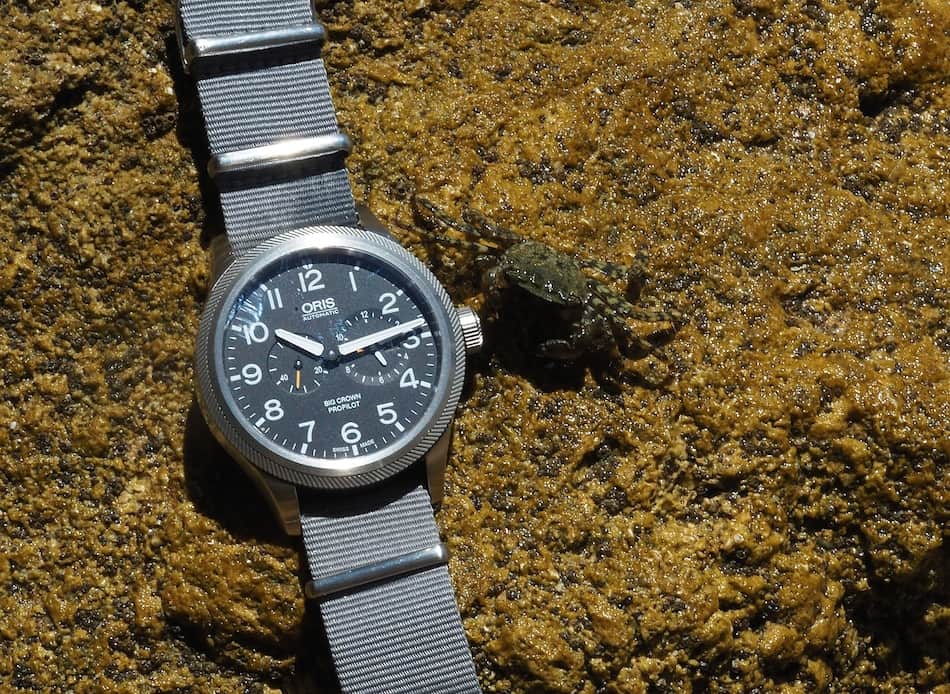 On Sale…Now!
With the Oris Big Crown ProPilot Worldtimer, I also realized that it had been a couple years since testing an Oris at length. I last played with the Divers Sixty-Five 42mm and it's been too long. Oris makes some incredibly well finished watches and this addition to the Big Crown ProPilot line is no exception. The casework, the dial, and all the "touch points" felt incredibly solid. And, in the end, you're left with a watch that shouldn't get confused with anything else on the market. At 3200 Euros with cloth strap – savvy buyers will likely negotiate – this new Oris isn't inexpensive, but it does compare well with pilot offerings from another company out there that charges a lot more for some thematically similar watches. This new Worldtimer is on sale now. Head over to Oris.ch for additional information.