NOMOS Glashütte Christmas Watches Bring Yet More Elegance To The Orion Family
Stocking fillers don't get much better than this...
Few brands do effortless elegance as well as NOMOS Glashütte. It is fair to say that a lot of the brand's more enduring work gets overlooked in the first instance simply because the designs are so polished, so refined, and so intentionally timeless that you find yourself thinking you've seen the same kind of thing 1,000 times before.
And the truth of the matter is that you have. You have seen the same kind of thing before, but you haven't seen it done like this very often at all. The new Orion 33 Gold and Orion 38 Silver models remind us why NOMOS remains one of the very best brands at flying under the radar and why it's our duty to ensure they land on yours.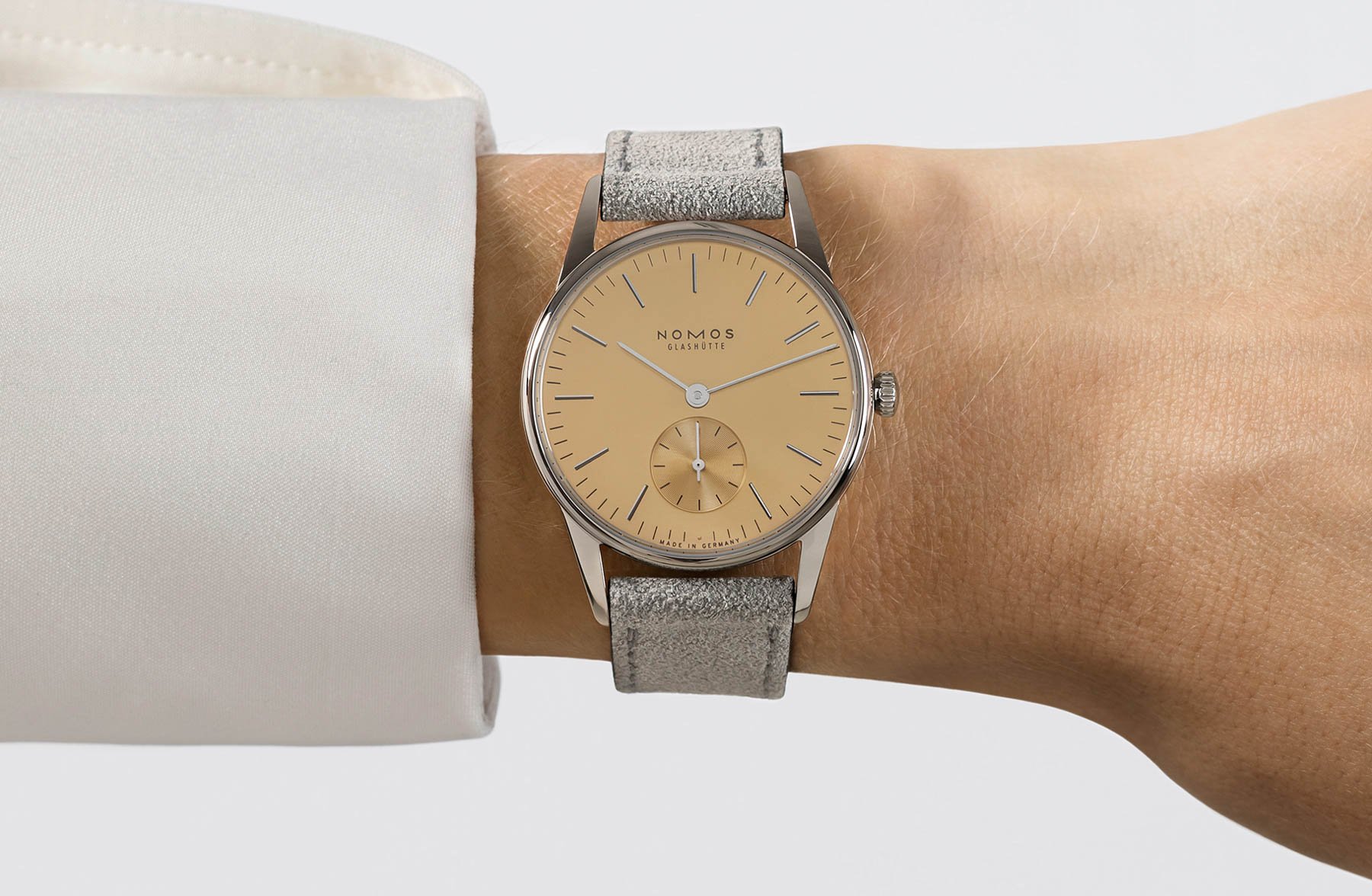 Perfectly balanced design
Proportionally speaking, I am convinced there are not many watches that can hold a candle to the Orion 33. It certainly won't be for most men, but despite its diminutive diameter, this dainty slice of throwback class does still qualify as a unisex timepiece. I know that because I've worn it myself. While it is true that my Orion 38mm gets more wrist time, I actually prefer the 33 as an objet d'art. The 38mm is a super versatile size and wears both modernly and traditionally thanks to its deceptive visual impact and its pared-back styling. However, it is the 33mm that has always had my heart. Why? Because it is one of the very few small watches that balances its aesthetics with its mechanics perfectly.
The Alpha caliber that drives both of these watches fills the 33mm case from edge to edge. The sub-dial hugs the perimeter. In my opinion, the weighting of every element — including the overlong lugs that rankle some would-be NOMOS buyers in the larger diameters — come together in perfect harmony.
Where do these versions rank among the all-time greats?
For me, the best Orion 33mm has always been the rosé model. It is slick, stylish, and stands out. I'm fully aware it is not for everyone, however. It may be a touch too feminine for most men, but the blush pink dial is, to me, a soft and versatile color that works well with the rose gold indices and, as a result, both silver and rose gold jewelry. Where it may fall down, though, is when paired with yellow gold jewelry. This latest version is obviously tailor-made to work with the more traditional hue of gold. In fact, NOMOS even goes so far as to mention this capsule collection's suitability for coordinating with wedding bands in the press material, and the brand is right.
Both the Orion 38 Silver and Orion 33 Gold have been inspired by the roaring decade that commenced over a century ago. The Orion 38 Silver in particular recalls the mid-20th century heyday of Glashütte watchmaking before the many and various companies and workshops were folded into the GUB during the years of Soviet occupation that stretched on toward the conclusion of the 1980s. If you're a fan of historical Saxon watchmaking, check out the ubiquitous "Spezimatic" models from Glashütte Original to see what I'm talking about. Silvered and champagne sunray dials with gold or silver hour markers and simple pencil hands defined an era. NOMOS Glashütte drags that golden age right up to date with these catalog additions. The gold and silver-plated dials and their faceted hour markers make for a classic yet contemporary aesthetic.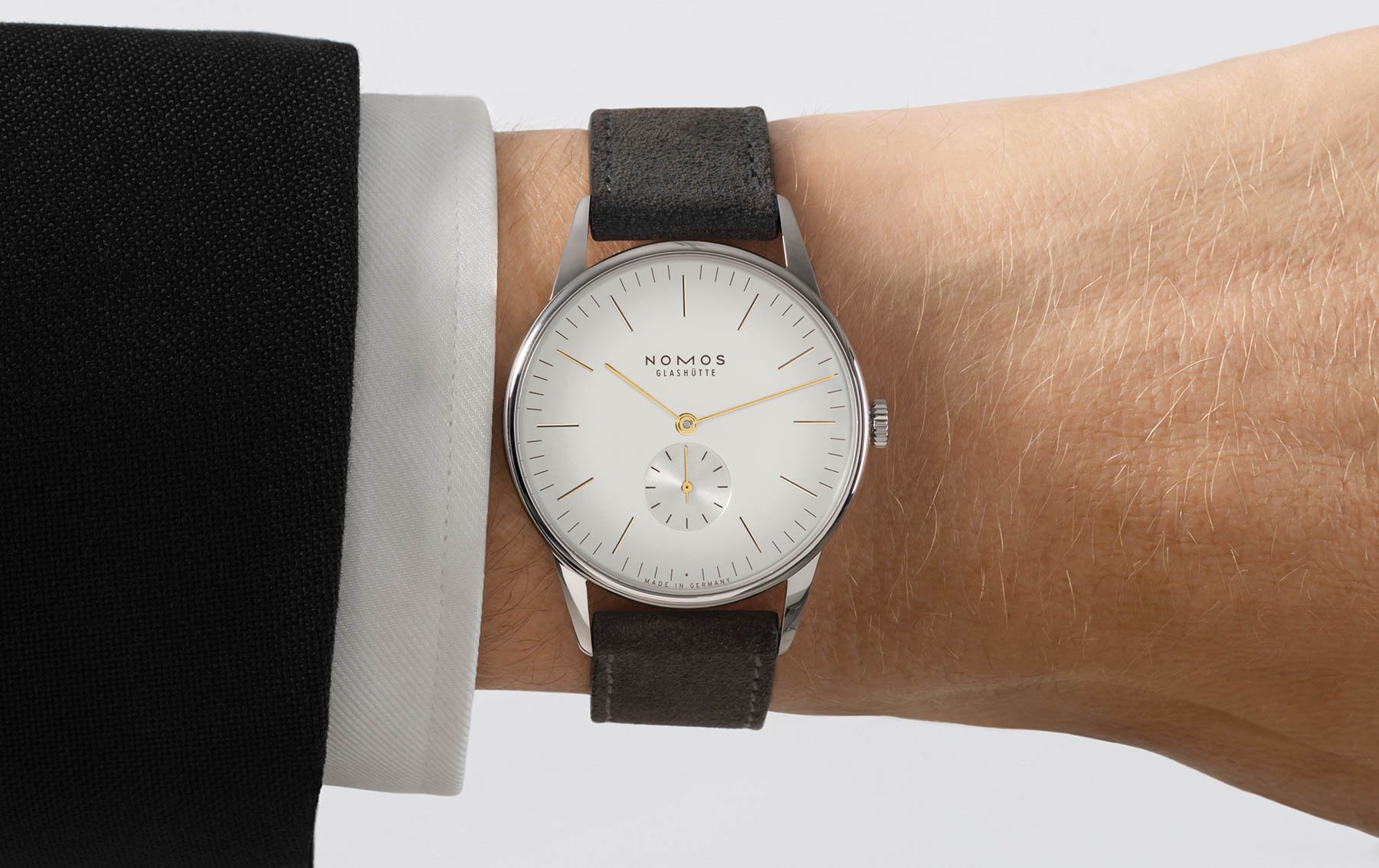 Affordable gifts
Okay, so buying a luxury watch for someone as a gift is a pretty big deal. You may, however, be able to negotiate a his/hers, his/his, hers/hers, theirs/theirs kind of deal in the run-up to Christmas in which you and your loved one buy each other one of these pieces. Better still, the retail price of these beauties is just €1,960 for the Orion 38 Silver (reference 379) and €1,680 for the Orion 33 Gold (reference 359).
Included in the cost is the option of a custom engraving up to 65 characters in length. That means you can make the special day even more special by personalizing the watch for its recipient. And although these two models are the newest entrants in the long-standing Orion collection, it isn't the first time the Orion family has been singled out as the ideal place to find "couples' watches" given the wide variety of sizes and dial finishes. So even if the new gold and silver models aren't for you, it's worth checking out the existing core collection here on NOMOS Glashütte's official site.
This is a preferred position post. Learn more.