Speedy Tuesday – Strap Choices For Your Speedmaster By Paul Twice
The strap game is strong for the Speedmaster so we continue our quest to that perfect 20mm weapon of choice. We were contacted by Paul from Paul Twice to give their straps a try and we gladly did so. By the way, the name Paul Twice refers to the two Pauls who are running the company.
We were asked to select three straps from their webshop and we decided to go for the cognac suede, brown horween and whiskey cordovan. All in 20mm, although Paul Twice also offers them in 18mm and 22mm.
Paul Twice Loves Speedmasters
Not much later, the cognac suede, brown horween and whisky cordovan straps arrived at the Fratello HQ in The Hague. As Paul Twice shows most of the straps they are selling mounted to an Omega Speedmaster, I thought to do the same. So after going through a very short decision flow-chart, I came up with both Speedmaster Speedy Tuesday watches and something in gold. Especially for the latter, I find it difficult to select something nice, other than a black alligator or calf strap. I thought it would be interesting to put the gold Speedmaster Professional on a lighter colour for a change. Paul Twice seems to dub these straps with names like 'The Marc' and the brown horween for example as 'The Continental' but they are not very consistent in doing this in the shop overview. So I will stick to the name that you can easily find over there. Anyway, Paul Twice indicates that the cognac suede 'toes the line between casual and elegant' and that's what this gold nugget needs.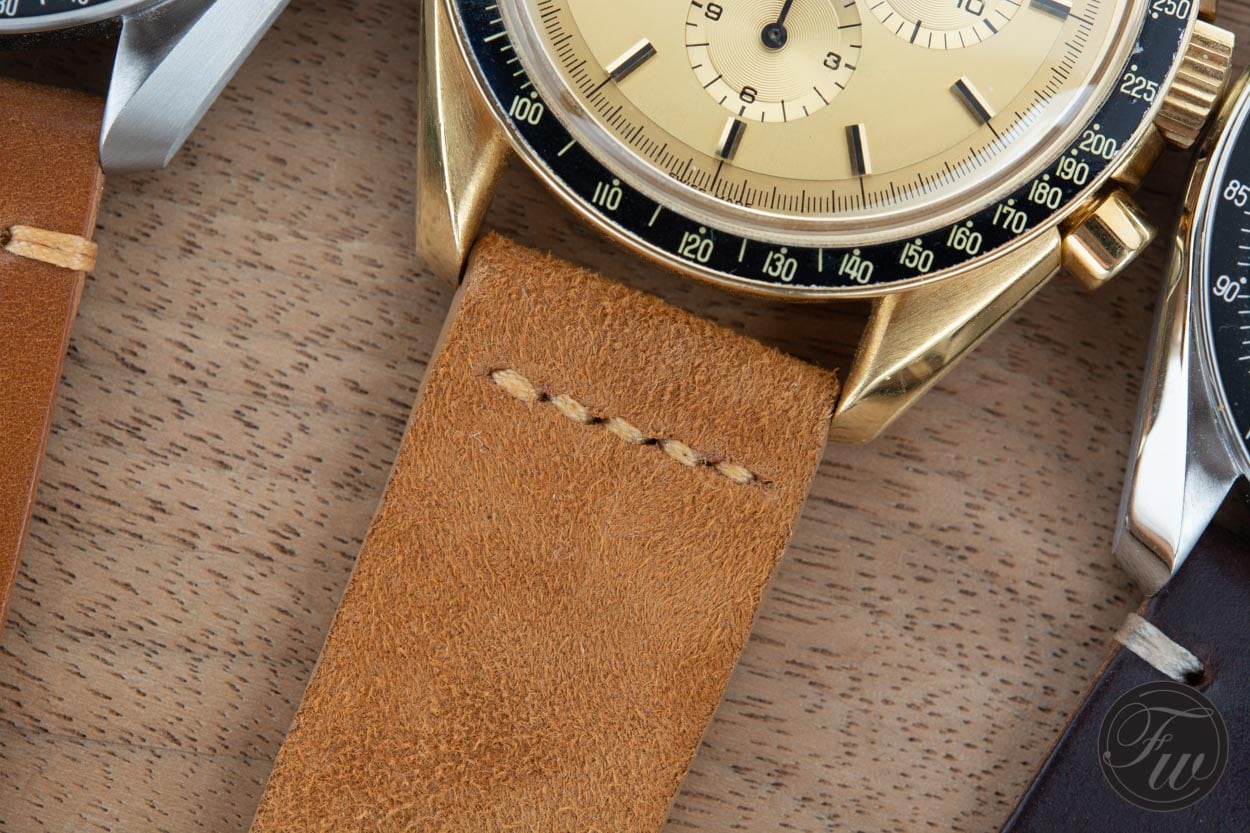 The Speedmaster Speedy Tuesday 'Alaska III' is on the whisky cordovan and the Speedmaster Speedy Tuesday 'Ultraman' on the brown horween. There's not really any logic behind these choices, but I found the dark strap to look very handsome on the Ultraman where I feel that the Speedy Tuesday 'Alaska III' always looks nice on a (tan) brown strap.
These three straps; cordovan, suede and horween are also the types of leather that Paul Twice has to offer. The horween straps are most expensive in the range, with a price of 99 Euro. Then comes the cordovan strap, made from the shell (fibrous flat muscle) of a horse, with a price of 89 Euro. Last but not least, the suede strap. This strap is made of goat skin and has a price tag of 79 Euro. All three straps are handmade in Germany and Poland and Paul Twice sources only the best leather from all over the world. The 16mm buckle is made in Switzerland. I have to say that all three straps are very supple and the colours of the straps match those that were shown on the website. It always remains a bit of a mystery what will eventually land on your desk but in this case no surprises. Except for the whisky cordovan ('The Bourbon') strap. Based on the Paul Twice webshop, I expect to receive a nice even light-brown strap, but in the flesh, there is more to it.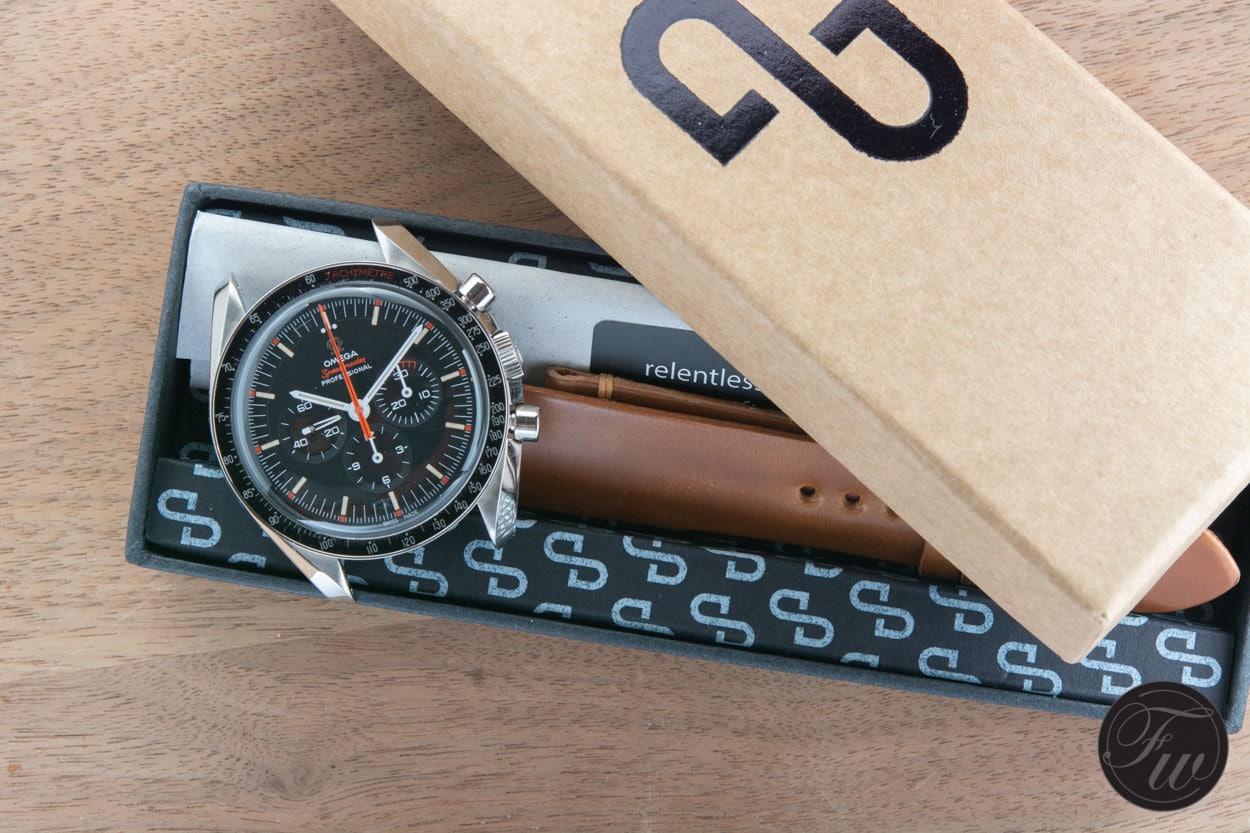 The whisky cordovan has a beautiful 'patina' colouring like you see on some of the shoes from Santoni, Berluti etc. There are different tones of brown on the strap, that makes it an elegant choice for the Speedmaster. I was afraid that this watch would have a bit of a glossy finish like you often see with cordovan, but that isn't the case here. Tan thread has been used for the stitching and it matches perfectly.
And your Speedmasters Love Paul Twice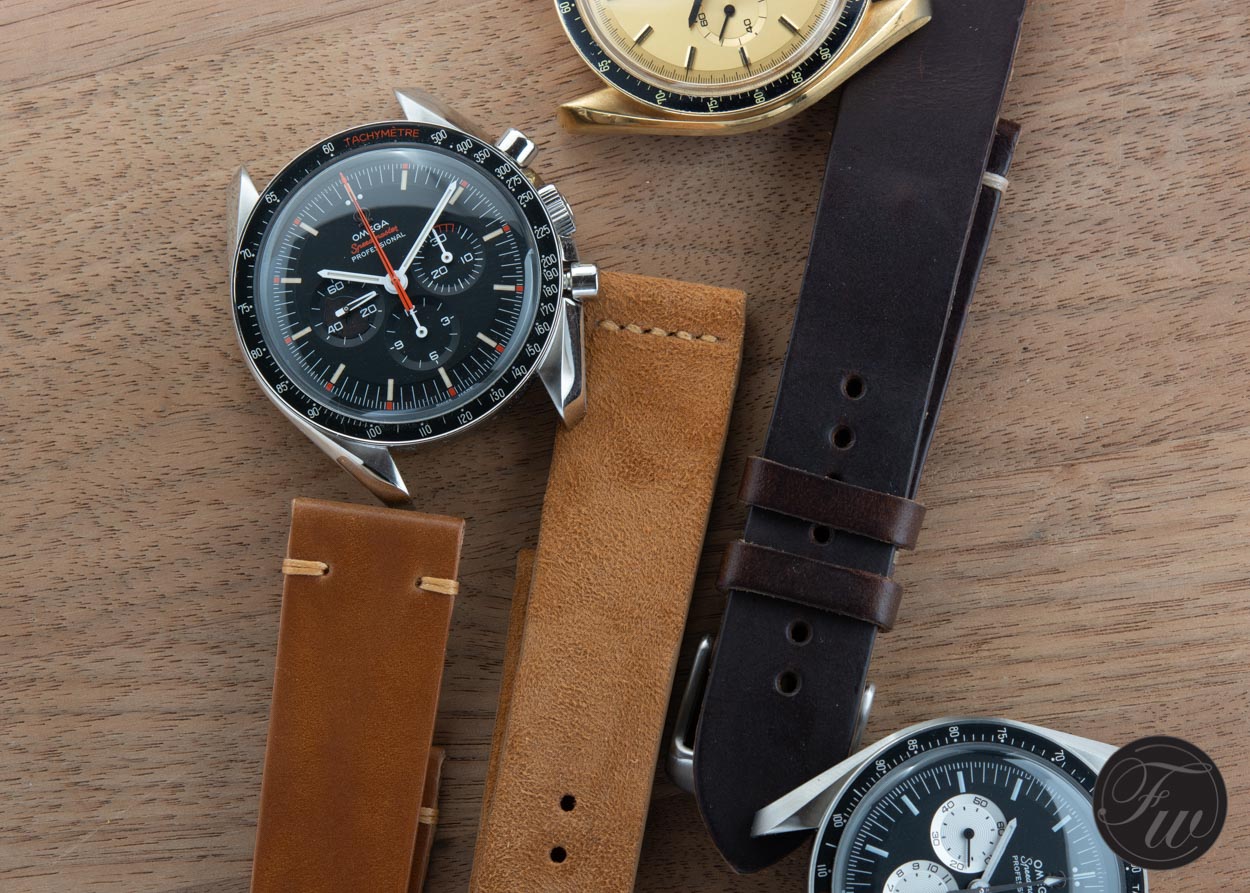 The 20mm straps by Paul Twice are awesome picks for your Speedmaster. The quality is good and the colours you can choose from are safe bets for your Speedmaster, no matter if you have the regular 'Moonwatch' or one of the many limited editions/variations out there. One thing that I wasn't particularly fond of was the buckle. The shape is a bit too unrefined (too big) and the finish was a bit undefined between polished and brushed, resulting in this strange gloss. That said, this might be (and probably is) just my perspective. In any case, I tend to put on a branded buckle on my straps anyway.
On the inside of the strap (or lining), you will find the Paul Twice logo stamped in there. The goat suede strap has an interesting lining in my opinion, look at that structure!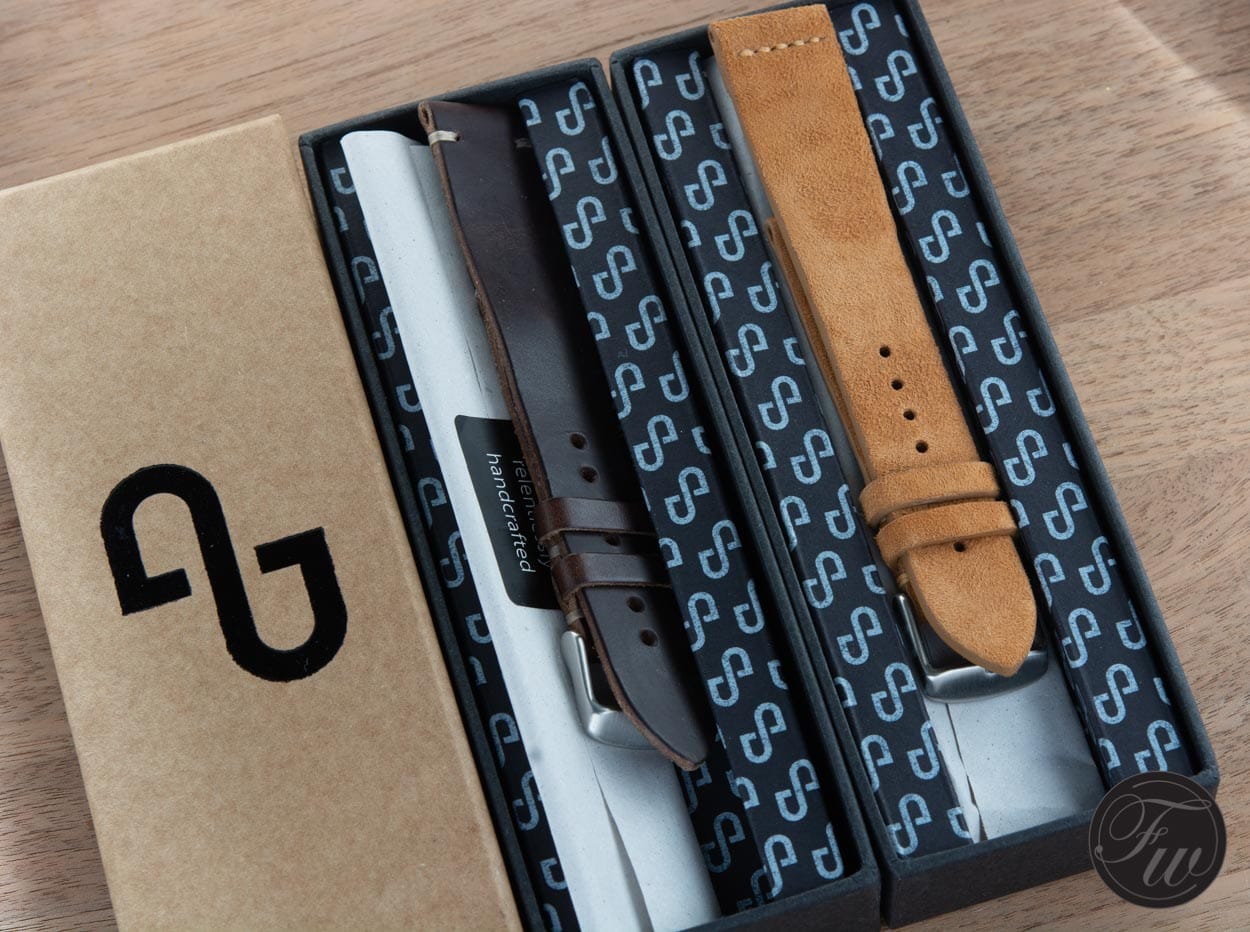 What I did like a lot, but has no further use once you mount the strap to your watch, is the packaging. It is really nicely done. A cardboard box with the strap wrapped in some kind of blotting paper.
What I often don't like about straps is that they are simply too thick. Often being mistaken for 'quality', but it has little to do with that and I actually rather compare it with cardboard than leather. A fine thin(ner) leather strap is what I prefer to be honest, it is often more supple and it simply looks more elegant as well. Paul Twice straps have exactly the right thickness for my taste and will make your Speedmaster look good. And that's what it's all about of course. The buckle is a minor issue, and you even might feel otherwise as I am talking about personal preferences here. All three straps surprised me in a positive way. Not only the colours were spot on, but also how they wear and feel are a token of Paul Twice's passion for creating beautiful quality leather products. The cognac suede really surprised me the most, especially in combination with the 18 carat yellow gold Speedmaster. The combination is more interesting than I imagined. It gives the watch a more vintage look, which it deserved after almost 40 years of course.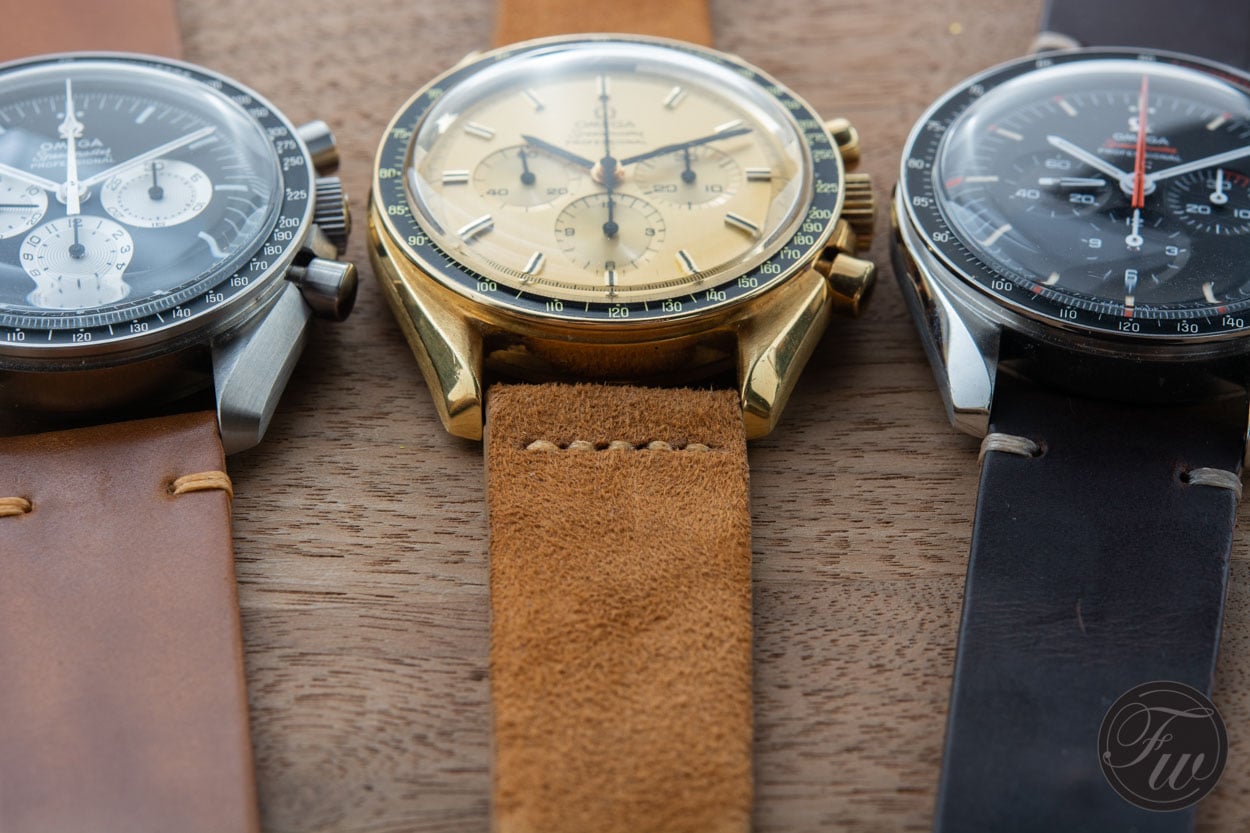 That said, the colours and straps are very versatile – and so in the Speedmaster – so I guess that any combination would have worked in this case. Although Paul Twice straps do not come cheap compared to some other makes, the presentation is impressive and the quality is certainly good. It is still much cheaper than ordering an OEM strap from a watch manufacturer in most cases.
As written above, prices start at 79 Euro. More information and ordering via Paul Twice.