Rado Captain Cook Ceramic Watches — My First Look And Immediate Takeaways
How do these new flagship models land with a former Swatch Group employee?
I've been more intimately acquainted with most modern Rado watches than most people would care to know. And trust me, although the very recent stuff is pretty smartly designed, the semi-modern output from the late nineties to 2010s was… Well… Let's just say, it was sent to try us. Manufacturing watches out of ceramic has come a long way since those days, and Rado has always been at the forefront of the practice. Those early attempts were creatively executed, but now we're seeing signs of a master maker settling down into its field of expertise. So are these new flagship models in the Captain Cook range worthy of flying the flag for the famous Swiss brand? Let's find out.
Flashback to the days I spent servicing Rado watches for a little extra cash after finishing the daily grind at SGUK HQ in Southampton. For the most part, we WOSTEP watchmakers were allowed to hang around after hours and do overtime jobs for a few quid here and there. Considering almost every one of these overtime jobs comprised little more than a battery change or bracelet resize, it was good money.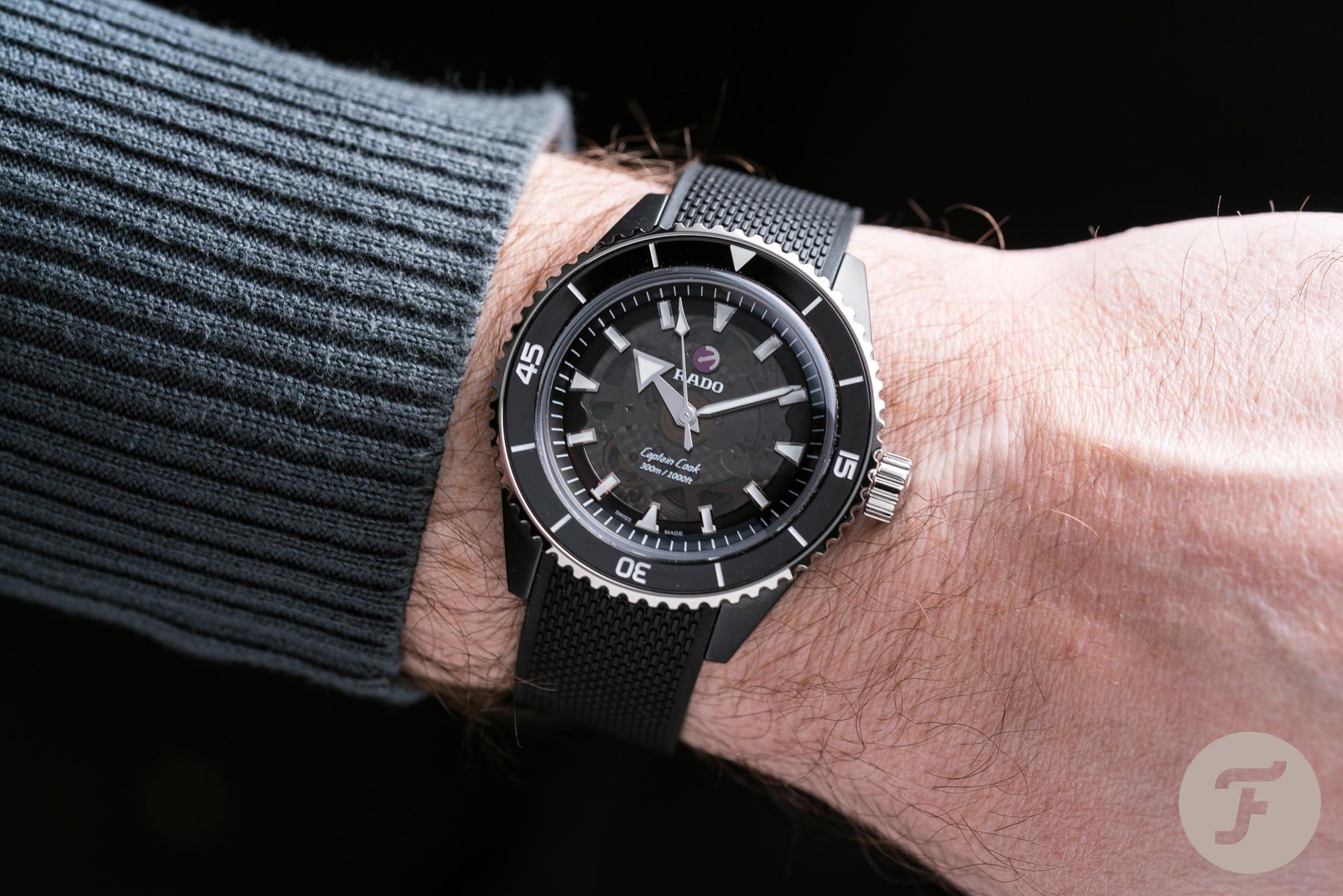 Well, it was especially good money when you were given 10–20 Omega Seamaster 300M watches to shell. Those practically indestructible tanks could have a battery and reseal done in under 10 minutes, and the pressure test almost never failed. That's the kind of work a struggling young watchmaker wants to land on their desk. What you didn't want to see was a crate of late '90s Rados rock up all needing a link out and/or the case opened.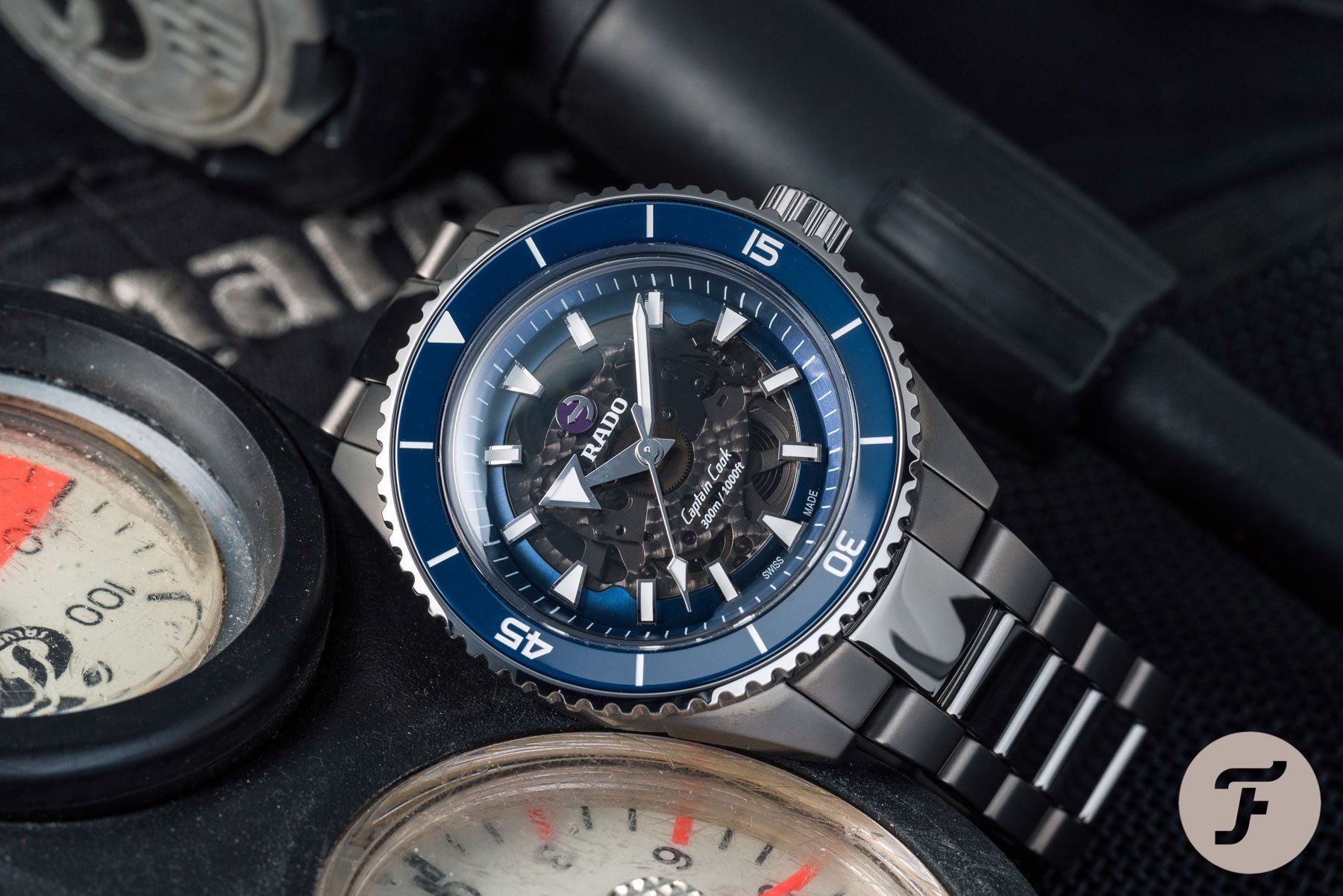 Throwing down the gauntlet
Why? Rado's old ceramic bracelets were as challenging as an expert-level Sudoku. They had to be. The brand had got the hang of manufacturing the components very nicely. It hadn't, at that point, however, quite mastered how to fit them all together without inducing immediate alopecia in any watchmaker unfortunate enough to come across them. Worse still was the UV glue used to fit the glasses to the cases. The problem? Without a perfect seal, while the glass may hold, the watch would fail a pressure test at less than 0 bar. I mean, if you looked at it too quickly the case would flood for no decent reason. Simply put, if you wanted to service these watches, you needed a bit of talent, a lot of experience, and an inhuman level of patience.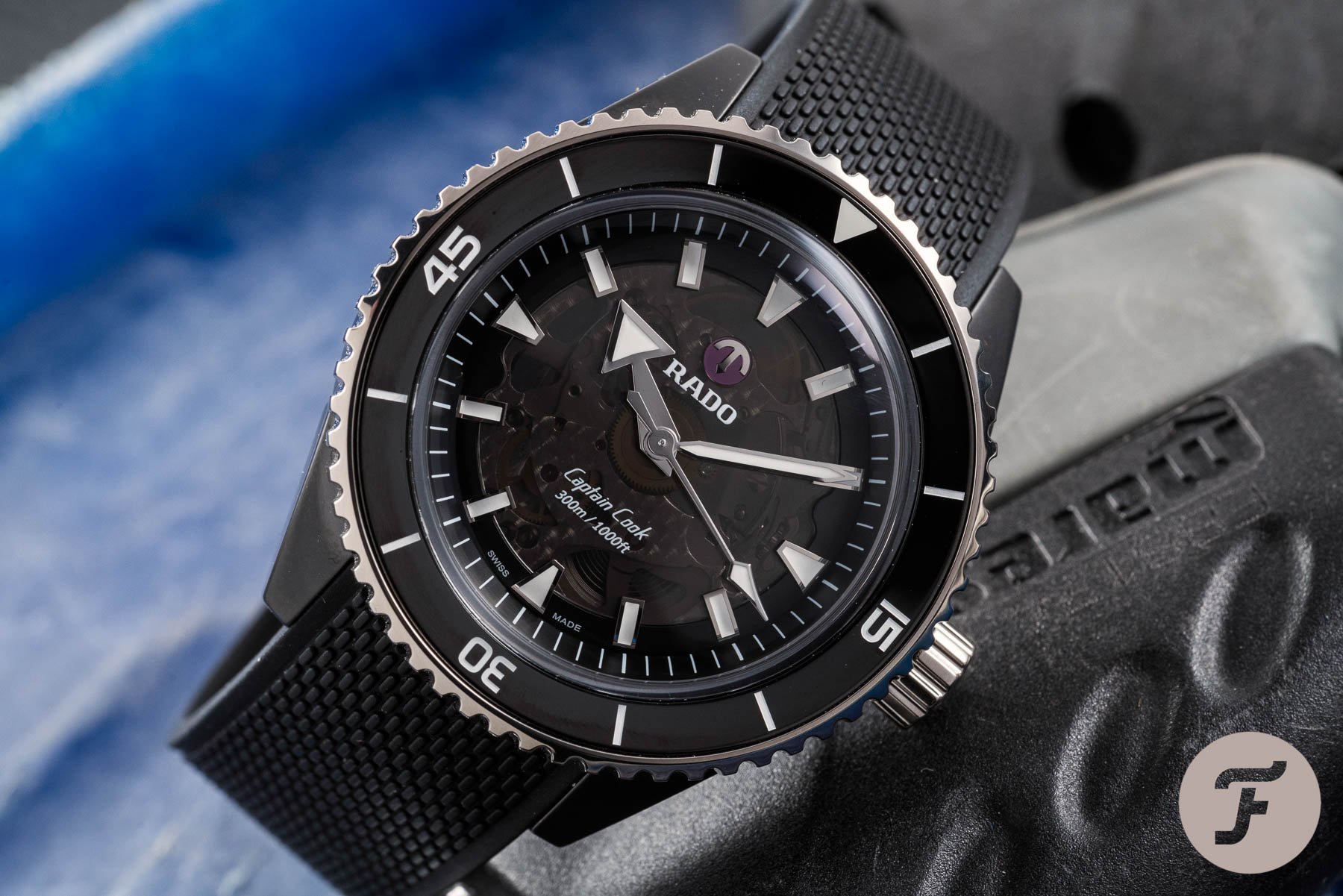 Progress matters
Sure, it was a baptism of fire. And, yes, it made me a better watchmaker, possibly even a better man. I learned things about myself at that old bench in Millbrook that years of traipsing the streets of Paris as a traveling troubadour could not have taught me. But as much as I look back on that era fondly, it is clear that the top brass at Rado was also aware of the finicky nature of its products. While the man and woman on the street may not care, there was progress that could and should be made.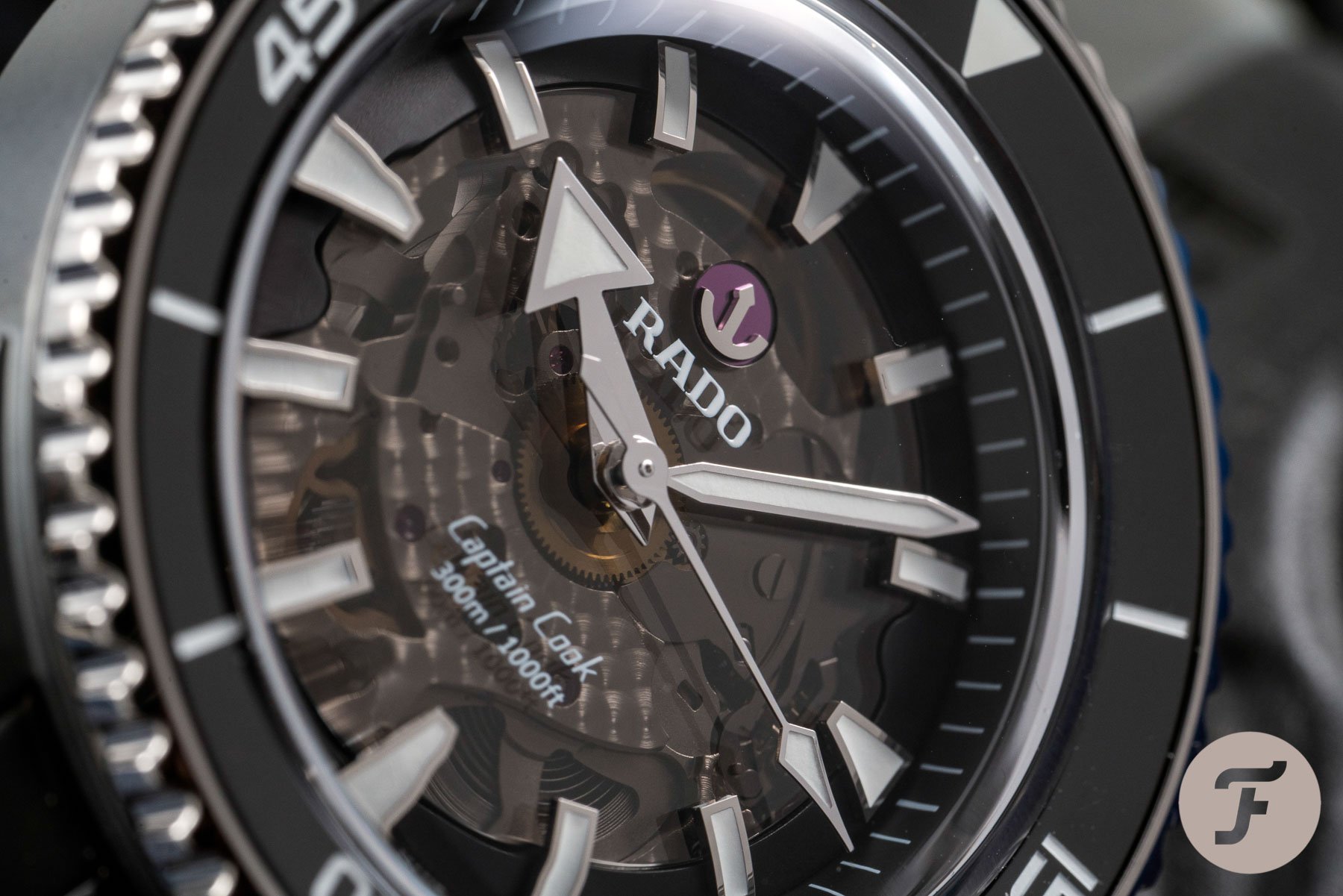 This generation of ceramic watches from Rado is an entirely different breed. I could tell that the moment I saw them. Strong, deliberate, decisive. This is a collection that feels mature. The early experimentation in the field of ceramics was fascinating. This range, while familiar, is simply much more impressive.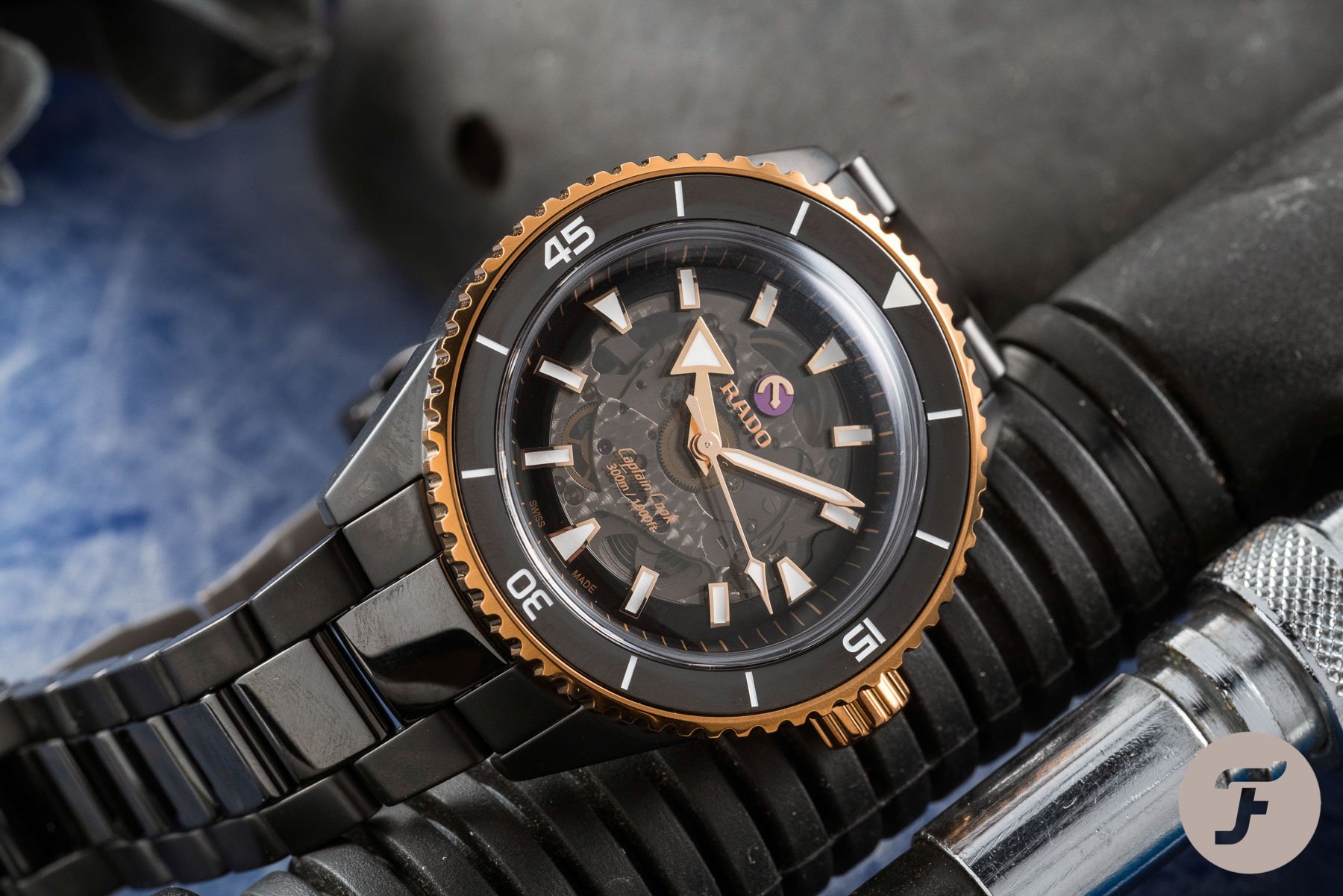 Dialed in for success
The thing that grabbed me immediately, however, was not the ceramic itself, but rather, the use of a smoked crystal dial. Now, I've gone on record more times than I'd care to mention slating skeletonized dials. Consequently, you might even find my love of smoked displays slightly contradictory. But allow me to explain. What I detest about almost every skeletonized dial is how visually chaotic, noisy, and distracting it is. That's not to say a bit, maybe a hint, of the watch's mechanical heart can't be visible on the dial. But an effective display is, for my money, all about uniformity. Open heart dials can take a running jump. They are even worse than skeletons. But a neatly decorated movement just visible through a uniformly gray crystal? Now we're talking…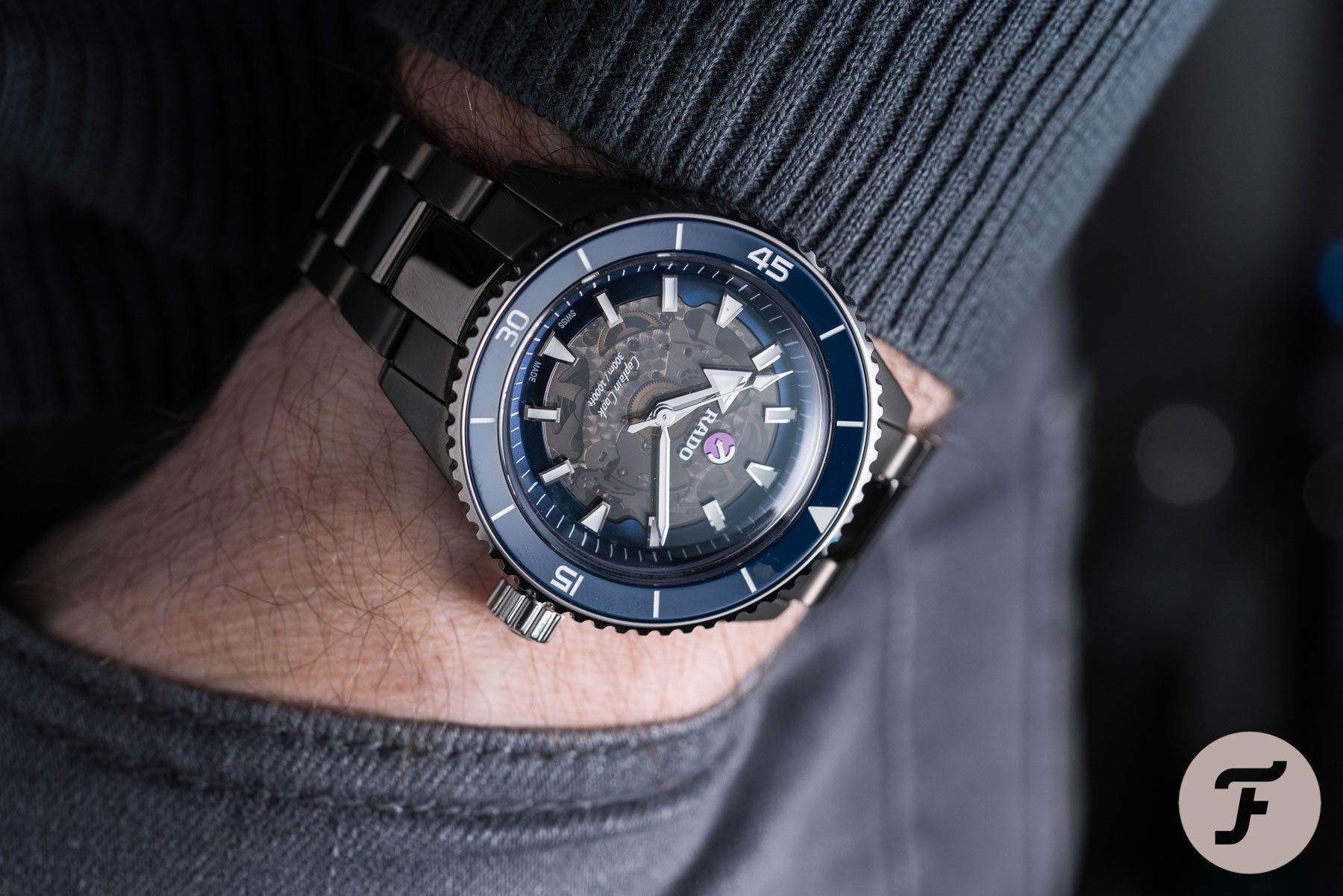 What this does is imbue the whole collection with a much-needed sense of futurism. Looking back on those fiddly models from my youth, it's easy to forget how futuristic those John Player colorways used to seem back in the day. It's Rado's calling card. The brand simply has to push the envelope when it comes to design. The new Rado Captain Cook collection does that. And it does it in spades.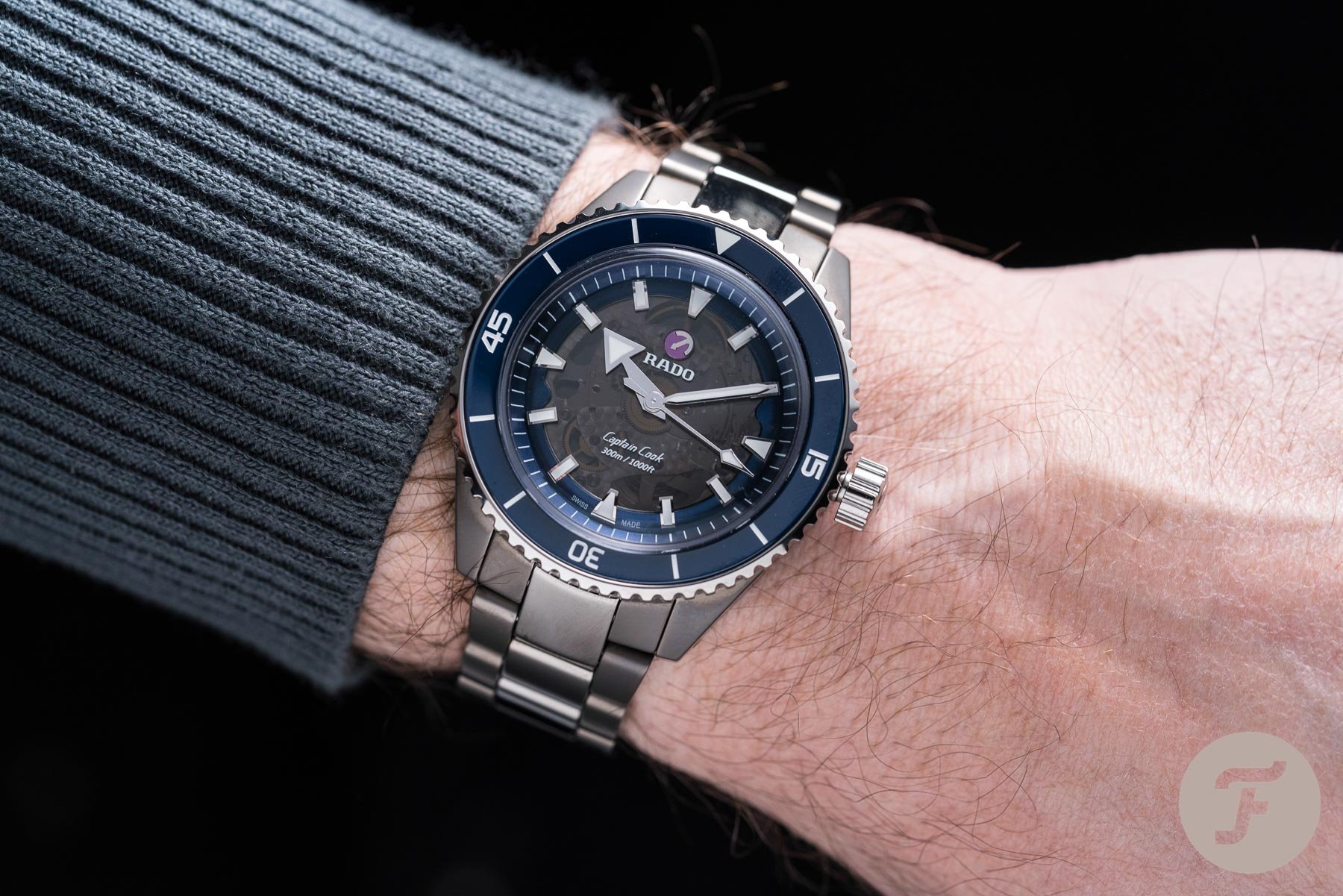 Speak to me about specs
These watches are not for the faint-hearted. With a 43mm diameter and, perhaps more pertinently, a 14.6mm thickness, these watches wear pretty imposingly. However, for that size you only have to contend with 157g of weight if you take one on the ceramic bracelet, and even less if you pick up the option on the rubber strap. That model, reference R32127156, weighs just 114g.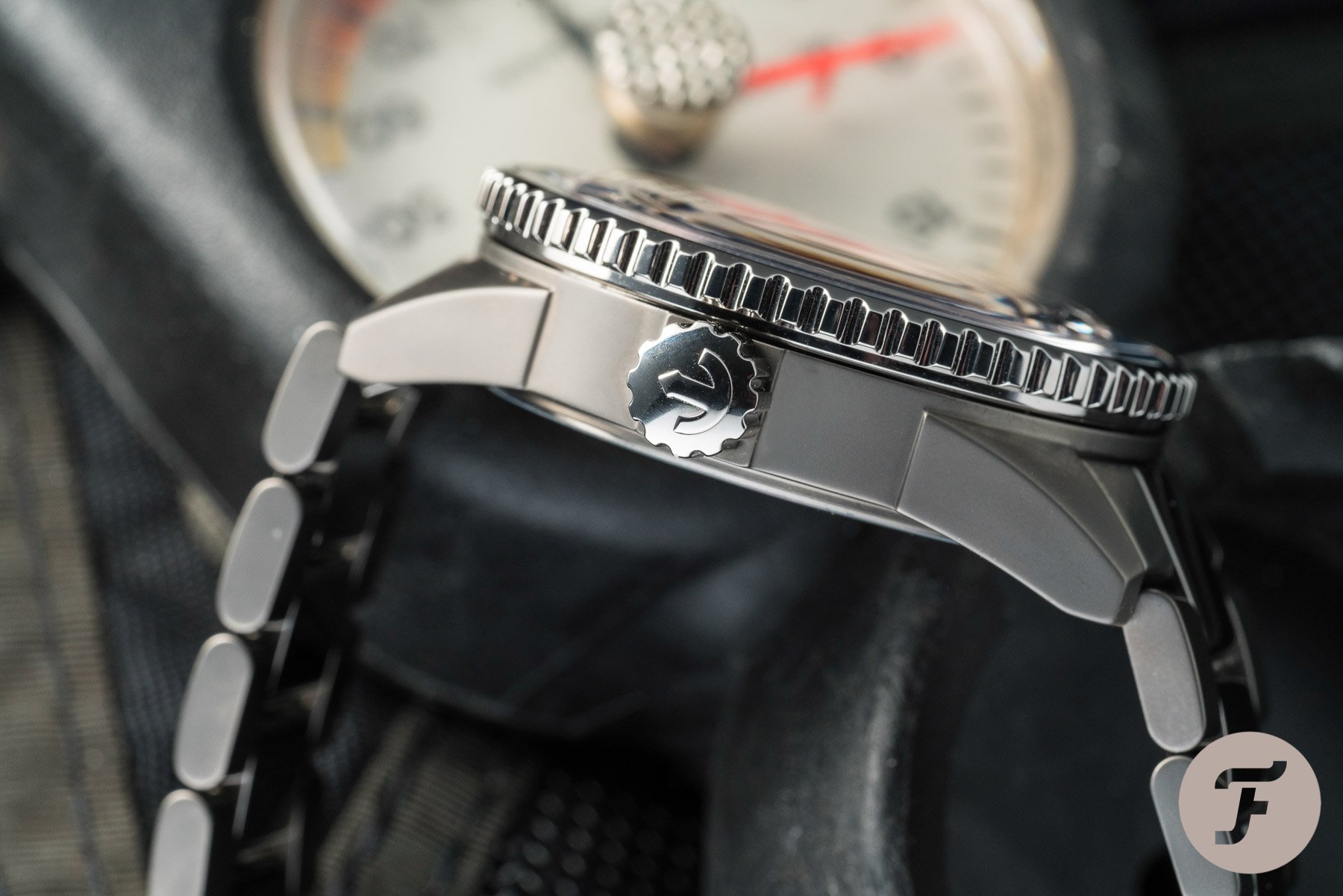 Getting the weight specs on a brand's own website is one of the rarest (but most useful) bits of information going. Along with the often elusive lug-to-lug measurement (49.8mm here), how much a watch weighs massively affects the wearing experience, and for some, the feeling of luxury a heavier watch can provide (that's right, for some people, perhaps even myself included, heavier wrist apparel is preferable).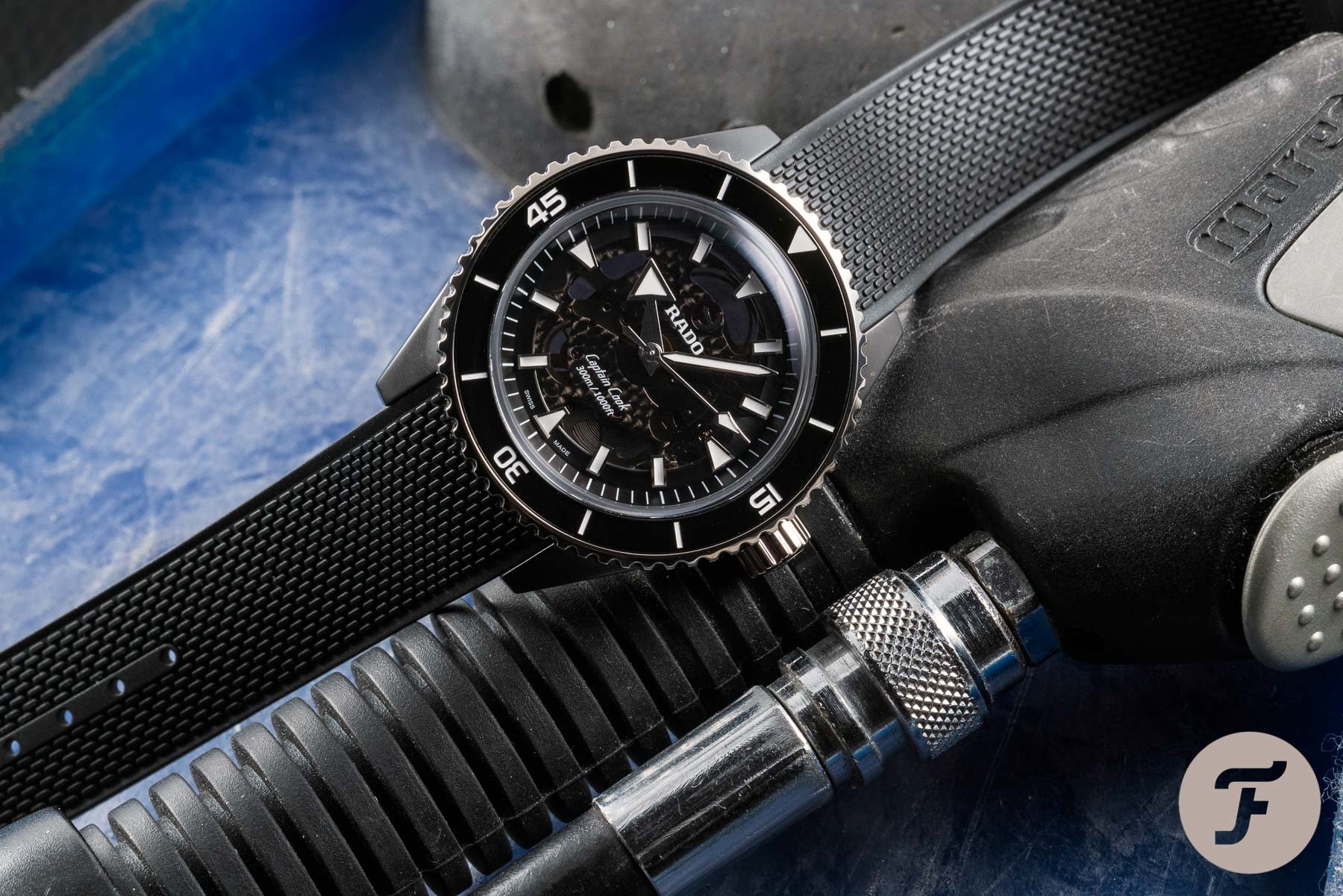 I spy with my little eye
The movement you can see through the smoked crystal is the Rado R734, which is a skeletonized automatic movement with a healthy 80-hour power reserve. If you think this movement looks vaguely familiar, you're not wrong. This movement belongs to the ETA C07.611 family. The C07.611 itself is a souped-up version of the ETA 2824. You'll find the C07.611 and derivations thereof in all kinds of entry- and mid-level Swatch Group watches, and it's a very decent movement indeed. Whether it and the ceramic housing it's packaged in is worth just over €3,000 of your cash, however, is a question you'll have to answer for yourself.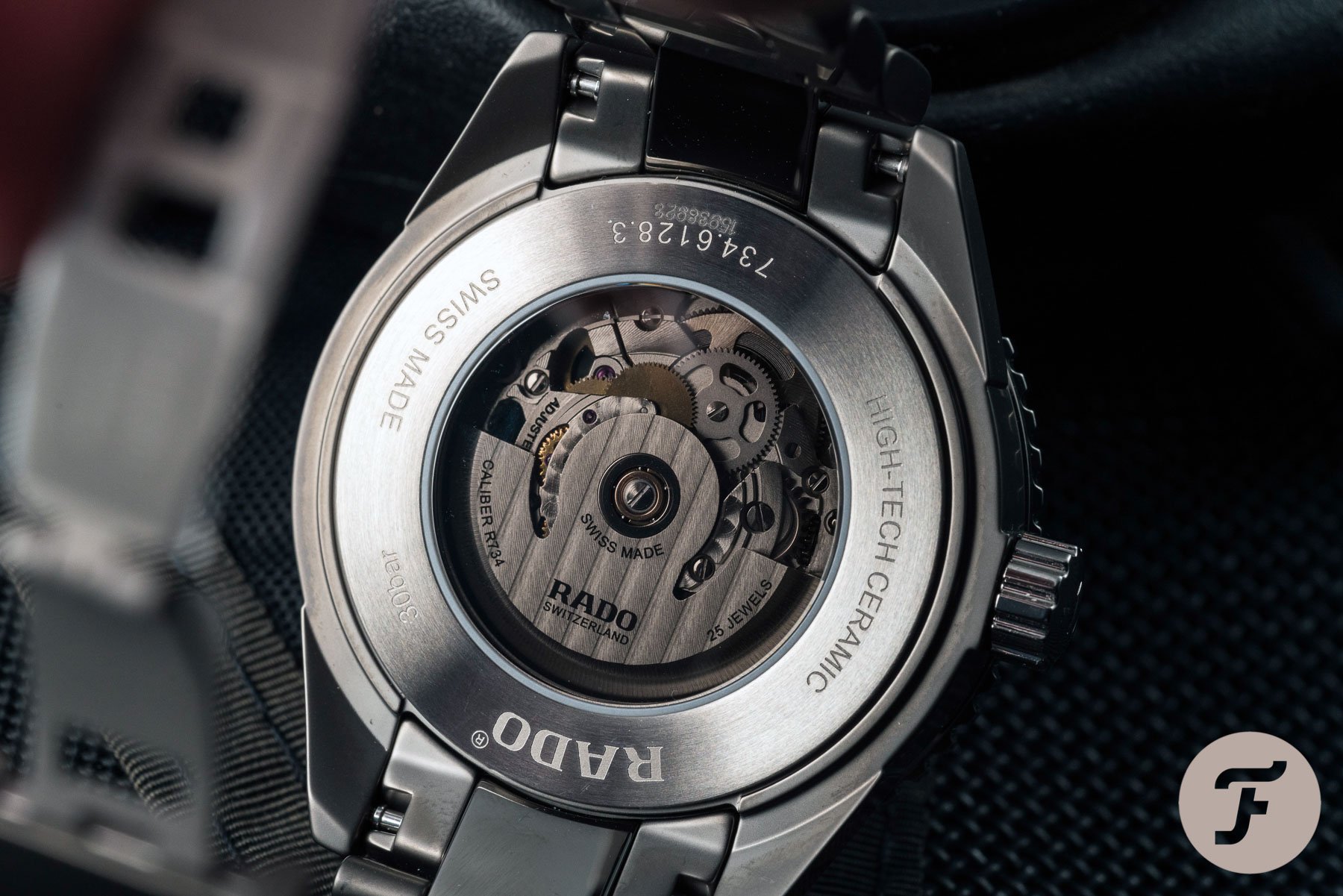 There are a lot of movement snobs out there. I'm not one of them. Perhaps that's because, in order to protect my ego, I have to defend these relatively "basic" movements, having spent thousands on them in my collecting career. But the simple truth for me is that they are popular and ubiquitous for a reason. They work. They look just fine. And if you ever have a problem with an ETA-derived movement like this, having it fixed will be no problem at all. There are many reasons to buy a watch. It isn't all about the movement. Personally, I prefer a mechanical watch to a quartz watch. But that doesn't mean I never prioritize the design over the mechanics. In fact, I normally do.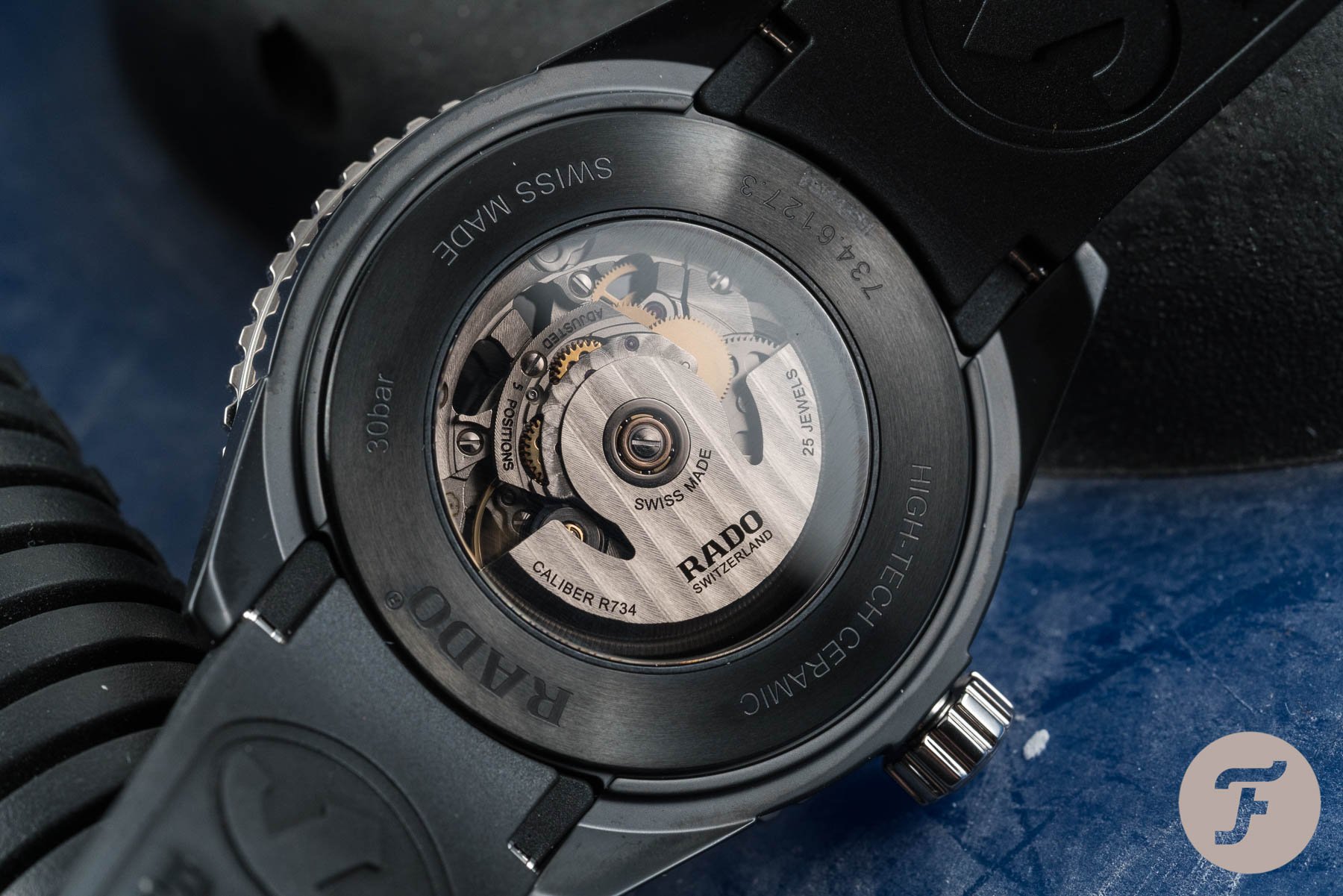 Buy what you like
Truthfully, there are only a few pieces in my collection that I own for their technical prowess or interest. I have a WH&T LCF888 (skeletonized chronograph). It's the only skeletonized watch I have in my collection. I love how quiet the display is, despite being a dreaded skeleton. I also have a Speedmaster MK IV and a MK 40. Odd as it may sound, I own both for their movements first and their aesthetics second.
…maybe this range intrigues you because it offers something different.
So there is a very simple message here. You don't need to buy watches for one reason alone. Sometimes, it is the outliers that make our collections sing. If you don't own a ceramic watch, maybe this range intrigues you because it offers something different. Conversely, if you have only ceramic watches in your collection then this one will no doubt be on your radar. Is this the ceramic watch I would choose from Rado? No, it isn't. Despite finding it a welcome progression and very imposing, I am drawn to the simpler lines and bright colors of the True Thinline colors collection (Dave will be pleased to know my favorite is the yellow one).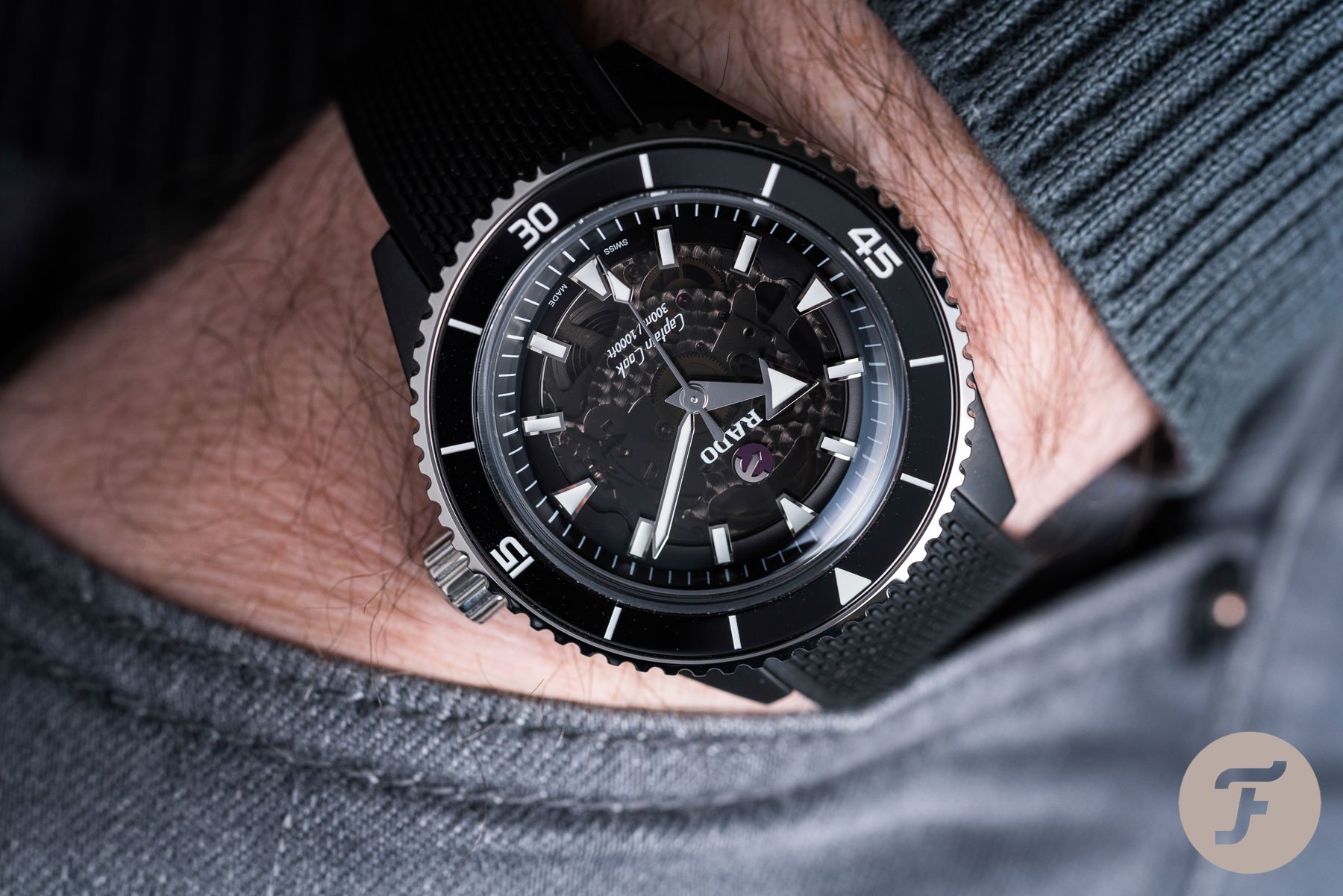 But this family has really struck a chord with several of my colleagues, which I find very satisfying to observe. The combination of the high-tech materials, appearance, behemothic size, and feather-lightness seems to have won their hearts. My advice? Get them on your wrist. There are loads of Rado points of sale in the world. These ones should be easy to source on the high street. Happy hunting! Find the nearest Rado store to you here.