Rolex Explorer II – The 40-Year Evolution Of An Understatement
We thought it would be time to compare the new Rolex Explorer II Ref. 216570 to the much sought-after vintage Explorer II 'Freccione' or 'Steve McQueen'. The Explorer II has always been a watch that sat in the shadow of the GMT-Master and Submariner models. Undeserved in our humble opinion.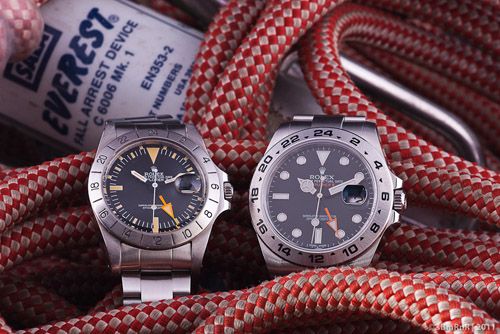 Is there much to compare? Is the new Explorer II a tribute to the 'Freccione' (orange hand) or is it a new watch that has been influenced by the very first Explorer II that was introduced in 1971, 40 years ago?
Let's start with some history on the Explorer II. Introduced in 1971 as ref.1655, the watch was equipped with an orange hand to be used as a day/night indicator for those who professionally didn't see daylight for a longer period of time. During those years, minor changes have been applied to the Explorer II ref.1655. In 1974, the seconds hand got an additional luminous dot and in 1975 Rolex suddenly decided to use red instead of orange paint for the 24-hour hand. Rolex used several different dials in those years as well. All minor changes, but very important for serious collectors these days.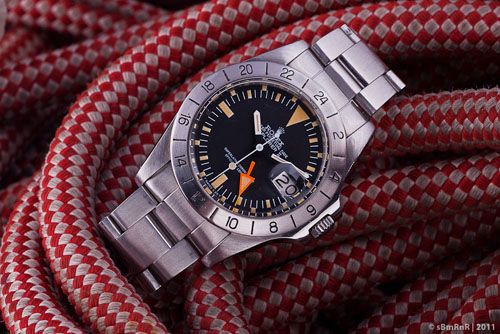 The Explorer II had a 40mm case for 40 years and till the end of production of the 1655 reference, they used either a caliber 1570 or 1575 movement. Yes, indeed similar to the early ref.1675 GMT-Masters.
If you look at some of the old Explorer II watches, you will see that some of them have a 24-hour hand that appears to be yellow or all white. Both the original orange hand and the later red hand tend to discolor badly. Annoying when you were the first owner in the 1970s or early 1980s, a blessing for a lot of collectors now. As we mentioned earlier, this wasn't a very popular watch back then. With almost all things that weren't popular at first, the Explorer II became a collector's object and expect to pay between 12.000 euro and 15.000 euro for a model in good condition.
On to the new version that was presented during this year's BaselWorld, the Explorer II ref. 216570. Even though Rolex only performs relatively small changes to watches, they manage to shock the watch-loving world every time again.
This Rolex Explorer II is definitely no re-edition or replica of the very first ref.1655 nor does it claims to be one. The Rolex Explorer II 216570 is the successor of a line of watches that could be considered an understatement Rolex, with its brushed non-rotating bezel. The large orange 24-hour hand is merely a wink to its 1971 forefather. With its new 42mm case, Oysterbracelet with Easy-Link system (5mm play, excellent for those hot summer days) and safety clasp, brand new caliber 3187 movement and blue luminous dial and hands, it is – to us – a perfect modern sports Rolex.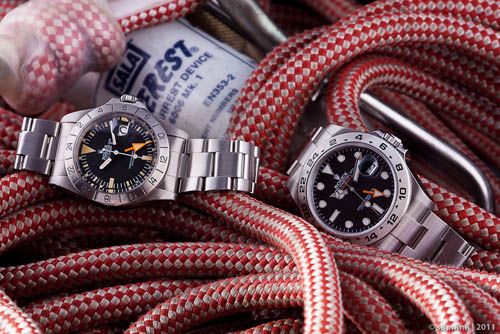 Caliber 3187 is Rolex current movement for sports watches with an extra time zone. It uses the patented Parachrome hairspring and Paraflex shock absorbers. It doesn't differ that much from its predecessor, caliber 3185.
There have been a lot of comments on other new models, like the polished center links of the GMT-Master IILN or the new Explorer 214720 with hands that are just too short. This Explorer II just seems to be good to go as it is.
Although it has a diameter of 42mm, it certainly doesn't appear to be too big, like some are complaining about the Rolex Deep-Sea Sea-Dweller. The Rolex Explorer II will probably never become a popular model like the Submariner or GMT-Master, perhaps a reason for you to buy one. It certainly is an iconic Rolex.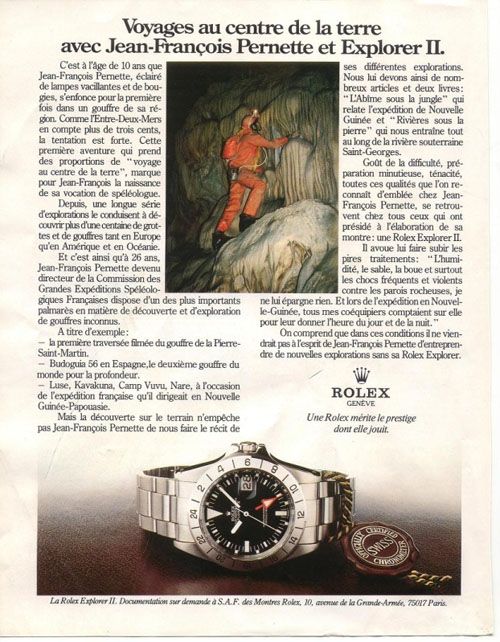 Like its predecessor, the Explorer II ref.16570, this one is also available with a black and a white dial. List price is 6050 Euro / $7750 USD.
Photos by sBmRnR and used with permission.
More information: www.rolex.com