Affordable And Fun Watches: The Seiko 5 Sports One Piece "Luffy" And "Sabo"
Though inspired by a Japanese comic series, these can captivate even the most manga-ignorant watch lovers
I usually assess watches I find interesting for their versatility. I actually do wear all my watches. Therefore, I need to be able to imagine a situation when I will be wearing a possible new acquisition to buy it. This approach often disqualifies watches with an overly flamboyant or colorful look. Sometimes, though, I stumble upon watches that are a bit peculiar but which I definitely find attractive. It surely facilitates my decision if such a watch has a more affordable price.
In November, the Seiko Boutique in Hamburg had invited me to an event to present recent novelties. Next to the many interesting new models in the Prospex and Presage ranges, as well as the new offerings from Grand Seiko, a new collection of Seiko 5 watches intrigued me. In collaboration with the Japanese manga series One Piece, Seiko has introduced five new Seiko 5 Sports models associated with the five main characters, as well as one watch that is reserved for the European market. When I had seen the first images of these watches, I had become rather curious to see them in real life. Handling them during the event didn't disappoint me. In fact, it made me even order two of them.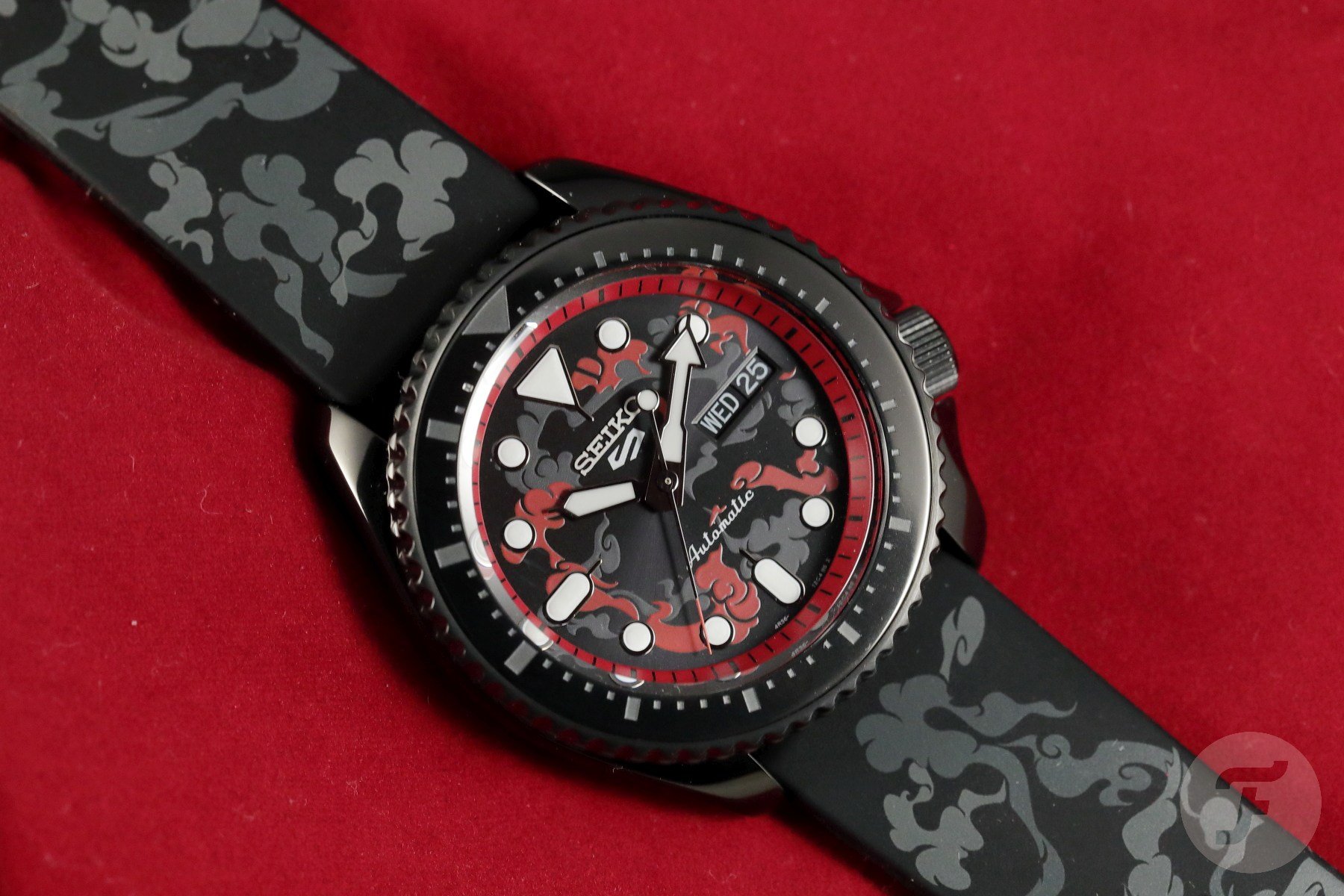 The Seiko 5 Sports One Piece collection
I had never even heard of One Piece before. I'm generally not into anime, manga, or similar things, whether they are from Japan or anywhere else. To be honest, the connection between the watches and the One Piece series has hardly any relevance to me. Therefore, I won't try to explain all the background of the series, its main characters, and how these are reflected in the watches' design. I will focus on purely aesthetic characteristics. Should you be a fan of One Piece, though, you will discover several smart details on these watches giving hints to the series' characters. I will show these but will leave the interpretation to the experts.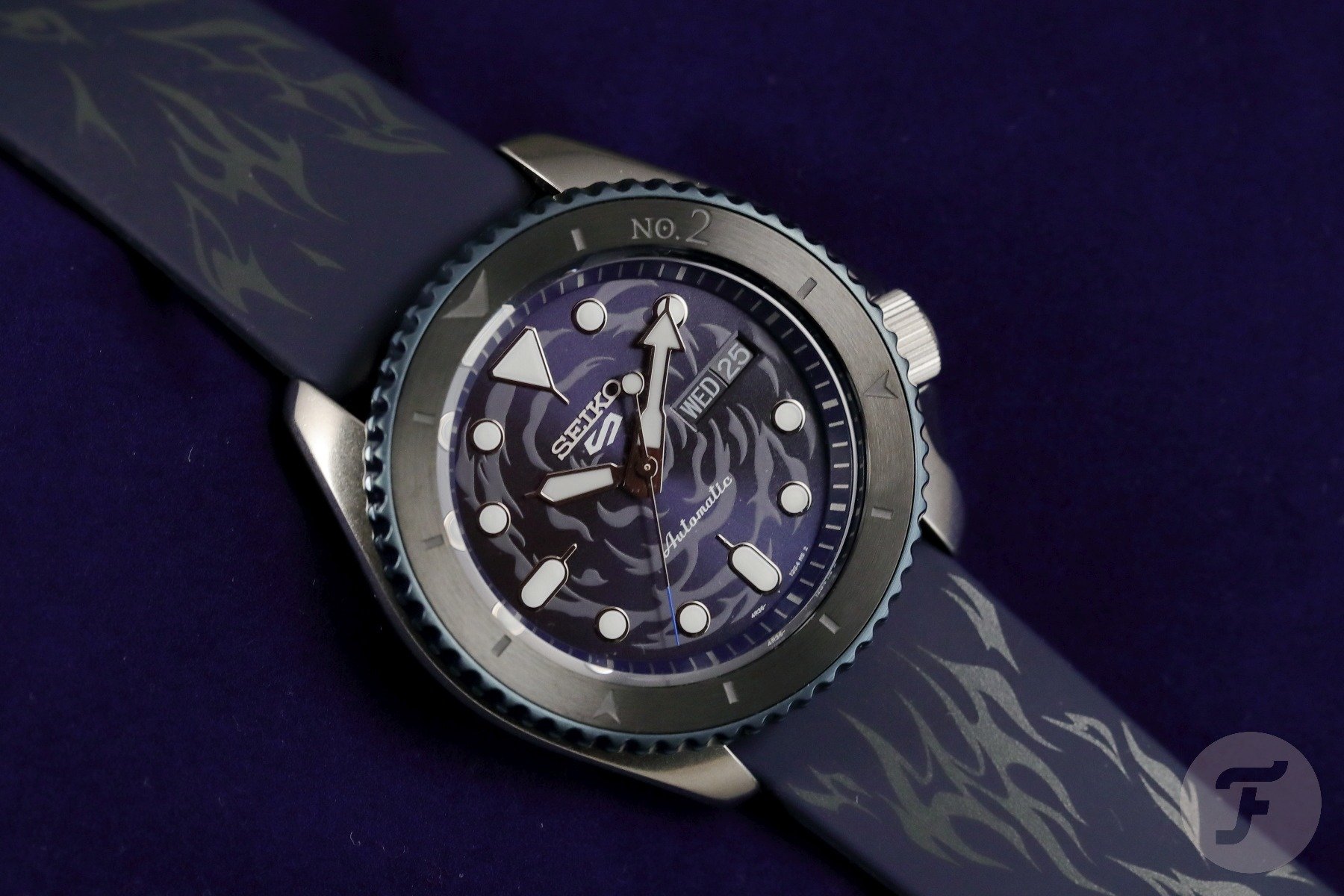 The Seiko 5 Sports One Piece collection consists of five worldwide-release watches and one watch available in Europe only. All these watches have the standard Seiko 5 Sports case with a dive bezel. They have a diameter of 42.5mm and a thickness of 13.5mm. The lug-to-lug length is 46mm. The five watches that are available worldwide come on silicone straps. The European-exclusive watch has a bracelet with a black coating. This model has a price of €510, while the other models in this collection cost €450, or $440.
I like the attention Seiko pays to the fans of the One Piece series. The watches come in beautifully decorated boxes. Each box includes a card with a QR code and a password to download an exclusive image showing the One Piece character wearing his Seiko watch.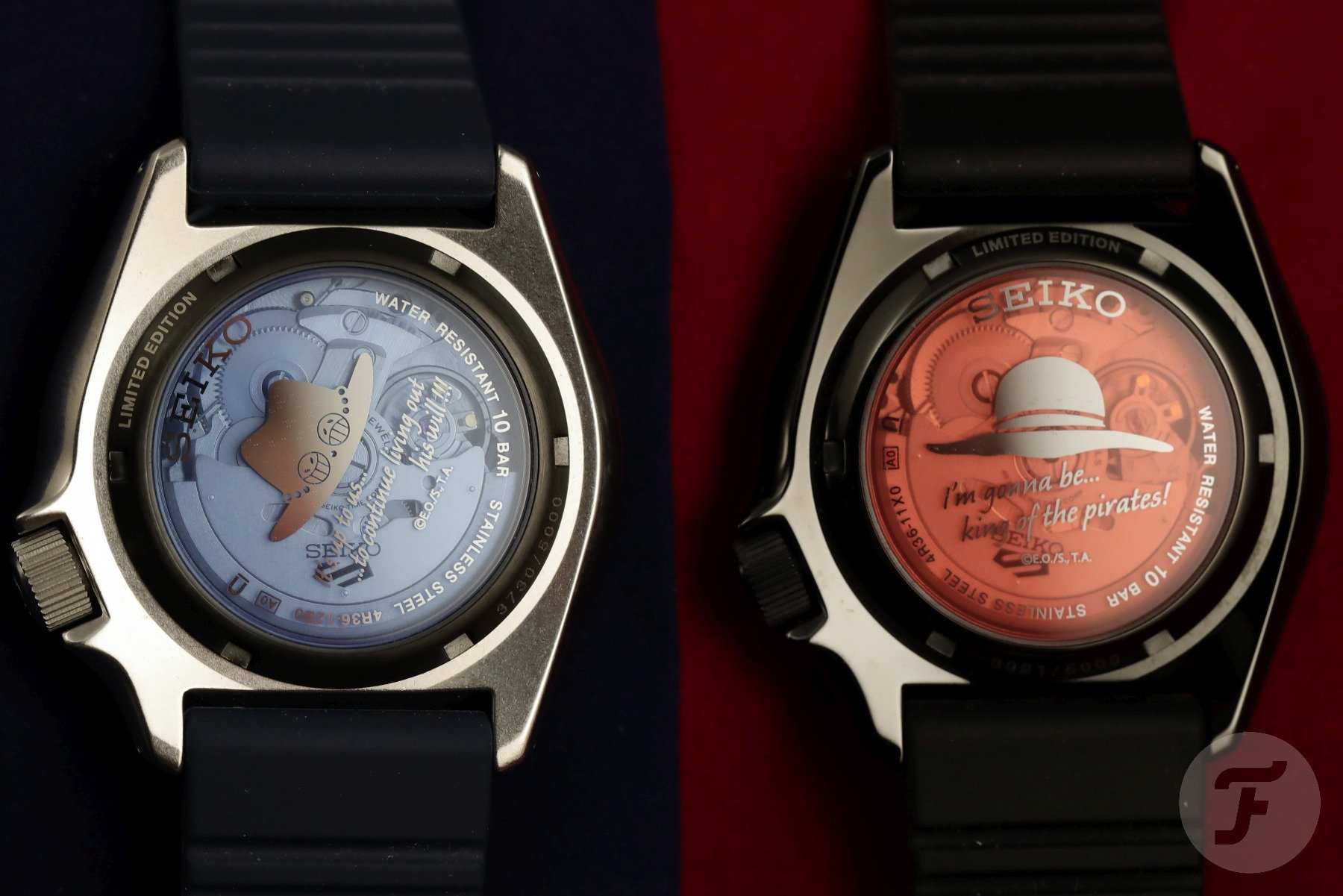 Luffy and Sabo
I will focus on the two watches from the collection that I like most. These are the models dedicated to the series' characters Luffy and Sabo. The "Luffy" watch (reference SRPH65K1) is the one in black, gray, and red. The motif on this model depicts smoke clouds, but at a glimpse, you could also mistake it for a floral pattern. The blue one with the flame motif is the "Sabo" model (reference SRPH71K1).
When I took these watches in my hands for the first time during that event in the Seiko boutique, I was surprised by how substantial they felt. I mean, they're not really heavy, but these watches for sure don't feel cheap. The clicking of the bezels, however, is very soft. Also, the 10-bar water resistance tells you that these are no watches intended for diving. As indicated in the title of this article, these are fun watches. The 4R36 movement inside of them is simple but reliable. I didn't notice any significant deviations in accuracy while wearing them for several days.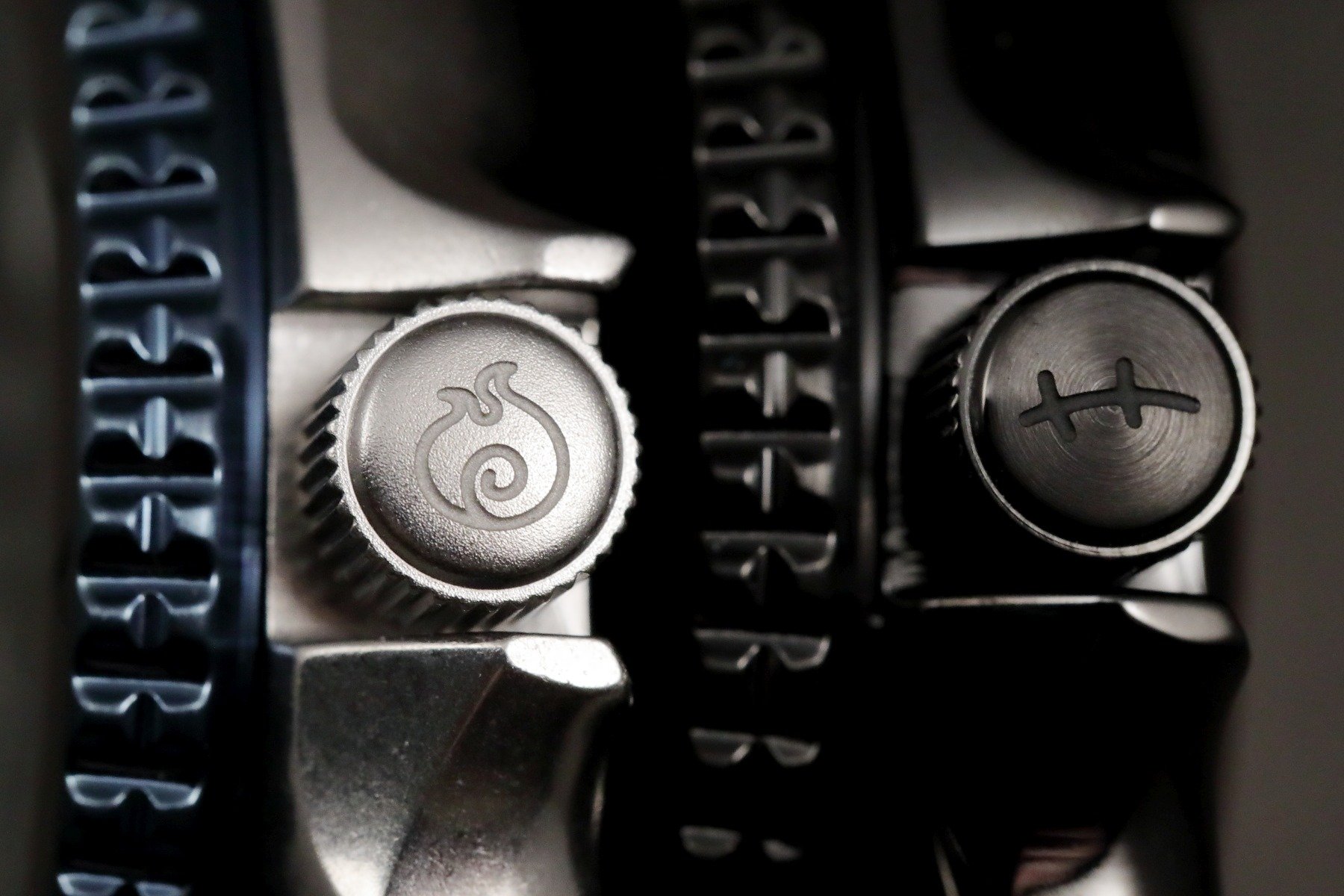 Like pretty much all silicone straps on the market, the ones on these watches are definitely dust magnets. That can be a bit annoying (especially when you photograph the watches for an article like this). But these straps wear quite comfortably indeed. Moreover, the straps are what make these watches quite attractive to me. The way the motifs on the dials continue on the straps not only gives the watch heads and straps a sense of unity but it also gives these watches a rather artistic look. At least, this is what I sense whenever I look at them.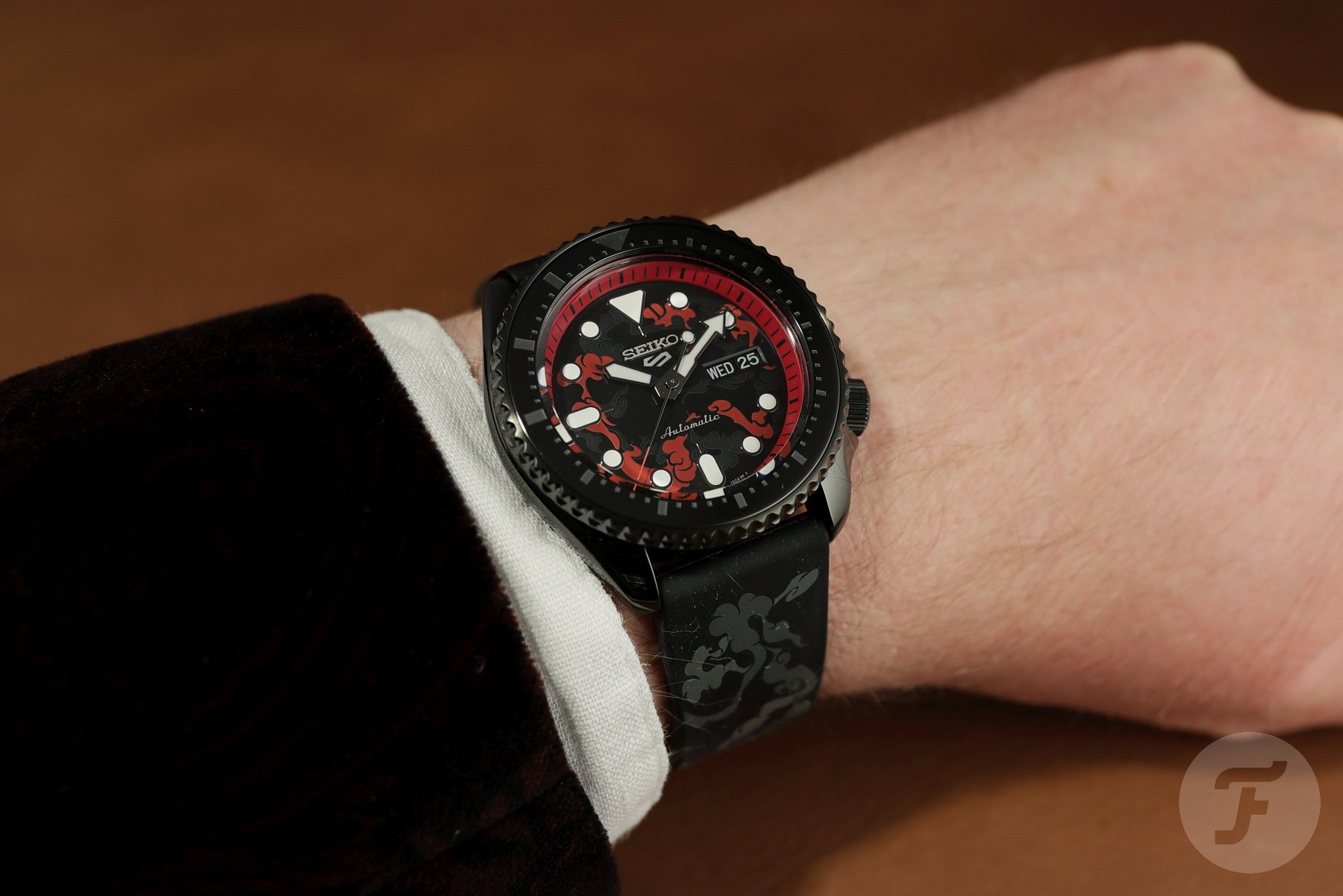 Concluding thoughts
I'm impressed by the extent to which Seiko customized the individual models. In addition to the different dials, the bezels, the winding crowns, the case backs, and the straps differ. And this customization is not limited to varying colors and prints. Rather, it includes individual engravings and even surface structures. In my view, this dedication to details justifies the higher price compared to other Seiko 5 models.
The watches of the One Piece collection are limited to 5,000 pieces each, and they are individually numbered. The model, exclusively available in Europe, is limited to 1,000 pieces. In Germany, these models became available at the end of December 2021. So there should be a fair chance to still get one (or more) of these now.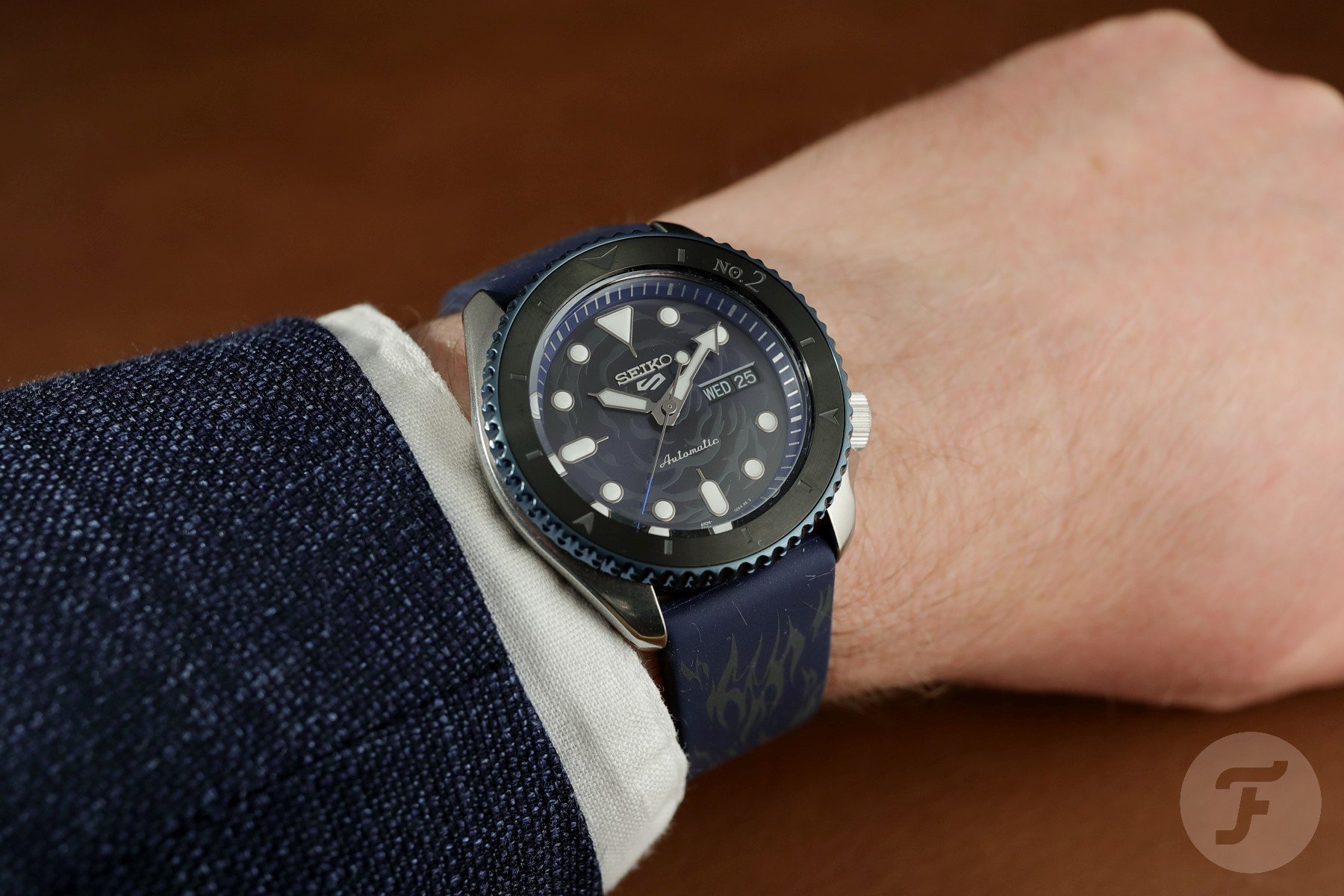 These are no everyday watches, but combined with an appropriate outfit, I think they can add an interesting, artistic detail to your look. I am looking forward to the first occasion to flaunt one of them. I'm sure I'll have fun doing so!
Head to Seiko's homepage to explore the complete One Piece collection.