Hands-On Seiko Prospex Field Compass
A Deeper Look at a Sleeper Seiko
We go hands-on with a real sleeper in the Seiko Prospex Field Compass.
One thing I'll really miss about Baselworld from now on is the presence of Seiko. For several years now, I've truly enjoyed going to the Seiko booth and taking a look at all the novelties. Meetings are typically arranged by country, so that means attendees from the Netherlands see a different set of novelties than, for example, those from the USA. But a walk around the outside of the booth usually revealed some cool lower-priced Prospex models that I've learned to ask to see to avoid the risk of not being shown them unrequested.
With so many new models, the Seiko team often struggles to show us everything within a 1-hour time slot. One such watch that I had to request last year was the Seiko Prospex Field Compass. I was intrigued by its unique design. Since then, it's "spoken to me" from the other side of the glass at the Frankfurt boutique. I'll attempt to shed some light on this cool piece and perhaps you'll discover it for the first time as well.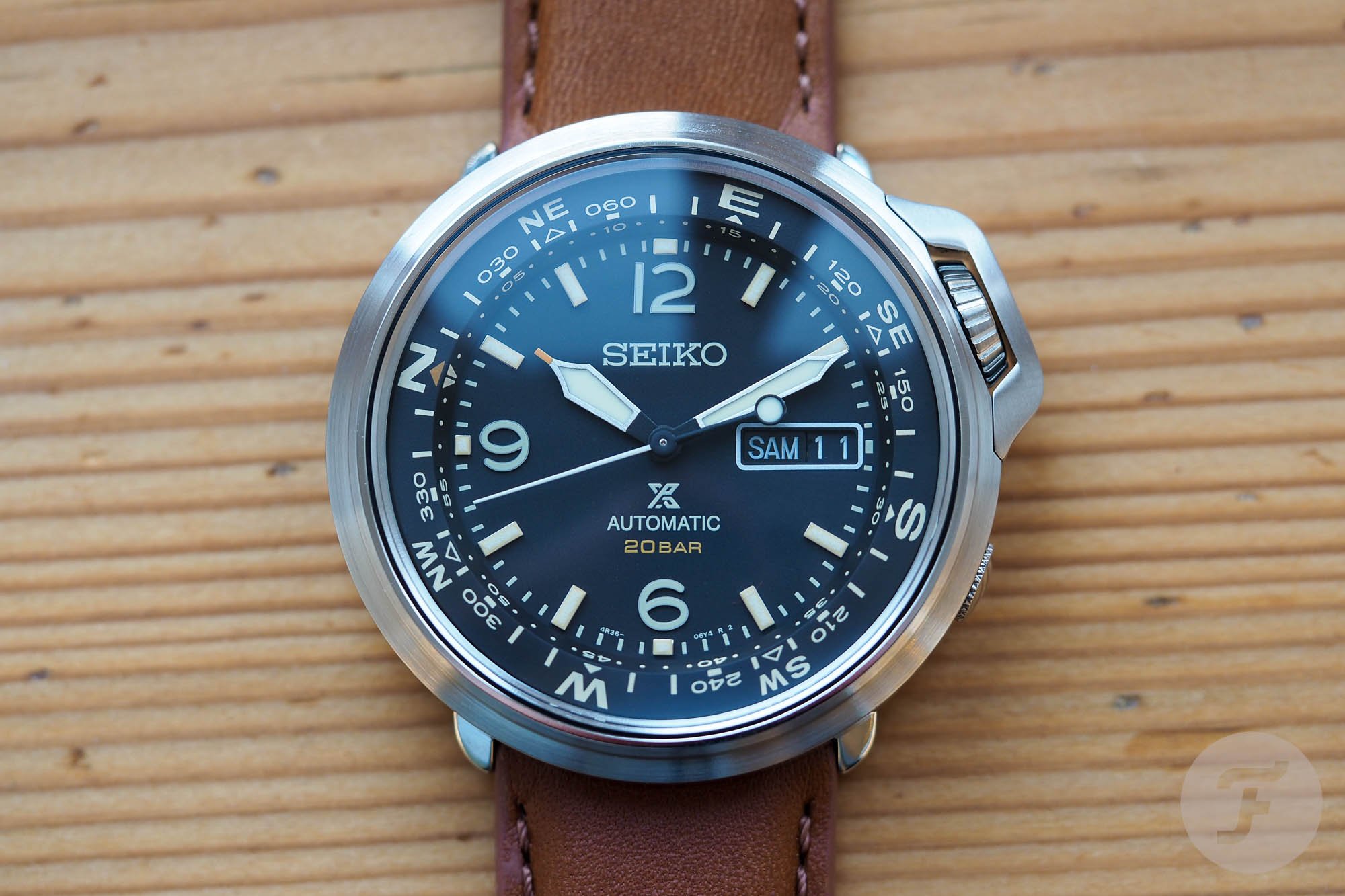 The Seiko Prospex Field Compass – a Watch We're Lucky to Have
There was a time when bitching and complaining about not being able to buy JDM-only pieces from a brand like Seiko was commonplace. Honestly, we got the short end of the stick for a long time and always wondered why the Japanese had such easy access to so many wildly different watches.
But here's the funny thing: this watch hasn't received much press since hitting  global shelves in 2019 and I consider that a shame.
Well, with a watch like the Seiko Prospex Field Compass now available globally, you can quit your whining and sniveling because this is just the kind of oddball timekeeper that fans would have moaned about not receiving if it had been relegated to home market status. But here's the funny thing: this watch hasn't received much press since hitting global shelves in 2019 and I consider that a shame.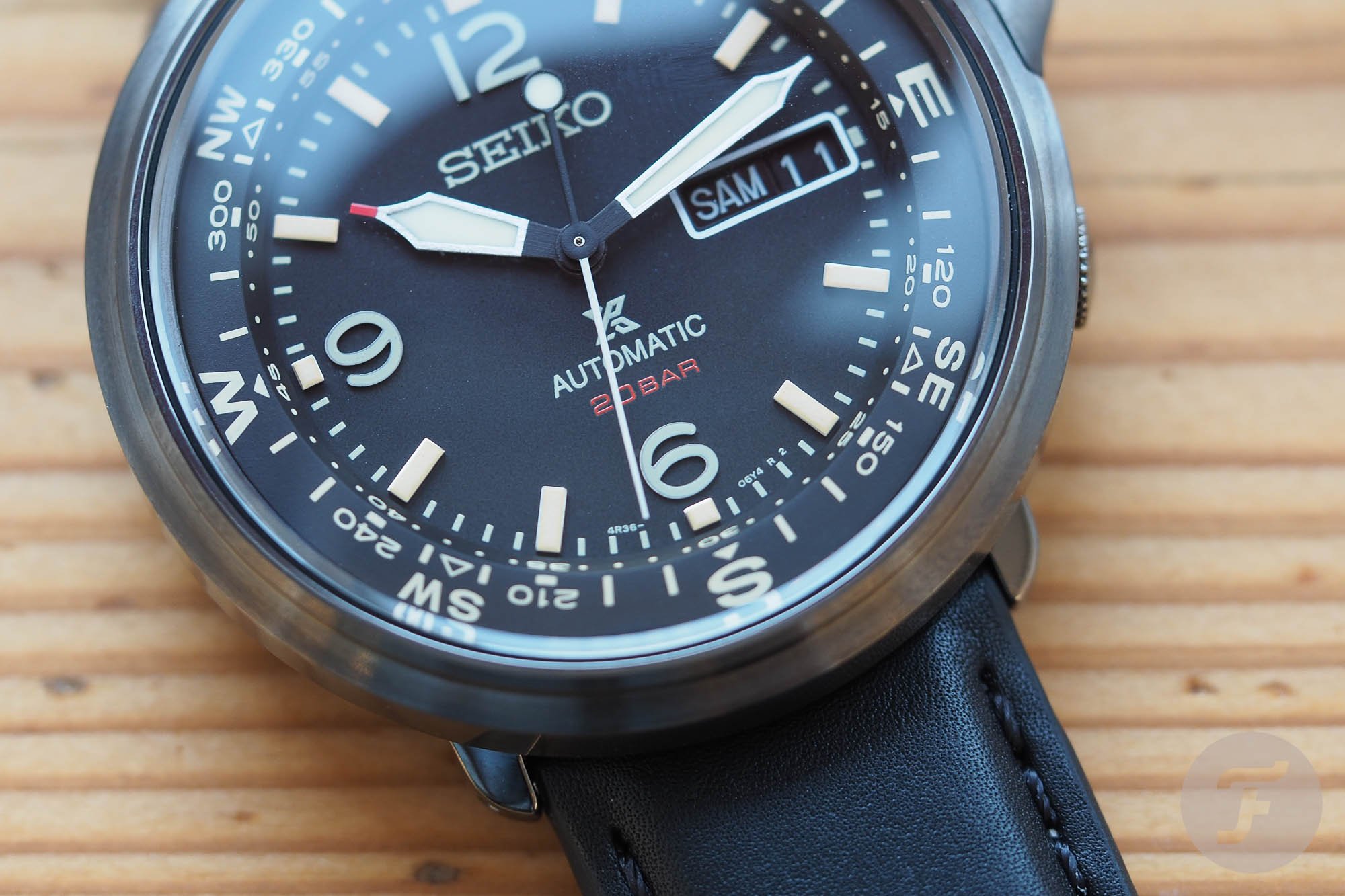 A Unique Watch Within the Prospex Collection
With a 43mm case that is as wide as it is long, the Seiko Prospex Field Compass is a very different watch within the brand's sportier lineup. Available in two flavors, we have the SRPD31K1 with stainless case) and the SRPD35K1 with a stainless case and black hard-coating. What jumps out immediately is a crown at 2 o'clock that's completely surrounded by a "hoop" of metal. What doesn't jump out is another crown that sits at the Seiko-standard 4 o'clock. That top crown actually controls an inner bezel compass that's easily rotated while the lower crown handles time and day/date setting offered by the tried and true 4R36 automatic.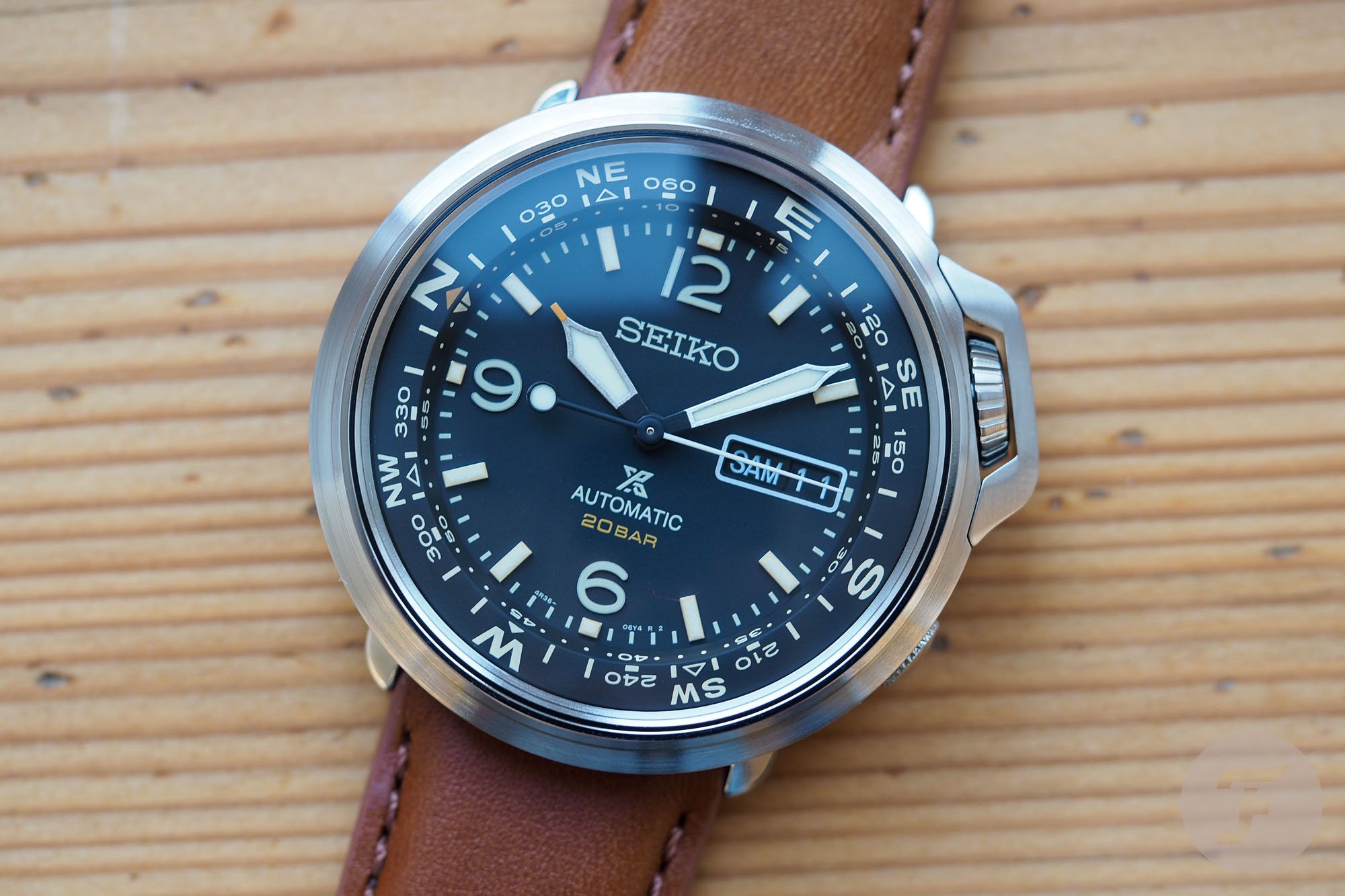 You might be thinking that the Seiko Prospex Field Compass has to be based on some other watch within the company's lineup, but it's actually on its own. With its short lugs that do not extend past the case, it's a bit Tuna-like.  On the other hand, it's "only" 14.4mm thick and that makes it far more wearable on a day to day basis versus the bulkier divers. Also, credit the slimmer look of this watch, despite its 200 meters of water resistance, to the absence of an external bezel.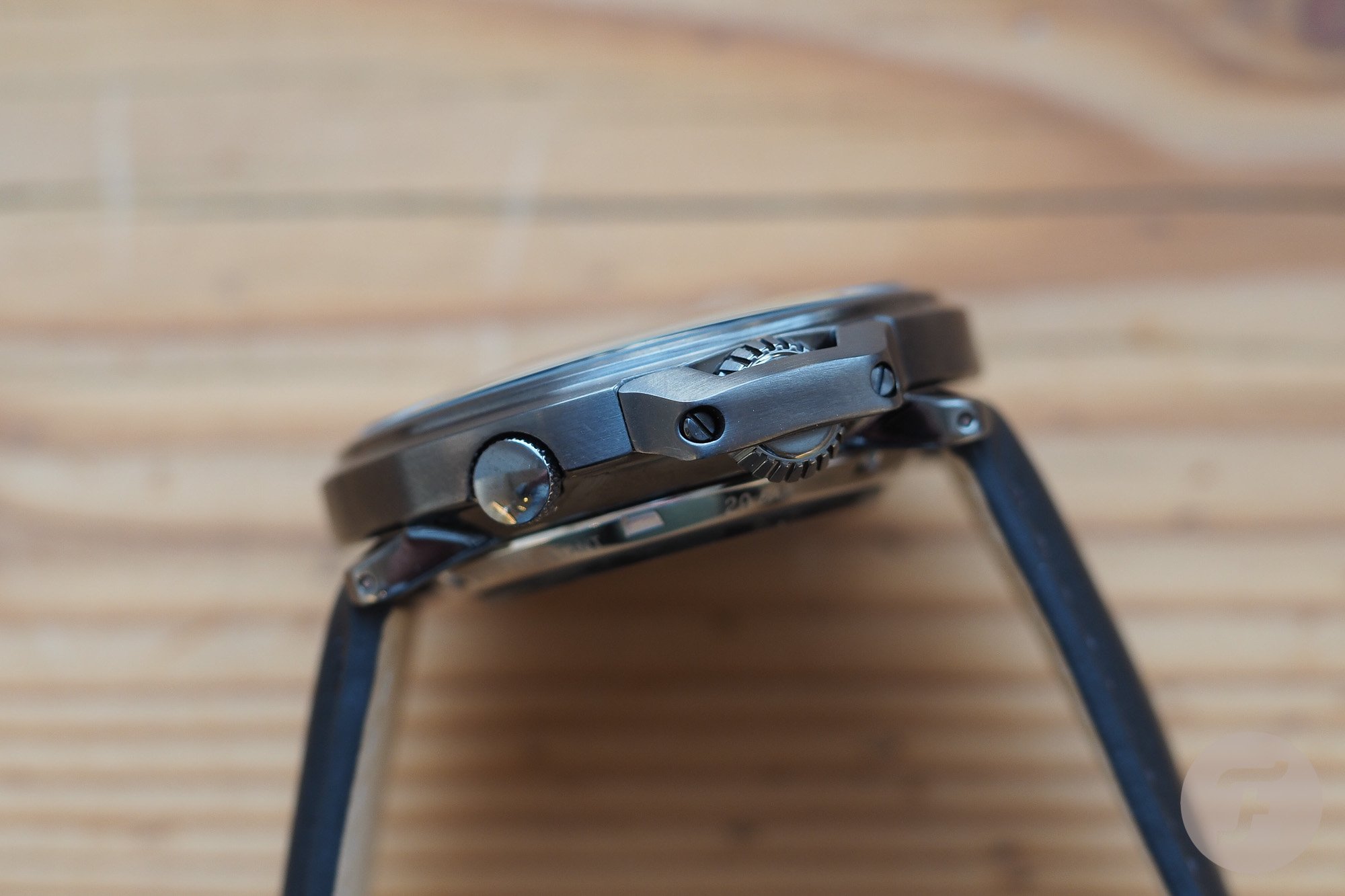 A Funky Protrusion at 2:00 Rotates the Internal Compass Ring
As mentioned, that funky protrusion on the Seiko Prospex Field Compass actually controls an internal rotating compass. While I find that "complication" less than useful, it's clear that Seiko believes in it. After all, the "land" series of Prospex watches — inclusive of the new Alpinist models we recently reviewed — almost always contain this feature.
All in all, it's a different kind of look for Seiko. It represents the creativity that can still be found at the brand. And that's despite an increasing level of conformity within the overall lineup.
Regardless, I actually like the guard on the case. Upon closer inspection, you'll see that it's nicely made and looks like it could withstand a proper beating. All in all, it's a different kind of look for Seiko. It represents the creativity that can still be found at the brand. And that's despite an increasing level of conformity within the overall lineup.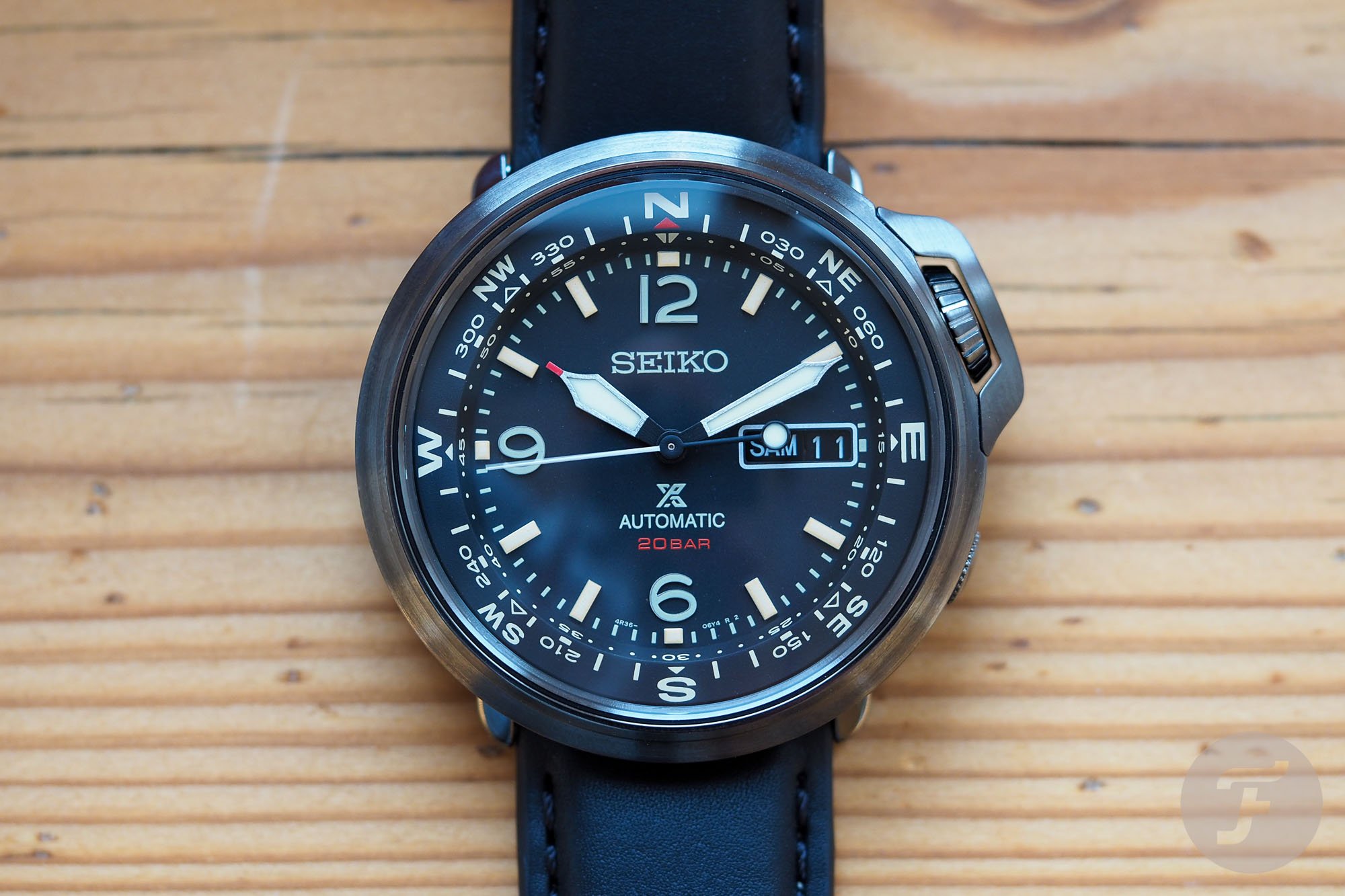 Seiko Brings a Striking Dial to the Field Compass
Aside from the individual design of the case, I'm a big fan of the dials found on the Seiko Prospex Field Compass.  There's a nice blend of orange, printed writing, and what appears to be applied features such as the hour indices. Somehow, due to the shape of the boxed Hardlex crystal, the compass ring is partially obscured depending on the angle of view. That actually helps to keep things less busy overall. The dagger-shaped hands also balance well with the bold Arabic 6/9/12 numerals. The result? A watch that has a touch of military inspiration, but really translates to something that's truly legible. I suppose that's what one wants when they're out hiking through forests. And, naturally, there's a surplus of LumiBrite and that ensures easy viewing in darkness.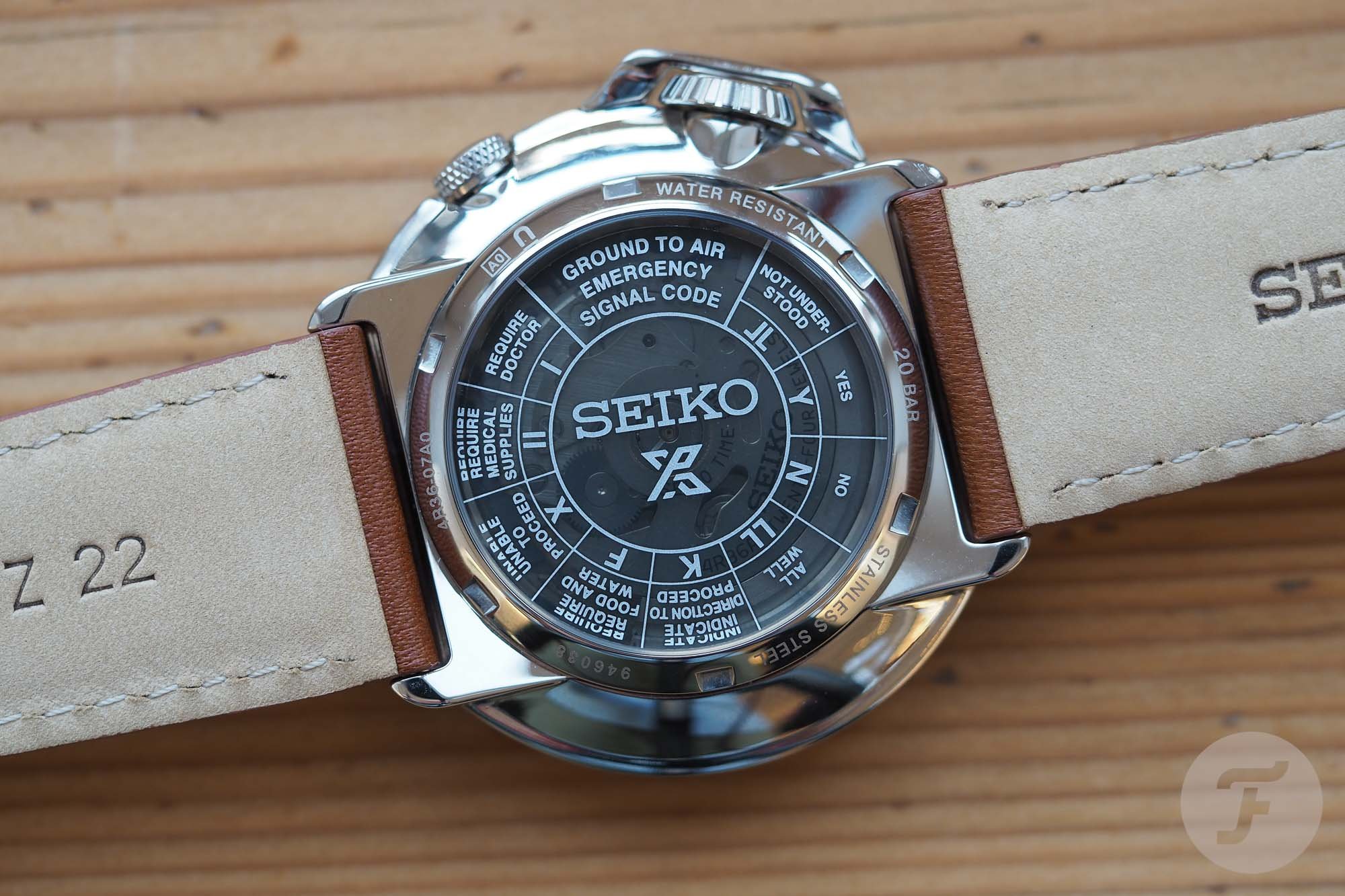 A Display Back with Air Emergency Signal Codes
Inside the Seiko Prospex Field Compass, we have a reliable automatic 4R36. You'll recall that movement from the Seiko 5 Sports that we've covered heavily. As we've remarked, it's a fine movement that hacks, can be hand-wound and has a quickset day/date feature. The use of this movement is consistent across the entry-level Seiko Prospex offerings. From the picture above, you can see that Seiko chose to adorn the display case back with ground-to-air emergency signal codes. Esoteric? Yes, but they are legit and a cool way to decorate some case real estate.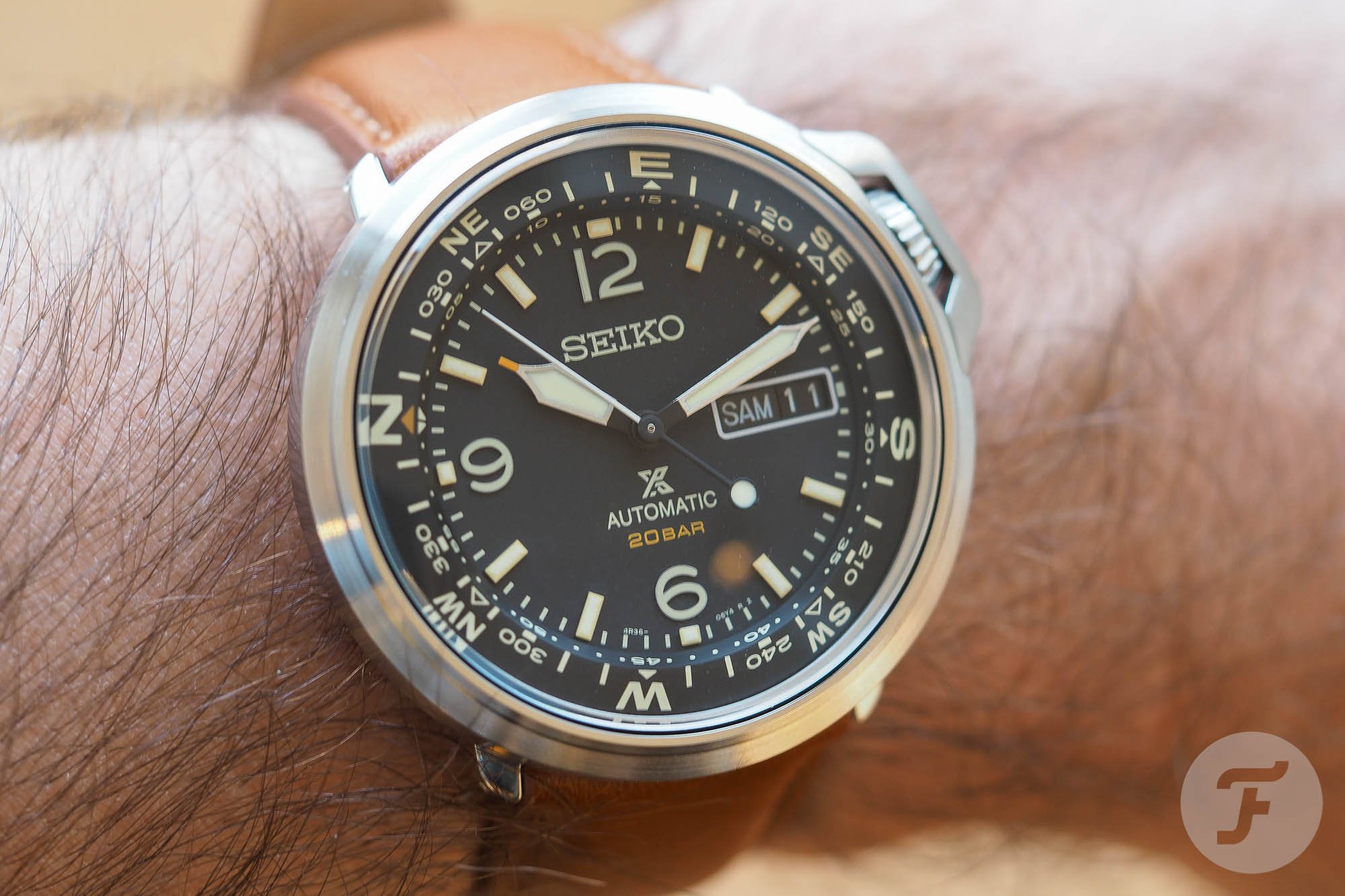 The Straps are the Only Concern
If there's one thing I'm not crazy about on the Seiko Prospex Field Compass it's the straps.  Seiko chose to fit these watches with 22mm wide padded calves leather straps. On the stainless model, it has a baseball glove color and on the black hard-coated version it's black. There's nothing truly wrong with them, but I don't think they fit the style of the watch. They're kind of doughy and really don't match the sporty intent of these watches. My first order of business, if I were buying one, would be to exchange these straps. I think either a rugged two-piece khaki or olive drab canvas would look fantastic. Furthermore, I think a more pliant strap would help keep the watch flatter on the wrist. Still, as you can see from the quick shot above, the 43mm round case works even on a smaller wrist like mine.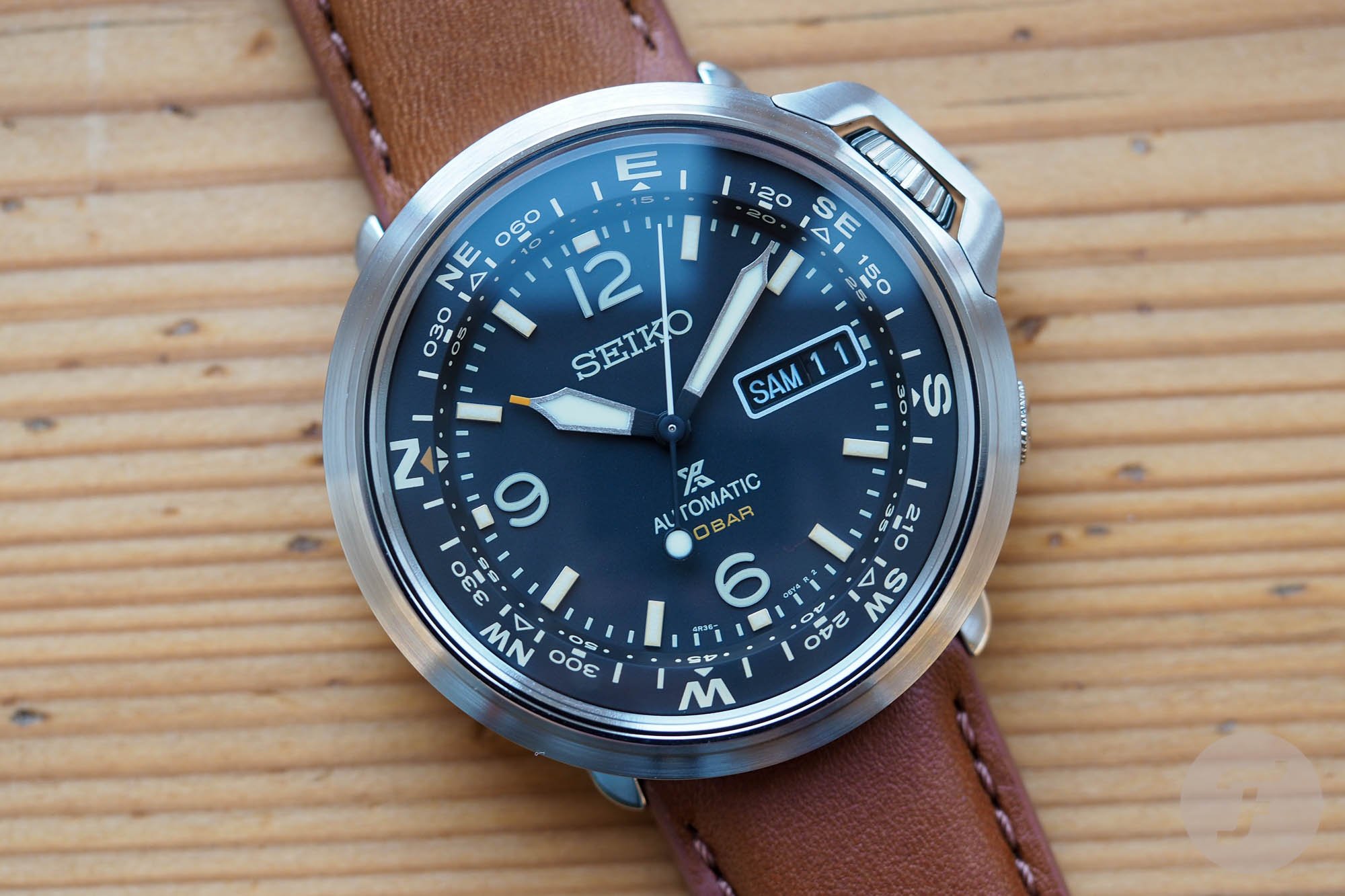 Final Thoughts and Pricing
As mentioned, I've been sorely tempted to pick up one of these Seiko Prospex Field Compass models. I'd probably veer towards the natural stainless case as I think it's a bit more true to its cause. Also, it wouldn't show wear as quickly as the other. Still, I find the black-cased edition to be a real looker as well. Of all the divers and other pieces that Seiko has released or promoted over the past year, the Compass has largely been forgotten. And I think that's a shame.
It's no secret that it's not a big seller. I guess that the nearly lug-less case and ensconced crown are a bit polarizing. Still, aren't these oddball pieces part of the reason we still enjoy Seiko so much? I think so. These watches land at €429 for the stainless version and €459 for the black-cased edition. I think they're well priced for a person who is looking for a rugged mechanical non-diver. For more information on the Seiko Prospex Field Compass, visit the official Seiko site.
Watch specifications
Model
Prospex Field Compass
Reference
SRPD31K1 (Stainless Case)/ SRPD35K1 (Stainless Case with Black Hard-Coating)
Dial
Black with LumiBrite indices
Case Material
Stainless Steel/ Stainless Steel with Hard Black Coating
Case Dimensions
43mm Diameter, 43mm Lug to Lug, 14.4mm Thickness, 22mm Lug Width
Crystal
Hardlex Mineral Glass
Case Back
Screw-down display back
Movement
Seiko caliber 4R36, 24 Jewels, Hacking, Hand-winding, Quick set Day/Date Display
Water Resistance
200 Meters
Functions
Time (HH:MM:SS), Day, Date, Internal rotating compass bezel
Price
429 Euros (Stainless)/ 459 Euros (Stainless with Hard Black Coating)