Seiko Divers – Alternatives To The Discontinued SKX007
Do the SKX007 and SKX009 leave a gap behind or has Seiko something else in store for you?
The dust has settled down. Meanwhile, most of us are used to the fact that Seiko doesn't supply its enormously popular SKX 007 and SKX 009 models anymore. When taking mechanical diver's watches seriously, if possible at all, what are your options in Seiko's current line-up of automatic diver's watches?
Starting with the Seiko SKX 007/9 USP's
…one size fits all
First, to possibly come up with alternatives, let's have a look at the SKX's specifications and USP's (Unique Selling Points). I'll start with its – for a diver's watch – a moderate size of 42,5 mm. Although people with a small size wrist, say below 17 cm, will think this is rather large. In the case of the SKX, it isn't. And that's probably mainly because of the very moderate lug to lug distance of 46 mm. Even on a small wrist, it won't hang over quickly and will prove to fit quite well. The position of the guarded screw-down crown at 4 o'clock is another feature facilitating a comfortable fit.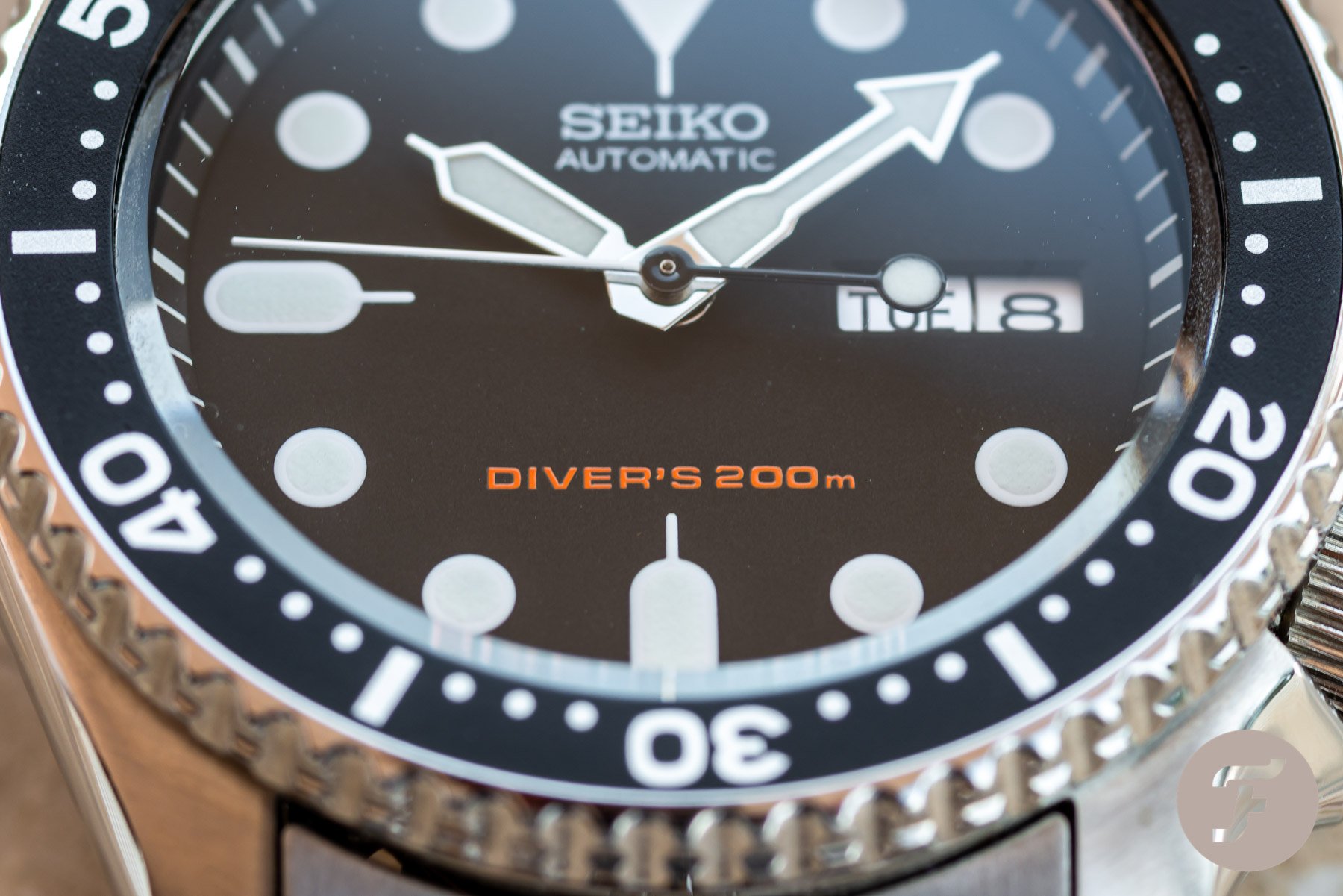 …200-meter depth rating
I've never seen Seiko advertise the SKX 007/9 as being ISO 6425 certified. But in fact, it should have been certified. The SKX is signed with 'Diver's' in the dial, complemented with '200m'. A watch made in an ISO-compliant country (like all countries the Seiko SKX was produced) and labeled 'Diver's' should have been through the appropriate ISO 6425 test. To comply with ISO 6425, this implies that every single produced SKX watch – not just a few samples – should have been pressure tested. Which I can imagine wasn't done.
…attractively priced
And last but not least, the attractive price. While the latest known list price of the SKX007 and 009 models were in the € 400,- region, it's no secret that the street or going-prices were not even 3/4 of that. Being very affordable, for many, it was their first encounter with an automatic wristwatch.
And what about the Seiko SKX that wasn't that good?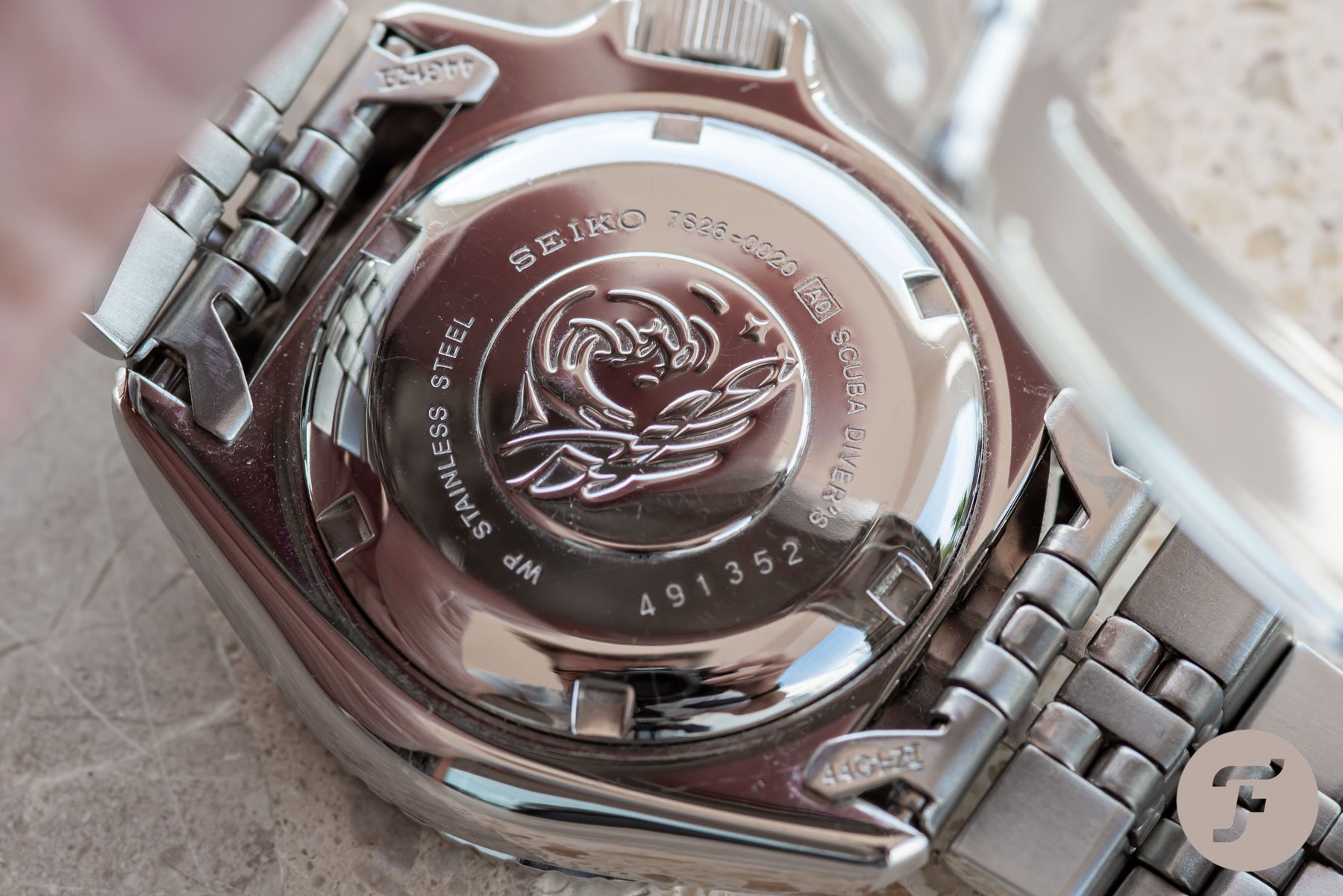 A lot of positiveness, but of course, there were some negative points about the SKX as well. It was mainly the 7S26 caliber, which was let's say, a bit outdated. Still reliable as ever, but with promised accuracy tolerances that were not on par with nowadays standards. As well, the movement couldn't be wound by hand, and one could not stop its second hand to set the time to the second accurate. Probably because of these reasons, and because the SKX wasn't ISO 6425-certified (I guess), Seiko meant to stop production and focus on diver's watches with higher overall standards.
Which models will make us forget the SKX?
…Prospex
Let's make first clear that now all mechanical diver's watches in Seiko's line-up are ISO 6425 certified. So every Seiko Diver's watch you can buy now has been pressure tested. No fooling around with something meaningful as a diver's watch. And, all diver's watches now use more accurate movements which can be wound by hand, and have a second-hack function. To emphasize this, all of Seiko's Diver's watches are now Prospex (Professional Specifications) logo-signed.
So which watches in the current line-up of Seiko diver's watches could we look at to forget the SKX? That will depend significantly on which part of the SKX was essential for you. For instance, was it the size, the crown at 4, its attractive price, or even something else?
In this overview, I'll list the, in my opinion, most basic versions of the different Seiko diver's watch models, most close to the SKX007. I.e. watches with a black dial and black rotating bezel. Bear in mind that Seiko makes most of these watches available in many (color) variations; it's up to you which one you like most. Let's start now with a watch more or less equal in size and list price of the SKX.
1. The Seiko SRPC35, aka 'Mini-Turtle'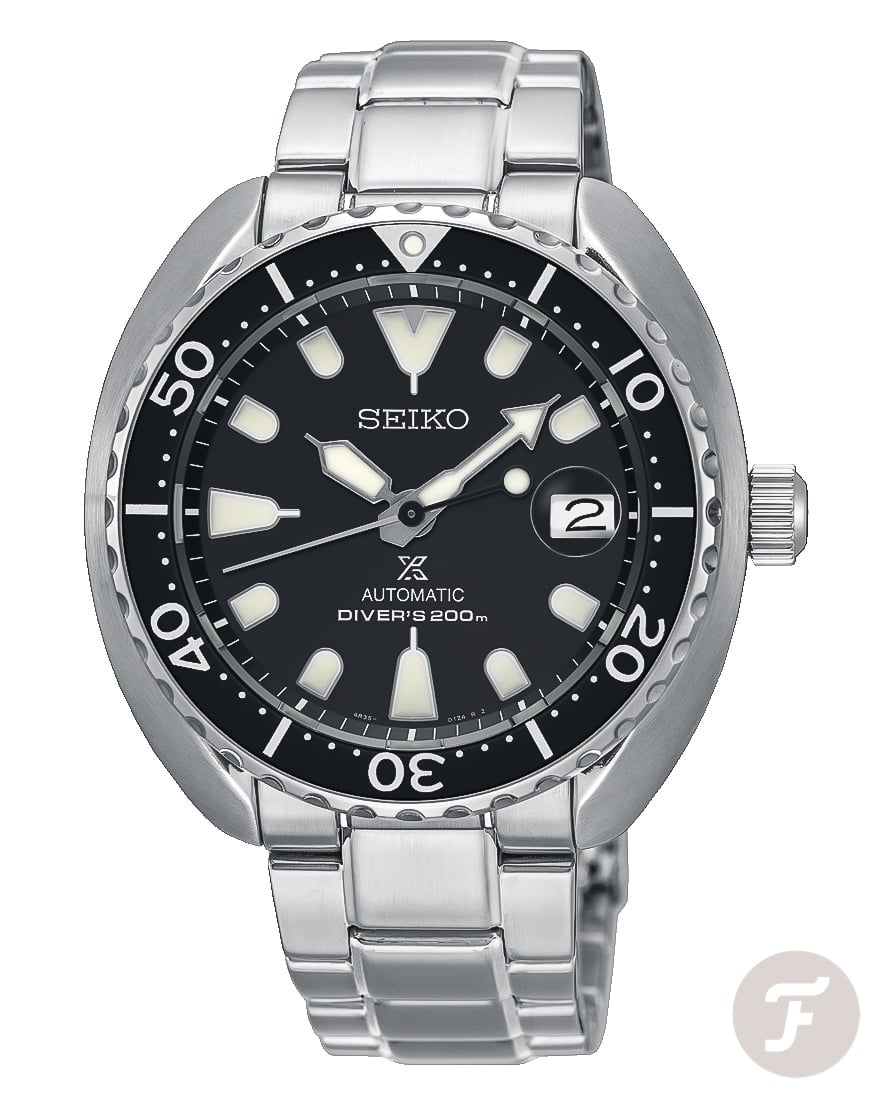 With its 42,3 mm width (the bezel only measuring 39 mm) and 13 mm thickness, the size of this watch' casing is more or less equal to the SKX. The shape is different, though, and it certainly looks to be smaller. Specifically, the non-guarded crown at the regular 3 o'clock position is not SKX-like.
Further, the SRPC35 houses the 4R35 caliber, which sports a day indication only, but no day and date. Something I personally highly appreciate at diver's watches, but I'm aware that others do like a day and date. Especially when the date indication is in Kanji 😉
The list price of this watch, including the (20 mm lug width) stainless steel bracelet, lies around € 440,-, so that's pretty equal to the former SKX. It seems that this model isn't available in all European countries, though, and I'm not even sure about the US.
2. The Seiko SRPB51, aka 'Samurai'

Another watch with quite an equal size and price. 43,8 x 13,4 mm and a list price of around € 450,= including (22 mm) stainless steel bracelet. Here we do find crown-guards, but still, the crown at the 3 o'clock position.
Same date-only 4R35 caliber, this time without the magnifying bubble in the Hardlex crystal. The different style of case, dial, and hands will decide if you like one over the other. While the 'Mini-Turtle' might have a more conservative design, the case of the 'Samurai' certainly gains respect being more modern. As well, the 'Samurai' is worldwide more widely available than the 'Mini-Turtle.'
3. The Seiko SRP777, aka 'Turtle'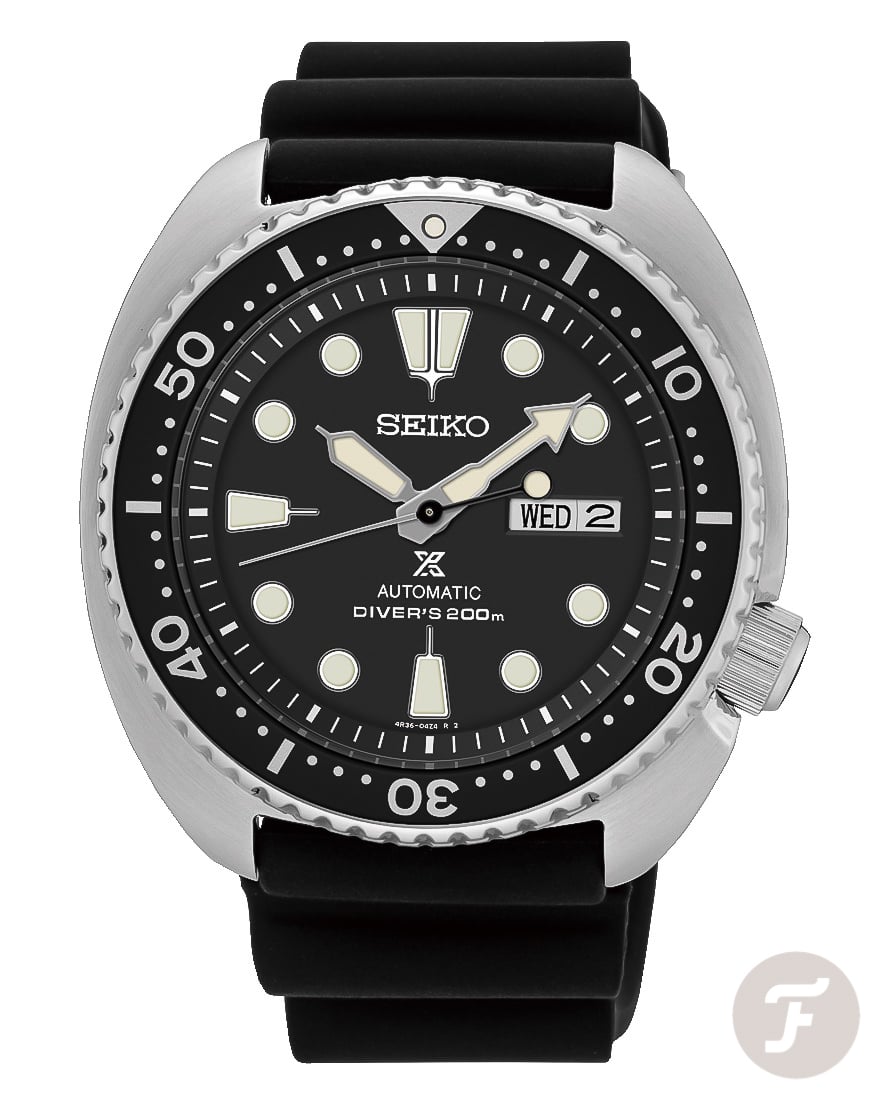 We're getting closer now. This 'Turtle' does have it's crown at 4 o'clock, and while it's so integrated into the shape of the casing, it can even be seen as protected. As well, the SRP777 (we did a review here) houses a 4R36 caliber, which means day and date. Also, the list price of around € 400,- (on 22 mm rubber strap) comes very close to the official list price of the SKX. This version with a matt black dial doesn't seem to be available on a stainless steel bracelet, nor is it available in all European countries.
Here the size of the watch probably escalates a bit out of hand. With a severe 45 x 13,4 mm, this watch might not be for everyone. Although I must say on my 17,5 cm wrist, it wears excellent and extremely comfortable. It's supposed to be caused by the extremely short lug to lug distance, and I can imagine that. For me, this watch, with its classic dial, index markings, and hands-set, is a serious contender to replace an SKX.
4. The Seiko SRPD27, aka 'Monster'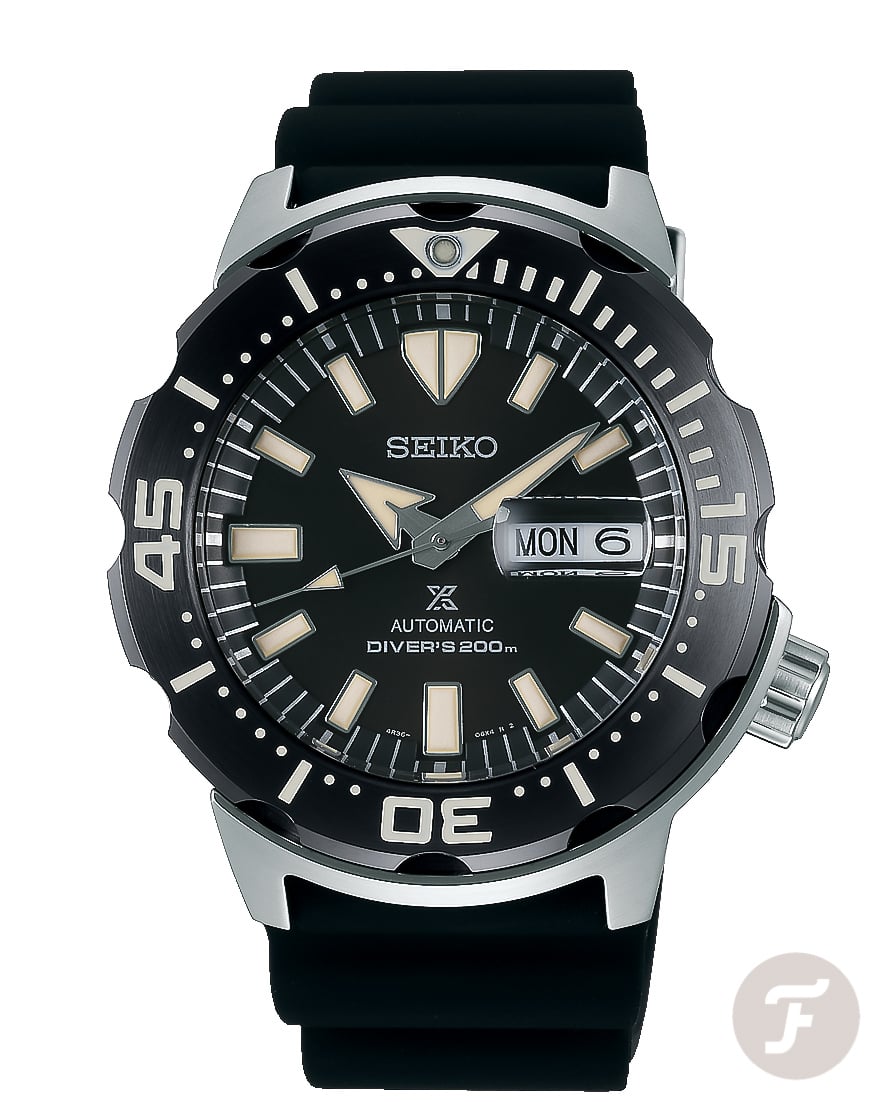 We're getting to the last Seiko Diver's watch in this price league (list price € 450,- on 20 mm rubber strap). Again the crown at the 4 o'clock position and again the 4R36 day and date caliber. This time with a large bubble, or loupe, in the Hardlex glass for better readability. As well, this watch, with its size of 42,4 x 13 mm, is suitable for many wrists.
But. The 'Monster' did not get its nickname for anything; it does look quite different from any other Seiko Diver's watch. It's probably not the dial; however, the bezel has something about it. It doesn't have a black inlay. However, it's is all black PVD'd. Together with the modern hands-set, and a particular lug-shape, this watch can only be loved or hated.
What else is good?
Although I found my SKX successor in the SRP777 'Turtle', what if you didn't find yours? The good news is I found some more, and probably even better, alternatives in Seiko's line-up of automatic Diver's watches. The bad news is, it's going to cost you more than twice the amount of the Seiko SKX007.
5. The Seiko SPB101, aka 'New Sumo'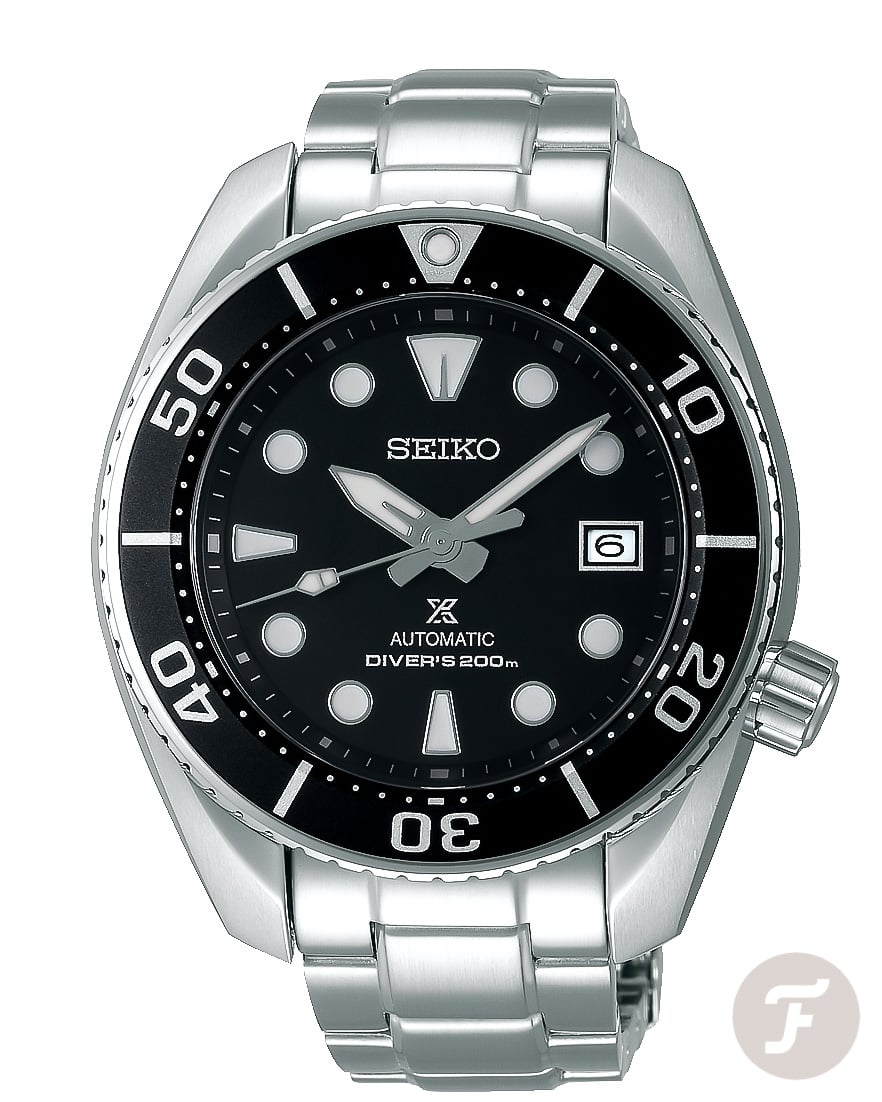 We're leveling up here. Of course, not just the list price (€ 830,= on a 20 mm stainless steel bracelet with fine adjustment possibility) but adequately on further specifications as well. For instance, the even more accurate 6R35 caliber supplies a whopping 70 hour of power reserve. Compared to the 41 hours of the 4R3X calibers of the four watches shown above. The 6R35 is a date-only movement, but as said, I like that for a diver's watch.
What else is better? Well, instead of the Hardlex crystal seen on the above four models – a Seiko home-grown hardened type of mineral glass – the 'New Sumo' sports sapphire crystal. If money were no issue, I'd probably prefer this SPB101 over the SRP777, although I'm not sure I like it twice as much. One point of concern could be the relatively small 20 mm lug width compared to the rather large 45 mm casing.
6. The Seiko SPB077, aka 'MM200'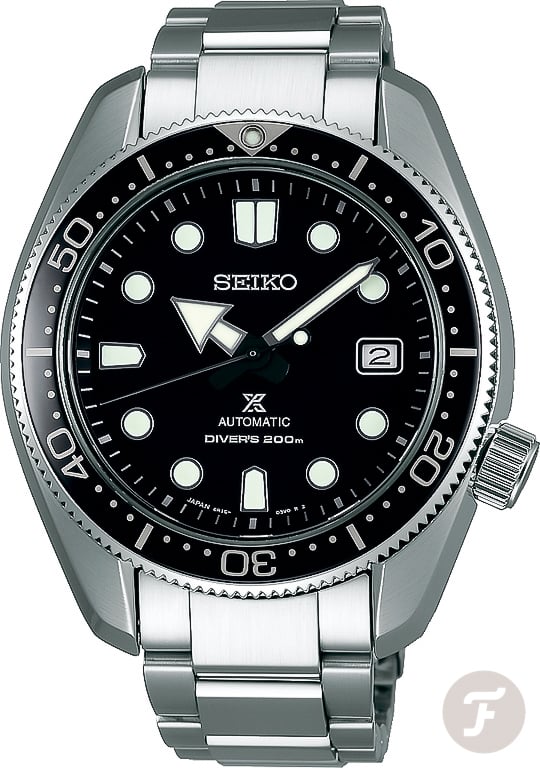 First, I want to explain this watch's nickname. The very popular Seiko Marine Master 300, which was introduced as SBDX001, then updated to SBDX017, and now to SLA021 (I'll get to this one later) has always been nicked 'MM300'. MM for Marine Master and 300 being its depth rating of 300 meters. It has to be said that the SPB077 we're talking about here, does in a way, look like the MM300. While the SPB077 has a depth rating of 200 meters, and although not a Marine Master at all, it's easy to understand it got nicked MM200.
The SPB077 houses a 6R15 caliber that does not supply a 70 like the SPB101, but a 50-hour power reserve. Again, it's a date only. The 44 x 13 mm casing can be seen as adequate, while here as well, a 20 mm lug width seems a bit crampy. A positive point is the extreme hard Diashield coating, which Seiko uses on this model to avoid daily minor scratches from wear. Of course, this watch sports a flat sapphire crystal as well. The list price of the SPB077 lies around € 1.050,-.
7. The Seiko SPB051, aka '52MAS'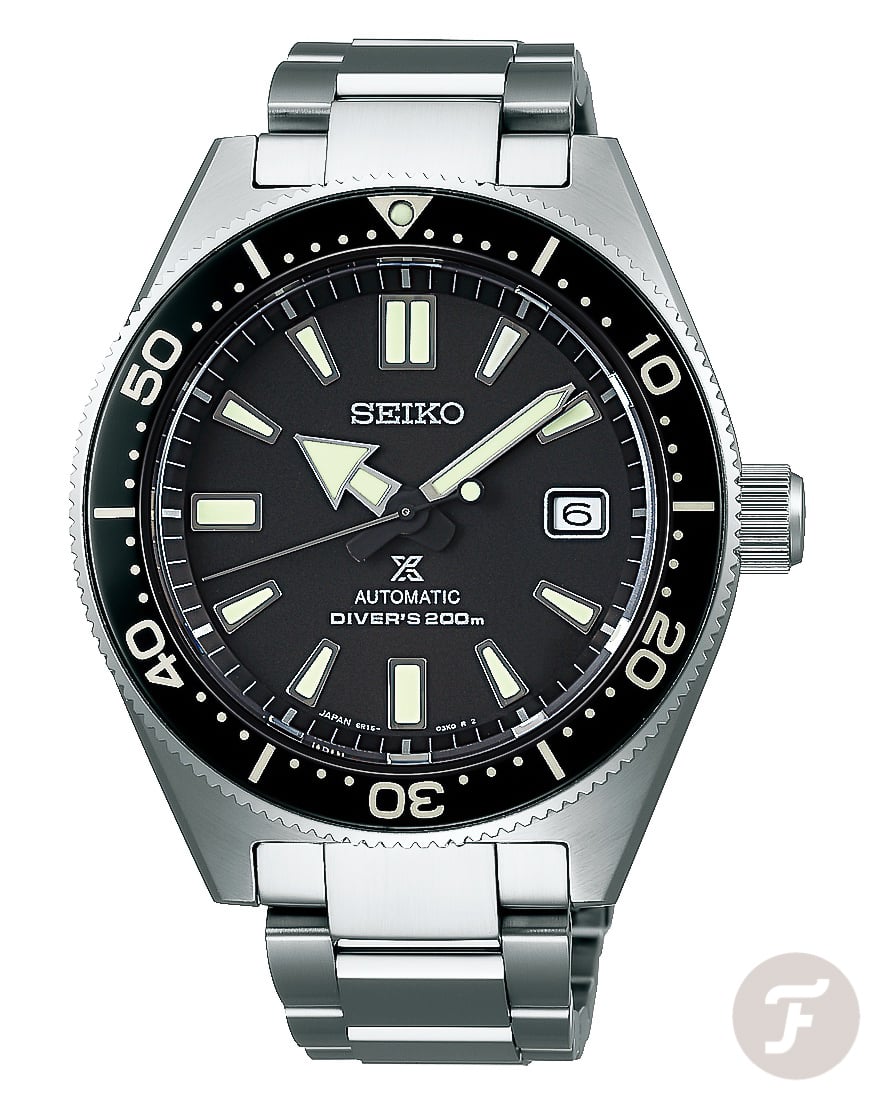 Another higher-end diver's watch using the 6R15 caliber. An entirely different design from the former two watches listed here, this time with the crown at the 3 o'clock position, and without guards. The shape of the case is very much like Seiko's first ever Diver's watch (1965), the 6217-8000/1 or 62MAS. In 2017 Seiko introduced with the SLA017 (8L35 movement) a true re-edition of this first diver ever. Alongside this 2000 pieces limited edition, the SPB051 with its 6R15 caliber was introduced as a more affordable alternative as well. While the SLA017 was the real re-interpretation of the 62MAS, the SPB051 became jokingly known as the '52MAS'. A nickname not widely spread, though.
The sapphire crystal on this model is slightly curved, and the 42,6 x 13,8 mm stainless steel casing (lug width 20 mm) takes advantage of the hardened Diashield coating as well. The list price of the 52MAS is equal to the 'MM200', € 1.050,-.
8. The Seiko SLA021, aka 'MM300'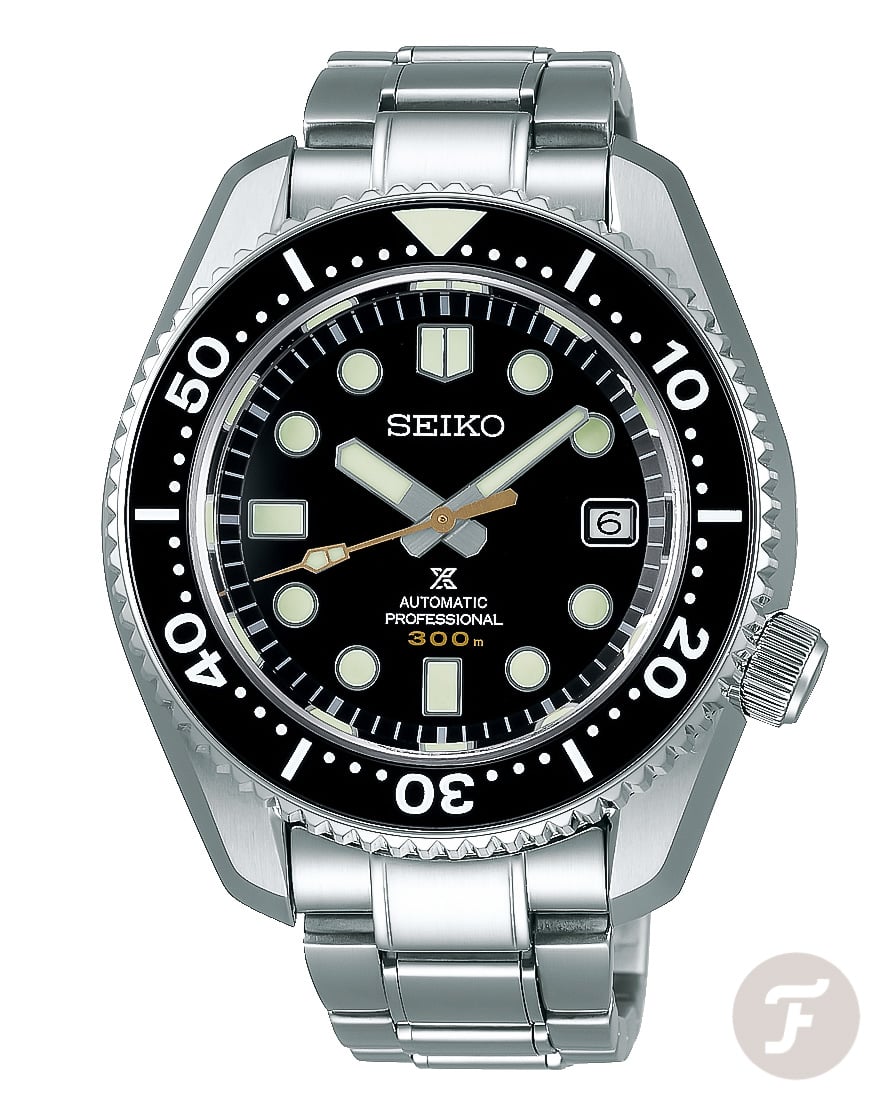 Under point 6, I already mentioned getting back to this SLA021, the latest offspring to the immensely popular MM300 models. Before you head off to your nearest Seiko dealer, I want to express that this watch – with its list price of € 3.200 – is in a different league and in no way to compare to anything mentioned here above. But. But it's a Seiko Prospex Diver's watch, and so I didn't want to leave it out of this overview.
You'll understand that in this league, we're talking about different watches with different ditto specifications. Here we go. Instead of all the other mentioned models being 200 meters rated, the SLA021 has a depth rating of 300 meters. Not that anyone of us would even think about diving to a depth of 200 meters, let alone 300 meters. So what's the point? The point is that Seiko took a whole different approach to reach this rating. And as well, because a depth rating of 300 meters means a different approach to diving, this watch is suitable for saturation diving. If you're not familiar with the term; Jack Forster, over at our Friends of Hodinkee, nailed it with "It's all about the Helium, and not getting killed."
I don't want to go too deep into the specifications of the SLA021, as Robert-Jan already did an excellent review of this watch. I'll only list the main differences, besides its price level, to the other seven watches in this overview. Monobloc casing, which means the watch has no removable case back. 8L35B movement, equal to Grand Seiko's 9S55 (but with lesser finish). Ceramic rotating diver's bezel. Zaratsu polished casing with DiaShield coating. Sapphire crystal. Seiko signed this watch as 'Professional' instead of 'Diver's.'
Conclusion
Although we understand that it's hard to say goodbye to a loved one, I think we've shown here that Seiko did have good reasons to end the production of the SKX 007 and 009. And we made clear that, even in the same price league, there's plenty to choose from in the current Seiko Diver's line-up.