#TBT – Seiko SilverWave 697990 Explained
Today's article is a lesson in watch esoterica: perhaps not for Seiko addicts, but I hope to bring some attention to what I think is a significant piece of the company's history. Recently, we featured an article about Seiko's first professional dive watch, the 62MAS. While I made it clear that this is the undisputable first of firsts, the question of lineage always exists. The simple question is, was there a progenitor to the 62MAS? Let's dive in and find out, but we won't "dive" too deeply as you'll soon see.
While I wasn't alive, it doesn't take much reading or social awareness to realize that the mid 1960's were a time of tremendous transition. It seemed to be a period of transition away from the feel good, somewhat old-fashioned 1950's into a more modern, but realistic (some might even say pessimistic) period. Literature, music, art, and technology (space race, anyone?) were all undergoing these same patterns of metamorphoses. I'll draw your attention to two specific phenomena during the period. First, California and its surfing culture went mainstream and people became highly interested in all things water or ocean related. Heck, the Beach Boys carved out an everlasting legacy due to the trend. Second, and taking a page from California's (there's that state again) hot rod culture, Detroit was on the cusp of ushering in one of the auto industry's most significant movements: the muscle car era.
Regarding the cars, and I'll somehow tie this back to watches soon enough (!!), some of the earliest, and arguably the most famous, examples were Ford's 1964 Mustang and Pontiac's GTO. Both of these cars were really not much more than sedan or coupe chassis with bigger engines and some modifications to increase capability. For a lot of reasons, they really weren't "purpose built" at this stage notably because they were fast responses to a perceived market desire. In fact, some early muscle cars were so sedate in appearance that it really took a keen eye to differentiate them from their meek everyday counterparts. And now back to watches…
About 2 or 3 years ago, I had discovered the vintage Seiko diver models through one forum posting or another and decided to learn more. I started reading and reading, writing down the models that would ultimately be the target of eBay and forum sale board searches. The usual suspects, such as the 6217, 6215 and 6105 series have stood out, but one site showed a rather archaic, yet attractive, diver. The thing looked a bit fragile, like an innocent early 1960's dress watch but with an oversized tacked-on crown and a slim internal rotating bezel. One might say that it looked like a custom special. So, tying this back to the muscle car, this watch was similar to many with its wolf in sheep's clothing disguise. Perhaps, it was a relatively quick response by Seiko to address a new market. The watch I am speaking about is the Seiko SilverWave.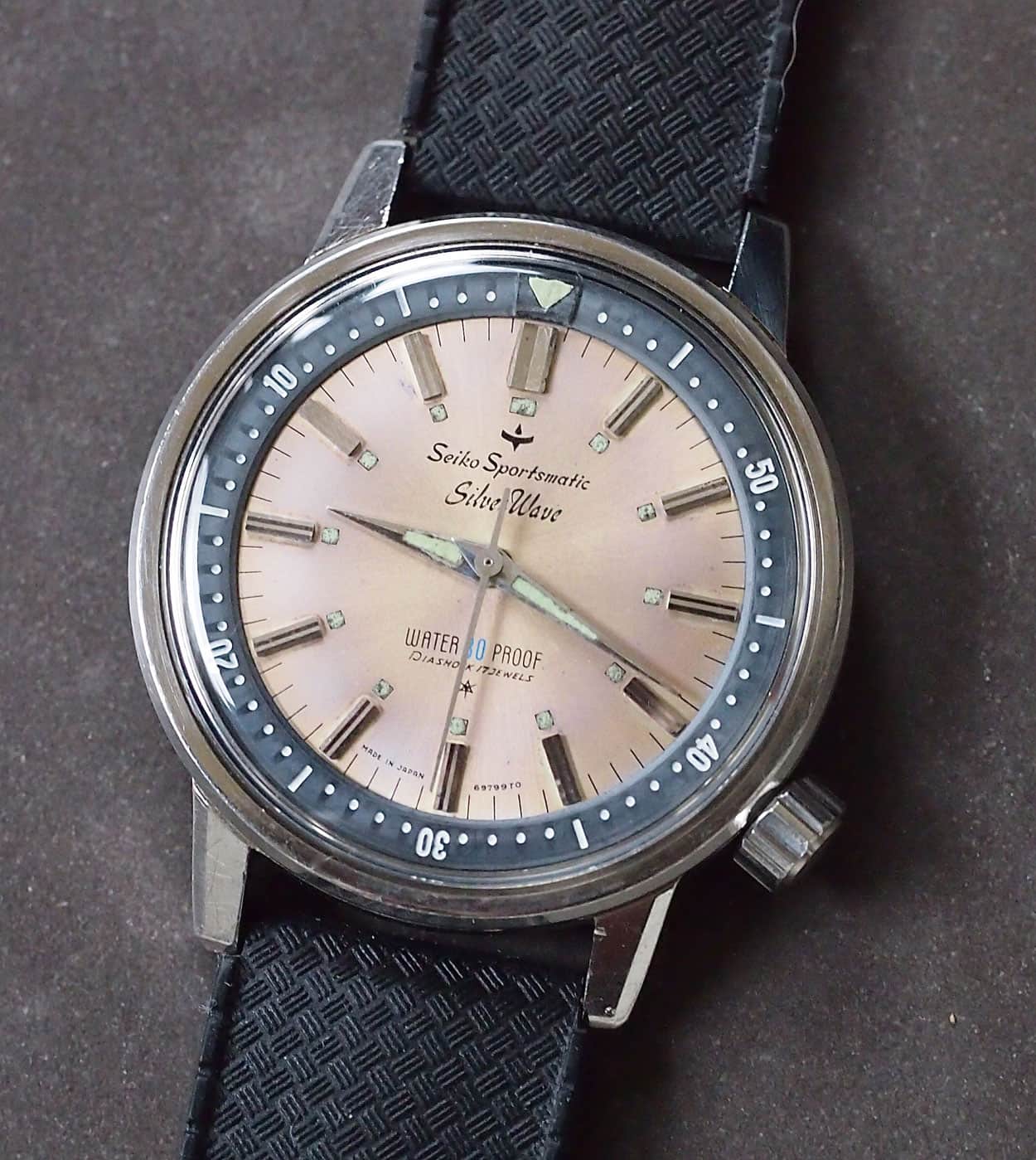 Seiko Silverwave reference 697990
The original SilverWave was introduced as the J12082 in 1961. Produced until 1964, this piece was actually a bit more serious than the piece that I'll discuss in detail as it had 50M water resistance and a screw-down case back. The piece that I own followed the original in 1964 and was produced until roughly 1966. It was a lower cost model introduced as the 697990 Sportsmatic SilverWave and is capable of 30M water resistance and has a press-fit case back. So far, you're thinking, really, we're talking about a watch with 30M water resistance as a diver? Remember, at this juncture, other than the "hardcore" diver choices from the likes of Rolex, Blancpain, Omega and a few others such as Zodiac, there really did not exist too many "amateur" models. Ok, maybe the watch is more of a "snorkeler" but it does at least contain many of the traits, albeit some superficially, that would ultimately set the table for Seiko's later divers. Plus, it was likely able to handle the basic rigors of swimming and surfing.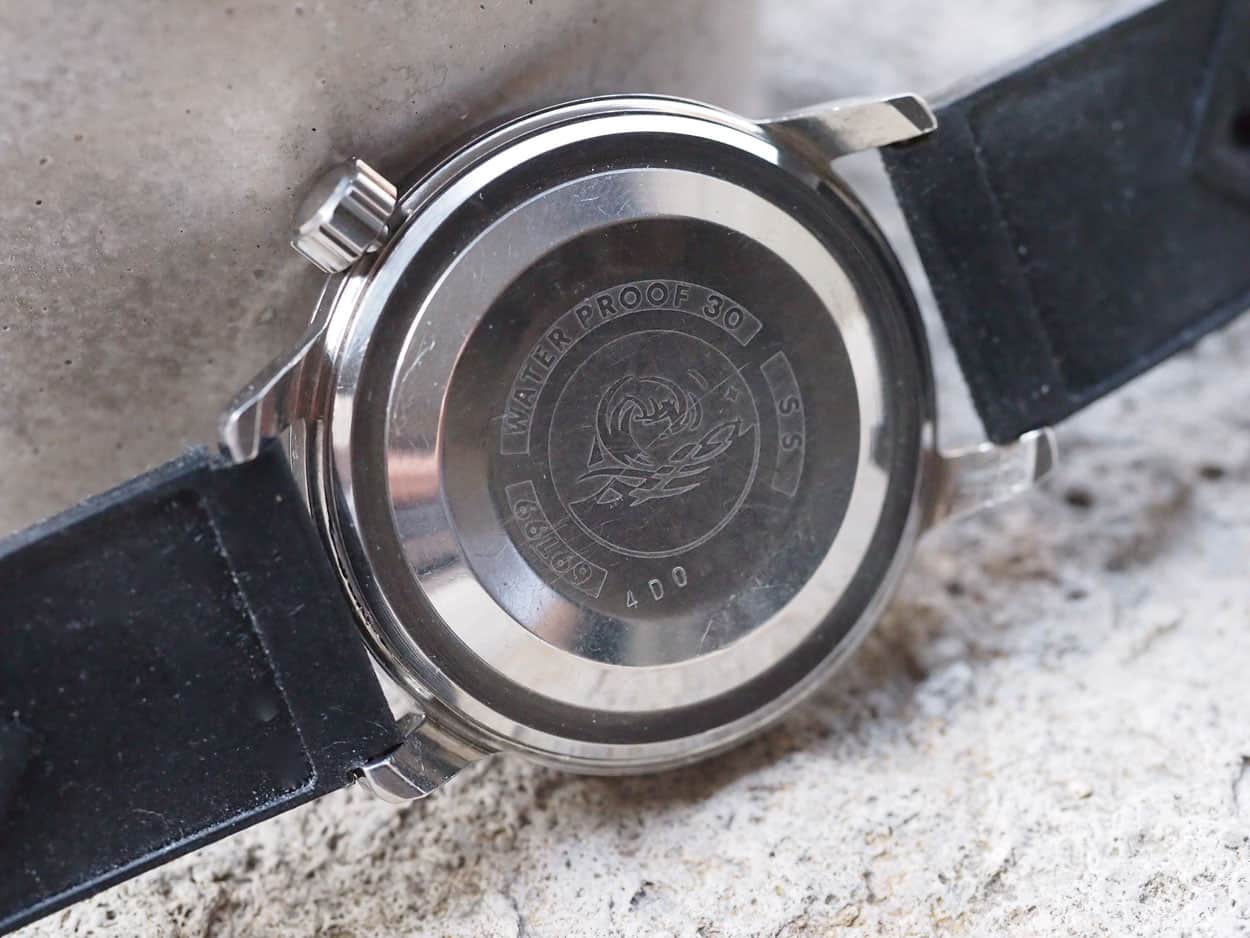 First, and not noticeable from the front view, the SilverWave, as introduced in 1961, was the initial Seiko to contain the "tsunami" motif on the case back. The 697990 continues the trend and this is still seen today on the case back on all of Seiko's dive watches. It's a great little feature that immediately lends the watch credibility when being viewed by a Seiko collector. Second, it contains an oversized crown that's not unlike that of most super-compressor cases from the era and it bears a resemblance to the crowns seen on the Tunas still to come. The crown on the SilverWave shows that Seiko is thinking about divers and the fact that many will be wearing gloves. Why does this matter? Well, the SilverWave has an internal, rotating timing bezel that is operated via turning the oversized crown. Incidentally, the internal rotating bezel became a hallmark of many Seiko chronographs, such as the 6139 Pogue, and its future line of 70M Sport Divers from the late 1960's through the 1970's. The SilverWave also contains luminous hands and pips near the hour markers, as well as a lume pip at the beginning of the rotating bezel. Here again, these features are made to aid divers in low light conditions and would obviously follow in Seiko's future dive watches.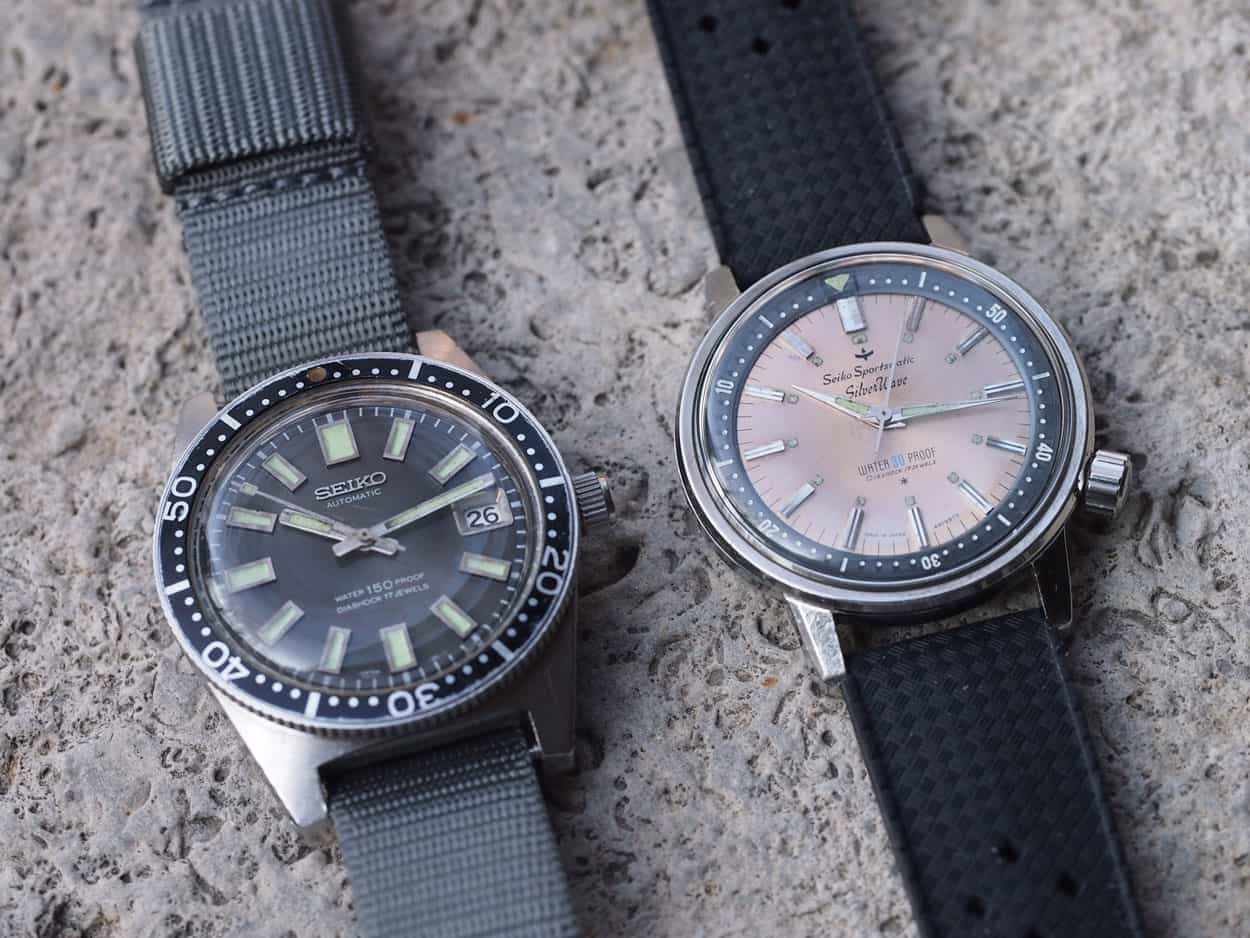 In my opinion, though, the SilverWave simply looks great and that's reason enough to own it. In late 2013, I was trolling the seas of eBay and came across the 697990 pictured here, which was produced in December of 1964. I ended up winning a spirited auction and eagerly awaited the arrival of my purchase. Upon opening the package, I was more than pleasantly surprised. The auction pictures were serviceable at best, so they really did not do the crown justice. Furthermore, it was difficult to tell from the pictures that the case fit the wrist like a modern watch. Give a lot of credit to some of Seiko's best lugs, which achieve the right balance between litheness and strength.  Also, despite a case diameter of only 35.5mm, the SilverWave has a very narrow outer bezel and gains its visual mass form within the crystal with its black inner bezel.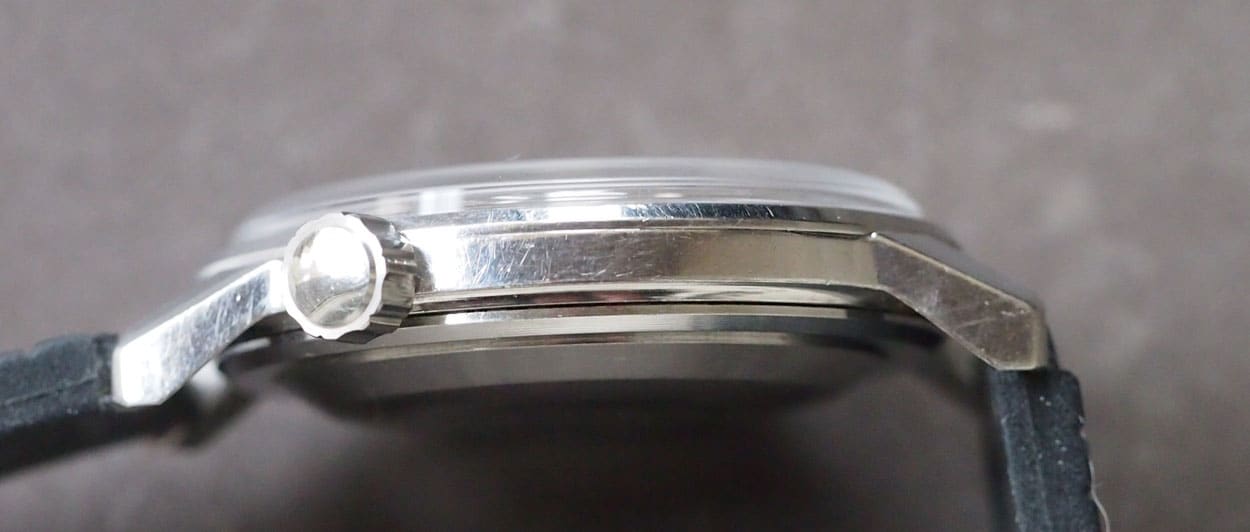 Speaking of the crown, the action is silky smooth when rotating the bezel. There's not much play (more vertical on take off than lateral), but I do find that when moving one's wrist and coming into contact with the crown throughout the day, it can cause the crown to turn. That alone would make it a rather questionable tool for timing dives. Oh, and it should be noted, that the crown is not a screw-down. Regarding aging, the dial on this model has obtained a pink, or salmon, color over time, which is a departure from its original silver color. The lume has added its share of wabi and is turning gray/green. The plastic inner bezel has also changed to a nice, chalky gray versus its original black. The applied hour markers, however, have largely kept their chrome finishing. Honestly, this watch has aged perfectly; it's a striking piece.
The SilverWave uses a non-hacking, non-hand winding, 17-jewel 6601 movement that lopes along at a sedate 18,000 bph. It's not a quiet little character either due to rotor noise, which adds to its vintage charm, but it is accurate. I don't wear an individual watch for long enough to measure accuracy, but the SilverWave has never required an adjustment. Regarding wearing and pairing, I really like the O.Frei strap that I cut down to 19mm as it looks like an old Tropic. Frankly, I'd consider going further in that direction and picking up a NOS piece or throwing it on a nice distressed brown leather. The watch lends itself more to casual wear, but its nod to no-nonsense 60's pieces also allows it to stroll comfortably into your place of work.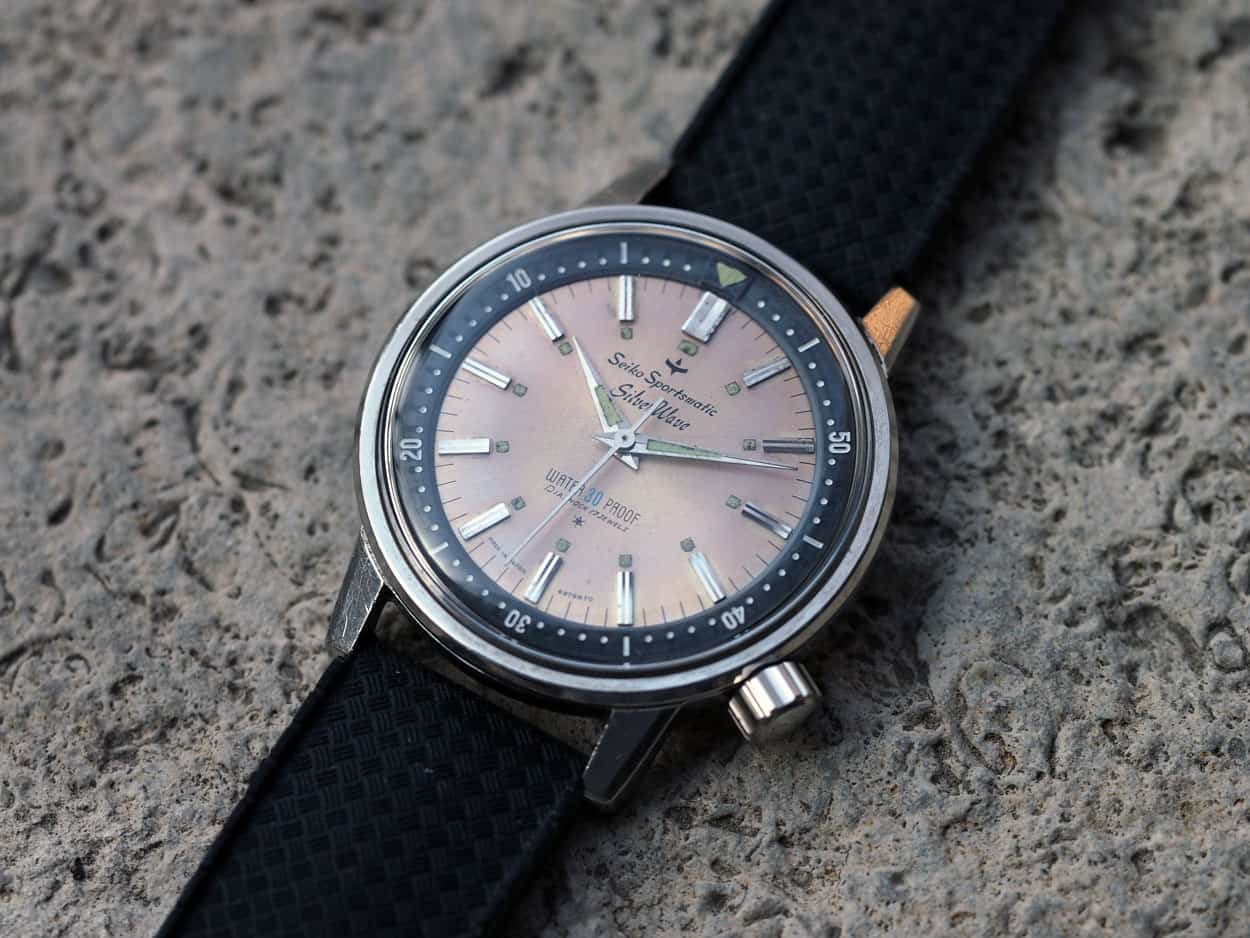 When looking to buy a SilverWave, either this model or its 50M predecessor, a strong case of perseverance is necessary. They come up infrequently and the bidding, no matter the condition, is generally fierce. I can't comment on 50M values as I haven't seen one (I'm always looking…and you know where to reach me) but the prices are certainly higher than the 30M pieces. 30M SilverWaves seem to sell for $400-800 depending on condition and level of fervor. Regarding rarity, I'm sure that water entry has helped to cull the herd. Also, adding to the difficulty is that the Japanese market is quite fond of these so many have never entered the global marketplace. Finally, when it comes to spares such as dials, bezels and crowns, good luck! Nothing is impossible but I'd likely not spend good money on a basket case unless you already have the parts or are willing to live with something altered or unfixed. The movements are robust, though, and highly serviceable. As in most Seikos, parts related to the internal bezel are nearly impossible to locate.
I hope you enjoyed learning a little about one of Seiko's early efforts in creating a water-resistant watch with sporting intentions. It's a great addition to a diver collection or for anyone who loves Seiko. Plus, I find it very interesting to compare this watch to the 62MAS in our recent article and the fact that only 4 months separate their production dates. Yes, the moods and desires in the 1960's certainly brought on great transition and massive advancements. A growing number of people decided to explore the deep like never before and the changes this drove in the watch industry were highly significant. Will we ever see the likes of such a transformation again?