#TBT The Seiko Ashtray Series – Fantastic 80's Titanium Divers
Titanium. We're spoiled by the abundance of the stiff, strong, and lightweight metal today and tend to pay little regard to how difficult a material it is to process and shape. For watches, many now simply consider it as yet another traditional offering on the palette of watch materials, but this wasn't always the case. No, when I was growing up in the 80's, titanium was darn near like talking about uranium or something ultra exotic and it often invoked thoughts of the Cold War, Russian-built submarines or my all-time favorite plane: the SR-71. But we're here to talk watches and that's why we'll turn our attention to a family of divers that integrated the then-innovative material into their bezels and, ultimately, throughout the watches.   Let's take a look at, what are in my opinion, some of one of our favorite brand's best designs in the Seiko Ashtray series.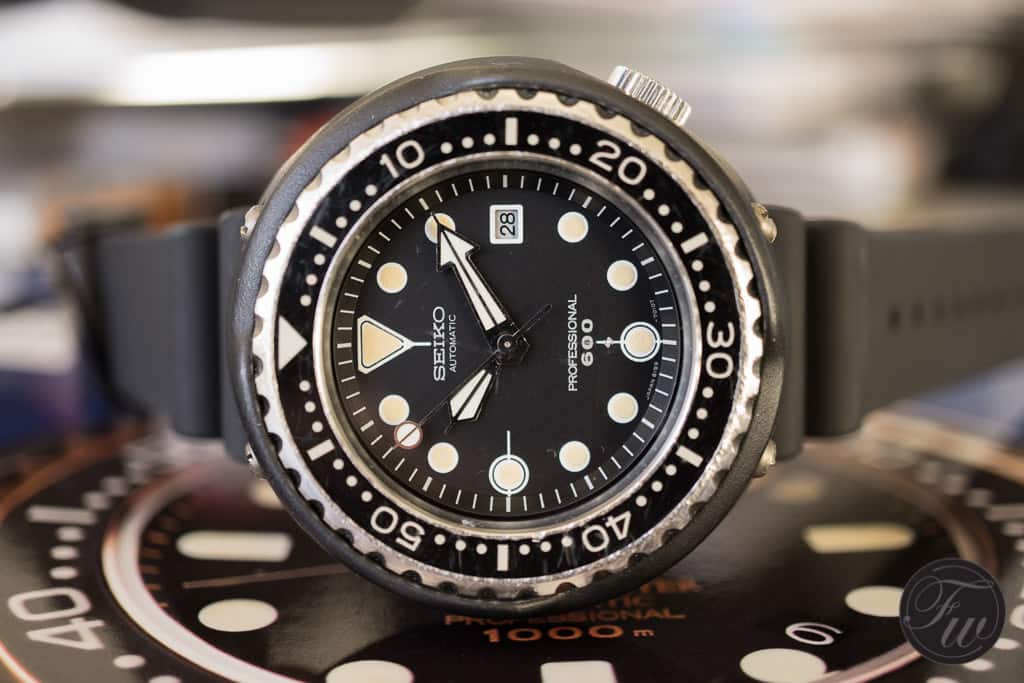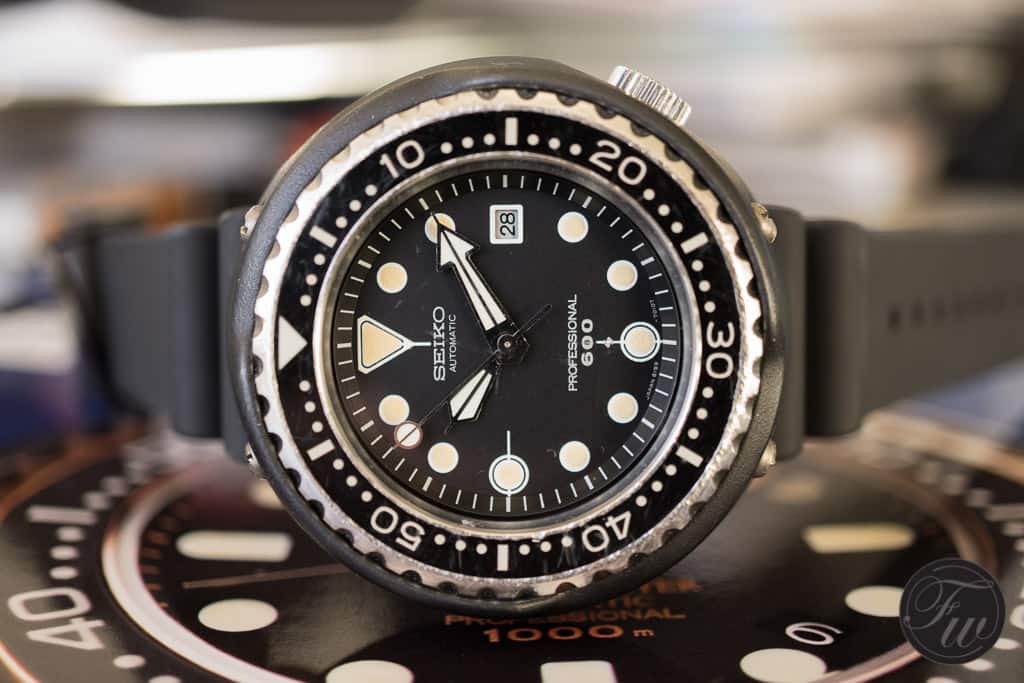 By the mid-80's, Seiko was certainly no stranger to titanium. After all, the brand had been working with the aerospace-grade metal for over ten years: recall their first usage of the metal with the "Grandfather Tuna" 6159 that we've covered several times here on Fratello Watches. But they, and other "affordable" brands such as Citizen and Timex, seemed bound and determined to produce more and more watches with titanium.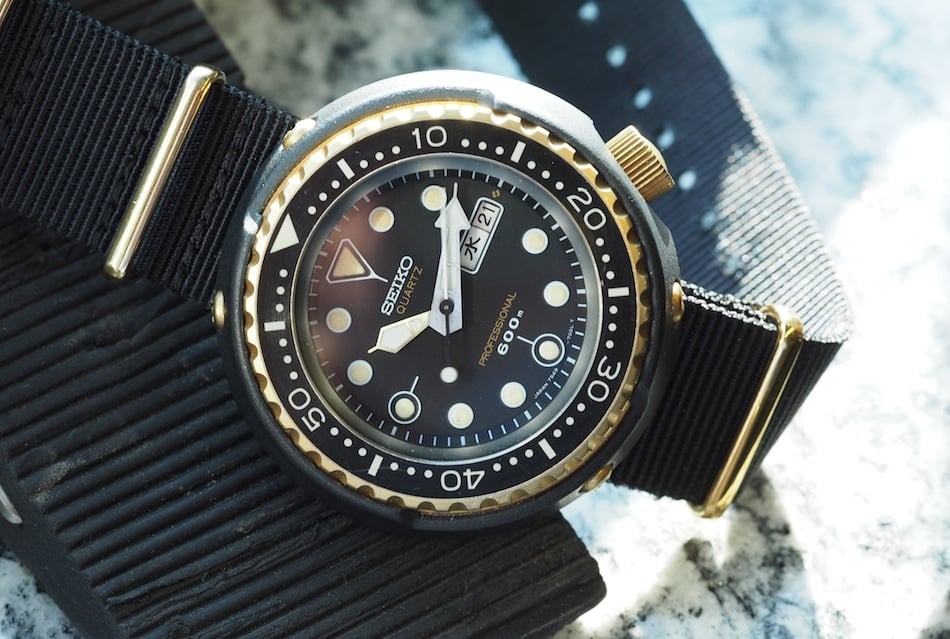 Alongside the big 1000m 7C46 "Golden Tuna" that was introduced in 1986 as a replacement for the 600m 7549 (introduced in 1978) that we documented, the Seiko Ashtray 7C46-6009 debuted that year as a mid-level professional diver's watch. Initially offered in stainless with a titanium bezel, a full titanium -6010 version joined the fray a few years later. However, unlike the 300m and 1000m Professionals with their beloved shrouds, the Ashtray gave off a very different look indeed.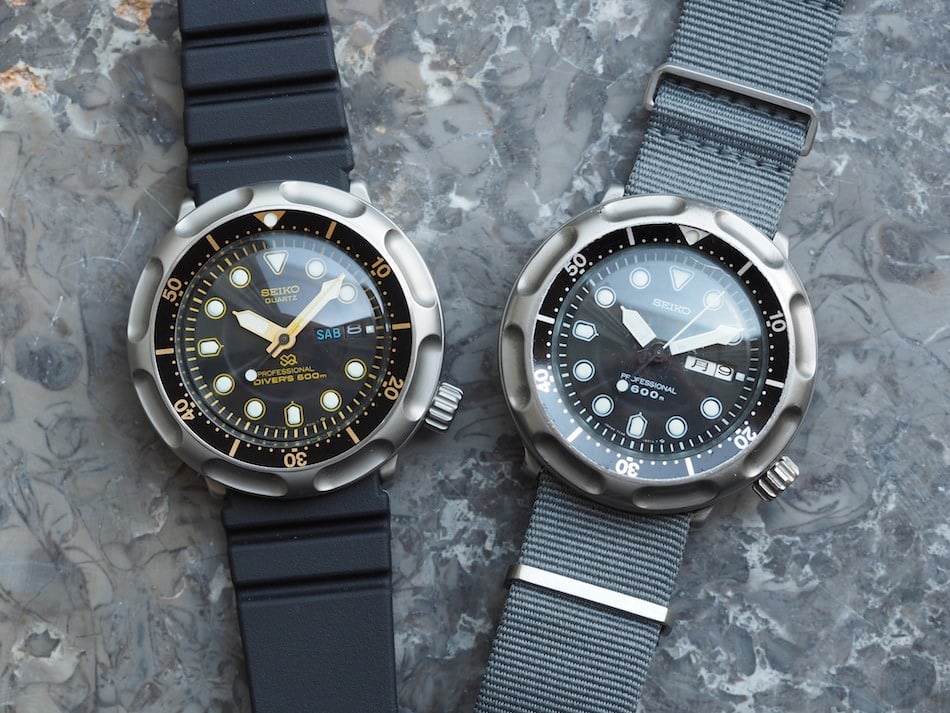 The Seiko Ashtray gets its name from, big surprise here, its bezel that some feel imitates the look of a conference table ashtray (remember those?!?). Somewhat bulbous and round with notches for gripping, it's pretty easy to understand the nickname.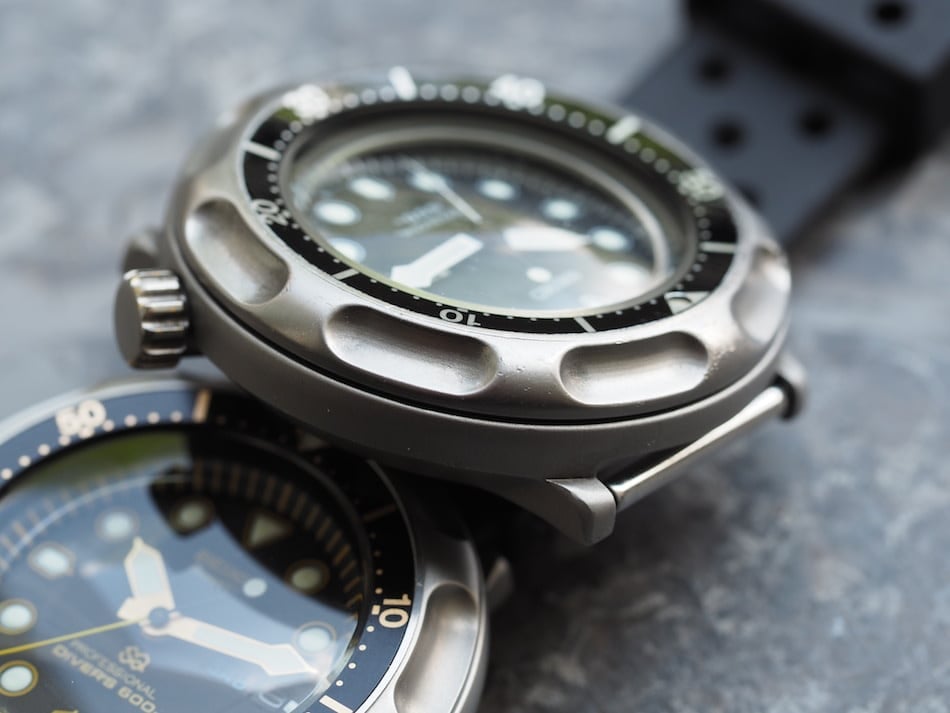 Some say it looks a lot like the Porsche Design/IWC Ocean 2000 from a similar timeframe and I don't disagree, but for me it brings to mind something altogether different. The last car that I owned in the USA was a 2010 VW GTI and while I left it bone stock mechanically, I did change one thing cosmetically. Notably, I swapped out the manual shift boot for a VW parts catalog "golf ball" evocative of the shifter found on the original GTI. Tactile and lovely to behold, the Ashtray somehow seems similar to me. Yes, that's a far-ranging comparison, but it's tough to rid my mind of the connection.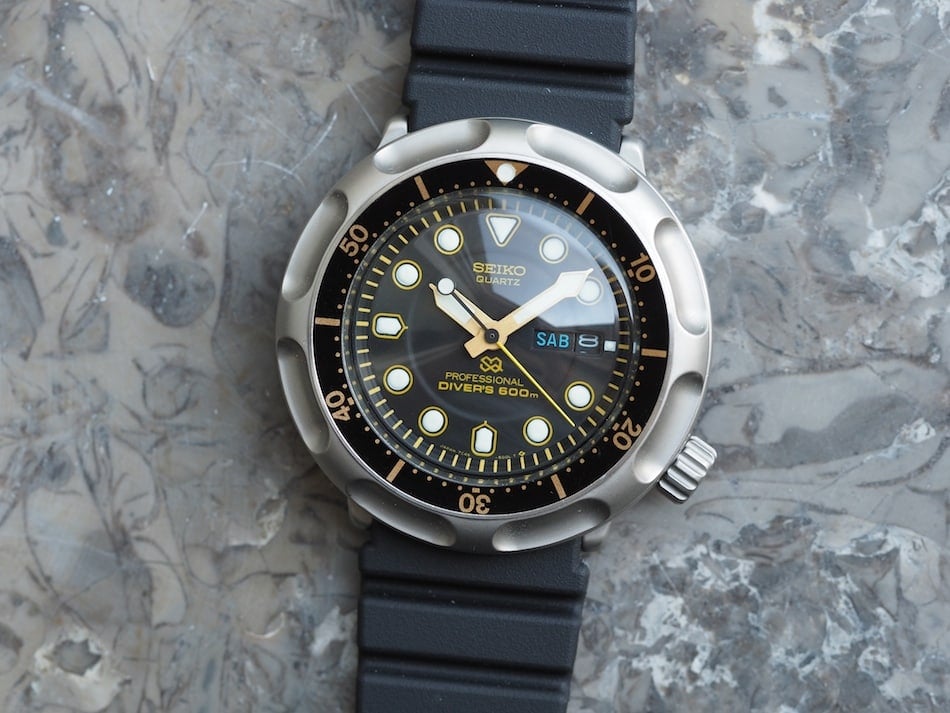 The Seiko Ashtray, despite having a bit more stylistic flair than its overly functional Tuna counterparts, was really no slouch in the specs department either. It clocks in with a purpose-built saturation diving capable water resistance of 600m. More than that, it contains the same design of a load-bearing, screw down mineral crystal (slightly domed making pictures "fun") as the tunas and the same L-shaped rubber gaskets first introduced by Seiko in the 70's. Naturally, the crown screws in and the funky bezel is unidirectional.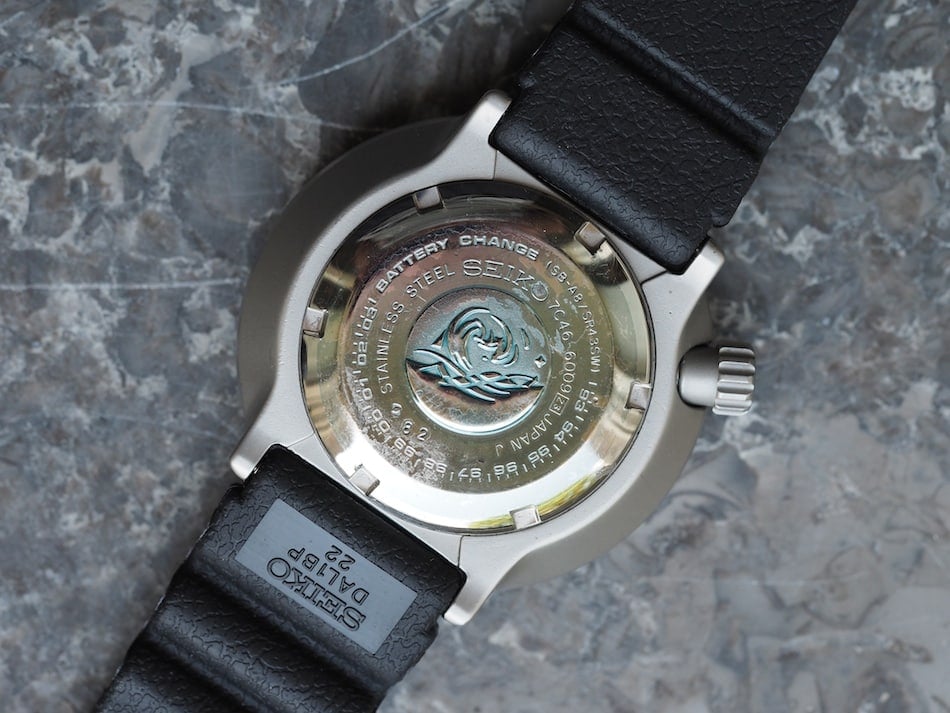 The only thing that keeps the Ashtray from being a true Tuna, if you subscribe to our own Gerard's school of Tunas that is, is the fact that it has a screw back case.  Then again, this informative article on 60 Clicks begs to differ.  Controversy!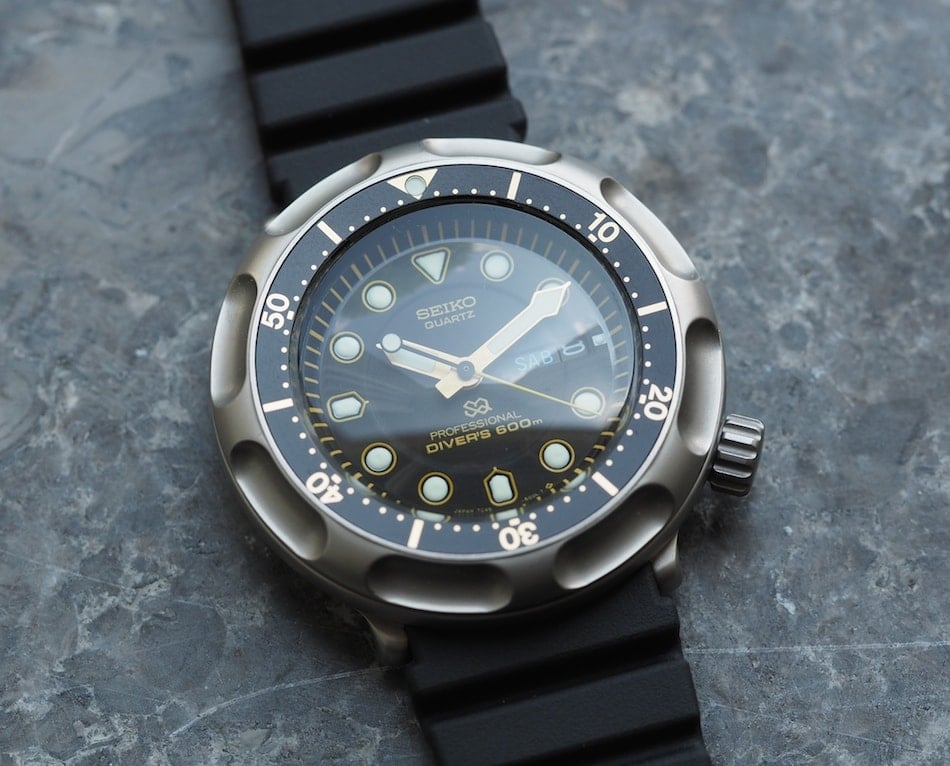 Aside from the highly noticeable bezel design, I consider the Seiko Ashtray, in either guise, a serious looker. The watches look bombproof, but were designed in such a manner that I think would work perfectly well if introduced today. The steel 6009 variant contains a similar dial to its all-titanium 6010, but it's decidedly flashier with a high level of contrasting yellow against a matte black dial. Plus, the 6009 states its quartz movement loudly and proudly with both the quartz word below Seiko and the very 80's "SQ" logo: something that perhaps wouldn't be seen if the watch were on offer now.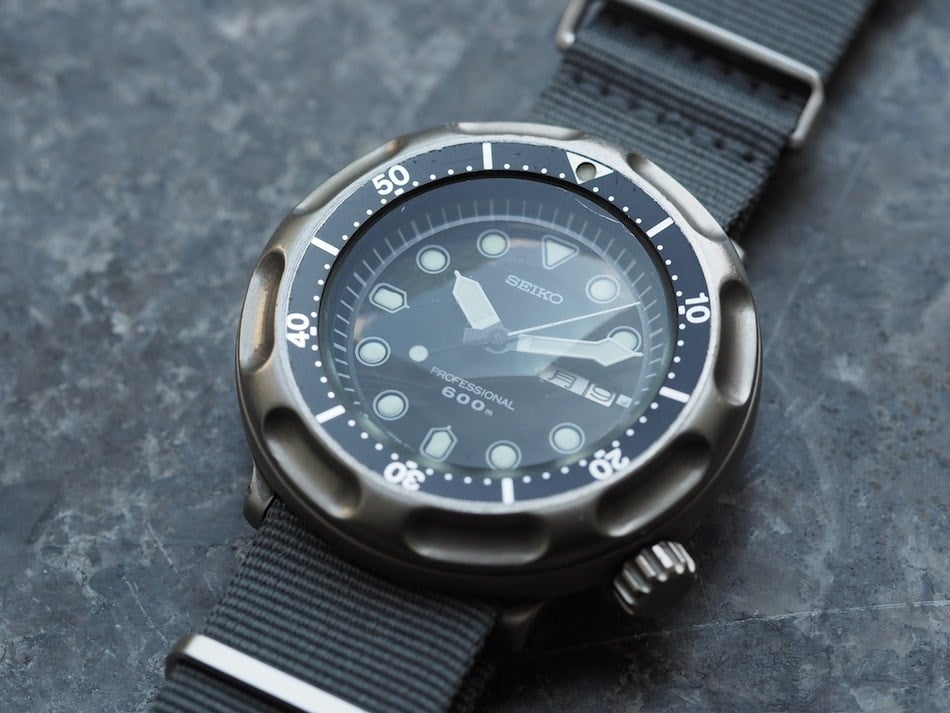 The all titanium variant, on the other hand, is all about business and keeps things very simple in black and white. Incidentally, the hands on these pieces are unique versus other Seiko divers.   You'll also notice that the dials softly sink down further in their centers, a cue that we've seen on other Seiko divers such as the Spring Drive Tuna.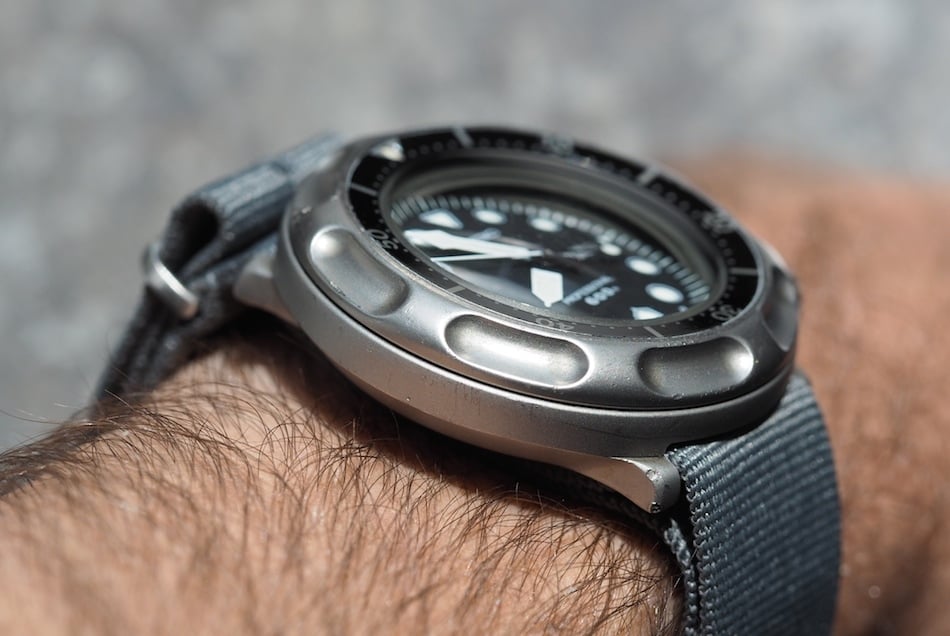 Now, if you've ever thought about a Tuna or have resisted buying one of the higher depth-rated models because of its bulk (that bulk is primarily vertical, by the way), I have some extremely pleasant news for you. The Seiko Ashtray is downright svelte by comparison and wears wonderfully on the wrist. At 45mm in diameter (44mm lug to lug as the bezel overhangs) with 22mm lugs, these divers aren't small by any means, but they fit so differently. At about 15.5mm thick, they're not even overly slender, but that rounded bezel truly brings everything in both appearance wise and physically.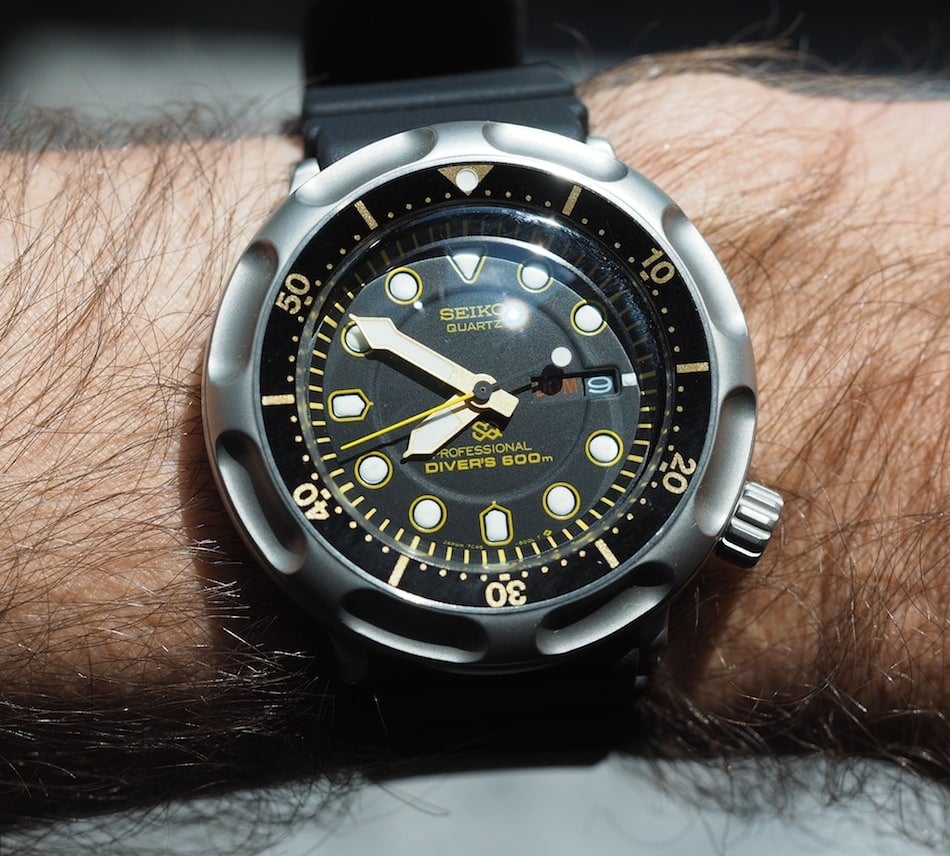 Whether on the flat vent DAL1BP rubber strap or a 22mm NATO, this is one comfortable watch. The lightweight titanium 6010 is certainly the more comfortable choice, but even the steel piece isn't overly weighty. And the tactile feel of the bezel? It's definitely different and requires a concerted, but solid effort to use.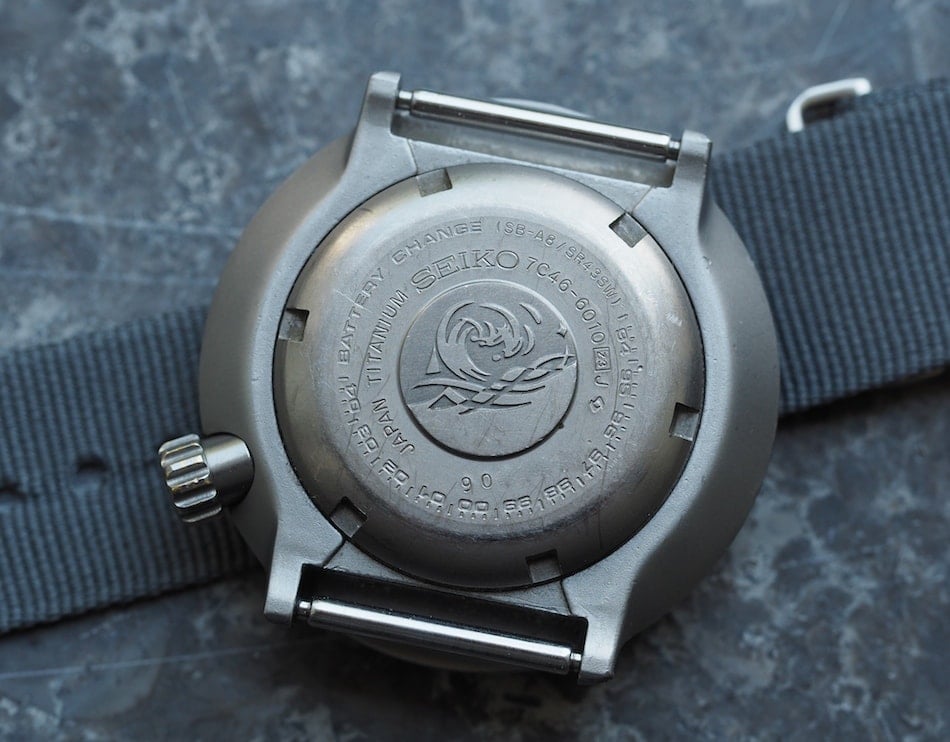 Inside, the Seiko Ashtray sits the well-known 7C46 quartz movement. The movement was purpose built for tool watches and as such, contains a high torque "stepper" to help manage the weight of larger hands often found on such watches. The movement is sturdy, antimagnetic and can handle a wide range of temperatures. The batteries last 5 years and the movements can be completely broken down, serviced and adjusted. Yes, I know this is quartz (and yes, this watch would look incredible as an automatic), but the fact that this movement remains in production and unchanged speaks to its relevance and reliability.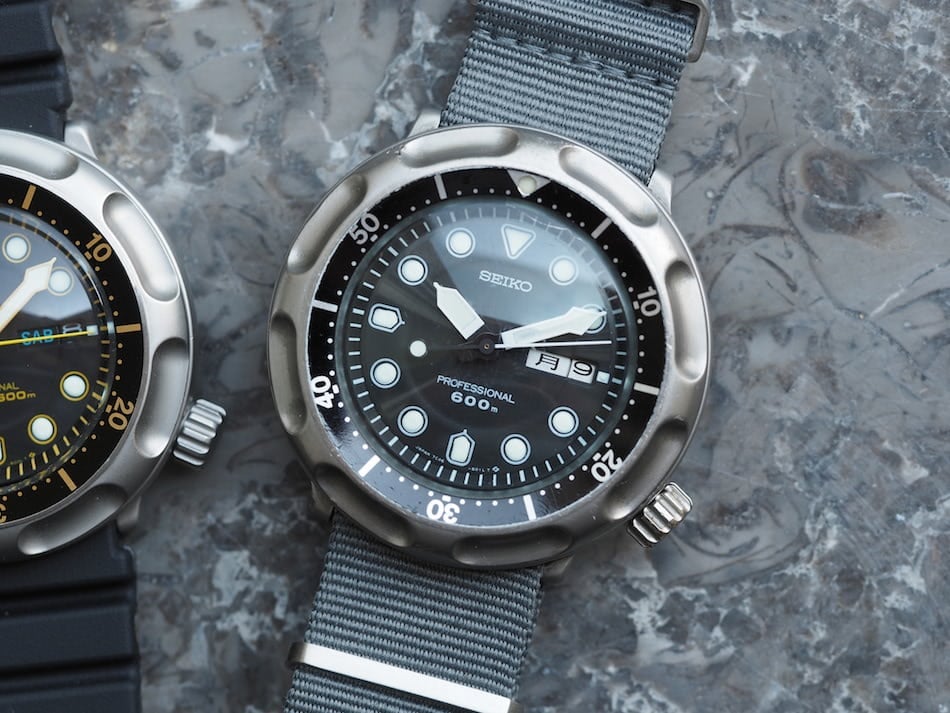 The Seiko Ashtray was produced until roughly 1993 and for a watch that lasted for 8 years, they can be difficult to find. The style was clearly a bit ahead of its time and perhaps it was in a weird spot between the 300M Tuna and 1000M Golden Tuna. Still, the watches do show up from time to time and are prized by Seiko collectors. Pricing wise, the watches can be found from roughly $700 on up depending on condition, location, and an owner's general belief about the worth of these relatively uncommon beasts. Due to a lack of historic sales prices, my research showed that prices are similar for either variant.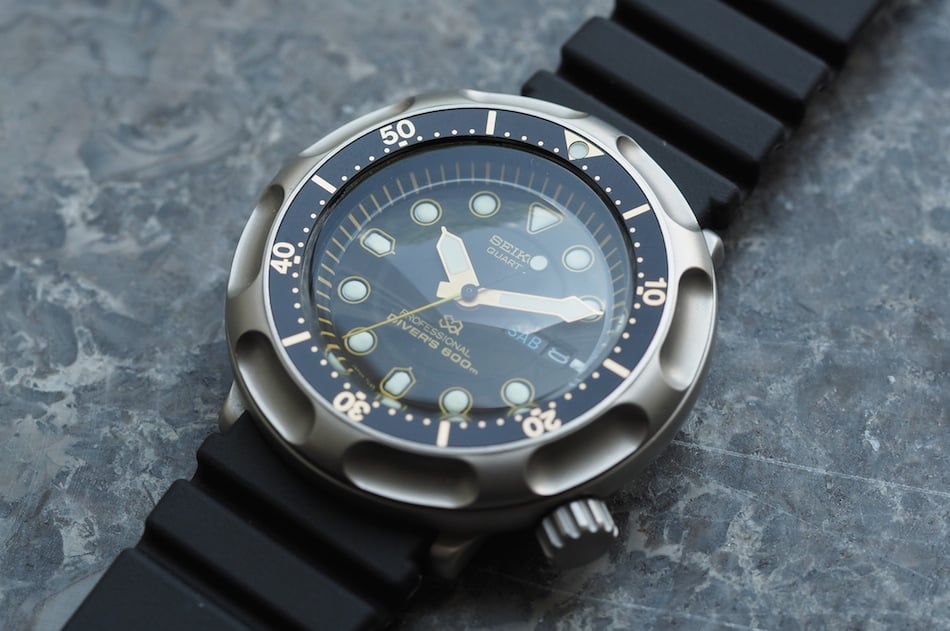 Case in point, the 6009 from 1988 that you see here (with a Spanish day wheel) came from a well-known collector in Italy. It cost roughly the same – a bit more due to the minty condition – as the all-titanium 6010 from 1989 (with a Japanese day wheel) that came from Japan.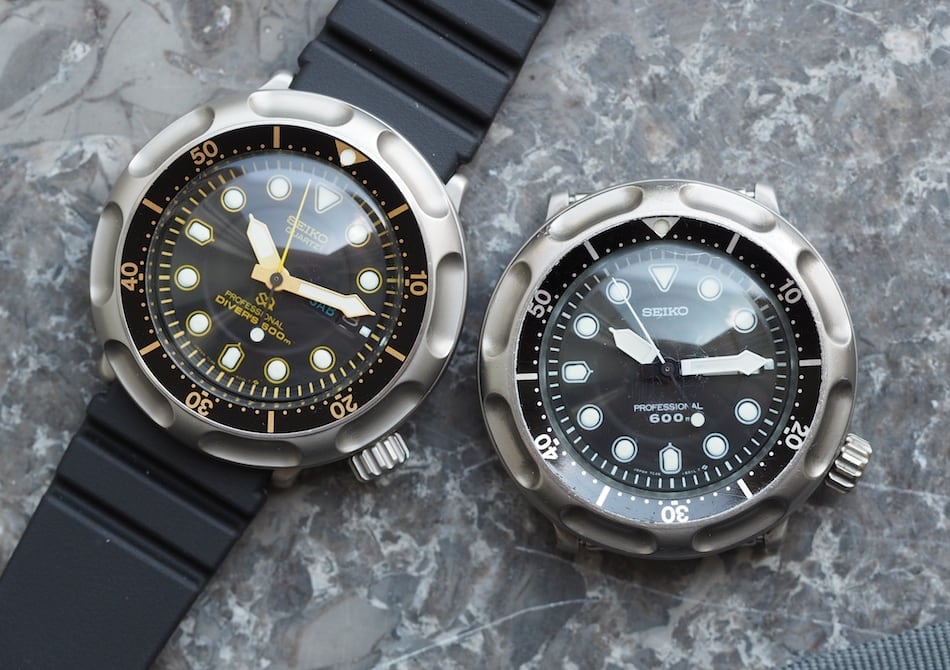 For many Seiko collectors, the Seiko Ashtray represents somewhat of a grail watch, especially for those who love the 80's and 90's models from the brand. It took me several years to track down and pull the trigger on these two and I'm glad I did. As stated, they wear perfectly and look incredibly modern. And, despite the fact that titanium is more like "ho-hum-ium" for most now, it's a characteristic of these watches that's endearing to me.