The Seiko Prospex 1959 Alpinist Re-Creation SJE085J1 Finally Reaches The Summit
A long-awaited limited edition that might be suffering a slight identity crisis
The wait is finally over! The Seiko Prospex 1959 Alpinist Re-Creation SJE085J1 has finally reached the summit. In other words, it's out as of today. Keep in mind that only 1,959 numbered pieces of this watch are available worldwide at a retail price of €3,000. So, now I ask: is this relatively faithful reissue of the first-ever Alpinist model from 1959 worth it? Let's dive deeper into the psyche of this peculiar adventure watch in our quest for answers.
When Seiko announced its release of the Prospex SJE085J1 "The 1959 Alpinist Re-creation", our very own Michael Stockton wrote about it. You can read the full article here. I want to touch on a point from Michael's article back in February. Michael wrote about the Alpinist's fragmented history, its resurrection, and the fact that its name was absent on the dials of some of later Alpinist models.
Are they still denying my true nature, or are they just ashamed of me?
The Alpinist is a member of the vast Seiko family – "Alpinist" being its given name, and "Seiko" the family name, if you will. Now "Alpinist Seiko" is resurrected under the reference number SJE085J1. This new model is a carefully constructed re-edition of its 1959 ancestor. But when Alpinist Seiko looks in the mirror, it's shocked and starts to question its identity. "Why?" it shouts out when it notices its first name is not on the dial. "Are they still denying my true nature, or are they just ashamed of me?" it wonders. "Am I not my own watch? What have I done wrong? Am I not worthy?" The Alpinist can't help but wonder. Let's try and find some answers before the Prospex 1959 Alpinist Re-Creation SJE085J1 completely loses the plot.
The Seiko Prospex Alpinist finally reaches the summit
Let me start by stating that, in my opinion, the Seiko Prospex 1959 Alpinist Re-Creation SJE085J1 is quite an attractive watch. And I'm not just saying that to make Alpinist Seiko feel better about his identity crisis! There are some flaws, but then again, who isn't without their shortcomings? However, in order to understand the present, we must dive deep into the past, which is where we find the original 1959 creation.
The sturdy leather cuff-style strap held the watch safely in place while climbing.
On the original 35mm Reference J14041 from 1959 the words "Seiko", "Laurel" and "Alpinist" are present on the dial in a very charismatic font. These words, together with its characteristic mix of geometric lume-filled hour markers and sharp dauphine hands, set the tone. The sturdy leather cuff-style strap held the watch safely in place while climbing. The watch was originally created in order to give Japanese mountain climbers a reliable way to keep track of time during their ascents and descents. Most elements found their way to the new 1959 Alpinist Re-Creation, but not all, and some aspects were changed or removed altogether.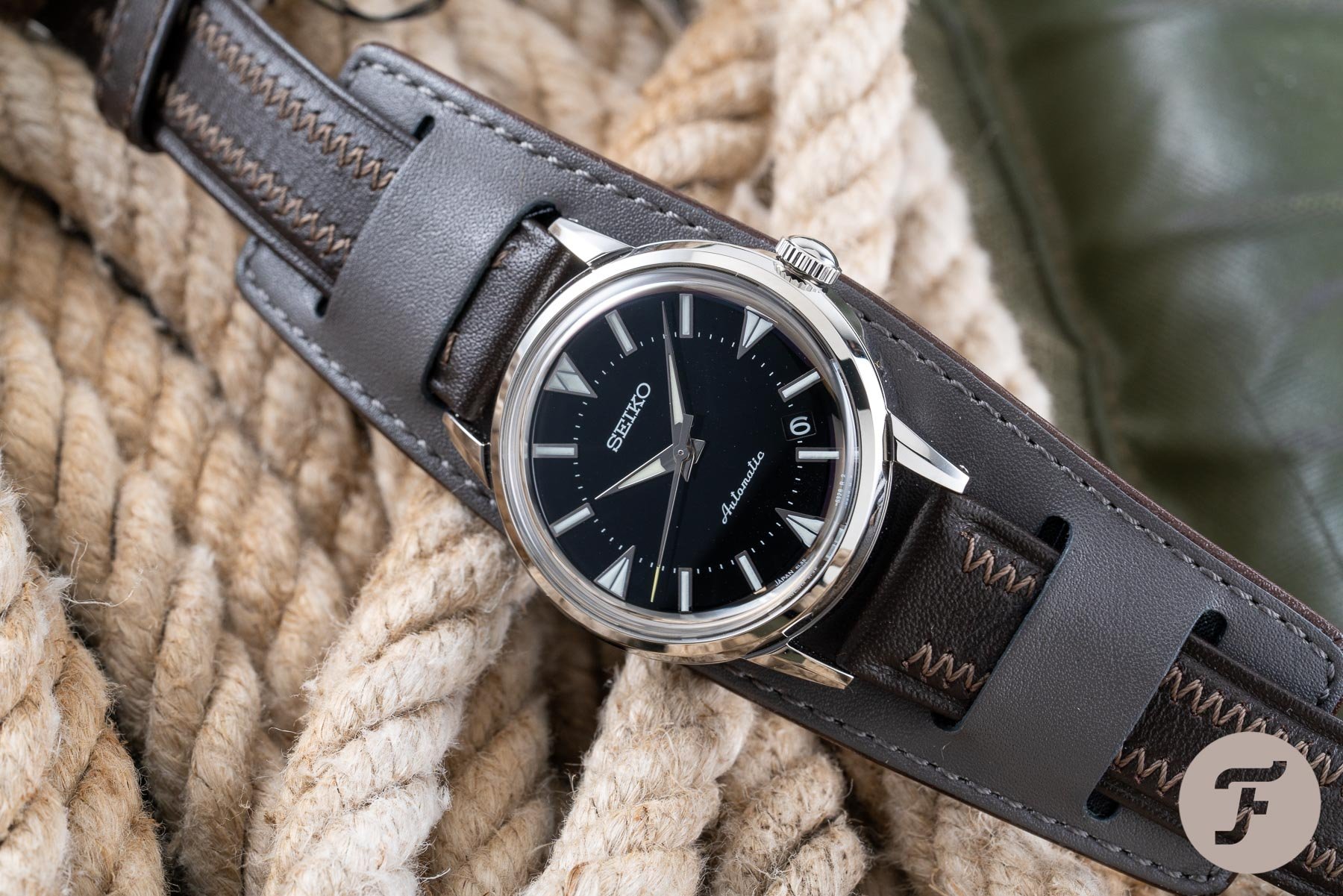 Historic charm in accordance with modern standards
To start with the similarities, the cuff-style strap with funky contrasting stitching has stayed the same. And so have the large indexes and their triangle shape, which is inspired by the four main points on a compass. A screw-down case back effectively keeps the movement safe from the elements.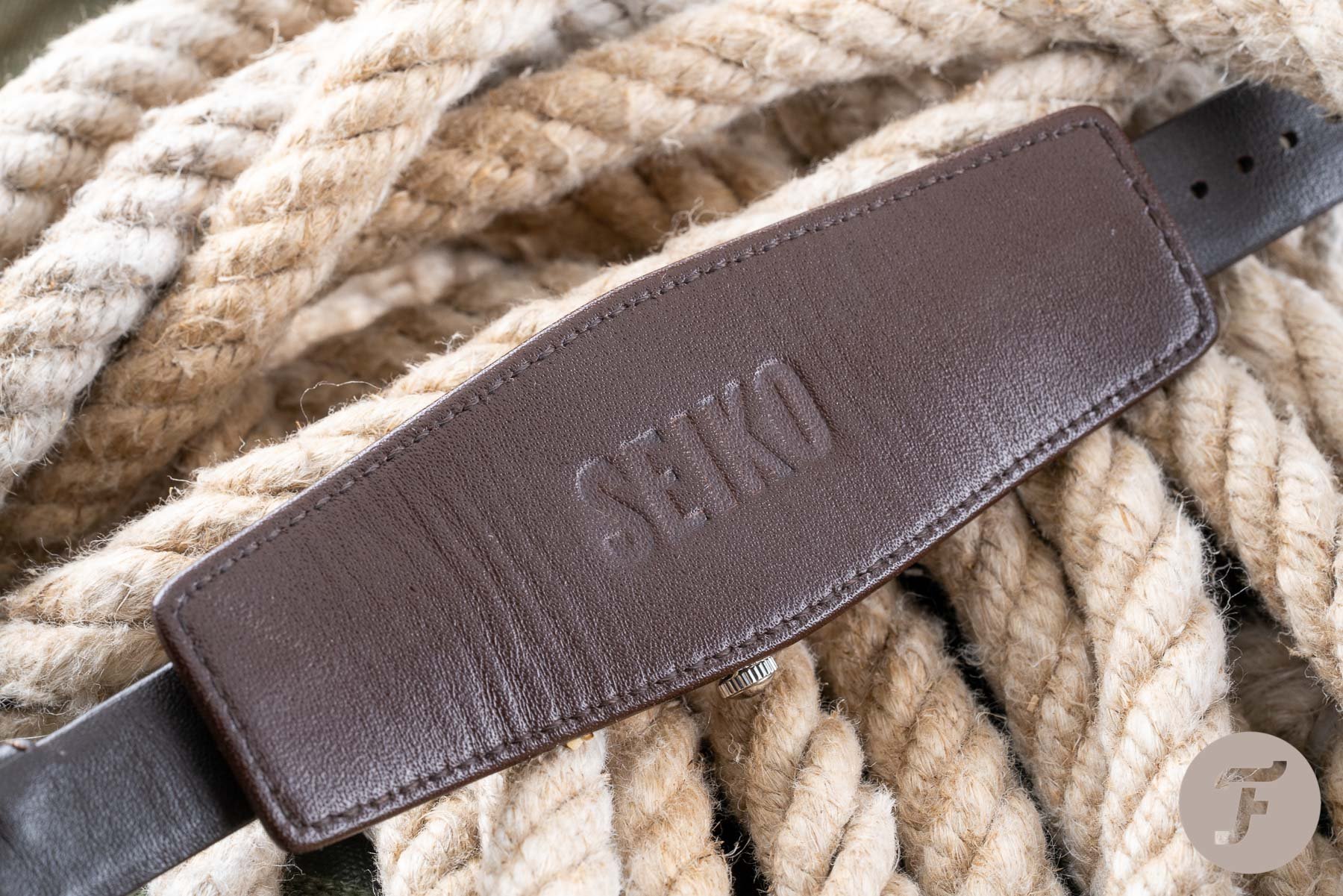 The lume on the glossy black dial now consists of modern Lumibrite, of course. Its design, as well as that of the inner ring of white minute markers, look just like those on the original watch. The box-shaped sapphire crystal also re-creates the look of the original acrylic one and does its job in a better, more scratch-resistant manner. Additionally, the sapphire crystal is treated with an anti-reflective coating on the inner surface to ensure high legibility.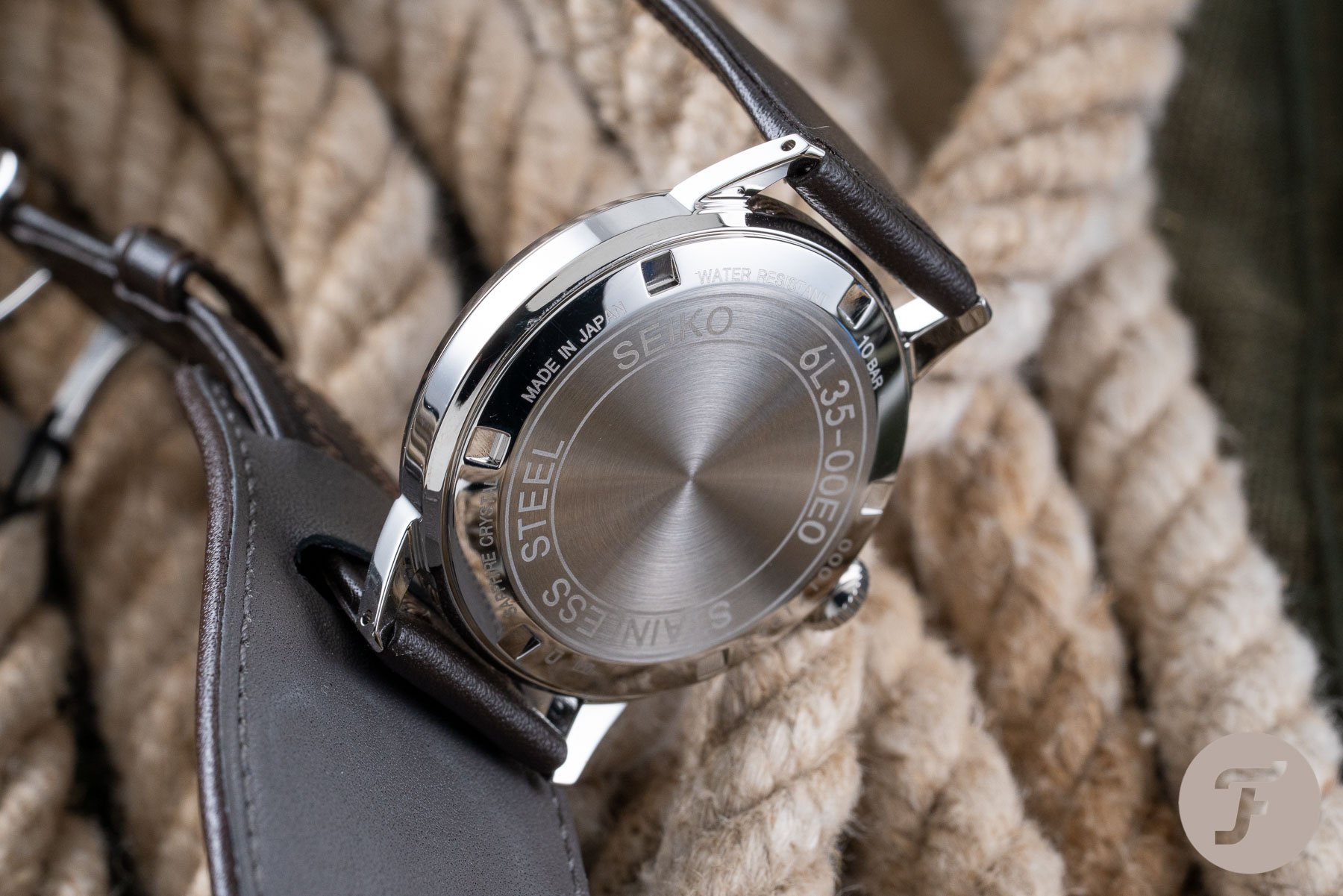 So, what else is new?
Completely new, in addition to the word "automatic" on the dial, is the date window between four and five o'clock. The case has grown in size and has now water-resistant to 10 bar. The 17 jewel Seikosha manual-wind movement from the original has been replaced with a slimline Seiko Caliber 6L35. A movement that also beats inside another re-issue watch, the King Seiko KSK SJE083, which we featured in December 2020. The 26 jewels 4Hz movement has a 45-hour power reserve and claims an accuracy of +15 sec / -10 sec per day. Seiko presents the caliber 6L35 as an upgrade of the Caliber 6R15, but its roots actually trace back to the Calibers 4L25 and 4L75.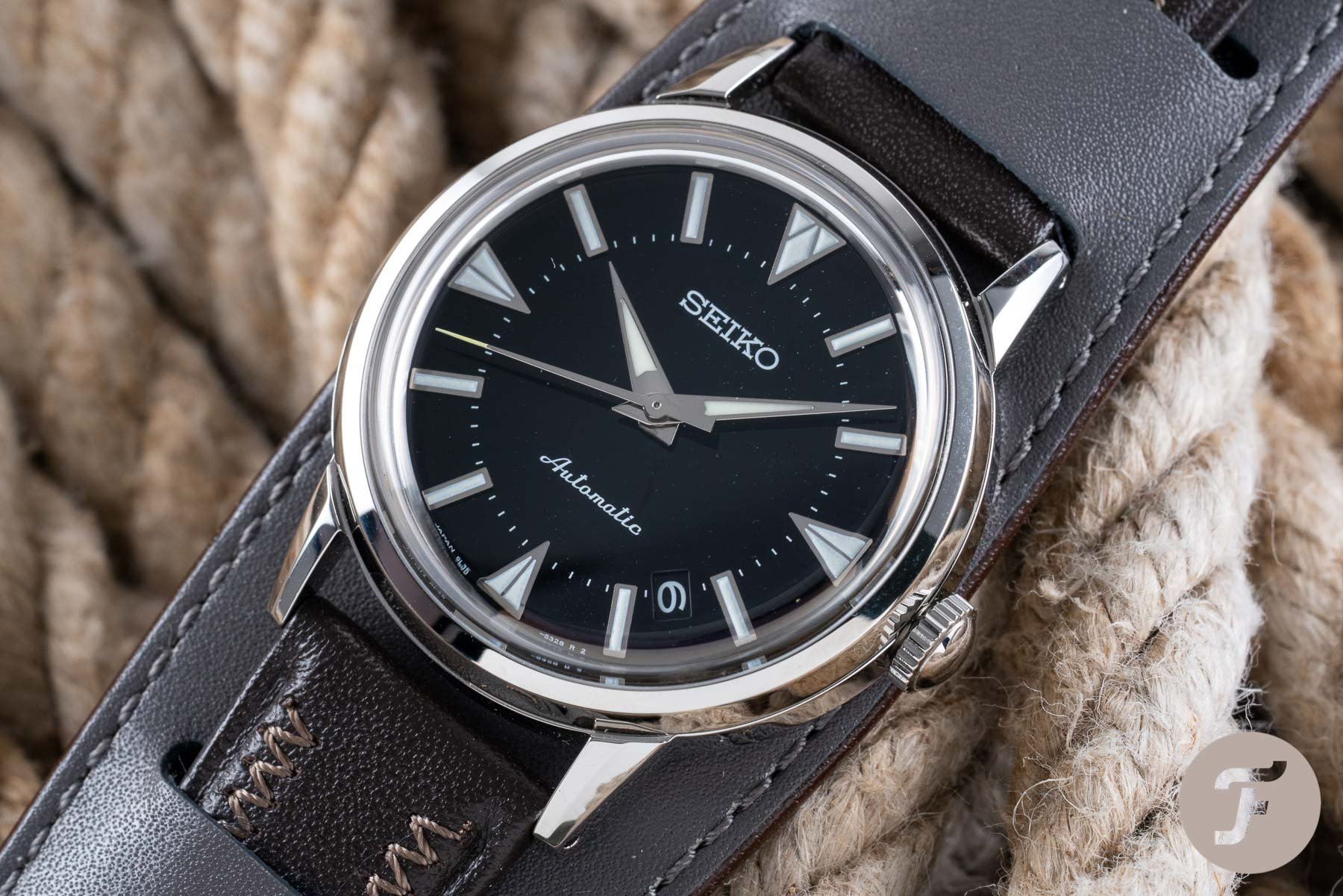 You won't be able to unsee it…
The most striking feature of Caliber 6L35 isn't the run-of-the-mill power reserve, nor its accuracy. Which for a watch costing €3,000 could/should be up to chronometer standards. No. The thing that truly stands out is the presence of a date window. The reinterpreted Prospex 1959 Alpinist models have a date window at 3 o'clock that looks less quirky than the one in the high-end Re-Creation. But the original doesn't have one at all! In the Re-creation model, it looks like Seiko is trying to do its best to hide the date window. And because of that, once your eye finds it (and believe me, it will), you won't be able to unsee it ever again. The more common position at 3 o 'clock somehow looks more natural, symmetrical even, than the one between 4 and 5. This makes it easier to ignore, or even accept.
Seiko Prospex 1959 Alpinist Re-Creation SJE085J1: conclusion
I said it at the start of the article, and I'll say it again: the Prospex 1959 Alpinist Re-Creation SJE085J1 is an attractive watch. However, it has some issues that I find hard to ignore. First, there's the price of €3,000, which is certainly a reach for the top, and quite steep for a stainless steel watch with a non-chronometer-certified movement. On the other hand, it is quite exclusive in numbers, and the case size of 36.6 × 11.12mm with a case length of 43.75mm, really does hit the spot, giving it real vintage appeal. But not everything can be swept under the "exclusivity" or "vintage appeal" rugs. Mostly due to the fact that this appeal it relies on as a re-issue is somewhat dampened by a key feature from the original which is missing on this model: the "Alpinist" name on the dial.
…a harmonious product family with a strong identity that radiates confidence.
The upgrade to an automatic movement? Fine. The added date? Well… alright. The absence of the original name on the dial? Now that's a problem. Not just for me, but also for the Alpinist, which hails from a harmonious product family with a strong identity that radiates confidence. Having that name on the dial could have given this re-issue that confidence boost that it seems to be lacking. And it would also have saved poor Alpinist Seiko a long string of costly sessions with a watch psychiatrist.
For more information on the Prospex 1959 Alpinist Re-Creation SJE085J1 please visit the official Seiko website.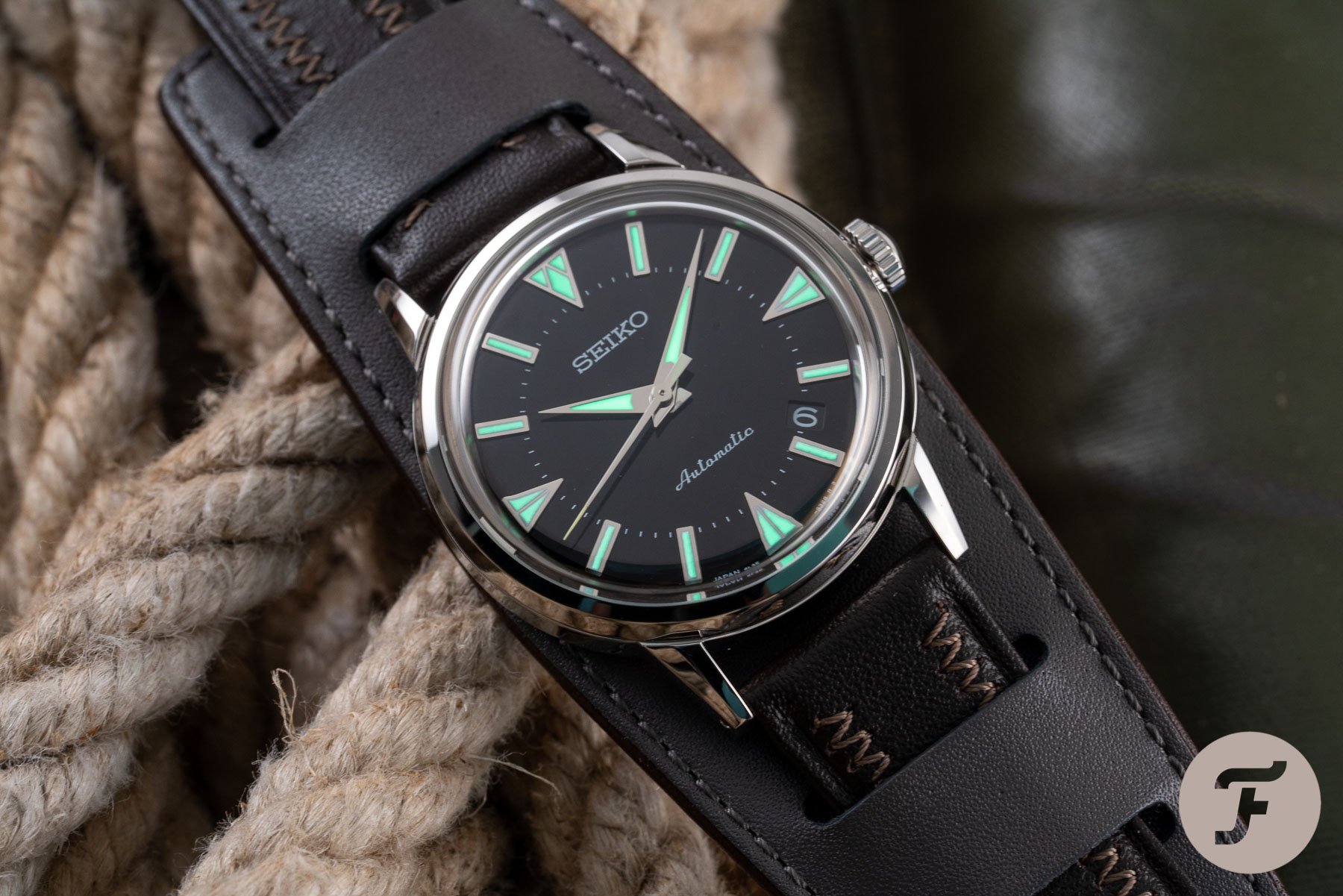 Signing off with a Grade-A Fratello top tip
If you like the look and feel of the Seiko Prospex 1959 Alpinist Re-Creation SJE085J1, but feel that it's out of range due to budget or availability, Fratello has a top tip for you! Why not go with a  38 × 12.9mm mm Prospex 1959 Alpinist SPB243J1 with a black/gray/brown dial for €750 and an aftermarket, high-end cuff-style strap you can find online in a plethora of colors? In this way, you can more or less recreate/reinterpret the 1959 Seiko Laurel Alpinist look for less than €1,000. And with the added benefit of the date at 3 o'clock!
Please find and follow me at Lex Stolk • Instagram
Watch specifications
Model
Prospex Alpinist 1959 Re-creation
Dial
Glossy black dial with applied indexes. Dauphine hands and indexes filled with Lumibrite.
Case Dimensions
36.6 × 11.12mm with a case length of 43.75mm
Crystal
Box type sapphire crystal with anti-reflective coating on inner surface.
Case Back
Closed, screwed in case back.
Movement
Automatic Caliber 6L35 with 45 hours of power reserve. 25.6 × 3.70mm movement with 26 jewels. 28,800 vibrations per hour. Accuracy of +15 to -10 seconds per day.
Strap
Brown calf skin cuff style strap with contrasting, jagged stitching, removable gray leather cuff underneath.
Functions
Central hours, minutes, seconds (hacking) and date between 4 and 5 o 'clock
Special Note(s)
Limited edition of 1,959 pieces.