SIHH 2015 – Richard Mille RM 19-02 Tourbillon Fleur
We know we don't cover many ladies watches here on Fratello Watches, but this Richard Mille RM 19-02 Tourbillon Fleur that was presented to us this morning is really something you have to see. It is one of the two pieces that Richard Mille introduced during the SIHH 2015. Normally they have about 8 – 10 pieces every year, but they decided not to blow all their ammo during SIHH and get snowed-under with all the SIHH novelties from other brands. Later this year, Richard Mille will unveil more timepieces to reach their 'normal' number of new watches.
However, let's talk about this Richard Mille RM 19-02 Tourbillon Fleur first. We will cover the other novelties from Richard Mille during the rest of the year as soon as they release them.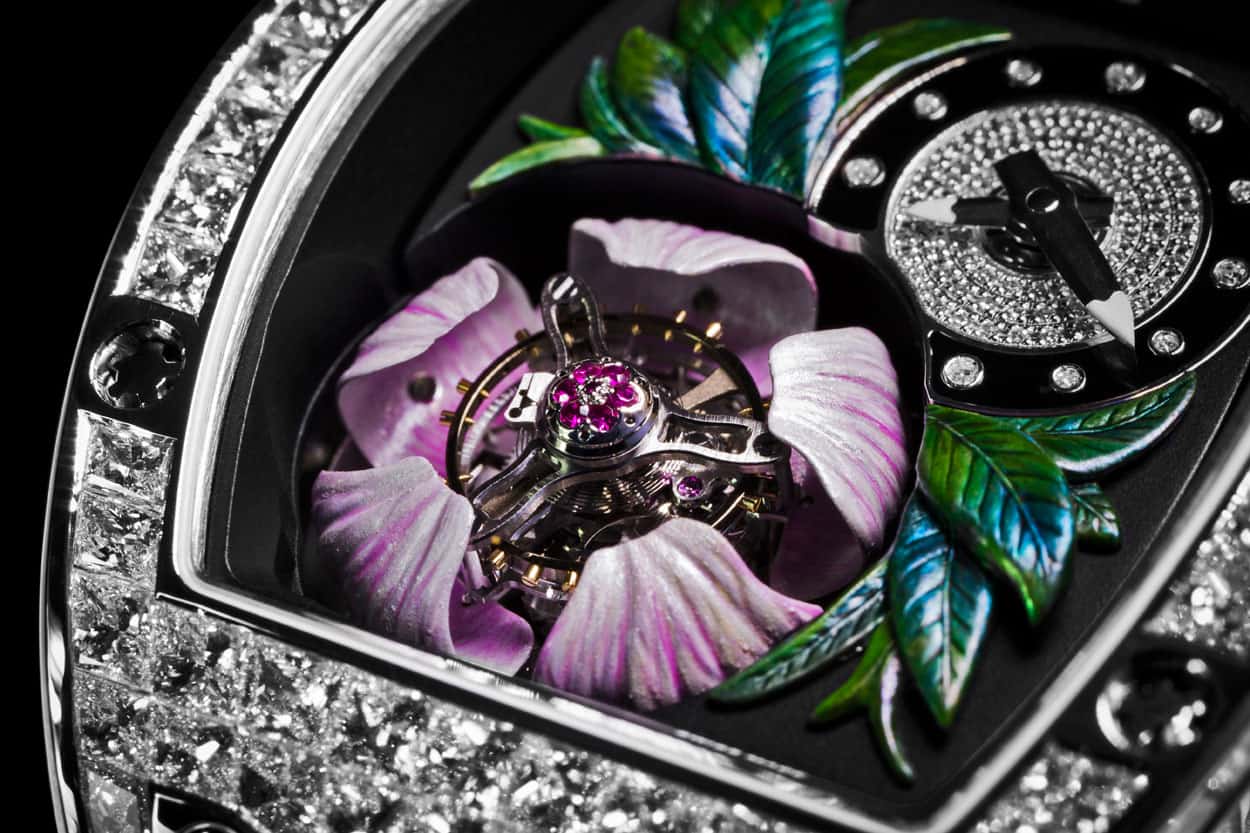 This timepiece for ladies (well, we assume it is for ladies actually) is more than a diamond studded piece with the typical Richard Mille casing and use of materials. The action is on the dial, this time with a tourbillon inside a white gold Magnolia flower. You can see five 18 carat white gold petals painted in pink that will open and close every 5 minutes, hiding and showing the flying tourbillon. The entire action takes about 6 seconds and then the tourbillon stays either hidden or shown for 5 minutes.
On the left side of the case, the Richard Mille RM 19-02 has a pusher which you can use to manually trigger the process of opening and closing the magnolia. This will also reset the 5 minute mechanism. So if the flower is in the middle of the closing period of 5 minutes and you push the button at 9 o'clock to open it, it will start 'counting' the 5 minute periods from that moment on again. The green leaves of the flower are also made of 18 carat white gold, hand painted.
The hand-wound flying tourbillon movement is partly visible through the dial and magnolia, the back side of the watch shows the base plate of the movement, made of Grade 5 titanium. Through the dial, you can see the flying tourbillon when the flower opened. Even better, Richard Mille developed a complex construction to raise the tourbillon cage a bit when the magnolia opens up.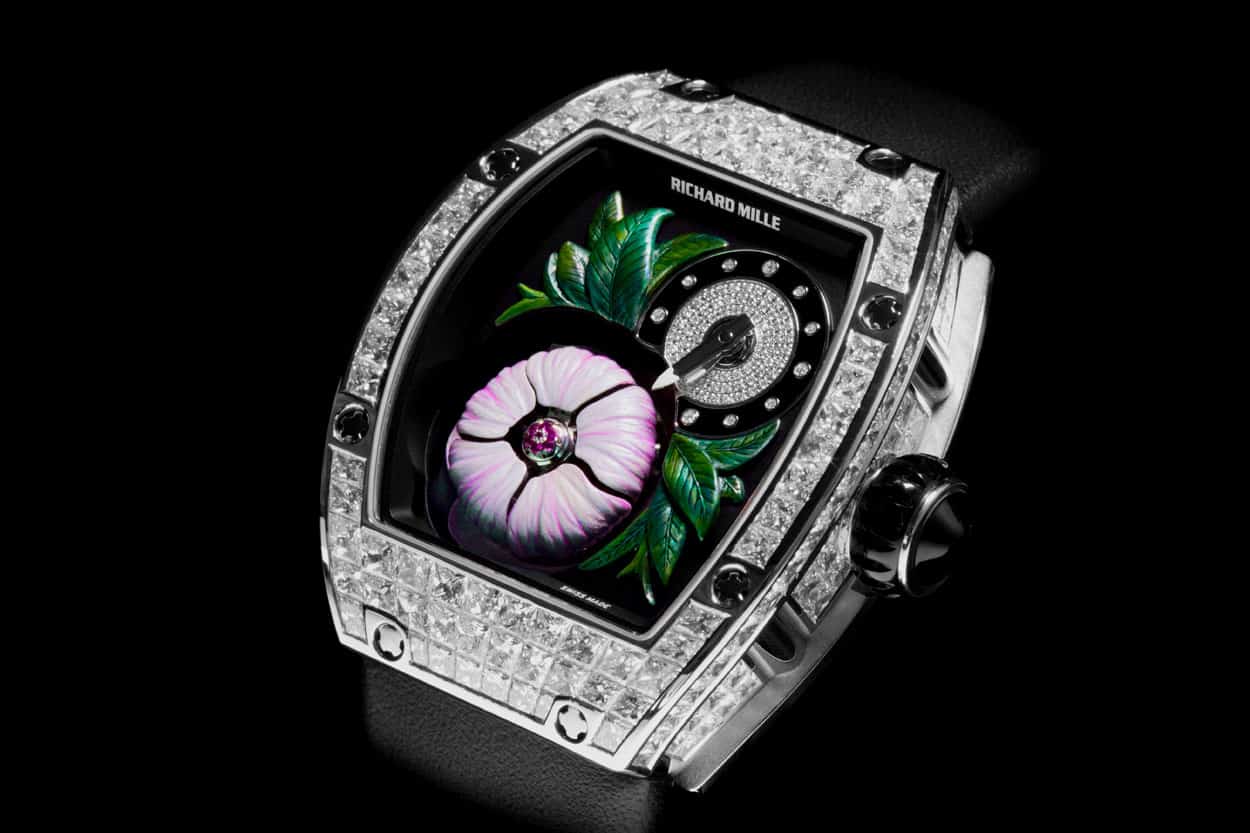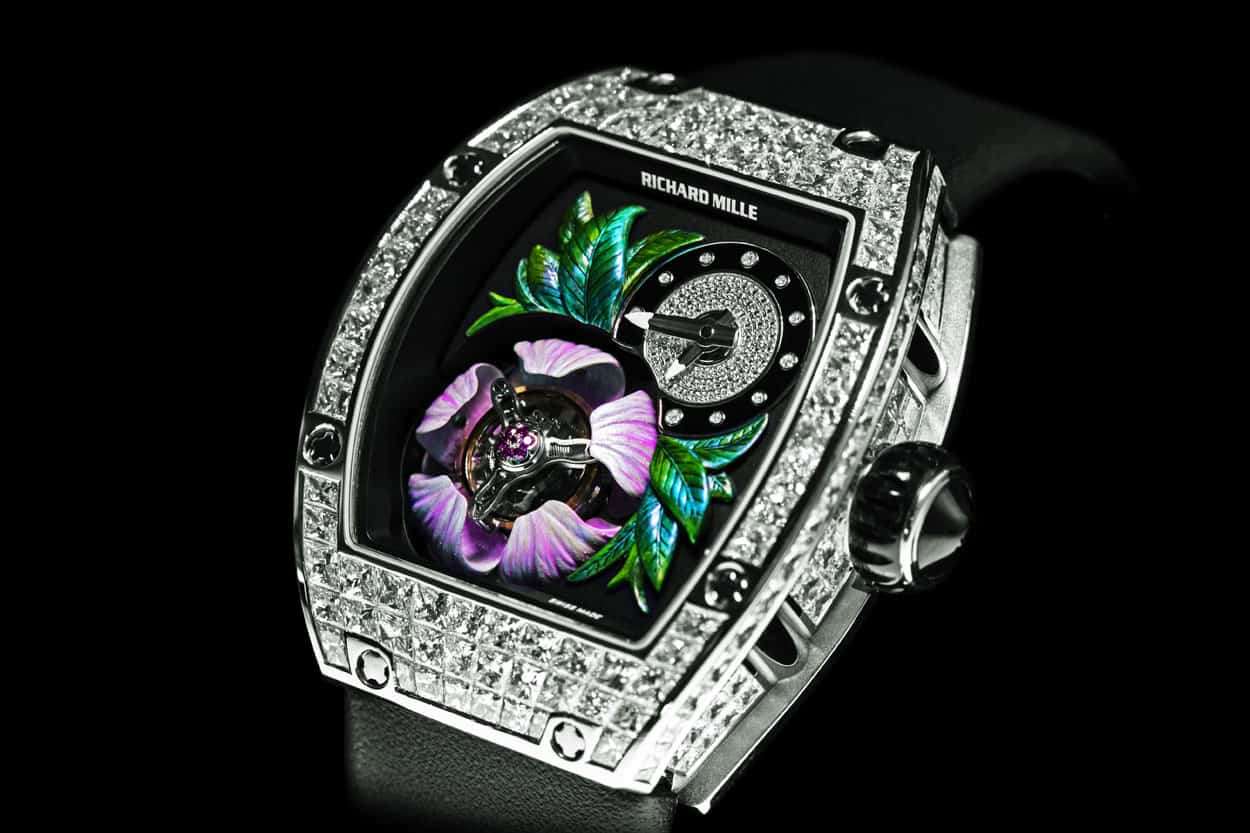 For a ladies watch this Richard Mille RM 19-02 Tourbillon Fleur has impressive dimensions (45.40 x 38.30 x 12.55 mm) but because of the case shape most ladies will probably get away with it.
As you can see the case is diamond studded, but Richard Mille did not dislose how many diamonds were used and which quality they use. Even the center of the tourbillon has been set with stones.
The Richard Mille RM 19-02 Tourbillon Fleur is limited to 30 pieces only. More information can be found on their official website. Price approx. CHF 1.3mio Swiss Francs.