SIHH 2019 Day 1 Recap
The craziness began already a few weeks in advance when you start to recieve all this press information under embargo. Normally, we don't really care for this rat race, but in some cases, it is also difficult to suppress your enthusiasm and you will write some articles in advance anyways. So that means you are actually doubling your workload in the period prior to SIHH. You have to write the articles for the daily dosis of watch content as well as all the extras for the SIHH in advance. Then, during SIHH, you also try to keep up with articles of things you've seen. The new Audemars Piguet Code 11:59 being an excellent example, sometimes you need to see watches in the flesh before sharing your (professional) opinion. Shouting is easy, but you have to keep an open mind when it comes to these things. More about that later.
SIHH 2019 Preparations
Part of the preparations is also managing your schedule and that of the team. But that already went wrong on day 1, one hour wrong, or even a day, and you can seriously mess up a packed schedule. Which is of course, what happened on day 1. But since we are covering SIHH with four people this year, and a bit of help of contributor Sky Sit who is visiting some brands outside SIHH, things have become a bit easier. Also, the fact that we are not dying to do scoops, we are relatively relaxed in our approach. We cover the SIHH with the novelties, and come with more in-depth articles later on, using our own photography, and ensure to give certain watches a bit of thought after the initial impression.
How It Works
So, today was our first day at SIHH. You have to know that unlike Baselworld for example, at SIHH everything is planned for you. That is the (group) presentations with brands, which are scheduled for all the different markets. So, people from Germany have these presentations with journalists from the German market, journalists from the United States are grouped together, journalists from Japan are grouped together and so on. We are allocated in the market for The Netherlands and Belgium, sometimes together with journalists from certain Scandinavian countries. Besides these group presentations, you want to see the watches up close, so you need to book your appointments for photo shoots. Sometimes you also want to talk with someone responsible for these watches, so you have to request an interview. Most of the time, these interviews are actually requested by the brands, so they can have some time with you to explain the new collections or the (new) direction a brand is heading. So all together, it is a hectic four days in Geneva. From about 9:00 till 18:30 at the Palexpo (the venue where SIHH takes place) and after 18:30, most of the journalists are invited by brands to join them for a drink and a dinner afterwards (again by a different brand). So, that leaves little time to properly cover the SIHH at the spot. So that's why we try to prepare some articles in advance, and give some 'live' coverage using Instagram for example.
After this little background information, let's go through our first day at the SIHH.
Oxos Grunted
From the hotel in Geneva, we need to take a shuttle bus to the Palexpo. That's no biggie, but when it is raining it isn't much fun when you're in your suit and nice shoes and carrying a bag with a laptop and so on. After a 20 minute ride or so, we arrive at the Palexpo building and need to go through security. That's right. Similar to airport security, we need to put our coats, bags etc. into these trays and walk through a detection port ourselves. When you are cleared, you can walk to the cloak desk and leave your coat there (and make sure to take a picture of your ticket, as many of these tickets are getting lost during the day as you constantly grab in your pockets and bag to reach for business cards, chargers, phone, memory cards etc.). Once you're done, you need to enter the SIHH premises by having your access card scanned. A 1985 robot voice will say 'Access Granted' (which sounds more like "oxos grunted") and you're in. The Valhalla of watches, at least in January. Now, where's the champagne and macarons everyone is talking about. Good luck, you can get a coffee (no espresso or cappuccino) and there's the choice of with milk and sugar or without. They at least offer some croissants to start the day.
Instead of going minute-by-minute, let's talk about the things that impressed us, or didn't impress us at all.
Hermès
The first group presentation we joined was with Hermès, and although that can be considered a brand we'd easily accidentally ignore normally, we are happy we visited their presentation (all presentations are mandatory at SIHH, mind you). Their Arceau L'heure de la Lune was the best for us, and definitely considered haute horlogerie. It is a watch for people that dare to buy something else than the usual, and it comes with a great complication as well: a double moon phases indicator. You can read more about it in a few hours on Fratello. What a great watch.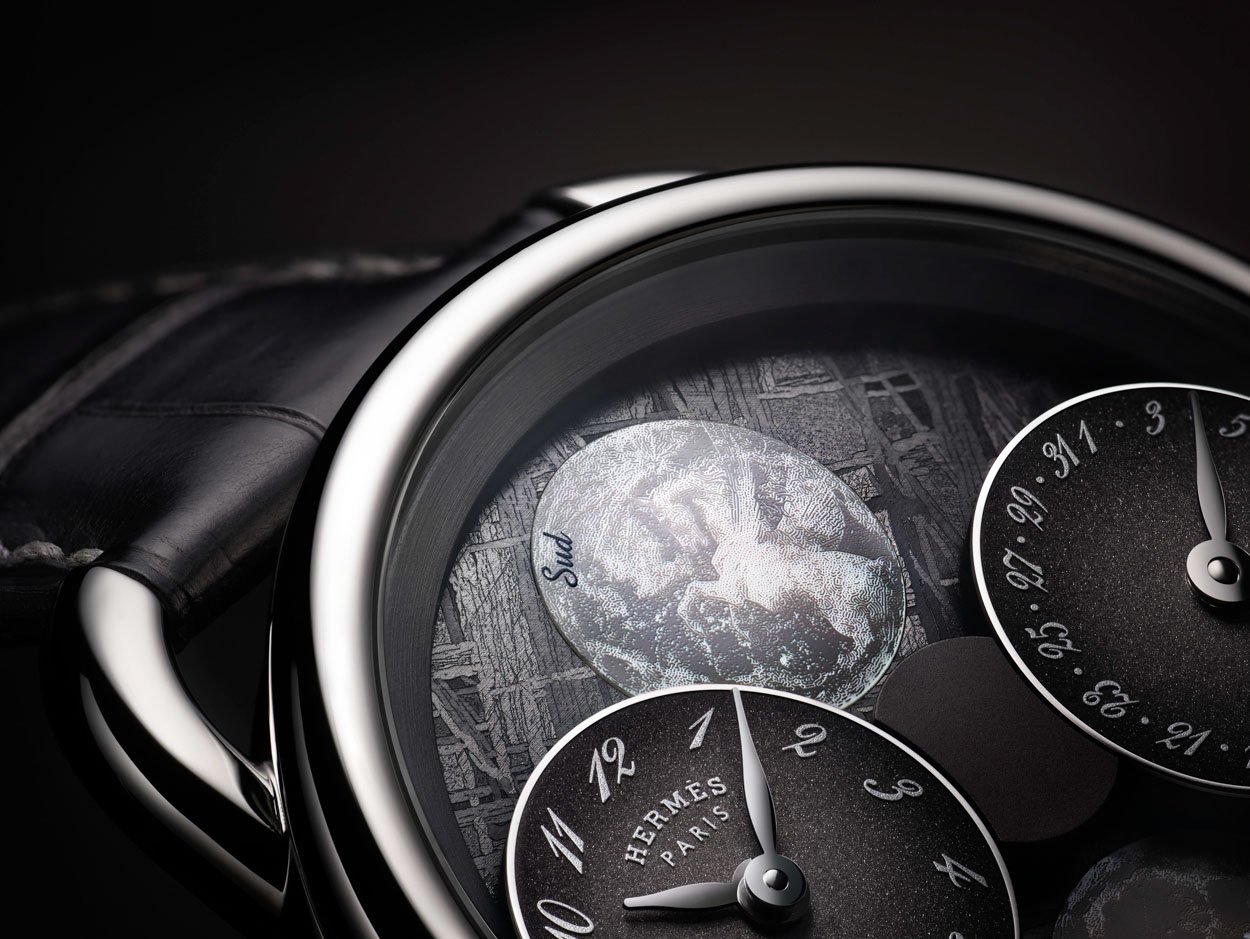 Meteorite
Also interesting was the Piaget Altiplano with meteorite dial. Just like the Hermès actually, which is also available with a meteorite dial. The use of materials like a meteorite, aventurine or heck, even a piece of sailing cloth is a nice touch for a watch. It can make a watch stand out of the crowd, or at least be different. The main thing is, it needs to look good (because an ugly watch with a meteorite dial is just that: an ugly watch with a meteorite dial) and the Piaget really does.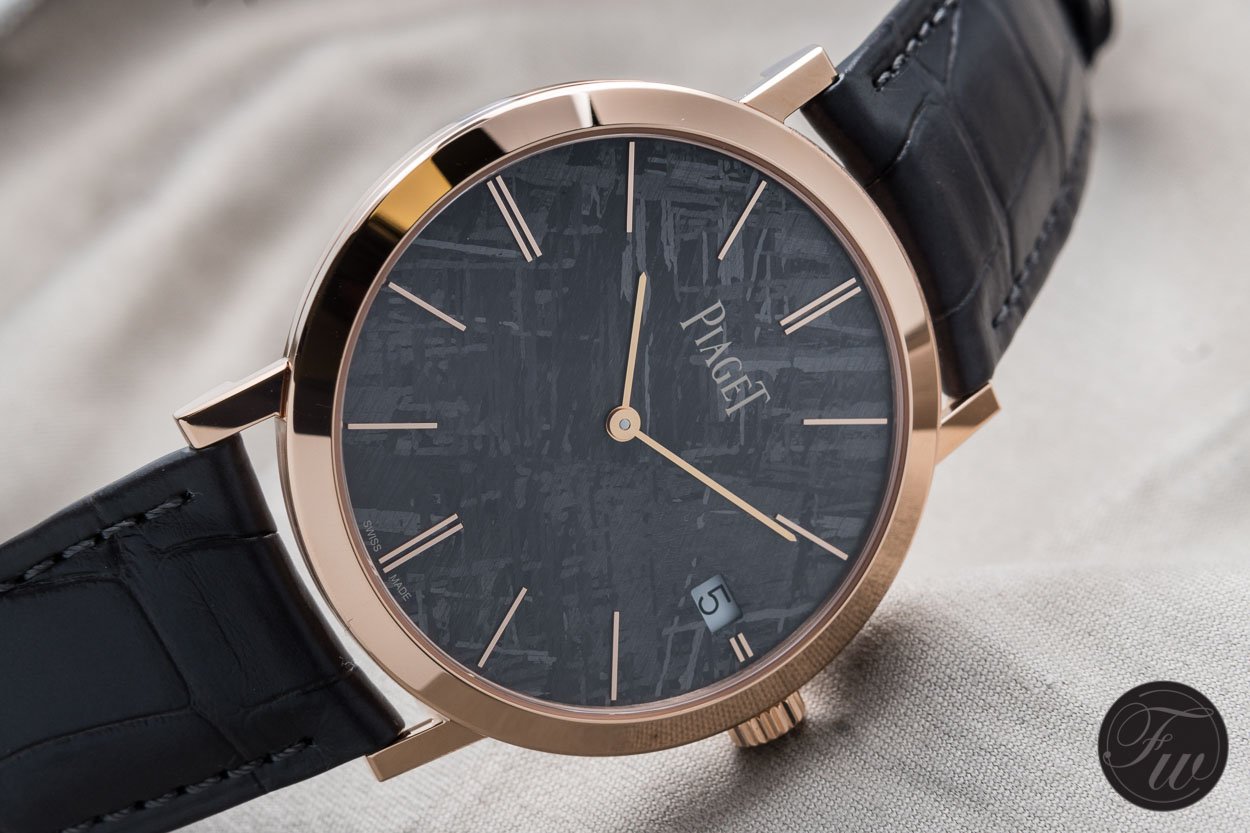 Burgundy Grabbed Me
If you've been following us on Instagram today, it will be no secret that we have shown a bit of love for Jaeger-LeCoultre. The Master Tradition Gyrotourbillon Westminster Perpetual is simply amazing. How can you not love it? We've been asked by you on our social media what we think of the finishing and how it is in the flesh and well, it is just breath-taking. We've seen the blue dial version behind glass this morning and were able to handle the silver grained dial during our photoshoot. What a stunning watch.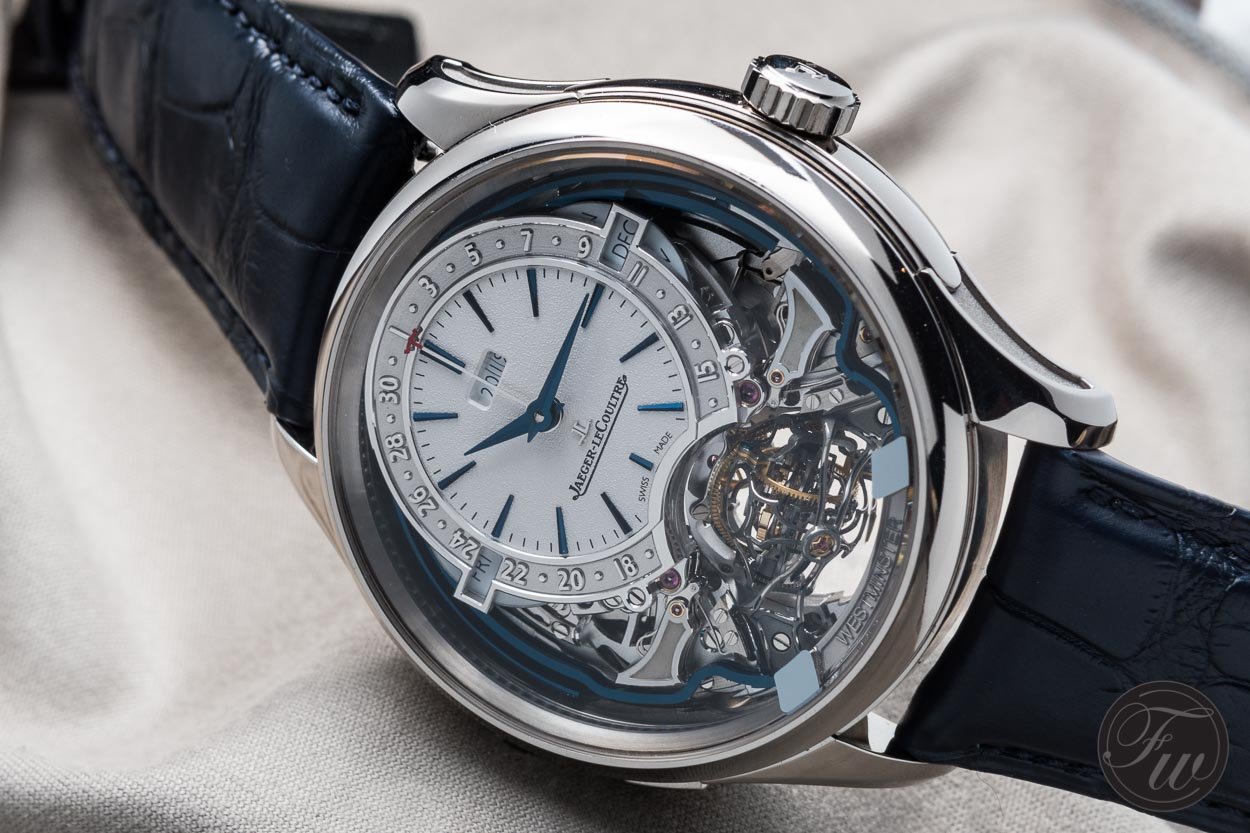 But what's more, I was also confronted with something I don't get to experience very often. There were three Reverso watches in front of me, and while Bert was shooting the Master series, I picked up one of the Reverso watches (with a Tribute to 1931 case) with a burgundy dial and a burgundy leather strap. I thought to myself "This looks kind of funky" and put it on my wrist and my first reaction was an out loud "Wow!". The lady from Jaeger-LeCoultre standing next to me said: "Yeah, I get that a lot from people who try this one.". A stunning piece and I can definitely see myself ending up with one. I've put it on my personal Instagram account (here) and the comments were overwhelming indeed.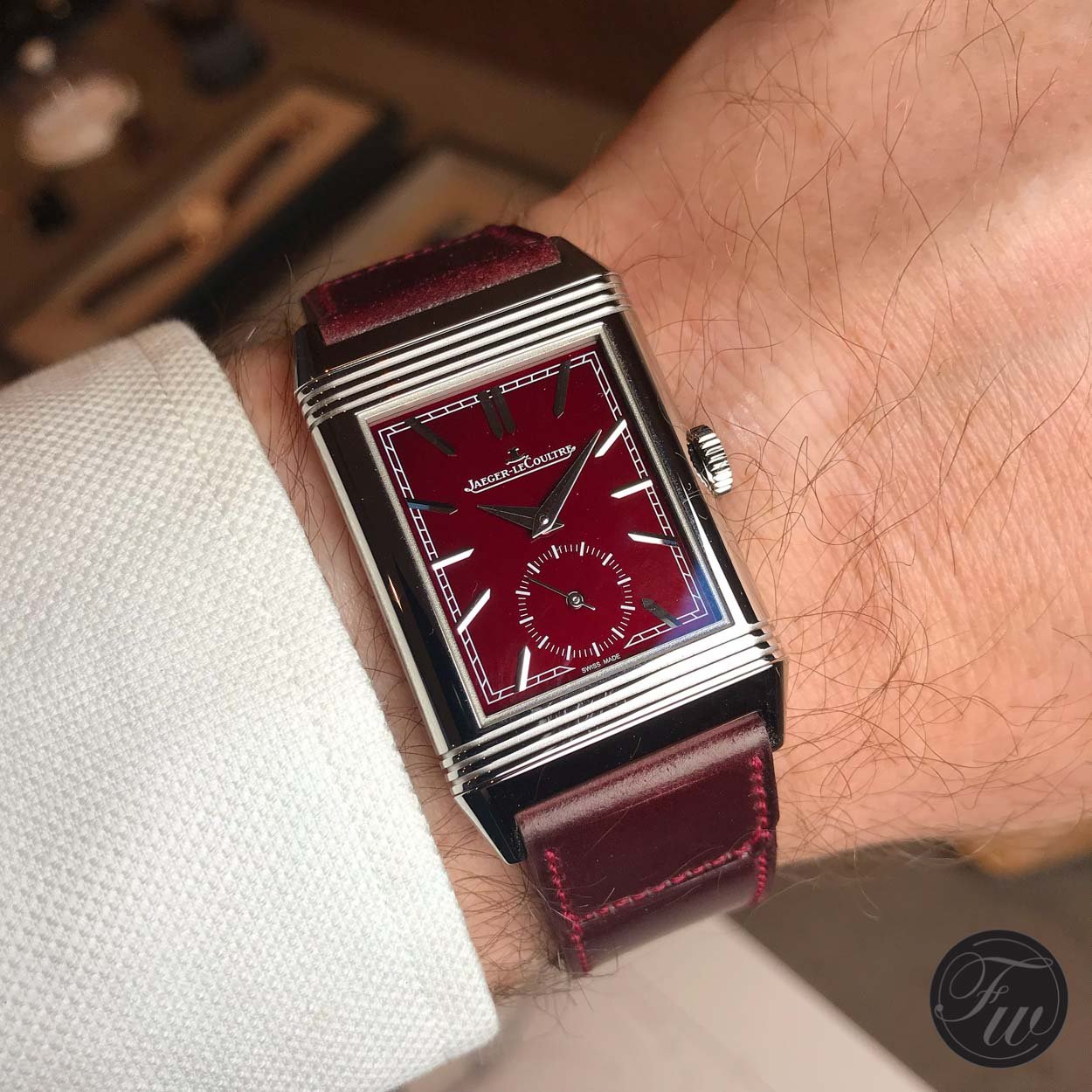 Moonstuff
Another interesting watch I've seen today was the RJ (formerly Romain Jerome) ARRAW 6919. It sets you back about 18.600 Swiss Francs, but it does include a piece of the original Apollo XI spacecraft. It is a bit unclear from which part, but apparently, RJ bought parts that came from both the lunar module as well as the command module. They threw it in a melting pot with some other materials and with the result of that they filled up the bezel. Now, the difficulty I have with that is that it can't be quantified how much of the Apollo XI is actually ending up in your watch, or from which part. Or at all, perhaps. On the other hand, let's say it does have a tiny bit of Apollo XI remains inside, it was on or eat least near the Moon. How cool is that? I will leave it up for you to decide if the uncertainty can be lived with. The people at RJ were super friendly and enthusiastic though, and they seem to be very proud of this watch (available in titanium, gold and black PVD). It is a cool concept, I have to admit.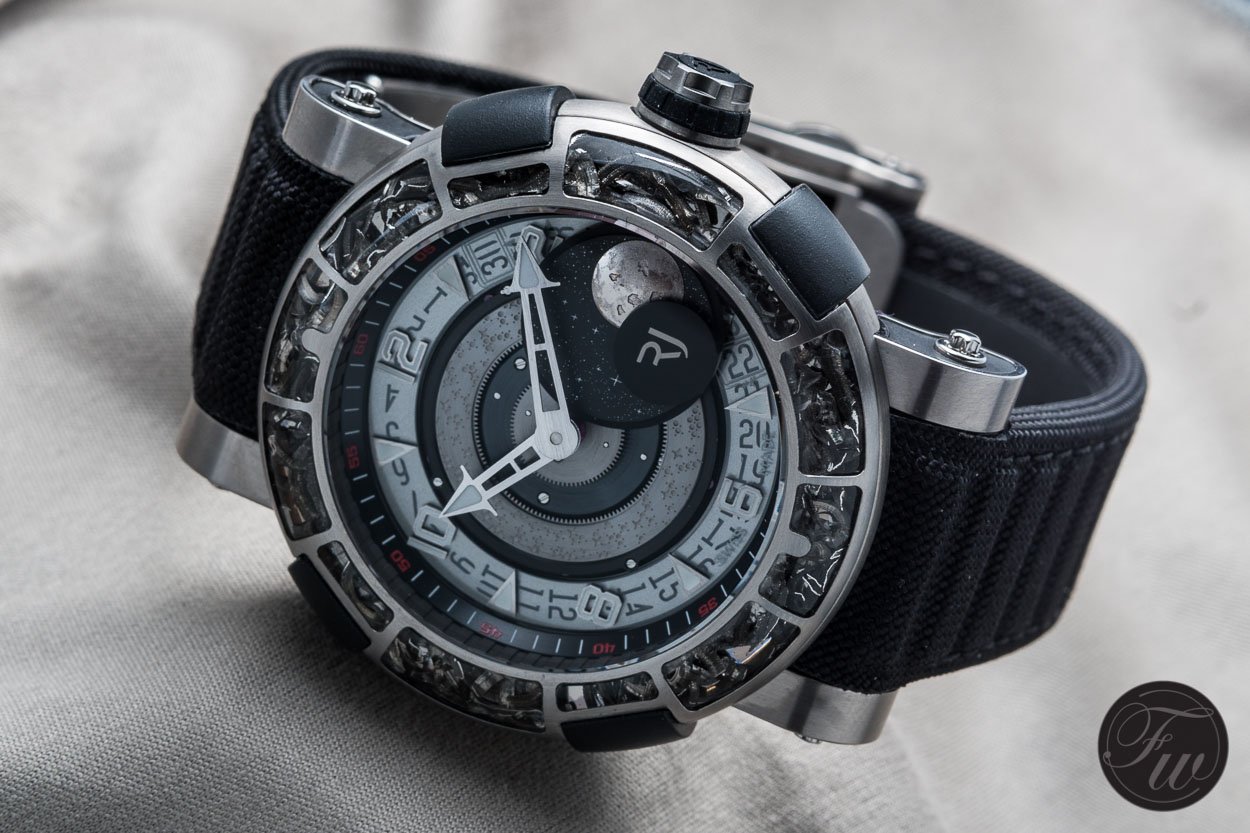 Panerai Experience Tours
During the presentation at Lange, we saw some amazing watches, as always, including a new Zeitwerk, a new Langematic Perpetual and of course the Lange 1 25th anniversary. They will do a new Lange 1 version limited to 25 pieces every month till October 24th 2019, when the Lange 1 celebrates its 25th anniversary.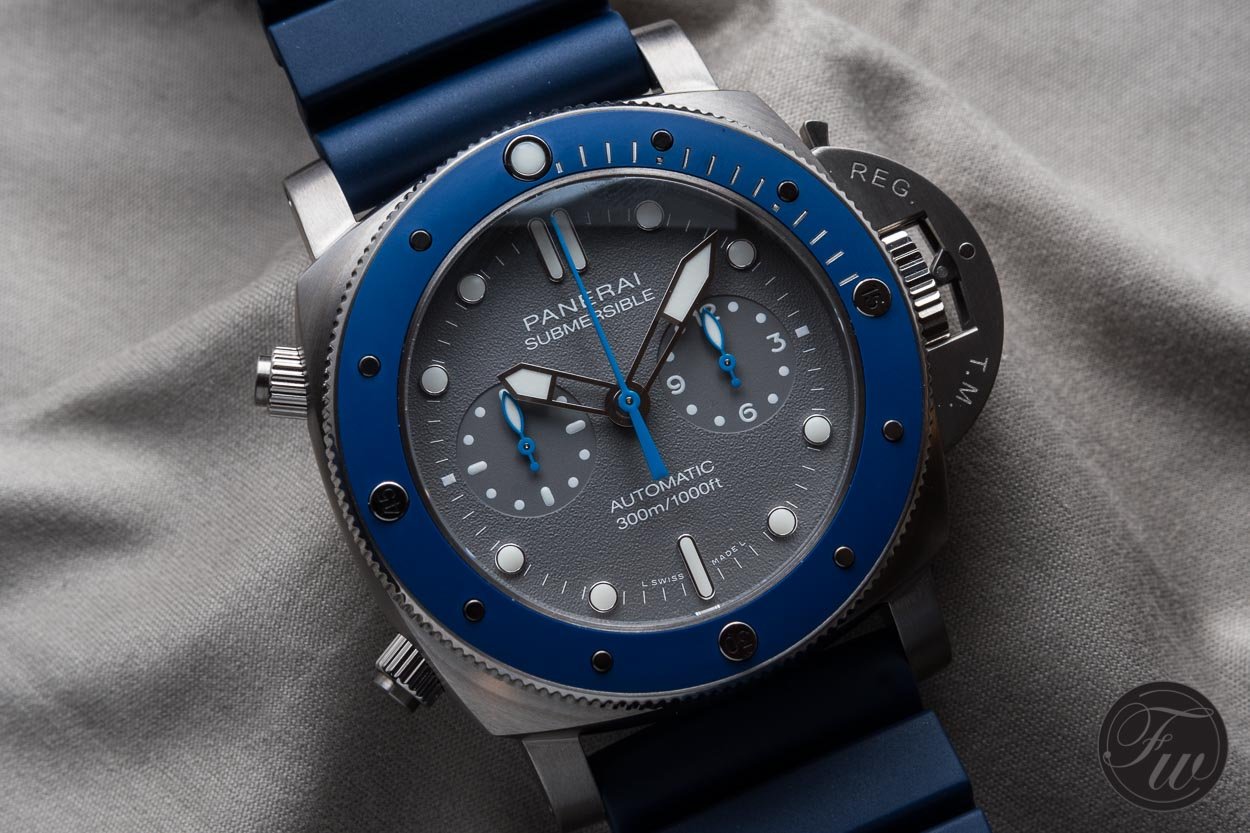 Besides some other brands, Panerai was flooding the social media channels a lot today. At least that is my impression so far. Panerai only focuses on the Submersible collection this year and do this with special versions and collabs with people like Mike Horn, or the Italian Navy or with the Luna Rossa America's Cup team for example. Interestingly enough, Panerai offers some of these watches in just very limited quantities and the purchase includes a day with the Italian Navy or a trip with Mike Horn. The watch is being sold together with 'an experience', perhaps a once-in-a-lifetime one to be honest. But these 'combination packages' definitely have their price (think approx. 40.000,= Euro). Aside from these special editions, they also showed some very interesting regular Submersible collection watches. One of my absolute favourites was the 42mm in gold, with black ceramic bezel. It isn't exactly a new model, but Panerai now added the ceramic bezel and an upgraded movement. The gold just looks very good on this Panerai Submersible in 42mm, and the size makes it a very versatile watch. The 47mm pieces look rugged, and I can easily have that on my wrist, but from experience, I know that at the end of the day, I take the watch off because it's not comfortable anymore.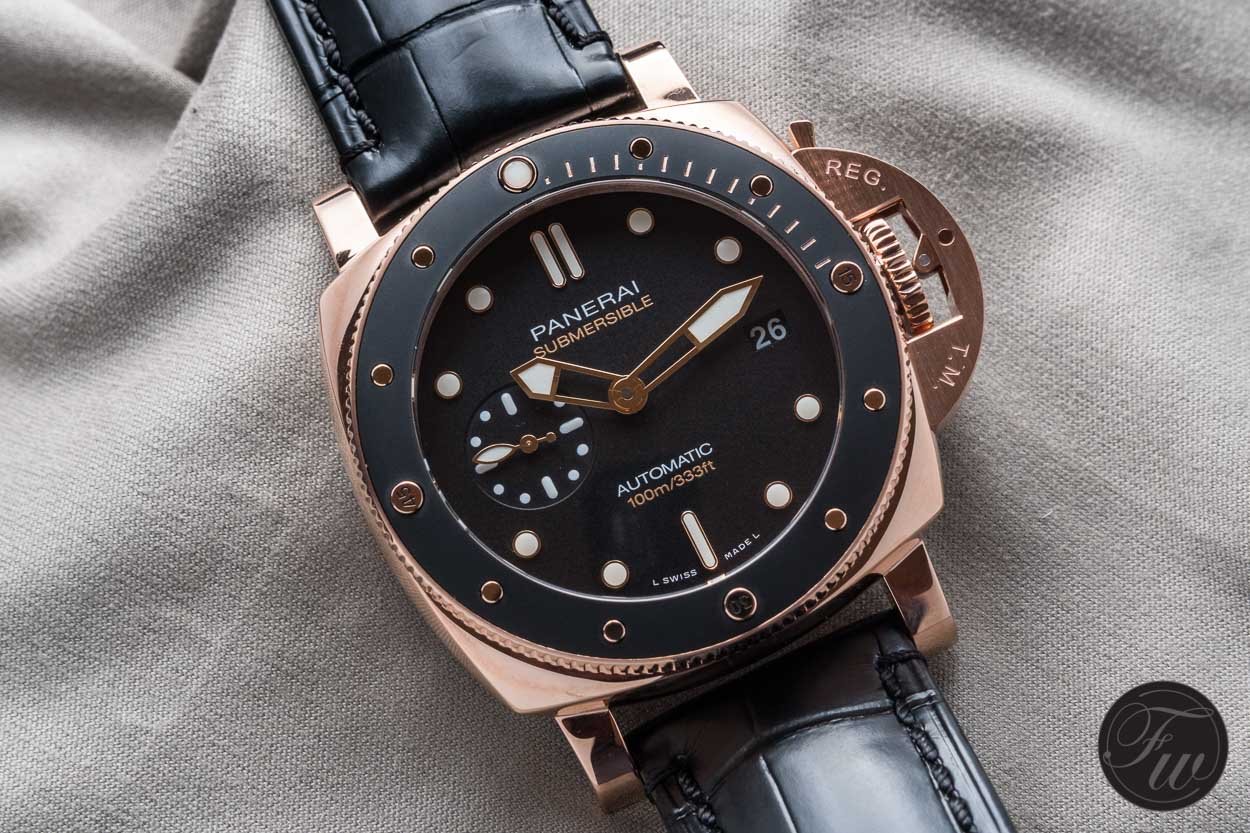 Last but not least
Then, Gerard, Balazs and I also walked over to the Audemars Piguet booth to see two things in the flesh: the Code 11:59 and the new Royal Oak 'Jumbo' with 'salmon' dial. The salmon struck us more as being rose gold, but it did look awesome for sure. The Code 11:59, well, we save that for tomorrow, when we can actually try it on (instead of looking at it behind a display). So far, our opinion about Code 11:59 did not change much. Interesting new movements, beautiful finish on the case, interesting case band, but a 'frontal' doesn't make the watch stand out, at all. But let's see it first, try it, and give it some thought. But it certainly isn't love at first sight.