Speedy Tuesday – Speedmaster GTG Munich Event Report
On October 28th we held a Speedmaster Get-Together in the center of Munich. We invited you, our readers, a few weeks ago and we received a huge number of registrations. We could 'only' invite about 40 people, for security and logistical reasons. But don't worry, we will be doing more of these in the near future.
Speedmaster GTG Munich
Why Munich? Well, the other event during that weekend was MunichTime, so we guessed it might be interesting for people to visit that show and come to the Speedmaster GTG as well. A dedicated watch weekend, you could say. More so, a lot of our (Speedy Tuesday) readers are from German (Germany is #3 in the list of our reader's origin, the USA being #1 and the UK being #2). So I guess those countries are up next.
Besides some familiar faces, we also met quite a few new people and finally met with people whom we've only 'know' from e-mail, Instagram and comments. It was quite a nice mix, between people who brought some of the rarest Speedmasters to the table and persons who just bought their first modern Speedmaster watch.
Happy to see that there were 10 Omega Speedmaster Speedy Tuesday watches as well, two gold Omega Speedmaster Professional watches, a couple of original Racing watches, some beautiful other vintage models (CK2998's, 145.012s, Alaska IV LCDs etc.) and the new Speedmaster 60th anniversary models. In total, about 60 watches were brought in by the guests, excluding the ones that Omega brought from the museum. A pretty serious line-up.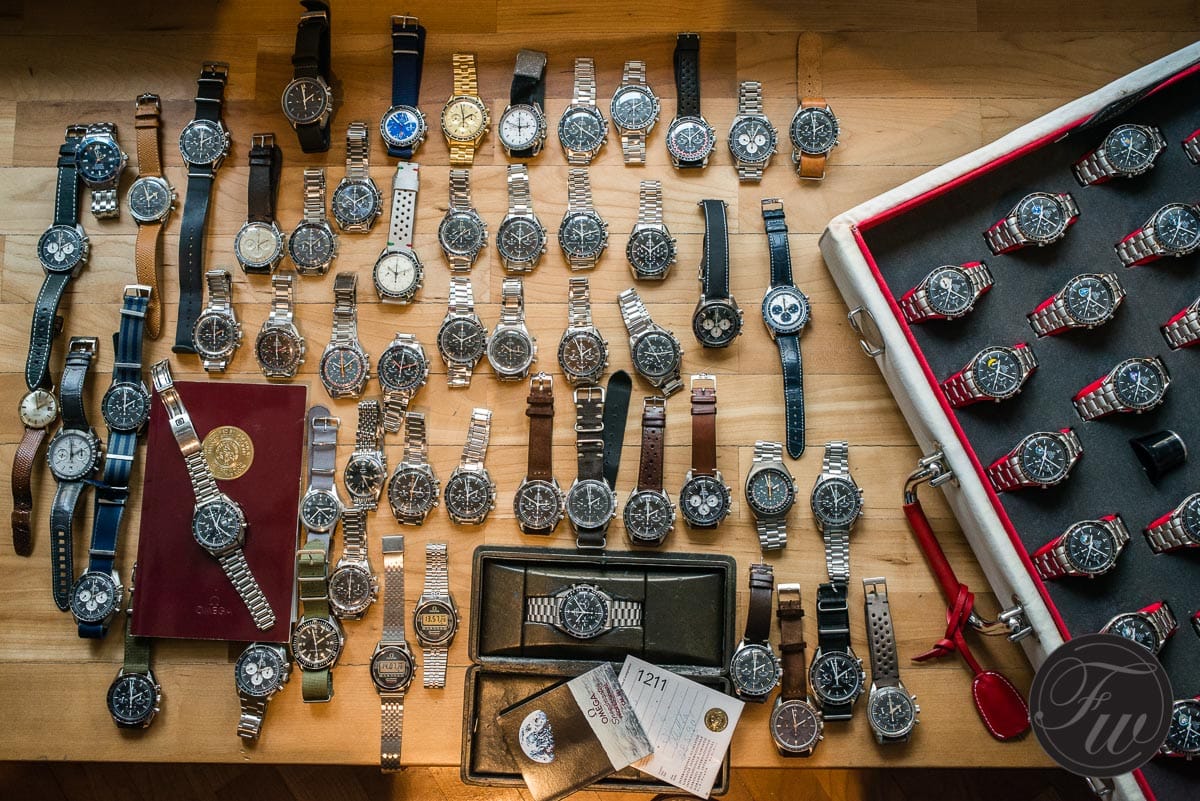 Missions Case
Omega gave us their full support for this Speedmaster GTG, so a big thank you to Omega Germany and Omega HQ to make this happen. We requested a couple of watches from them to bring to this Speedmaster GTG Munich event. Watches that are not very well-known or seen in public, at least. The Missions Case was high on my list, as I have seen it myself in the early days of my Speedmaster collecting and it left an everlasting impression. Then, I saw it once more during a visit to NASA in Houston. They had one of the Mission Cases on display there, or at least the watches that go in it.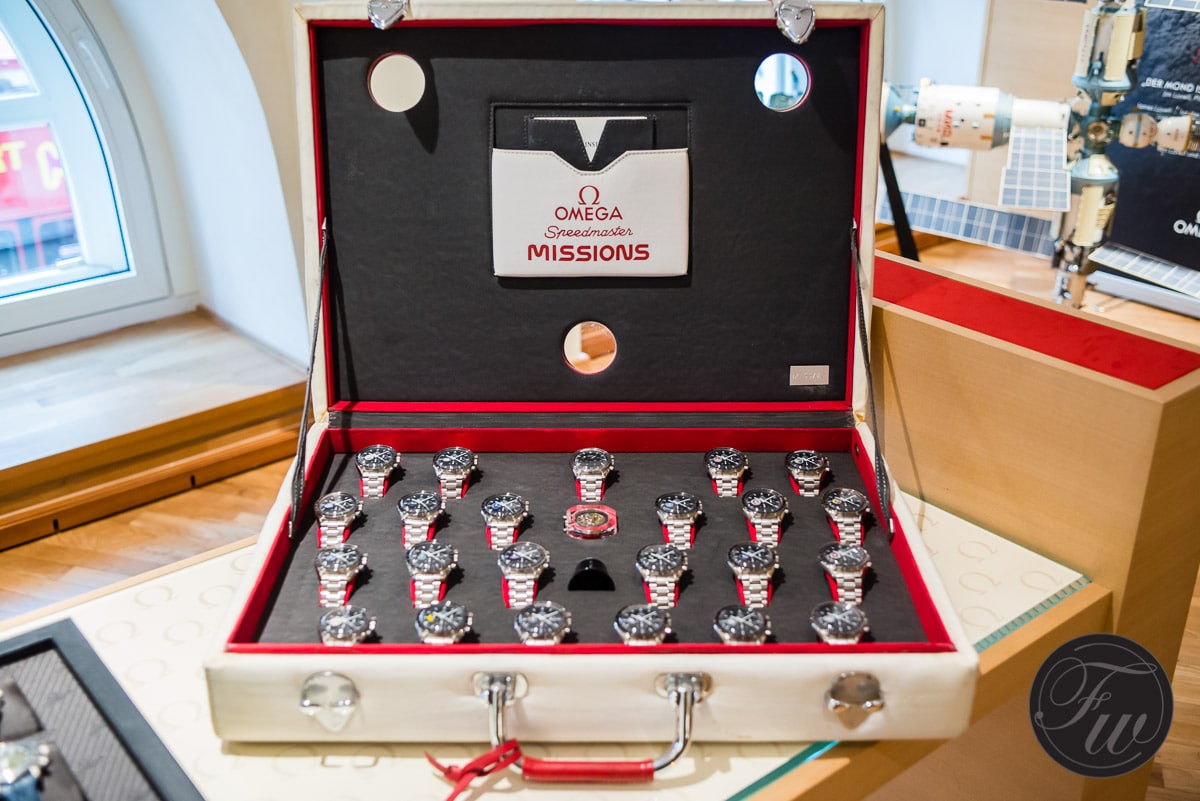 22 Speedmasters with mission patches on the 9 o'clock sub dial, 1 Speedmaster '57 Re-edition, a loupe and a spare caliber 1861 movement. The Missions Case dates back to 1997, when Omega started to use that 1861 movement. The Speedmaster Apollo XIII was also in that case, and was already a limited edition model in 1995 (999 pieces). For the Missions Case, Omega made it once more, with the newer type bracelet. The total number of Mission Cases that were made (and sold) is 40. Omega made two batches of five more Mission Cases (so 50 in total) for non-commercial purposes. Omega only rarely brings the Mission Case to public events, so it was at least something totally different from the usual suspects.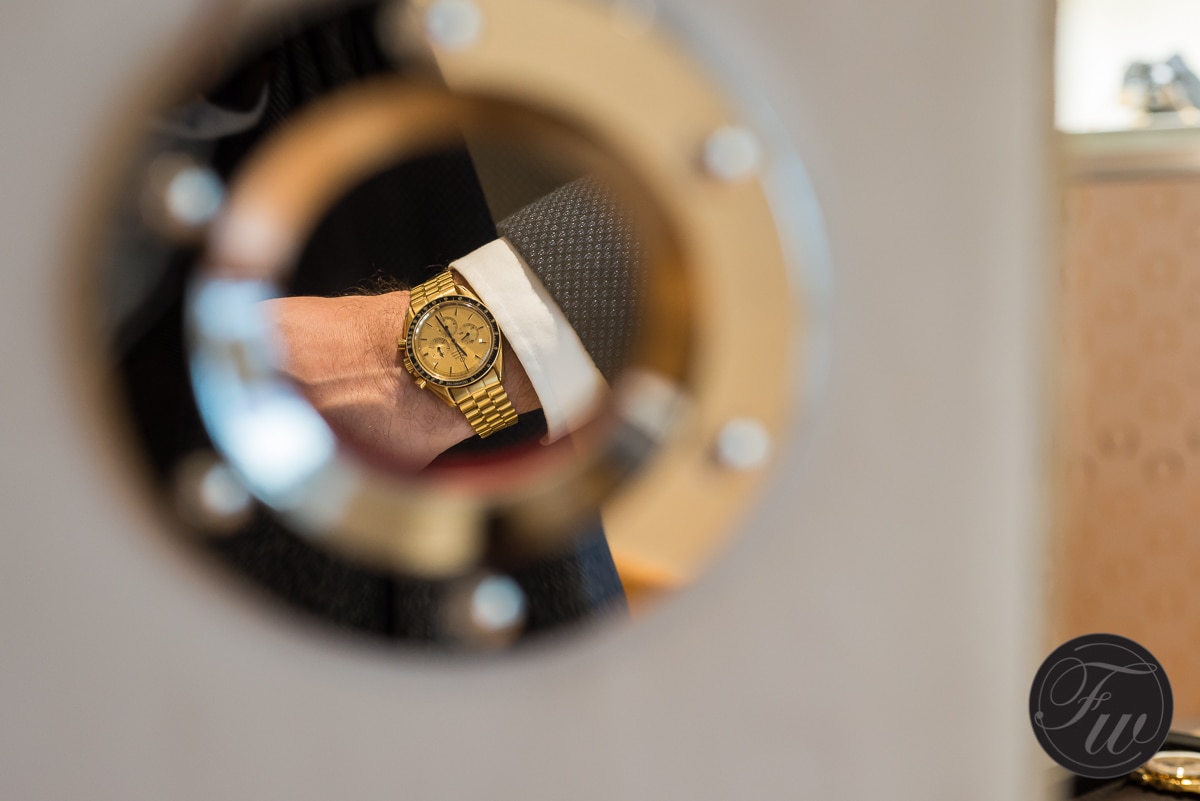 1969 Racing and Alaska II
Also, they brought a X-33 Prototype from 1996 and the most recent X-33, as well as a gold Speedmaster Professional 'Panda' for the Japan market (1997). Also, Omega brought the original Speedmaster Racing from 1969. Last but not least, Omega brought the Alaska II Prototype from 1970 with the white dial and high/thick bezel.
Then, of course, there was a whole bunch of new (current) models like the Dark Side of the Moon and the new Master Chronometer Moon Phase and Caliber 9900/9901 Racing models. But for the enthusiasts, the Mission Case and the original Racing from 1969 were hot items.
Speedmaster GTG Munich Wrist Shots
Except for a small introduction talk and the viewing of Omega's Museum pieces, the program was that there was no program, but that guests could just have a relaxed time, enjoying some collector's talk and look at the Speedmasters that everyone brought to the Speedmaster GTG Munich event. It is this watch that bonds so many enthusiasts, join the Speedy Tuesday movement every single Tuesday (some every single day  of the week). As written and said before, Speedy Tuesday is not about the watch, or the hashtag, it is about the community of Speedmaster enthusiasts and the love & passion for this spectacular chronograph. So let's have a look at some of the wrists of the guests of that day. Happy to see that a number of ladies also joined this special day in Munich, some even came 'double wristed'.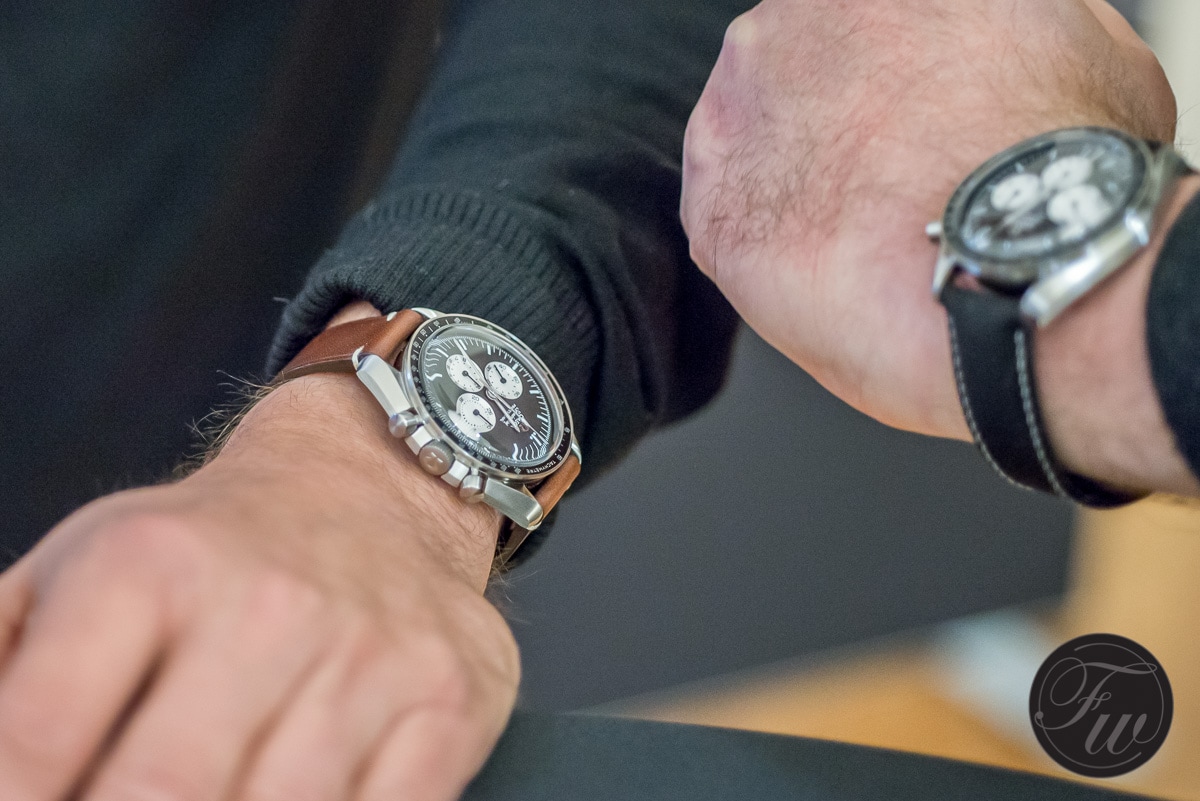 The crowd – and we as well – enjoyed it very much. Here are some of the comments we received:
"I like to thank you for our invitation and the great event – I enjoyed every minute."
"Thanks so much for having me. It was a real pleasure (and honor) meeting you all (especially seeing as I blame you guys for all the cash I have happily spent on Speedies -> I can elaborate)."
"Thx for organizing this great event and hope to meet you all soon again!"
"Thanks for organizing this great GTG in Munich. This gathering gave to opportunity to meet enthusiasts that I/we already knew and more importantly we left with many new faces and corresponding Speedmaster stories in our memory."
"I think it's always a great opportunity to know other people to share the same passion with. Hope to be part of this also in the future."
"I have to thank you for this invitation again and the really nice and kind hospitallity in Munich! I really enjoyed the bunch of passionate Guys an Girls and got to know and meet those watch-nerds and high class collectors in one room – Moonwatch craziness…"
"The fact that only a limited number of people are allowed to participate offers the opportunity to really get into contact with the other participants and build personal relationships. I really feel like being "part of a family"".
We can only recommend you to sign up for the next Speedmaster GTG event we will be organizing. It was an amazing day in Munich and Omega gave great support. We will send an invite to those who registered in the past and didn't get through as well as those who are on our mailing list (subscribe so you won't miss a thing!). We have some pretty cool plans for 2018, so we hope to see you then!
Please find below some more impressions of the Speedmaster GTG Munich event.