Speedy Tuesday – Speedmaster Price Guide
Every week we receive a lot of questions regarding Speedmaster prices. What's a good price for this Omega Speedmaster 105.012 or what should I expect to pay for a Speedmaster Snoopy Award or a Speedmaster Gemini IV?
We already helped starting collectors a bit forward with our two-part Speedmaster Buyer's Guide here and here. However, we also thought it might be a good idea to create an Omega Speedmaster Price Guide.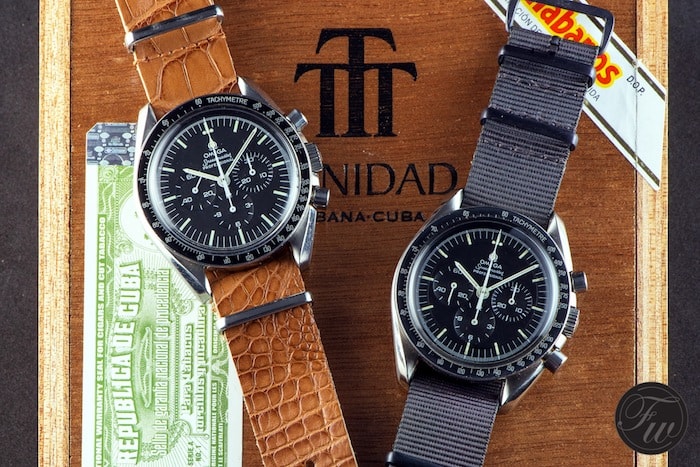 Speedmaster Price Guide
To be able to create a price guide, there are several data sources you can use. It eventually will make a difference as well, whether you are using the prices of an Omega sales forum or the bidding prices of auction houses. We decided to use data provided to us by Chronolytics. This company uses mainly data based on the world's biggest luxury watch market platform, Chrono24.
With 50 million visits each month, there is no real competition out there in terms of numbers except perhaps eBay. On Chrono24, watches are being offered by both professional sellers (dealers) and private sellers. This results in a mix of offers on Omega Speedmasters. You can imagine that the prices asked by dealers are slightly higher due to their overhead costs. However, we decided to use the average price on offered Speedmaster watches. Keep in mind that some of these prices can be negotiated, some are fixed.
We will update this list every 6 months, so you will be kept up-to-date with actual information. The data used in this first Speedmaster Price Guide is based on offered Omega Speedmaster watches between 1-1-2014 to 1-7-2014 (H1 2014).
For starters, we selected a number of Speedmaster references to work with for this Speedmaster Price Guide. In the future, we will add more reference numbers. If you are interested in seeing some specific reference numbers. Drop a line.
All prices are in Euro, we converted to USD with the exchange currency rate of September 23rd 2014.
 Speedmaster Price Guide Table
| | | | | |
| --- | --- | --- | --- | --- |
| Reference Number | Model | Price EUR | Price USD | Comment |
| 3570.50 | Speedmaster Pro | 2687 | 3439 | |
| 311.30.42.30.13.001 | Speedmaster Pro 'Brown' | 3047 | 3900 | 2008 – 2012, brown dial |
| 3592.50 | Speedmaster Pro | 2436 | 3118 | Speedy Pro sapphire back crystal 95-97 |
| 3590.50 | Speedmaster Pro | 2200 | 2816 | 1988 – 1996 |
| 145022 | Speedmaster Pro | 2398 | 3069 | -69 -71 -74 -76 -78 |
| 145.022-68 | Speedmaster Pro | 2547 | 3260 | Transitional model |
| 145.012 | Speedmaster Pro | 3212 | 4111 | pre-Moon, caliber 321 |
| 105.012 | Speedmaster Pro | 3901 | 4993 | pre-Moon, caliber 321 |
| 105.003 | Speedmaster (Pro) | 4501 | 5761 | (Pre-)Pro pre-Moon caliber 321 |
| 105.002 | Speedmaster | 5969 | 7640 | New reference number, only in 1962 |
| 2998 | Speedmaster | 8225 | 10528 | 2nd generation Speedmaster, 1959-1962 |
| 2915 | Speedmaster | 21000 | 26880 | 1st generation Speedmaster, 1957 – 1959 |
| 311.30.42.30.01.001 | 50th Anniversary Model | 3750 | 4800 | 2007 |
| 3569.31 | Apollo XI 35th Anniversary | 4405 | 5638 | Panda |
| 311.30.42.30.01.002 | Apollo XI 40th Anniversary | 3781 | 4839 | 2009 |
| 345.0809 | Moonphase | 5875 | 7520 | 1985, limited to 1300 pieces |
| 3565.80 | Gemini IV 40th Anniversary | 3954 | 5061 | 2005 |
| BA 145.022 | Apollo XI Gold | 13188 | 16880 | Gold commemorative model 1969-1972 |
| BA 345.0802 | Apollo XI Gold | 7262 | 9295 | Gold commemorative model 1980-1984 |
| 3560.50 | Apollo XI 30th Anniversary | 2782 | 3560 | 1999 |
| 3595.52 | Apollo XIII | 4950 | 6336 | 1995 |
| 3578.51.00 | Snoopy Award | 5116 | 6548 | 2003 |
| 311.30.42.30.01.003 | Apollo XV 40th Anniversary | 3524 | 4510 |  bracelet with screws |
| 3577.50 | Moon to Mars | 2837 | 3631 | |
| 311.32.42.30.04.001 | Alaska Project | 3696 | 4730 | 2008 |
| 3594.50 | 57 Replica edition | 2143 | 2743 | 1998-2003 |
| 3570.40 | Racing | 3541 | 4532 | 2004, Japan market only (ltd) |
A detailed overview on vintage Speedmasters (also making the distinction between the different CK2915-1/2/3, CK2998-1/-2/-3/-4/-5/-6/-61/-62 and so on references) can be found on www.speedmaster101.com/price-chart/