Speedy Tuesday – Sharing A Reader's Speedmaster Story
Owners and their watches, providing an insight in what moved them to buy a certain watch or in this case, a Speedmaster. Once every while we like to feature a reader's story on their Speedmaster(s). This week we have the story of Iain and his wife Jackie and how they came to purchase their Omega Speedmaster watches.
Iain tells the tale of their two Speedies in today's Speedy Tuesday feature on Fratello Watches.
Jackie's Speedmaster Story
Jackie's story on her Speedmaster all started with this new job. In 2016 Jackie started working with children who have special educational needs. One of the harder parts of the job involves dealing with the children when they suffer from epileptic seizures. Part of the process involves accurately timing the length of the seizure as this effects the decision on which emergency procedure to follow.
Selection Process
Up to this point in time Jackie had never owned an expensive watch, having worked her way through a series of cheap disposal quartz timepieces over the years. However, she decided that it would be nice to finally purchase something that would last and be properly suited for the (new) job in hand.
So the first step was to understand the requirements, with assistance from her husband Iain, a long time Rolex and TAG Heuer owner, these were as follows;
A watch that will accurately time an event to the second, with a very easy to read second hand display
Speed is of the essence – timing needs to be started with one button press and no toggling between modes
Not too bulky with no sharp edges or metal bracelets to cut down on any potential injuries
Can withstand day to day use in a fairly hectic environment.
The final requirement was a bit more subjective; the watch had to be interesting and have a bit of a story behind it, no more disposable cheap plastic quartz watches here.
Possible Contesters
So a day out was planned for a tour of the watch shops in the West End of London, with some ideas in mind. We drilled it down to the following list and listed per watch our concerns:
– Rolex Daytona – too expensive and perhaps a little to flash and large on the wrist.
– Chopard Mille Miglia chronograph, a bit too fussy
– TAG – The Carrera was a little too large, other models didn't not excite
– Omega – Speedmaster Reduced model about the right size, but not a fan of the rubber strap and somehow the back story wasn't interesting enough
– A whole bunch of plastic tat that frankly are best forgotten…
– Omega Speedmaster Moonwatch, great easy to read display, fantastic heritage but a bit too big on the wrist.
– Speedmaster First Omega in Space edition. Just that little bit smaller somehow, leather strap, easy to read stopwatch display, although he polished hands can be a bit tricky. But what an interesting back story, it's a watch with an individual person's story.
Speedmaster First Omega in Space
So after some serious deliberation and much coffee being consumed, the decision was made and the FOIS was purchased from Watches of Switzerland, who had gone the extra mile to help make the decision.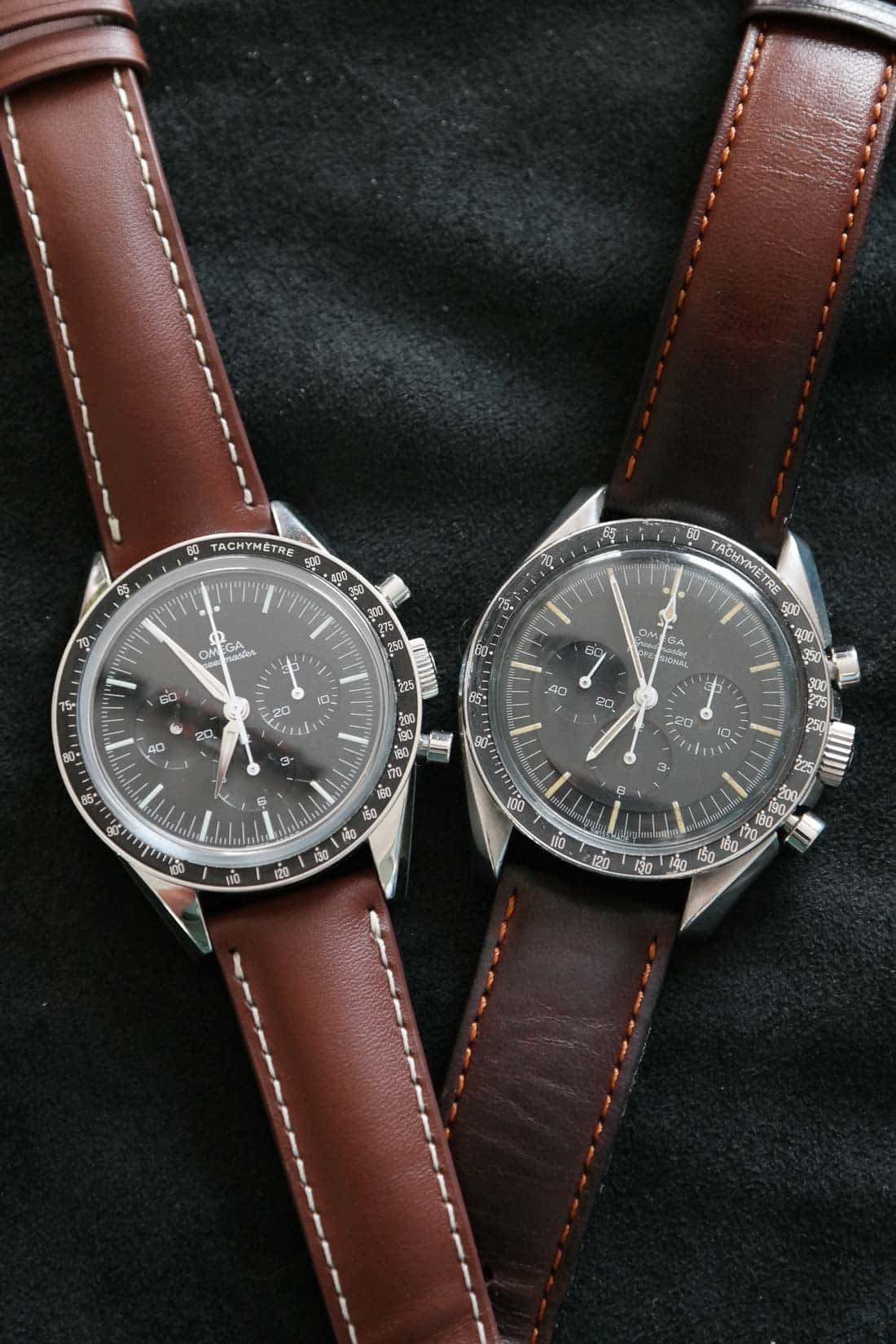 The watch has performed faultlessly to this day, being used in its professional capacity for timing events maybe 12 times a week.
Meeting Buzz Aldrin
Not long after the purchase, it was announced that Buzz Aldrin would be in London at a book signing, so we once again headed back to town. There were strict instructions that due to the length of the queue Buzz would not be able to spend any time talking with people, but Jackie was lucky enough to strike up a conversation with him all about his missing Speedmaster and was asked about her watch still being a manual calibre whilst being given compliments from the man himself on how good her watch looked on her wrist.  As you can imagine compliments from the wearer of the 1st Omega on the Moon about her personal "First Omega in Space" meant a huge amount….. (Hint to Omega – how about in 2019 a suitable First Omega on the Moon edition and if so can she have one……)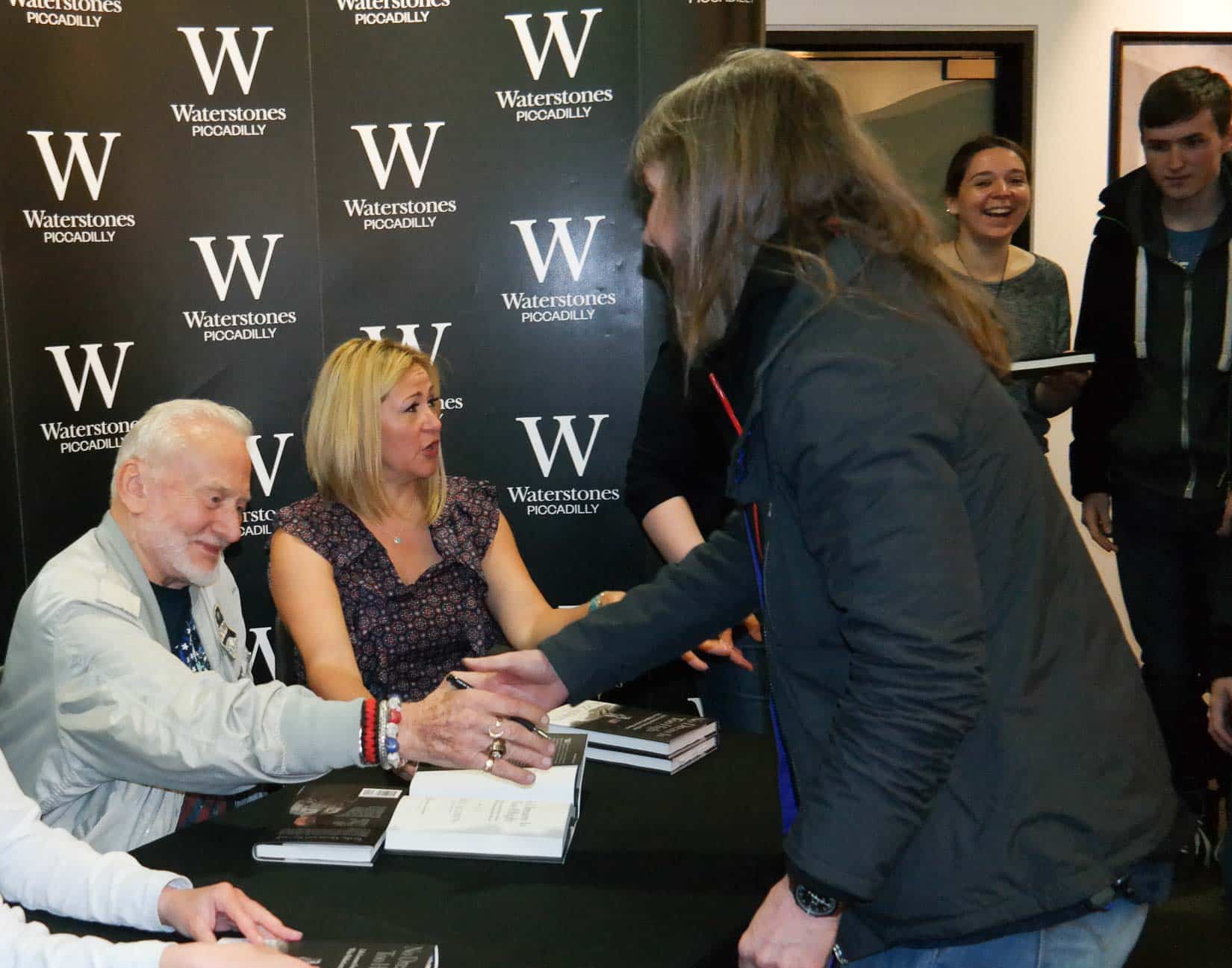 So far for Jackie's Speedmaster story. Let's quickly continue the tale of Iain's Speedmaster.
Iain's Speedmaster Story
Trusty Rolex
I'm not a collector, but seem to have acquired a few watches along the way. My first "proper" watch was a Rolex Oyster purchased in 1988 when I started my first big paying job. Nice and simple, not even a date on the display. It was worn for many years winning many battles with door frames, desks, car engine bays etc. Until being rested for reasons that will later become apparent, the Rolex has been my go to watch since that day and it's still complete with all the original boxes and paperwork and sales brochures.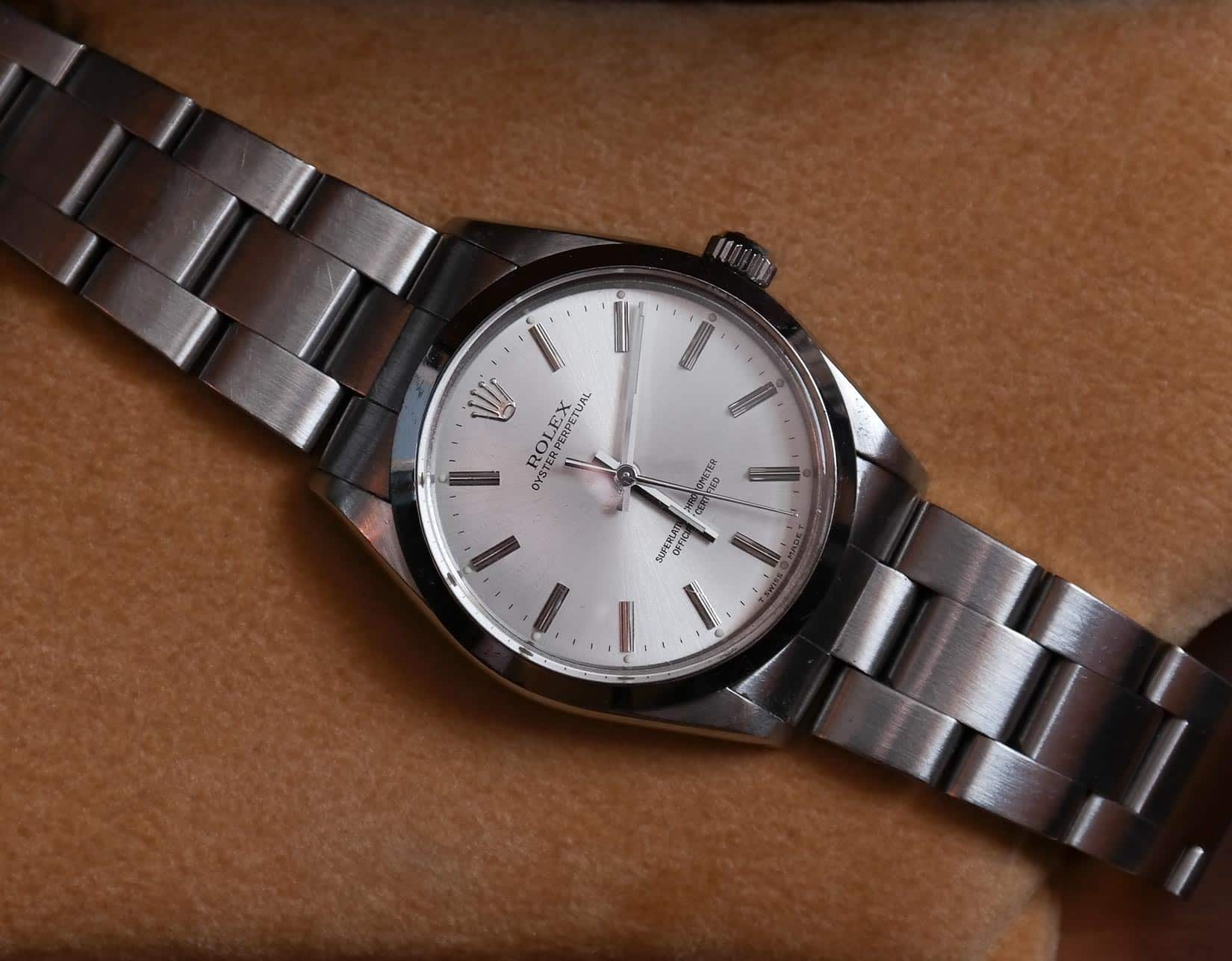 Since then, amongst others I've also acquired the following watches.
A TAG Heuer Kirium F1. I purchased this new directly from a racing driver in 2001 (a TAG ambassador) who I used to work with, it went to pretty much all the races I worked at, proving invaluable with both analogue hand and a reverse LCD digital display that could be turned off it was handy for dual time zones and alarm / stopwatch / timer. Another TAG Heuer I own is the Monaco. Some days it just has to be 90 degree corners, plus the Steve McQueen link -enough said. Furthemore I have this late WW1 vintage British Army issued "trench watch" (circa 1918) Borel cased with broad Arrow markings, movement manufacturer unknown. Last but not least, a CWC Diver watch, Special Boat Service / Marine issued in 2001 – for when quartz accuracy is needed and it has to be able to take a bit of a knock.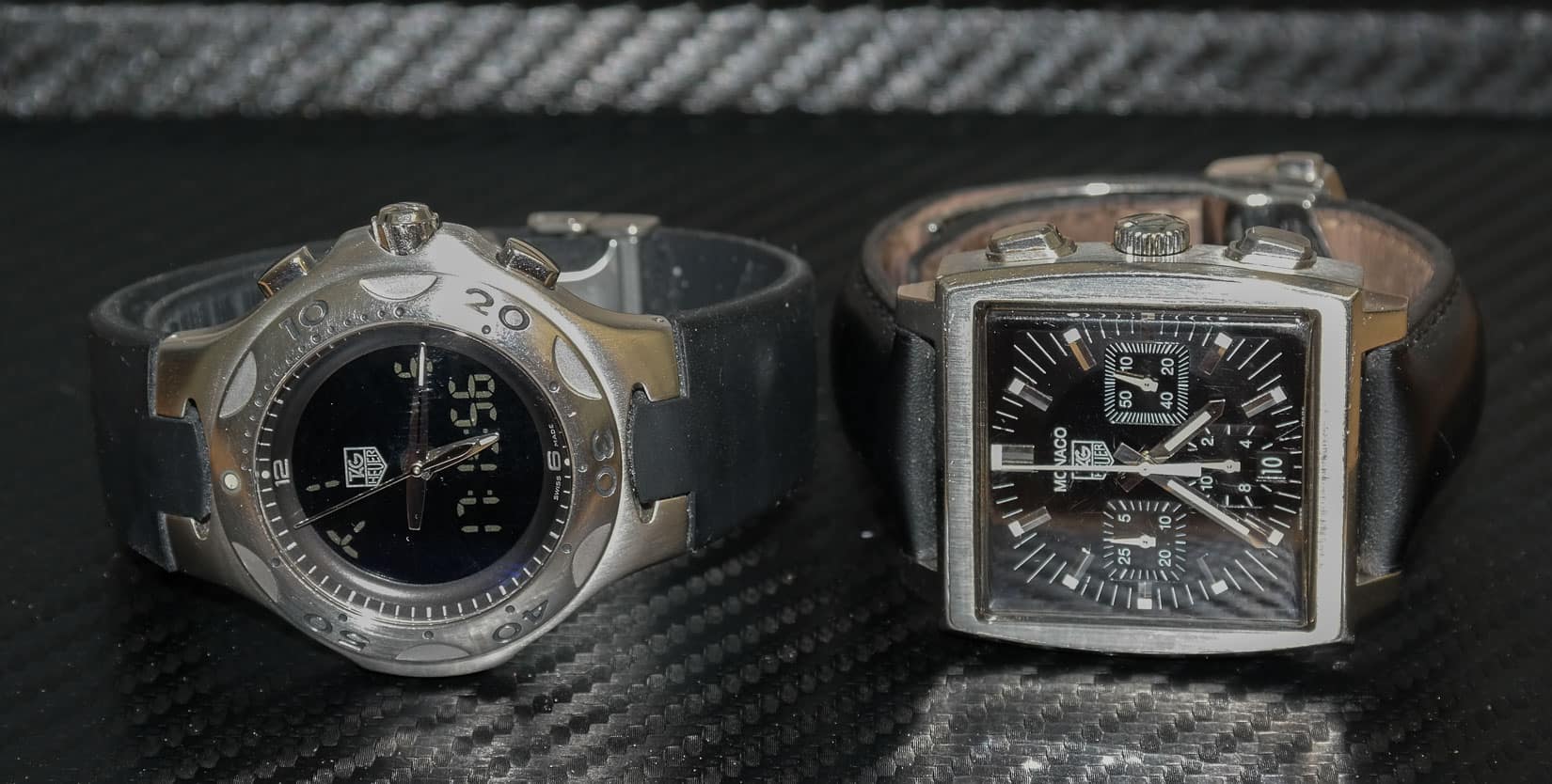 Buzz Effect
For some strange reason after the book signing with Buzz Aldrin I felt that I really need a Moonwatch (I'm blaming the Buzz effect) so Jackie very kindly suggested it may make a suitable birthday present to ease the pain of being 50. So the hunt was on.
With a strong interest in history and the Space Race, a new Speedmaster was perhaps a little too "mainstream", so the decision was made to go vintage. In order to keep the link to the moon landing it had to be the 012-65 model. That was also close to my birth year as well.
Speedmaster 105.012-65
It had to have the following attributes:
As original as possible,
Not too polished up
Not a Franken watch
Reasonable price (yeah right, as if …….)
To cut a long story short it was a fun search, helped by many people on the Omega Forum and the fantastic Moon Watch Only book (is it possible for a novice to safely buy a vintage speedy without it?). The final watch eventually came from Rome, sold by its owner who had been left it by his uncle. It's not in mint condition, but it's been well looked after and it's perfect for daily wear.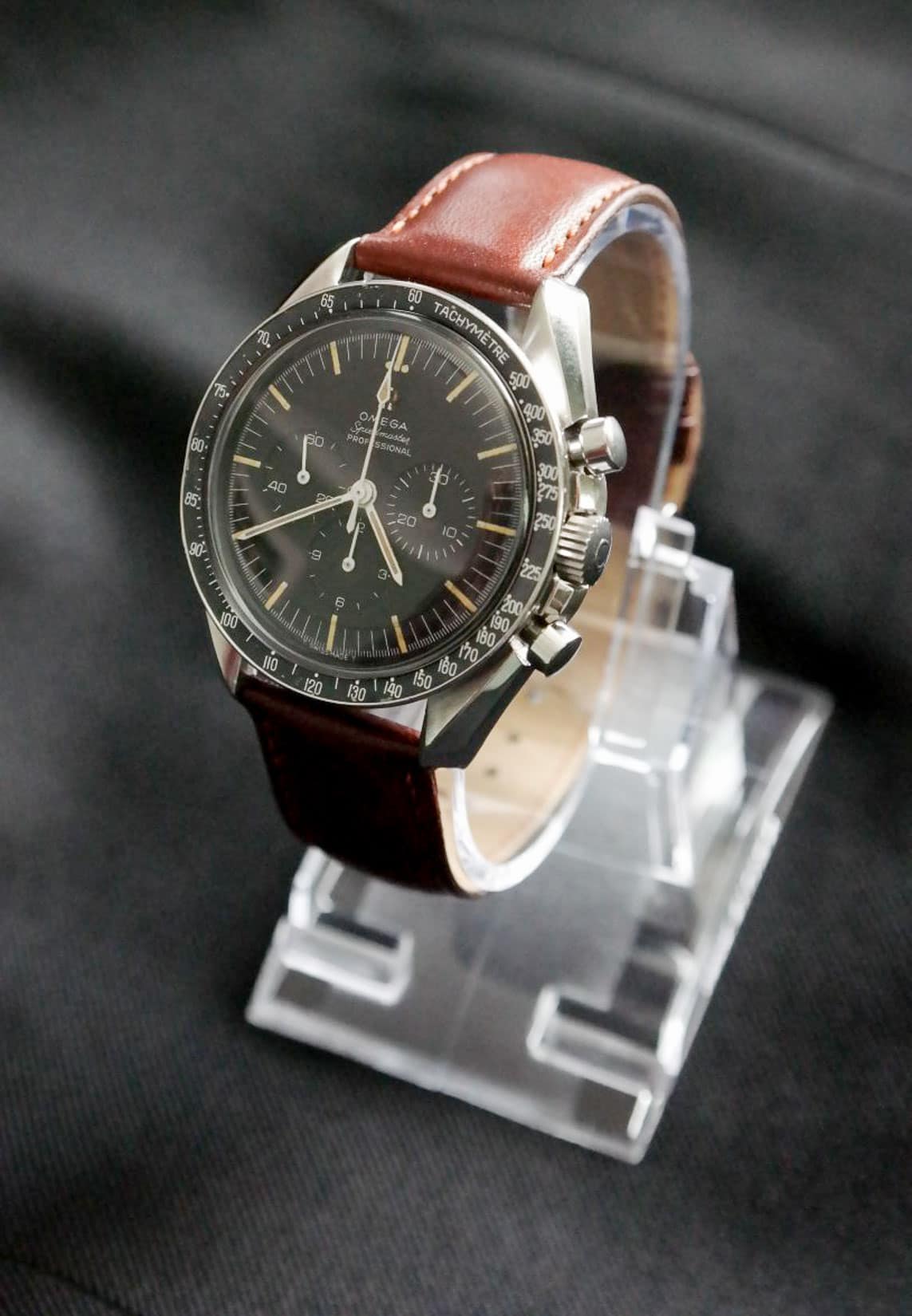 Originality is Key
Its service history was unclear when it arrived, but living with in a drive of Swiss Time Services (UK) meant that a service was easy to sort out. They have been fantastic in ensuring the watch remains as original as possible and is in perfect running order, I can't recommend them highly enough.
There are very few watch models that have such a great back story to them, unfortunately there seem to be very few "watch people" around nowadays, but it's always interesting to see the expression on people's faces when they see a Speedmaster and the conversations that result. Its also quite ironic that the Speedmaster that doesn't have Professional on the dial is the one getting used professionally…..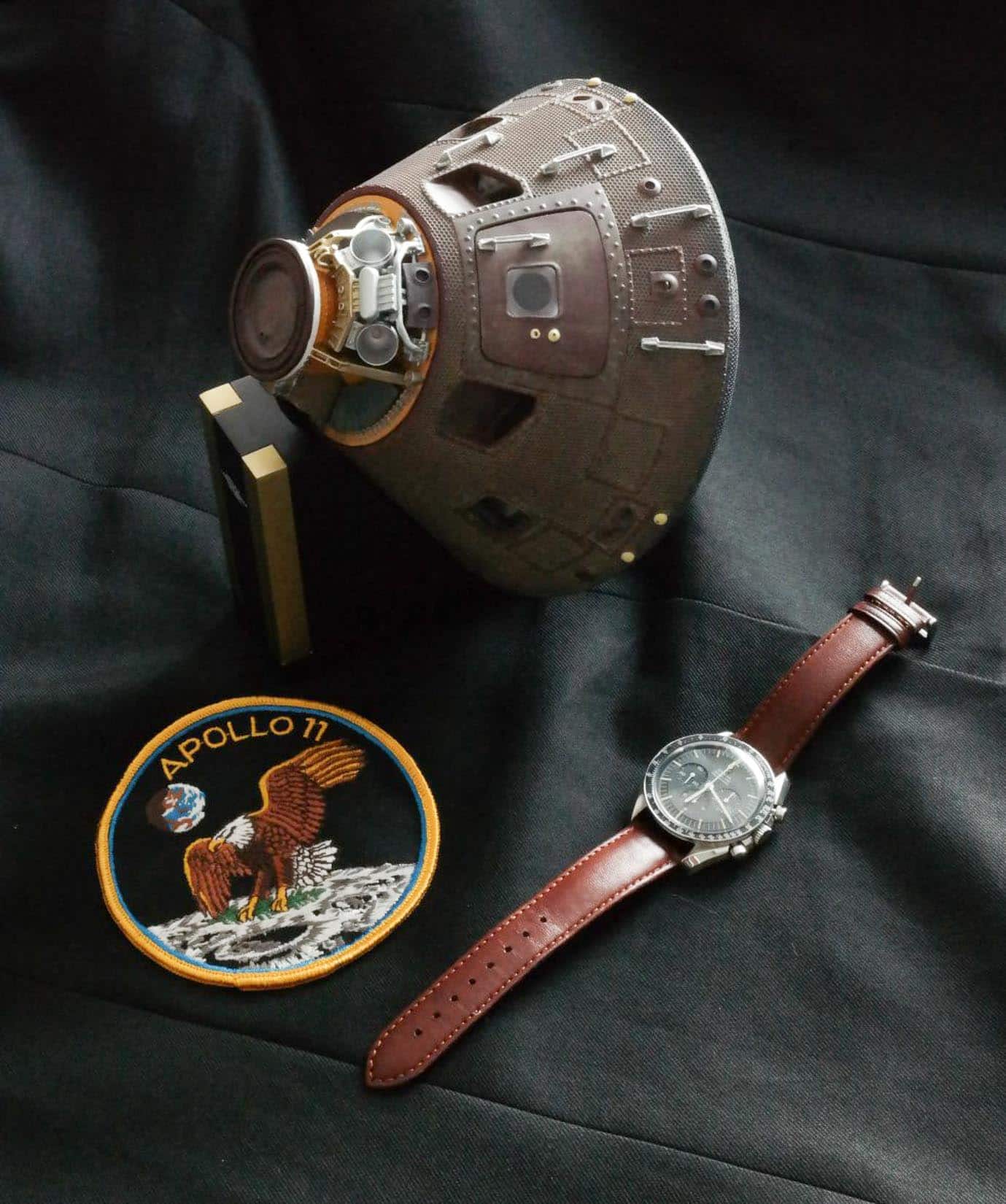 A big thank you to Iain and Jacky for their Speedmster stories (and images). If you want to share your Speedmaster story with us, contact us.