Speedy Tuesday Event In Milan — A Video Report
The good ol' modem burner
Last Tuesday, we went to Milan to celebrate Speedy Tuesday with approximately 60 Speedmaster enthusiasts and collectors. The Speedy Tuesday Event took place in the Carlo al Naviglio restaurant, operated by Italian chef Carlo Cracco. All of the guests arrived at around 3:00 PM at this beautiful location, and in the great (Italian) weather, we started off with a drink.
Among the guests, we had seasoned collectors like Andrea Foffi and Auro Montanari (aka John Goldberger). But there were also a lot of enthusiasts who just started collecting Speedmasters recently. One of the attendees even traveled all the way from Canada, as you will see in the video. As we (Fratello) were present with quite a team, we were able to talk to each and every person there. Interestingly, what I noticed during my talks with collectors and enthusiasts, was that no matter how large and special their collections were, nobody was talking about market value, resale value, and so on. That felt good, I have to say. Instead, many shared the stories behind their Speedmasters and why they acquired them. And sometimes, it was all about the details of a certain watch.
Speedy Tuesday — Milan 2022
Not long after the welcome, we moved inside a building at the venue, the ground floor of which was an (air-conditioned) auditorium. The first floor also had presentation desks for the watches that Omega's Brand Heritage Department and Product Development team brought along.
After a word of welcome from Italy's Omega Brand Manager Malik Bey and myself, we had panel talks with Brand Heritage Director Petros Protopapas, his colleague Loic Voumard, and myself, discussing these watches in detail.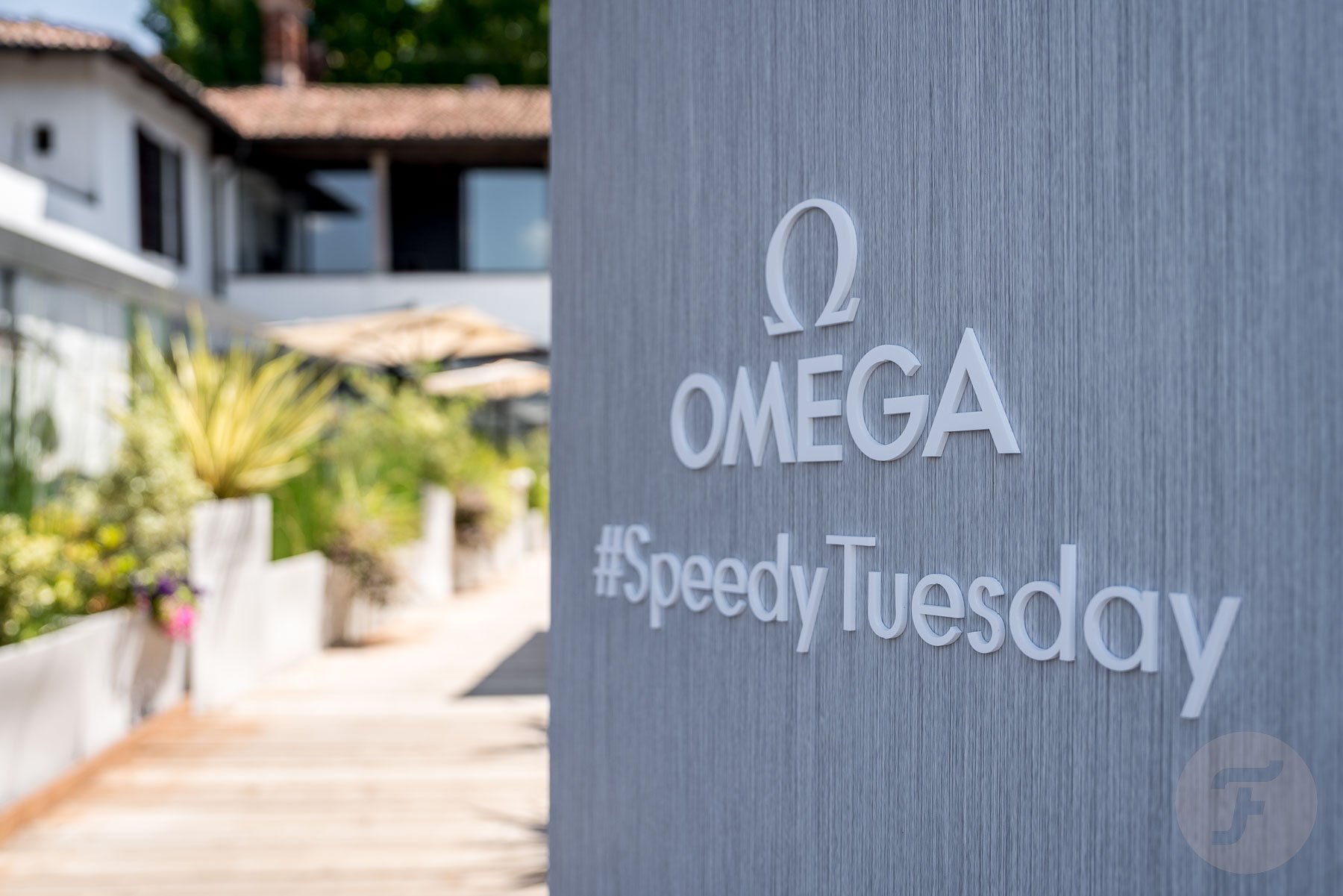 Speedmasters for the Italian market
With the Speedy Tuesday events, we always try to bring something new to the table. Omega's Brand Heritage Department was a great help in that regard. This time, we decided to focus on the Italian market, as Omega made so many interesting, special Speedmasters for Italy. The best-known, and definitely the most debated one, is the 1975 Apollo-Soyuz model. Other models for the Italian market are the hand-wound Speedmaster Professional in gold and steel from 1986 (reference DA145.022, 500 pieces), and the "Holy Grail Liberace" from 1987. The latter is a Speedmaster Automatic with caliber 1045 (Lémania 5100), reference DD376.0822. Omega only produced 200 pieces of this automatic Speedmaster for the Italian market.
Another famous Speedmaster for the Italian market is, of course, the Albino from 1997. Also limited to 500 pieces, it was to commemorate the 40th anniversary of the Speedmaster. Omega has produced some other references specifically for Italy, but the Apollo-Soyuz is the most discussed.
Apollo-Soyuz
The Speedmaster Apollo-Soyuz watch was requested by Omega's Italian distributor. For a long time, it was unclear how exactly how many pieces Omega shipped to the distributor back then. For those who aren't aware, it is interesting to note that the case and pushers used for this Italian special are slightly different from the then-regular Speedmaster Professional 145.022. The pushers were wider (5.5mm instead of 5mm), and the case band also had a slightly different profile. The case back was engraved with "GEMINI * APOLLO * SOYUZ", but also "(I)" to indicate that these were made for Italy.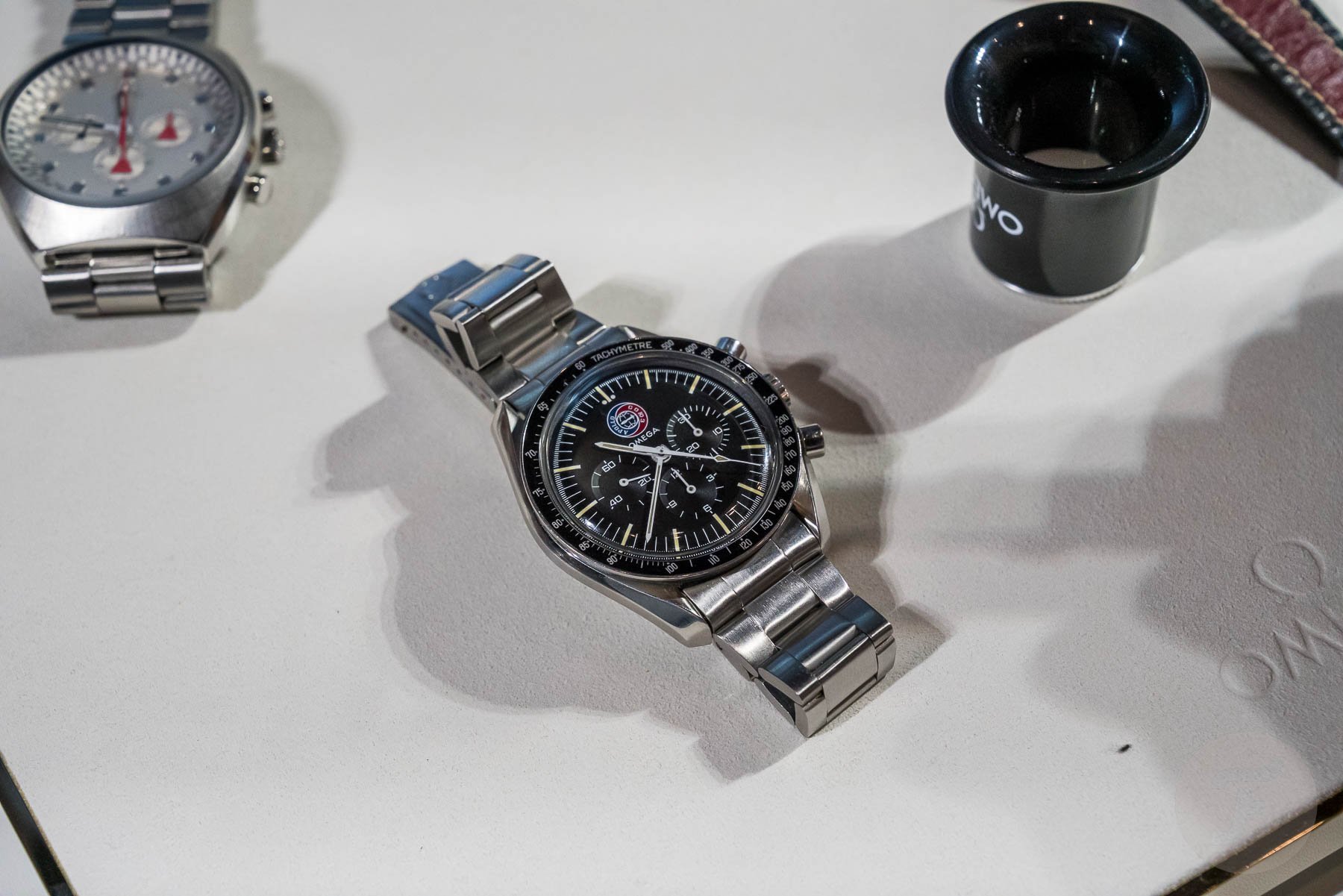 De Marchi was authorized to assemble
As for the production number, it was always assumed there were 500 in total. Of these, Omega could trace 400 pieces back to the invoice for the Italian distributor, De Marchi. Omega's Brand Heritage Director Petros Protopapas performed the research with the help of collectors Manuel (@cool.side.ot.moon), Marco (mstanga on Omega Forums), and Stuart (@t_solo_t). Interestingly, before sending these 400 pieces, Omega had shipped 158 Speedmaster Professional watches to De Marchi in Italy. De Marchi then converted an unknown quantity into Apollo-Soyuz models with the full approval of Omega's headquarters at the time.
In the past, some collectors saw these "converted" Speedmasters as frankenwatches. We could say, however, that they are "legal" Apollo-Soyuz models because they were authorized by Omega in Bienne. This is an official statement from Omega's Brand Heritage Department today. After the panel talks and Q&A session, the guests could discover the discussed watches on the first floor. What always surprises me, is that Omega is easygoing with the museum pieces. You can try them, handle them, and so on. And many of the guests did just that.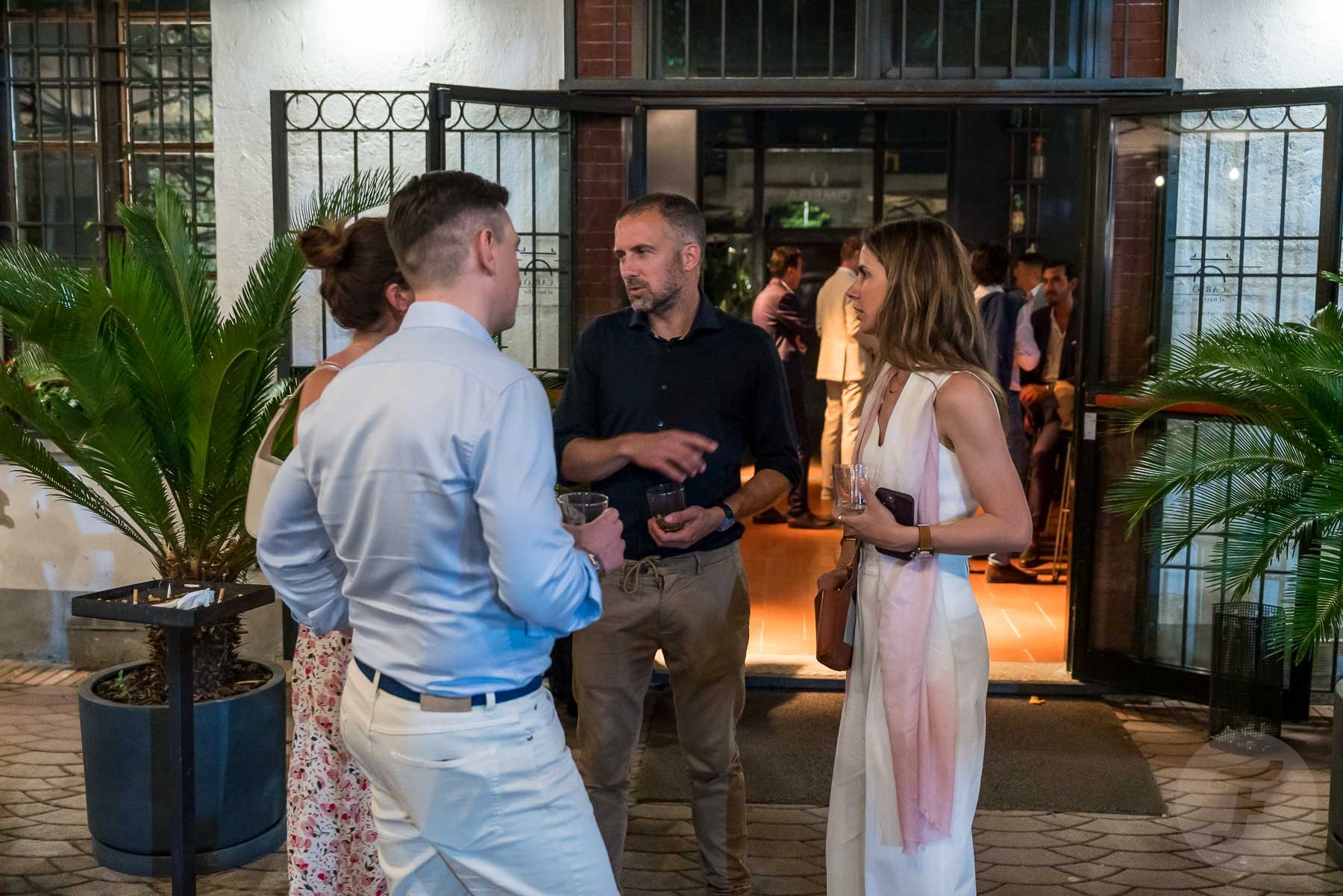 Aperitivo and dinner
As the weather in Milan was beautiful that day, there was also time and space to just go to the terrace and relax, talk, have a drink, and exchange information with other guests. Some of the guests brought some incredible Speedmasters with them that you definitely don't see every day, and some not even in the museum in Bienne. After this break, the guests were invited to come back inside and have a look at the modern and new Speedmaster models that Omega brought along. Among them were the new Speedmaster '57, the Calibre 321 Speedmaster Canopus Gold, and the Moonshine Gold Speedmasters with gold panda and green dials.
We ended the event with a wonderful dinner in the Carlo al Naviglio restaurant. If you want to take part in these events, make sure to keep an eye on our announcements on Speedy Tuesday. In those articles, there will be a form so you can sign up.
Enjoy the images of our event in Milan below.