Yesterday we were contacted by a watch fan showing us this photo of Mark Knopfler wearing a watch that appears to be a Speedmaster. We had a close look and it is definitely a Speedmaster. Mark Knopfler was already seen with an Omega Speedmaster some years ago in a music magazine, but that was a regular model (3570.50 or similar). This time, Mark Knopfler is wearing a gold Speedmaster.
There is a small chance that the reflections and colors in the photo make it look gold, while it is the stainless steel version (that we've discussed here and here). However, for now we'll assume Mark Knopfler is wearing the gold edition of the Omega Speedmaster '57 Replica (or re-edition) that Omega released in 1998/1999. This Omega Speedmaster, by the reference of BS 145.0052 or (Omega started using a different kind of coding for their reference numbers) 3693.50 for the version on a leather strap and 3193.50 for the version on a gold bracelet, was introduced to commemorate the 150th anniversary of Omega. The gold edition was limited to 150 pieces only and very rare.
Mark Knopfler's Speedmaster 3693.50
Although the photos is not very clear or detailed enough to give a good view on the watch, the twisted lugs belongs to the later Speedmaster Pro cases (it was thought to be a pre-Pro at first) and it definitely has crown guards. The lume in the hands give away the fact it has broad arrow hands. Based on the photos (a bit much pastel colors) we'd say it is the gold reference 3693.50 model as pictured above (photo credits Antiquorum). But please have a look for yourself below, you can click the image to see a larger version.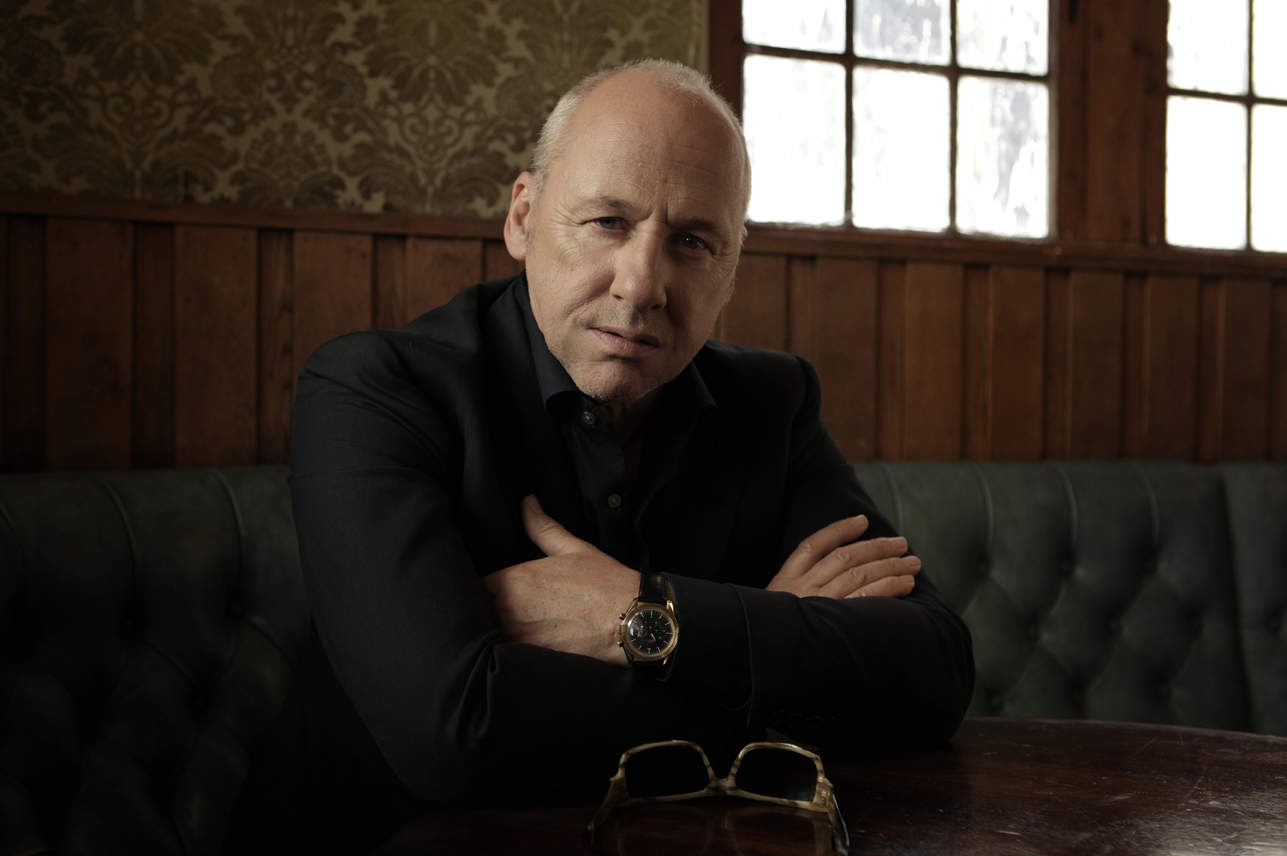 The black strap was originally delivered on this watch (unlike the first photo in this article). A bit of snooping around on the interwebs resulted in a couple of pictures of an Omega Speedmaster 3693.50 that is more identical to the one of Mark Knopfler. Photos from a forum member of Watch-Expert by the name of TeeLex. The case back photo shows the famous inscription and the numbered version of the watch (of 150 pieces).
These watches did not come cheap when they were introduced. The gold version on a leather strap had a list price of CHF 7.600,- Swiss Francs and the full gold version retailed at CHF 16.500,- Swiss Francs while the normal stainless steel model was priced at CHF 3.200,- Swiss Francs at that time. Perhaps another reason these are so rare. Officially, these watches were in the catalogue from 1998 to 2001 but I've seen them (the stainless steel version) at retailers for many years after that. The big difference between the gold and steel models are not only the material, but also that there is no NASA related inscription in the case back of the stainless steel model and that the gold model has the fine decorated caliber 1863 movement while the stainless steel model had the caliber 1861 movement.
If the colors in the photo are really wrong, we stand corrected and say it is the stainless steel version, as pictured below. That watch was available on a stainless steel bracelet as well as on a leather tan strap (not black, but Mark Knopfler could have changed this himself of course).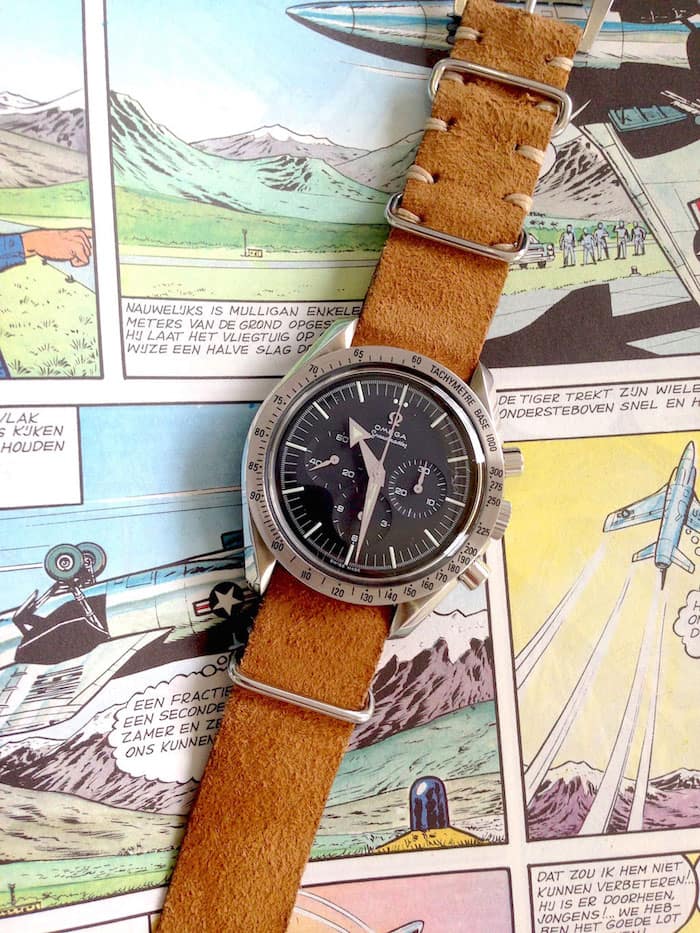 Another photo of Mark Knopfer wearing a Speedmaster was published on the Omega Forum of Watchuseek many years ago already, by a Dutch user that posted a photo of a music magazine showing Mark Knopfler wearing an Omega Speedmaster Professional. That photo is not clear enough to spell out the exact reference number, but at least it is not the Broad Arrow or '57 Replica Model (look at the hands).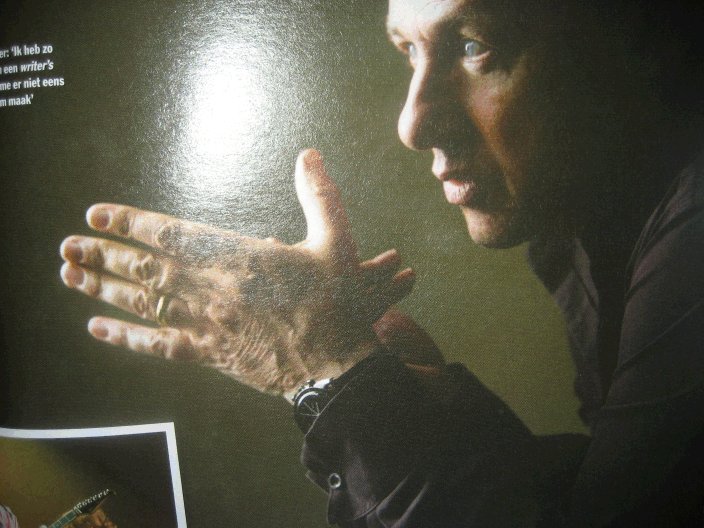 A big thank you to Nick Gould of Deployant for the heads-up on the photo of Mark Knopfler wearing a (gold) Speedmaster Replica. Photos of Mark Knopfler from www.markknopfler.com. Thanks 'Explorer' Johan.

Robert-Jan Broer, born in 1977, watch collector and author on watches for over a decade. Founder of Fratello Watches in 2004.

Latest posts by Robert-Jan Broer (see all)