Speedy Tuesday – Omega Speedmaster Straps
It's Speedy Tuesday! When you buy a new Omega Speedmaster (Professional), you can either choose between a stainless steel bracelet or a leather strap. However, there are many more ways to wear your Speedmaster in a cool way. From simple NATO straps to high-end alligator straps or even using a NASA-like velcro strap. In this article we show you how you can wear your Speedmaster. The straps can really change the entire appearance of your Speedmaster, giving a new Speedmaster a vintage look or make it a very classy watch using an alligator strap.
Omega OEM calf strap
We kick-off with a brown calf strap from Omega. This strap (reference 98000195) is also issued with the chocolate brown Speedmaster Professional (ref. 311.32.42.30.13.001) but can also be ordered as a spare strap of course. Below shown on the Speedmaster Pro '57 'Broad Arrow' replica ref. 3594.50.

Stainless Steel Mesh Bracelet
Certainly not for everyone, but it gives the watch a cool 1960s look & feel. This soft and fine woven mesh bracelet reminds us of the mesh bracelets used by astronauts. However, those were made by JB Champion and although you can still get them once in a while via eBay, keep in mind that the reason why astronauts used this JB Champion bracelet is that they easily snapped when they got stuck on something. You could say that because of the lousy quality, they were being used so that astronauts would never risk being stuck to something by the bracelet of their watch.
The one below, the 'Milanaise' mesh bracelet on the Speedmaster Pro 'Racing', can be bought via LocalTime's store on eBay for approx $30 USD.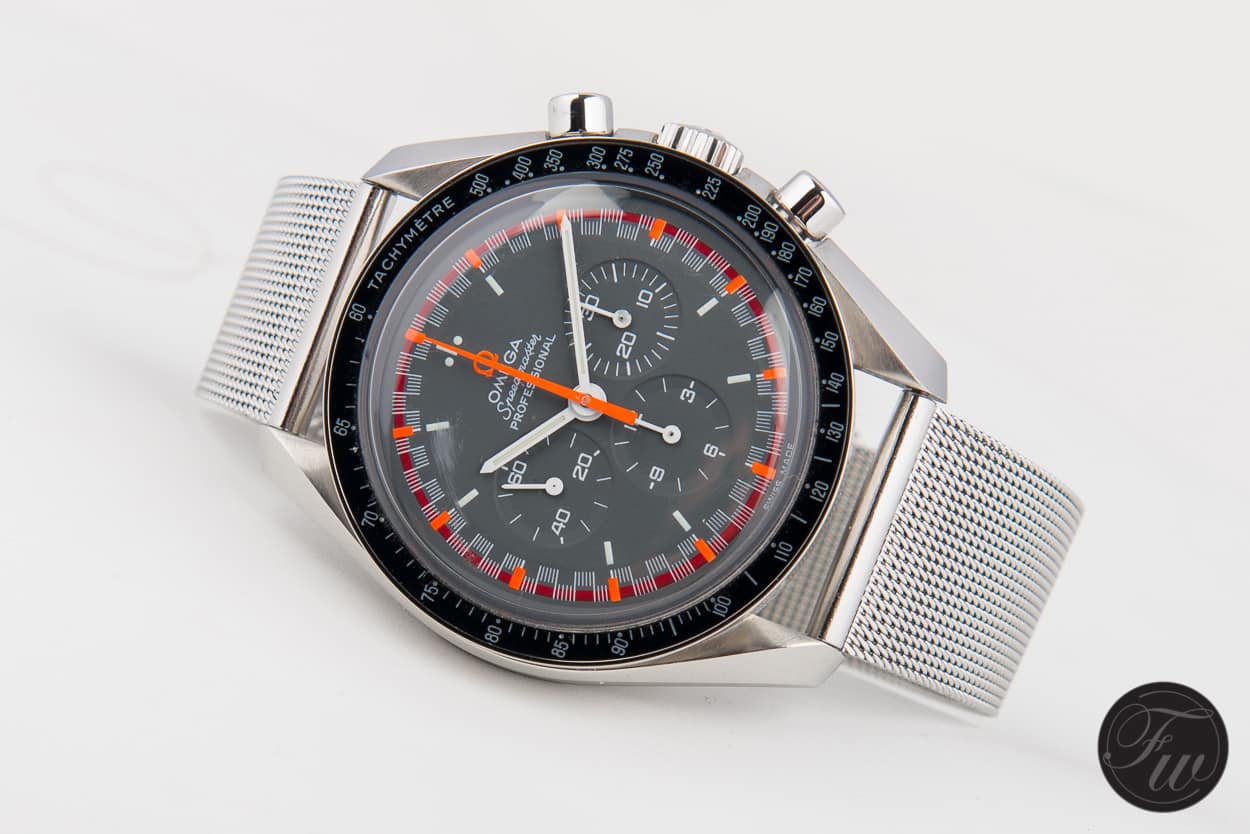 Hodinkee Straps
Our friends from Hodinkee started selling straps a while ago, and it is a huge success. We have one of their vintage looking brown straps on one of our Speedmaster Pro watches and it gives the watch a true vintage appeal. Attached to our '57 re-edition Speedy is their mixed brown leather strap, crafted in Tuscany, Italy. You can buy them on-line via Hodinkee's shop, click here.

GasGasBones' Velcro Straps
Carl Evans from GasGasBones is known for his wonderful nylon velcro and nato straps. His collection is every growing and we noticed that the straps are constantly being improved. Below you see one of his SPV1 velcro straps on our Speedmaster Pro 'Apollo XIII' limited edition. Straps can be ordered here. Price is 28 GBP. Also make sure to check-out his gallery of straps before ordering.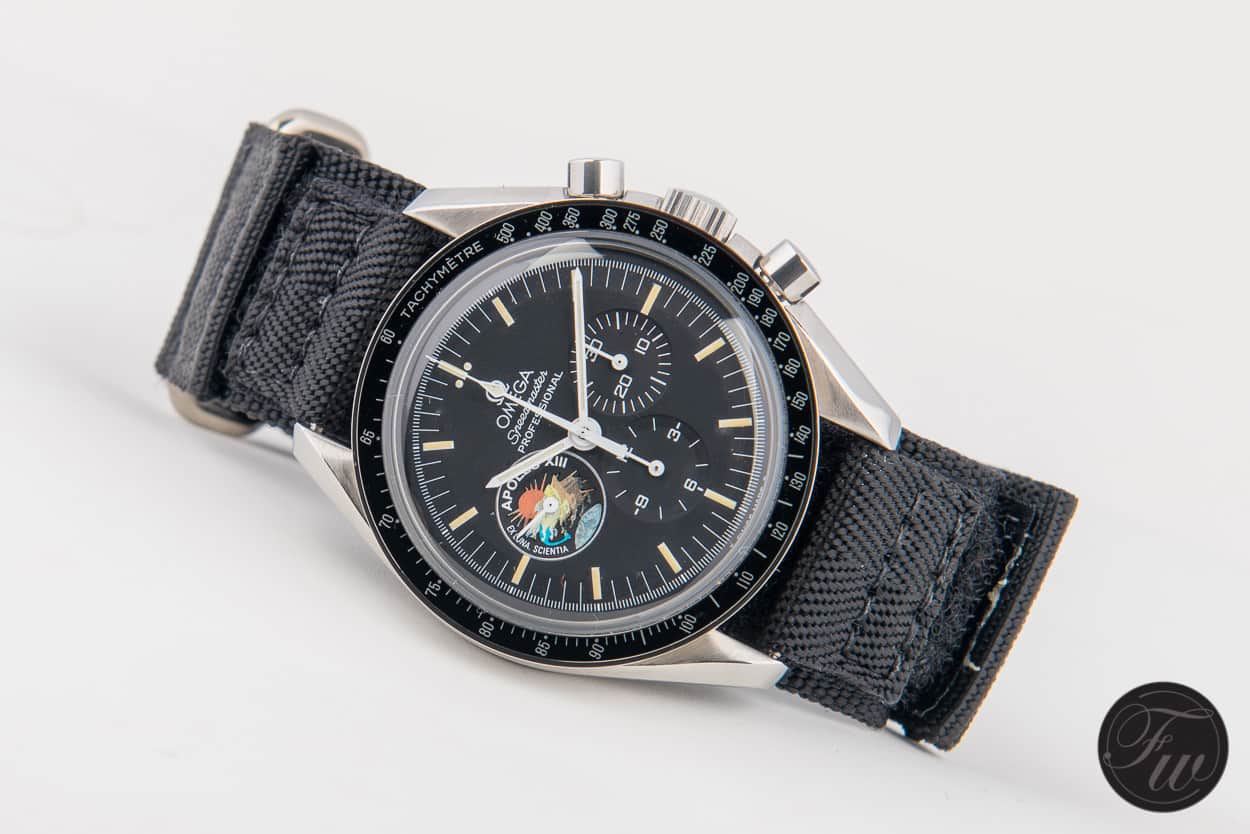 Omega OEM Alligator Strap
Besides calf straps, Omega also has a number of alligator straps for their Speedmaster watches. The Speedmaster Pro Moonphase watch below, based on the '57 re-edition 'Broad Arrow' as you can see, came either on a stainless steel bracelet or an alligator strap with a deployant buckle. Although long out of production, similar straps can still be ordered at your Omega boutique or retailer. Ask if you can have a peek into their dealer catalog (which is surely something different than their normal catalog for consumers). The prices might scare you though.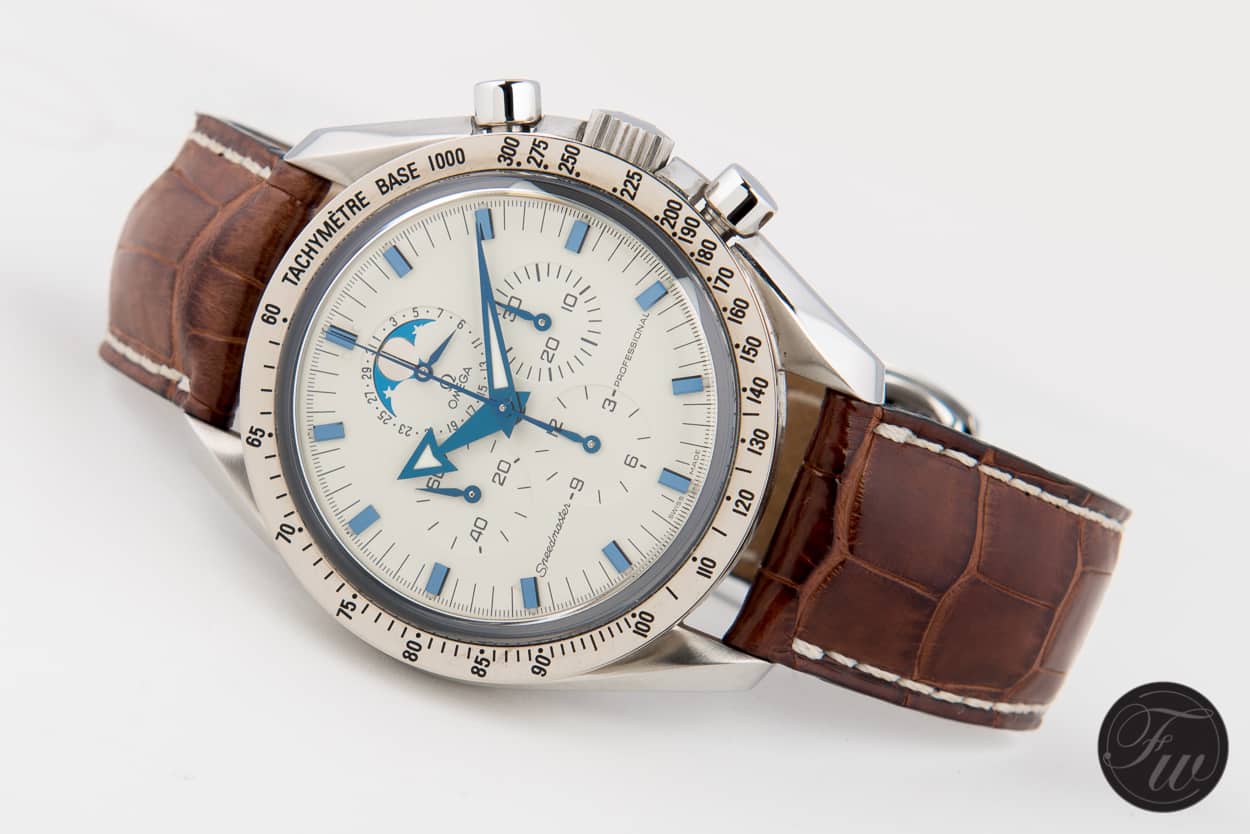 ABP's Leather Nato Straps
ABP or Atelier du Bracelet Parisien is a small workshop in the centre of Paris where you can order your custom made strap. You can choose from dozens of skin types, colors and structures. They also have a standard stock of straps that you can either buy in the shop or on-line. Below, you see their alligator leather NATO strap on one of our Speedmaster watches. It is a very soft and comfortable NATO strap, we haven't experienced the same quality before to be honest.
Visit their website and pick the one you like best, or have one exclusively created for you. Prices for an alligator NATO strap start at 250 Euro. Click here.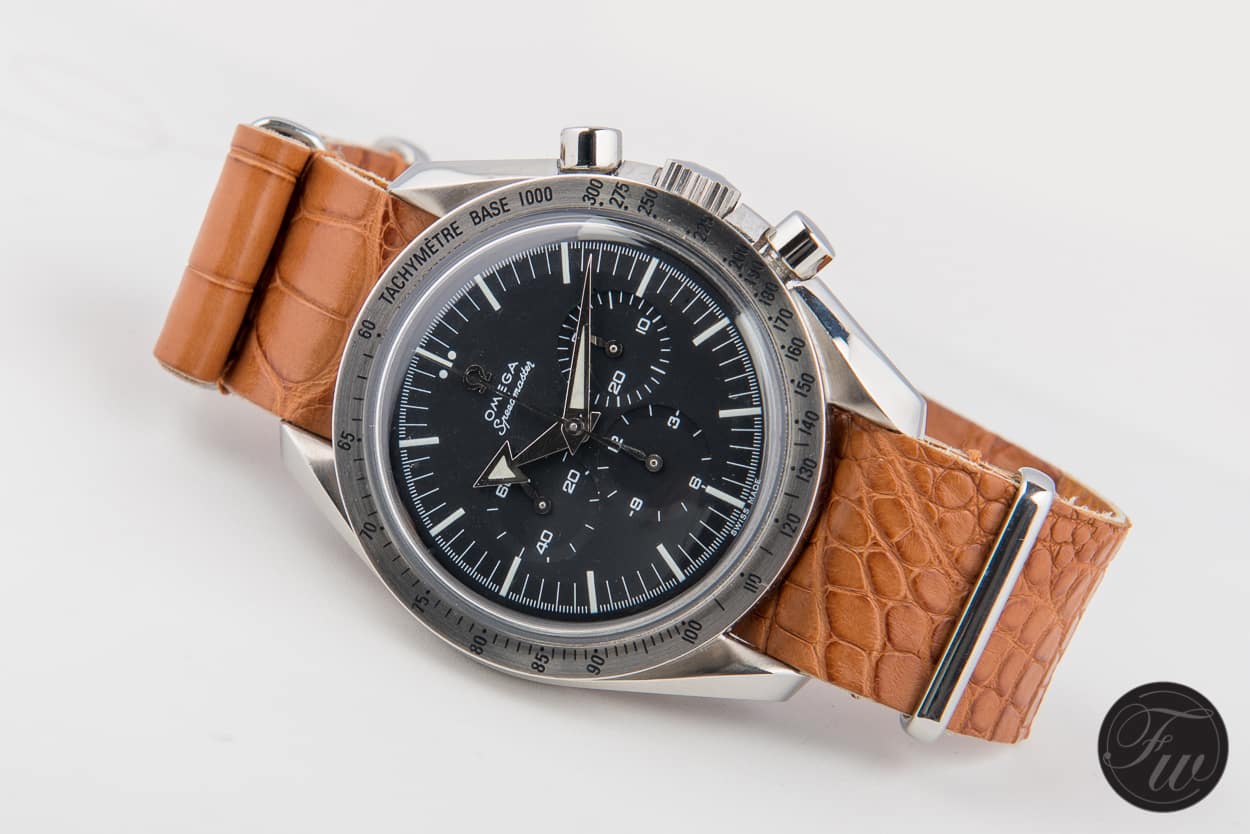 Omega's Vintage Racing Strap
This strap is a bit of a teaser, as I got it through my watchmaker who was able to source a few of these vintage beauties. It is probably a 1970s strap and recall seeing it on a Seamaster watch in the Omega museum in Biel. It is not on the picture, but it also has the original Omega clasp of that era, with an Omega logo 'applied' to it. If you continue reading, you will see that we also included a modern racing strap from the Omega factory. Sent to us by one of our readers.
Another option is to source a Rallye strap from Di-Modell. They have similar designed racing straps.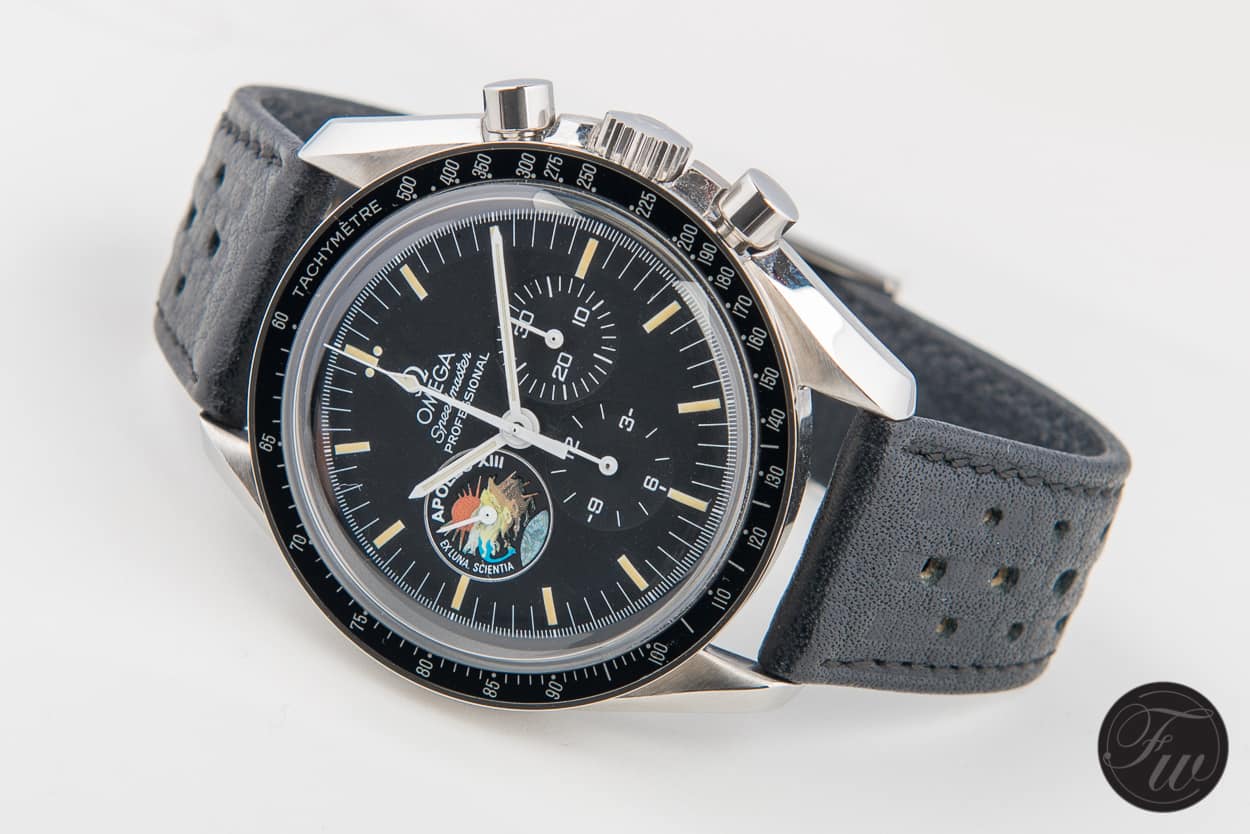 Omega OEM Ridged Alligator Strap
This ridged Omega OEM alligator strap was used for the Speedmaster Professional in the 1990s. It was an option to choose from, at least for the Omega Speedmaster Pro with the sapphire case back and caliber 861 movement. It needs to be put on an deployant clasp.
Although straps with these ridges are not being used anymore, or at least not very often, we think it still looks cool. However, this strap cannot be ordered from Omega anymore so you have to source it elsewhere or from a third party.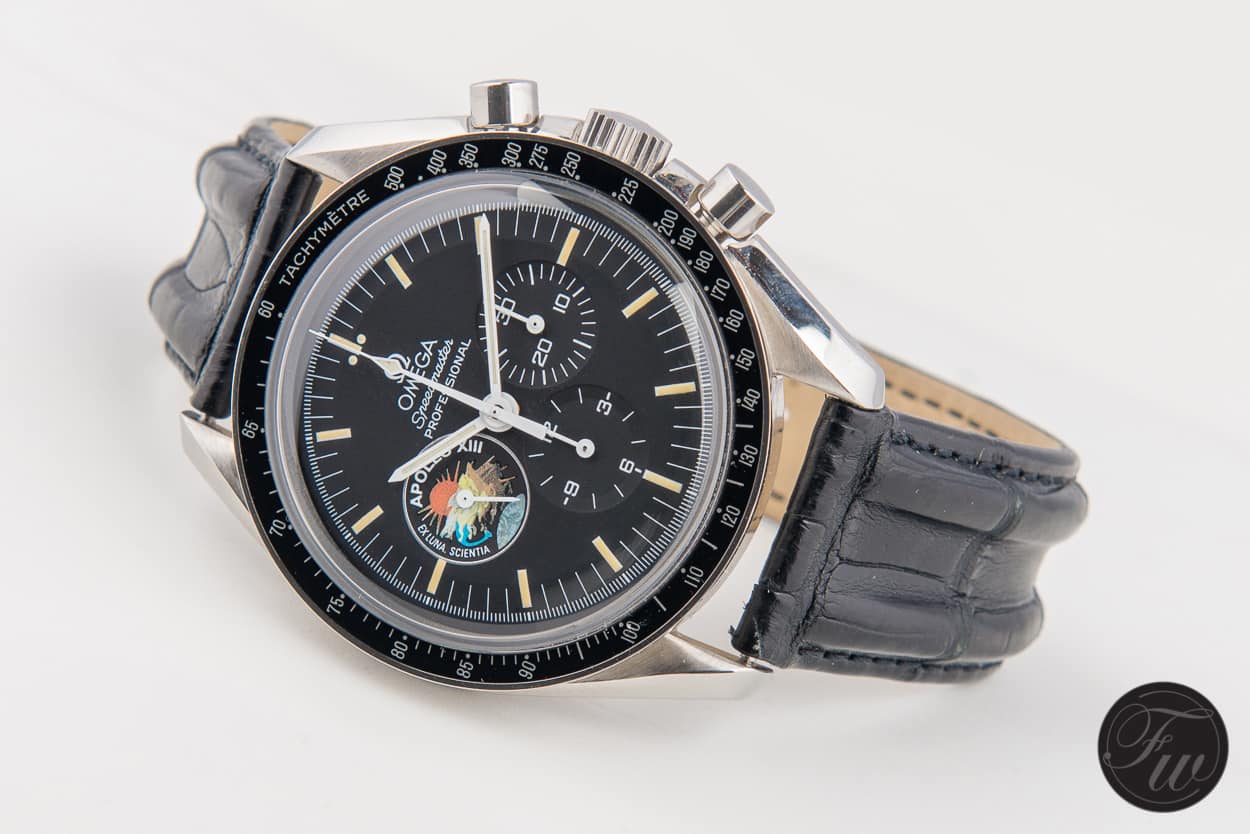 Omega OEM Alligator Strap Dark Brown
Not sure if dark brown is the perfect color for an alligator strap on a Speedmaster Pro with a black dial, but we tried anyway. It actually belongs to a cream dialed Speedmaster Automatic Broad Arrow, but we've put it on a Speedmaster Professional as you can see.
This alligator strap has reference number 98000216 in case you want to order one and it needs to be worn with a deployant clasp.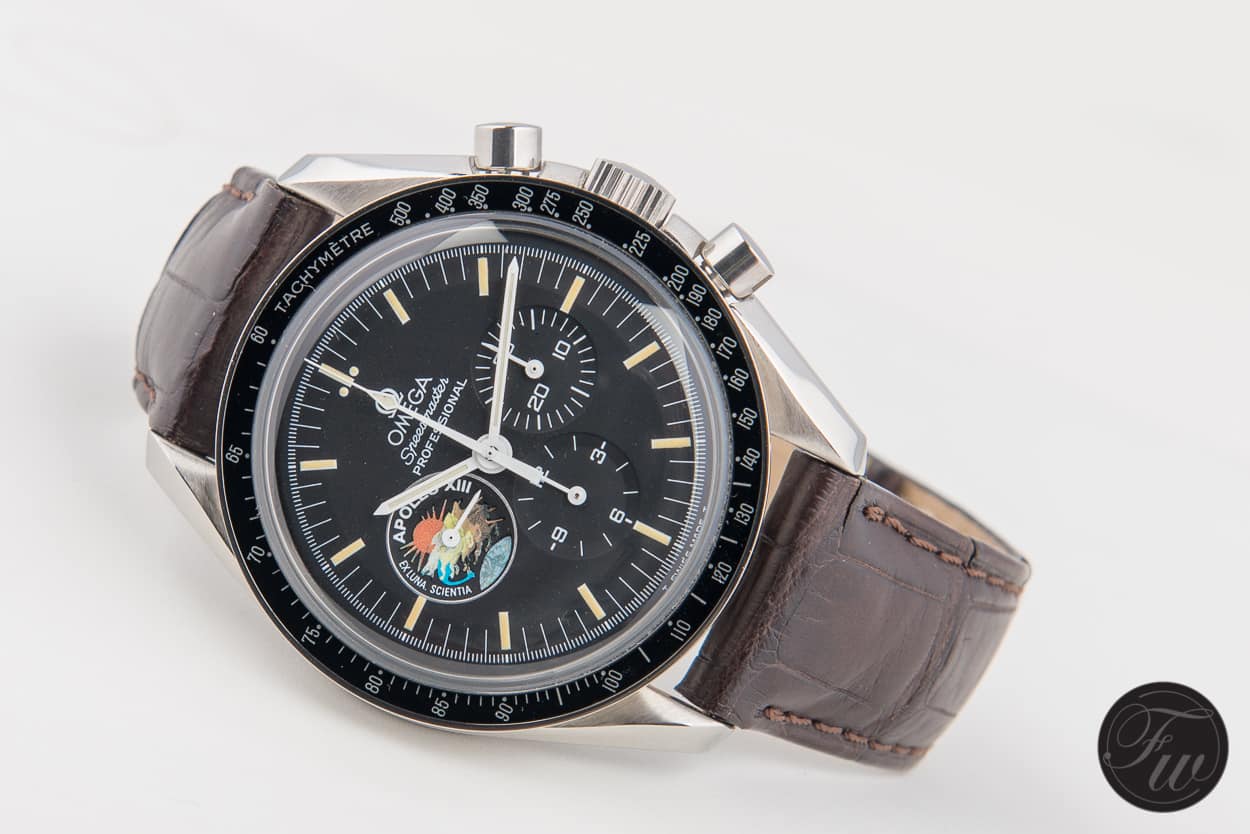 A Tan Calf Leather Strap
Sourced at a local Dutch strapmaker, this light tan calf strap works perfectly on a Speedmaster Professional. The color is a bit more yellow-ish than the original strap that came on this Speedmaster Pro '57 replica in the late 1990s and early 2000s, but it does the job. This particular strap was bought here.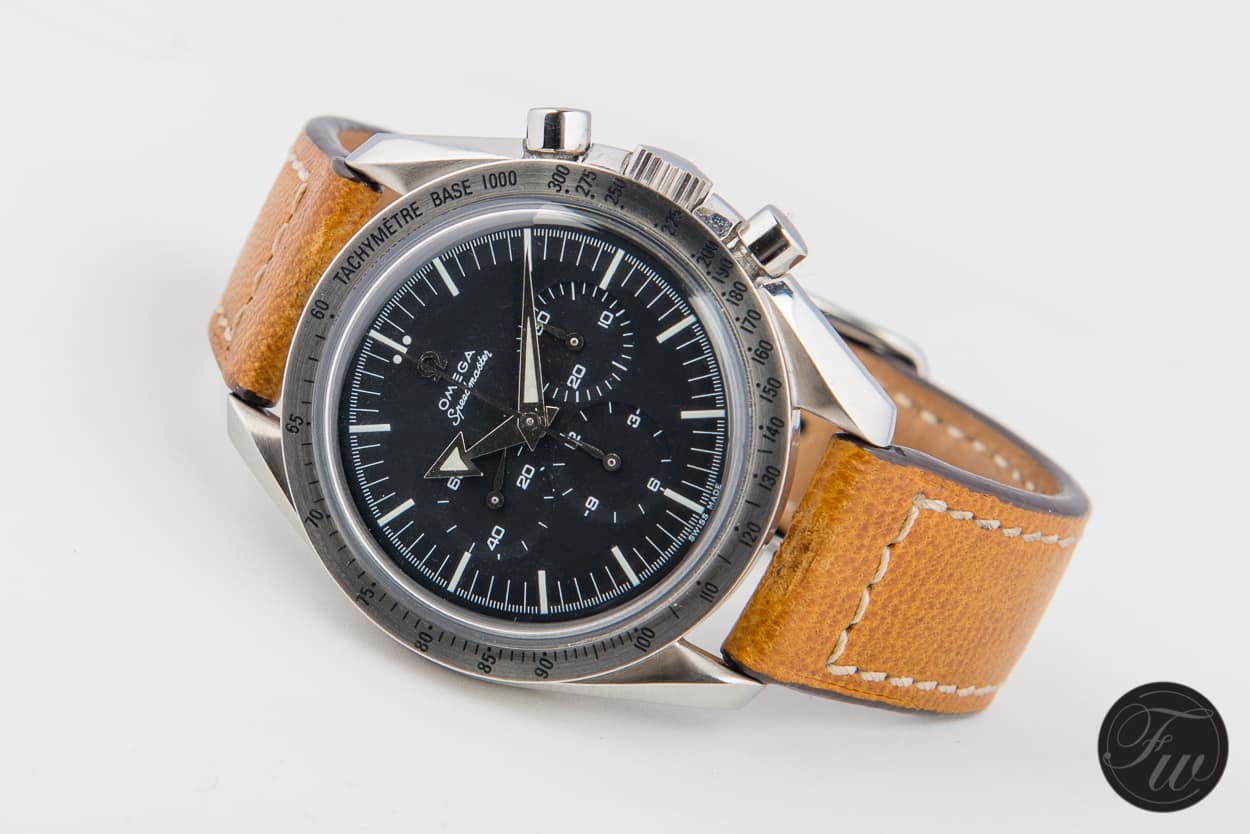 Astronauts Pay Attention
If you want to wear your Speedmaster Professional like it should be worn, you will need a space suit. If you have one, you need this long velcro strap to put your Speedmaster on. This long velcro strap with NASA product number also comes from the Straps By Fleur shop and available in several colors.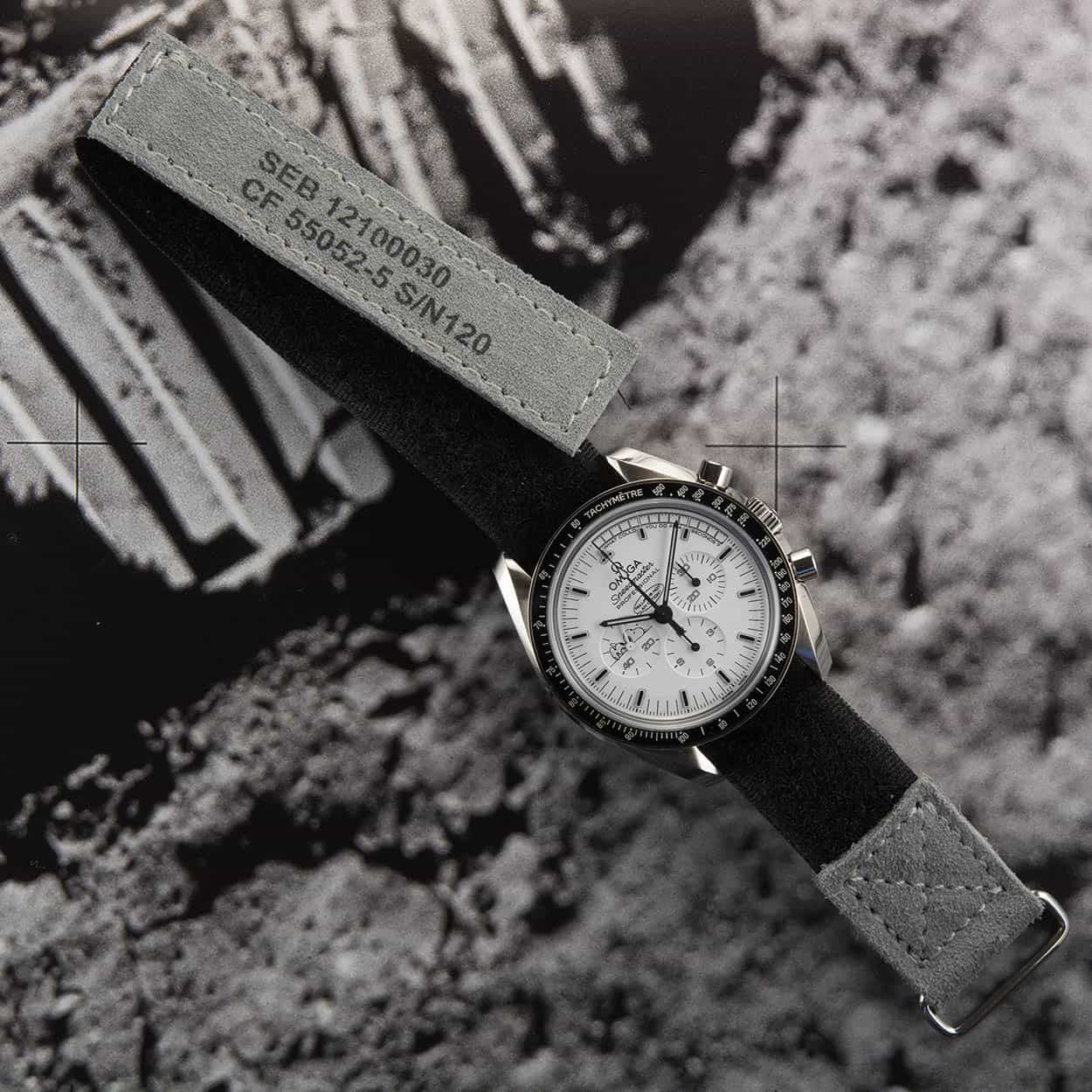 Nylon NATO Straps
Ever since James Bond wore his Submariner on it, nylon NATO straps are cool and can be bought in a lot of different colors. Below you'll see a selection of NATO straps on Speedmaster watches. Most of them were sourced via Crown and Buckle.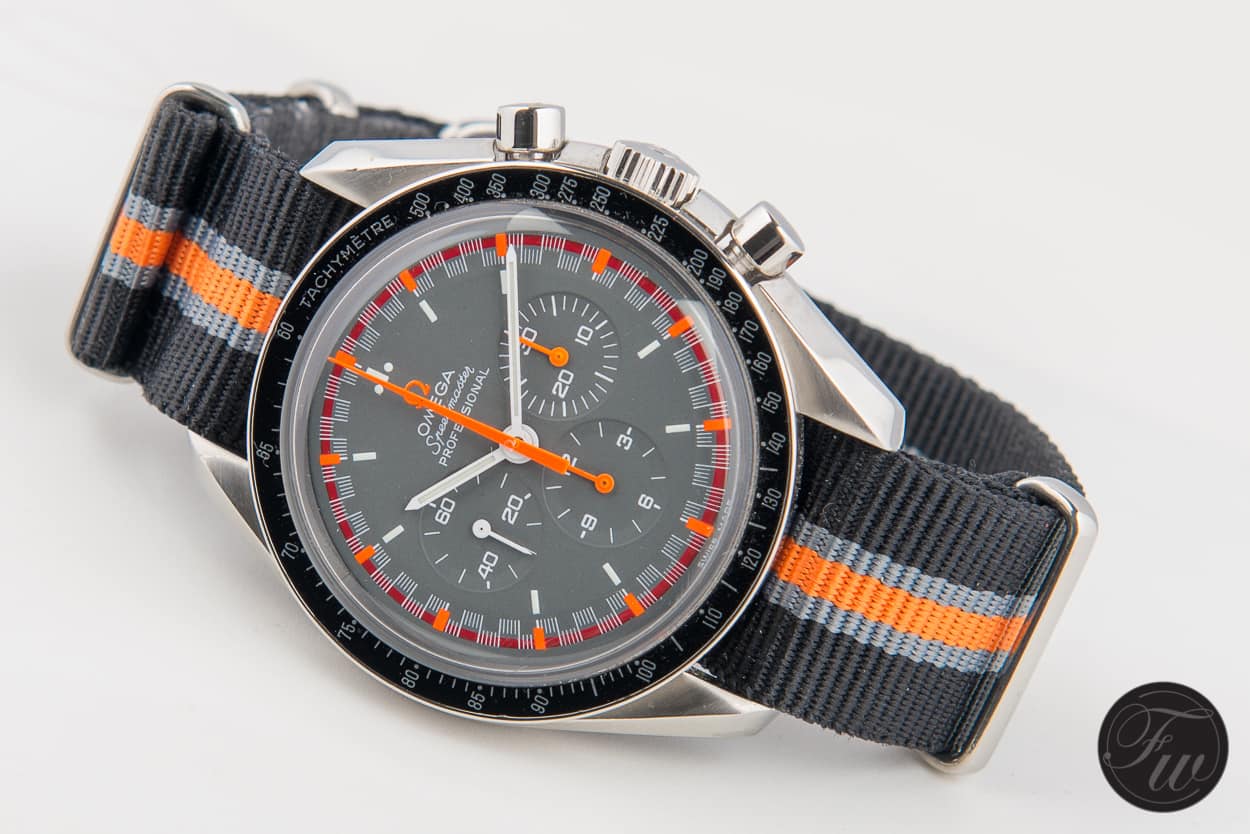 Contributions
We also like to thank Peng Bin and Kent for their contributions below. To start with Kent's Speedmaster Racing strap, this reference 98000024 strap can still be ordered and needs a 18mm deployant clasp (reference 94521813).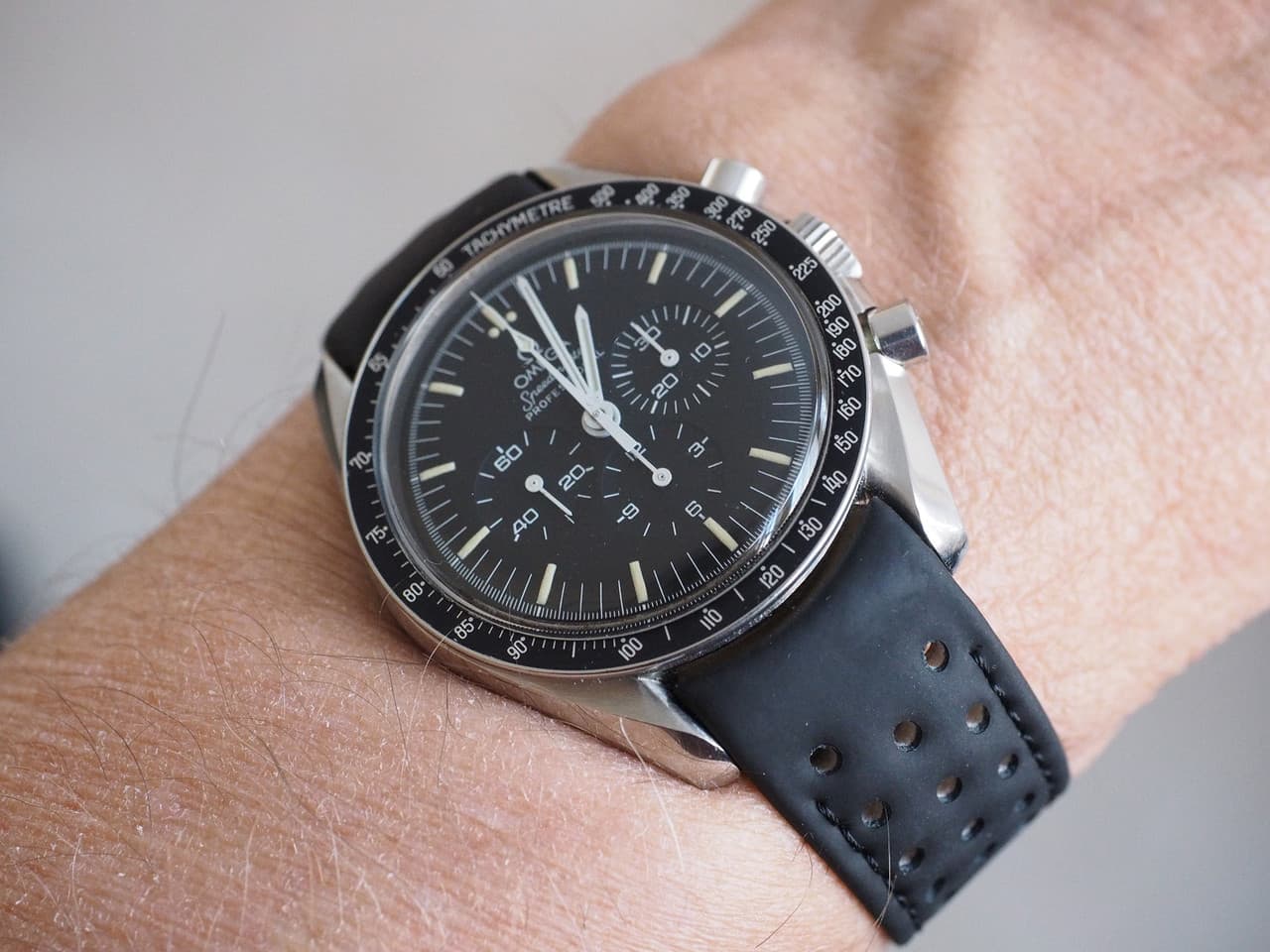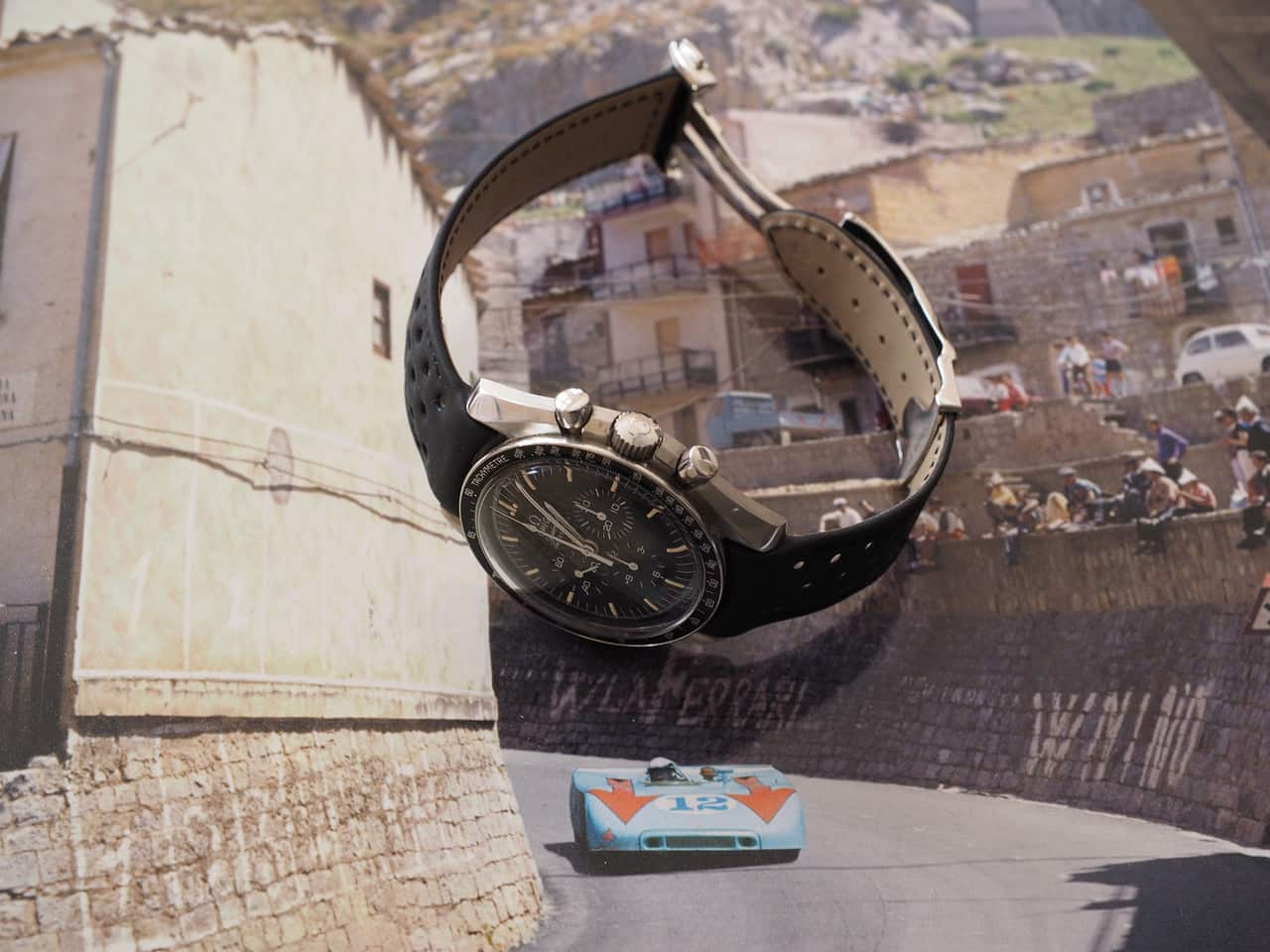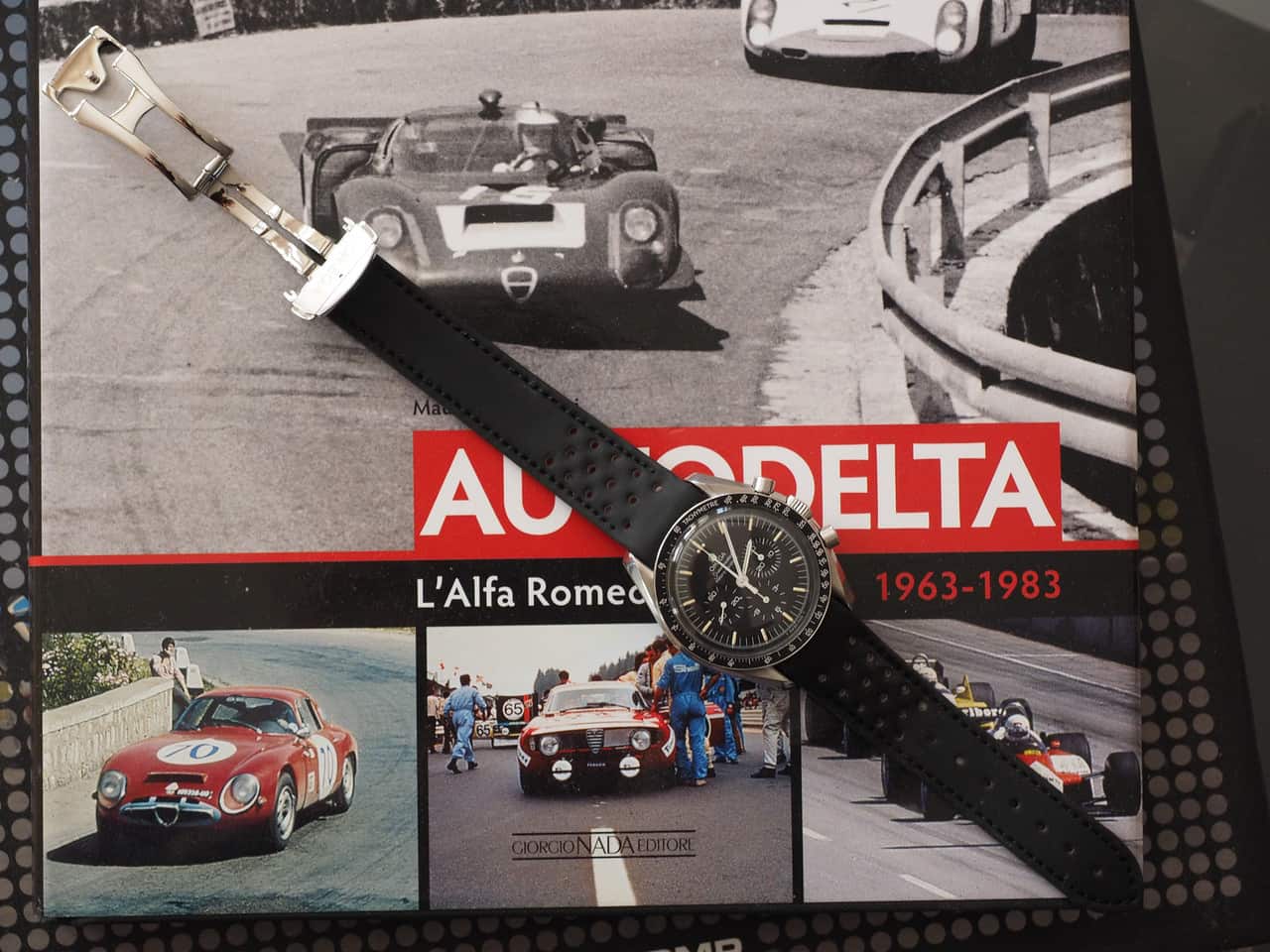 Pen Bin sent us the following photos of his Speedmaster watches & straps.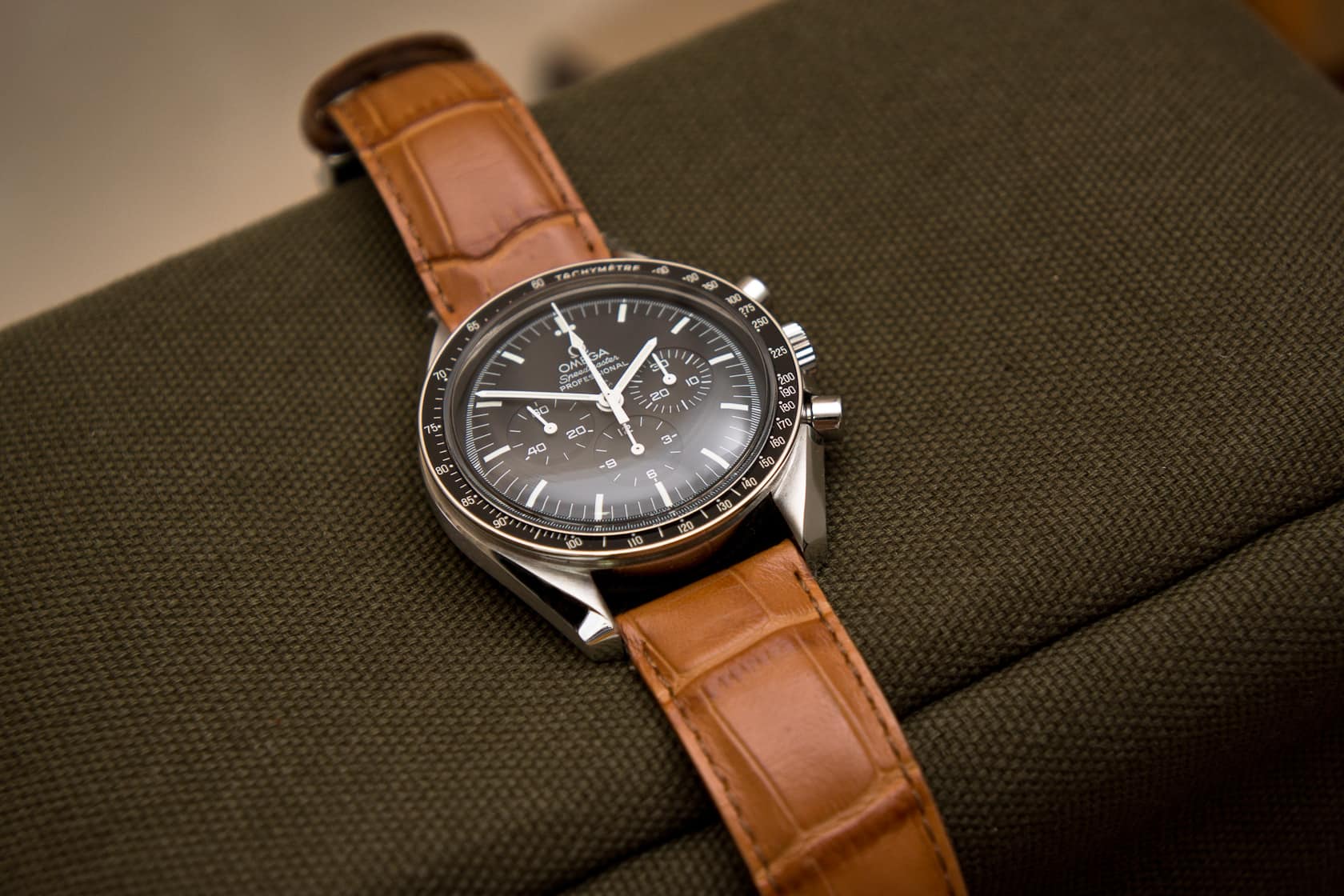 Above is a leather brown (alligator) strap by Banda.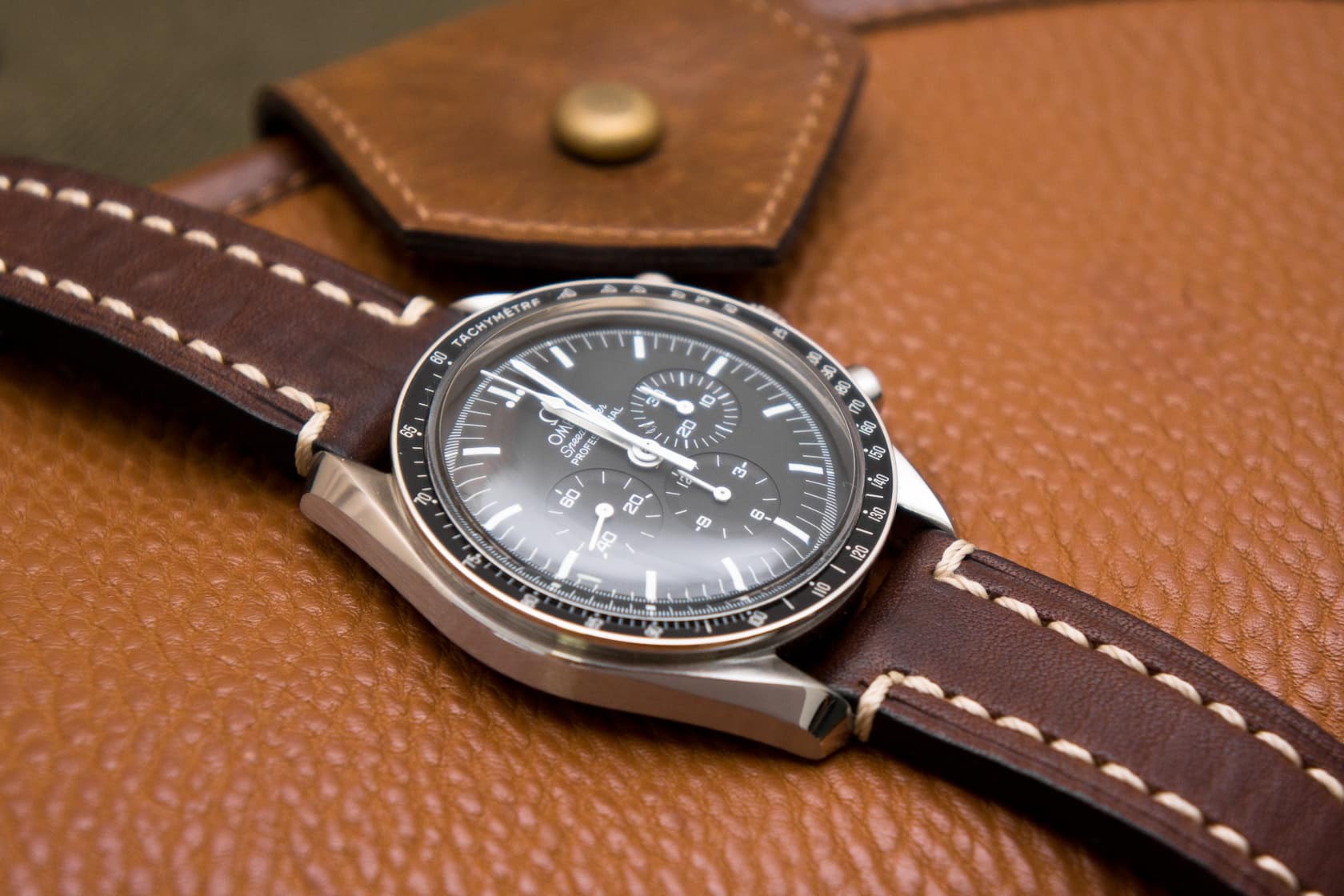 Above is a brown calf strap by Hirsch, called Liberty.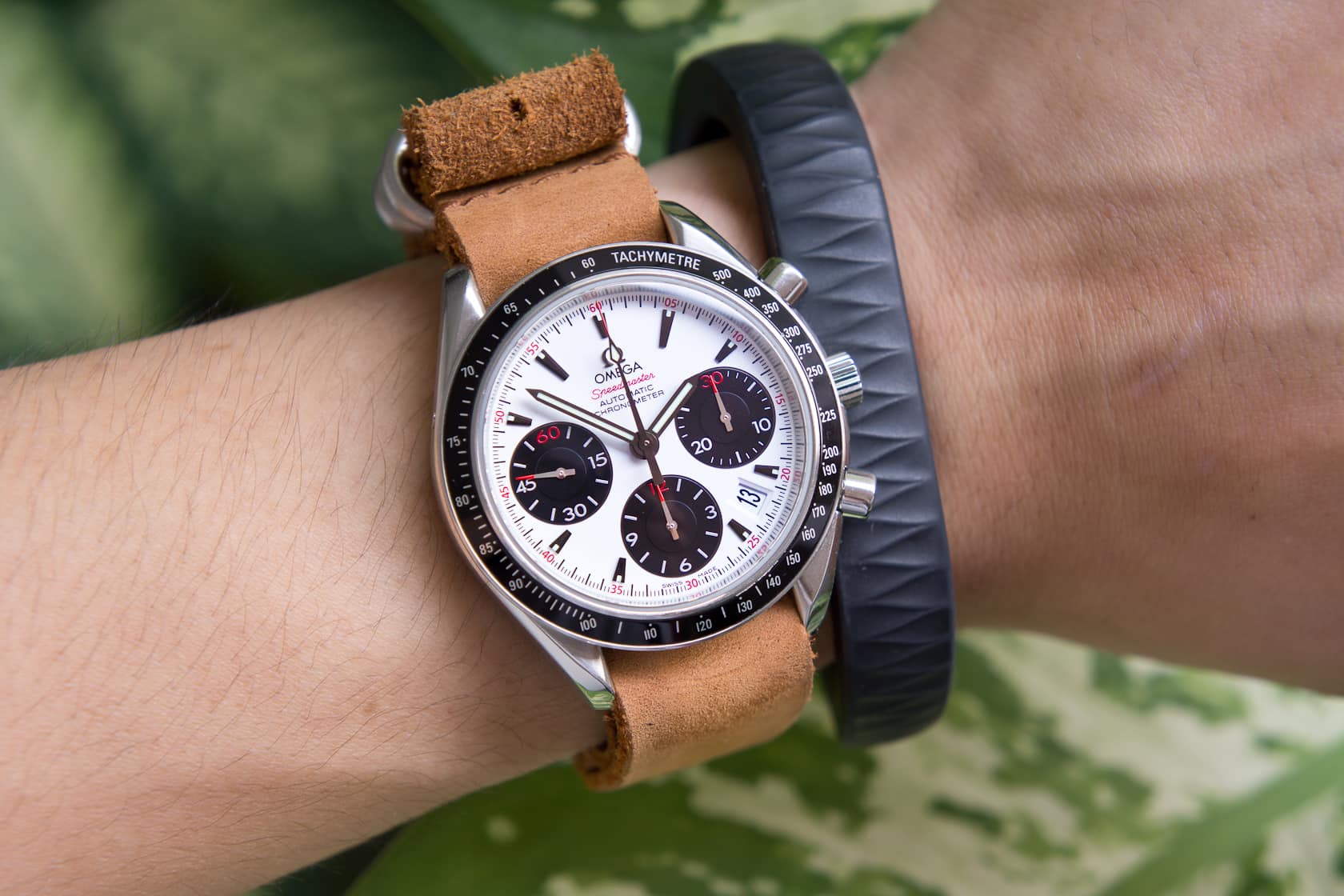 The leather NATO strap above comes from Crown and Buckle, mentioned earlier in this article.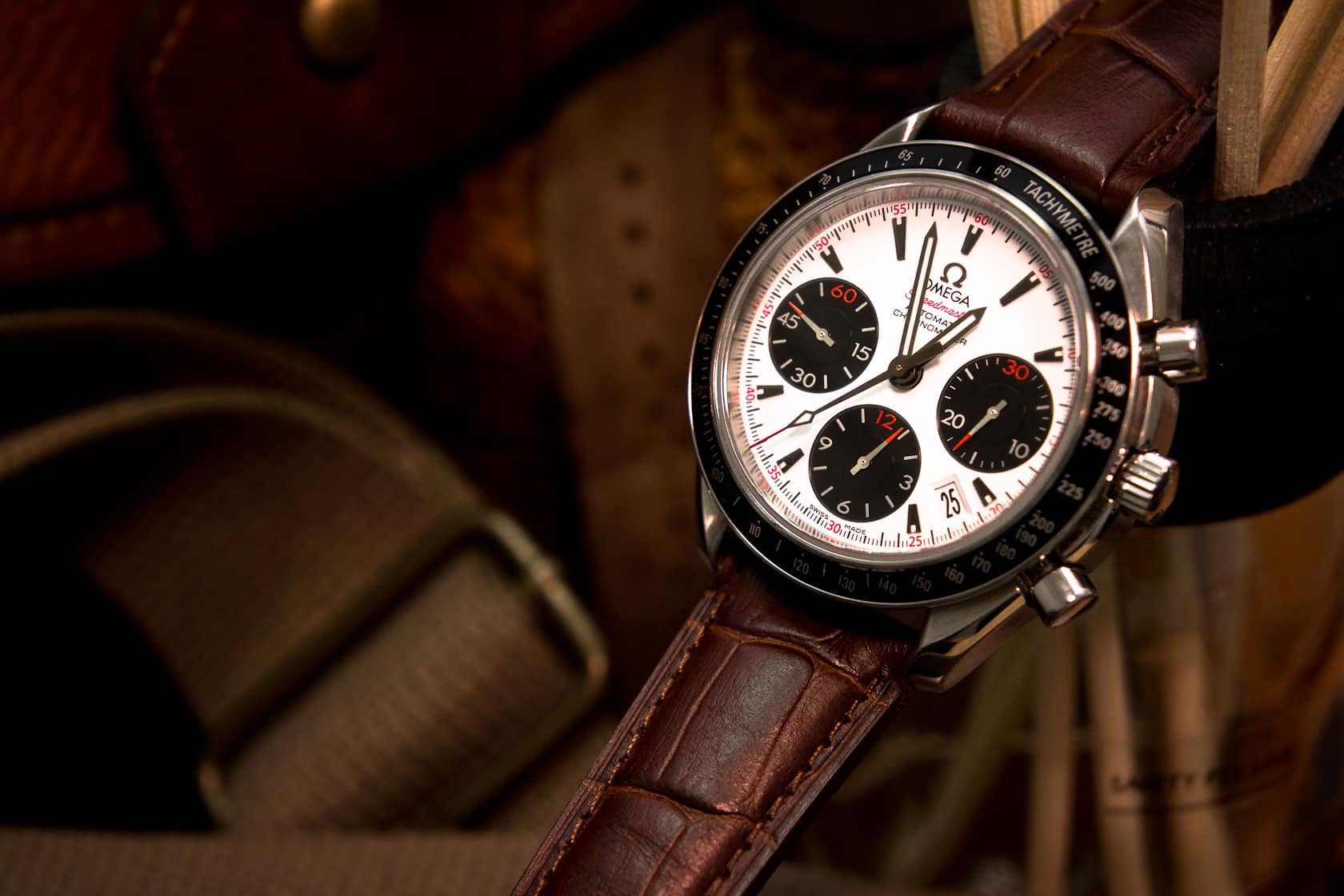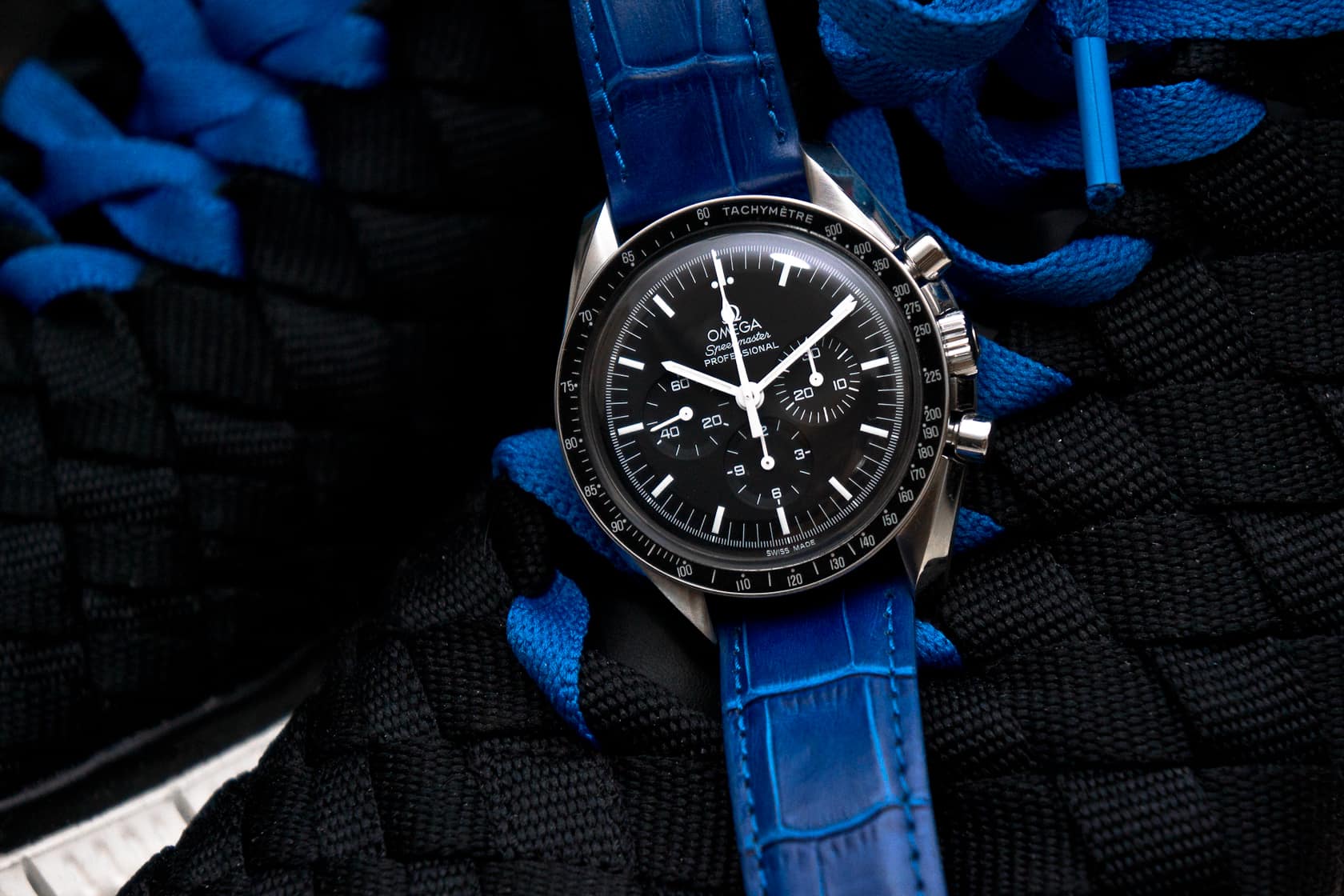 The two straps above are by Paros. The blue looks amazingly good on a Speedmaster we think.