#TBT Girard-Perregaux Chronometer HF – Before the Dawn of Quartz
Today on #TBT, we'll take a look at the Girard-Perregaux Chronometer HF. It's a watch that I grew up seeing a lot as a child since it belongs to my father, but it also spent some time with me recently while being serviced in Europe. The GP's distinctive cobalt blue dial was always attractive to me, but it was only somewhat recently that I recalled my Dad's comments about the watch's distinctive movement and decided that it deserved a little time on our site.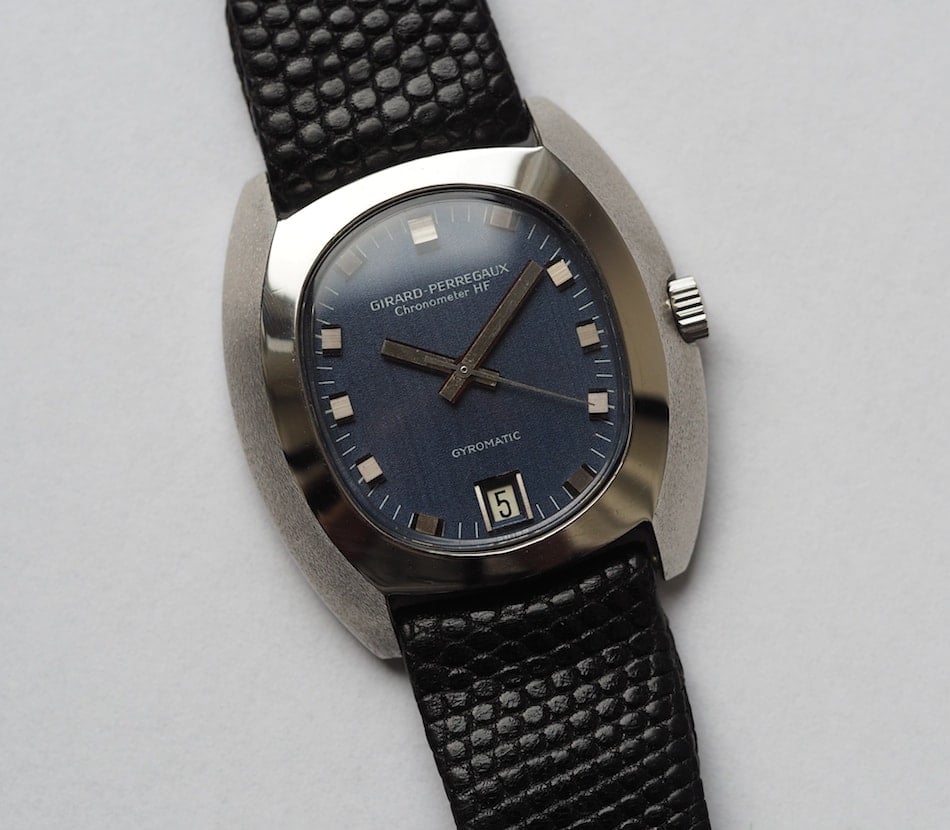 GP isn't a brand we feature heavily in general here on Fratello Watches, but a scroll through our archives does reveal that we've covered a vintage piece before aside from today's Girard-Perregaux Chronometer HF. In fact, the article was penned by a guest writer about the very first GP Chronometer HF from 1966. HF, by the way, stands for "high frequency" and the aforementioned article gives a great account of how Girard-Perregaux developed and introduced the world's first 36,000 bph movement. GP edged Seiko by a year as the Japanese brand introduced its Lord Matic (we've covered various Seiko Hi-Beats) and then in 1969, we saw the release of the well-known trio of distinctive hi-beat chronograph movements.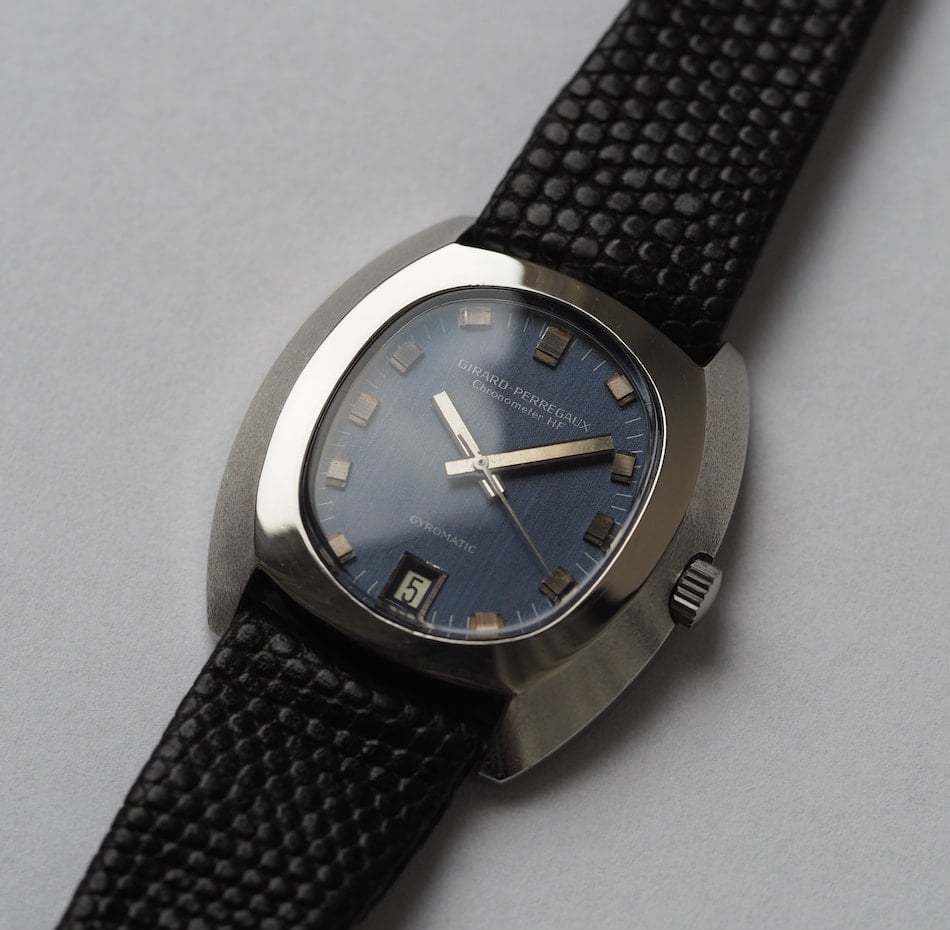 Today's Girard-Perregaux Chronometer HF was actually purchased in 1972 on my parent's honeymoon in Nassau. It represents one of the last iterations of GP's HF line and features an automatic 39-jewel caliber 42 (the original models from five years prior were known as the caliber 32) that brought enhanced power reserve when compared to earlier variants. With its funky tonneau-shaped case, the HF exudes 70's style, but don't mistake that comment for my thinking that the watch looks or feels passé.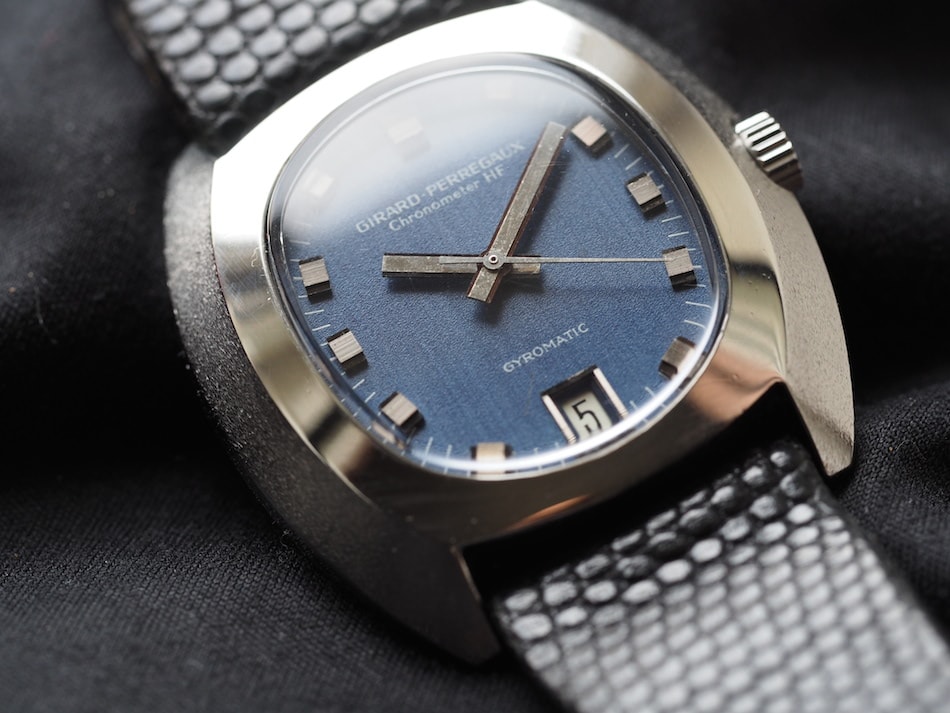 Unlike a lot of watches from the era, this Girard-Perregaux Chronometer HF isn't a massive flying saucer of a watch that makes one look like an outdated eccentric. Instead, it actually strikes me more as an advancement of designs such as the Patek Philippe Elipse and there are even small hints at what's to come in designs from Genta. Yes, it's of the time, but it doesn't suffer from gaudy adornments or a busy dial design. That dial design is something to gaze upon as it features a grain-like finish that runs vertically across that perfect stony blue color. The applied square steel-colored markers match the blocky hands perfectly and symmetry is maintained with a 6:00 beveled and bordered date window. To top it off, the GP contains a uniquely shaped acrylic crystal that follows the form of the case. The crystal rises slightly above the case and, amazingly, the watchmaker who serviced the watch the first time was able to find an original replacement.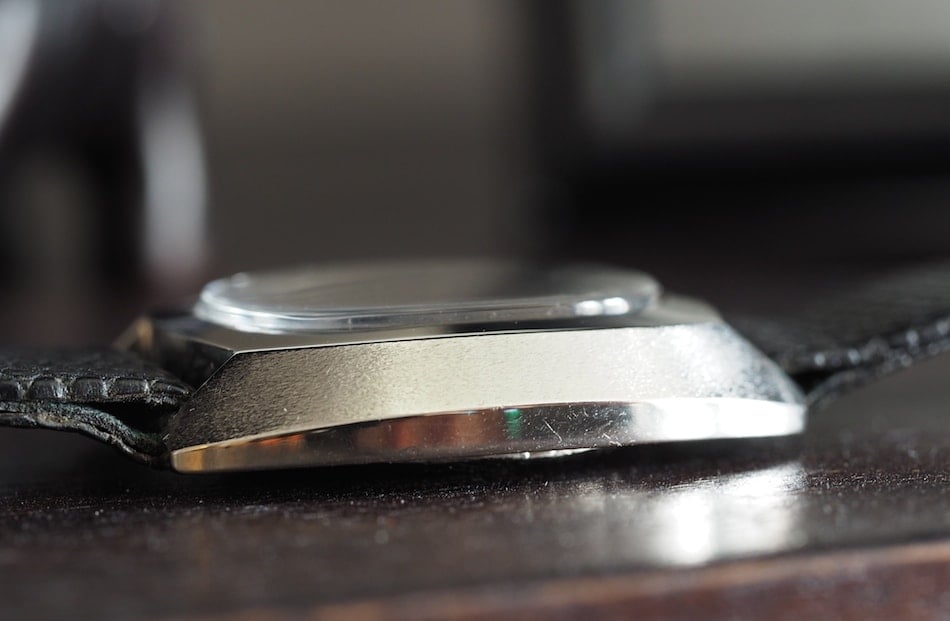 The stainless case on the Girard-Perregaux Chronometer HF contains a couple contrasting surfaces. As in the case of Seiko's such as the Kings and Grands, this GP would lose a lot of its charm if left at the (heavy) hand of a polisher. The sides of the case contain a bead blasted type of finish that creates a distinctive border with the polished top surface. Again, there are examples – some on eBay today – where this abrupt transition has been lost and it makes a real difference.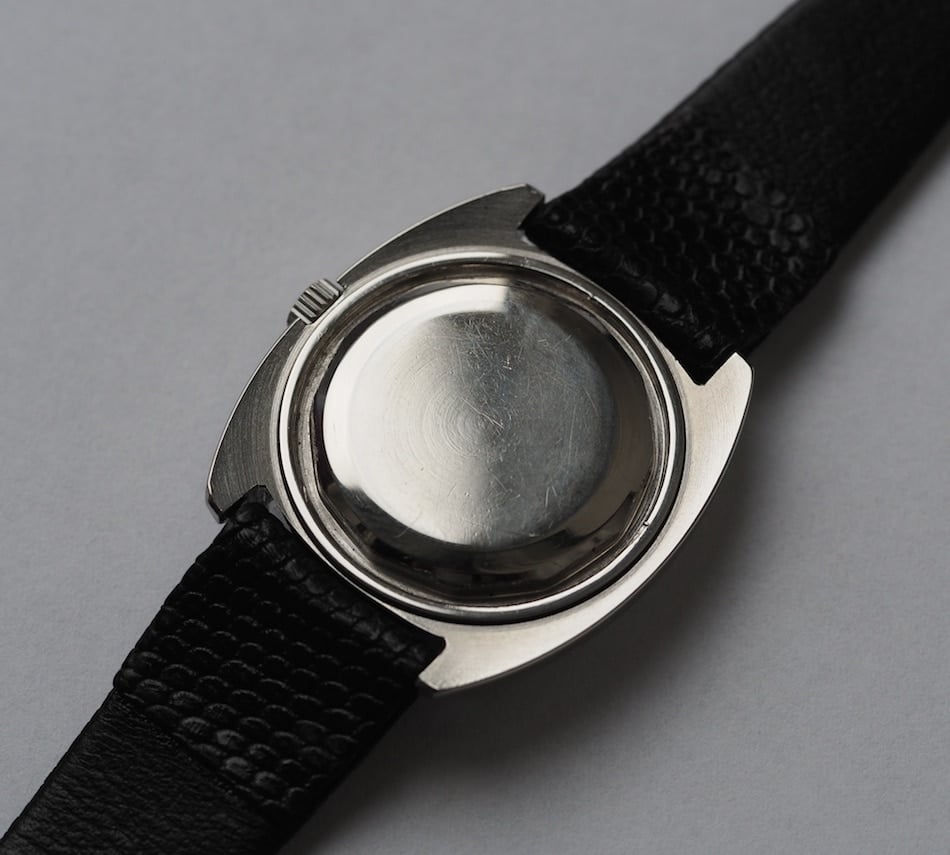 Flipping the watch over, there's a simple unsigned screw-down case back. I have no idea what water resistance was initially indicated with the HF, but I'd keep it away from the wet stuff. Finally, the crown on this piece is unsigned, but we do believe it originally came with a "GP" adorned piece.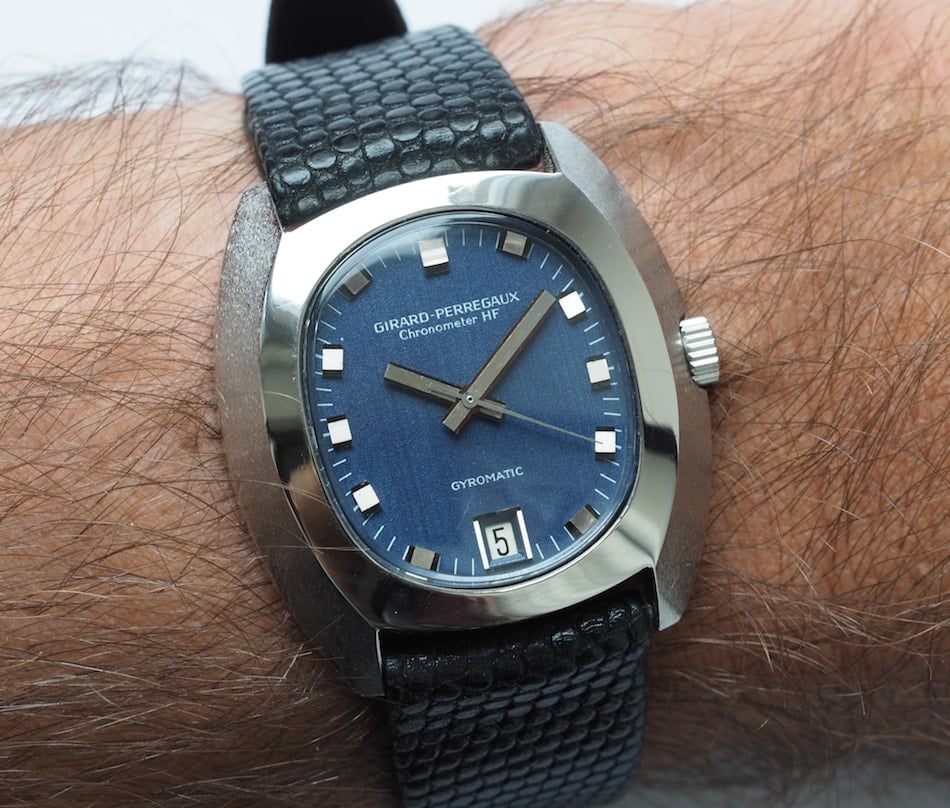 With a size of 35mm wide and a length of 38mm in length, one might think that the Girard-Perregaux Chronometer HF wears small, but it somehow doesn't. The 18mm lug width helps add some visual weight and the watch looks great on the wrist. It's not overly thick, but the way the case builds height helps the situation as well. Plus, due to the dial color, think of it as a watch that could do duty in most situations outside of those involving sports. Plus, with blue being a hot color right now, it actually looks fashionable.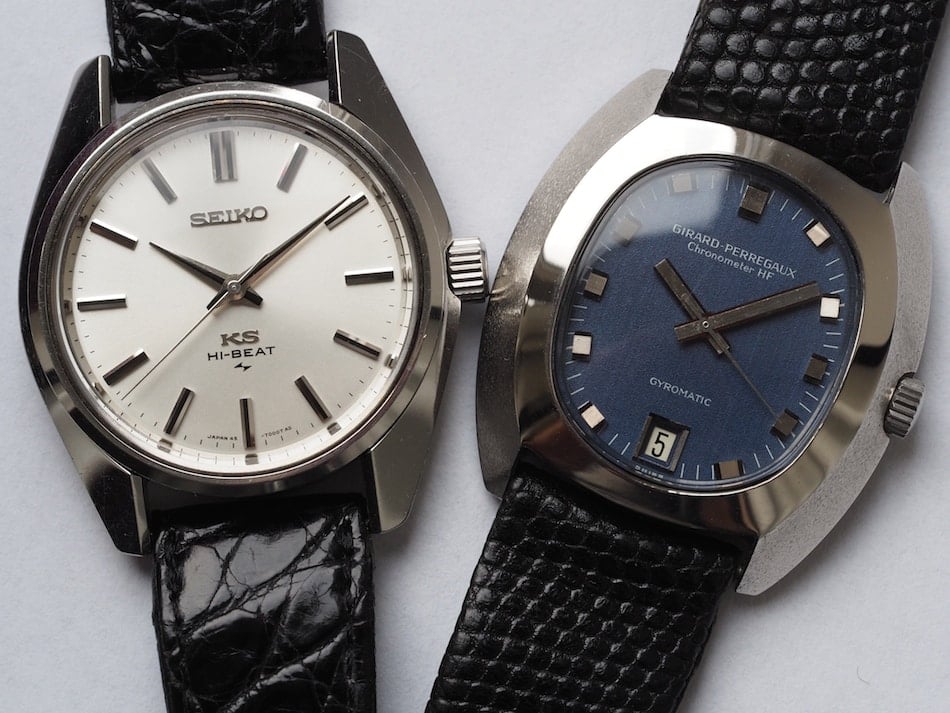 Inside the Girard-Perregaux Chronometer HF, we have the caliber 42 automatic. As mentioned, this movement beats at 36000 bph. It takes a little effort to get things going – these hi-beats have a long mainspring that requires more winding than normal I find. The movement hacks and the date is a semi quick-set, which means that it can be changed by toggling the hands back to 10pm or so and then past midnight to advance things. One thing that I didn't know until reading our article on the original HF's is that these movements used an A.Schild 1687/1688 base movement and were then modified using twin freewheels to help work with the increased frequency. I see it as a stout runner, but my Dad clearly ran into a patch of bad luck before handing it to me for service in Europe. The watch simply hadn't run well in years, but now it's back to keeping great time. A big thanks to our watchmaker Paul – hopefully he reads this as he's been spending most of his time camping outside of stores for the newest Balenciaga sneaker releases.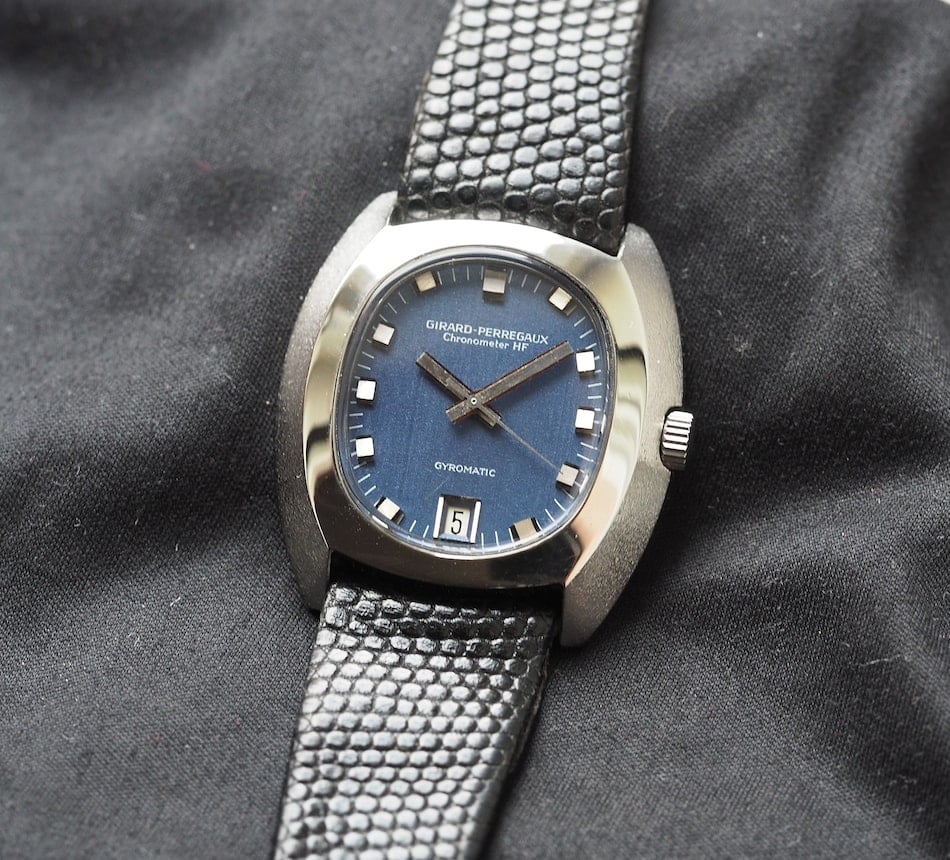 Finding a Girard-Perregaux Chronometer HF such as this can be difficult. The came in multiple dial colors, but many have been heavily polished or show signs of moisture entry. Values, if one takes eBay as gospel, are all over the map, but I'd guess that somewhere around $800 – $1,000 would be a fair price of ownership for some serious horological history. Sure, the GP's lack a true in-house movement, but for many, a Swiss watch resonates more than, say, a Seiko with the same frequency movement. If owning hi-beats is your thing, it's hard not to own at least one of each as they're all still relatively inexpensive.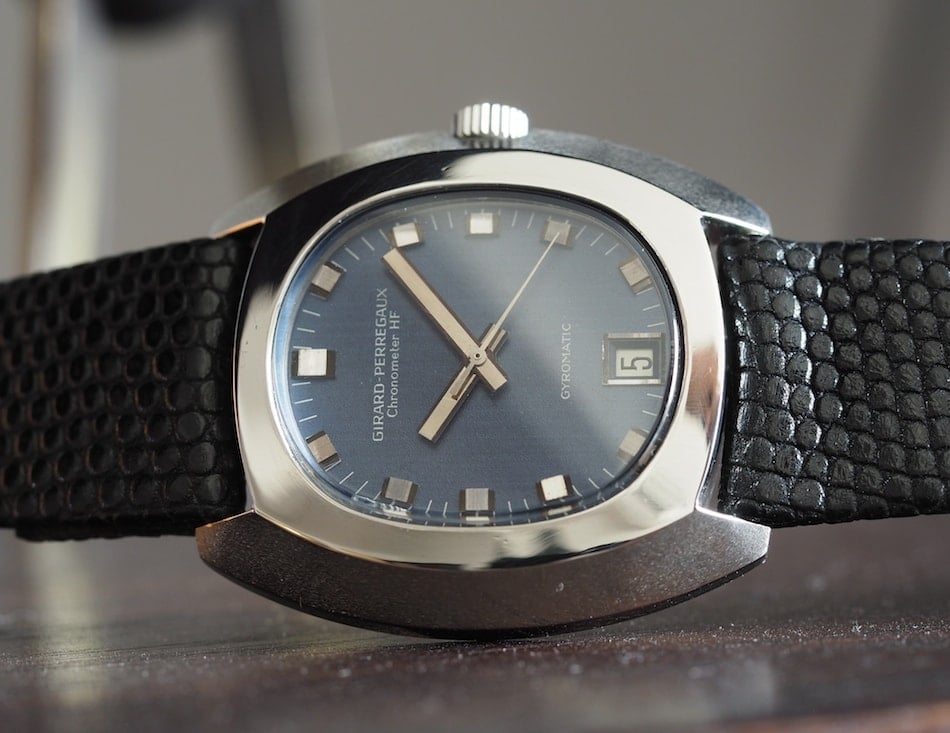 The Girard-Perregaux Chronometer HF and its many variants represent a narrow, yet pivotal, period in watchmaking. This was a time when watchmakers knew that increasing frequency was the only way to enhance accuracy, yet they saw electronic and, most certainly, quartz watches on the horizon. In fact, GP switched to quartz soon after the HF, thus ending the production of these mechanical watches with their mesmerizing sweep hands. Thankfully, this example will keep on (hi) beating away. Until next time…