The New 36mm Rolex Explorer Is Right Where It Needs To Be
Hitting the sweet spot once again
Rolex decided to make Watches and Wonders 2021 all about the Explorer. As always, the news was surprising for what came and what didn't. For some of us, the news of a return to 36mm was welcome…
Rolex is like a box of chocolates; you never know what you're going to get. Each and every year, the internet wizards bring out their Ouija boards before the shows in an attempt to channel the spirits into revealing the next Rolex releases. Just like clockwork, these pundits are wrong on an annual basis. This year, everyone felt that the Explorer was due. Well, they were right, but the predictive details were woefully incorrect.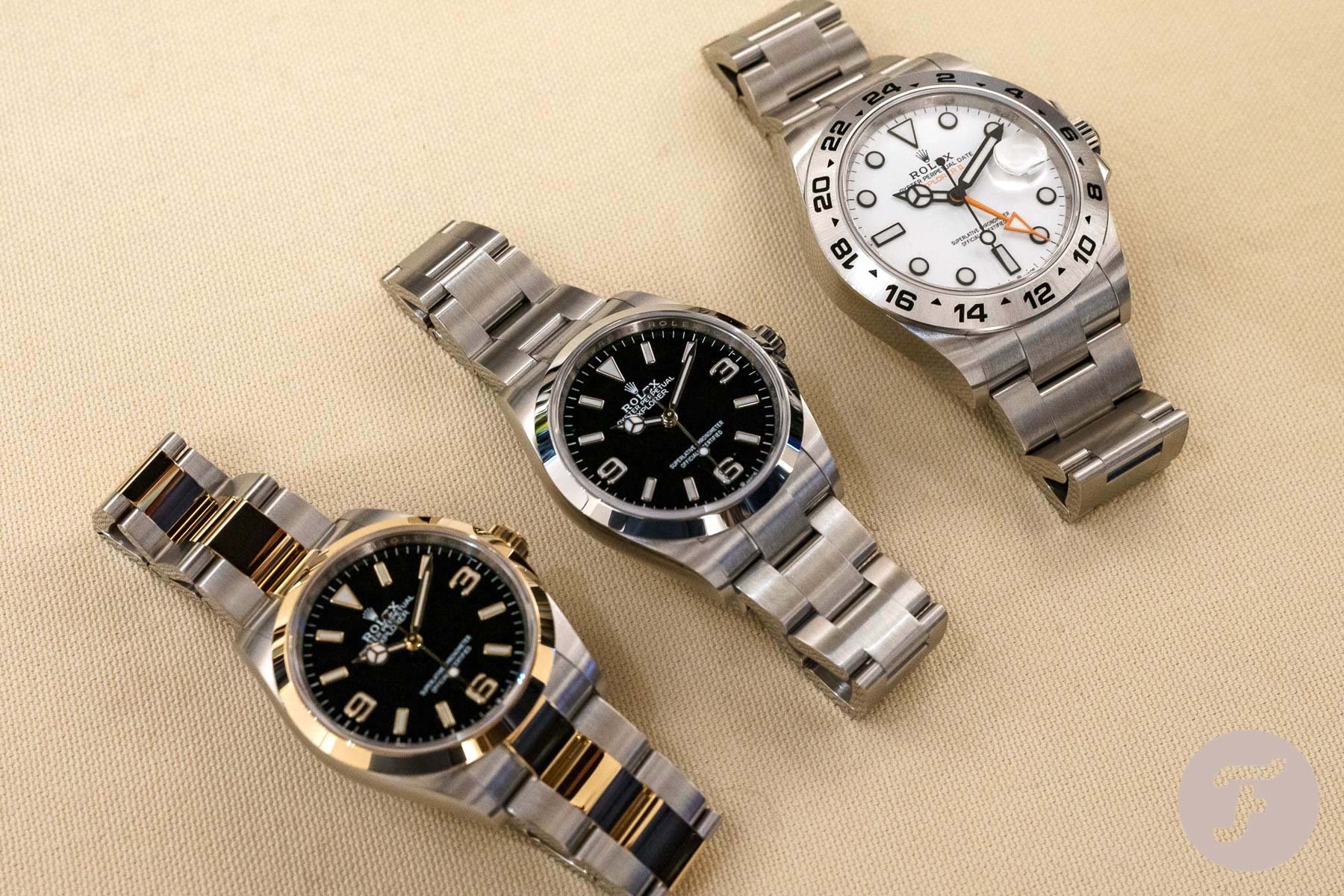 The Explorer was in focus this year
Firstly, Rolex refreshed the Explorer II by giving it the 3285 automatic, a slightly different case, and bracelet. That was all. Those hoping for a smaller size or a different color palette will need to wait another five or ten years. Thankfully they were wrong about a ceramic bezel — yuck! Secondly, and in a bit of a surprise, Rolex went to work on the basic Explorer. They brought it back to 36mm as the 124270 and also introduced a two-tone 124273. The latter move made all the headlines for a couple reasons.
It had been decades since anything other than an all steel Explorer had been on sale (look up the 5501 for reference). Most saw this mixing of metals as a novel move, so it truly came off as a complete surprise. Next, the weird thing was — and still is — the fact that Rolex really only spoke about the two-tone model at the face to face meeting Gerard attended. They barely brought out the steel 124270 variant and only at the end. Heck, it isn't even in the press release materials!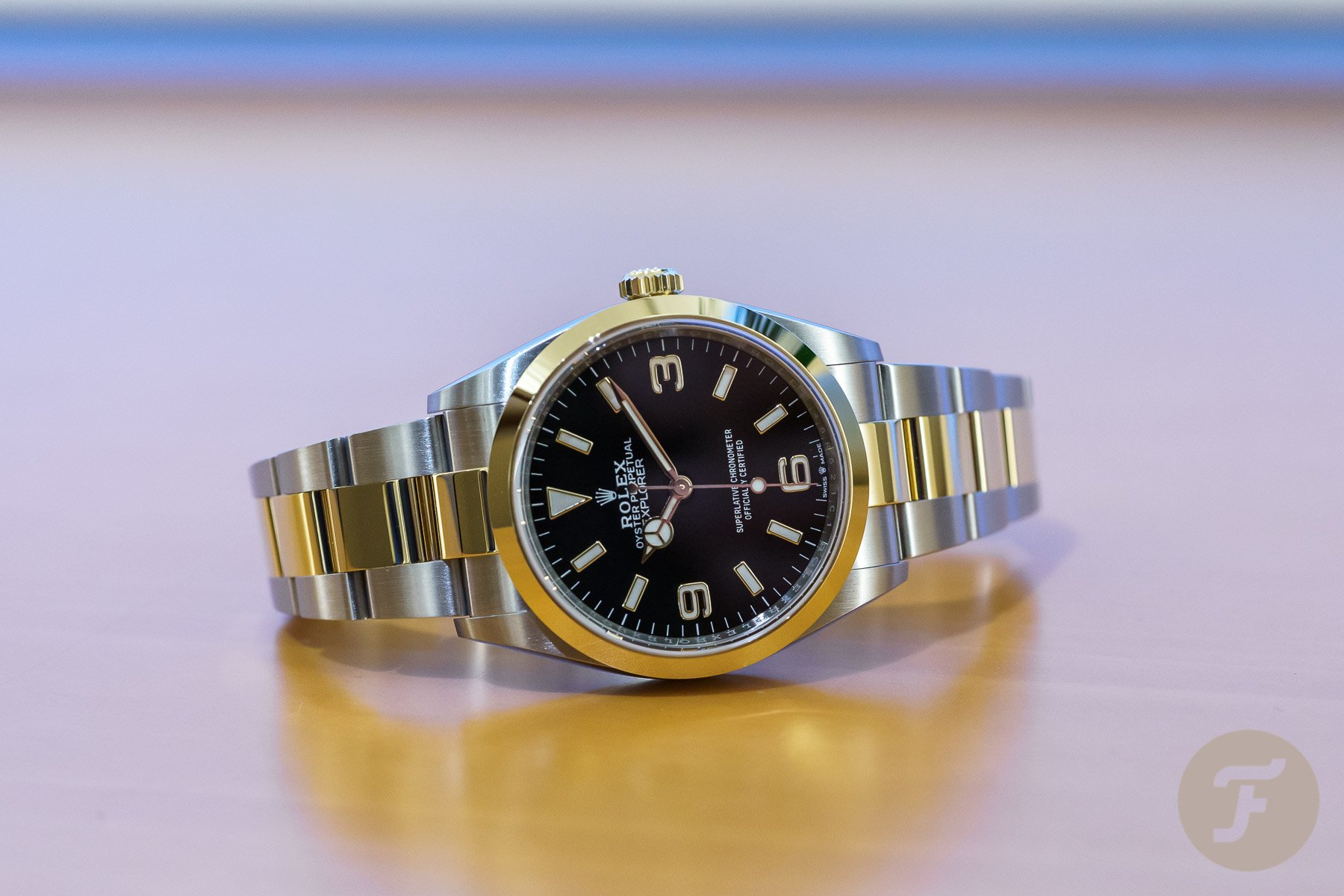 Perhaps you own the decoder ring to better help understand the Rolex press release strategy, but we don't. So, instead of focusing on whether you like steel or two-tone (I like steel, but pictures are lacking), let's talk about the size change because I think it's the bigger deal. That news relates to size and it's a huge move…if getting smaller is big. After nearly a decade of living in an awkward, proportionately messy 39mm case, the prodigal son has returned to its rightful 36mm home. Rejoice!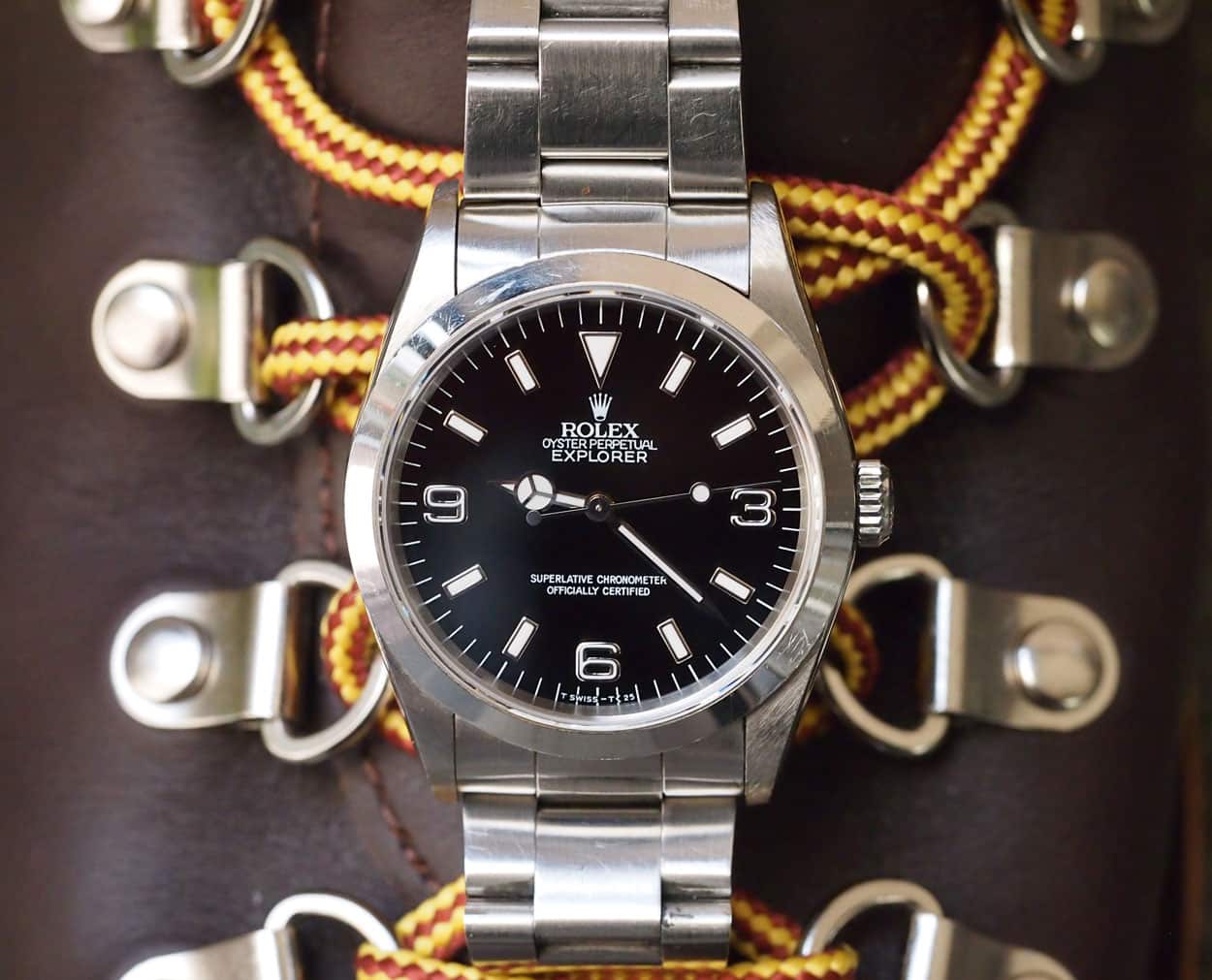 36mm is where the Explorer belongs
If you've followed me here, know me, or see me on Instagram, then you know how much I love my late '90s Explorer 14270 (above). It's a special watch to me because I bought it a few months after I graduated from college. From the moment I acquired it, it lived on my wrist for the next 13 years or so and it always ran without fail. Furthermore, even though I picked up a few watches during that period (truth!), the Explorer was always my go-to piece. From a swimsuit to a business suit, the Explorer always looked good. Oh, and it still does because it's a modern Rolex and that means that it should look relevant for a long time. But what about its diminutive size?
I guess things have changed with how people look at 36mm watches, but I still remember a good friend with his frequent comments about my watch. He regularly wore a big Panerai in the early 2000's and was eyeballing other Goliaths such as the IWC Big Pilot. Still, he liked my Explorer. He liked it because he truly disliked Rolex, but felt that the Explorer was so spot on with its understated looks and flawless symmetry. My friend wasn't the only one who felt that way because I often got comments like, "wow, that's a Rolex? It isn't so flashy or bright."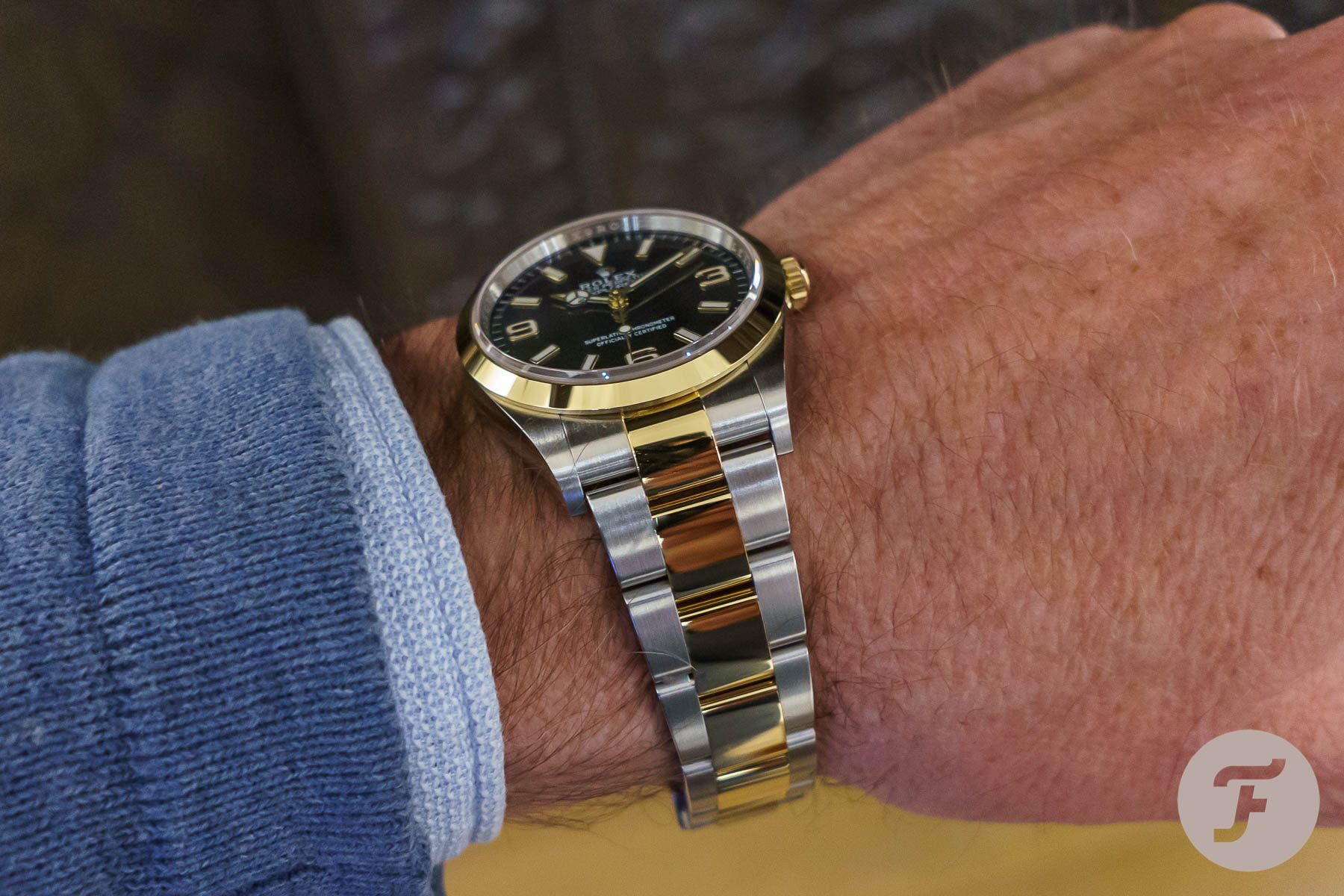 39mm was goofy
I think Robert-Jan put it correctly when he said the last decade of the Rolex Explorer was forgettable. Upsizing a mere 3mm should have been an easy play, but sadly it wasn't. The 39mm Explorer 214270 just didn't hold the same dial design ratio as its predecessors. Then, a boner of a move on the first generation with mini-sized hands exacerbated the emptiness of the dial. The second generation with longer hands was better, but the watch still missed something. The Explorer wasn't alone with this affliction, though. The Datejust and Day-Date suffered (and I think they still do) the same fate when moving away from the perfect 36mm diameter.
People have had it beaten into their heads for so long that life begins at roughly 40mm, that many will run away from the new Explorer. I'd call that a real shame because these watches fit far better than you'd think. With stock 20mm lugs and a commanding dial (not to mention end links that extend the lug to lug), it's the type of watch to make you forget all others. No more grabbing a shirt cuff and pulling it over the watch or smacking it into table edges or door handles — the Explorer just fits. Plus, with 100 meters of water resistance, it can take just about any type of abuse.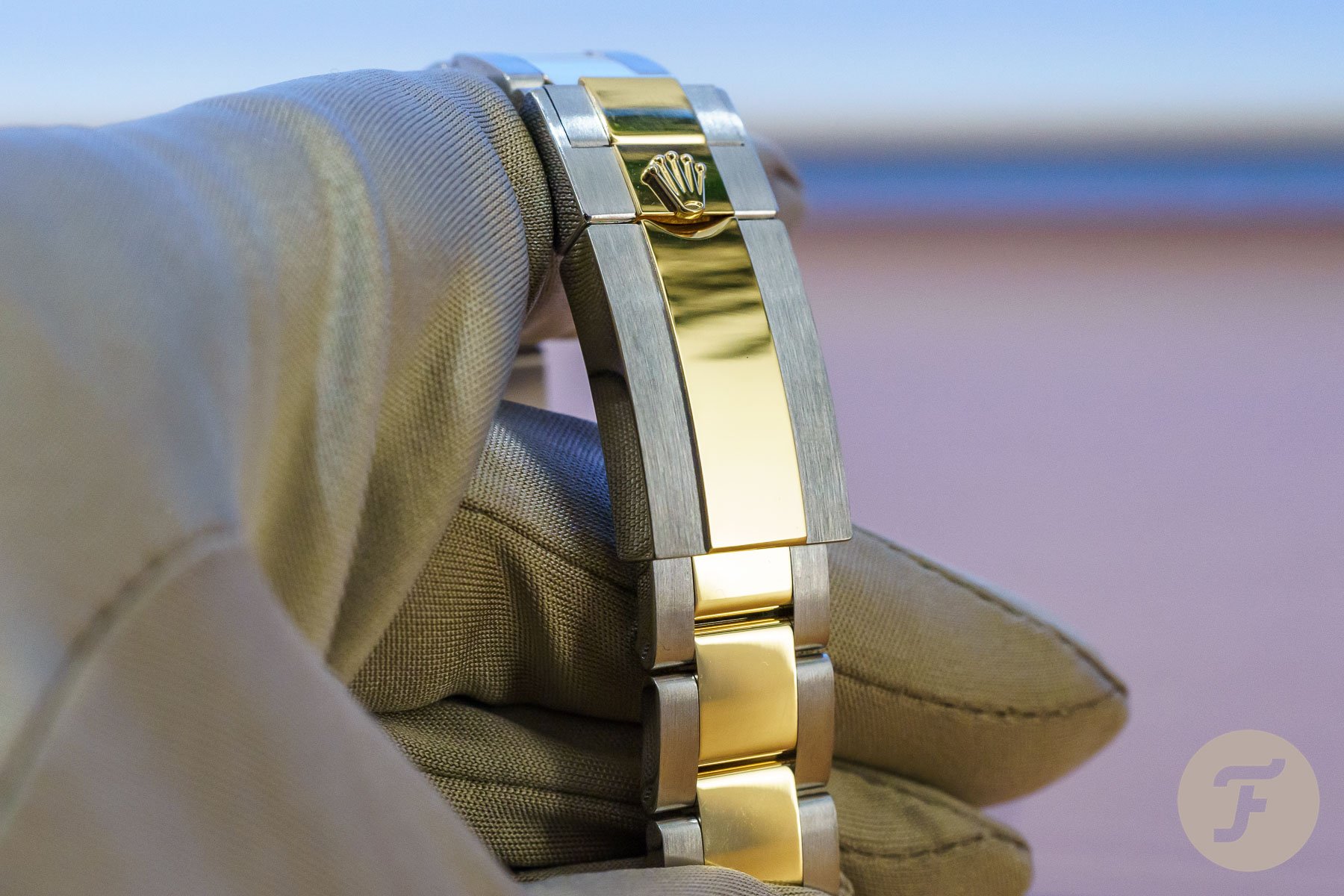 Nice new touches
The reincarnation of the 36mm Rolex Explorer brings some thoughtful touches. We get an all lume dial (indices and numerals) on a glossy dial. The movement jumps to the 3230 caliber with 70 hours of power reserve. The bracelet is the Oysterlock with a safety clasp and a quick adjustment to give up to 5mm of flexibility. There's absolutely nothing I dislike here and the dial is a nice successor to the last 36mm piece: the 114270. Do I like the two-tone? I haven't made up my mind yet, but I'd go steel eleven times out of ten since you're asking. I don't find it sinful, though.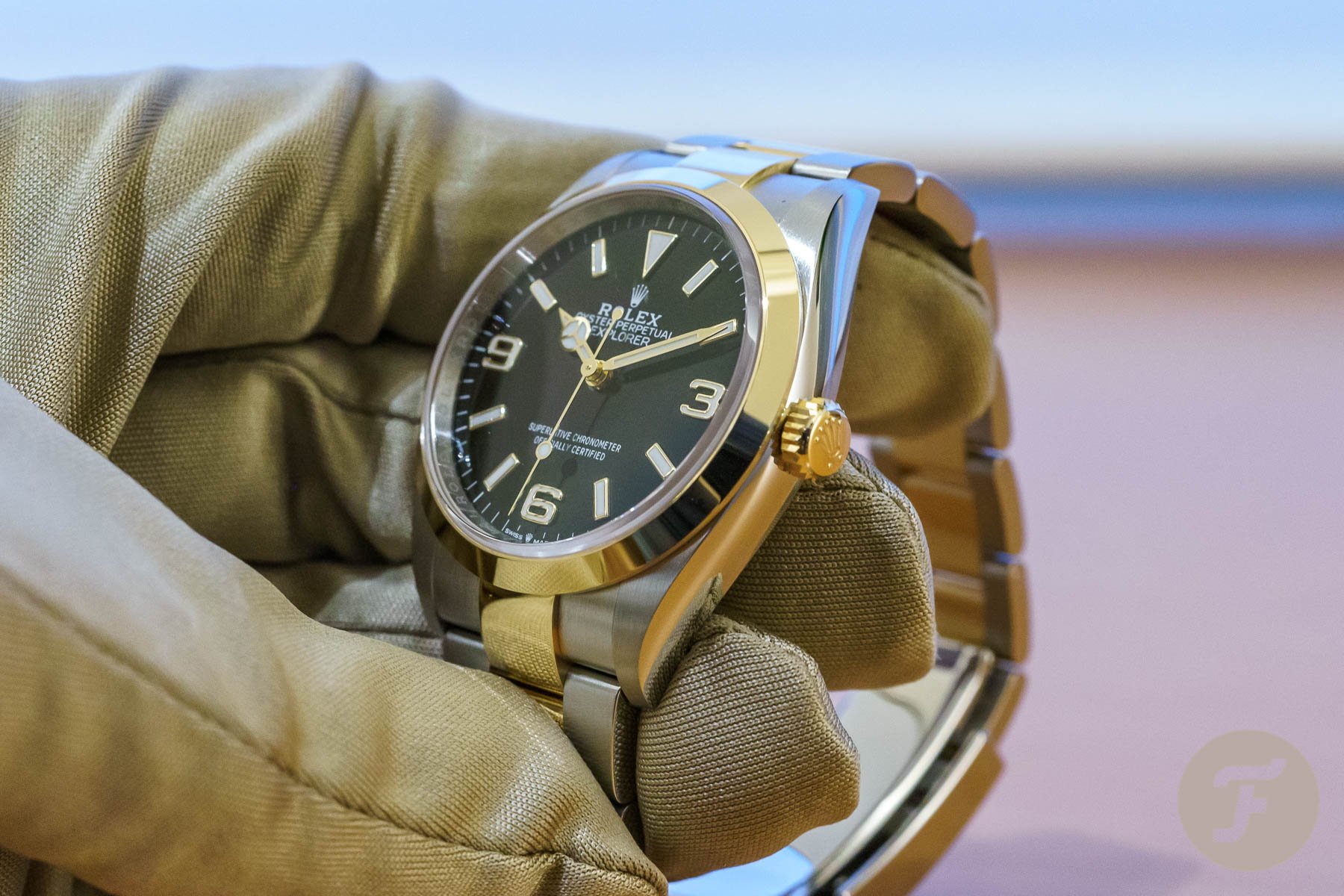 Buyers will get a break
The newest Rolex Explorer — whether in steel or two-tone — could be the first steel sports Rolex that doesn't garner a waitlist. In the beginning, this won't be the case, but I'd guess that things will settle out rather quickly. The size will make quick work of its potential customer base. The upside is that buyers looking for a fantastic watch should finally have their chance. Rolex prices the new steel Explorer at $6,450 (the two-tone is a whopping $10,800) and I think that's downright approachable for a watch that very well could be the last watch anyone needs or buys. Folks, bigger wasn't better on the Explorer. We can complain about a lot of things that Rolex does or doesn't do, but they got this one right.
For more information on the new Rolex Explorer, visit the official Rolex site.