The New Doxa SUB 300T Clive Cussler Special Edition
Commemorating the life of an adventurous novelist and shipwreck hunter
There is an unmistakable and common connection between watch brands, adventure, and exploration. Brands often support or commemorate a human exploit, whether it be climbing the tallest peak or discovering a legendary shipwreck. Omega is inextricably tied to the Moon landing, while Rolex is linked to deep-sea exploration. Thanks to Jacques Cousteau, Doxa has a deep connection with the study of underwater flora and fauna, as well as exploration in general. This is thanks to Clive Cussler and his iconic fictional character Dirk Pitt. Doxa recently released a unique commemorative version of the SUB 300T, which bears the name of the famed American novelist and underwater explorer. Let's take a look at the Doxa SUB 300T Clive Cussler.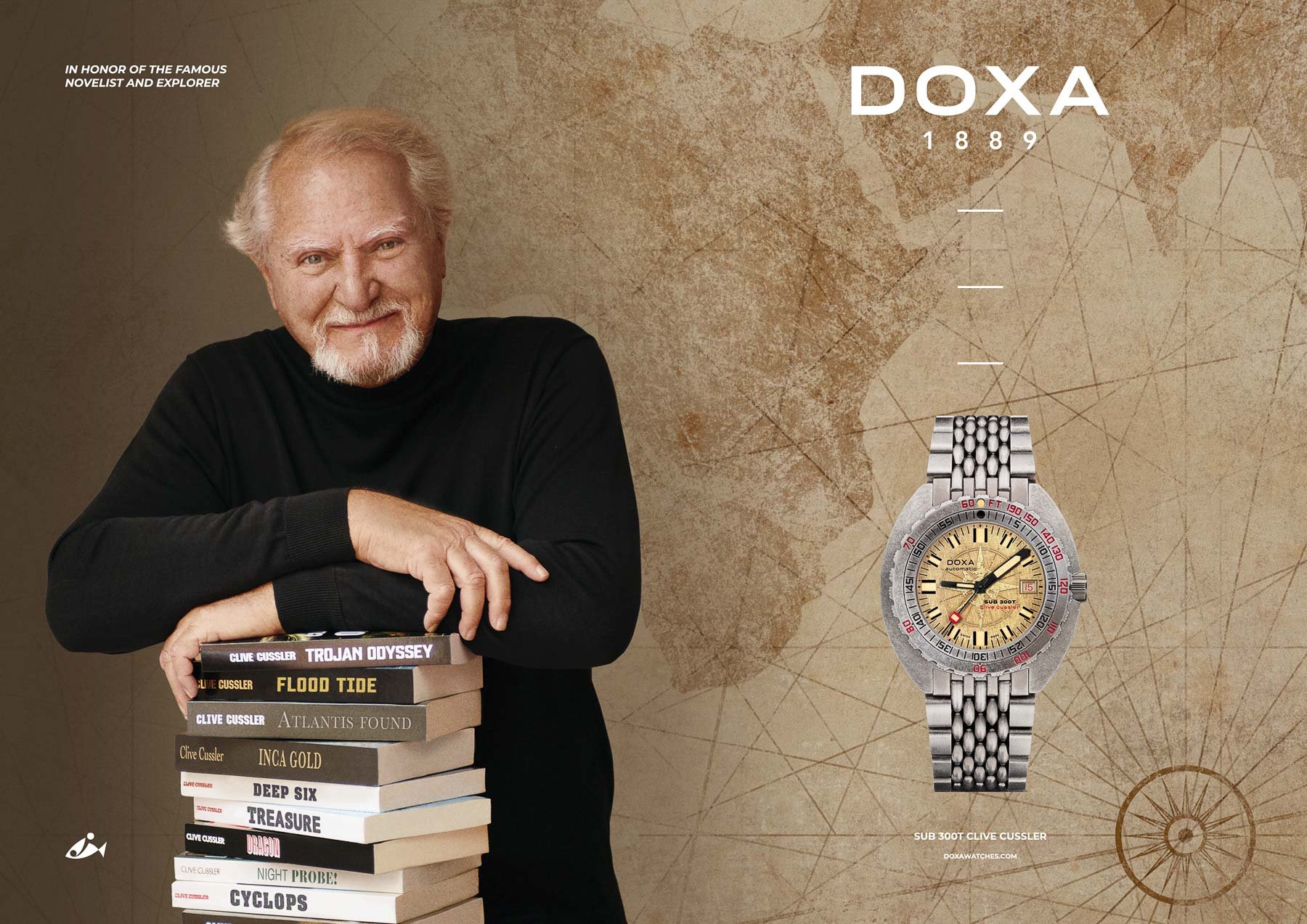 Clive Cussler and the Doxa SUB 300T
Over a career spanning more than four decades, Clive Cussler wrote 85 novels. He took his famed fictional hero Dirk Pitt through the most perilous adventures that revisited some of history's key moments. Dirk Pitt was a marine engineer and government agent (something that will make sense later) and was portrayed by Matthew McConaughey on the big screen in 2005's Sahara. In this adaptation, the actor sported an orange-dial Doxa SUB 300T like the character in Cussler's novels. Cussler himself was a huge fan of the brand and wore the same watch during his underwater hunts for shipwrecks. 
Besides his prolific writing career, in 1979, Clive Cussler founded NUMA, the National Underwater and Marine Agency. This was the same originally fictional agency that employed Dirk Pitt. It is through the real NUMA that Cussler embarked on an almost-obsessive search for shipwrecks, of which he found 72. Among his discoveries is the RMS Carpathia, which was the first maritime vessel to rescue survivors of the Titanic. On all of his hundreds of dives, Cussler allegedly wore a SUB 300T, which eventually showed clear signs of heavy use.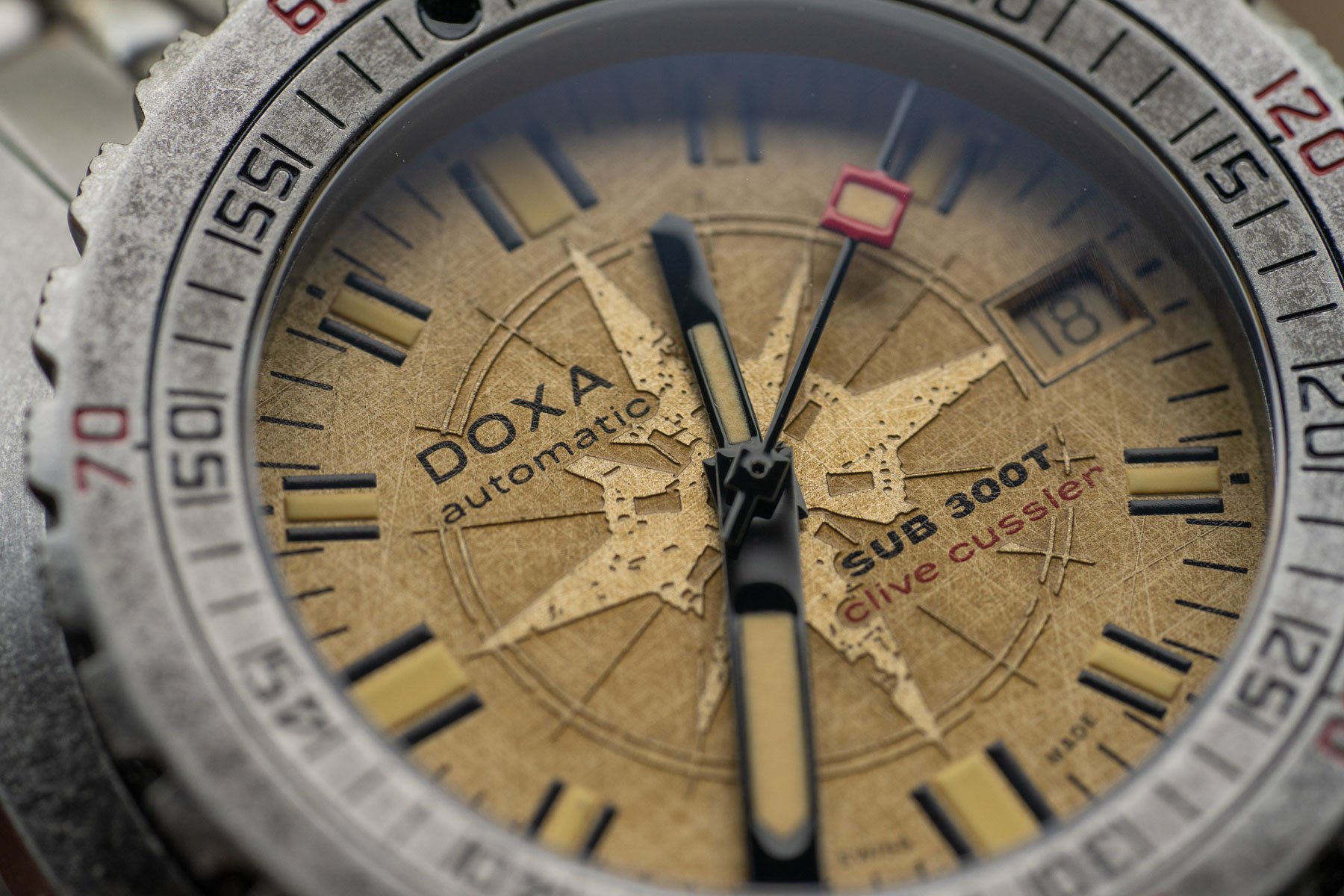 The Doxa SUB 300T Clive Cussler
To commemorate Cussler's writing career and underwater exploits, Doxa created a special-edition SUB 300T.  This model bears the same dimensions as the regular SUB 300T, meaning a case diameter of 42mm, a length of 44.5mm, and a thickness of 13.65mm. It also boasts an impressive 1,200m water resistance rating, which should be plenty for anyone looking for shipwrecks. The special-edition SUB 300T Clive Cussler comes with a beads-of-rice bracelet with a ratcheting diver's extension as well as a beige NATO strap. It is, looking at the specs, a classic Doxa diver that sealed the brand's reputation for making outstanding tool watches.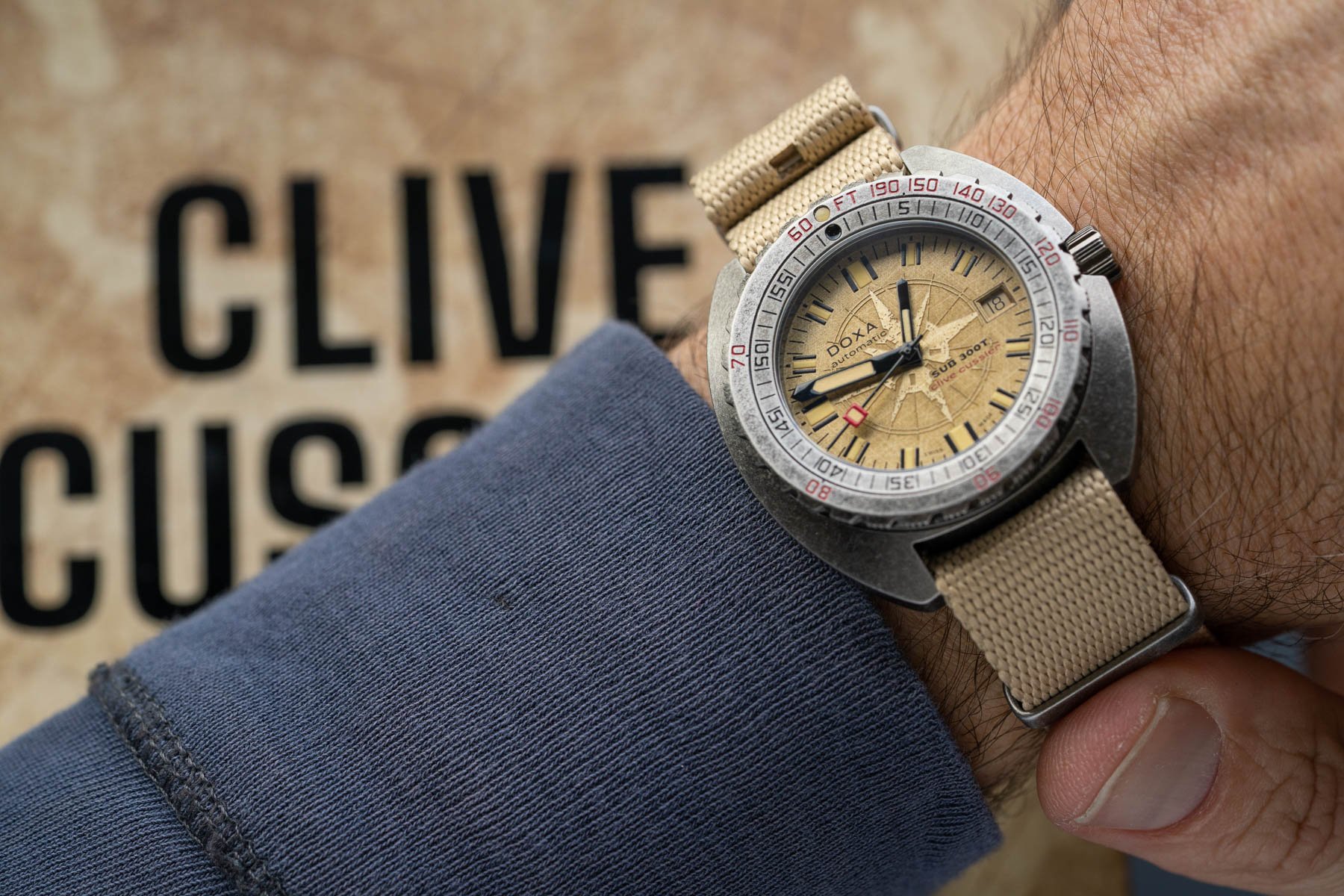 A new take on a classic
From both a visual and manufacturing standpoint, the special edition is indeed quite special. Doxa's classic orange dial makes way for the image of an aged compass rose, reminiscent of Pitt's and Cussler's extensive adventures. Furthermore, the dial and date wheel received an aged tan color with matching lume on the hands and painted indices. To commemorate the author's birthdate of July 15th, 1931, the 7, 15, and 31 on the date wheel are red. This color combination is unique for a Doxa and, along with the author's name in red, truly pays tribute to Clive Cussler's career and underwater explorations. 
To make the Sub 300T look like an artifact Dirk Pitt would have found on a treasure hunt, Doxa gave the case and bracelet a unique treatment. The brand aged the steel to appear as if it had been rolling on the bottom of the ocean floor for a few decades. The same treatment was miraculously applied to the bracelet, and the whole package looks like a well-worn diver — a bit like Clive Cussler's SUB 300T. Furthermore, the case back is engraved with the names of the 72 shipwrecks that Cussler and NUMA found. Each unit also displays an individual number, unusually, on the side of the bezel.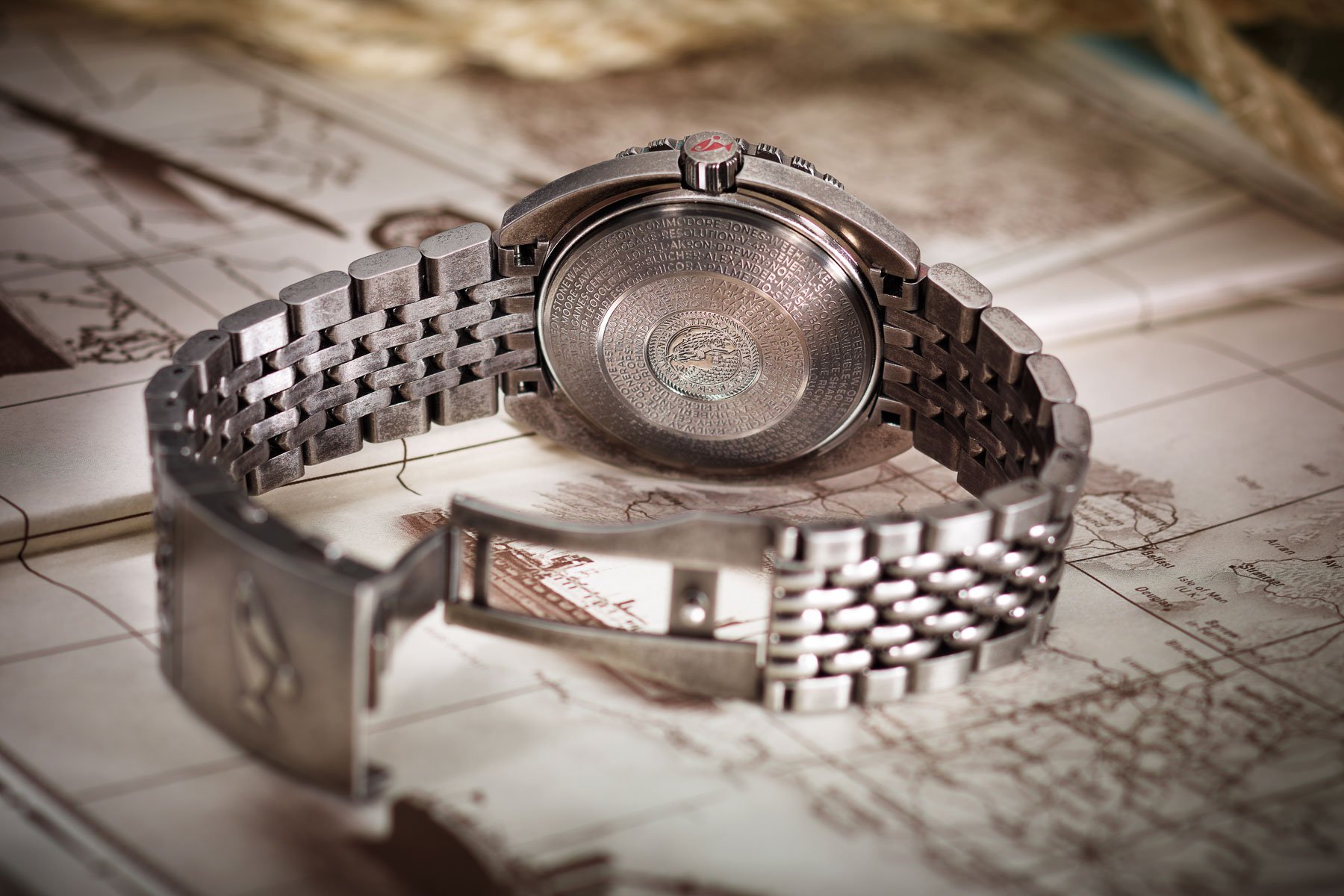 Final thoughts
If you are a fan of Clive Cussler and Dirk Pitt and are into shipwreck hunting, then this special-edition SUB 300T is for you! Due to its uniqueness, this model costs €700 more than the regular SUB 300T. Thus, you really have to like the look of it to pull the trigger. It is indeed a unique take on a special-edition watch, and I've never seen anything quite like it. I like how Doxa managed to infuse it with a unique blend of Cussler's and Pitt's lives and adventures. 
The special-edition Doxa SUB 300T Clive Cussler retails for €2,690 on the bracelet, and an FKM rubber strap is available for an extra €490. The watch is now for sale via Doxa's website and at official Doxa retailers. Although it is a special and numbered edition, it is unclear how many of these were made.
What do you think of the Doxa SUB 300T Clive Cussler? As always, share your opinion with us in the comments.
Watch specifications
Model
SUB 300T Clive Cussler
Dial
Aged tan color with manual decorative grinding, compass rose, painted indices, and beige Super-LumiNova
Case Material
Aged stainless steel
Case Dimensions
42mm (diameter) × 44.5mm (lug-to-lug) × 13.65mm (thickness)
Case Back
Solid stainless steel (screw-down) with special engraving
Movement
Sellita SW200-1 — automatic winding, 28,800vph frequency, 38-hour power reserve, 26 jewels
Strap
Aged stainless steel beads-of-rice bracelet (20mm width) with ratcheting diver's extension and additional beige NATO strap
Functions
Time (hours, minutes, central seconds) and date
Special Note(s)
Individually numbered special edition