The Rolex Datejust 16030 — Buying This Classic Wasn't Spooky
A bit of research and the right seller helped to allay my fears
The Datejust is about as classic as it gets. It's a dressier model from Rolex, but it has all the "go anywhere, do anything" traits from the brand that also make it a great everyday watch. For the many of you who find it boring, I won't try and persuade you otherwise. Others, though, might be going through a struggle that I recently encountered; namely, which model to buy and how to feel comfortable with the purchase. I settled on a Rolex Datejust 16030 and this is my tale.
It really doesn't matter which generation of Datejust one looks for, the variants are simply mind-boggling. This initially scared the living daylights out of me because I literally had no clue if what I was looking at was real or even correct for the model year. Seriously, go look at any model and the dial choices are astounding. Plus, that's before one even decides on bezel type (fluted, engine-turned, or polished), bracelet, or metal. Ultimately, I chose the Rolex Datejust 16030 out of a huge bag of treats, but it wasn't obvious.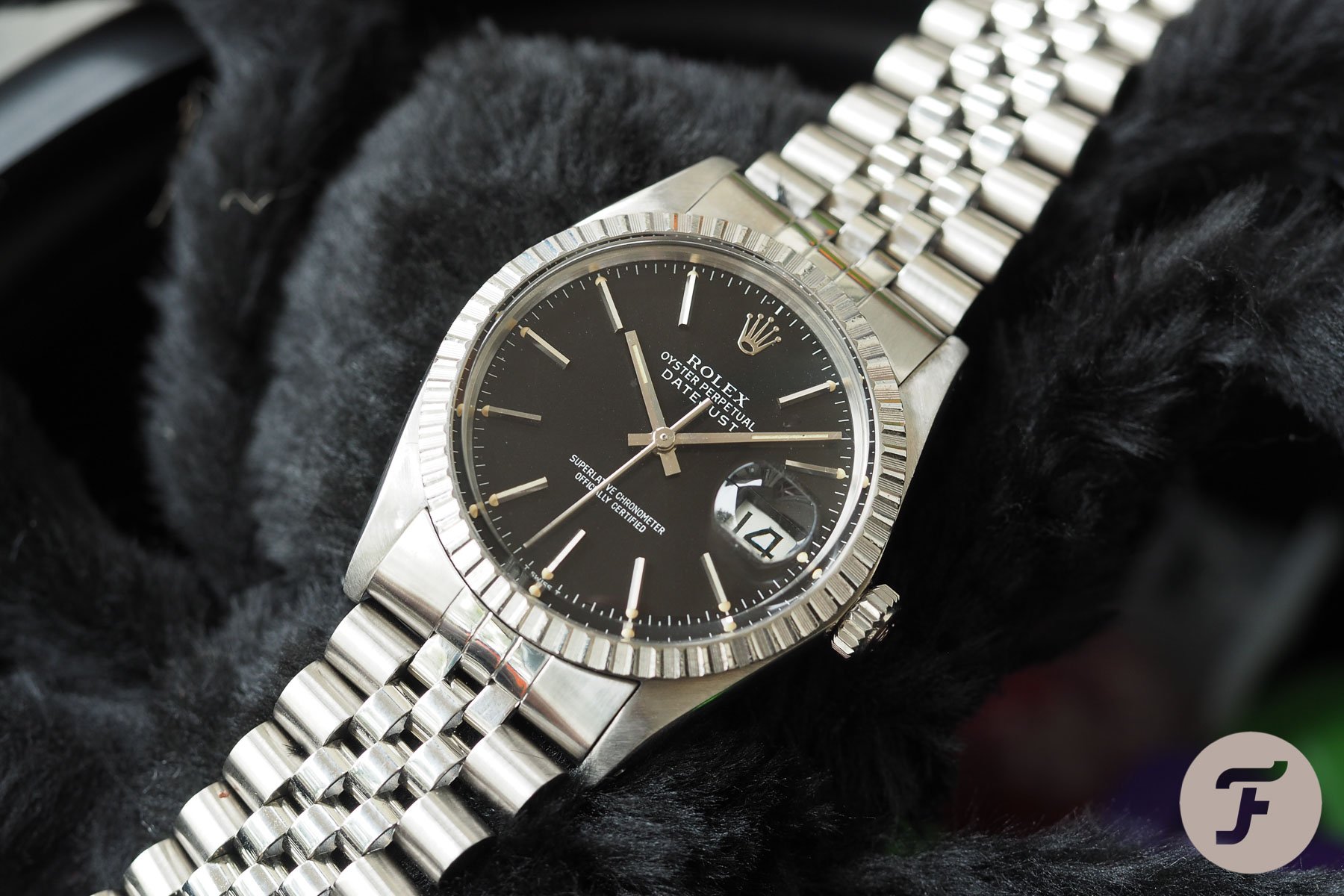 Figuring out the right Datejust
Prior to picking up the Datejust 16030, I actually already owned a couple other examples from the line. Firstly, I purchased a 1625 Turn-O-Graph in 18K yellow gold with a matching rotating bezel. That's a stupendous watch, but it's not for everyday use. Second, I own my grandfather's 16220 with a blue dial and engine-turned bezel. I love that piece and it's a sentimental part of my collection. So, why add something new? Honestly, I wanted something vintage with an acrylic crystal, in steel, and with a black dial. Perhaps I wanted something that provides a bit of the same magic as, say, an Explorer.
With vintage Datejust models, there are a number of models one can consider. The '50s gave us the 5030 and 5031 models and while these are nice, they're almost too antiquated for me. With their dauphine hands and high propensity of textured dials, they didn't strike me as practical. The next model series to come along was the 160x references and for most, these are the key models. There are seemingly infinite numbers of dial, bezel, and bracelet combos. Plus, they're stupidly robust with their 1560 caliber movements. I really like these and enjoy their "pie pan" dials. I could've gone for one of these had I found the right one, but I'm glad I didn't (I guess it will happen one day). The only detractor, and it is something consider when one is wearing their watches every couple of weeks or so, is that this series lacks a quick set date adjustment.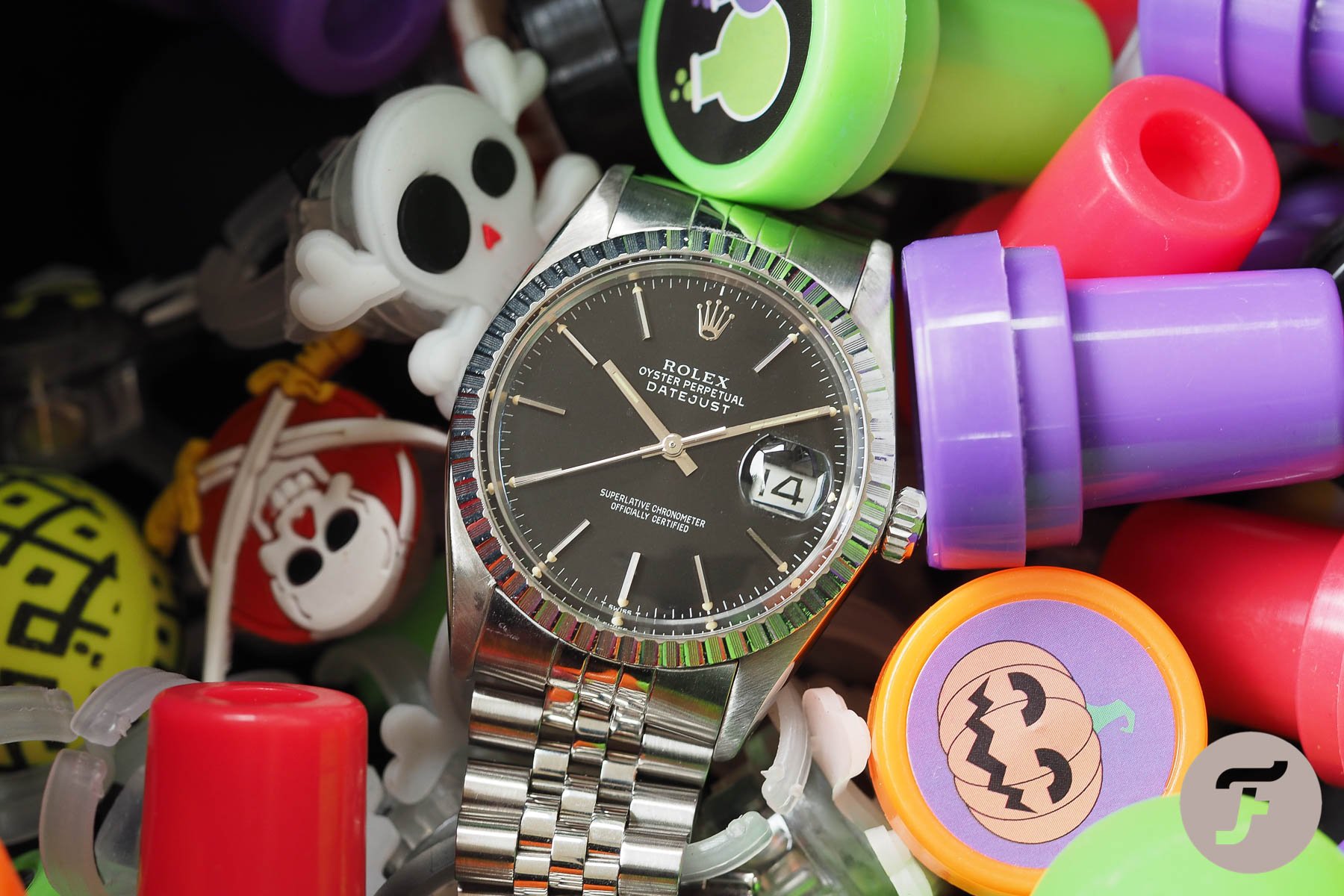 The Rolex Datejust 16030 ticked all the boxes
With the other vintage options falling by the wayside, the remaining option came from the 160xx. In the late '70s, Rolex began introducing quick set models along with the legendary 3035 caliber automatic. The nice thing is that these models brought this modern characteristic, but left such vintage touches like drilled lugs and acrylic crystals. For the record, the 16750 GMT-Master is a good example of one of these "upgraded" models and I've enjoyed owning one. So, when a nice black-dialed Rolex Datejust 16030 came up for sale, I decided that it would probably end up being a good fit.
The Datejust 16030 that I found was sitting with the Davidoff Brothers (they're now guilty of supplying several watches to me) and it had a lot of things that I like. Firstly, while I like an Oyster bracelet with a smooth bezel Datejust, I just think that a Jubilee works better with either the fluted or engine-turned versions. Also, like I've mentioned in other articles, they're just so darn comfortable! Next, this watch had an engine-turned bezel and I really like these. They're not as fancy as a white gold fluted variant, but I enjoy the details of a well-kept steel bezel.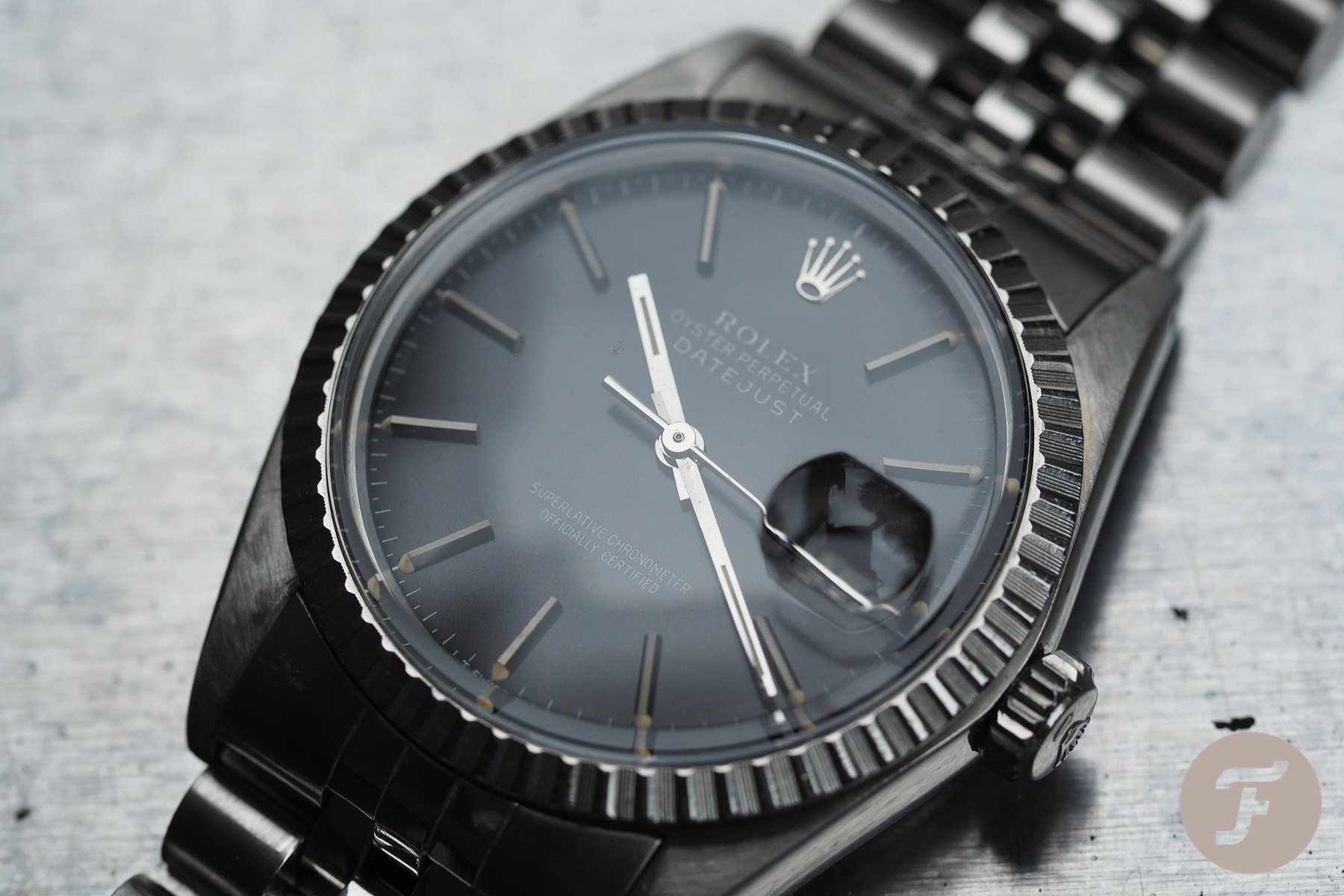 A fairly special dial
I mentioned that I wanted a black dial on the Datejust that would ultimately land on my wrist and this one doesn't disappoint. If we head back to the discussion on variants, there are glossy editions, matte editions, confetti (little flecks of green and red) dials, and this watch with its metallic dial — I'm probably missing some others. This dial is apparently fairly difficult to find and it is something in person. It has depth and really looks great in the sun or at an angle. Would I have gone for a glossy version had that been the choice? Probably so!
When I was researching this watch, I was sort of into it with a buddy named Boris. He was also looking for a Datejust and we were scouring all sorts of sites. We did a lot of comparing and contrasting on 160x and 160xx dials. Amazingly, we saw a lot of models where lume plots had fallen off and plenty with wrong era dials. Then, there were bracelets with loads of stretch or incorrect clasps. We also saw highly over-polished pieces. It was fun and we learned a lot. Thankfully, Sacha at Davidoff Brothers was a lot of help as well.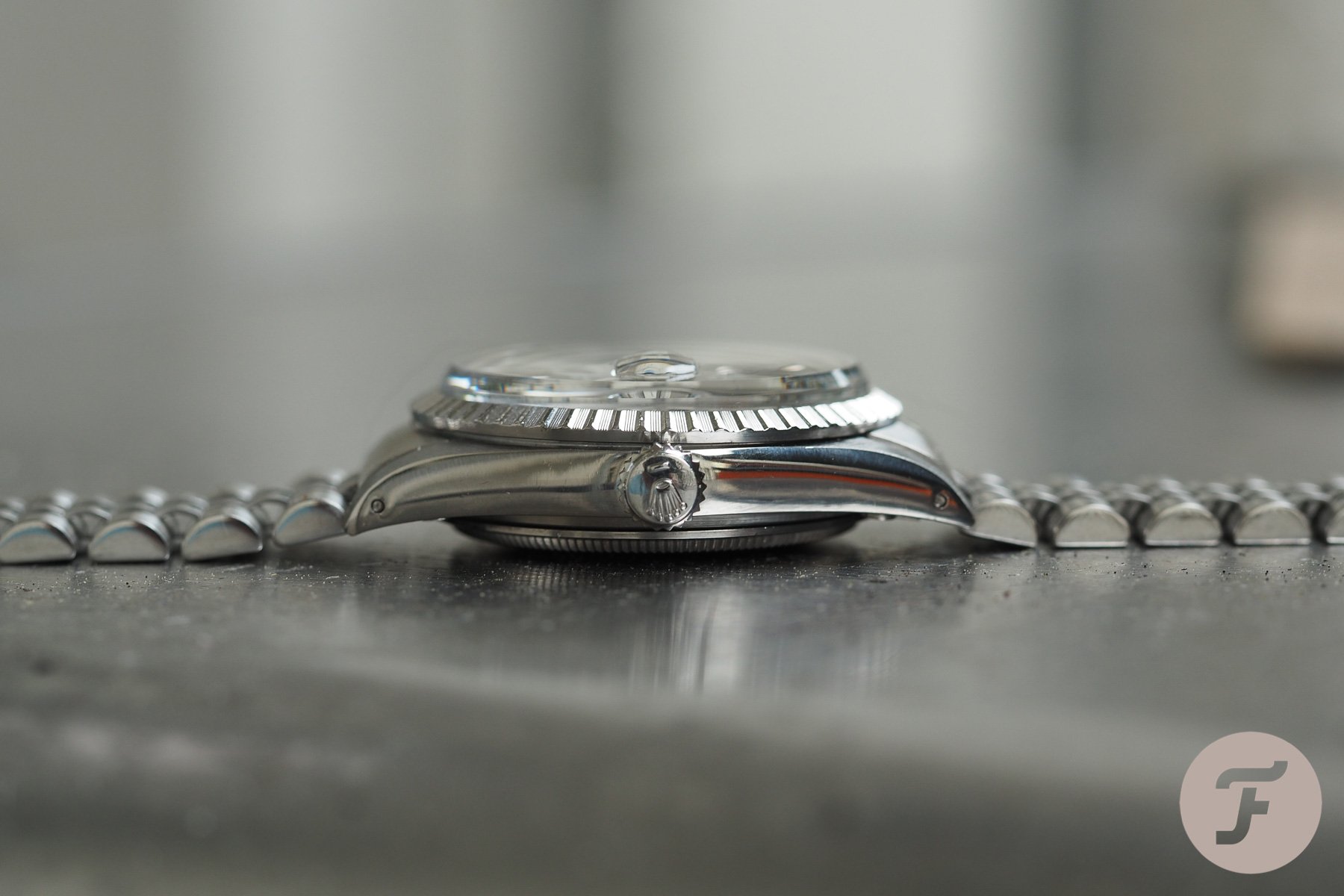 Receiving and wearing the Datejust 16030
I know that some enjoy dial colors other than black, but it's my favorite for a Rolex. When this Datejust 16030 arrived via post, the moment I set eyes on it, I knew I had a winner. The watch looks perfect on my wrist and was exactly what I wanted. The case has been polished, but it's strong. The dial is perfect and the tall crystal lends the right amount of vintage appeal. Plus, it fits perfectly just like a 36mm Oyster-cased Rolex should. Seriously, if you've been priced out of the market on a sports Rolex, you shouldn't fret. One of these has a lot of the same goodness as one of the higher-priced models.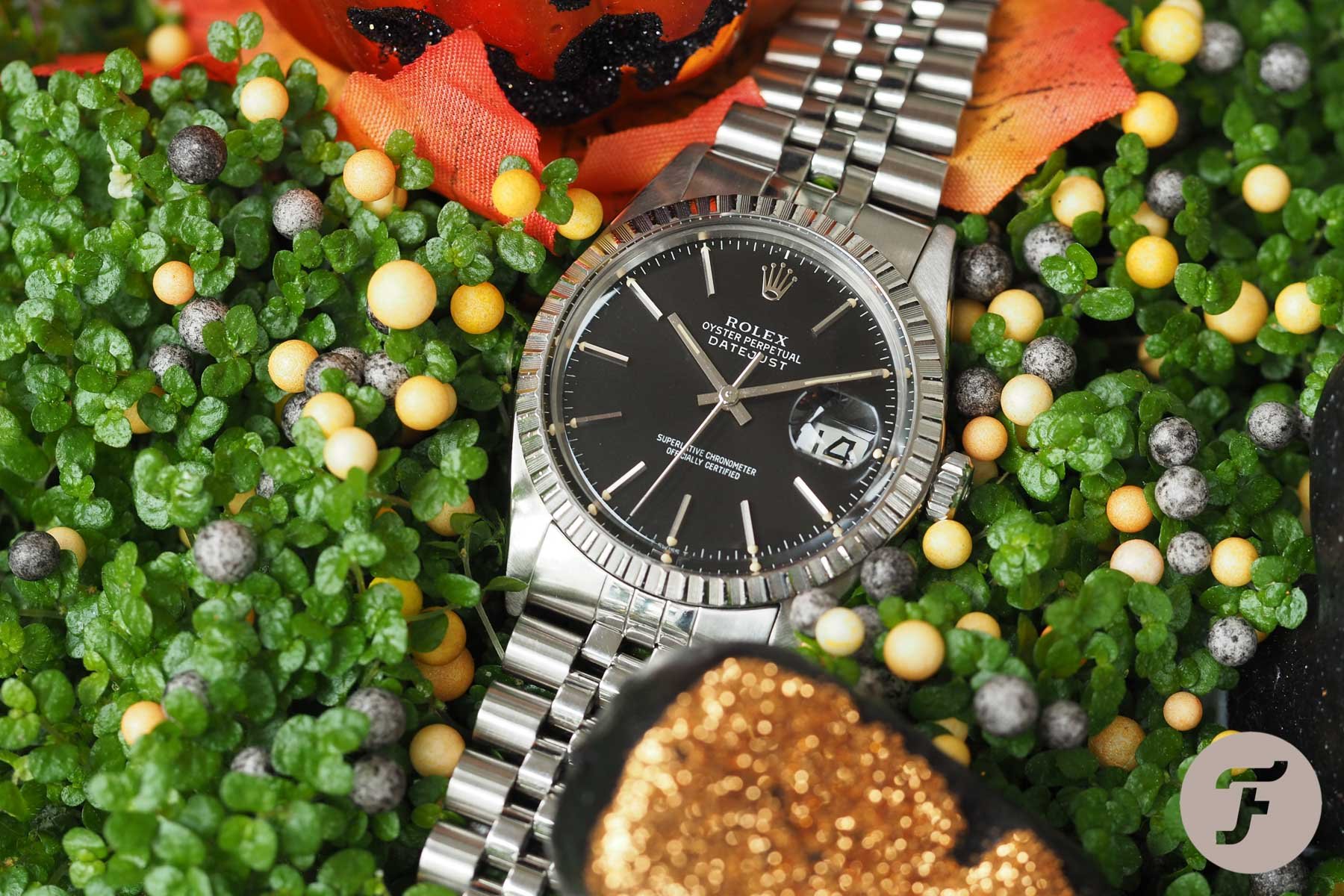 Buying a Datejust
As I mentioned, a lot of research (and bothering Sacha) went into buying this Datejust 16030. I learned a few things. First, (and duh) I should have purchased a Datejust years ago. These were so inexpensive up until a few years ago and I simply waited too long. Second, the cost of a Datejust lies in its dial. A rare variant and one in good condition will bring a significantly higher amount than a common model or one with missing lume plots. Weirdly, there's no way to prove whether the dial is original to the watch. Of course, topics such as case condition factor into pricing as well. These days, consider somewhere between €4,500 and 7,000 for a Datejust. That's a seriously wide berth, but it just seems to be the market.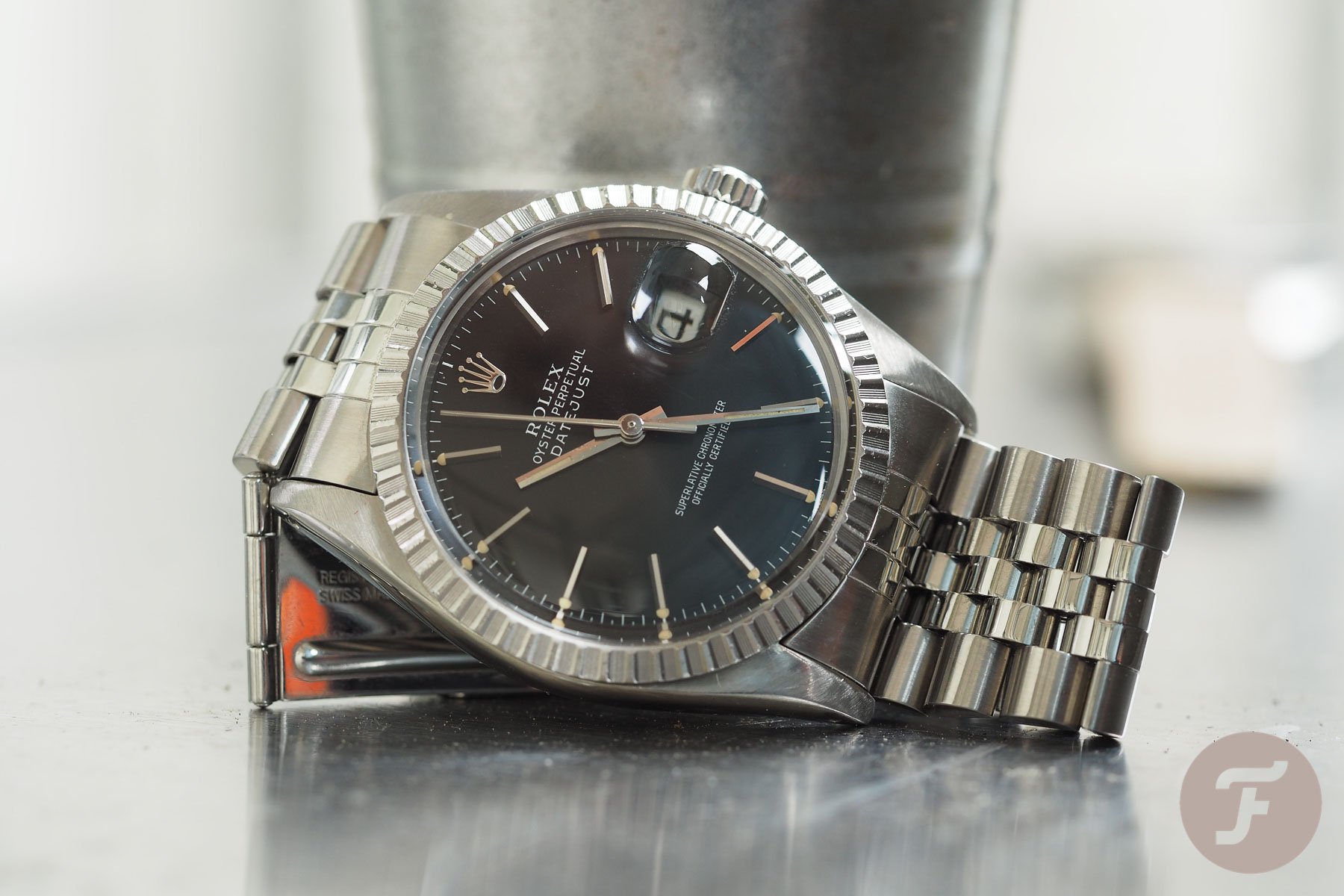 Final thoughts
The Rolex Datejust 16030 is the last of the acrylic crystal models. Plus, it has some lovely printing on the dial along with aged tritium lumen pips outside those applied indexes. Is this a good substitute for something like a 1016 Explorer? With its textured bezel, it's a bit less tool-like, but it still has all of those great Rolex traits such as serious build quality, screw-down crown, and screw-in case back. Plus, a nice Datejust is easy to get rid of if need be. I'm seriously happy with this watch and it just might be the beginning of a dangerous Datejust collection.