#TBT: The Top Five Vintage Sports Chronographs…and Five More
Top five vintage sports chronographs: sounds audacious, doesn't it?  This week, on #TBT, I'll take a breather from reviewing an individual watch. Instead, I'd like to – hopefully – entertain you with some thoughts on building a nice collection of vintage 1960's, and maybe some 1950's and 1970's, chronographs. We all see these #sexpile shots and while they're often comprised of "come as you are" watches, you have those out there who think it's a good idea to focus on a specific genre or direction within one's collection. I'll play along with the latter, although I actually enjoy a lot of variety. Here's how it will work; I set some rules for this article and essentially boiled it down to five seminal pieces that could create one hell of a collection. If one owned these five, they could essentially close the door on buying more pieces (yeah, right) and feel good about the state of their collection. Realistically, though, unless you have a big bucket of funds waiting to be spent, most of these five have become out of reach price-wise and are now incredibly difficult to locate. So, after giving a brief review of the five, I'll present five more pieces that would be no less interesting to bring to a watch get-together, but are less expensive. As is always the case with lists, they breed controversy. So, if you want to fight about it, go right ahead and let us know your top five vintage sports chronographs in the comments below! Seriously, have some fun with it.
When I was thinking about my candidates for the top five vintage sports chronographs, the answers came like – well, clockwork. There weren't four and there weren't six. No, five jumped to mind and I started thinking about what they have in common. The fab 5 feature bold styling, often bold size and generally pronounce their model name fairly loudly. They speak of the golden age of speed, whether it be from flight, on land or wherever via the typical addition of a tachymeter scale and the ability to measure time in hours and seconds. Today, some seem small, but their impressions have lasted as most are still in production today in one form or another. If you were to sink your money down on any five sports chronographs, these are the big names. Surprises likely won't exist, but you never know! So, drumroll please, and in no prioritized order – in fact, they're alphabetized, here they are: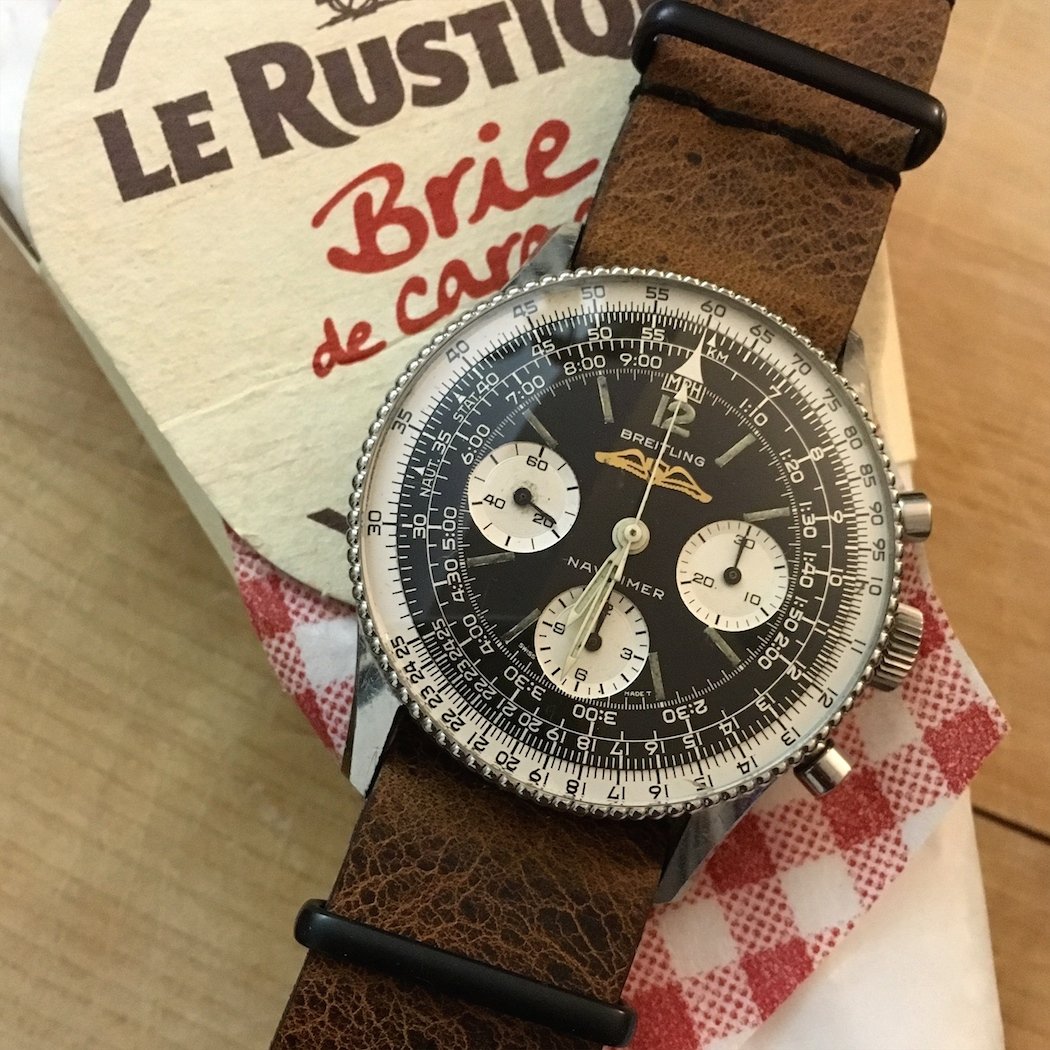 Breitling Navitimer ref. 806

Introduced in 1954, the Navitimer brought a triple-register chronograph to the market that featured enhanced, slide rule capabilities versus its predecessor and contemporary – the two were sold side by side for many years – the Chronomat. The watch was designed for pilots and navigators and must have come as a shock for the time due its size. The "Navi" comes in at roughly 41mm depending on its bezel configuration and sports wide 22mm lugs. It's a "big dog" of a watch that likely matched the hotshot fighter jock egos of many of its wearers. Early on, and for a very brief time, the 806's were equipped with the Valjoux 72, but it moved on to the equally lovely Venus 178. The Navi wears big, but is flat enough to sit under a dress shirt. Plus, it can be dressed up due to its glossy, nearly flat "creaky" crystal and it's sparkly bezel. Like most pilots watches and pilots themselves, this watch was not meant to go in the "drink", so keep it dry! Prices for vintage, column-wheel equipped Navitimers are all over the chart, but of all the top five vintage chronographs, this is the most available piece on the market.
Budget over $25,000 for early Valjoux 72 pieces and possibly well over $10,000 for very early "all-black" Venus 178's. Moving into the mid 1960's, reverse panda pieces like those worn by racer Jim Clark and jazz legend Miles Davis can still be found for under $4,000. Head to the Breitling forum for advice as pieces like hands and slide rule inserts are often changed to repair damage due to time and moisture.

Heuer Carrera 2447
You probably knew that in any top five vintage sports chronograph list, the Carrera would make the cut. Sure, the Autavia has probably garnered slightly more fame recently than its understated stable mate, but the original Carrera defines the essence of clean, legible chronograph design. Honestly, what else what you expect from a company that made dash timers for rally drivers? You'll see that I listed the ref.2447 specifically instead of the 2-register 3647. Well, it's for a reason. I like 2-reigster chronographs, but I find triple register pieces far more deserving of attention. The fact that the Carrera pulls off a lot of detail so cleanly makes it worth the added complexity on the dial. During their production run, beginning in 1963, the 36mm diameter Heuers with 18mm lug widths, were made in a variety of dial configurations and the design of things like hour markers changed as well. For me, the earlier simple pieces such as the white/silver dials are best. Sure, I love the pandas, reverse pandas and exotic dials too, but the basic, single-colored dial is the quintessential Carrera. Up until a couple years ago, finding a good, cheap Carrera was easy. They were $2,000 watches and, yet, they feature a Valjoux 72 and seemingly used components such as Singer dials like so many other top-notch brands. Yes, we all took these easy buys for granted and shouldn't have. Today, I'd budget at least $7,000 for a decent 2447. If you go exotic, prepare to start conservatively at $10,000 and do a lot of homework. I highly recommend "OnTheDash" and its accompanying forum for help.
Omega Speedmaster "Pre-Moon"

What's Fratello Watches without a Speedmaster? Well, what's a top five vintage sports chronograph grouping sans the Speedy? There's no doubt that any solid collection of sports chronographs needs a Moonwatch, well, a Pre-Moon watch that is. There's just something about these Omegas prior to them being marketed as the watch that went to the moon. Introduced in 1957, the Speedmaster originally started as a straight-lugged piece with a stainless bezel before ultimately transforming into the Professional model in the early 1960's that's stylistically similar to today's Moonwatch. Early straight-lugged models are beautiful, but prices for even the least expensive piece – the 105.003 "Ed White" – have gone nuts recently and $10,000 seems to be the price of entry. No, instead, I'd focus on a twisted lug model such as the Professional 145.012 as they're the most common "Pre-Moons" containing the lovely column-wheel 321 movements. These contain what is essentially the same big 42mm case with 20mm lugs that we have today.
Following these, the 145.022 ushered in the use of the lever/cam action 861 and early versions are still considered as "Pre-Moon" as well. Prices for all pre lunar landing pieces have increased drastically, but 145.012's are still out there for less than $8,000. Early 145.022's seem to be encroaching on the $6,000 price point. With Speedmasters, correct cosmetic parts are key and finding a good one takes serious patience. Finally, the bracelets on vintage Speedys have started to take off in value, but if you want to save yourself a few bucks, eschew them unless you're fond of painful depilatory products. If you think you've cracked the code, you'll find it best to look to Omegaforums and Speedmaster101 to be sure.
Rolex Daytona

We don't talk much about Rolex here on Fratello, but is there any doubt that this watch fits within the top five? Rolex is a brand that many love to hate, but I'd bet that deep down, most collectors would love to own a Daytona if their budget would allow it. Truth be told, they're fabulous watches that are built like tanks, but I'd rather build a collection of 2, 3 or 4 of the watches on this list in lieu of owning just a Daytona. While the rest of the chronographs on this list make do with an unaltered movement, Rolex adjusted the Valjoux 72 found within the mighty Daytona and released it in 1963. Tweaking the movement is a subtle difference, but it does let you know that even back in the 1960's when these were introduced, Rolex was dealing in slightly different stuff. The Daytonas are 37mm in diameter – really, they're not that big – and contain age appropriate 19mm lugs. The pushers transitioned from the pump style found on early models to the massive – trademark – screw-down controls on slightly later models. Also, unlike the other watches on this list, I feel that the only proper way to sport a Daytona is on its Oyster bracelet.   When looking, there are so many different variations of vintage Daytona out there and like Ferraris, Bugatti's, Duisenberg's, Picassos, and Stradivarius', many examples have their own nicknames, and so a search can become daunting! Despite the Grinch's out there who love to proclaim that the Daytona market has cooled dramatically, I disagree. It creeps up year over year and while many may be for sale at any one time, most are junk.  The reality is that finding good, clean examples continues to become more and more difficult. If you follow vintage watches at all, you know that it's possible to spend upwards of a million dollars on a Daytona.
On the "low" end, find a nice 6265 and you just might be able to get in at $30,000. With Rolex, you always need to brace yourself for the potential cast of characters and bozos trying to sell them – it's par for the course. Plus, a Daytona is a lot of money to spend on one piece and they're certainly not for everyone. However, if you do go down this potentially rewarding path, check out VRF for advice.
Universal Geneve Compax

Just to be clear, I'm specifically referring to the later 1960's, Valjoux 72-equipped Universals as my choice. These are known now as models such as the "Nina Rindt", the "Evil Nina" and the exotic dials. "Compax" is a legendary designation from a company that made chronographs a household name decades prior. UG's early pieces are glorious, but in a golden age way. For me, I love the loud 60's style. One might say that the UG is a controversial selection because they weren't truly on the radar until a couple years ago and these watches were really the end of the line for the once-proud brand. Sure, the marque limped along into the 90's but with very little substance after this last, glorious gasp of creativity. These 36mm beauties feature twisted lugs and a 19mm lug width.
On this front, after someone is fortunate enough to hunt one down, one of the more surprising things I hear is surprise over how small they really are. This deception seems to occur because the cases do resemble that of a Speedmaster, lug-wise. Don't be put off, though, as they're amazing to behold and the non-exotic dials are some of the cleanest of the chrono species. The Universals are seemingly rare, but they do pop up unannounced from time to time (see our recent report on one found for a song). Assume a $10,000 point of entry and over $20,000 for the panda dial. Finding these watches has become a real challenge, so ensure you head to the UG forum on Omegaforums for sound advice should you locate one.  

But wait, there's more…
Ok, so those were my top five vintage chronographs.   Surprises? Probably not too many. Did I miss some? Perhaps. I'm sure some of you were looking for a 1960's Heuer Autavia, a Zenith El Primero, a Monaco or others. Well, have no fear because I'll volunteer several more here for those on a budget but who still want to own what I think are legendary pieces. These options would have no issue in standing up to those listed above if you talk chronographs with those who really know watches. Of course, as I like to say, you should buy what you want and not follow any herd, but we're having some fun, right? Ok, moving on…
Gallet Multichron 12

What can I say about these watches other than WOW!? Yes, this Gallet was introduced in the 1940's but was produced up through at least the 1970's. The dials retain older, gilt looks with lume hour numerals, but man oh man are they classy in a sporting manner. The cases are a classic 36mm with 20mm lugs that contain well-defined chamfers. For variety, go early enough and you can find pieces with the silky smooth Excelsior Park 40 movement.
Go later, and stay on the familiar side with the Valjoux 72. The Multichron 12's were available with either black or white dial and both are known for potentially containing some wild greenish lume. Bargain hunters will choose the early white-dialed models with the EP40, chunkier crystal and case. Plus, they'll save money over the black dials. Good white dials can still be found for under $2,000 while the watch community has finally woken up when it comes to the back-dialed pieces. These are now commanding roughly $3,000 and I still think that's a relative bargain. Link to Galletworld for some pictures and basic information.
Seiko 6139 "Pogue"

Classify this as the bargain bin selection of the bunch, but it shouldn't be taken lightly. The Seiko 6139 shares the distinction of "first automatic chronograph" with the Heuer/Breitling/Hamilton-Buren Cal.11 bunch and the Zenith El Primero with an introduction in 1969. It's a prime example of real horological history and can be found for such little money. There are dozens of different 6139 models to opt from, but if I were being choosy, I'd go with the yellow-dialed "Pogue" model so-called this because NASA astronaut William Pogue wore it on Skylab in 1973 during a mission. This model was actually the 6139-6002, but there are other 600x variants that also contain the striking yellow dial. The dial is wonderfully 1970's, the case is large at 40mm with 19mm lugs, and the bracelet is actually pretty decent for a Seiko. To boot, it photographs beautifully and is a real fan favorite. The movement contains a column wheel and if I had to knock it down on any points, it's the fact that it only drives a single register minutes counter and cannot be hand wound. Still, though, these watches are crowd pleasers. Prices for good Pogue's have been creeping up but they can still be found for under $500 if you do your homework. Do be aware that loads of pieces with bad/switched/aftermarket parts exist. Head to this great reference if you're looking and then join the Seiko & Citizen Watch Forum or Wrist Sushi to check your find.
Zenith El Primero

When it comes to early El Primero's, all the talk stems around the A386 introduced in 1969. This is the most traditional piece as far as case design, but it's easily the most expensive and sought after version. Unless you're prepared to shell out $10,000 or more for a good piece, divert your attention to something like the A787. Back in the early 70's, Zenith produced a vast array of El Primero models and all were limited editions. The A787 is an example of this and was made in a run of 1500 pieces during 1971-1972, but they're still out there for less than $3,000. For this sum, you find yourself with a watch that contains the same mechanical qualities – it uses the cal.3019- as the legendary A386 and with similarly unique design traits. It has a case diameter of 38mm and shows the same lovely red central chronograph hand with rectangular pip as the A386.
Try and grab one on its original bracelet, which should be a Gay Freres. The watch world has largely ignored many of the early Zenith EP's, but I wouldn't expect this to last long. Travel to the Zenith forum on Omegaforums and this amazing cheat sheet by LouS to bone up on Zenith facts.
Enicar Sherpa Graph
Ok, this one isn't truly fair because finding a Sherpa Graph is tough work today. If you're vigilant, though, the later execution EPSA-cased Sherpa Graphs do show up and can be bought for roughly $5,000. I, and many other collectors, find the dials and hands to be slightly less distinctive than on the earlier versions, but they're still lovely watches that contain all of the functional traits of their predecessors. The cases are big, the details supremely well finished and the Valjoux 72's are adjusted – much like Rolex.
They look great on rustic straps and are easy to fit with their 20mm lug widths. These days, if you own an Enicar and wear it to your local meet up, you're likely to receive high praise from the geeks of the bunch (hmm…that might be everyone). Yes, these are quirky pieces, but tracking one down shows commitment – or perhaps signs of a problematic addiction.  I'd recommend the Chronocentric Heuer forum as a place to ask questions.
Breitling Top Time ref. 810, 2nd Execution

The Top Time, in any of its round forms is really the "Carrera of Breitling". The earlier executions, which were introduced in 1964, feature a lovely front-access EPSA case, but these have become difficult to find. Instead, focus on the 2nd execution 810 that uses a snap back, is more available and is less expensive. It possesses a straightforward dial with tachymetre ring and uses the stellar Venus 178 movement. These later 810's are available in both panda and reverse panda formats, are 38mm in diameter, and contain 19mm lugs. Really, they're absolute classics with their no-nonsense design and are still underappreciated.
Many thought that Jim Clark wore this model until the Enicar Sherpa Graph was exposed as his normal companion. The fact that Clark did also wear a Navitimer does make one wonder, though – maybe we'll find out more at some point. Nonetheless, throw a rally strap on a Top Time 810 and it absolutely works for that vintage-racing look. Set aside roughly $3,000 for one, but they're still out there for less if you're quick and lucky. As in the Navitimer, I suggest heading here for some schooling.
Your turn, what are your top five vintage sports chronographs?
So, there you have it – how to build a solid chronograph collection – just add money! In general, I formed my own opinions about this list, but I did chat with @watchfred while soliciting some pictures from him. Naturally, he had his own opinions on a list and that's a good thing. He started mentioning the Autavia 2446 "Rindt", the Breitling 765 "Killy" and other pieces. I stayed away from some of those as I feel they're awfully "niche", but they're certainly no less nice and legendary. So, as I said early on, this #TBT was meant to generate some discussion. What would you choose if you could only choose five vintage sports chronographs?