This Week in Watches – December 9, 2018
Greetings and my apologies for the late publishing of This Week in Watches. I've essentially been on the road since last week's article, but I've kept an eye on events. Let's get to it – here's your dose of TWIW…
Hodinkee 10
We'd be remiss if we failed to congratulate the fine folks over at Hodinkee on their 10th anniversary. The brand's impact, via the leadership of Ben Clymer, on the watch hobby as we know it can't be underestimated. They continue to evolve, by trying different things, while employing some great writers – many of whom are friends of ours. Personally speaking, I remember Hodinkee from the get-go and it was a real game changer for me. The stories, the sharing of personal thoughts – especially when it came to vintage watches – and the passion all helped fuel my interest in watches. The fact that Hodinkee paved the way for watch journalists to cover vintage watches – i.e. watches with nearly zero advertising value to current brands – inspired me to create the long-running #TBT series. So, thanks Hodinkee for doing what you do.
While I wasn't asked about my favorite Hodinkee story, it's hands-down the article pertaining to Nina Rindt and her Universal Geneve Compax. I mentioned as much when I covered an "Evil" version some months later that I found. Hodinkee's piece is a great example of writing "from the gut" and the kind of stuff that makes the site legendary; it also, incidentally, makes it very difficult for the site to please vintage curmudgeons like me as those articles don't come around every day.   Again, congratulations and know that the entire Fratello team is raising a glass (or brown paper wrapped bottle of St. Ides) and cheering to 10 more.
Patina, You're Getting on My Nerves 
It was hard not to notice the Rolex 6062 Stelline that sold for $1.5M earlier this week at Christie's in New York City. It's a stunning watch, but the example that hit the bloc was significant because its gold case had oxidized over time to a very dark color. It was given the name "Dark Star" and the hype grew in the weeks prior to the auction. The watch looks barely-used and essentially can't be worn or touched for fear of removing any of this oxidation. It's hard to estimate the premium paid due to the case color, but there were many collectors out there having a chuckle as they've removed a lot of, often nasy, oxidation from their gold vintage watches with a light wipe. I'm not here to pass loads of judgment on the "Dark Star", but it feels a tad overbaked to me. On a similar note, one keen dealer advertised a vintage chronograph earlier this week and gave it a nickname related to its dial spotting. It's a relatively free world out there, so one has the right to do such things. But, the bulk of us just see it as damage. Container loads of vintage watches exist with dial spotting. If you like watches with this type of moisture damage, then plunk down your cash, but don't assume everyone else to enjoy the scent of that perfumed piggy in the same manner as you.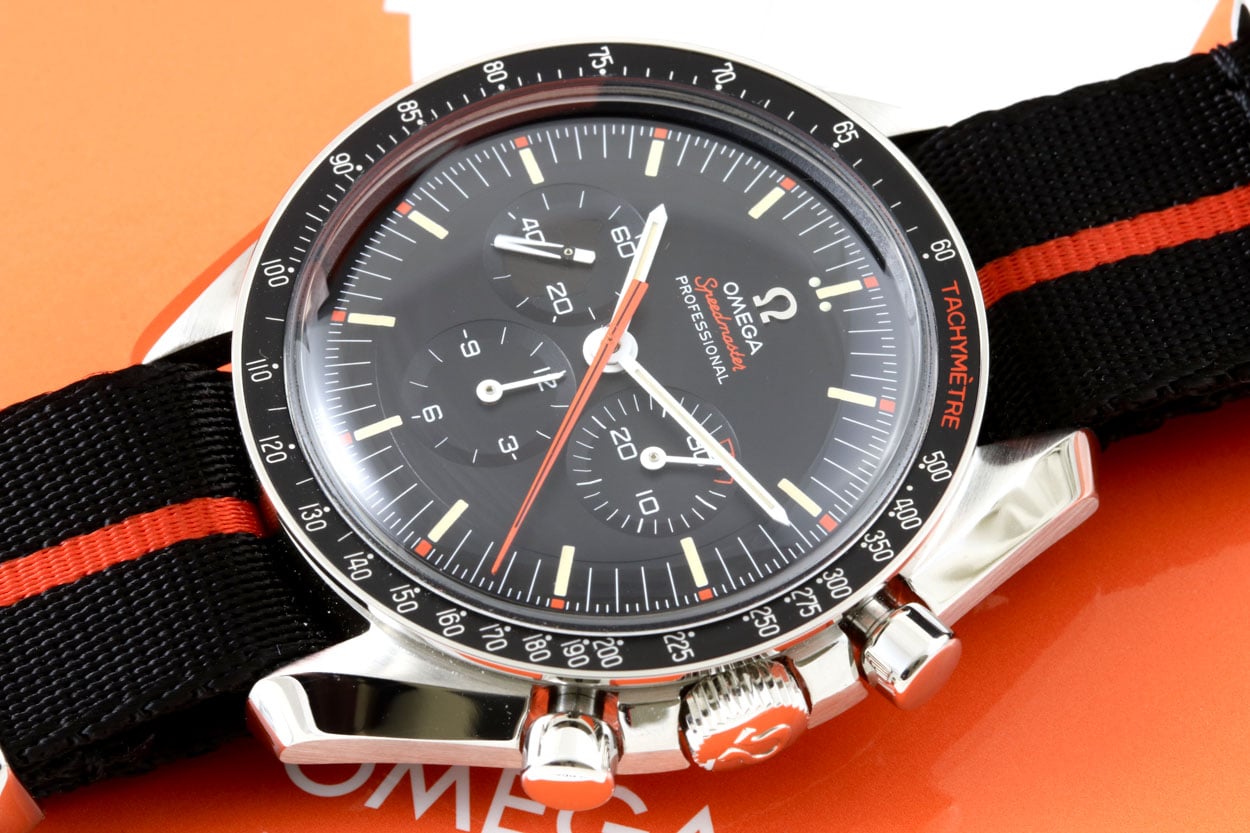 Thanks Omega 
I'm sure we'll come out with a story in the coming weeks – maybe even this week – but the bulk of the Fratello team traveled to Geneva to pick up our SpeedyTuesday "Ultramen". Most of us picked birth year serial numbers, so we were relatively late in the queue, but the wait was worthwhile. First off, thanks to Omega and the boutique team in Geneva for hosting a group of invited guests and our team. CEO Raynald Aeschlimann gave a brief opening speech followed by our own R-J. As always, I'm impressed by Omega's customer outreach and how they see the value in speaking with both vintage and new watch collectors – hint to other brands: vintage guys usually get sucked into buying new when a brand values their own heritage. Regarding the watch, I'll likely share my thoughts in an upcoming article, but suffice it to say, the new Ultraman is a stunner and I'm happy that I purposely kept away from handling them over the past months in order to create some suspense at delivery.
IWC and More Pilot's Watches                  
As much as I love IWC's 80's and 90's watches with their highly technical looks, the brand's current models generally aren't a fit for me. They're generally too big and they're pretty pricey. And so it wasn't a real surprise that the brand gave us a handful of big new watches to gaze at prior to January's upcoming SIHH show.
A Tourbillon Little Prince, a Top Gun, a 7750-based rattrapante and more of the in-house 6/9/12-registered chronograph movement make up the offerings.
That last movement has always puzzled me; I've never understood why a brand would intently build such a movement when a 7750 is available. Still, IWC did place the ref. 69380 into a 41mm bronze case, called the Pilot's Watch Chronograph Spitfire Bronze, and it looks nice. At 7050 Euros (in The Netherlands) and with a lovely dark green dial, I am sure it will find its way to the wrists of IWC fans.
The Timezoner Spitfire Edition "The Longest Flight" is most attractive to me, but at 46mm and over 14K Euros, it's sadly not for me. Let's see what our team thinks about them in the metal at SIHH.
That's a wrap for This Week in Watches. TWIW will return!