This Week in Watches – The Panerai Edition
All the Releases for 2020
Welcome to a special episode of This Week in Watches. I say "special" because it's a one-brand show today as we bring you the Panerai Edition where I'll run down each and every new model for 2020.
What you'll notice in this Panerai edition is a real focus on case materials. It's almost as if Panerai has transitioned into a Formula 1 chassis builder with its suite of cool composites. And for those who have scoffed at reduced water resistance in the recent past, rest assured that 300 meters it the theme here. Let's get to it.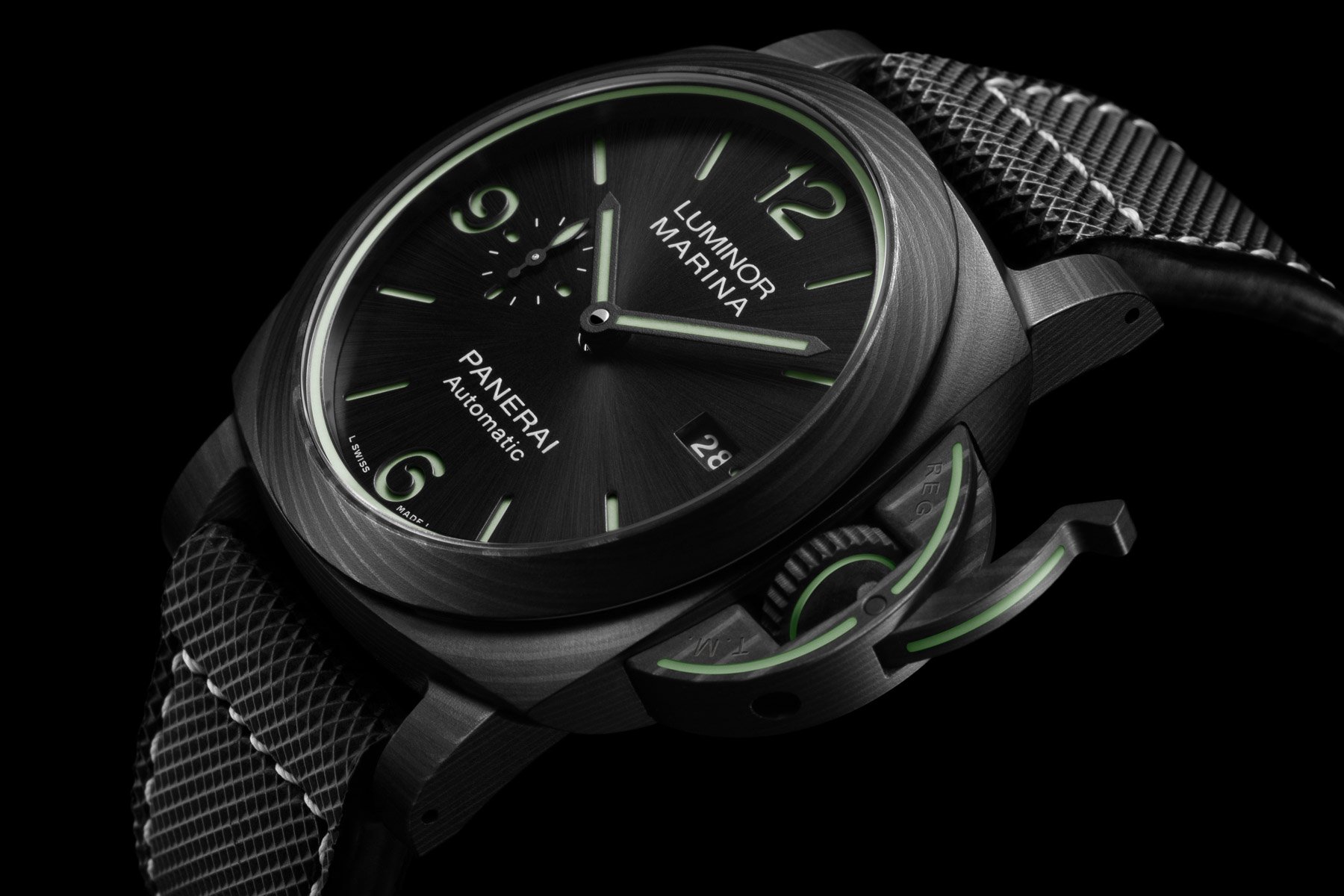 PAM01118 — Luminor Marina Carbotech 44
The Luminor Marina Carbotech 44 closely follows yesterday's PAM01117 Luminor Marina. This watch also celebrates the 70th anniversary of Luminor, a tritium-based luminescence material. It abounds here and is present on the dial, chapter ring, and crown lock. I love that glowing ring! Like the 01117, this watch is a limited edition of 270 pieces and will be sold exclusively at boutiques. The 70 year warranty should make it to your grandkids and 300 meters of water resistance will allow for any number of activities. The Carbotech (ultra thin layers of carbon fiber) case is 14.5mm thick and houses the in-house P.9010 automatic. While I like the 01117 case hue more, pricing is lower here at €16,000.  Here's a link to the micro site.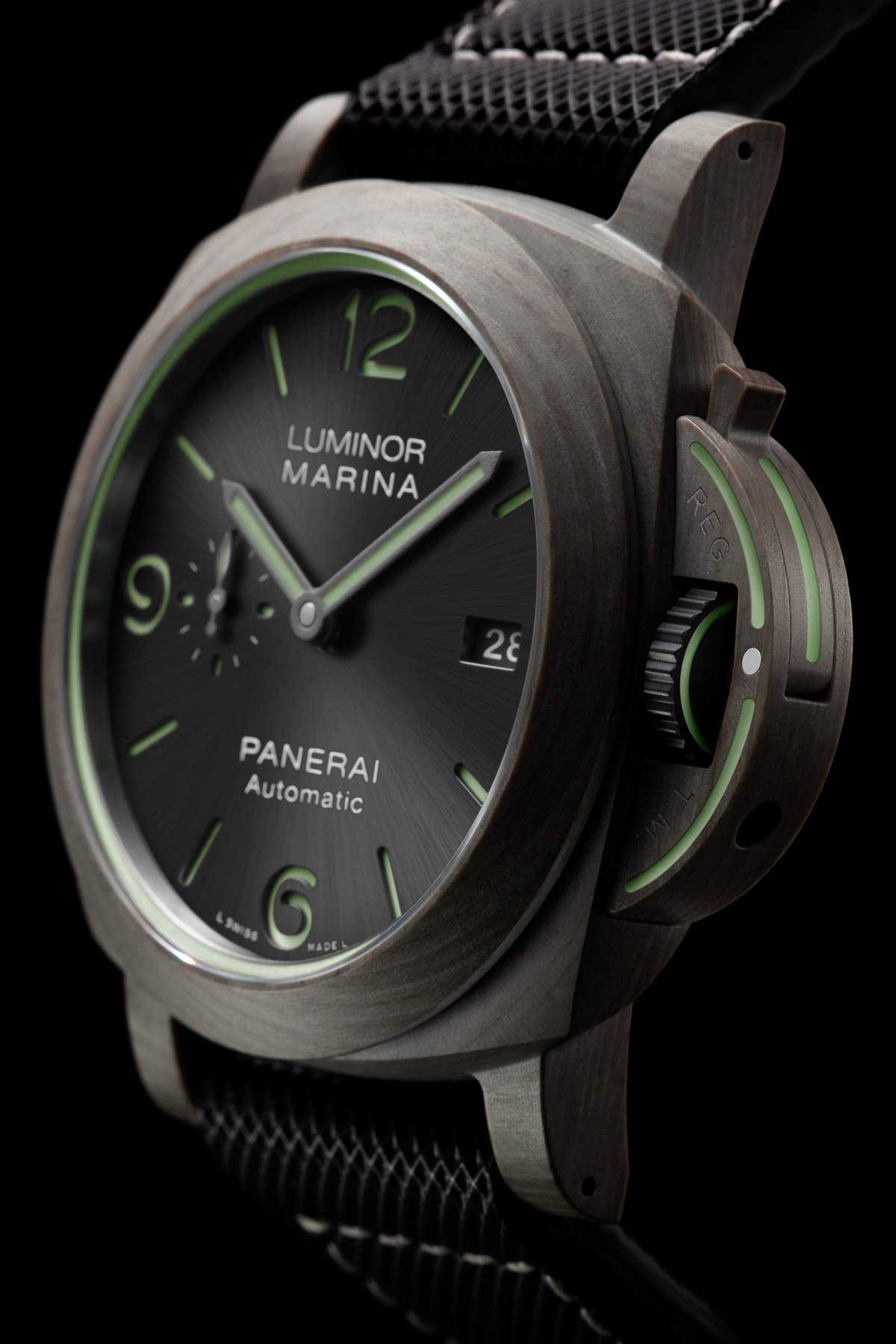 PAM01119 — Luminor Marina Fibratech 44
We're onto our third limited edition Luminor Marina in 44mm. This time, the case is made of Fibratech. Panerai tells us that this material comes from basalt and minerals. These come together to create fibers bound with polymers. It might be a little difficult to understand the benefits of Carbotech versus Fibratech, but this material is certainly lighter in tone. Whatever the "case", I love the dabbling that Panerai is doing with advanced materials. Here again, the Rip van Winkle 70 year warranty us in effect along with 300 meters of water resistance. The movement remains as the P.9010 and the thickness is unchanged ta 14.5mm. Pricing is the same as the titanium 01117 at €19,000. Head to the Panerai site for more information.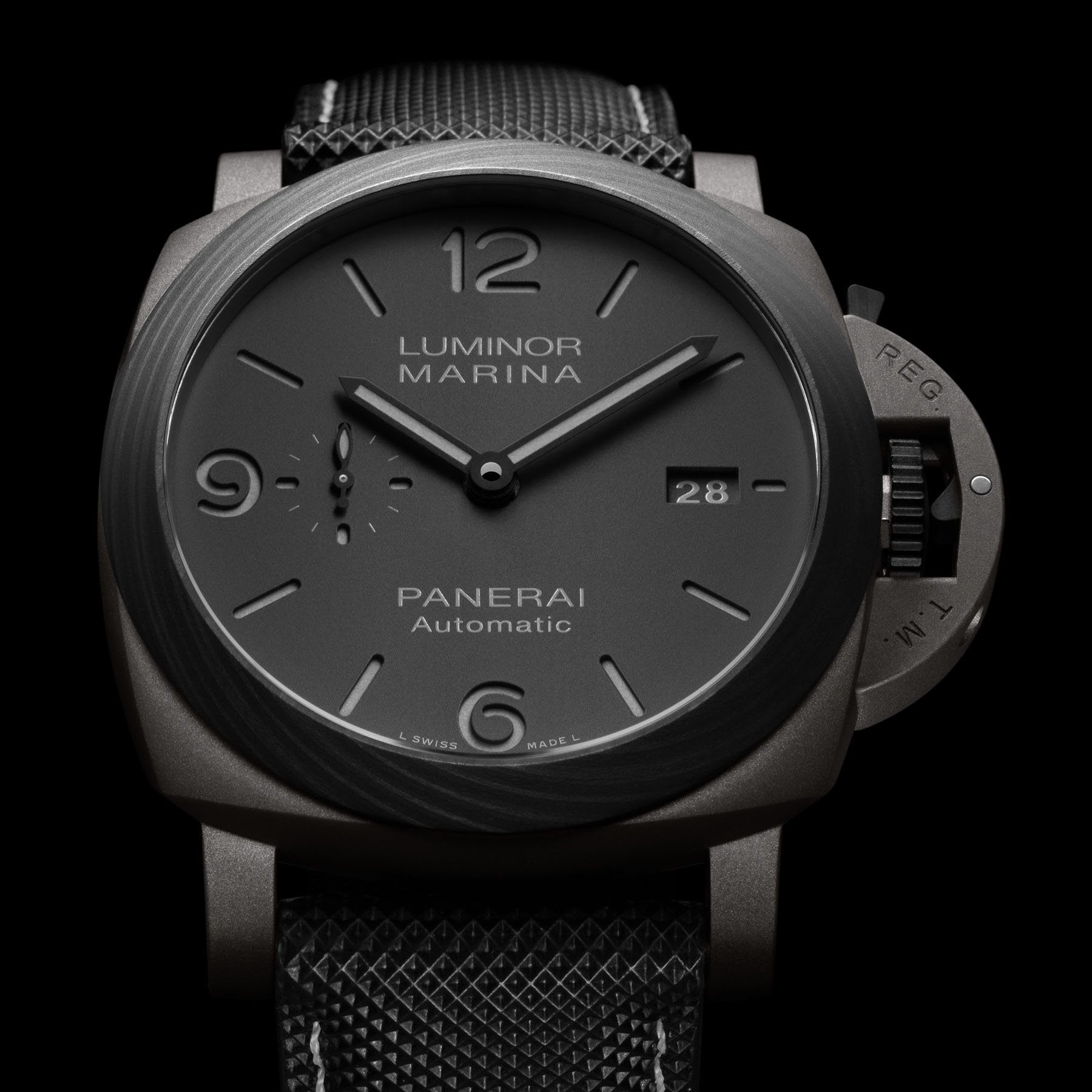 PAM01662 — Luminor Marina DMLS 44
The first new serial edition of 2020 comes to us in the form of the Luminor Marina DMLS in 44mm. Once again, you're seeing the brand's leadership in the materials area due to its Direct Material Laser Sintering (DMLS) 3D printing process. The material used in the process and on the 14.2mm thick case is titanium. That's accompanied by a Carbotech bezel and crown lock. The dial and handset are offered in anthracite to match the case. With 300 meters of water resistance, the P.9010-powered DMLS comes on a Sportech performance material strap and a rubber strap is included. At €15,000, you'll be able to purchase this Luminor Marina wherever Panerai are sold.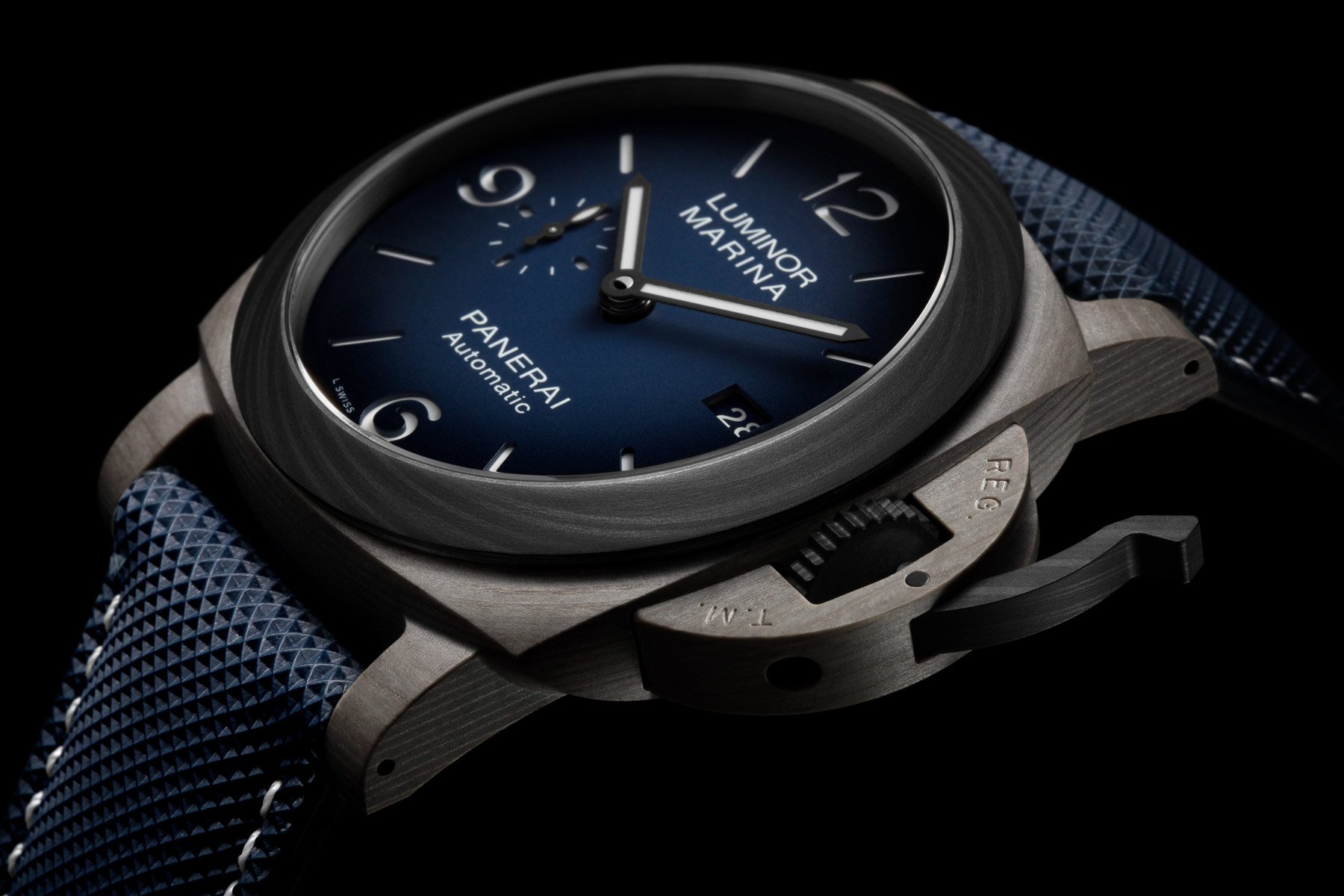 PAM01663 — Luminor Marina Fibratech 44
Up next is another new regular edition watch and probably my favorite. The 44mm Luminor Marina Fibratech boasts a gorgeous blue sandwich dial. That fits in with the basalt-based composite case. Panerai tells us that Fibratech is some 60% lighter than steel and incredibly corrosion resistant. Interestingly, the case thickness jumps to 15.65mm here and water resistance remains at 300 meters. A blue Sportech strap and blue rubber accompany this lovely P.9010-powered piece. The 01663 is priced at €16,000 and more info can be found here.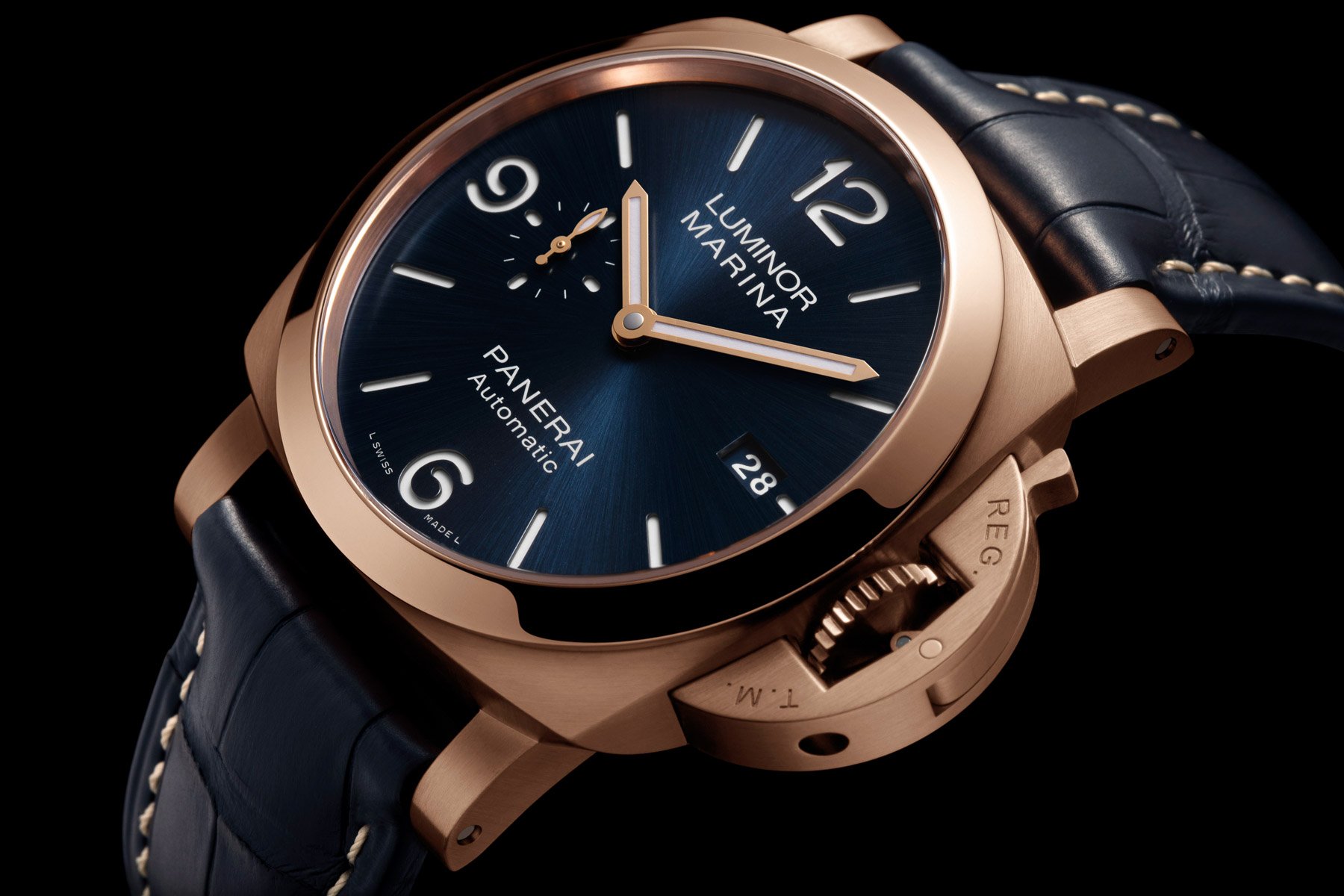 PAM01112 – Luminor Marina Goldtech 44
Ok, I was wrong — this might be my absolute favorite. We'd be lost without a bit of gold and Panerai has answered with the ref. 01112 Luminor Marina Goldtech in 44mm. The new regular edition watch also brings in a stunning blue sandwich dial like the aforementioned Fibratech and uses the P.9010 movement. Goldtech alloy obtains its reddish tone due to a 24% copper injection. A dash of platinum ups the brightness and wards off tarnish. You'll need to cough up €22,900 for this one. That's not cheap, but the relatively reasonable premium over the non precious materials is intriguing. Head here for additional information.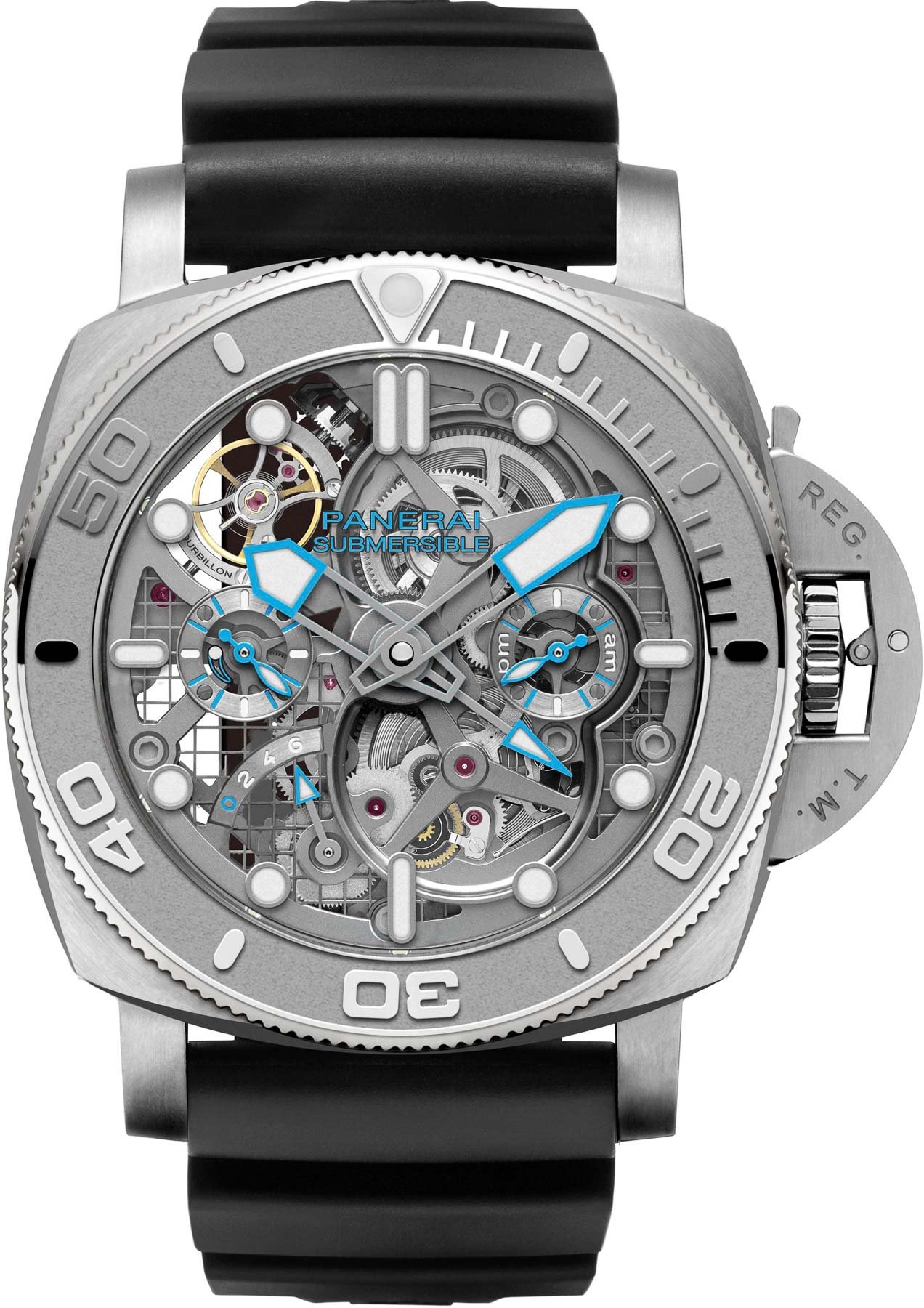 PAM01108 Submersible Ecopangaea Tourbillon GMT 50MM Mike Horn Edition
A set of novelties isn't complete these days without a wild limited edition. This year, Panerai comes to us with a manual wind in-house P.2005/T tourbillon housed within a 50mm Submersible case. The case and bezel are made from steel that has been recycled from the propellor shaft of explorer Mike Horn's ship, the Pangaea.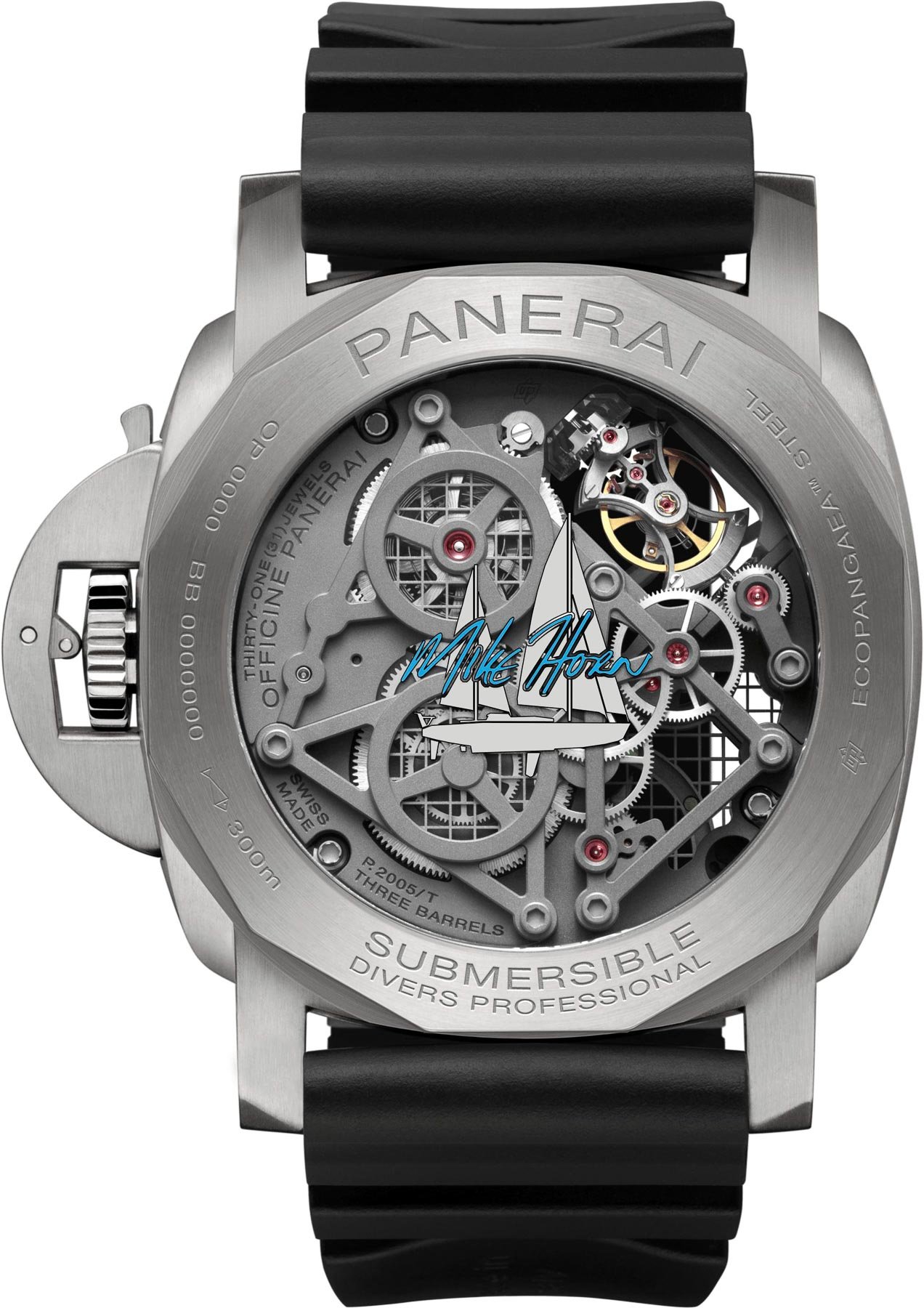 The watch has 300 meters of water resistance, GMT function, 24-hour indicator, and a power reserve. It comes on rubber and recycled PET strap is included. For the 5 buyers who lay down the requisite €190,000 at a Panerai boutique, something special awaits… Details are scarce, but there will be a trip to the Arctic with Mike Horn that promises to be physically taxing! Obviously, this is a special watch for a special type of buyer. Overall, I like the looks and the idea.
I hope you enjoyed this Panerai edition of This Week in Watches. Panerai has reinvented themselves as a watch company in the forefront of materials technology.  I'm also a fan of their finishing. They're not inexpensive, but to be fair Panerai is a premium brand. Lend us your thoughts on these new releases below.
For more information on Panerai, visit the official brand site.