Lex's Top Five Watches Of 2021 — Tudor, Grand Seiko, Omega, Serica, And Jaeger-LeCoultre
Looking back to my favorite releases this year in the lead up to Geneva Watch Days
It's been a pretty good year for me so far. From all angles. I'm still fit and healthy, I started at Fratello earlier this year, and the world seems to finally be opening up too. I also saw some pretty nice watches swing by the office. More than five, actually, but I had to narrow it down. I went for the watches that I thought looked best, both in my hand and on my wrist, without looking at the price. This list will serve as a look back at my favorite releases of the year so far, in anticipation of what we will see cropping up during Geneva Watch Days.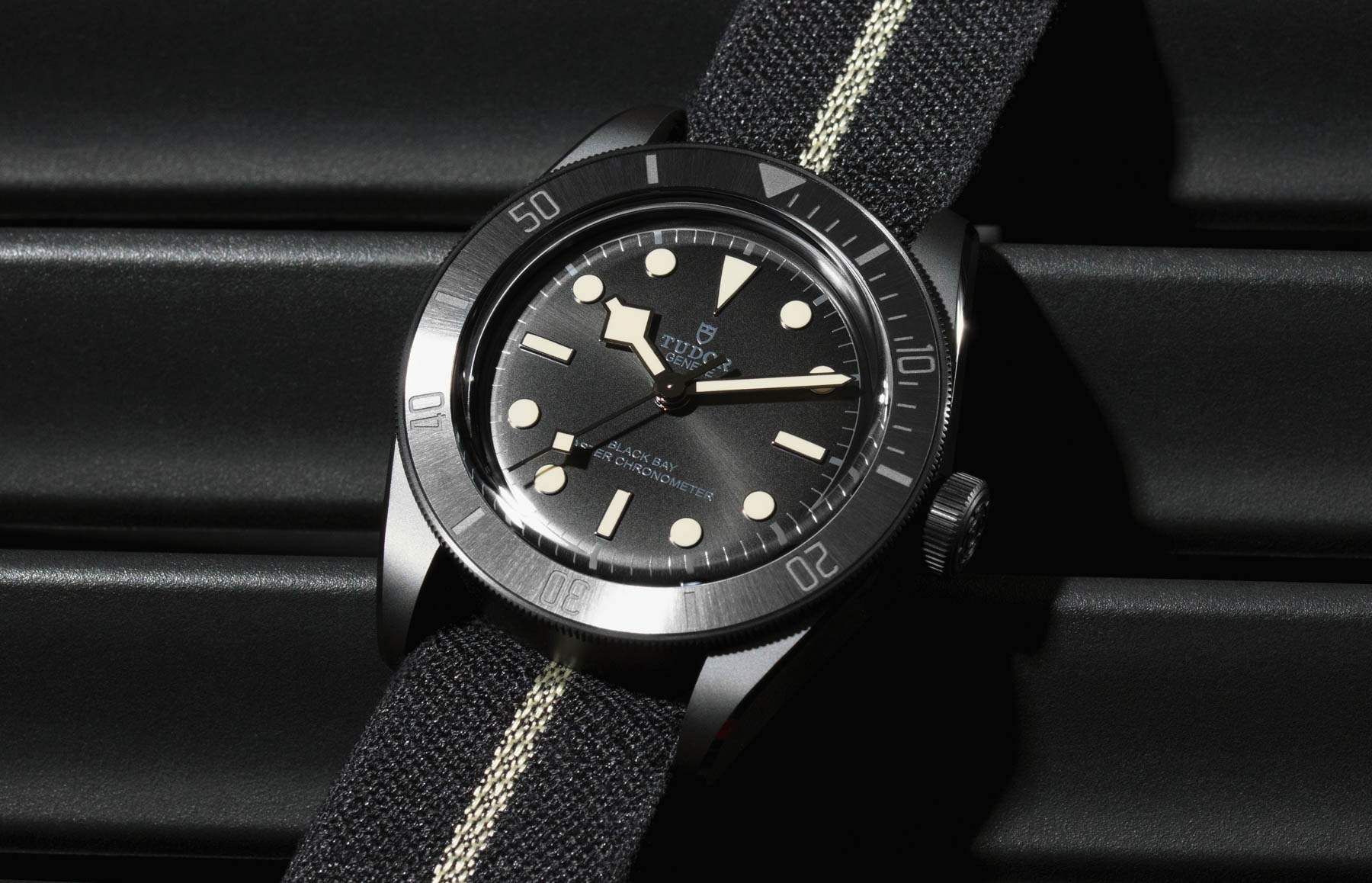 Tudor Black Bay Ceramic
You might have already read or seen that at first, I wasn't all that impressed by the Tudor Black Bay Ceramic. My first impression was that it looked kind of dull, to be honest. But I couldn't have been more wrong. Yet again a case that proves that you simply cannot make a judgment based on what you see on the screen. A watch is a three-dimensional, and above all tactile, object. You need to see, feel, and wear in the metal — or in the ceramic, in the case of this particular watch. Anyway, once I got the chance to spend some time with the Black Bay Ceramic, my first thoughts were wiped clean out of my mind. The stealthy, modern-sized 41mm matte black ceramic case looks smooth and technical. And the black PVD stainless steel bezel with ceramic insert with engraved numerals has a solid feel.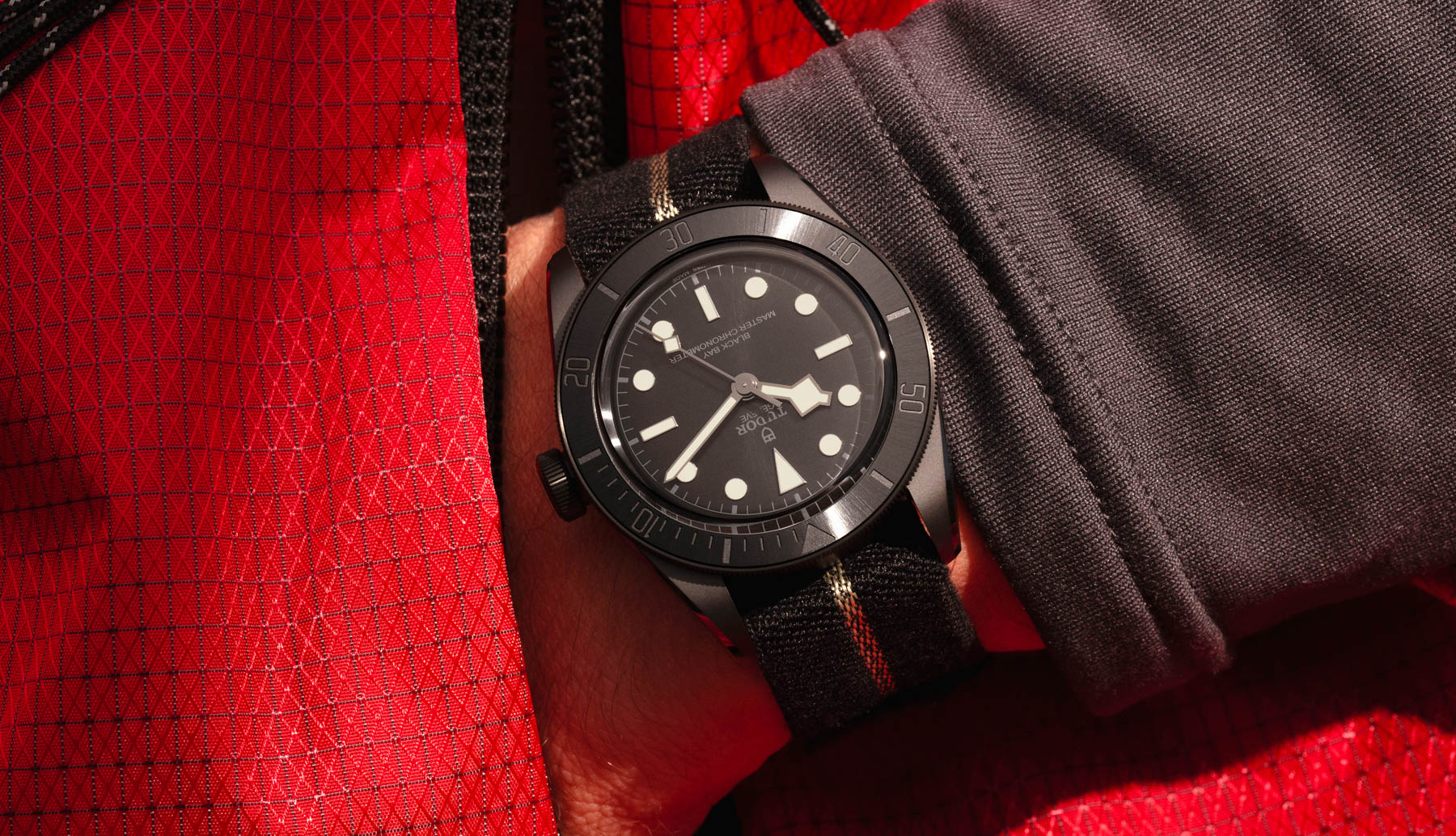 It's alive!
The watch truly comes to life on the wrist. The finesse of the details and shades of color only becomes apparent when you wear it. And even though it's not that small with a case diameter of 41mm, it still wears quite small. The color black does have the tendency to make things look smaller, and that's certainly the case with this Black Bay Ceramic. I only liked it on the black fabric strap with cream center-line and black PVD 316L steel buckle. The other strap, a hybrid leather strap, looks a bit too technical for me — dare I say a bit soul-less? The fabric strap adds a bit of warmth and texture to the stealthy, smooth look of this performance-driven ceramic chronometer.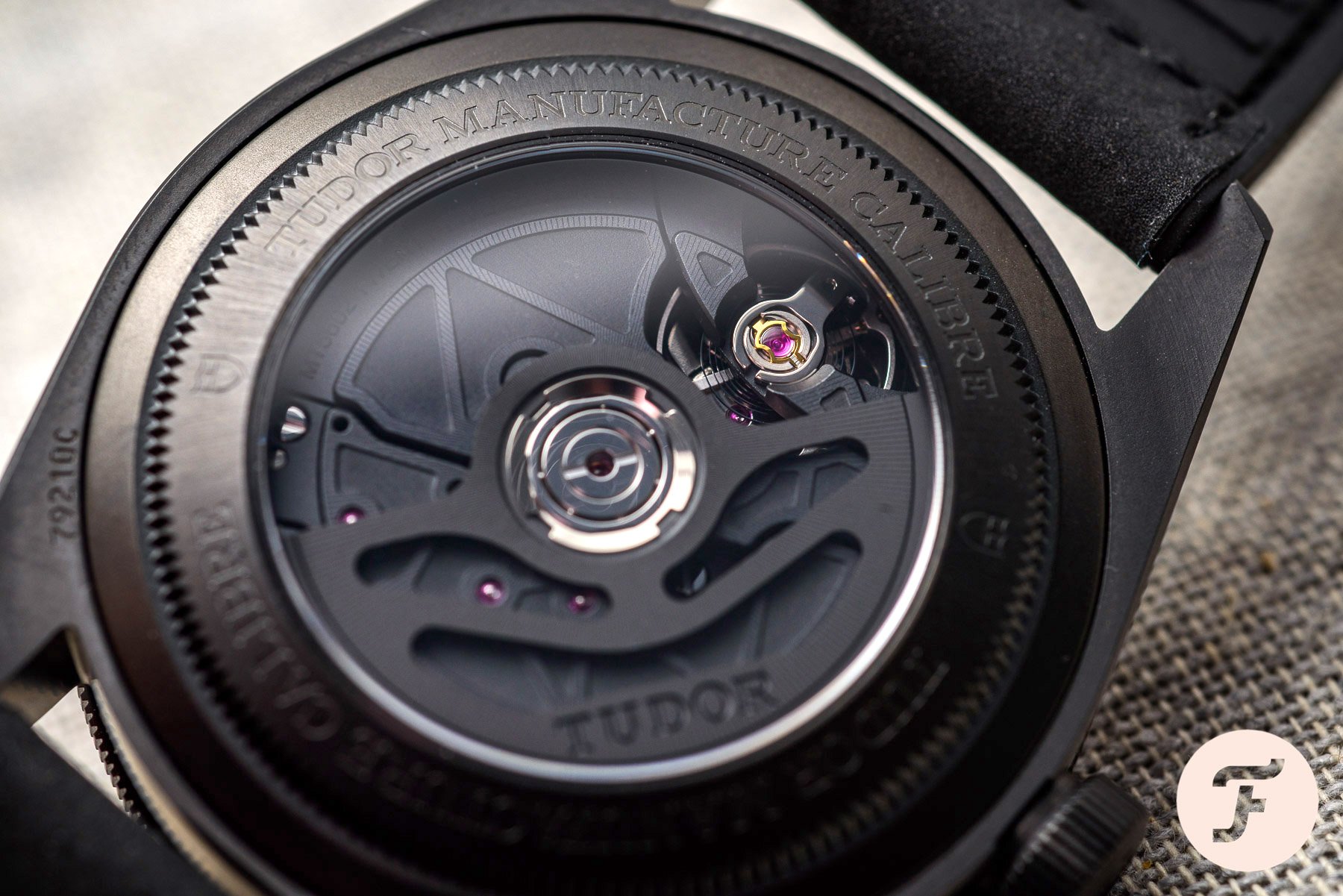 This watch means business
A triple chronometer no less, and one that beats to the tempo of Tudor's precision rules, as well as those set by COSC and METAS. The over-achieving in-house MT5602-1U caliber is visible through the sapphire case back. Its movement, with 70 hours of power reserve and the capacity to withstand 15,000 gauss, was given a matching black treatment. It looks like it means business, and it delivers. And it actually looks better than the versions used in the silver and gold Black Bays that were also released this year. The price for this first METAS-certified Tudor that I won't be getting tired of any time soon is €4,480. And that's a pretty sharp price, although I did say I wouldn't discuss such things.
For more info on this stealthy Black Bay please click here.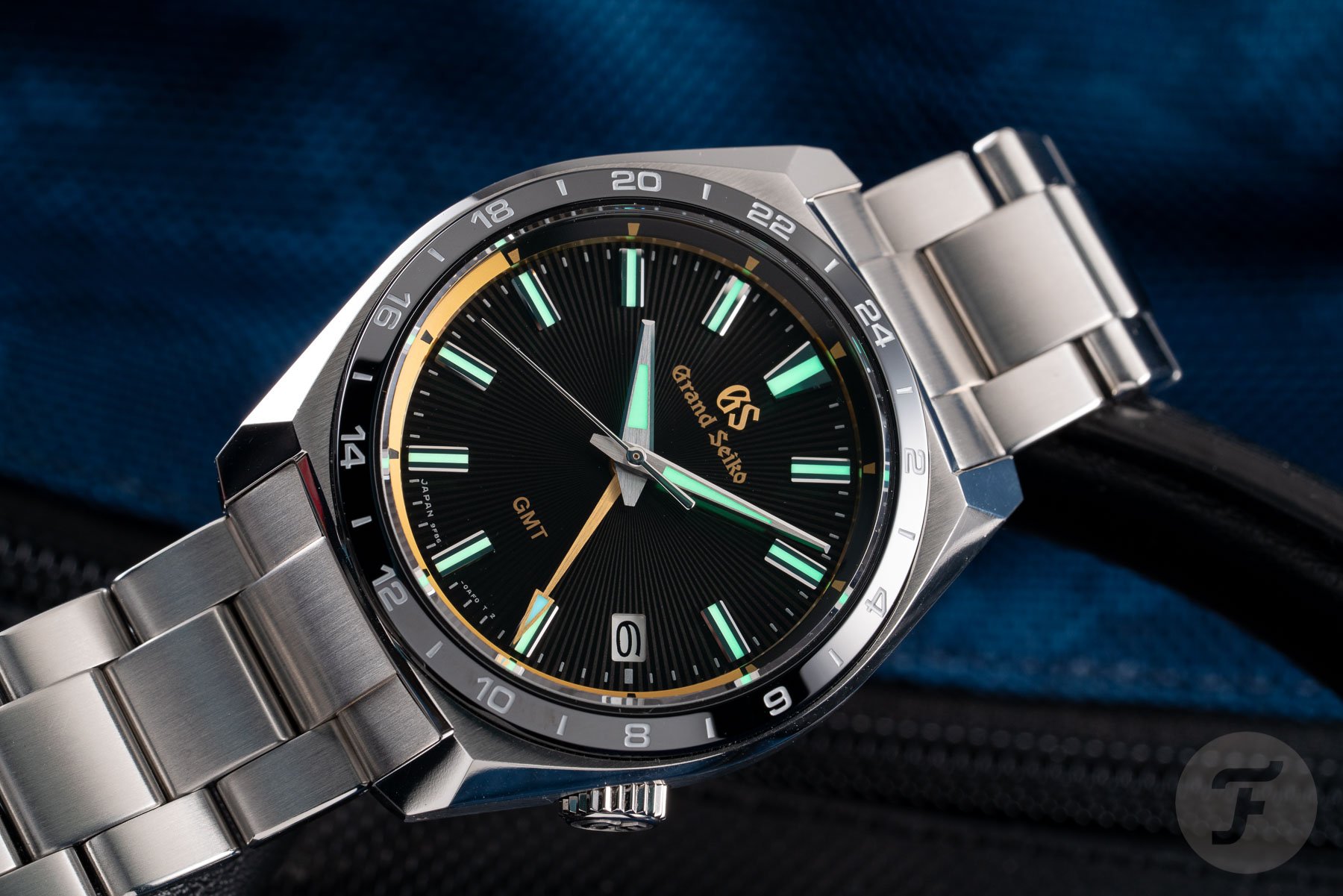 Grand Seiko Quartz GMT SBGN023
I opened the box, saw the watch, and immediately fell in love. The sturdy, edgy, and somewhat stocky case design of the Grand Seiko Quartz GMT SBGN023 was the first thing that grabbed my attention. It's a straightforward design, with clear lines and crisp edges — the 40×13.1mm case could almost be described as muscular. It truly does looks like a well-trained, Zaratsu polished athlete. Not only that, but it certainly has the numbers to back its sporty ambitions. The steel case is water-resistant to 20 bar and its magnetic resistance is 16,000 A/m.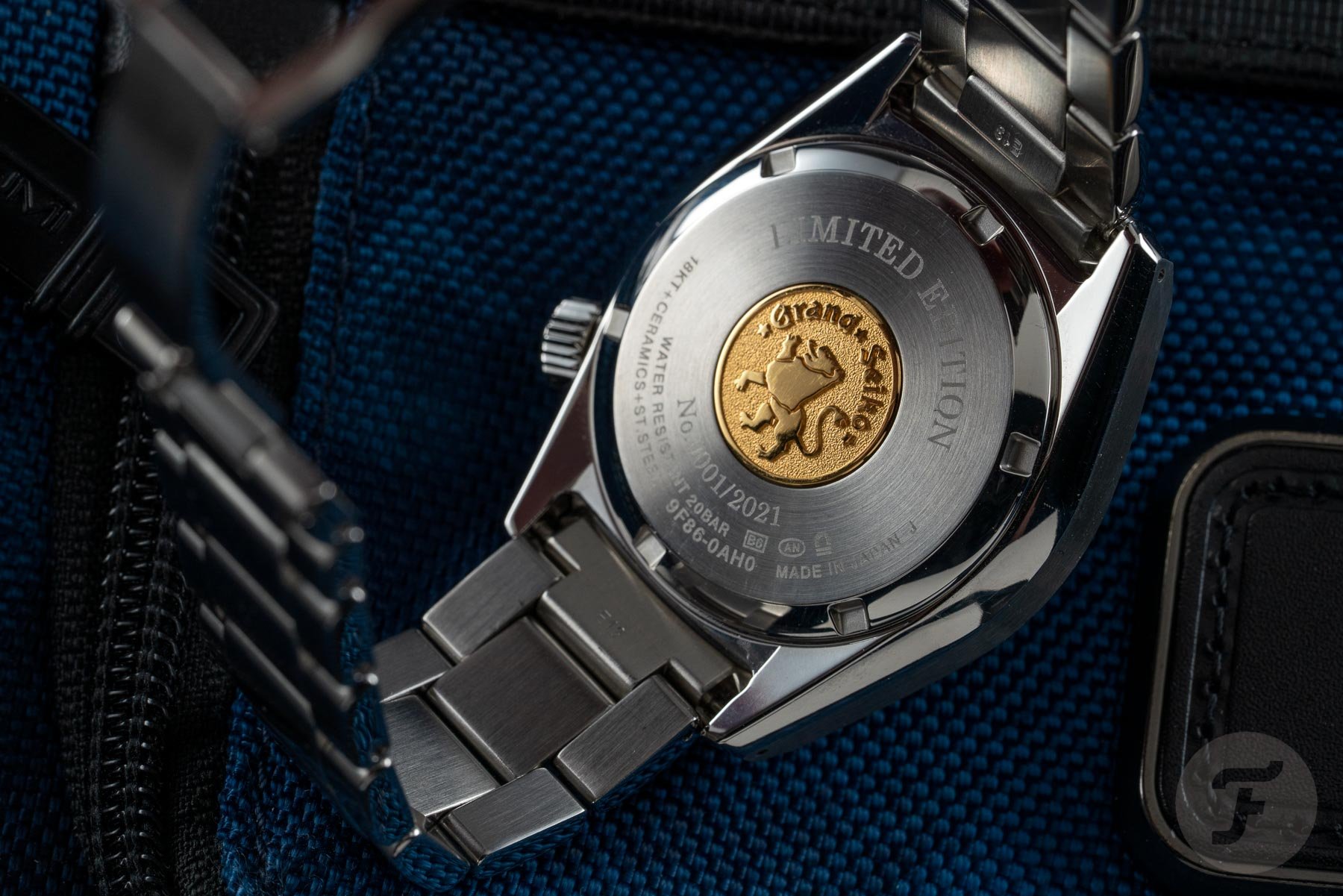 Gold lion standard
The Grand Seiko Quartz GMT SBGN023 is a limited edition of 2,021 watches. The black dial with gold-colored accents is already a hint to its limited availability, but it's the 18k yellow gold Grand Seiko emblem on the case back says it all. That, and the individual serial number engraved on the back. What more do I like about it? Well, the scratch-resistant, ceramic, 24-hour bezel for instance. Another great feature is the two-tone indication on the chapter ring outside the gorgeous textured dial, which helps distinguish night and day hours indicated by the gold GMT hand.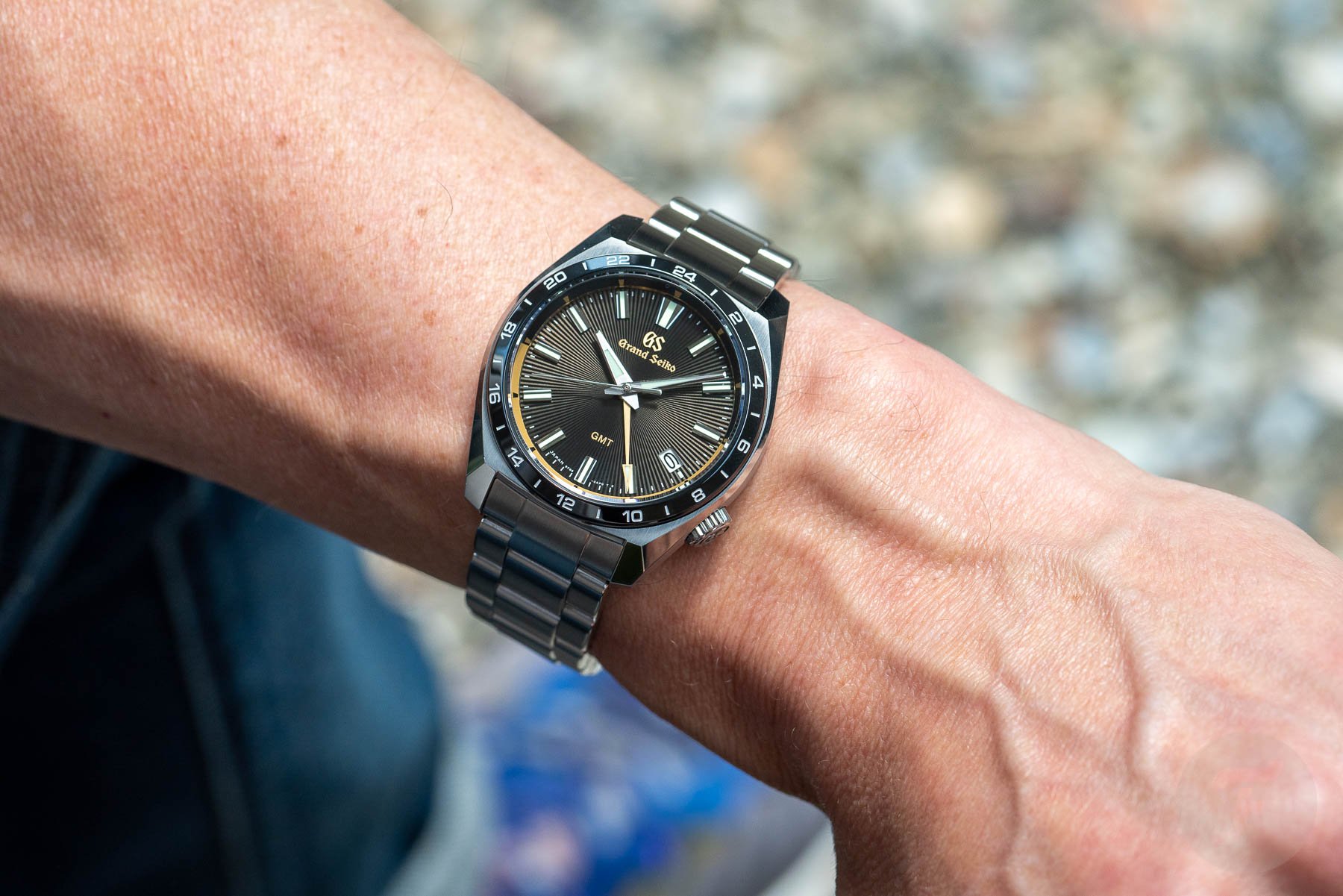 Smitten by the looks
For a price of €5,350, you get a brilliant all-rounder equipped with the Caliber 9F86. That's a durable quartz movement with a precision of ‒10 to +10 seconds per year. Is a little over €5k too much for a quartz watch? Maybe, maybe not. It's a polarizing price for sure, but so are aesthetics, and I'm absolutely smitten by the looks of this Grand Seiko Quartz GMT SBGN023.
For more information, look at Grand Seiko's dedicated website.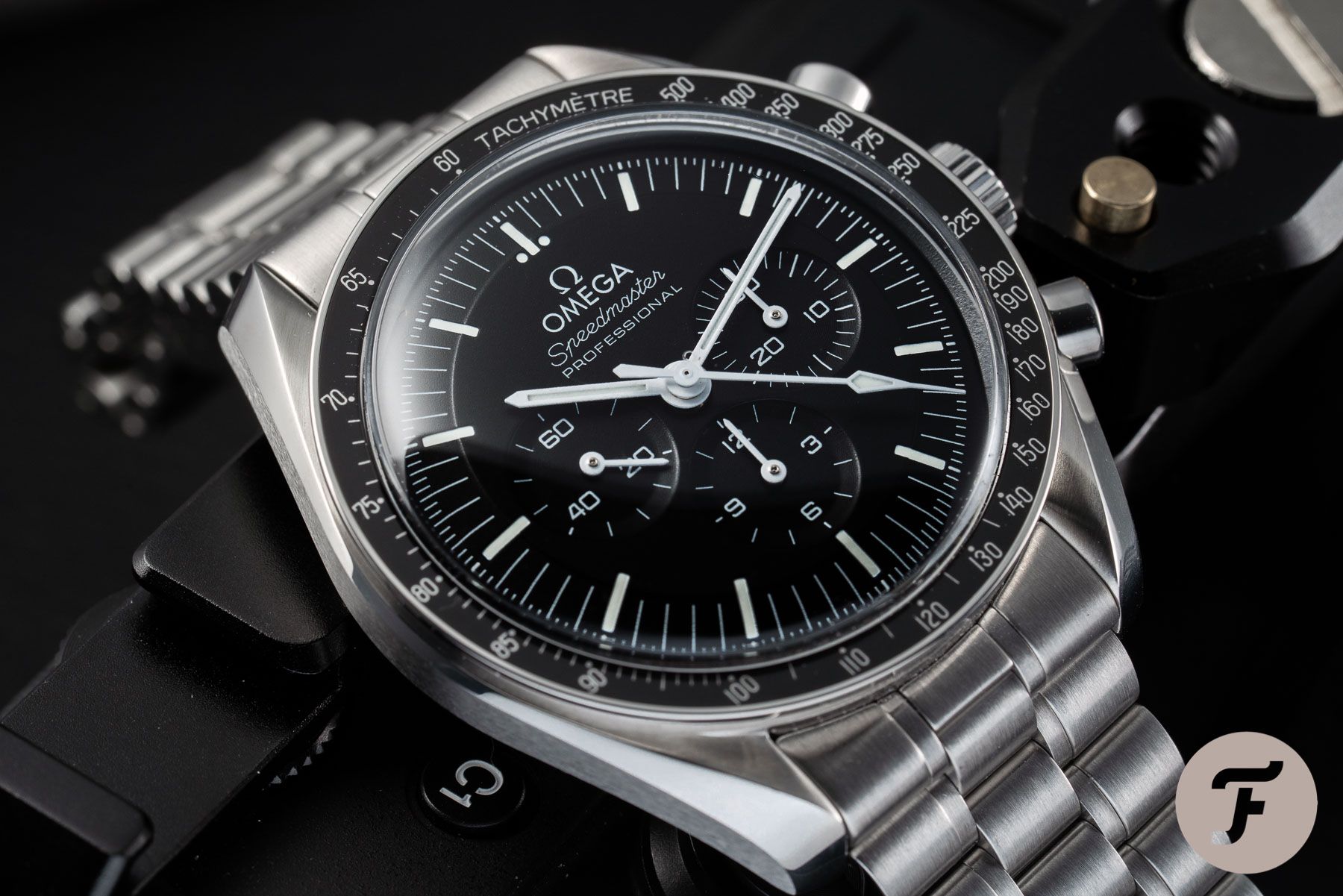 Omega Speedmaster Professional Moonwatch Master Chronometer
I need this watch in my life. The version with the closed case back and Hesalite crystal that is. If you're a stickler for reference numbers you may better know it as the 310.30.42.50.01.001. Yes, the Speedmaster Professional Moonwatch Master Chronometer with the Co-Axial Caliber 3861. The one that is worth each and every penny of its €6,200 retail price. RJ already gave us five reasons why the watch is so great and an absolute must-have. And I agree with him on everything.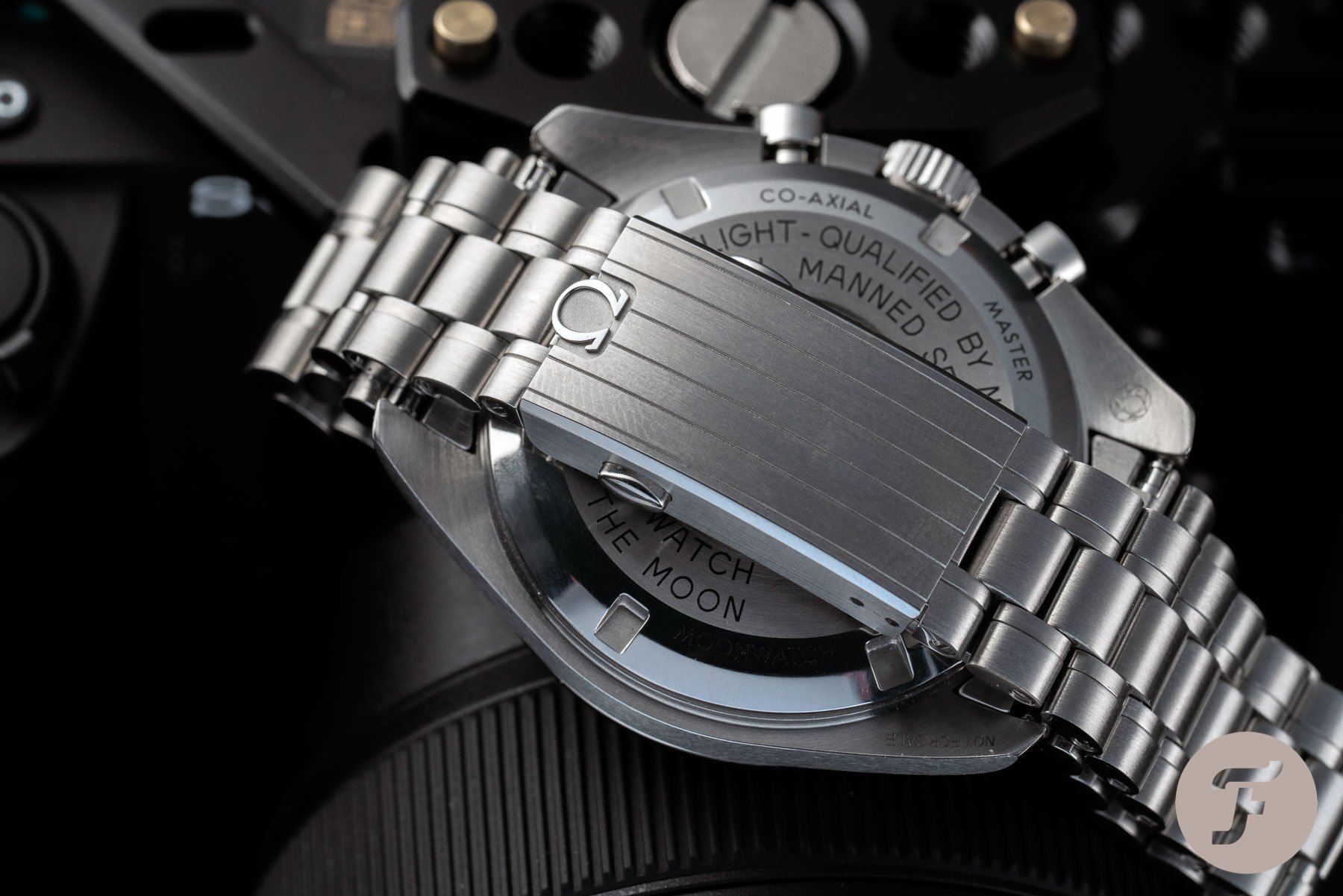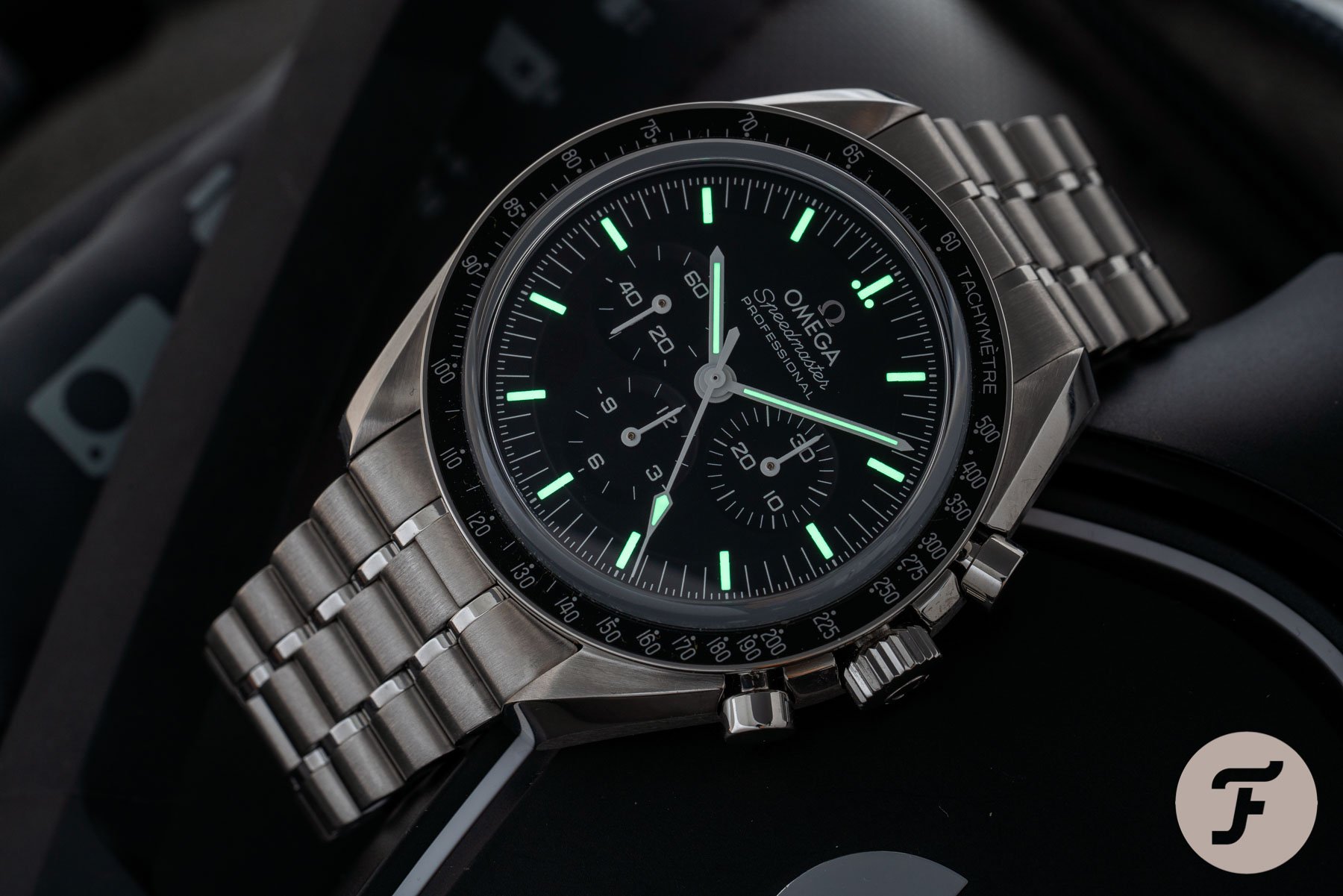 No room for discussion
The latest version of the Moonwatch is outfitted with a superb and ultra-precise movement, a wonderful bracelet, and an updated case design that harkens back to the original Moonwatch. The step dial also makes reference to previous Speedmasters and is also a thing of beauty. There is just something absolute about this new Speedmaster. I don't think that it leaves any room for discussion. It is what it is. And what it is, is awesome. End of discussion.
Please find more information on Omega online.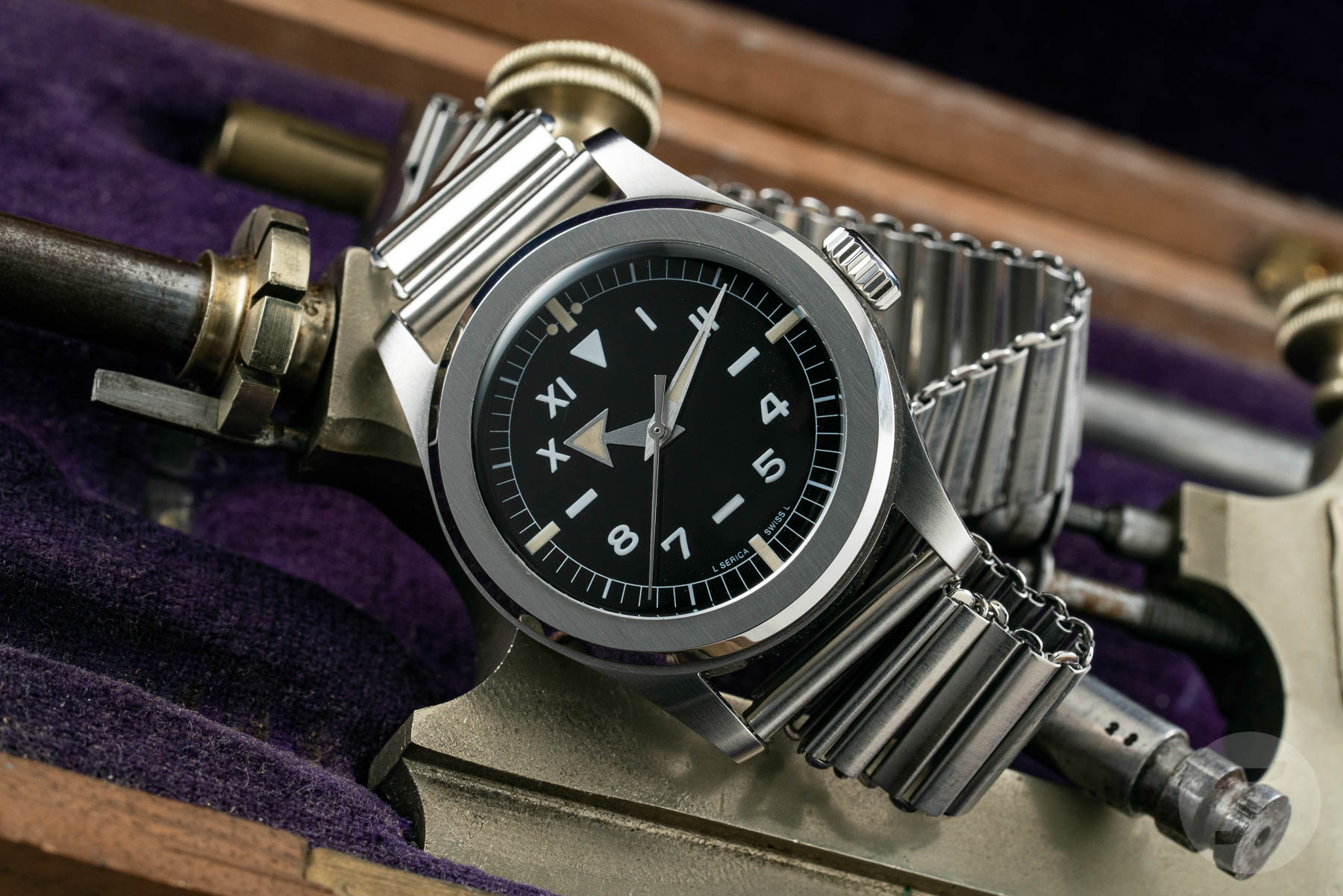 Serica 4512 California
Ever heard of Serica? Be honest. I only got to know the young French microbrand based out of Paris because I started working at Fratello, and oh man am I glad I did. The 4512 California we had in the office made me smile instantly. Not that I'm a grumpy individual per se, but a watch that actually puts a smile on my face is something that doesn't happen all that often. The 4512 California did the trick. And when I put it on, it actually made me laugh out loud. Because it looks so incredibly good. You just feel the love company founder Jérôme Burgert put into this sweet 37.7×11.3 steel critter. And that genuine love is contagious, and might just put a smile on your face too if you get a chance to try one on.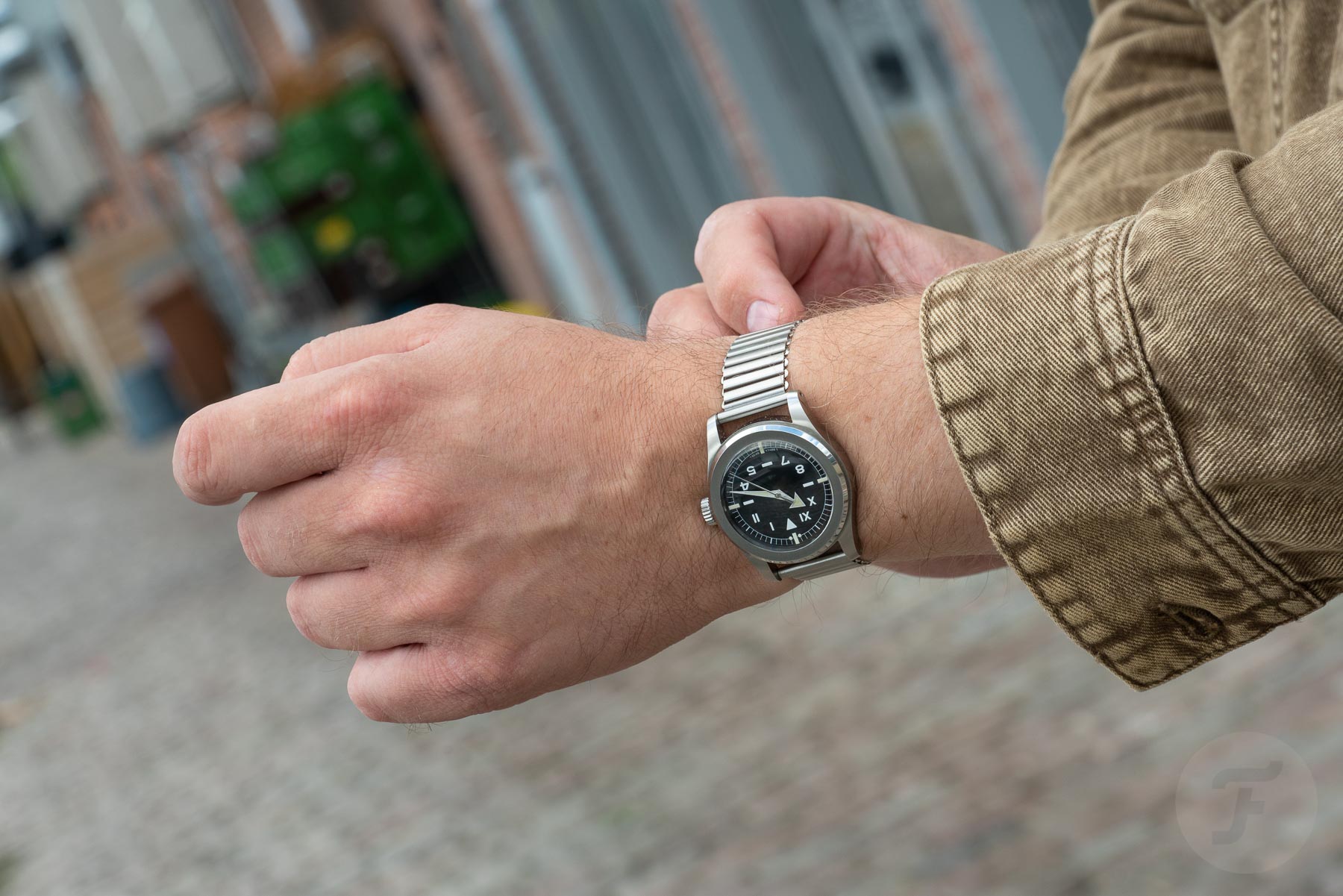 Just like George Michael
The California dial without any branding is strong. It doesn't say Serica in big bold letters. Something which adds a bit of mystery to this retro-styled timepiece. Because there's no brand to set the tone or the mood, you dive into the 4512 California without prejudice. George Michael's "Listen Without Prejudice Vol. 1" from 1990 taught us that he was more than just Wham! And that he truly was a great singer. The Serica taught me that a watch can conquer your heart not by brand value or recognition, but by anonymous good looks alone. Eventually, those with a sharp eye will spot the text "Serica Swiss" on either side of the 6 o'clock hour marker.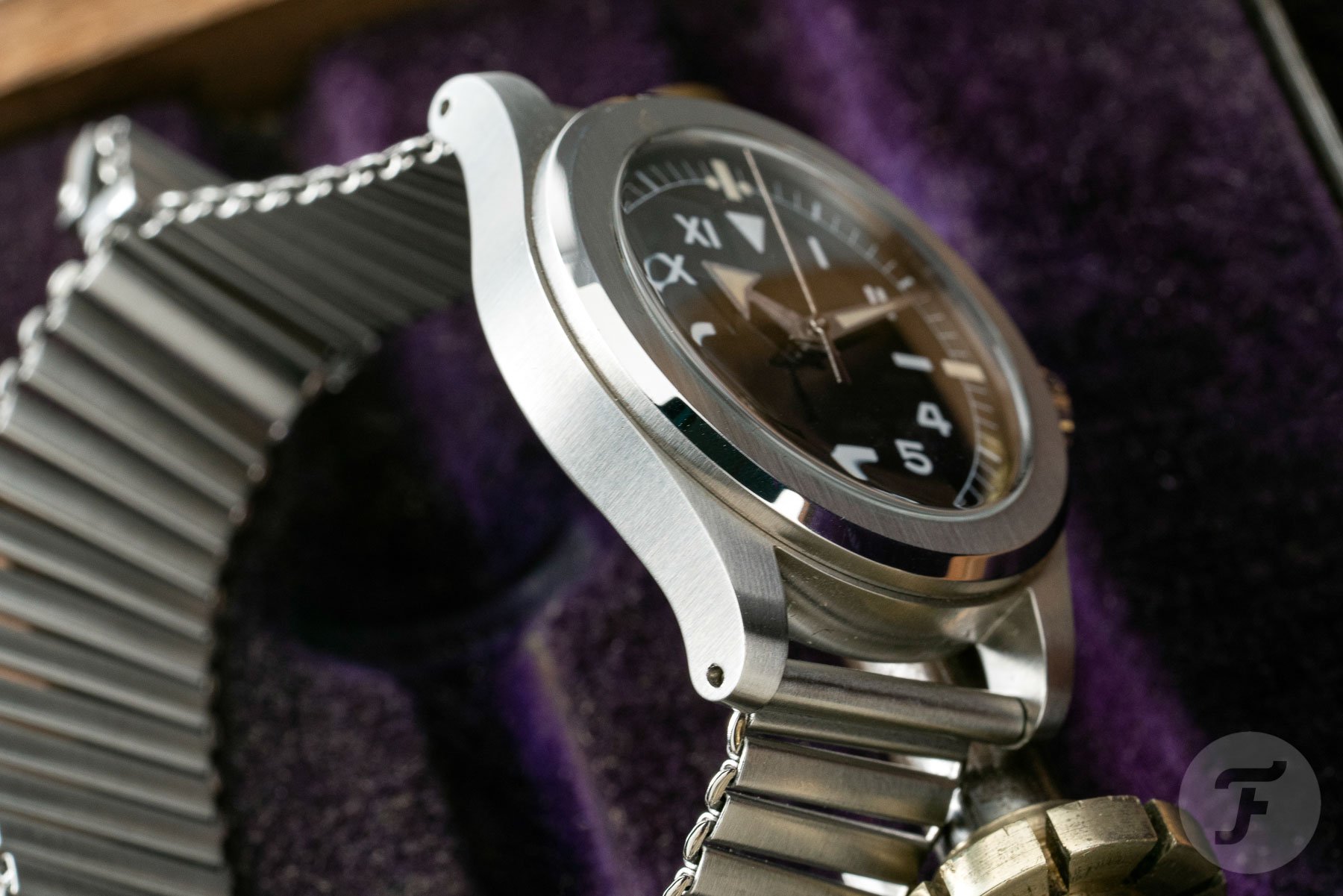 Fiddling to get it just right
Part of the appeal of the 4512 California is also the extremely well-executed Bonklip style bracelet. It's a remake of a 1920s UK-designed bracelet that is as thin as it is flexible. It's a ladder-style bracelet that is 20mm wide all the way around. I had to fiddle a bit to get the size right and put the little hook in the bracelet, but when I got the hang of it, it was perfect. It's supple, it's precise, and it gives the watch an extra dimension. And all that for just €690. You also get big, bold, broad-arrow hands, a brushed flat top bezel, and a manual winding version of the STP1-11 for the price. It's also water-resistant to 200 meters, making the 4512 California a very versatile watch indeed. If that doesn't put a smile on your face, I don't know what will.
To find out more about the Serica 4512, visit the official Serica website.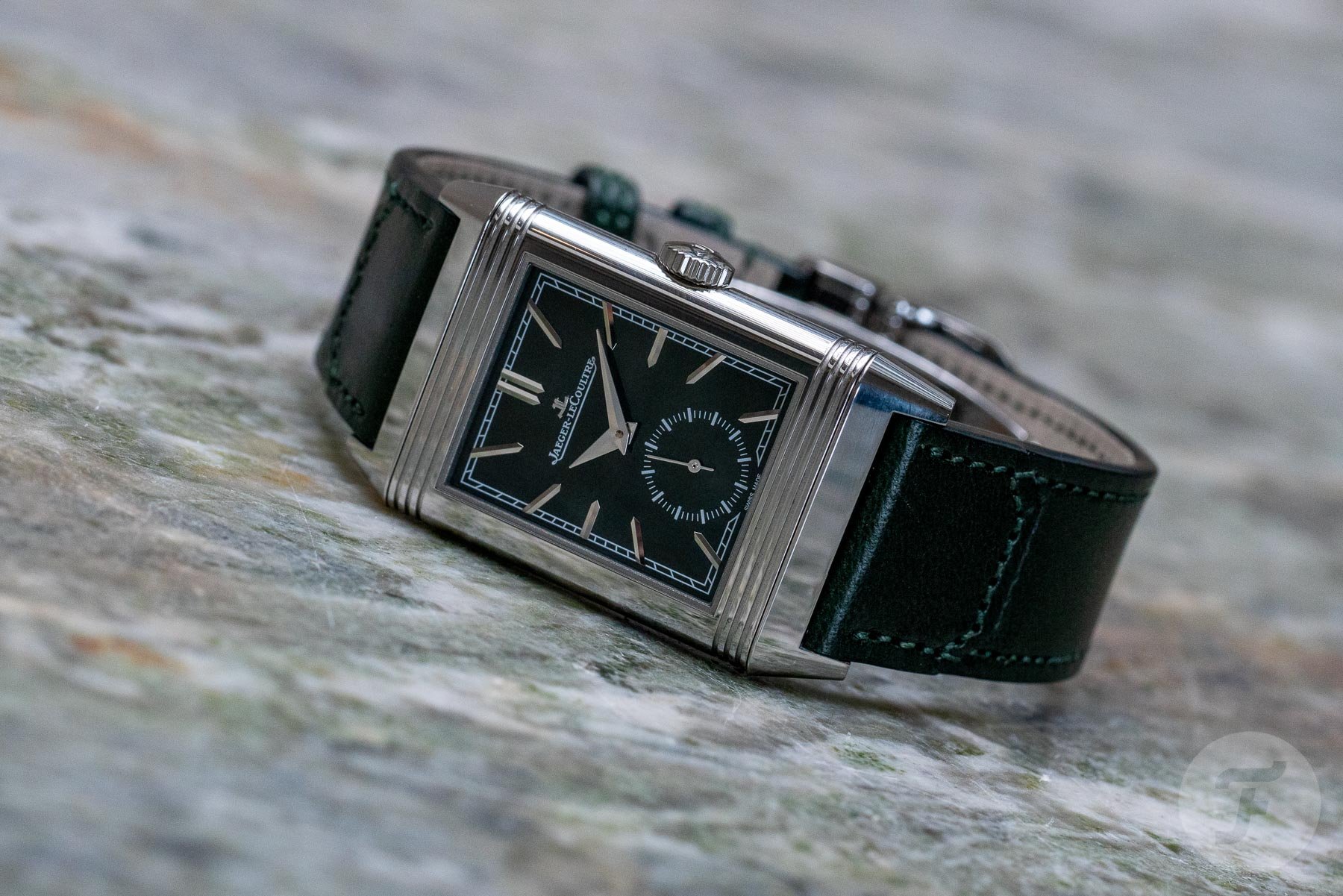 Jaeger-LeCoultre Reverso Tribute Monoface Small Seconds
As it turns out, 2021 is my Reverso year. Not too long ago I went on a quest to find out if the JLC's rectangular masterpiece was a watch I had deprived myself of for all the wrong reasons. The Reverso Classic Monoface Large Small Seconds convinced me that this was indeed the case. And because I don't want to miss out any longer, I had to try the Reverso Tribute Monoface Small Seconds (ref. 3978430) in green that came out at the beginning of this year.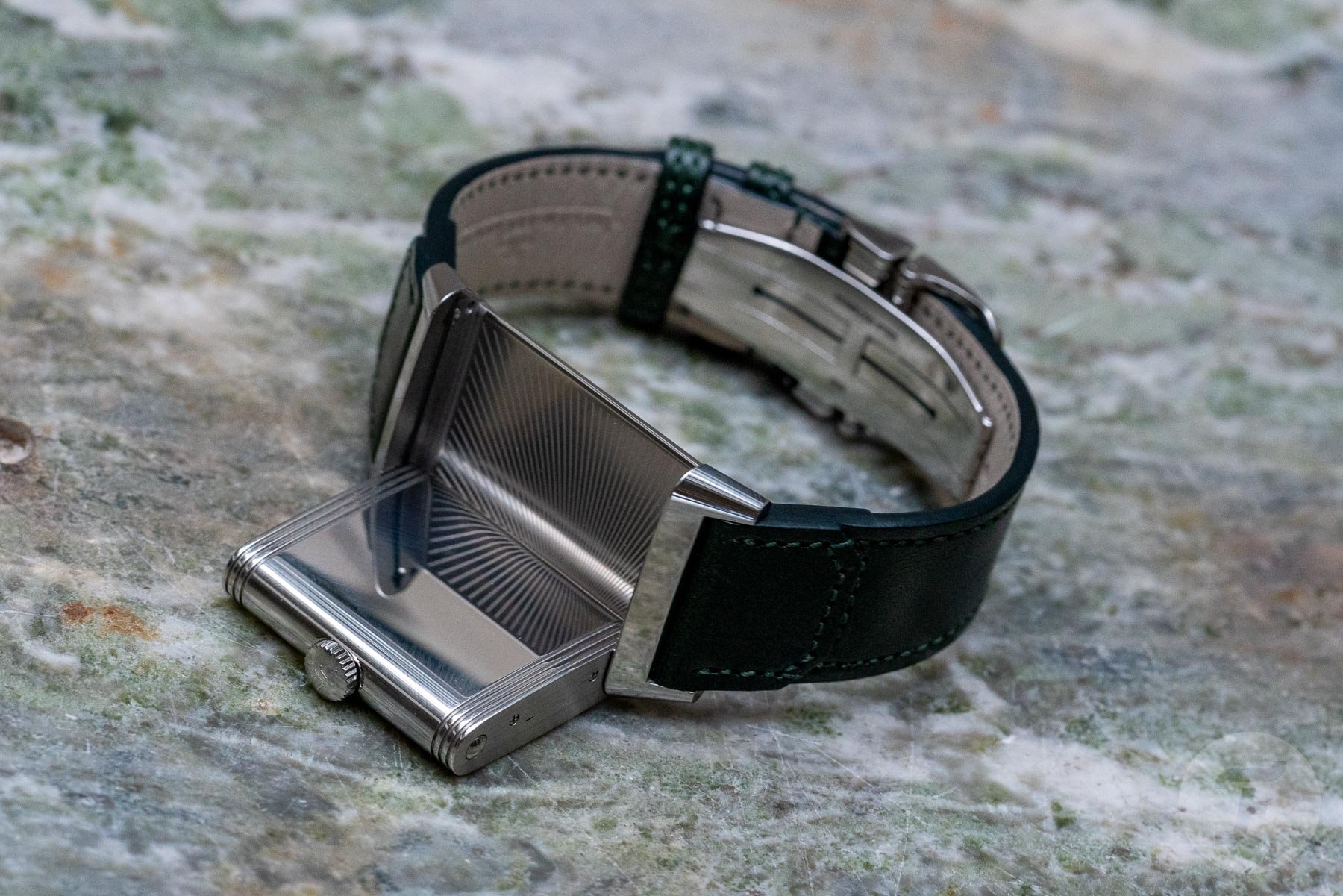 What shade of green exactly?
I found out that a rectangular watch goes really well with my mostly casual attire — hey, it is a sports watch at heart! But would green go with a largely non-green outfit? It did! The color of the dial and the matching Casa Fagliano calf leather strap is a distinguished forest green, not a hulky shade of green. Furthermore, the polished Dauphine hands create a stark contrast with the dial and give it a strong and sporty appearance.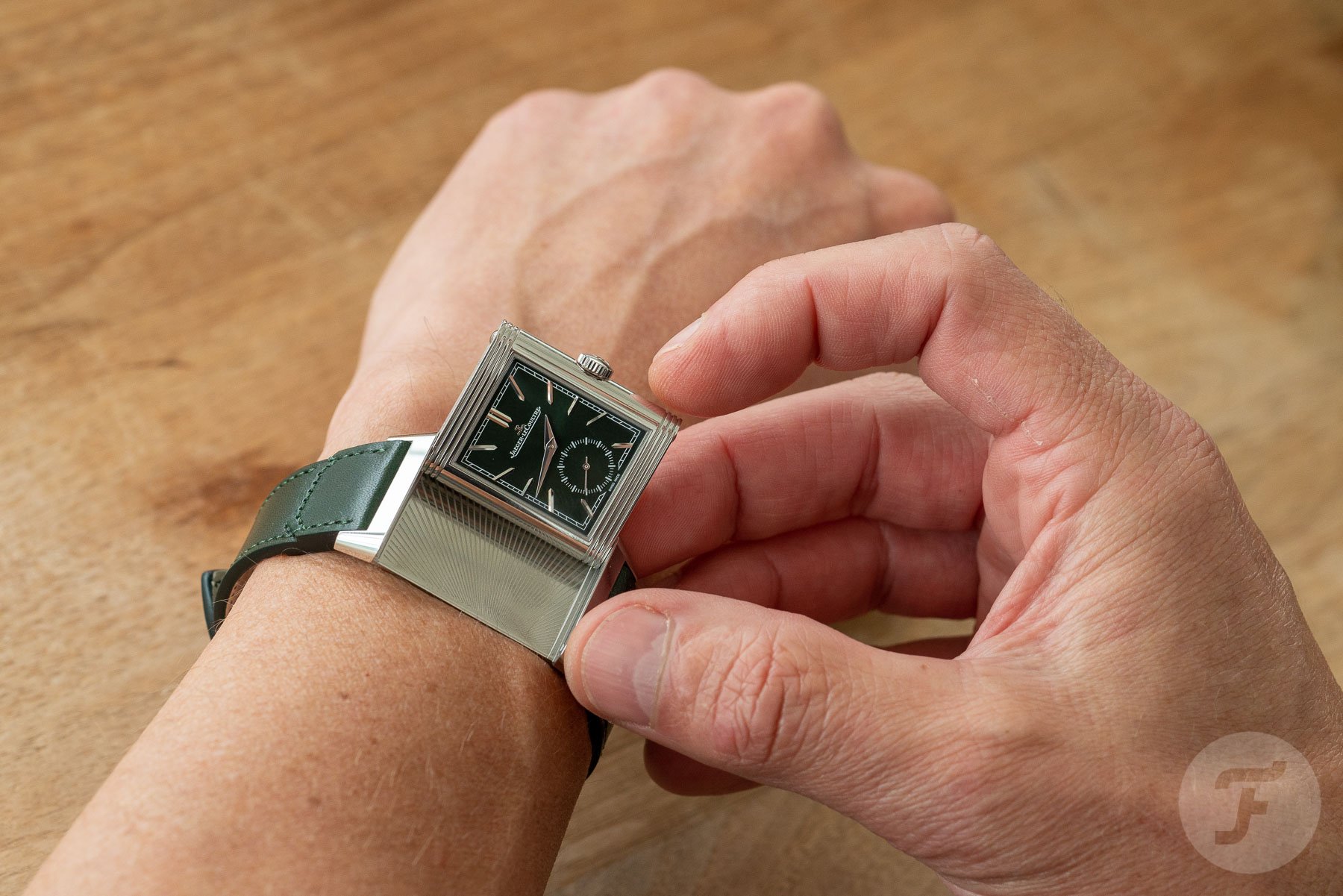 An engaging experience
What I like about the Reverso is that it does say Art Deco, but it also speaks the lingo of 2021. It's a watch that doesn't go out of fashion because of its impeccable design and style. It's also a real watch, not just a fashion piece, thanks to the in-house caliber 822/2. Which is itself a part of a long-time tradition of movement manufacturing. The movement ticks away inside the 45.6 × 27.4mm and 8.5mm thick steel case and is comprised of 108 individual components. Having a hand-wound movement in a case you can flip over — a fascinating design and an even more fascinating thing to do over and over again — makes wearing this watch a very engaging, hands-on experience.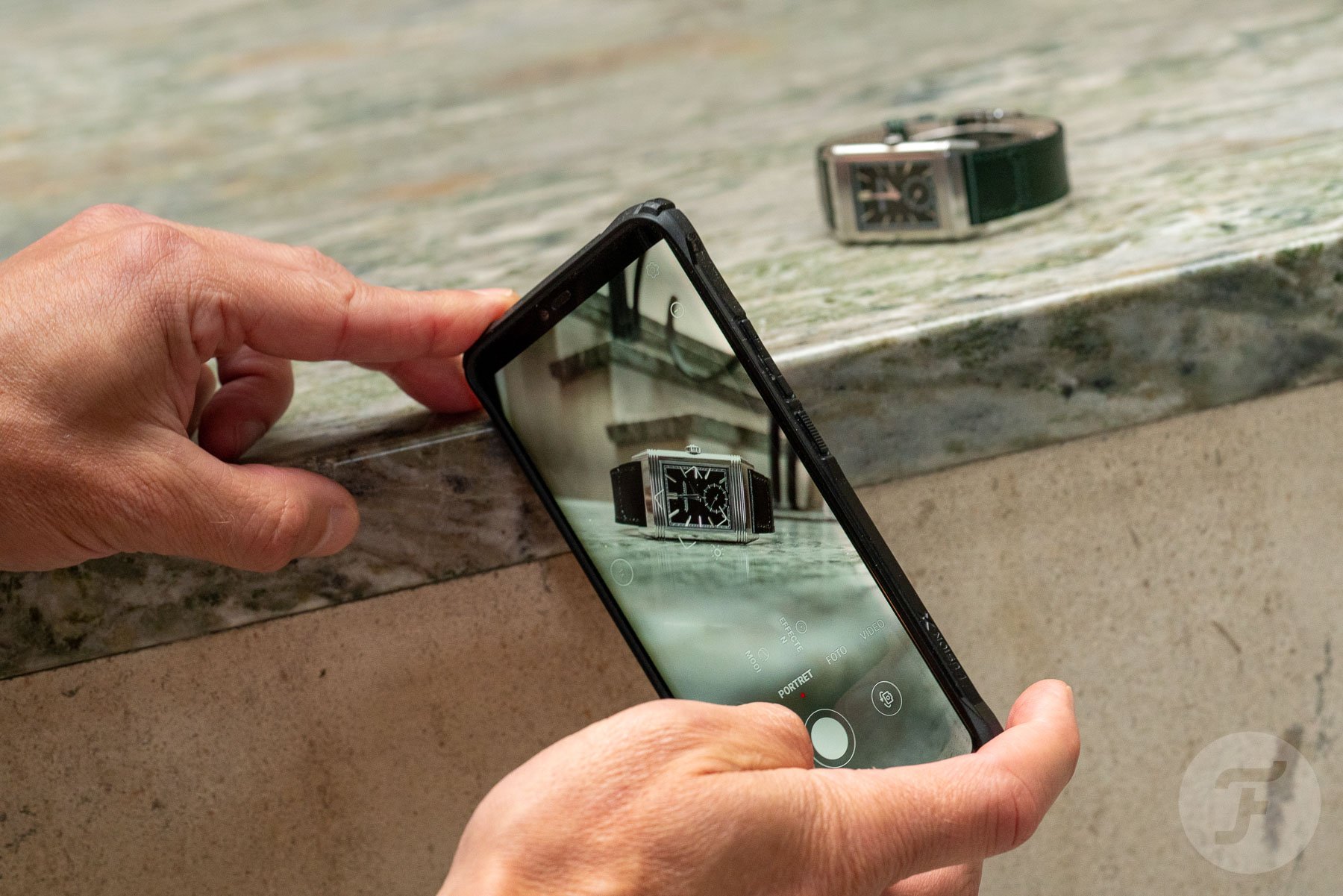 I am so glad I don't have to defend the list price of €8,500. If money was no object, I would most definitely wear this Reverso with its stunning sunray-brushed green dial and applied indexes very, very often. And with any outfit too! Because this green watch may not match your attire, but it will uplift your overall appearance for sure.
For more information on the green Jaeger-LeCoultre Reverso Tribute here.
Final thoughts
There you have it, my list of five of the first eight months of 2021. With the Geneva Watch Days coming up and some other new releases in the fall and winter, I'm quite sure I can do another top five list later this year. But for now, the high-tech Tudor, the must-have Omega chronograph, the surprisingly versatile green Jaeger-LeCoultre Reverso, the muscular Grand Seiko Quartz GMT, and the lovely feel-good Serica will do nicely indeed!
Please find and follow me at Lex Stolk • Instagram