NEW: The Vacheron Constantin Les Cabinotiers Grande Complication Bacchus Sets The Bar Yet Again
A wristworn horological cathedral in 18K pink gold
It doesn't take more than a quick glance at the new Vacheron Constantin Les Cabinotiers Grande Complication Bacchus to realize it. This is not a watch. If you're in the know, the name Les Cabinotiers will make you nod, as it is the single division of this storied manufacture that I would give an arm and a leg to visit. Set aside for Pièces Uniques like this grande complication, most wrist and pocket watches (yes, for your vest pocket) from this inner sanctum of VC do not have a price tag.
As the saying goes, if you have to ask, you can't afford it. Suffice to say we are talking hundreds of thousands of Swiss francs, but this is wholly irrelevant. Like my grail watch, this is about something other than telling the time. Far beyond being a necessary tool for the wrist, this is about craftsmanship — inaccessible craftsmanship that is more akin to art. But we don't go to the Louvre to consider purchasing the Mona Lisa or a Cezanne, do we?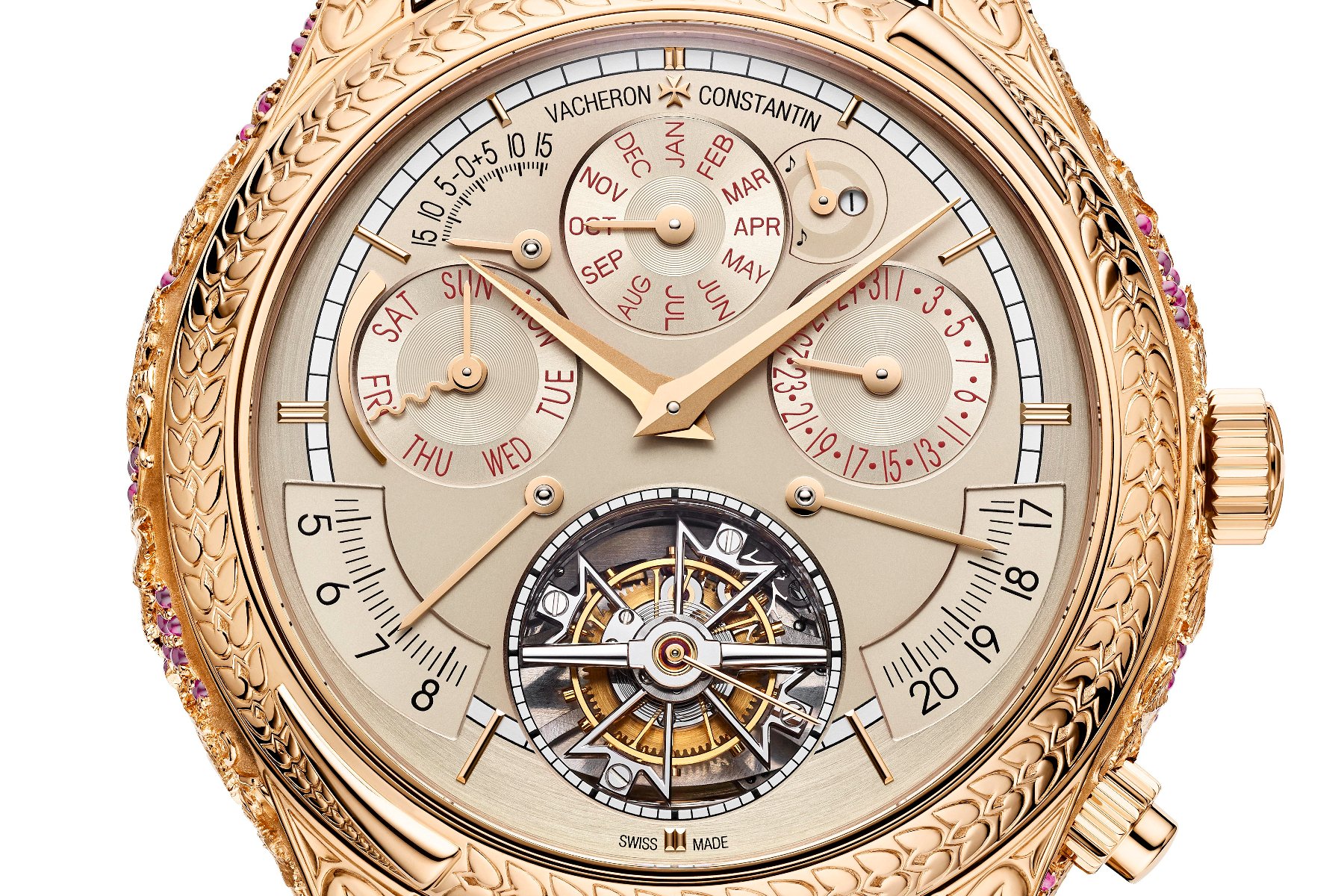 First Impressions
I feel a twitch of a grin as I type this subheading. It's as if I'm doing a daydream hands-on with this 47mm work of art. In its pink gold case, it might seem impossibly large for such a classic visage until you consider the number of complications within the piece. Sixteen. Yes, sixteen complications. Getting my head around this number, based on the in-house Calibre 2755 GC16, makes it seem almost too small. But still, what hits me first here is the palatial case engravings and gem setting, creating a maximalist dream. I'll warn you right now, you might find my story riddled with cliches, and unavoidably so. Bacchus is the Roman name for Dionysus, the god of wine and intoxication. And intoxicating this surely is.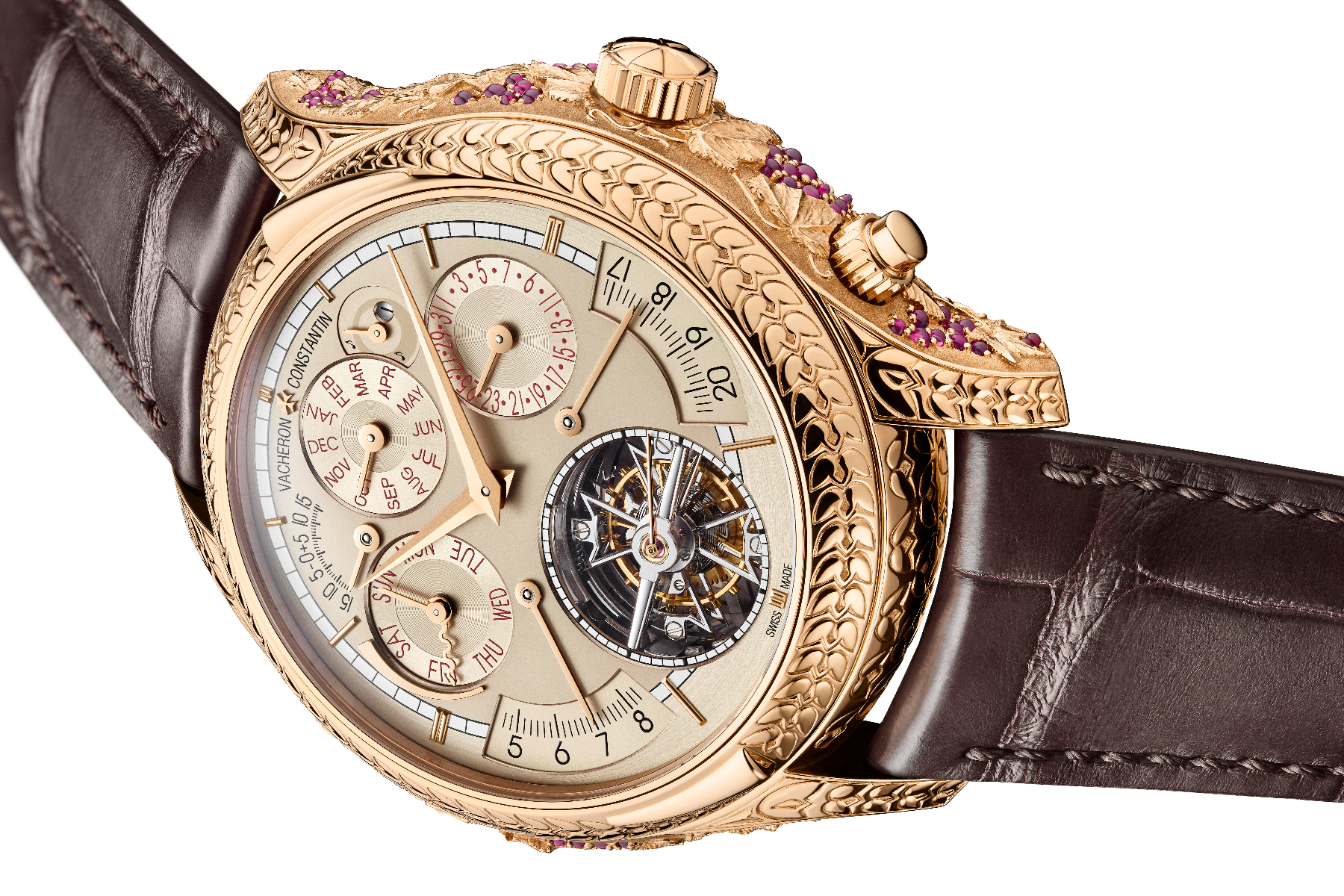 A case for perfection
Only four paragraphs in, you get both a cliche and a pun, as I try to take in the details of the case with an objective eye. As much Haute Joaillerie as horology, the engraved pink gold is arresting. It takes a strong personality to pull off actually wearing the Vacheron Constantin Les Cabinotiers Grande Complication Bacchus. Don't get me wrong, it has nothing to do with the size, and would you care? If I had the financial clout, I could have a set of shirts tailored for the larger size. Yes, even this excessive work of art begs to be worn. The arresting sight of the Maltese cross tourbillon cage at 6 o'clock does its best to pull me into the dial. The case, however, is equally alluring. It's a double-sided wonder created as an ode to Dionysian excess — perhaps a fitting celebration when the pandemic lifts?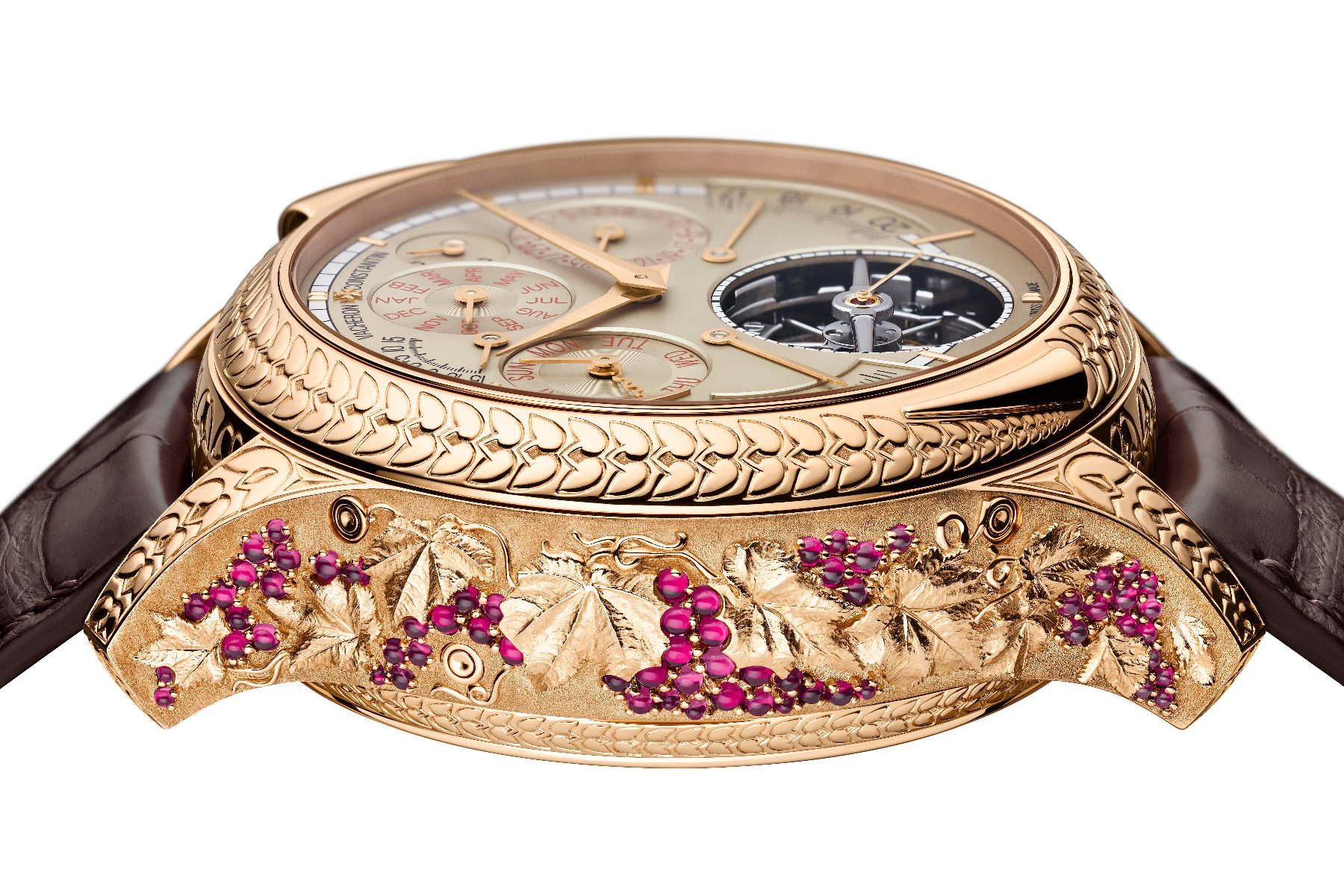 A necessary celebration of excess?
In case you were wondering, yes this is a one-of-a-kind, a Vacheron halo model, and it seems trifling to even mention a pandemic. Banal graphs denoting yet another difficult year probably mean little to the would-be owner of this Grande Complication. And do you know what? I'm not jealous, as we need this unique piece if only to remind us of the time-honored skill set that is on the verge of extinction. I can almost feel the movement of the hand tool, carving an intricate vine leaf out of the pink gold, and what about the base-relief case sides? Gem-set into the foliage is sparkling rubies depicting grapes, lighting up with the smallest touch of sunlight. It's an organic scene that takes 300 hours of labor divided between the engraver and the gem-setter.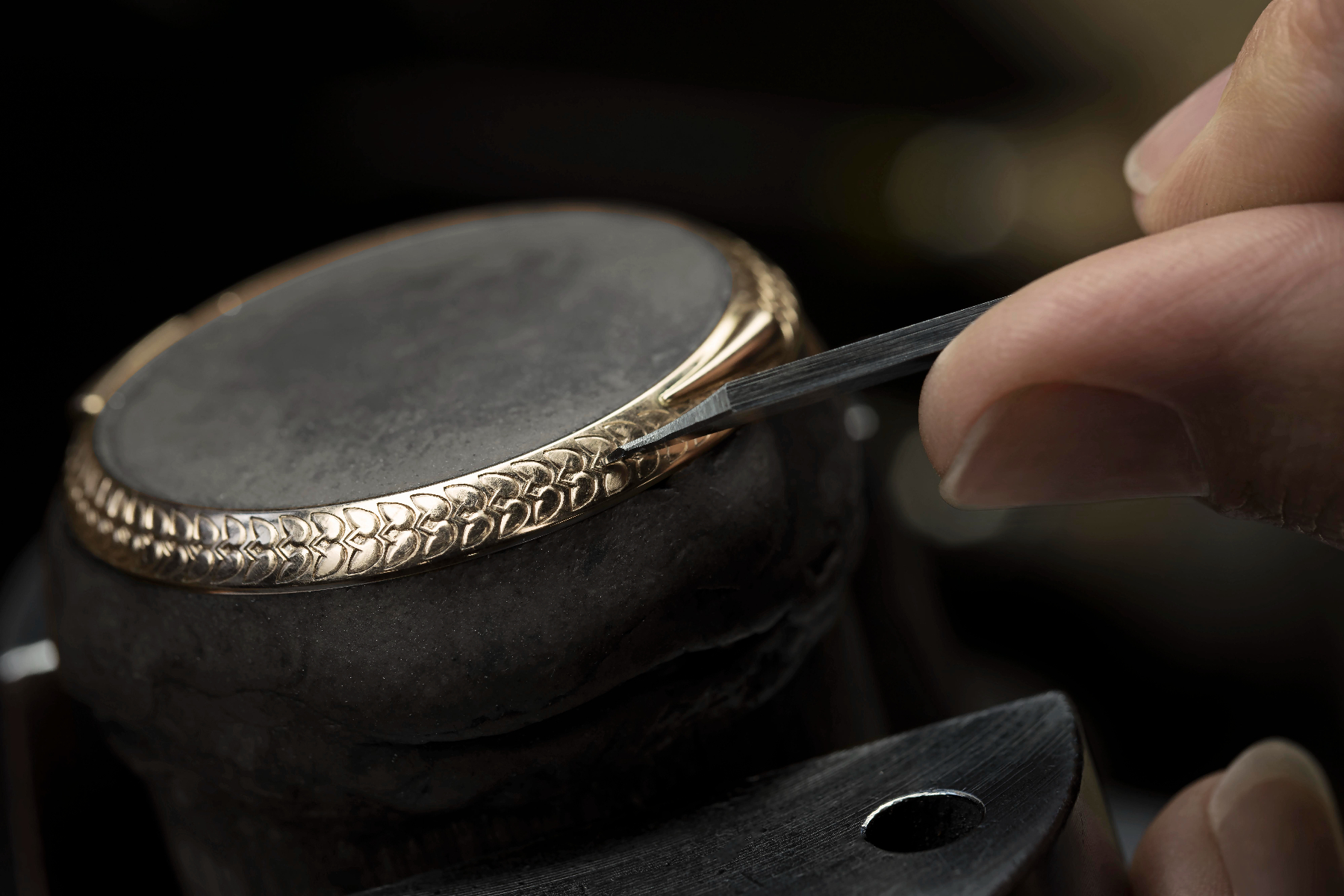 But 16 complications? Can it be true?
This double-sided creation might be dedicated to Bacchus, the Roman god of vines and wine (and debauchery by proxy). But, as Vacheron Constantin says, "In addition to these mythological references, the tourbillon and minute-repeater movement displays virtually every astronomical and calendar-type complication a timepiece can muster." The brand also draws inspiration for the piece from German astronomer Johannes Kepler. It merely underlines the ostentatious vision, as if we needed any explanation.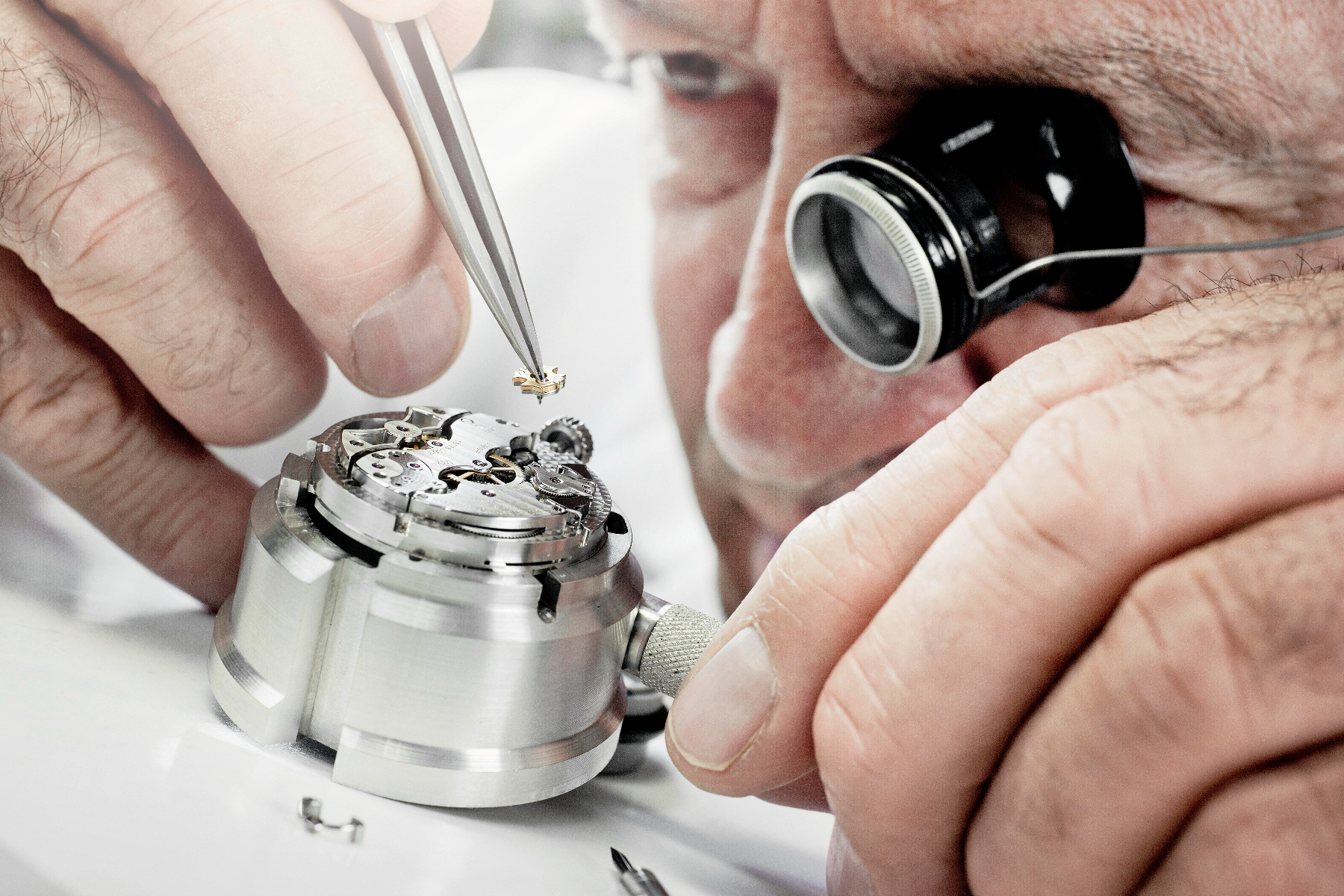 The complexities within
The manually wound Calibre 2755 GC16 is equipped with a tourbillon featuring a cage shaped like Vacheron Constantin's signature Maltese cross emblem. The one-minute tourbillon has an integrated pointer, therefore doubling as a small seconds indicator. And yes, the watch also incorporates a minute repeater, which chimes hours, quarters, and minutes at the wearer's request. A silent centripetal flying strike regulator ensures that each chime remains beautifully clear and distinct. The entire concept of a minute repeater might seem a folly in 2022, but as with every single part within this rose gold case, it has a double purpose. It not only chimes the exact time with crystal-like clarity, but each delightful sound also reminds us of the craftsmanship.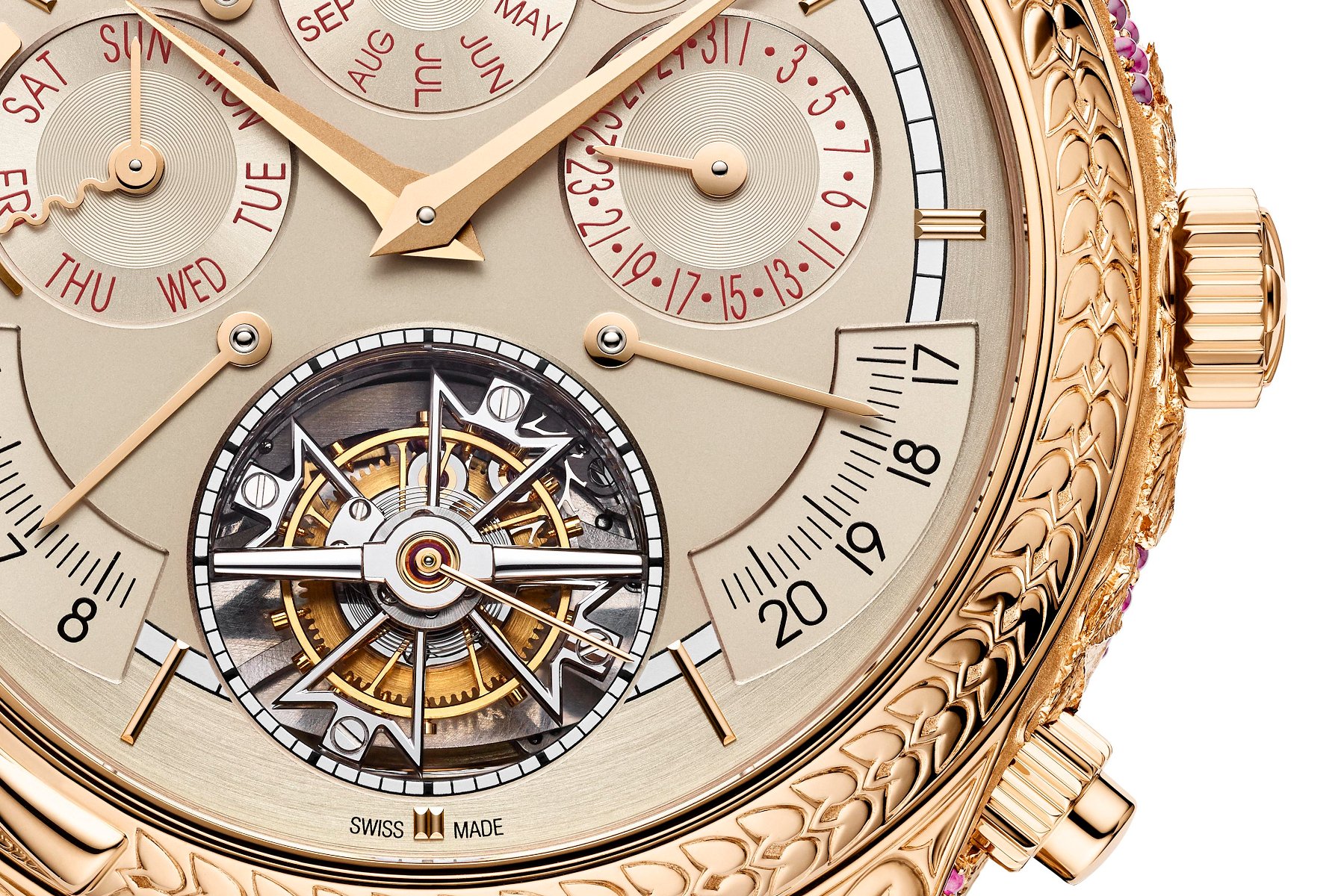 A complex, rich, but legible dial
The calendar and astronomical functions play a starring role on both sides of the watch. On the front, the complexities are apparent, even if the dial is deceptively calm in its symmetry. The tourbillon acts as Prima Ballerina on the stage, to be admired at 6 o'clock, ever entrancing in its depth. Tidy perpetual calendar indications are displayed on three counters, with a subtle red-purple print matching the ruby grapes. They respectively show the date, day, and month. Astronomical functions appear on the same opaline champagne-colored dial, starting with the equation of time. This is positioned between 10 and 11 o'clock. The dial also contains a power-reserve indicator, a torque indicator for the repeater mechanism, and sunrise and sunset times framing the 6 o'clock aperture.
Further celestial indications are beckoning behind the rear sapphire crystal. They include the phases of the moon as well as its age, along with season indicators and zodiac signs. The hour and minute hands at the center display what is known as sidereal time. As opposed to the 24-hour solar time we're all used to (and which is displayed on the dial side of the watch), a sidereal day is nearly four minutes shorter and uses distant "fixed" stars rather than the sun as a reference.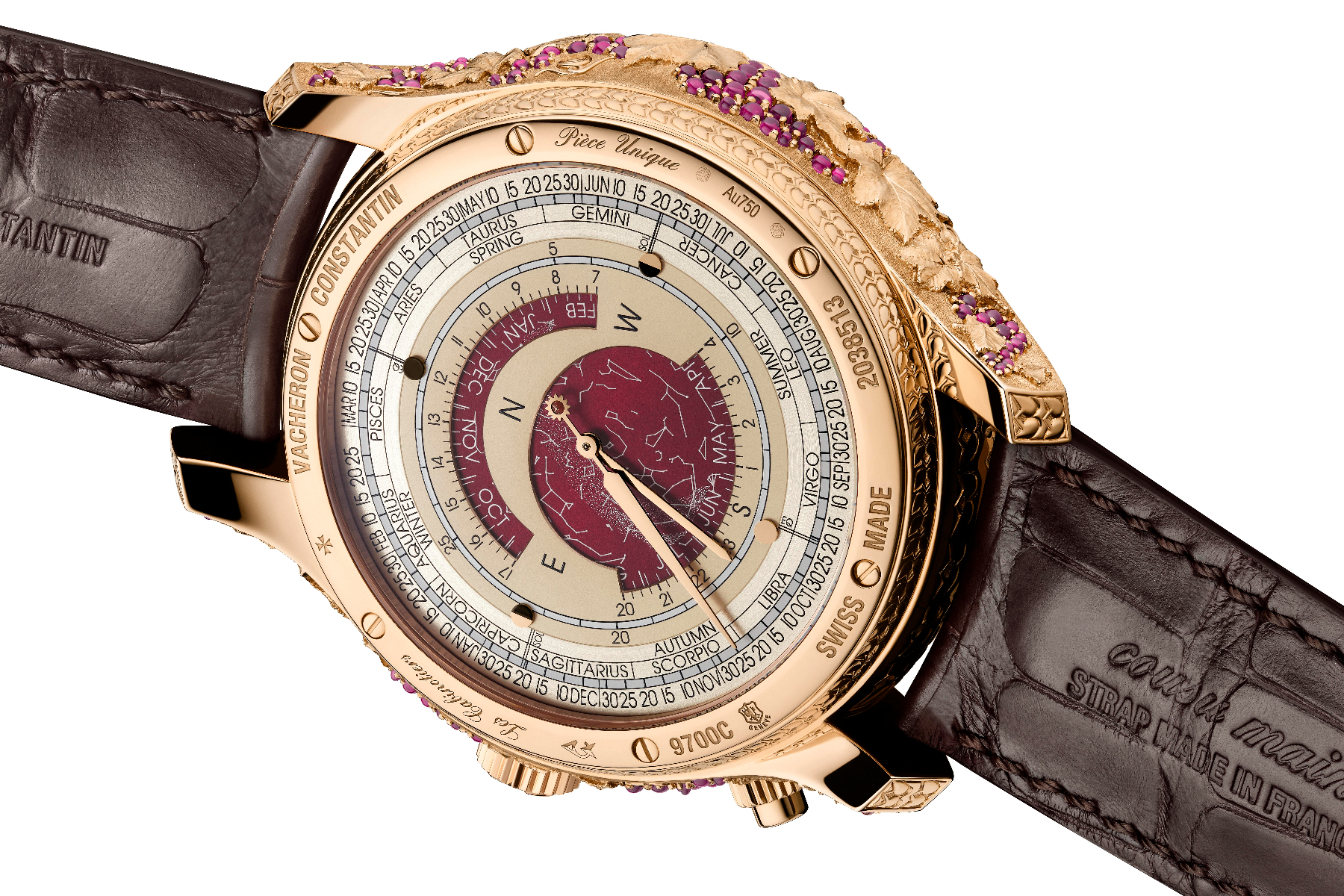 A conclusion of complexity
The movement not only bears the Geneva seal for excellent finishing, but it also has a mind-boggling 839 components. Vacheron has managed to endow this movement with a 58-hour power reserve. While this is not revolutionary in an everyday watch, it's a technical feat in itself with the twin-sided complications. The movement has an operating frequency of 2.5Hz, with its balance oscillating at 18,000 vibrations per hour. The movement alone measures 33.90mm in diameter and 12.15mm in thickness. This, of course, requires an equally impressive case size to house it. The case measures 47mm in diameter and sits 19.10mm tall on the wrist. Vacheron says that the 18K 5N pink gold case has been "specifically designed to provide the best possible sound quality for the minute repeater."
With the danger of causing your synapses to overload, I invite you to discover the entirety of this tour de force on the Vacheron Constantin home page here. In the meantime, I'm afraid you'll have to excuse me. It's about time I tried to regain my composure.
Follow me at @thorsvaboe