Watch Dating Profiles: France — Pequignet, March LA.B, And Serica Are "Magnifique"
French watches offer a lot to love
Wines, food, and many other finest things the world knows are French. But watches? True, France was once a prominent watchmaking country a few hundred years ago. Names like Breguet, Le Roy, and Lépine ring a bell for watch-history enthusiasts. However, like with so many other countries, watchmaking at some point migrated from France to Switzerland, which had perfected mass production. Now, however, watchmaking is making a return to France (some may say it never left). Pequignet is a true manufacture d'horlogerie, creating its "Royal" calibers at its facility in Morteau. March LA.B is bringing unique French design (and calibers) to the table. And Serica? Well, what's not to love with this vintage-inspired, fan-favorite brand? French watches are a refreshing reprieve from the well-known standards. Which one will have you saying "oui"?
If there's one thing I've really come to appreciate in writing these country-themed watch articles, it's the pride. Watchmakers in countries other than Switzerland, making watches that aren't trying to be Swiss, for the most part, are very proud of what their countries produce. The French are not exempt. Pequignet's label of "Entreprise du Patrimoine Vivant" (Living Heritage Company) from the government speaks for itself. Serica and March LA.B are more design-focused companies, leaving the calibers within to others. But a recent limited edition from March LA.B (now sold out), features a La Joux-Perret G100 movement completely hand-assembled in France. That should stop some from writing March LA.B off as a fashion brand, though the watches are fashionable indeed. There seems to be a concerted effort by many brands in many countries to bring watchmaking home — a move I wholeheartedly support.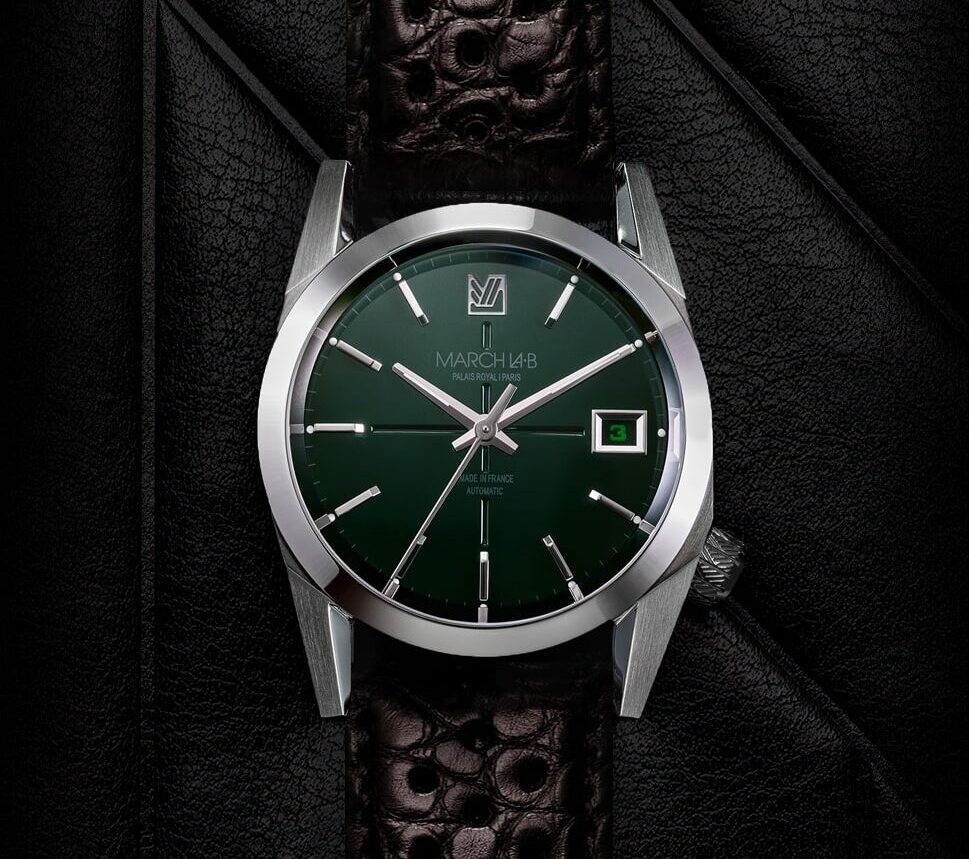 The March LA.B AM69
While I won't be featuring the above-mentioned "AM2" from March LA.B because of the lack of availability, the AM69 is an excellent representative for the company. It's green. Not just any green either — "Pantone 356 C" green. If you browse the March LA.B catalog, you realize that almost every watch is green… that green. Rather, the dials are, but so too are the tinted crystals on the case backs, as well as the leather lining on the straps. It's a strong stance for a brand to take, but what better trademark than a color? If I say "Tiffany," what do you think of? Thankfully, March LA.B chose a beautiful green.
The AM69 takes a standard case design and spruces it up. The roundness of the dial and bezel are flanked by long-reaching lugs that sweep from end to end along a polished, almost flat mid-case. The brushed tops of the lugs angle dramatically down from the bezel, creating a sharp line right up against it. It's a geometric effect that I quite like. The sloped, polished bezel frames an intentionally protruding box sapphire crystal. The raised crystal is a theme found throughout the March LA.B catalog. The intricately machined crown nestles into the case at about 4 o'clock and is signed with the March LA.B emblem. The crown position is another pervasive design choice for the company.
The minimal dial with the sharp, applied indices and the tapered baton hands do nothing to quiet the overall watch. The AM69 has the least amount of lume applied to be functional — clean and cool. I hate to say it, but it calls to my mind the best aspects of a Datejust… if a Datejust were fun. March LA.B has painstakingly refined every element, bringing them together into an ensemble that works and imparts a cohesive design language that is (almost) entirely the brand's own.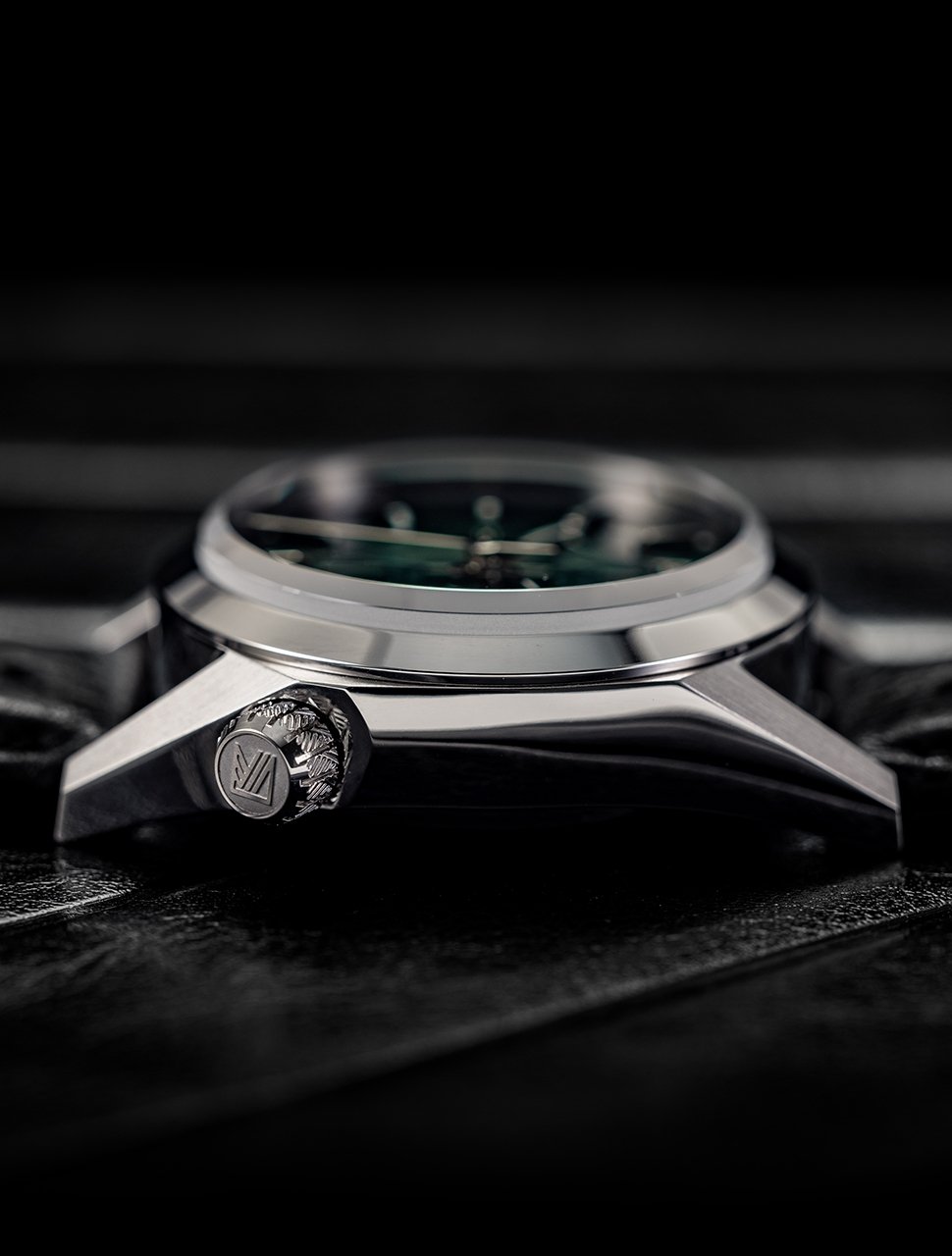 AM69 — Elegant enigma
The overall watch isn't quite a tool watch, though it has the offset crown and 10-bar water resistance. It's certainly not a dress watch with all its panache. That said, with the right attitude and outfit, one could wear this watch in almost any social situation. What the March LA.B is, through and through, is a French watch. It says so on the dial.
OK, well, the automatic Miyota 9015 inside isn't French. However, I think it's safe to say that this watch isn't about the movement. The 9015 is as robust a Japanese workhorse movement as any other. The $1,296 MSRP is a bit of a stretch for the specs, in my opinion. If the movement is important (and this watch isn't quite French enough for you), watch for future models incorporating the France-assembled La Joux-Perret G100. I have a feeling the AM2 wasn't the last of them.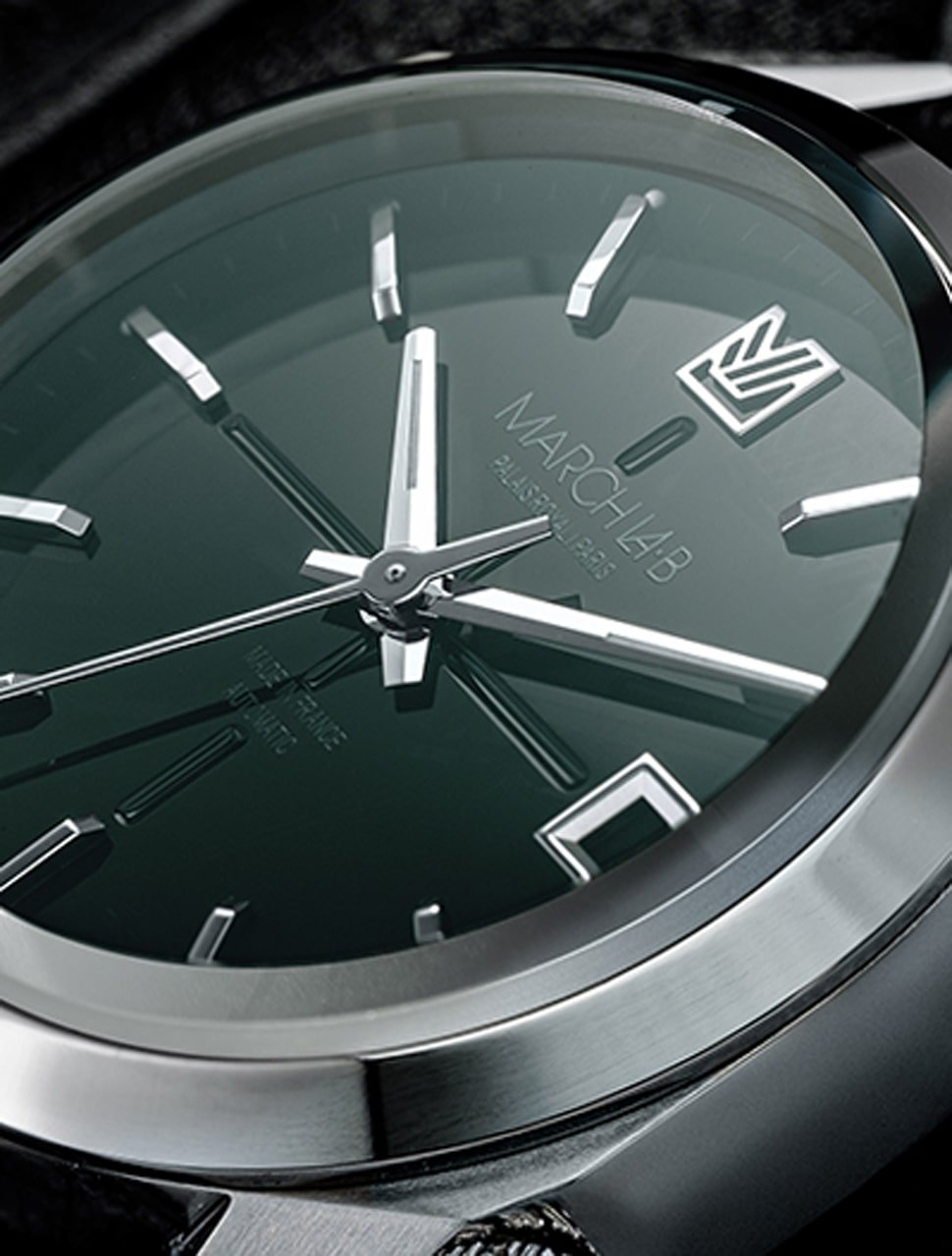 March LA.B AM69 is a mood
The March LA.B AM69 is a watch that is almost cinematic. The bold lines evoke the classic cars from the movie Drive, while the green-on-green-on-green is straight out of The Matrix. Honestly, if you're not wearing it with leather and sunglasses, you may have taken the wrong pill. But whatever the AM69 is paired with, there's no denying how cool it is. March LA.B brings a unique identity to the watch landscape. Boldest, perhaps, of its features is the retro size — 36mm in diameter. Far from feeling diminutive, it's yet another aspect that March LA.B uses to stake its claim on the industry… and your wrist.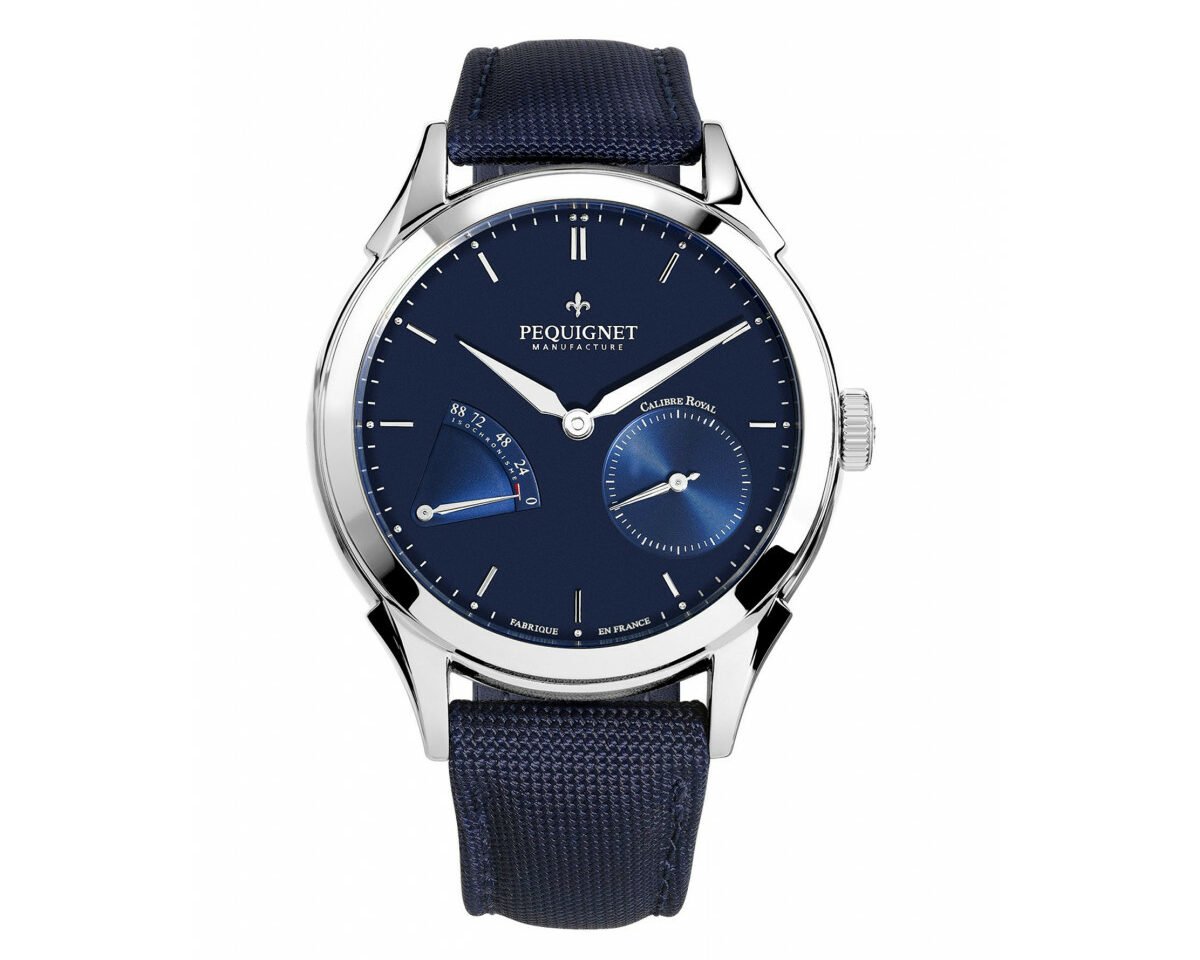 Pequignet Rue Royale, ref. 9010173
Pequignet is more conservative than March LA.B, which is not a difficult thing to achieve. In my mind, Pequignet is the "standard" watch offering for those looking for something entirely French. Like many non-Swiss brands, the brand does make watches with off-the-shelf movements. But we're not interested in those today. In the spotlight is Pequiqnet's in-house Royal caliber and its variations.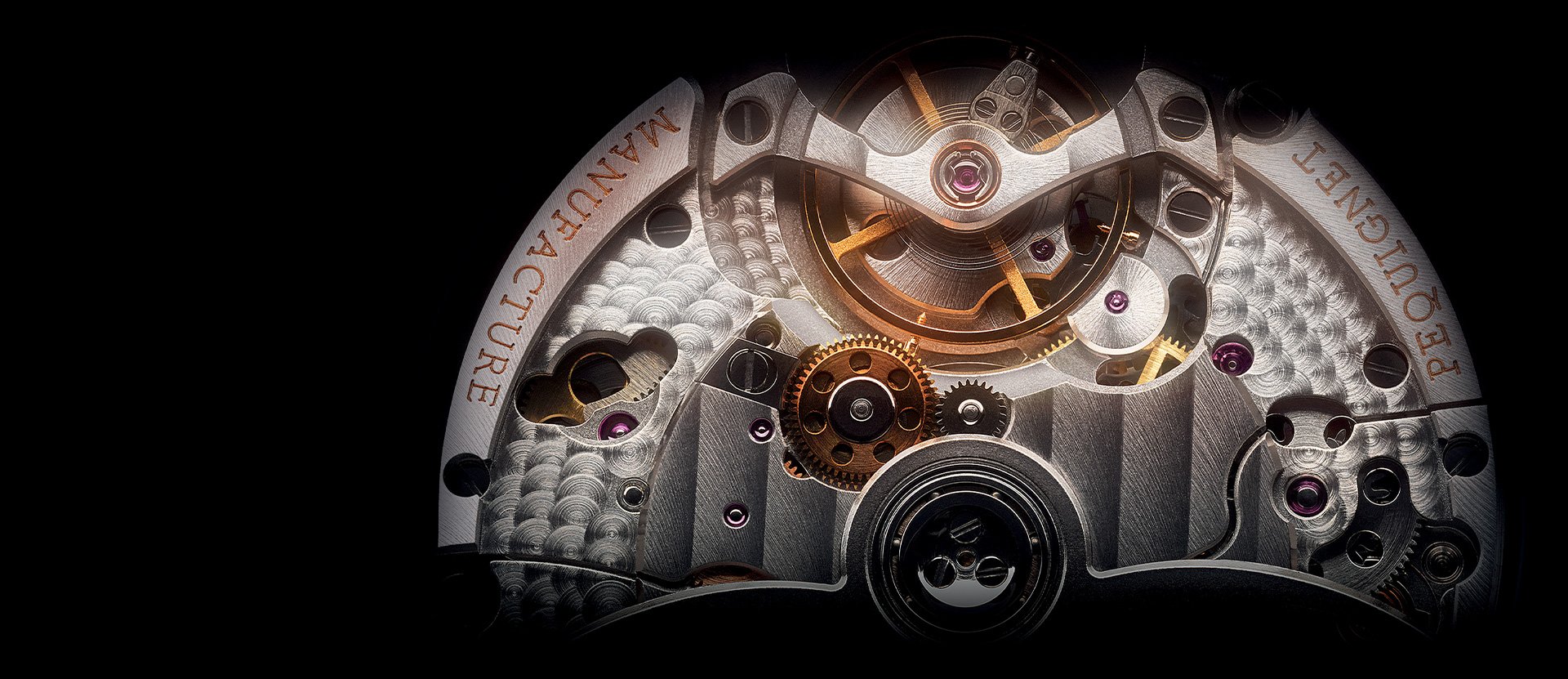 Calibre Royal
The Royal caliber from Pequignet has been in production in one iteration or another for over 10 years. It's regarded among enthusiasts and experts alike as an entirely novel and independent caliber and has received a number of awards. It's perhaps surprising, then, that the watches it is found in usually cost under €10,000. But the quality is there, alongside the elegance and ingenuity.
The Rue Royale in blue, ref. 9010173, is one such watch with Royal pedigree. It employs the EPM01, the "basic" version of the caliber — if sub-seconds and a power reserve indicator can be called basic. It has an 88-hour power reserve, which is exceptional and a push for the evolution of industry standards. A reduced beat rate of 21,600vph contributes to that feat. The "beats" happen in a large balance wheel with regulating screws, clearly visible through the exhibition case back. The Calibre Royal EPM01 is, in short, excellent.
The most French watch
The watch itself isn't bad either. The Rue Royale comes in many colors, including a pretty green dial. The green watch slot for this article has already been filled by March LA.B, though, and the Rue Royale in deep blue is just as striking. Finely tapered hands indicate all information on the dial, pointing to reserved indices and the necessary numerals for the hours left in the barrel. The text — or lack thereof — helps complete such an elegant ensemble. It's just the brand, the caliber, and — at the bottom — a proud (and well-deserved) "Fabrique en France". This, ladies and gentlemen, is a French watch, inside and out.
Somehow, an entirely French watch with a proprietary movement costs less than some aesthetically and functionally comparable Swiss watches…
Unlike March LA.B, the Pequignet Rue Royale is in big-watch territory. It's 42mm across, which is still accessible for many wrists. I wouldn't expect anything less from a watch that exists to showcase French craftsmanship inside and out. It's a watch that says, "I could cost more, but I don't. I could be Swiss, but I'm not." Somehow, an entirely French watch with a proprietary movement costs less than some aesthetically and functionally comparable Swiss watches that brandish the term "in-house" a lot more freely than might be deserved. True, its steel case is devoid of precious metals. But in this case, at €3,500, I can't help but feel like the Rue Royale is a steal of a deal for fine French watchmaking.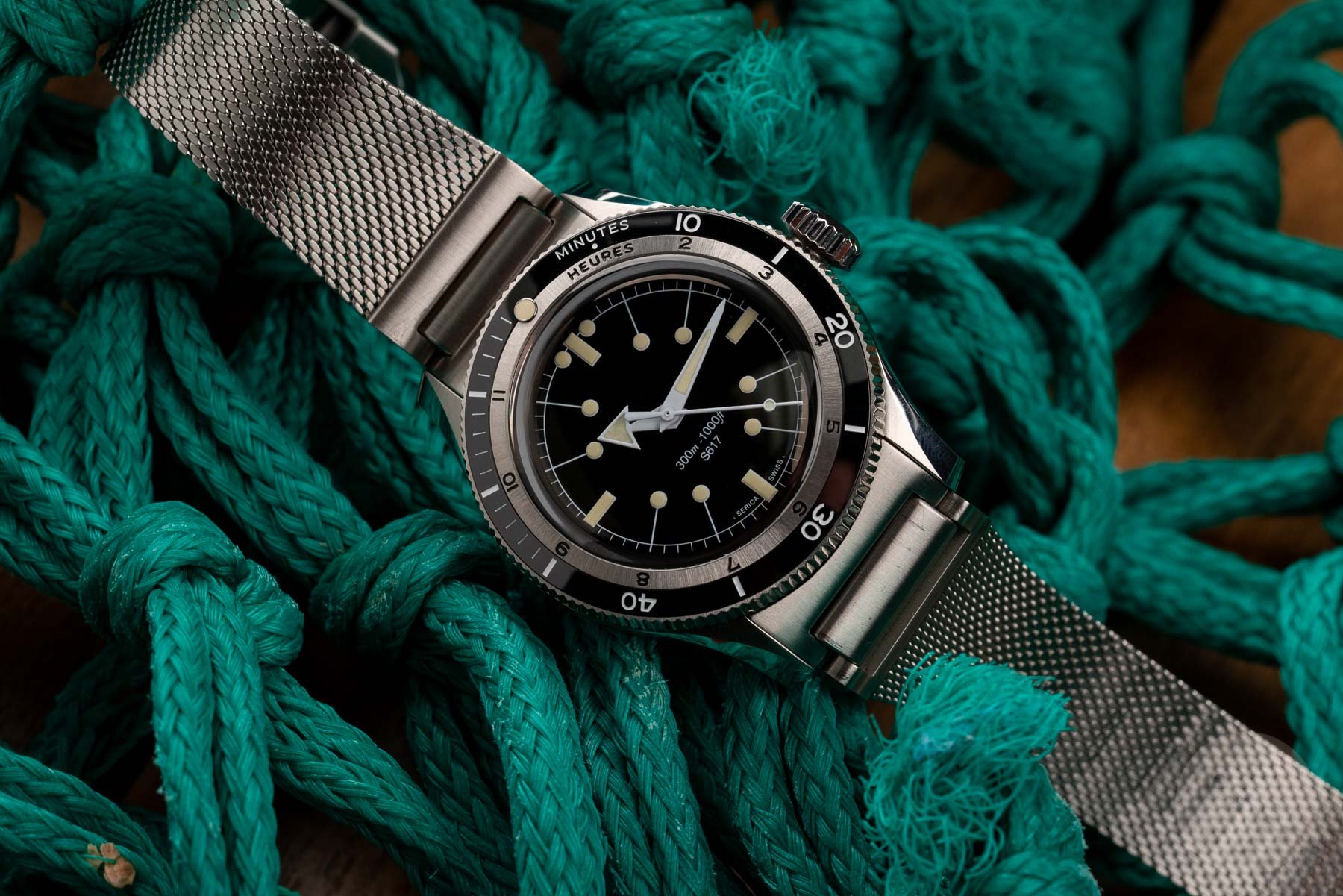 Serica 5303-1 Diver's Watch
While I learned about new watches and brands in finding Pequignet and March LA.B, I'll admit that Serica was low-hanging fruit. The Serica 5303 in black is one of my favorite "retro-diver" designs and is on my shortlist of watches to acquire (unfortunately, that list keeps growing). It is one of the cleanest combinations of retro watch-design elements without emulating any one watch.
The broad arrow + dauphine + lollipop hands are a ménage à trois made in Heaven. The lollipop element repeats in the unique combination of round hour indices and lines to the outer edge of the dial. The reverse-twisted lugs are (in my mind) both a nod and a wink to a certain iconic chronograph. The combined diver's and 12-hour bezel markings recall the fascination I had with my father's camera lenses as a child. Again, it's sparse dial text for the win. There's just "300m – 1000ft" and a mysterious "S617" that I won't give it away here. Serica doesn't even put the brand name on the dial, (correctly) assuming that the strong design language speaks for itself.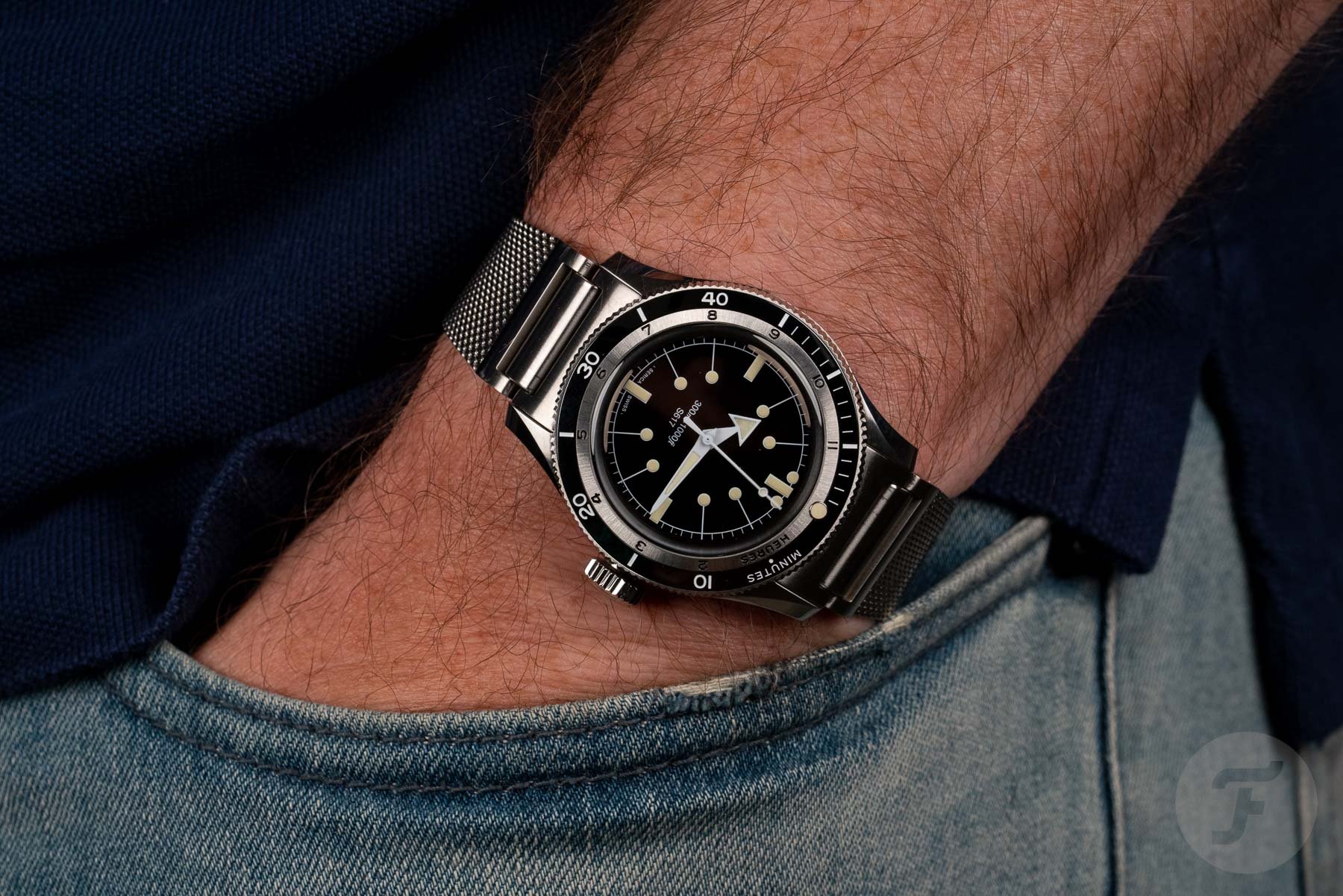 It's a tool, too
The 300 meters of water resistance suggests some real tool-watch chops. The unguarded crown might make some nervous to really wear the 5303 as a tool watch should. Not to worry — it also comes destro, with the crown on the left side. A quirky crown position completes this gorgeous and unique dive watch. It comes paired with a tapered Milanese mesh bracelet. It's a fine combination, but the Serica 5103 screams "strap monster!"
Inside is SOPROD's Newton caliber, a new-ish entry to the Swiss workhorse stable. It's a top-grade variety with finishing and regulation to +/- 4 seconds per day. A 44-hour power reserve, a 28,800vph frequency, and 22 jewels round out the rest of the specs. That might not be so interesting. What is interesting is that an independent microbrand has opted to go with a small independent movement producer. I think a "vive la résistance!" is appropriate here. True, it's still Swiss-made, but that's more than fine. Not every French watch is fierce about being French. But the Serica 5303-1 certainly is fierce.
Forget James Bond and his sponsored big-name dive watch of choice. If any dive watch is going to pair with a tuxedo, it's the Serica 5303. In fact, Serica strongly points to it in its marketing. But seriously, there are few other examples — Blancpain, Baltic (another French brand worth checking out) — of dive watches clean and refined enough to approach evening wear. The ruggedness and exceptional design make the Serica 5303 an excellent candidate for a "one-watch collection". One could spend €1,075 and be out of the game with a watch that punches above its weight.
In the mood for love?
Here are three watches, all very French, be it in design, mechanics, or both. Now all that's left to do is choose. If you find it difficult to pick a favorite, you're not alone. I fear my own collection is looking to say "oui" to all three of these watches as well. Let us know in the comments which French watches you like and why. Au revoir!
More information about March LA.B, Pequignet, and Serica can be found at their links here.