Why Be So Serious? Five Surprisingly Fun Watches By Serious Brands — IWC, Rolex, F.P.Journe, And More
Are off-beat, weird watches charming additions to a serious portfolio? A capital F for Fun says yes
I'm all for the serious tool watches and their rugged intent, just as I love the classic, uncluttered lines of a dress watch. I'll wear a diver's watch when snorkeling off the beach, or I'll even feel a more competent explorer on a ramble through the woods with a field watch. But what happens when serious brands stray outside of their comfort zone to give us bright, popping colors or video-game-themed wristwear?
As a contrarian, weird dials and design fun equal five stars in my book. I know that bubbly Rolex dials or Mario karts racing around a tourbillon cage are unexpected. And yes, they'll have brand-purist collectors pulling their hair out. But I'd suggest that they merely add to the allure and don't remove any horological brand cachet. Look at celebrities and designers that have a sense of fun and even self-deprecating humor. Doesn't it make us like them even more? Take a serious actor appearing in a sketch on Saturday Night Live next to his impersonator giving it his all. Or consider when BMW, the most serious German car brand there is, released a wild-colored art car in 2022 by the artist Jeff Koons. To me, brands (an actor is a brand, right?) not taking themselves too seriously is a plus. Stepping outside the boundaries of what's expected is also a big sign of confidence. Wearing one of these babies might even boost yours.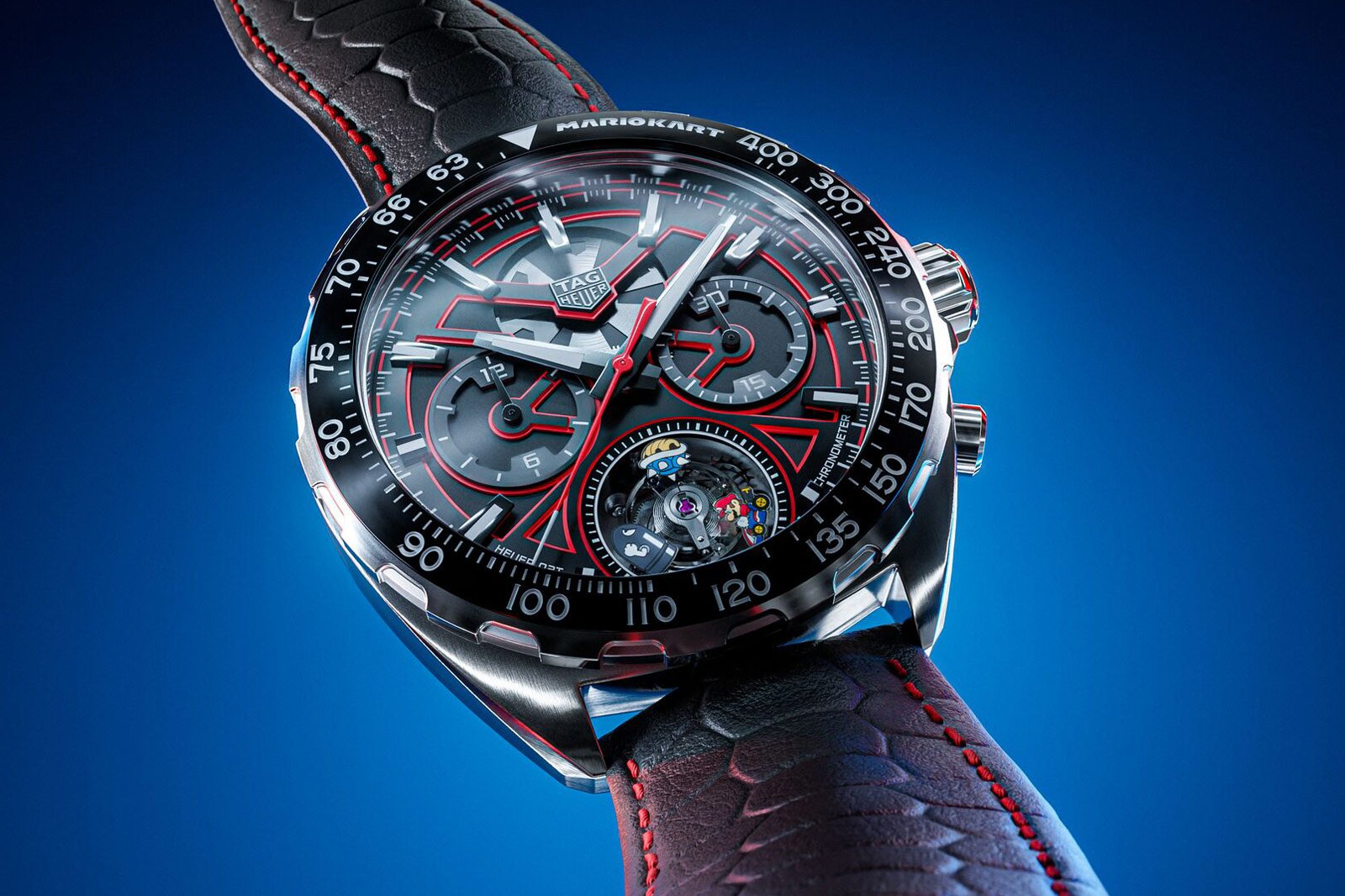 TAG Heuer Formula 1 × Mario Kart Tourbillon
Would you expect a tourbillon in a watch themed on Nintendo's Mario games? Well, neither would I, not even from TAG Heuer. The cheeky Super Mario Bros. link didn't surprise me as we've seen it in their Connected series — just not like this. You won't catch the connection immediately, wondering why there's "MARIOKART" text at 1 o'clock on the ceramic bezel. At first glance, this watch from 2022 is a big titanium nugget at 45mm wide, perhaps even too big. But the laser battle of the dynamic skeletonized dial is cool and a sharp contemporary look for a sports watch. But then you see it at 6 o'clock.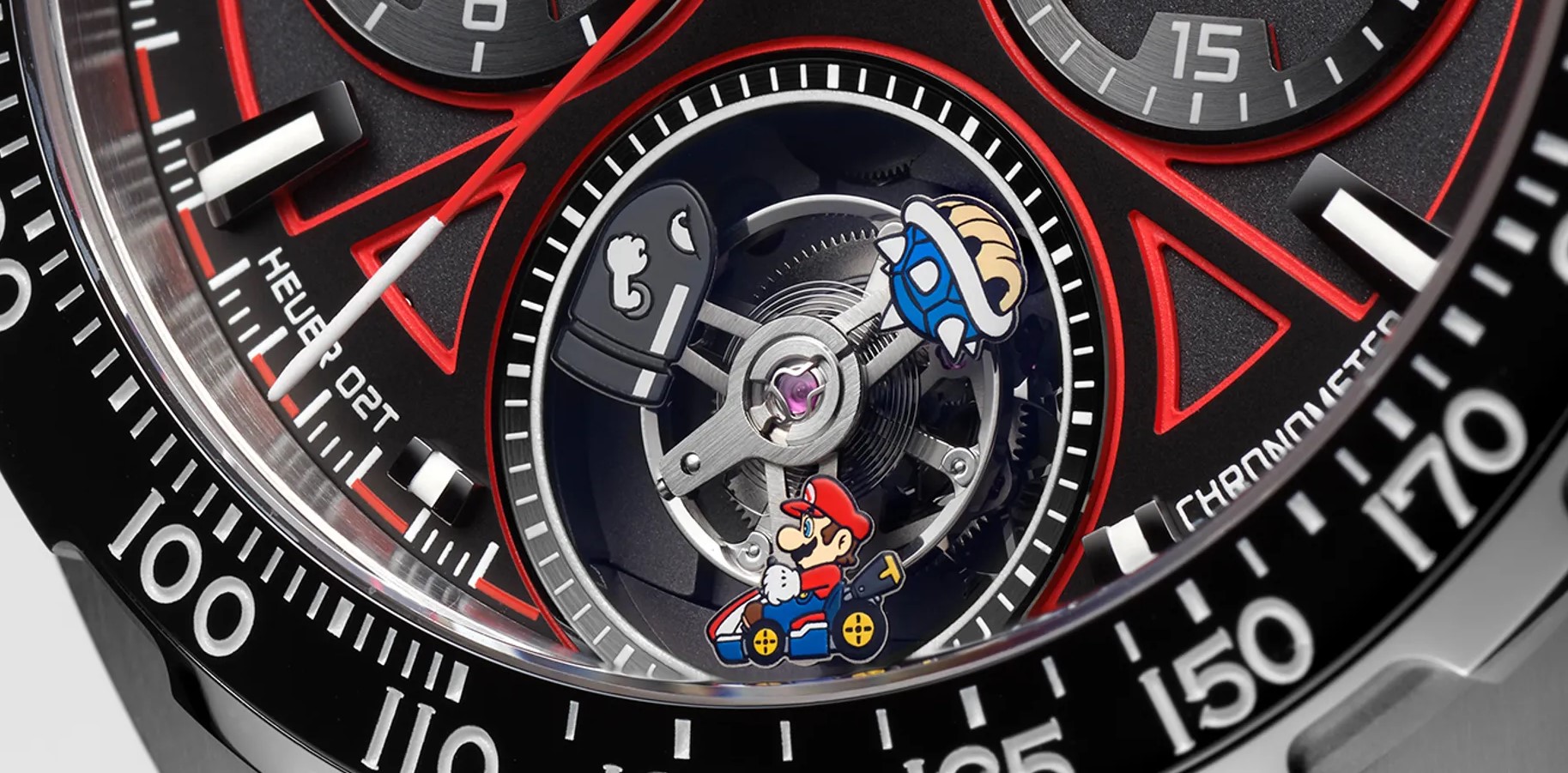 Yes, there is a tourbillon — unusual in itself for mid-range sports-watch champ TAG Heuer — but with a fun difference. If you love playing Mario Kart and wearing big, brawny watches, this is top-level material. Watch in awe as Mario, Bullet Bill, and Spiny Shell race around the tourbillon cage. Is this a step too far? Well, it all depends on your point of view, but all 250 of these $25,600 tourbillons celebrating Mario Bros. sold out. So for some, it was just the ticket — and a chronometer-certified one at that.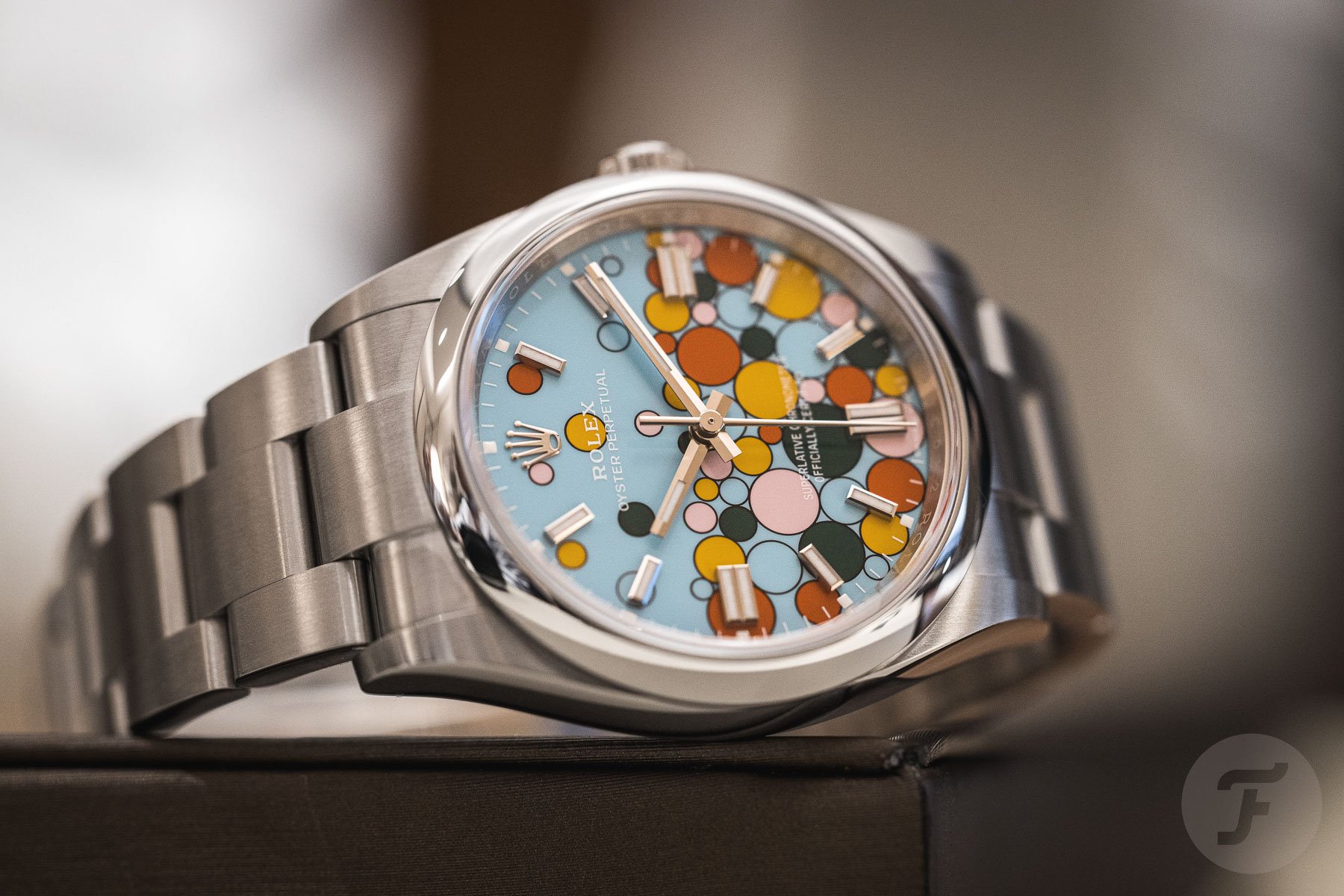 Rolex celebratory bubbles
No brand is more serious, secretive, and, frankly, unapproachable than Rolex. The power of The Crown is not up for debate, and the drip feed of news and numbers is slow and minimal. But like an artisanal slow-drip coffee, when the taste hits you, it was worth waiting for. How about the massive surprise of the bubblicious 31, 36, and 41mm Oyster Perpetual sparking a huge debate online? Surely, such a frivolous wristwatch is not allowed a micro-millimeter-perfected crown logo? Well, I beg to differ, and as a not-too-huge fan of Rolex, it shifted my belief system to the plus side.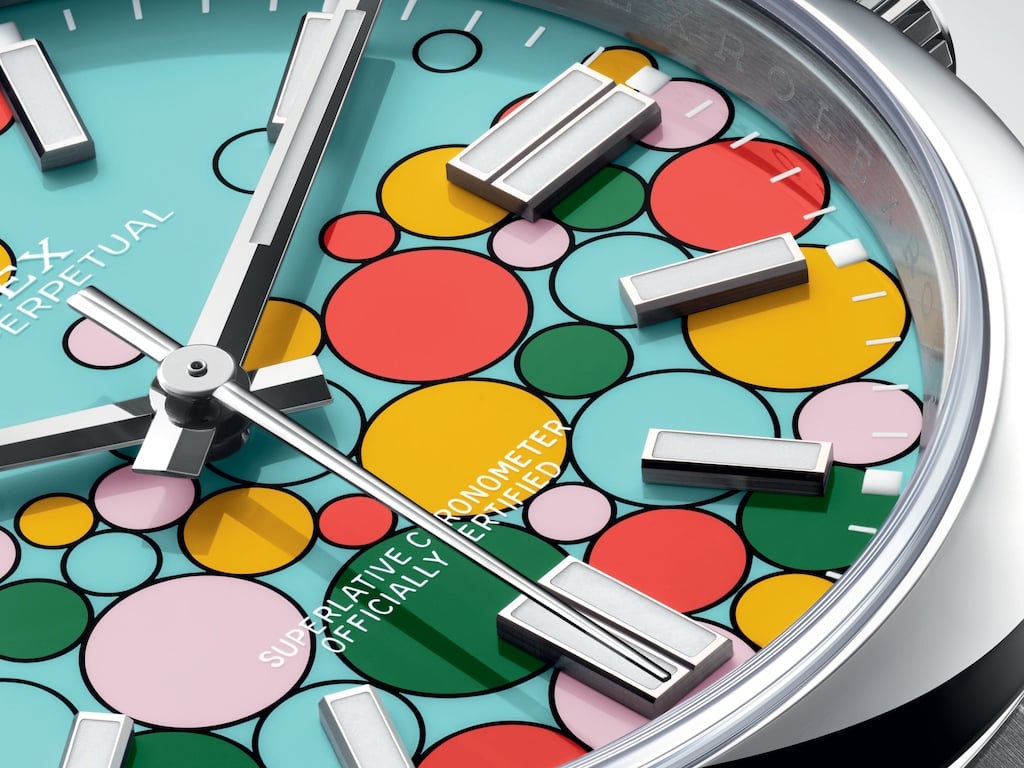 The audacity of the sky blue "Celebration" dial is tangible, with every one of the 2020 O.P. colors represented. And how! Over 50 small lacquer bubbles crowd the base of the dial with a cartoonish black outline. From hunter green to pastel pink, it simply rocks. The two larger sizes come with the 3230 caliber, fitted with Paraflex shock absorbers and touting an extended 70-hour power reserve. No doubt these babies will be impossible to get, but bravo, Rolex; my faith in you is back (not that you care). And it took a brace of bubbles to convince me. The price? CHF 5,400 to CHF 6,100, theoretically.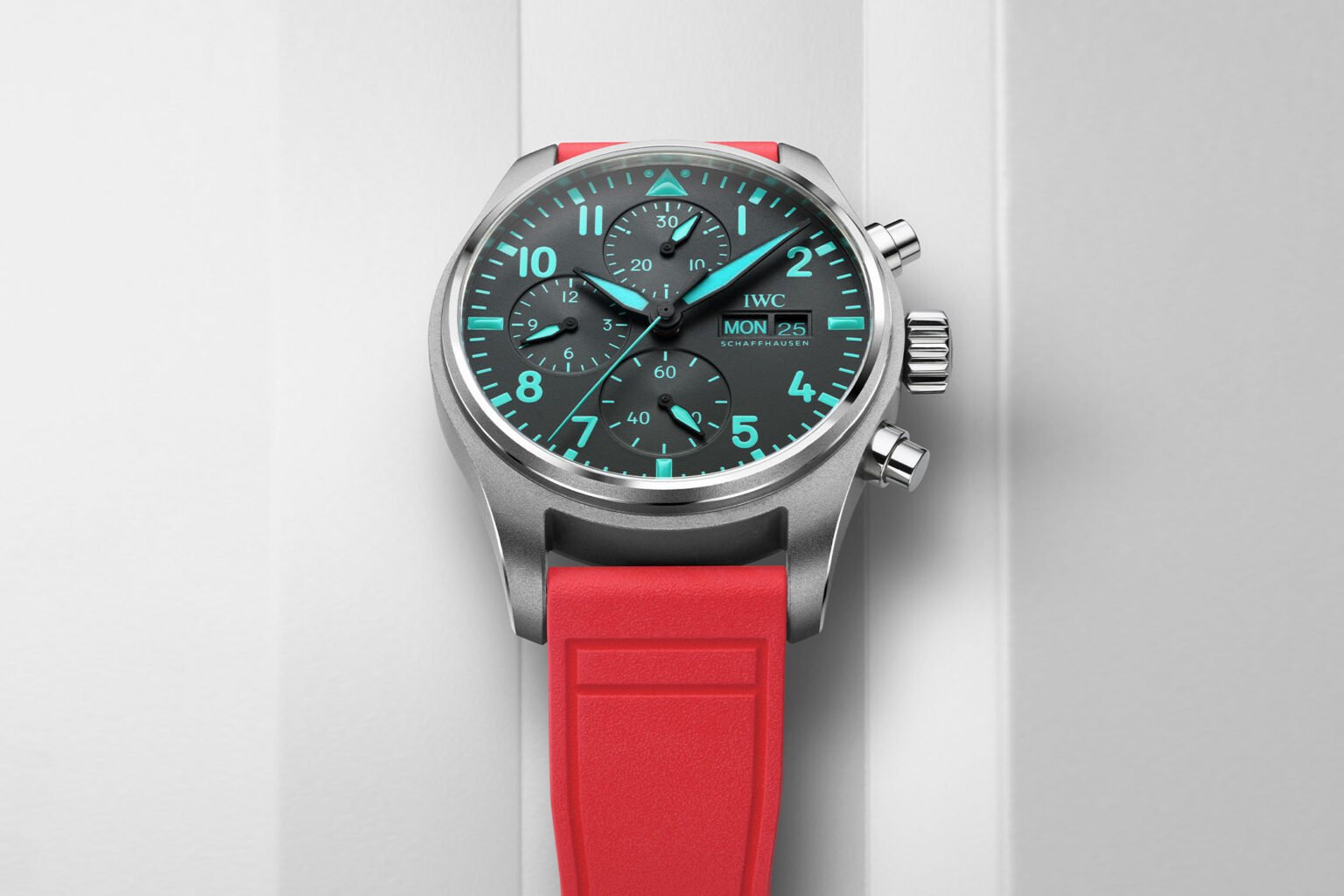 IWC Pilot's Chronograph 41 Mercedes-AMG Petronas F1 Edition "Miami Pink"
IWC makes serious pilot's watches, some in techy ceramic and most way too big for my unmanly wrist. That is my, and many watch lovers' perception of the Schaffhausen brand. Don't get me wrong; I deeply respect IWC's focused tool watches for flyboys, especially the sub-41mm ones. I also have a secret crush on the deeply formal 39mm Portofino Chronograph. But a hint of fun has been missing. Do we need it? The "Miami Pink" edition of the Pilot's Chronograph 41mm for the Mercedes-AMG Petronas F1 Team nearly knocked me off my chair, grinning as I wobbled. On its coral-red-pink strap, it looks like a mad custom mod on the star pilot's tool, but it's real. A minty Petronas green has dripped onto the monochrome dial, making it a veritable candy shop of lumed print.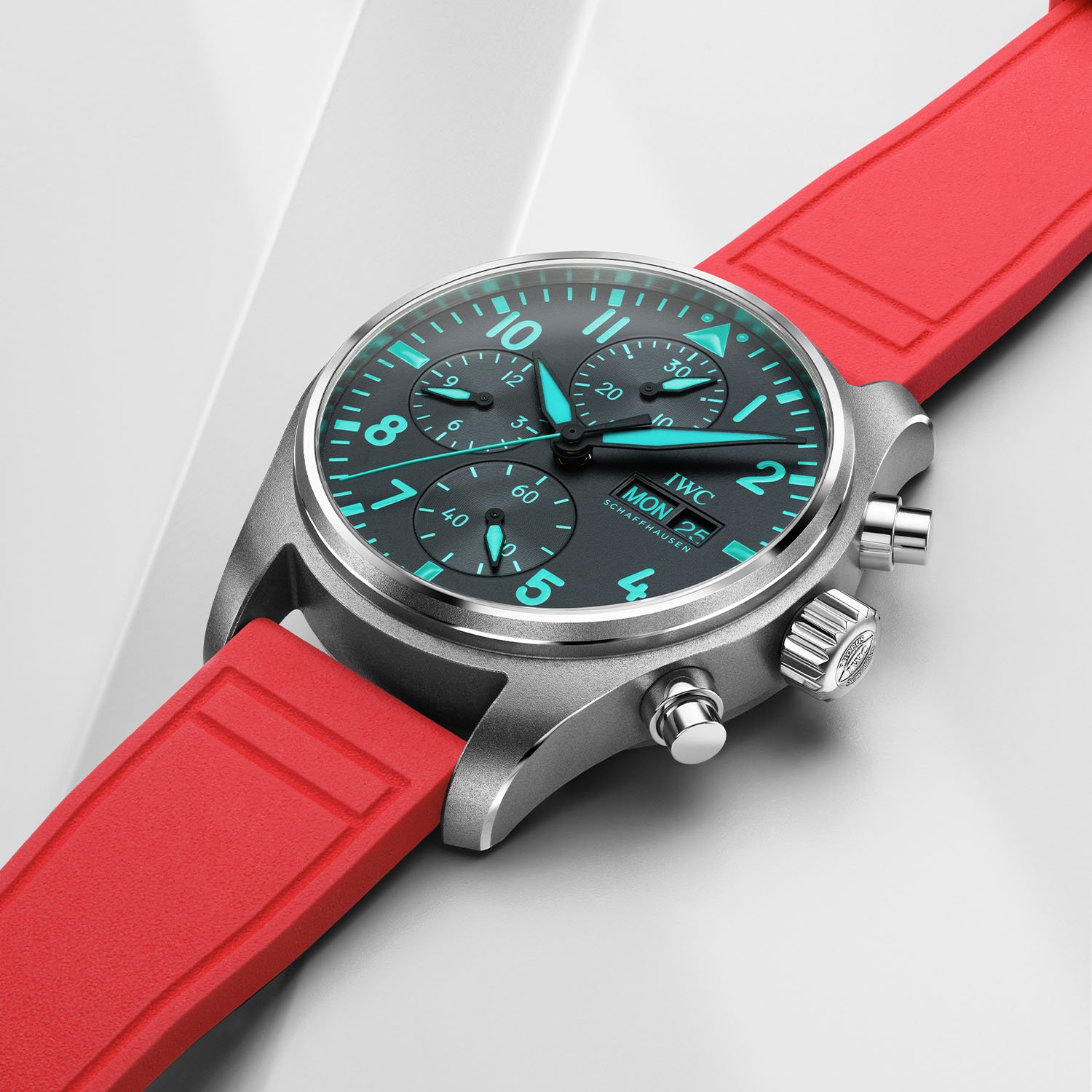 And it doesn't take away any of the superb legibility we know IWC for. Rather, it simply adds a large dose of fun. It might be equally cool on the matching Petronas Green strap, but the candy-hue party on the Miami Pink strap (Lewis Hamilton's fave) is too good to option off. All the colorful party tricks don't take away a millimeter of toughness though, mark my words. The matte-cool case is blasted but has a discreet touch of polish on the middle and top of the bezel and slightly down the lug edges, matching the shine of the burly crown and pushers. They control the caliber 69385 by Richemont's Valfleurier manufacture, an automatic column-wheel chronograph heart with a robust emphasis. This is perhaps the perfect blend of Pilot's toughness and cheeky Miami suave for €9,250.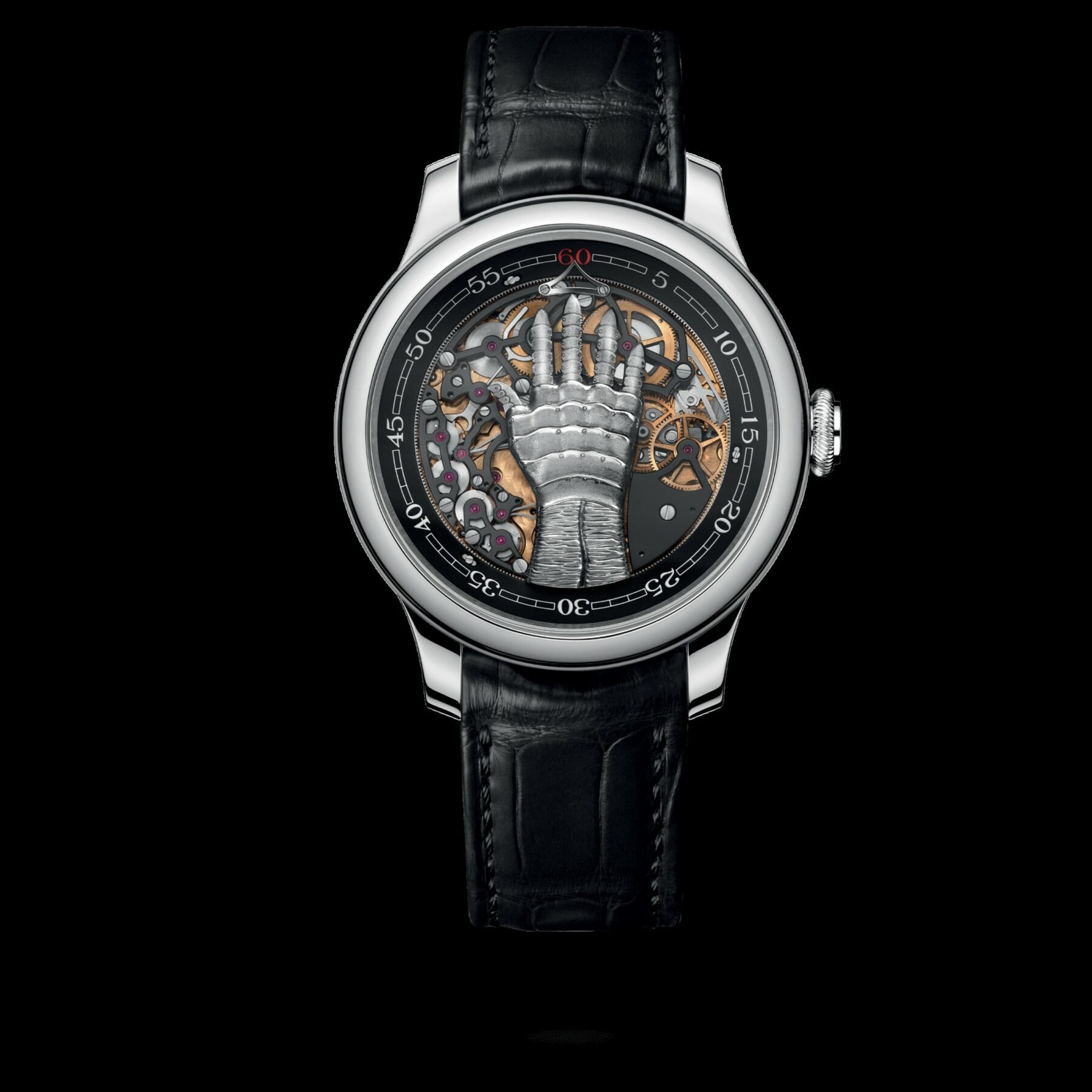 F.P.Journe FFC
Let's start with a disclaimer here, just in case François-Paul is reading this (a long-term review, perhaps? You never know…). Everything that F.P.Journe does is serious and with thoughtful craftsmanship like few others. But with a large, armored glove covering the gorgeous dial (or is it gorgeousness itself?), you have to ask the question: is there a dose of humor at play here? It's an insane-looking dial covered by a massive hand dressed in a knight's armored glove. It started as the FFC prototype, which, in blue, sold for CHF 4.5 million at the Only Watch 2021 auction. This was 10 times its estimate — a sobering fact. But first, why is it called the FFC?
The idea came after Journe visited the film director Francis Ford Coppola in Napa Valley, California, where the topic of finger counting (dactylonomy) came up. It's a long explanation, so check this Wikipedia article and know that the FFC is programmed with 12 finger combinations. The most charming one is for 12 o'clock. Thumb and pinky finger sticking out, it accidentally echoes the Hawaiian Shaka (or "hang loose") gesture, and an arrow points to the minutes on the rehaut. So a surfer's/Hawaiian's grail it might be; who knows? But there is no denying the beauty of the Octa 1300 caliber in rose gold with bridges and a gauntlet in titanium. All of this is packed into a 42mm platinum case, measuring a scarcely believable 10.7mm thick and with a sobering unlisted price.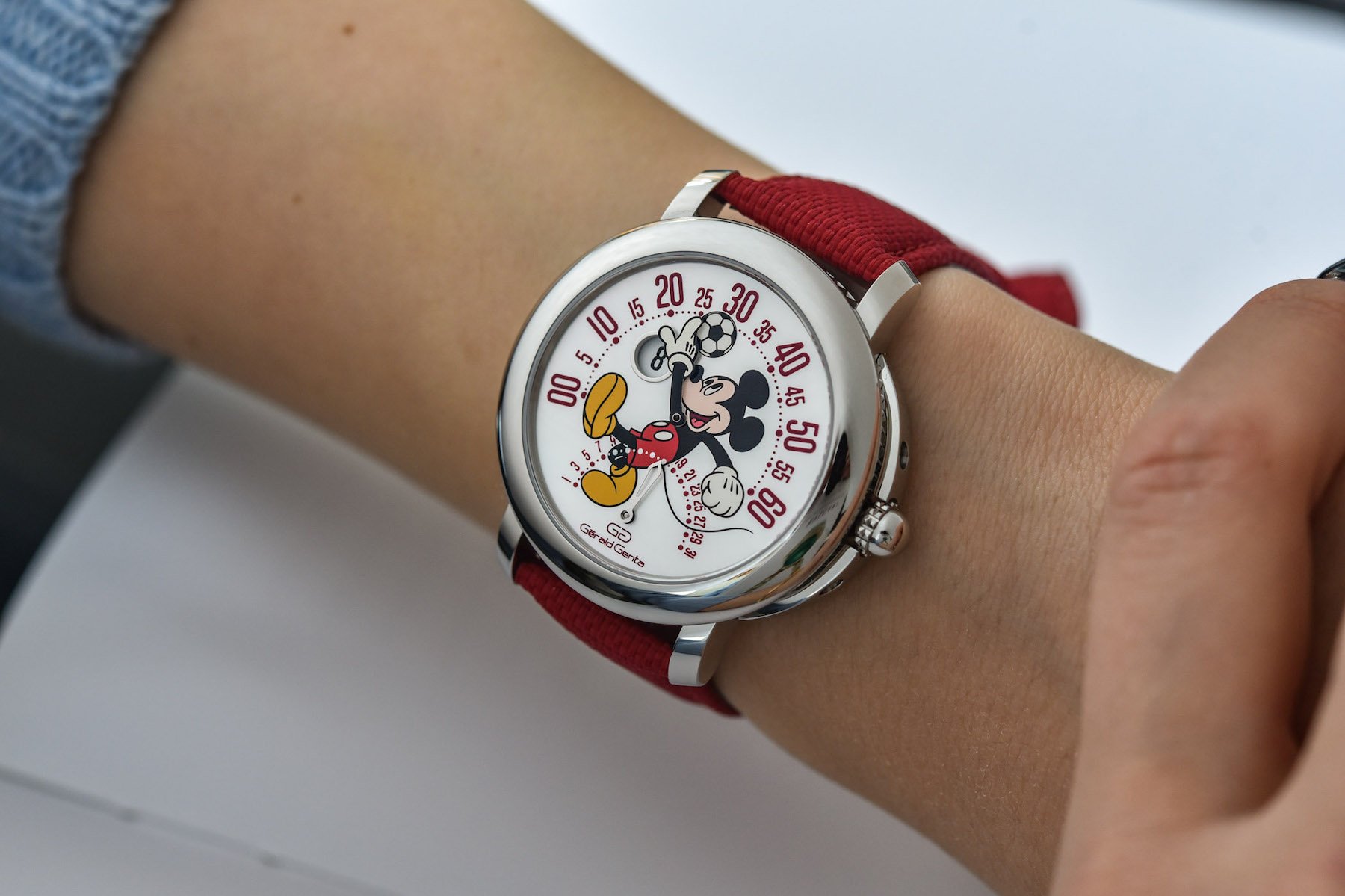 Bvlgari Gérald Genta Arena Bi-Retrograde Mickey Mouse
The legendary Rome-based jeweler Bvlgari has made a huge pivot in horology in recent years. From the brand's Swiss base, Creative Director Fabrizio Buonamassa Stigliani can do no wrong these days, and the Octo Finissimo is the star. I find the matte, tech look of the Finissimo utterly fascinating, but it's not for me. It's a delicious technical tour de force, but it is a bit cold to the touch, metaphorically speaking. What makes me smile are the reissued Mickey Mouse watches under the Gérald Genta name. The bi-retrograde design is still enthralling as a concept, but with the cheeky and unusual addition of cartoon fun, it's even better.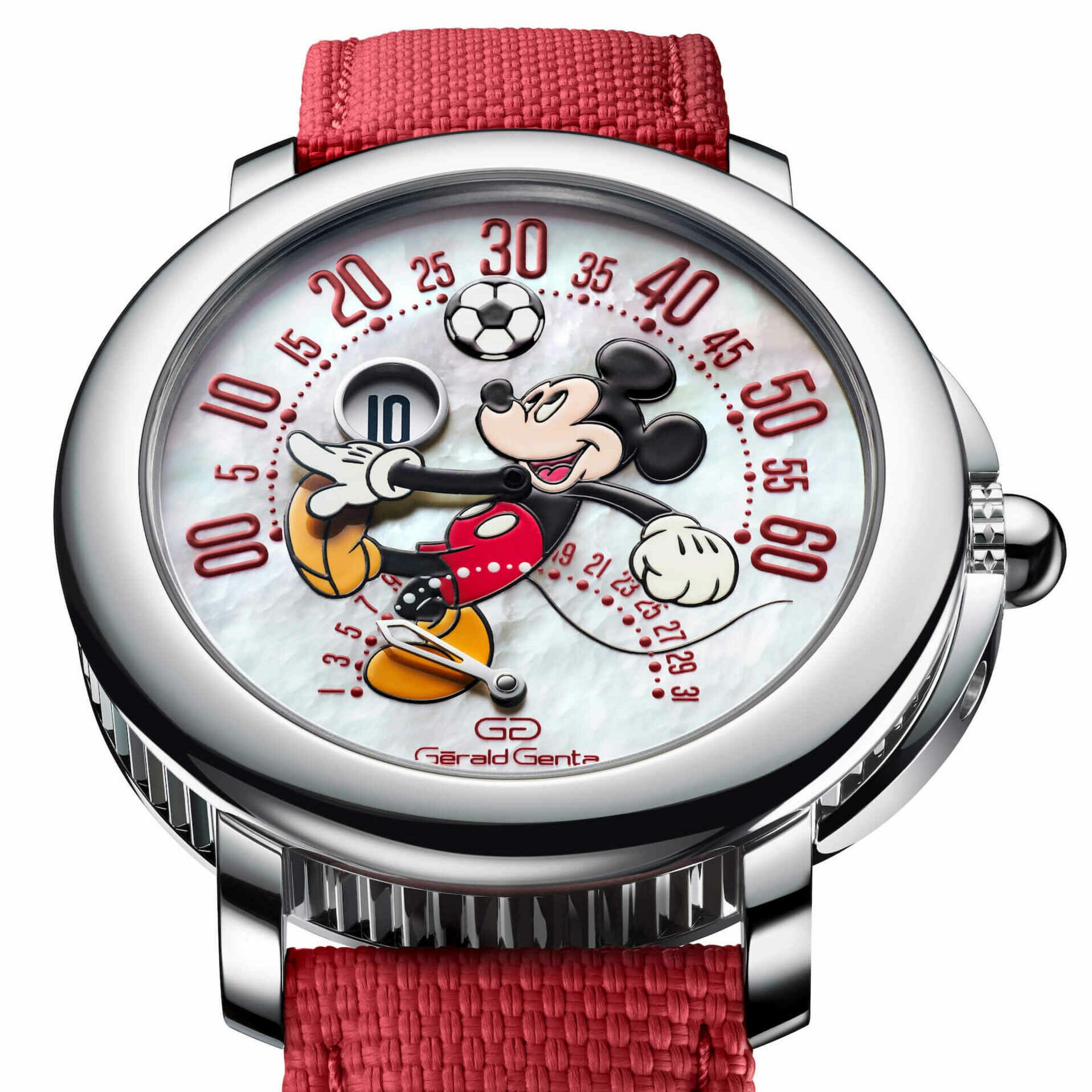 Well, at least for me, the notion of not always taking yourself too seriously as a brand is a winning strategy. Just like a touch of self-deprecation, it is only a mark of confidence, and I'd love to see more of it. And by LVMH now planning to resurrect Gérald Genta as a separate brand, who knows? Platinum Donald Duck retrograde, anyone? The last one that came out depicted Mickey playing football/soccer and sold for €24,000. They already go for above that on Chrono24, but you'll find charming octagonal originals from as little as €4,000.
So, give me a straight answer, Fratelli. Are you up for fun from a serious brand, or do you get confused? Could it be that even solid brands like IWC can attract a new younger audience through the addition of mint and pink? And in a quiet year, isn't that just what we need?
Find me and follow me: @thorsvaboe