Why I Don't Own A Speedmaster — Is The Right One For Me Out There?
Time is ticking, or my job might be on the line
Imagine the shame: I'm an editor doing three to four stories a week at Fratello Watches, without an Omega Speedmaster to my name. How did I get the job, and how could I even be allowed to have my byline on the website sans Speedy? My colleagues keep asking why I don't own a Speedmaster — proper peer pressure. It's not like I haven't tried on the Speedmaster Professional or had the budget, but I remain confused and Moonwatch-less.
Let me try to be objective and truthful about this. First, please forgive me. I have been writing about watches for a couple of years now, and I am a contrarian by nature. This means that even if something is intrinsically beautiful, I will shy away from it if it is popular. The Speedmaster is a prime example, but I love it and need one, if only to keep my job. The last one I tried on completely threw my plans into utter confusion. The scary thing is that it makes me want to visit my bank manager. For a loan. A big one.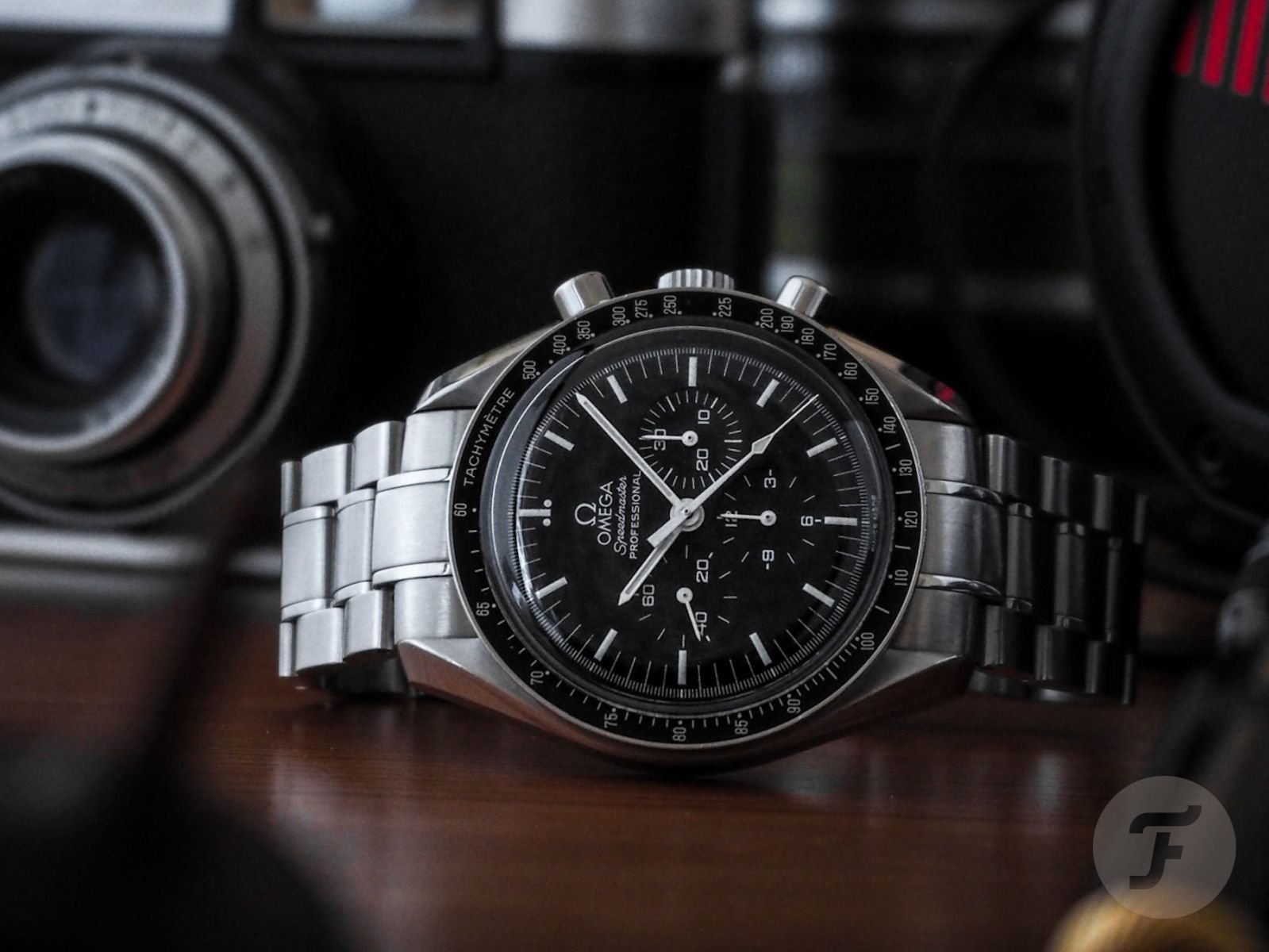 The Moonwatch feels too big — am I wrong?
The previous Hesalite model Speedmaster Professional, is a watch I've had a crush on for ages. I'm an Instagram addict, and it is so very, very photogenic. That's shallow, I know, but the iconic dial through a Hesalite crystal is terrific. When I have tried it on (yes, several times) I felt that my slim wrists made it float on its steel bracelet. You know, that feeling when the lugs almost levitate, made worse by me enjoying a loose fit. Should I try it on one of those cool, slim Forstner Komfit bracelets to give it that period feel?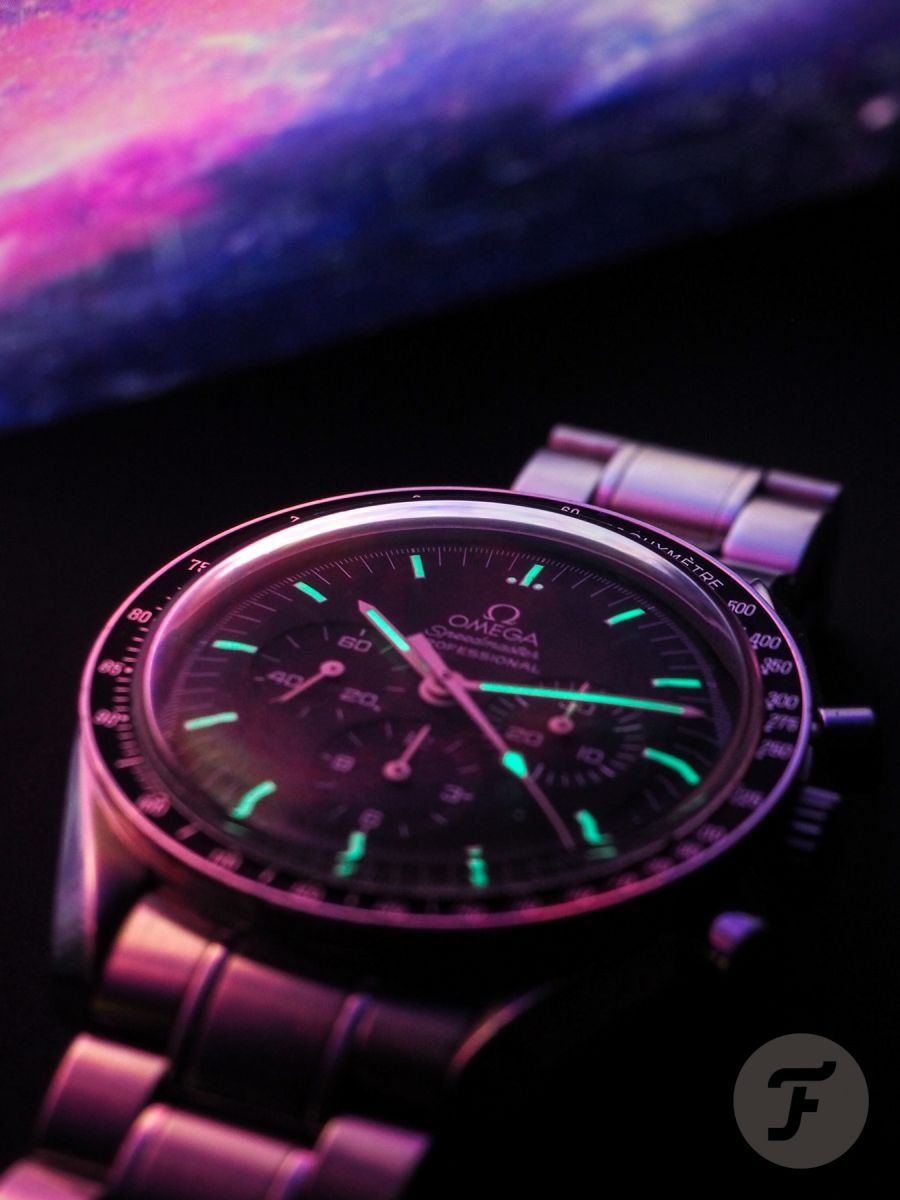 Do I need the classic Moonwatch, or will another Speedy suffice?
I'm not saying that we all need a Speedmaster — well, actually we do, just like everyone needs one drive in a 911 before they die. But I do feel like it belongs in any 10+ watch collection, and mine is double that. The Speedy is so much more than one watch, and there is a reason I love the #speedytuesday shots. Hell, the Speedmaster is one of the reasons I jumped at the chance to move my writing to Fratello Watches. Perhaps the new version really has got the minute changes that make all the difference, but there are two great pre-owned alternatives out there I'm considering.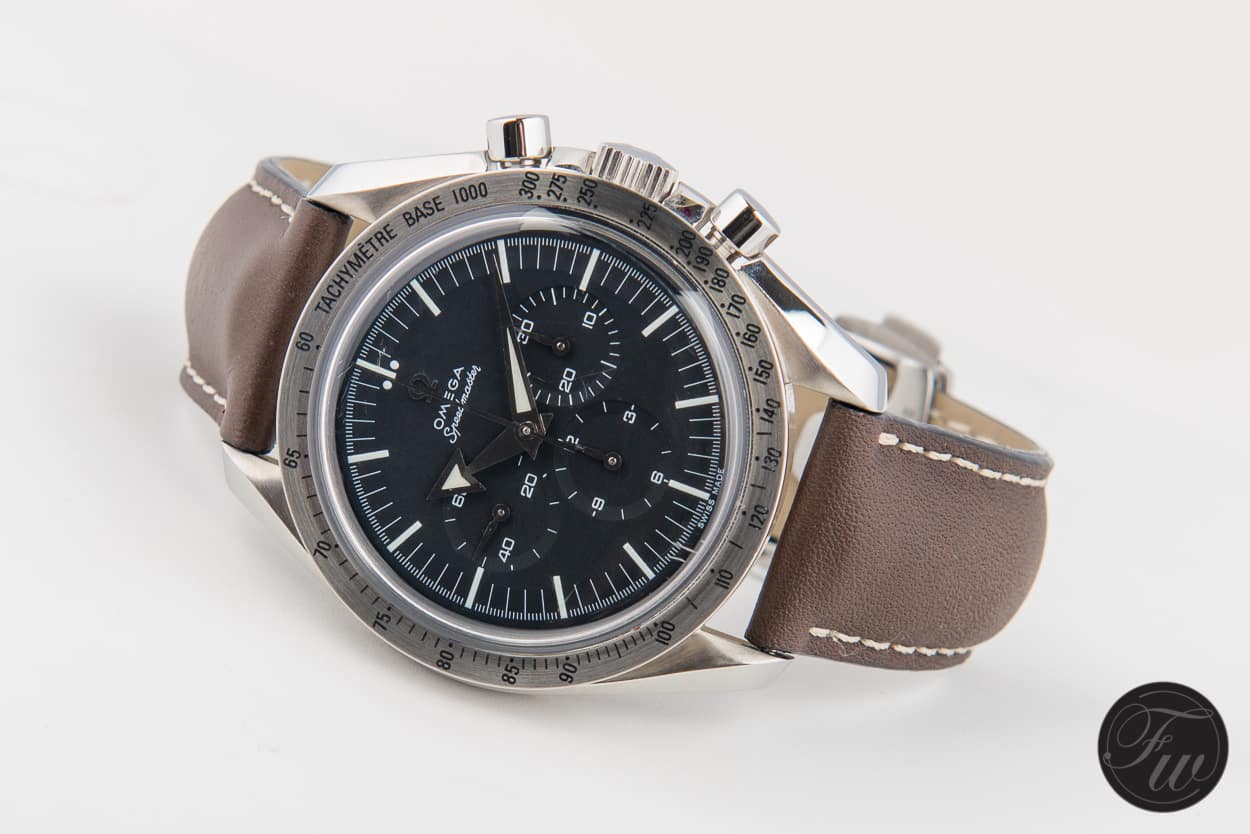 The Speedmaster Broad Arrow "Replica" ref. 3594.50
Lately, the Broad Arrow pops up on my Chrono24 searches for two reasons. It is rather good value for money. And, even if I have serious watch OCD, it is a tough tool that loves a scratch or ten. For me, this is as charming as it is counter-intuitive. I am the weirdo who is scared of water stains on his Marinemaster 300 and takes it off for a shower. But when it comes to the Broad Arrow, I love it even battle-scarred, and for three-to-four thousand dollars, there's one out there waiting for me. It might still be a bit floaty on the wrist, but does it matter? Who the hell cares? It's happy on brown leather, various NATOs, and even that tempting Forstner bracelet. That might make it jangle around, but I'm vain. Yes, I do love it when it slides out from the cuff at the right moment. Wristshot, anyone?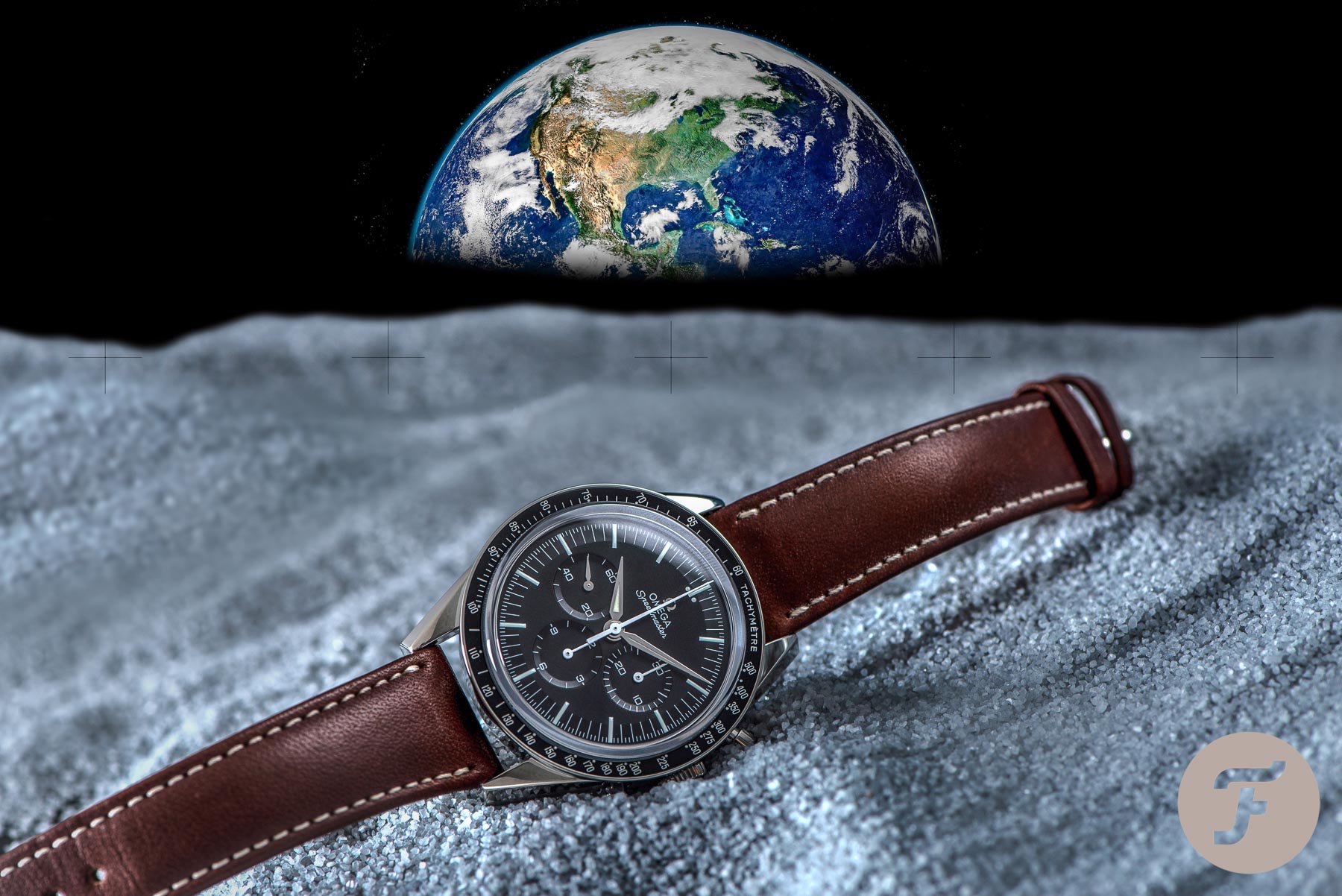 The FOIS is the right size, but it's a Speedy number two
If we're talking pure comfort, a pre-owned First Omega In Space is the best for me. Its slightly smaller diameter of 39.7mm sits like a dream on my wrist. I love the polished alpha hands, the applied Omega logo, and the slimmer case. And yes, the same Lemania 1873-based caliber 1861 is present. But it's not a Moonwatch, is it? That has stopped me from procuring it, and I have been tempted many times. I could imagine it on a Forstner Flat-Link, but this feeling of a "321 Lite" gives me pause. It works well with my wrist size and style, but it can't be The First. This touches on how much more than a mere watch the Speedmaster Professional is. The FOIS is a beaut, but it will have to come after the moon-landed one. It would be like buying a Porsche 928 or 944 when you could afford a 911.
Is the new one actually The One?
This leads me to the NEW model Speedmaster Moonwatch Master Chronometer. The Hesalite version (for me, this is a given) ref. 310.30.42.50.01.001 is subtly different, with the brilliant caliber 3861. I am writing this while sitting in Fratello Watches HQ in The Hague, and it was just on my wrist. But it felt too good. Too heavy, in a deliciously right but wrong way. You see, the newly shaped Speedmaster with the new tapering bracelet is here, and it is a dream. The problem is that this one is heavy. It's 235 grams of heavy with a silver dial. Uh-oh; it is the Canopus white gold version.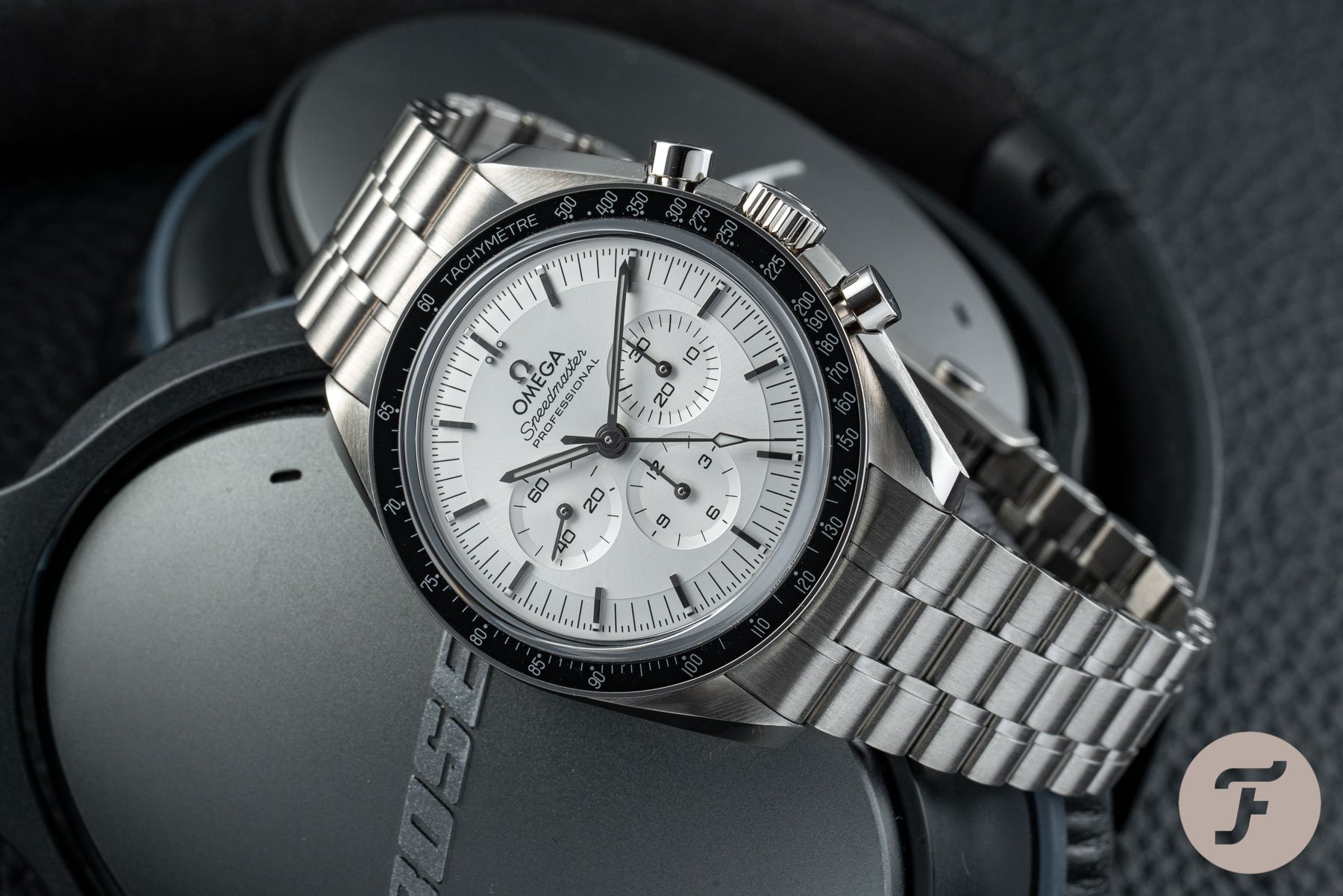 The soft stealth of Canopus
Canopus Gold is a sublime alloy of 75% white gold with palladium, platinum, and rhodium. And I'm falling in love, like that time you fell for the impossibly beautiful girl two years older than you in school. Ouch. The ref. 310.60.42.50.02.001 in Canopus Gold proves that the newly shaped Speedmaster Professional feels a touch slimmer. And different. The lugs curve down more for comfort and are bolder in shape. And the new bracelet? It is as sublime as it is heavy. Very heavy. It is easy to see, however, why the new standard Moonwatch has had a rise in popularity this year. But the weight of this version does something to me, and this Speedy makes even my Marinemaster 300 feel positively lightweight.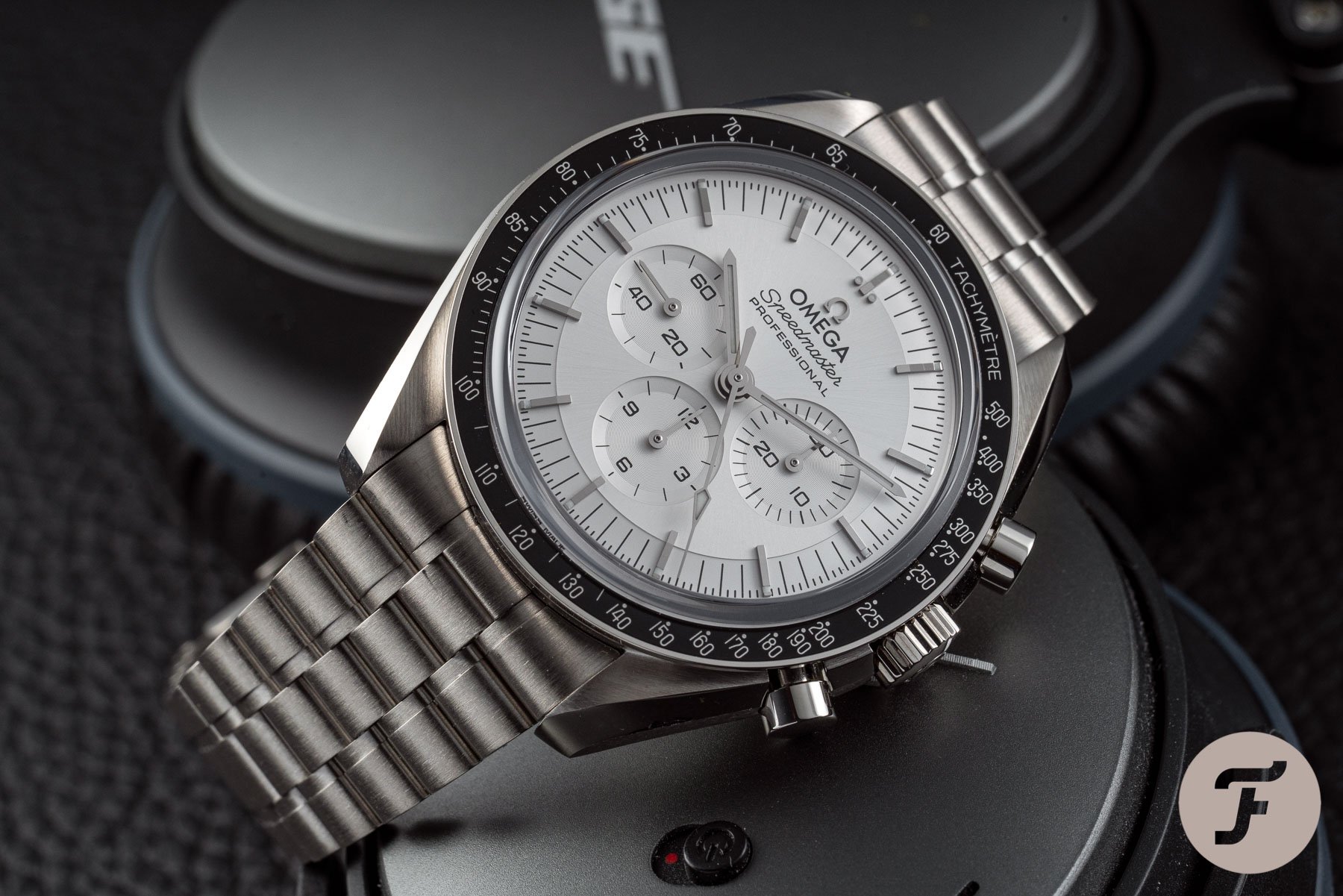 When gold becomes stealthy
I've written about the "stealth value" of the white gold 42mm Rolex Yacht-Master, and honestly, I think it's a relative term. The brightness that comes out in the reflections from soft, polished white gold is, to a trained eye, still precious. But this is something else. The Canopus looks almost quietly gray and soft. Paired with the intense weight, this makes it unforgettable. With a price of €45,100, however, the temptation is frustrating. Through a trick of the eye, the satin silver of the dial makes it look both deeper and wider than that of a black-dial Speedy. Even the slight recess of the registers becomes somehow deeper, more prominent on the dial. It is an unmistakable blend of heavy and sleek, and sinking into my wrist, it just has its hooks in me. Deep. Please make me forget this encounter, as it will lead to a decimated watch collection and a big loan. Lottery tickets, anyone?
Will I lose my Speedmaster virginity? Which one would you choose? Let me know in the comments.