Introducing The (Already Sold-Out) Zenith Defy Revival A3642
The supporting act to the upcoming modern iteration of the Zenith Defy
Zenith has been very much on my radar since a get-together with other watch enthusiasts some months ago. In particular, the El Primero Revivals and Defy series caught my attention. That's why I recently tried on the Chronomasters A384 and A386-inspired Original, as well as the blue Defy in 41mm. Of course, I also looked at some pictures from when they were originally introduced in the 1960s. I found that the current Defy range looks especially different from its ancestors. I even thought to myself, "Wouldn't it be great if Zenith introduced a modern Defy with a design much closer to that original version?" Et voila…
Last Sunday, Zenith shared a moving close-up of a watch that would be introduced the day after. It included a hint of a gradient dial and part of one of the Defy's characteristic groovy hour markers. It was clear — a new Defy was coming. And indeed, the next day Zenith introduced the new Defy Revival A3642, one that is as close as possible to the original A3642 from 1969. It was updated with, of course, a modern movement, namely the manufacture automatic Elite 670. It's a movement that operates at a frequency of 4Hz (28,800vph) while delivering a power reserve of 50 hours. It's also a caliber that, in contrast to the original model, can be seen through the added see-through sapphire case back.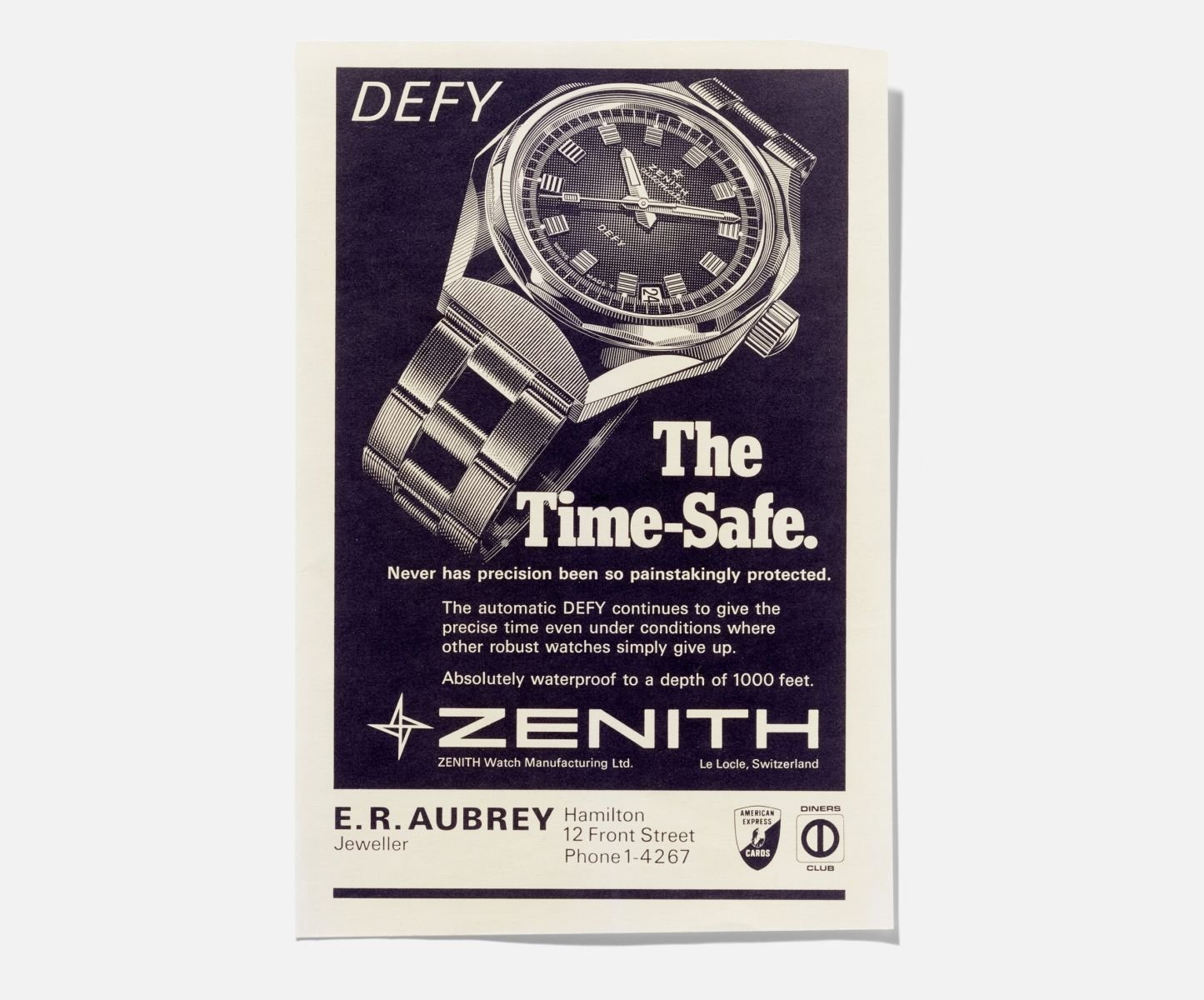 Close to the original
As I mentioned, Zenith tried to stay as close as possible to the original Defy. Personally, I love the original design with its octagonal case and 14-sided bezel. It is this design that has been nicknamed the "Miura" case, and it's one beloved amongst Zenith enthusiasts. Even the original size was preserved, so it's "only" 37mm wide and measures "just" 44mm from lug-to-lug. That means it's by no means a big watch according to modern standards.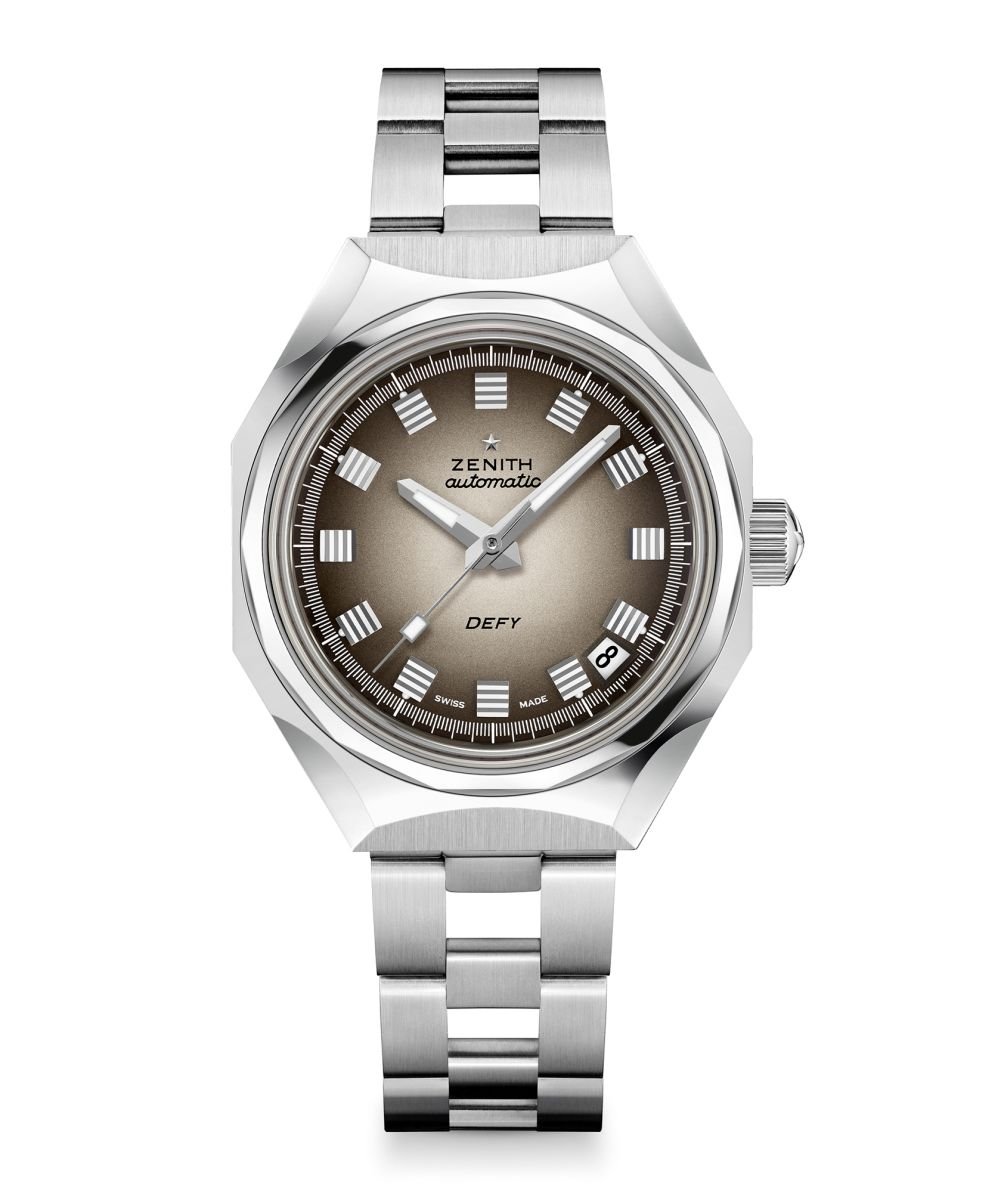 Another thing that looks a lot more vintage than modern is that gray dial with a gradient effect that becomes darker towards the outside of the dial. The square hour markers with horizontal grooves (similar to the ones used on the recently re-introduced Longines Silver Arrow), the sword-shaped hands, and that paddle-shaped seconds hand all complete that very funky 60s vibe. Zenith told us that for the Super-LumiNova, they used a similar tone to the tritium found on the original. We haven't seen this watch in the flesh yet. The color tone in the pictures, however, actually looks fairly white to me. I would like to thank Zenith for not having added the pumpkin-orange "fauxtina" often used by others. 
Back in 1969, Zenith nicknamed the A3642 "the vault". The name referred to its unique boxed case shape. It certainly also referred to the impressive 300 meters of water resistance, which was achieved by exactly that shape and the relatively big screw-down crown. The Defy Revival still lets you go 300 meters deep. The original came on a ladder bracelet made by Gay Frères, and the Revival comes on a similar bracelet, measuring 18mm at the case.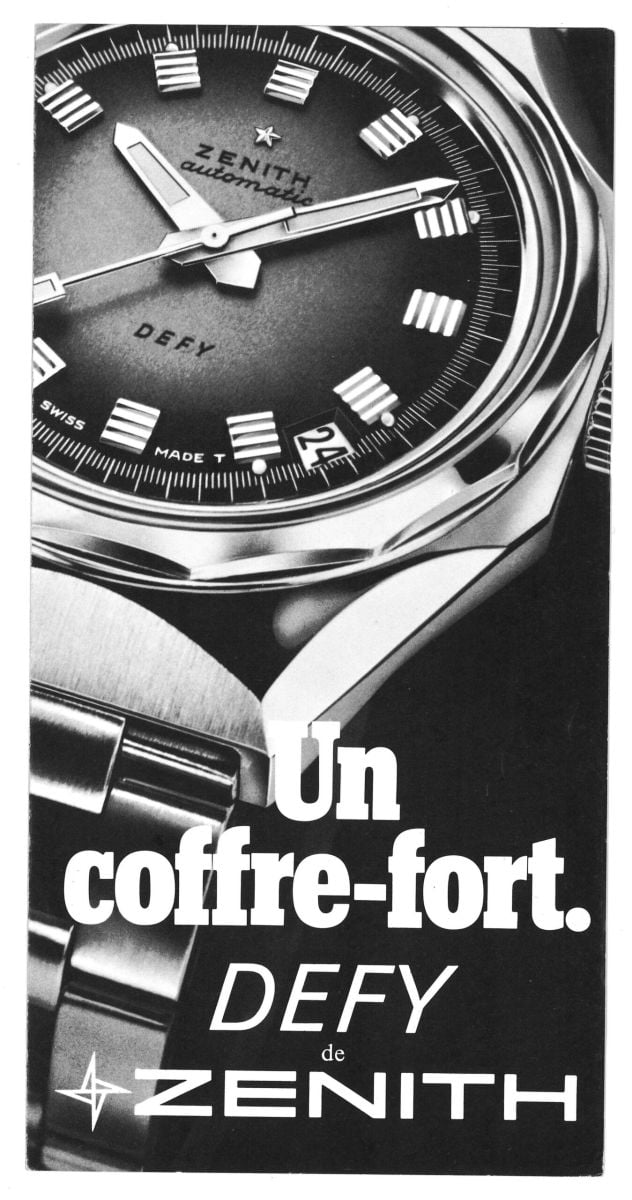 What does this all mean?
If you're anything like me and you were interested in this release, you probably already knew all about those specifications. So now that we got those out of the way, how should we look at this release? 
The A3642 Revival is limited to only 250 pieces. Actually, when writing this article the Zenith website states that they have already sold out. In addition, at the end of Zenith's press release, it says, "Stay tuned as Zenith will soon unveil a modern successor to the original DEFY with a sleeker and more modernistic architecture and a whole new level of performance." So it looks like this Revival is only a supporting act to something bigger, coming up very soon.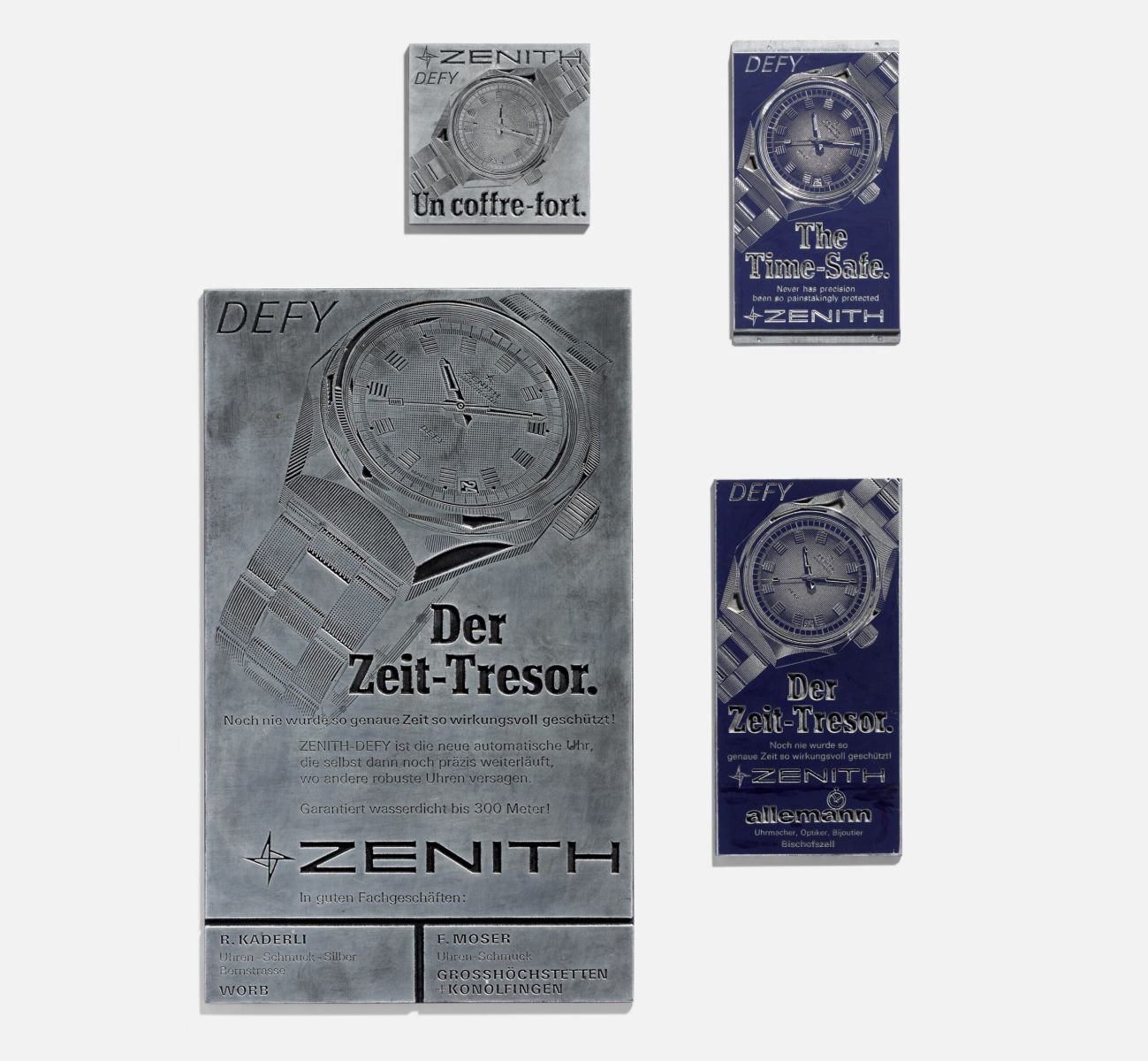 At first, while reading this, it made me feel hopeful. It probably means Zenith will use that original design as an inspiration for what's still to come. But then it also made me feel like I shouldn't get my hopes up. With the release of the A3642 Revival, the designers now have a free pass to stretch the limits of that original design. Thus, Zenith could release something with a modern design that doesn't have to honor the original that much anymore. What do you think — will that modern Defy still be close enough to the original, or will Zenith take it too far?

Already sold out
I'm actually inclined to think the latter, and as mentioned before, it looks like the Zenith Defy Revival A3642 has already sold out. So what if you would still like to get your hands on that original design? It looks like you have to go vintage. But it looks like there are not too many of them around anymore. I did find this A3644 from around 1970 on Chrono24 offered for "only" CHF 1,923. Of course, this is still a lot more money than the CHF 330 it originally sold for. But when you look at the CHF 6,900 that Zenith is/was asking for the Revival, that looks like a pretty good deal to me! 
The Revival's price tag is probably influenced by the fact that it's a limited edition. Wouldn't it make more sense to not limit production numbers, introduce it for a price closer to that vintage example, and make that beautiful "Miura" case available to as many of us as possible, without having to break into the bank vault?
For more information on this latest release, check out the Zenith website.
Follow me on Instagram @fliptheparrot