Audemars Piguet Reveals Its 2023 Lineup — The Royal Oak Offshore "The Beast" Is Back In Black!
The lineup also includes a boutique-only white gold Royal Oak "Jumbo", a yellow gold "RO" with a natural turquoise dial, plus six steel Code 11.59 models
The Audemars Piguet Royal Oak Offshore Selfwinding Chronograph ref. 25721ST is an illustrious timepiece that debuted in 1993. The Offshore was meant to rejuvenate the Royal Oak and attract a new, younger audience. The watch was the brainchild of 22-year-old designer Emmanuel Gueit, who came up with a chunky creation that took elements of Gérald Genta's original design and magnified them. The 42mm watch received the nickname "The Beast" and did what it was supposed to do. The "ROO" soon became the watch for race car drivers, power players, and jet-setters. Thirty years later, "The Beast" is back in black — black ceramic, that is. Audemars Piguet's 2023 lineup also consists of a string of new Royal Oak models — including one in yellow gold with a turquoise dial and a boutique-only white gold "RO" with a blue grained dial — plus a selection of steel Code 11.59 watches with reworked dials.
Thirty years ago, the exuberant Royal Oak Offshore revitalized the Royal Oak and turned a new generation onto Audemars Piguet. It also became the watch of choice for affluent people (wannabe) motorsport stars who liked to flaunt their lifestyle of abundance. As in motorsport, however, dominance doesn't last forever, so the "ROO" got overtaken by the lightweight creations of Richard Mille. In 2023, the ROO has a different role to play. The sportiest of all Royal Oak creations needs to distract people from desperately wanting and unsuccessfully hunting a classic Royal Oak. The introduction of "The Beast" in sinister-looking black might have quite a few heads turning since its relatively understated looks build a bridge between the two RO collections.
Royal Oak Offshore Selfwinding Chronograph "The Beast" in black ceramic
The 42 × 15.3mm Royal Oak Offshore Selfwinding Chronograph (26238CE.OO.1300CE.01) is one of only three current Royal Oak Offshore models with a Petite Tapisserie dial and the first with a black ceramic case and a matching bracelet. The watch's monochromatic looks are both sober and sophisticated. "The Beast" in its 2023 guise has instrument-like qualities, but the detailing and finishing are luxurious to the max. Inside the case beats the 433-part caliber 4404, Audemars Piguet's integrated, in-house chronograph movement with a flyback function and a 70-hour power reserve. The chronograph is operated by classic round pushers, a detail that harks back to the original from 1993. The audience that "AP" has in mind with this watch most likely won't be shocked by the €84,000 price tag of "The Beast." Are you?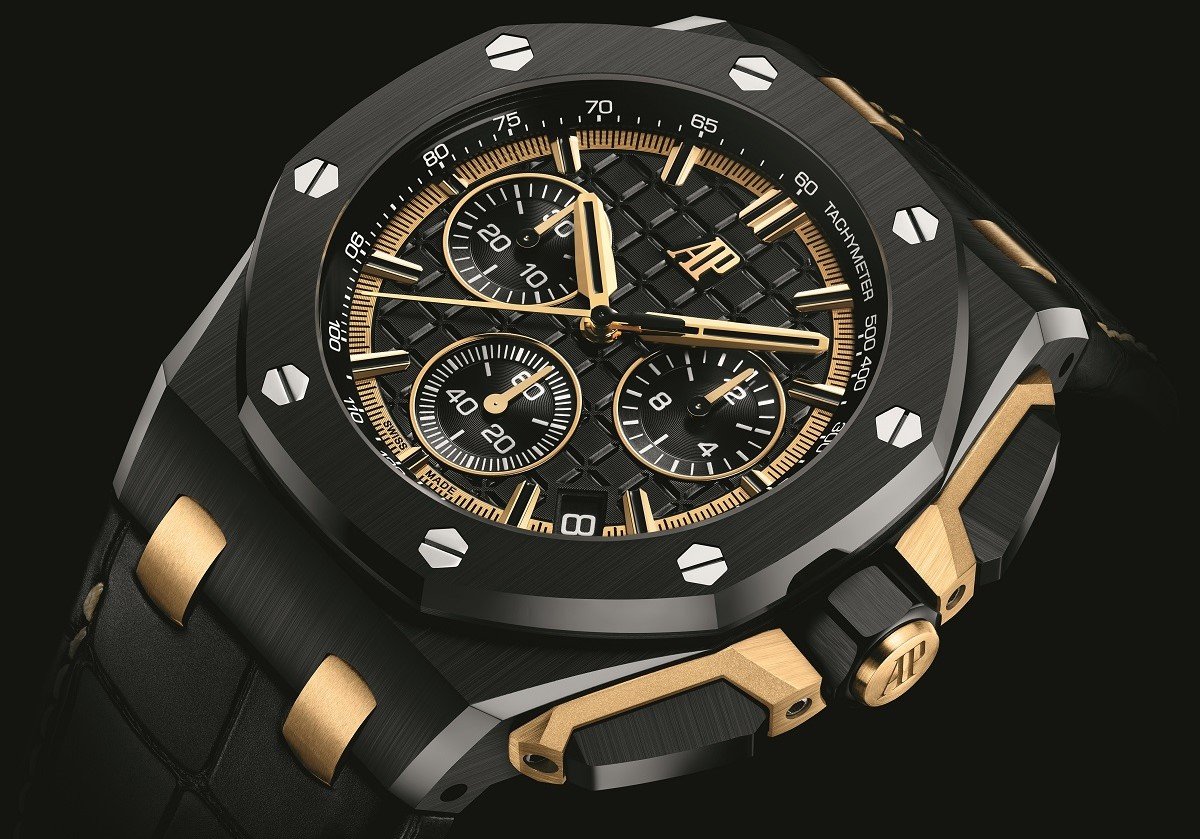 Royal Oak Offshore Selfwinding Chronograph 43mm — Beastly lavish
The angular shape of the pushers and the Méga Tapisserie dial pattern are tell-tale signs of the Royal Oak Offshore Selfwinding Chronograph (26420CE.OO.A127CR.01 / €60,000). This is a different "beast" in a 43mm black ceramic case with yellow gold details on the dial, push-piece guards, studs, and buckle. The case, which has the latest ergonomic design with large, polished chamfers on the edges and a slightly curved bezel, also has more gold details on the back. There, the precious metal frames a sapphire crystal that allows a view of the 381-part, 4Hz caliber 4401. This is AP's latest chronograph movement, a self-winding, integrated caliber that features a column wheel and a flyback function.
No matter the "engine," this black and gold ROO evokes thoughts of the famous John Player Special livery of historical Lotus F1 cars. Its intended buyers may not know of these cars that (g)raced the racetracks worldwide because they weren't born back then, but the powerful color combination is timeless.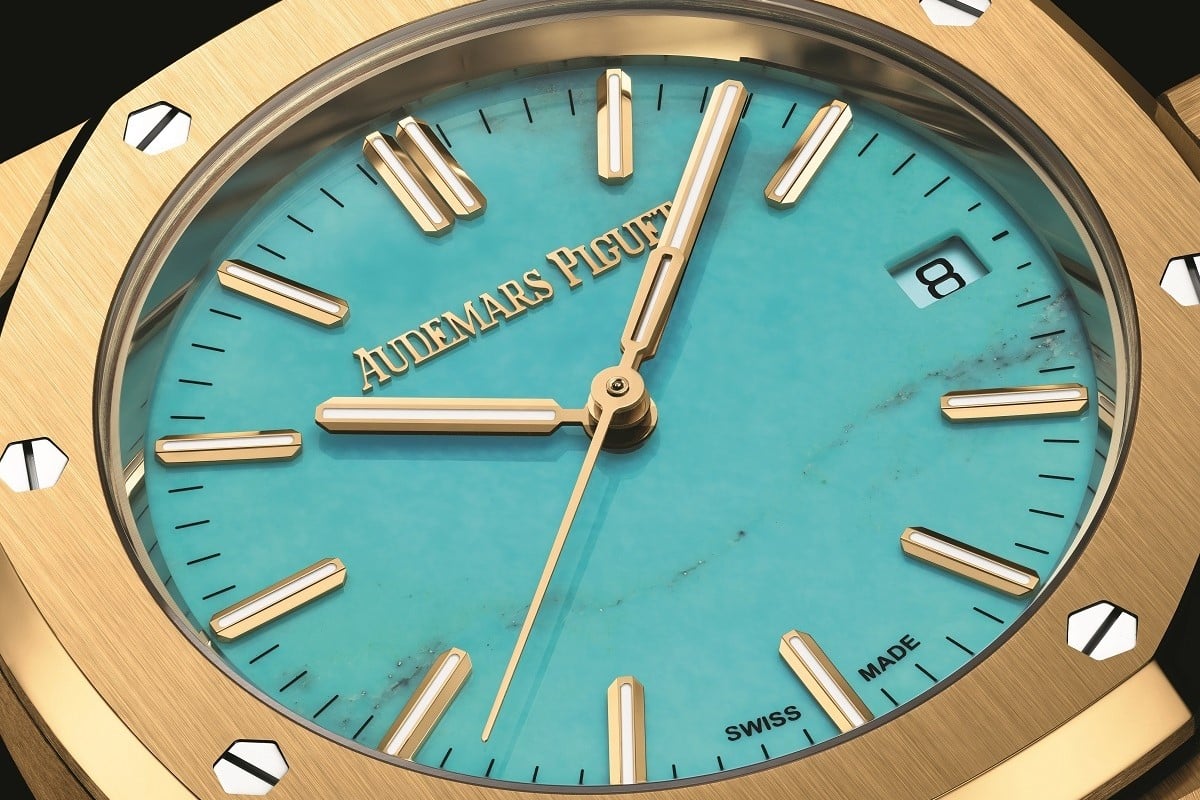 Yellow gold Royal Oak Selfwinding 37mm with a turquoise dial — Don't call it a Tiffany dial!
You were thinking it, but the 37 × 8.9mm Royal Oak Selfwinding (15550BA.OO.1356BA.01 / €61,200) in 18K yellow gold doesn't have a Tiffany dial. Instead, it's a natural turquoise dial that evokes dreams of a tropical sea. Turquoise is a rare stone that was already en vogue with ancient Egyptian and Chinese civilizations because of its illuminating beauty. And in combination with yellow gold, this new RO is like a bright, sunny day in Seychelles. The radiant turquoise dial is only 0.75mm thick, and because it's cut from a natural stone found in Mexico, every dial is different. What they have in common though, besides their charismatic and desirable look, are applied hour markers and hands in yellow gold with a touch of glow-in-the-dark Super-LumiNova.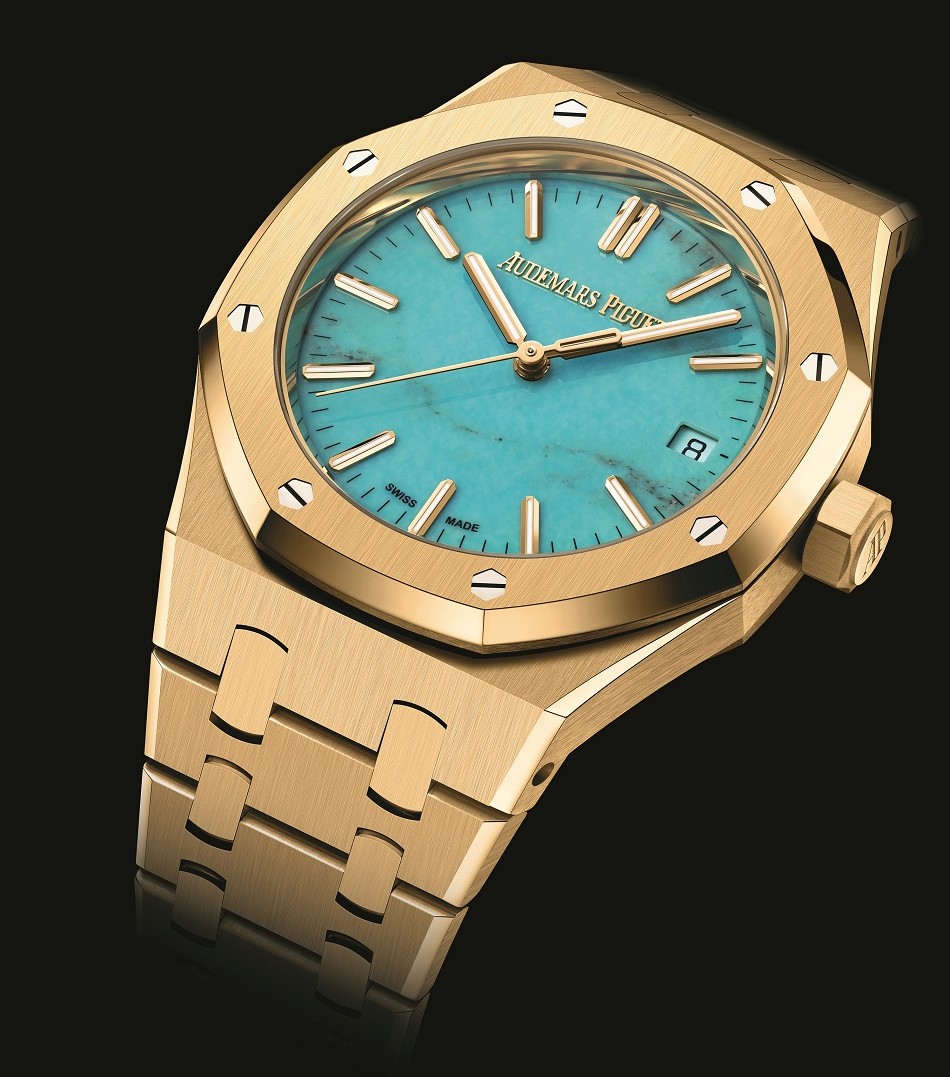 Inside the case beats the latest automatic caliber 5900, displaying hours, minutes, seconds, and the date. This movement debuted in 2022 in certain 37mm references, and it combines a slim 3.9mm thickness with a 4Hz frequency and a 60-hour power reserve. The mechanism is visible through the sapphire case back, but my guess is that all eyes will be on the mesmerizing turquoise dial all the time.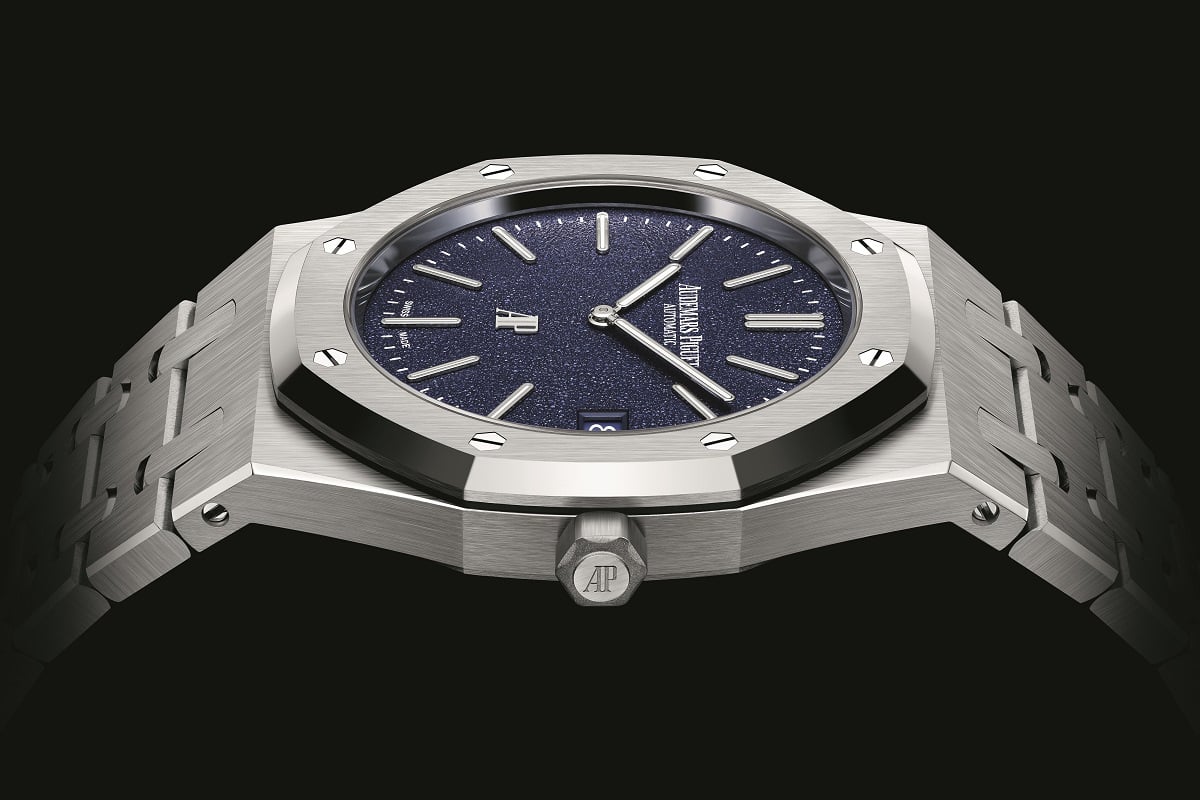 White gold Royal Oak 39mm "Jumbo" with a blue grained dial — It's a boutique-only affair
You thought you wanted a steel Royal Oak "Jumbo" Extra-Thin, but this new, exclusive version of the coveted "Jumbo" might be a better choice. A better choice because of the watch's easthetics that is. I know the original dial is iconic, but the RO's design also proves the perfect stage for a blue grained dial. The mesmerizing dial of the boutique-only Royal Oak "Jumbo" Extra-Thin model (RO 16202BC.OO.1240BC.02 / €78,000) is inspired by the platinum reference 14802 from 1992 that celebrated the 20th anniversary of the Royal Oak collection.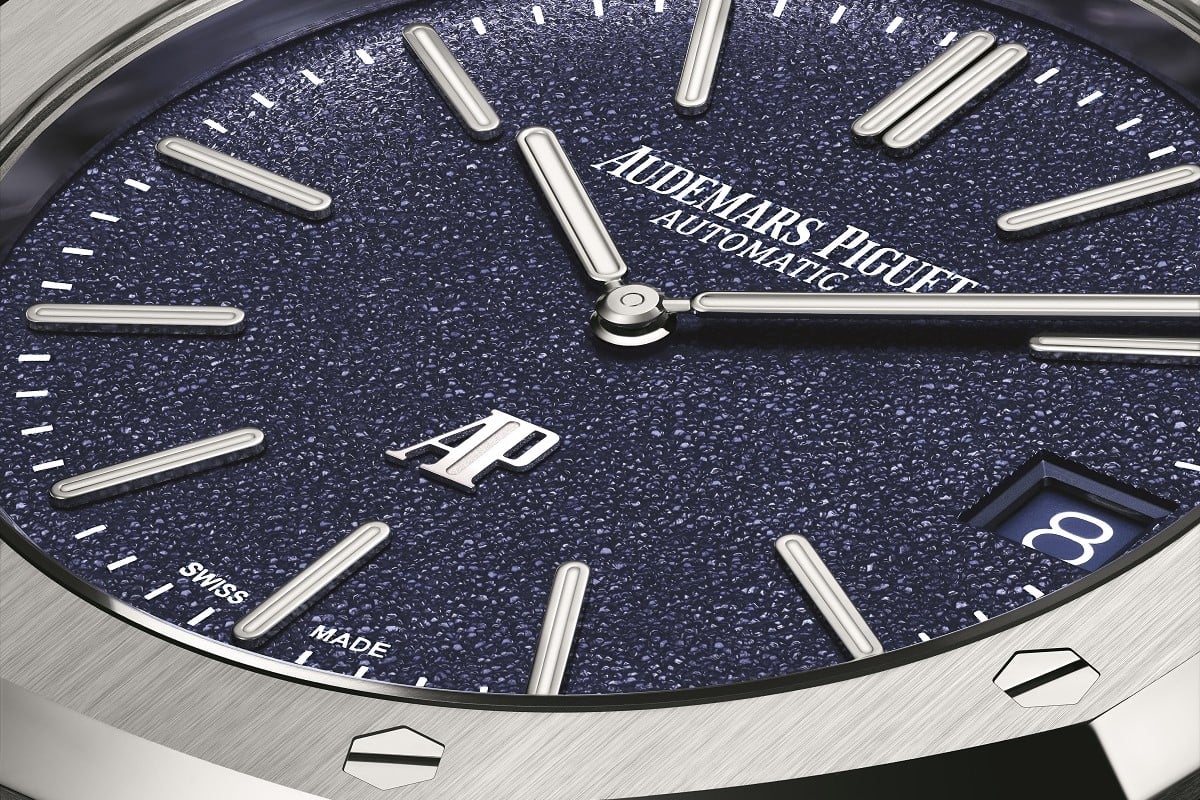 The 2023 creation might be a year late to the 50th anniversary party of the RO, but because of its stunning looks this white gold "Jumbo" is forgiven — it's just fashionably late. The fine grain plays with the light and the use of PVD creates the blue hue. After covering the dial with a translucent coating, the relief and sparkle of the dial evokes a clear night sky above Le Brassus. Ad the Super-LumiNova on the white gold hour markers and Royal Oak hands make sure you can still read the time during the dark nights in Le Brassus.
Inside the 39 × 8.1mm case of this noble limited edition beats the Calibre 7121, the latest ultra-thin movement that was introduced in January 2022 for the 50th anniversary of the Royal Oak. This 4Hz movement took five years to come alive. And what is does is indicate the hours, minutes, seconds and date with a power reserve of 55 hours. The date features a patented, flat, energy-saving mechanism with a new rapid corrector.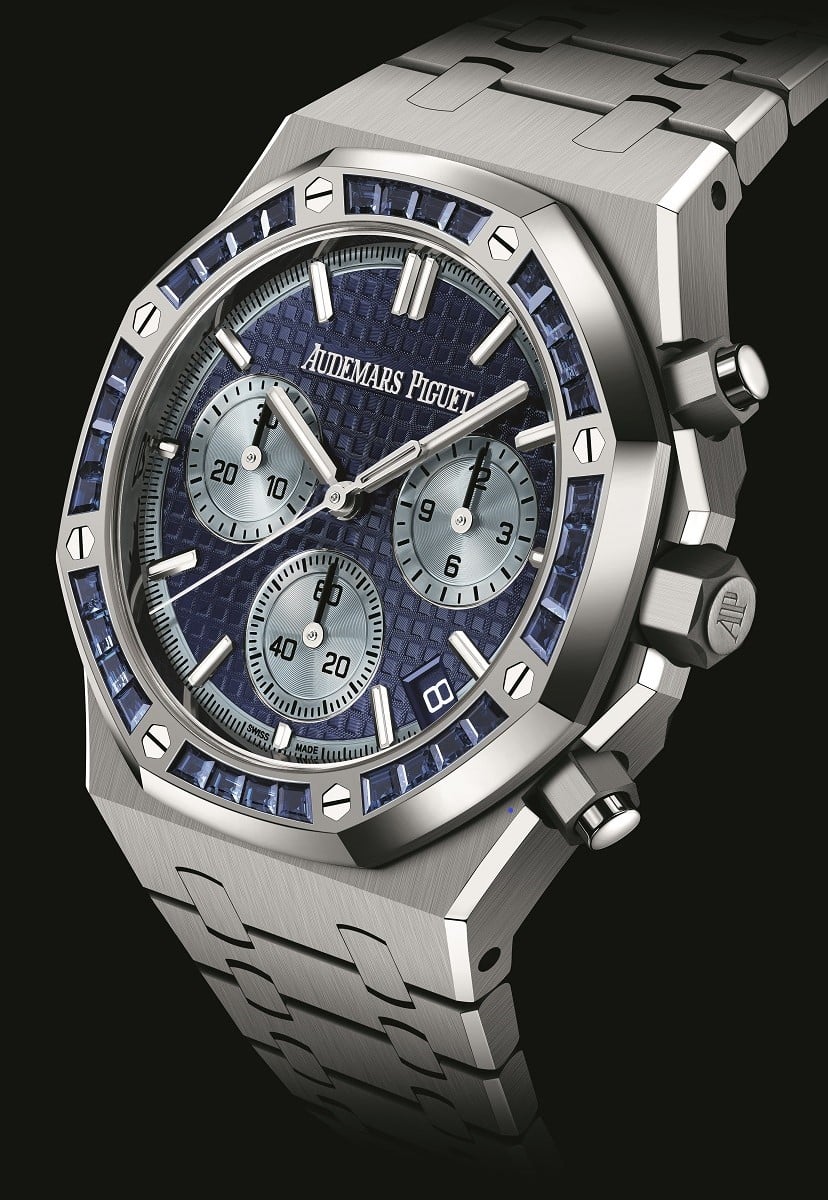 Royal Oak Selfwinding Chronograph 41mm — Cool and collected white gold and blue sapphires
The 41mm Royal Oak Selfwinding Chronograph (26240BC.SS.1320BC.01 / price on request) in white gold with a bezel paved with baguette-cut blue sapphires is a cool watch in the literal sense. The sapphire-blue dial matches the precious stones and shows a Grande Tapisserie pattern. For contrast, AP decided on coloring the counters and the outside of the dial light blue. Inside the case, which measures 12.4mm thick, beats the same chronograph movement as in the 43mm Offshore, AP's caliber 4401. From May 2023 until the end of June 2023, this model will be for sale exclusively in Japan. Come July 2023, it will be released worldwide.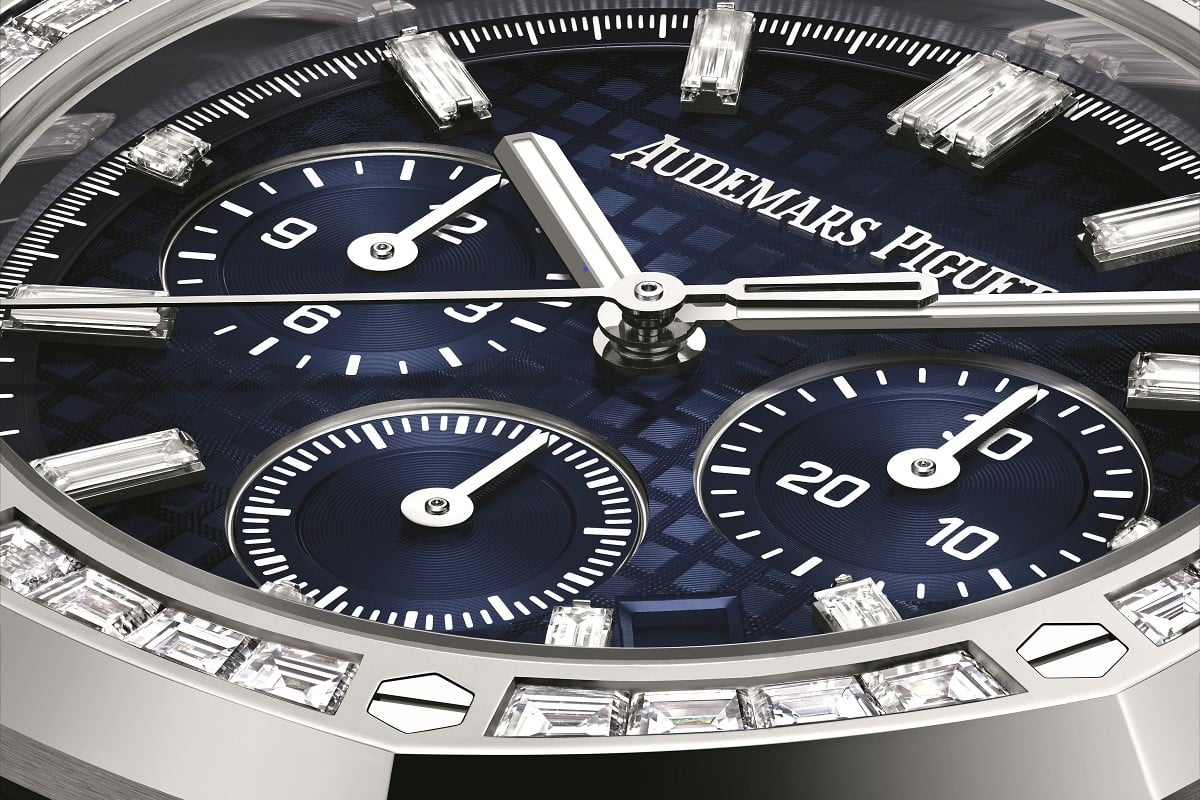 New Royal Oak models with dark blue dials — White gold 34mm and 37mm three-handers and a 38mm chronograph
How about more white gold and more diamonds? AP offers two white gold Royal Oak Selfwinding models in 34 × 8.8mm (77451BC.ZZ.1261BC.01 / price on request) and 37 × 9.4mm (15551BC.ZZ.1356BC.01 / price on request). There's also a 38 × 11mm Royal Oak Selfwinding Chronograph (26715BC.ZZ.1356BC.01 / price on request) in that same precious metal. All three watches come with bezels featuring 32 baguette-cut diamonds. The dials have a Grande Tapisserie decoration, and the deep blue hue is obtained by Physical Vapor Deposition (PVD). The deep dark smoked effect comes from meticulously spraying colored varnish onto the periphery of the dial as it rotates.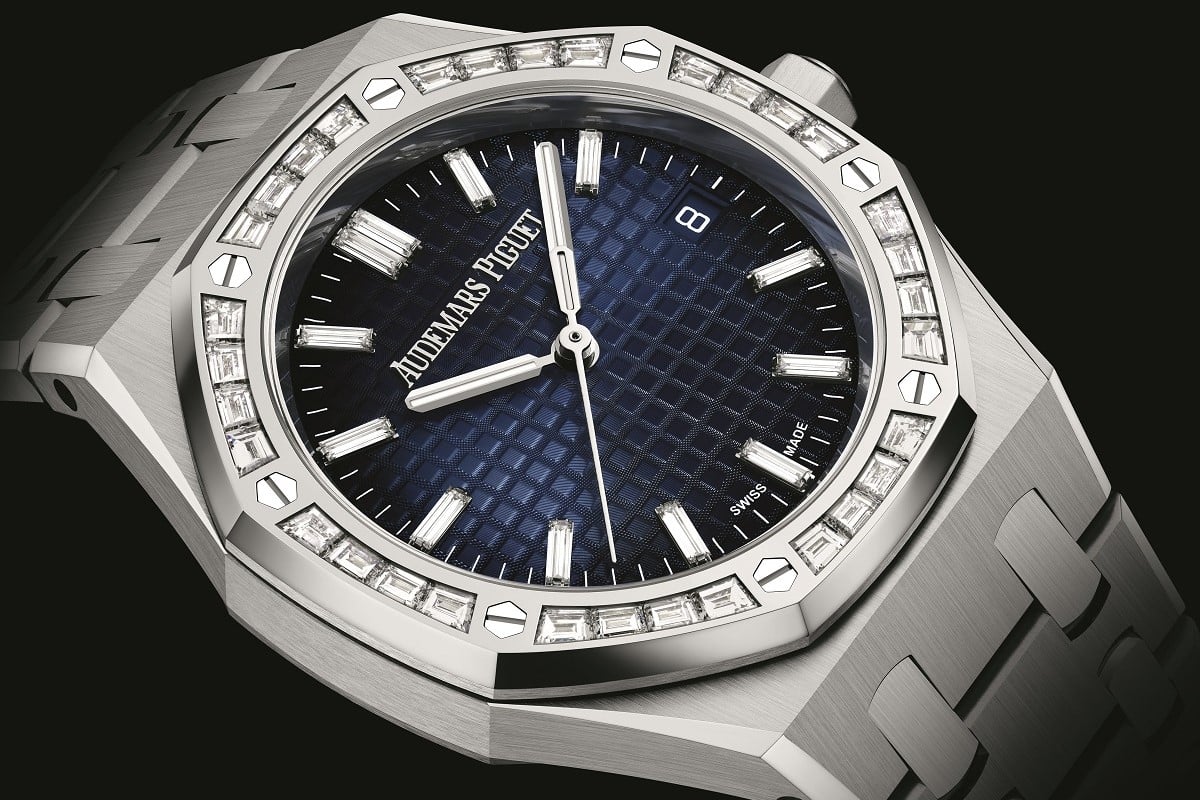 The 34mm reference is powered by the automatic 4Hz caliber 5800 with a power reserve of 50 hours. Inside the 37mm watch, the automatic 4Hz caliber 5900 with a power reserve of 60 hours is at work. And inside the 38mm chronograph, you will find the 3Hz caliber 2385. The three-handers have a display case back that reveals the in-house movement. The chronograph, however, doesn't want to show its Frédéric Piguet 1185 origins, so it hides behind a closed white gold case back.
New Royal Oak models with smoked blue dials — a three-hander, a chronograph, and a tourbillon in 41mm white gold cases
If 41 is your magic number, AP gives you a choice. These three Royal Oak special editions all have a 41 white gold case. And they all feature the same smoked blue dial with a "Grande Tapisserie" motif.  These precious metel RO's come in a choice of movements: there's the 41 × 10.5 mm Selfwinding (15510BC.OO.1320BC.02 / €63,600), the 41 × 12.4mm Selfwinding Chronograph (26240BC.GG.1324BC.02 / €90,600), and the 41 × 10.6mm Selfwinding Flying Tourbillon (26730BC.ZZ.1320BC.02 /  price on request). This 41mm trio will initially be a Japan exclusive until July 2023.
Two Royal Oak Selfwinding Chronographs in 38 mm in two types of gold and one, very black onyx dial
When blue is not your color, but black most definetly is, an onyx dial is what you want. These two new versions of the Royal Oak Selfwinding Chronograph in 38 mm show the endlessly deep black of natural onyx. And to emphasize that darkness, shimmering  baguette-cut diamonds adorn the bezel and hour markers. Chose between a pink (26715OR.ZZ.1356OR.02 / price on request) or a white gold (26715BC.ZZ.1356BC.02 / price on request) case and bracelet. Inside both timepieces that look sporty in the most lavish way, beats the automatic chronograph Calibre 2385.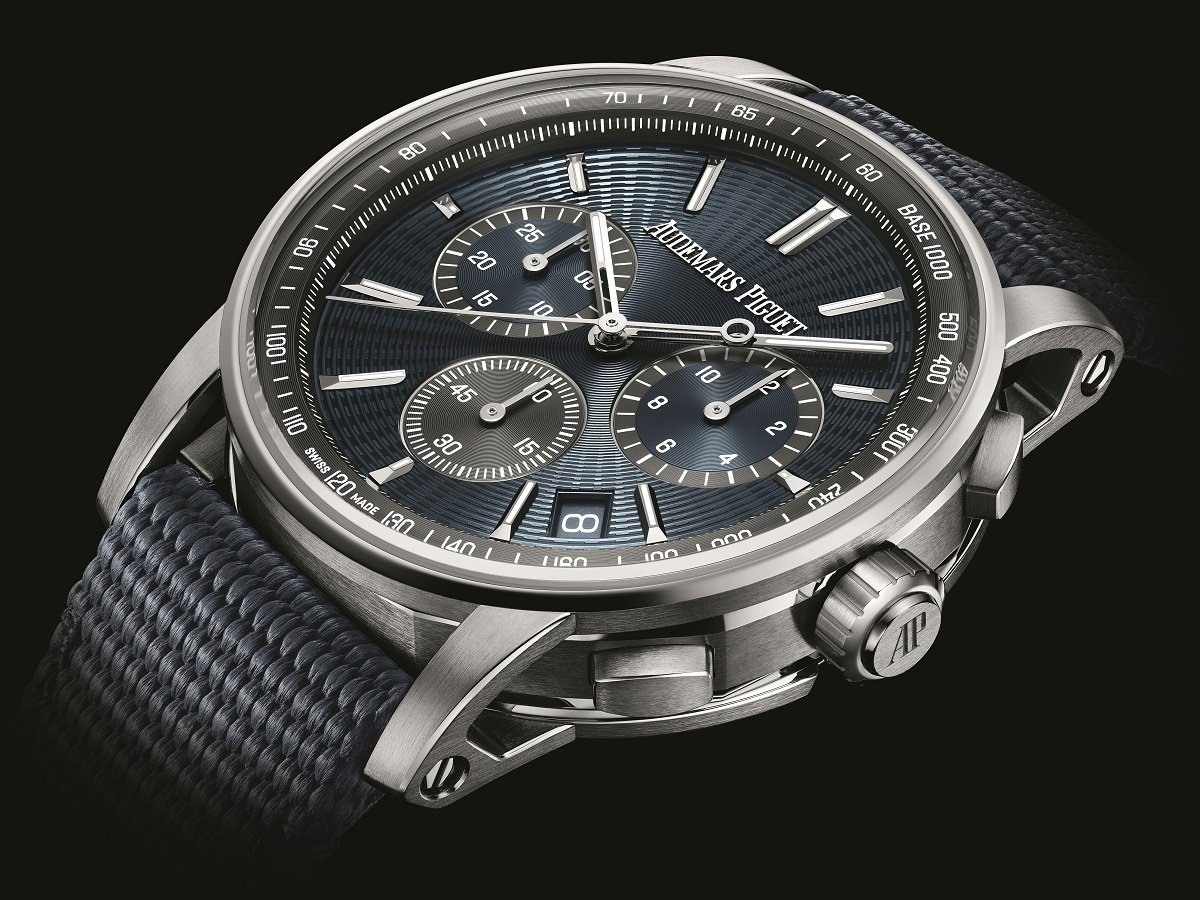 Code 11.59 by Audemars Piguet Selfwinding and Selfwinding Chronograph — Now in steel and with new dials
The new dials presented in the Code 11.59 collection had me hearing Dinah Washington sing, "What a difference a day makes / 24 little hours" with her distinct soprano voice. And what a difference a dial makes. The absence of Arabic numerals and a new radial wave pattern works wonders. The waves on the stamped dial — designed in collaboration with Swiss guilloché craftsman Yann von Kaenel — move outwards from the center and have hundreds of tiny holes that play with the light.
The "Bleu Nuit, Nuage 50" and contemporary green dials get their color and come to life through a PVD treatment. The third variant shows a subtle beige color, which is the result of a galvanic process. On all of these dials, elongated and applied hour markers in white gold replace the Arabic numerals. These hour markers offer a more sober look that seems like it's trying less desperately to be different.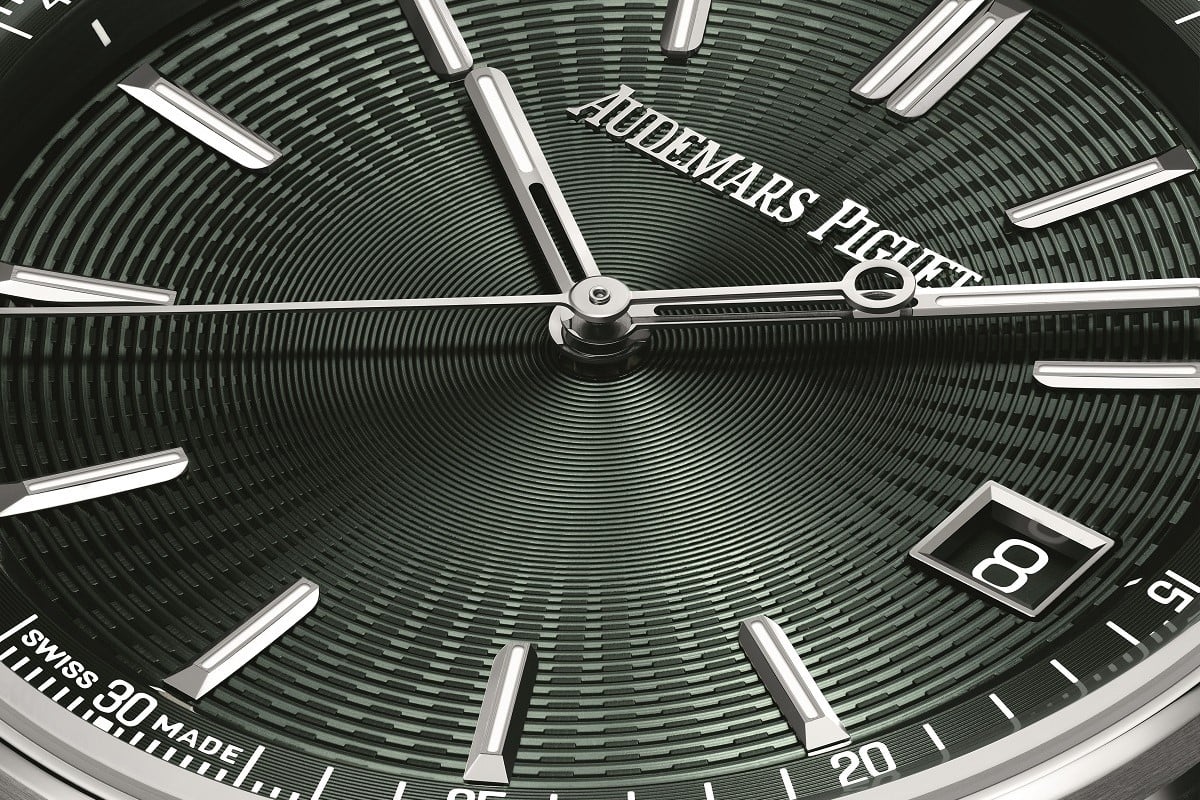 And there are more small touches on the dial that make a big difference. The inner bezel now has a shallower angle, allowing it to blend in better with the dial. It is also wider with a detailed seconds scale, whereas the previous Code 11.59 models just showed numerals for every five minutes. For readability in the dark, the hour markers and hands received a coating of Super-LumiNova. The result is almost instrumental — in a very luxurious Haute Horlogerie kind of way, of course.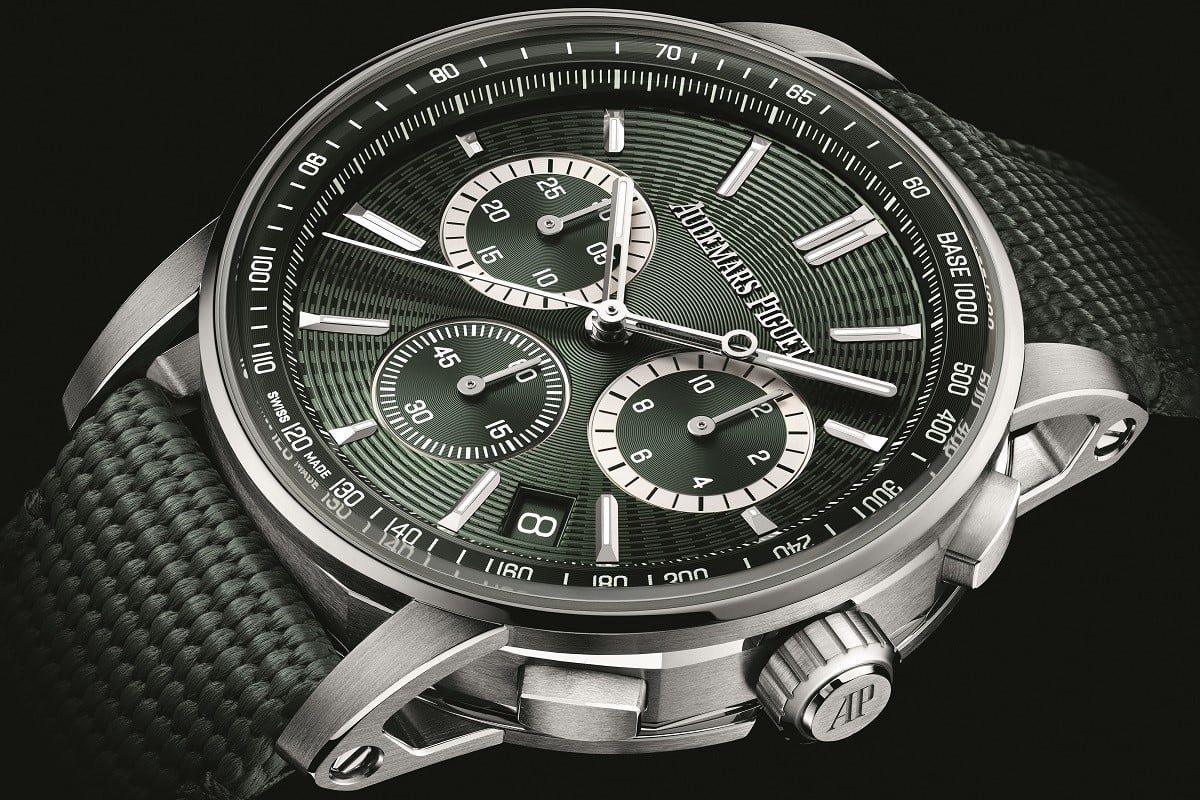 Finally the steel is real
Even more instrumental is the first-ever use of steel in the Code 11.59 collection. Four of the six new models come in a full-steel case, while the two references with beige dials feature cases in steel and ceramic. The case construction of the Code 11.59 is already quite complex. Executing it in hard steel instead of more malleable gold proved a challenge. It required reprogramming of the machines, new and dedicated tools, and reinstructed craftspeople. The result is a steel (and, in two cases, ceramic) watch with polished and satin-finished surfaces. And it looks almost as rich as the white gold iterations, but it comes with a different price tag.
Inside the 41 × 10.7mm Selfwinding models (€25,200) beats AP's caliber 4302 with central seconds and a date indicator. The 41 × 12.6mm Selfwinding Chronograph models (€34,800) feature caliber 4401, the same movement in the 43mm Offshore.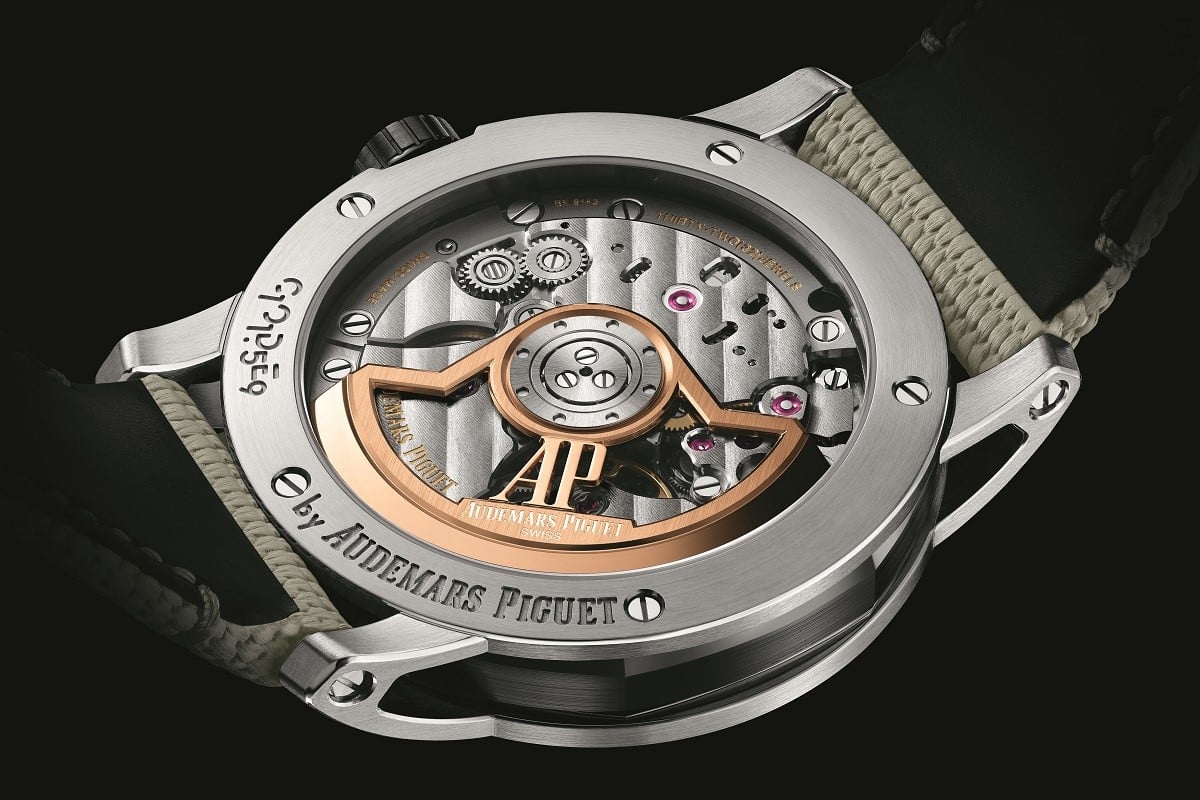 An overview of the Audemars Piguet 2023 watches — Pick your favorite
What do you think of the turquoise-dialed Royal Oak? Do you agree that the new Code 11.59 dials are a major improvement? And did you also want to play AC/DC's "Back in Black" on volume 11 when you read that "The Beast" is back in black? Put your answers and thoughts in the comments below.
Please visit the official Audemars Piguet website for more information on the brand's 2023 lineup.
Find and follow me at Lex Stolk • Instagram.