The Ultimate Sports Rolex – The Explorer II Reference 1655
Rolex Explorer II Reference 1655
The ultimate toolwatch – the Rolex Explorer II, aimed at speleologists and cave explorers.
Some time ago, Michael Stockton wrote quite a 'love letter' (as one of our readers wrote in the comments) on the Rolex Explorer 1016. While the reference 1016 Explorer was being produced already in 1963 and kept in production for 26 years, Rolex introduced another Explorer in 1971. The Explorer II. This watch was not a successor of the Explorer 1016, but an additional timepiece with an additional function. The Explorer II was aimed at speleologists or cave explorers, who could lose the sense of time during their work. When you are not exposed to daylight, it's feasible to lose track of time and whether you are finding yourself working during the day or night. I really can't imagine this, but then again, I've never found myself in that situation.
Rolex Explorer
The Explorer watches were indicated in their generic manual as Type I and Type II. Where Type II came with the additional (24) hour hand, 24-hour scale bezel and, let's not forget about that, a date. Both were chronometer rated watches and water resistant to 100 meters.  Explorers, no matter the version, were rugged watches that up to the task of those who liked to explore.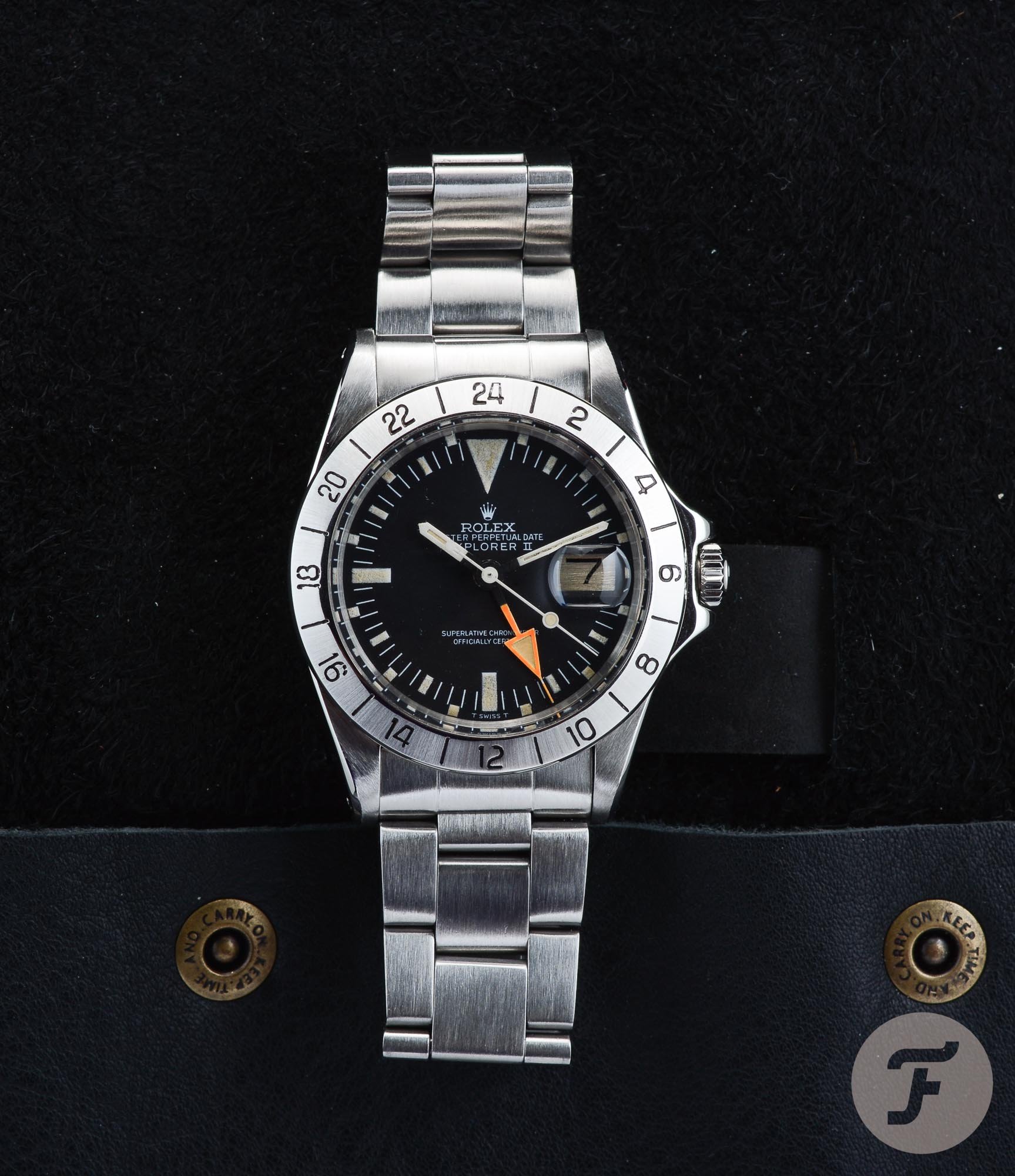 Explorer II Reference 1655
Rolex kept the Explorer II reference 1655 in production until around 1984/1985. In 1984, Rolex introduced its successor, the reference 16550. In this production period of roughly 13/14 years, Rolex only amended small changes. Collectors categorized each of them in different 'Mark' series. There are about 7 different dials and a handful of different bezels. Italian collector Stefano Mazzariol did a nice comparison article, so go knock yourself out.
1655 and 1675
The Explorer II had the same movement as the GMT-Master reference 1675 at that time, caliber 1575. This movement featured the 24-hour hand that indicates AM/PM. Whereas the GMT-Master had a rotating bezel, the Explorer II reference 1655 used a fixed 24-hour scale indicator. Cave explorers only need to know, for example, whether it is 7:00 or 19:00 and the large orange hand indicates this for them.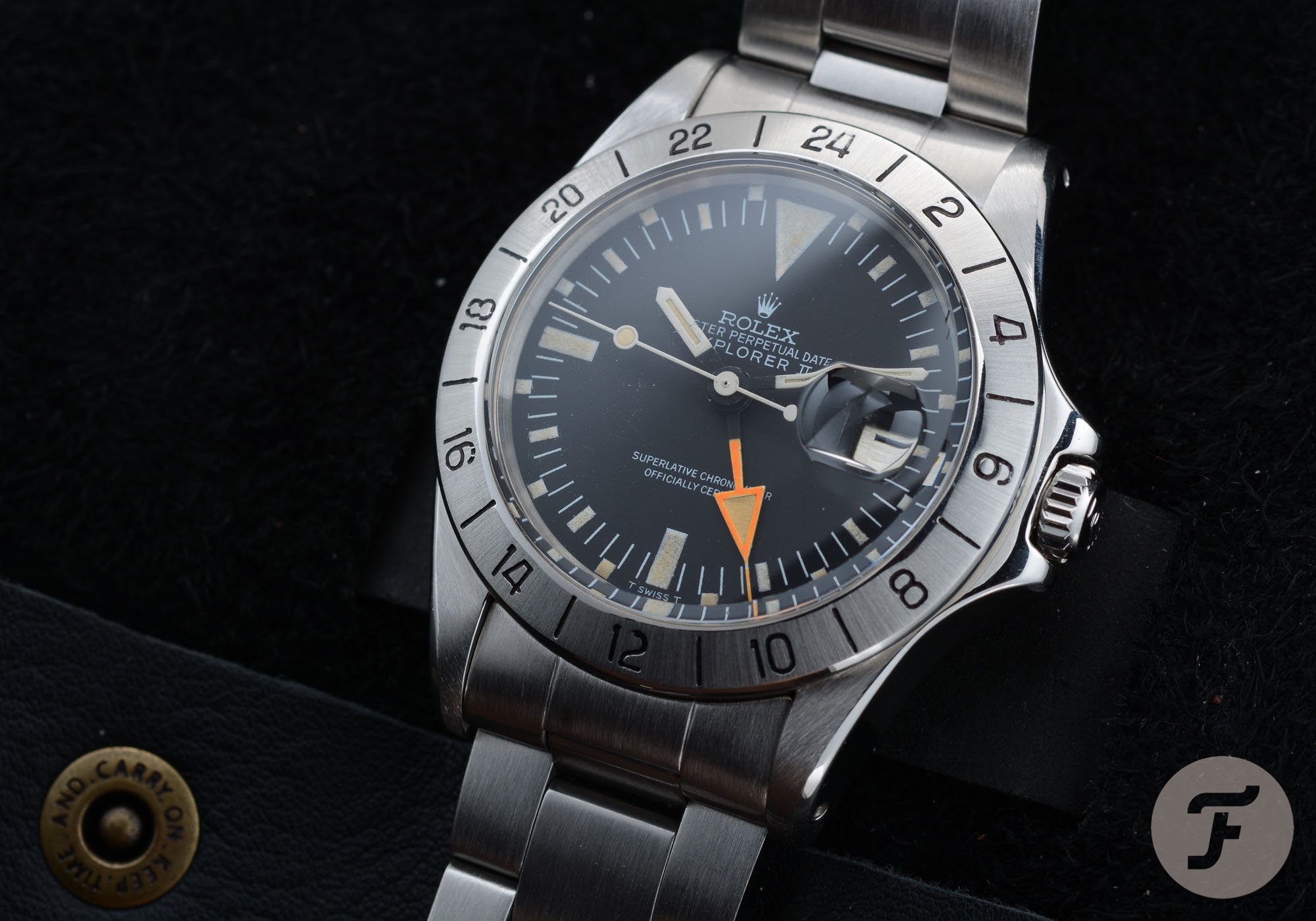 it was very difficult for me to get used to this dial and I am not sure I actually did.
Funky Dial
When I got the chance to play around with this Rolex Explorer II reference 1655 for a while (well, I had it on loan for about a year!) I was quite excited. You have to know that of all Rolex watches, the Explorer collection is among my favorites (as well as the GMT-Master) and the Explorer II 1655 has always rated as high on my wish list to try and test. One of the first things I noticed was that the dial is kinda strange. Specifically, I knew that the hour and minute markers were a bit odd, but I didn't realize the effect of this during normal wear.
As you can see, the hour and minute markers are quite OK. Every 5 minutes there is a fat hour marker and on the 12, 6 and 9 there is some extra punch to them. However, the 24-hour scale has been aligned with an extra set of hour markers (or you can see them as half-hour markers), to which the large orange hand points. I find this to be quite distracting and it was very difficult for me to get used to this dial and I am not sure I actually did.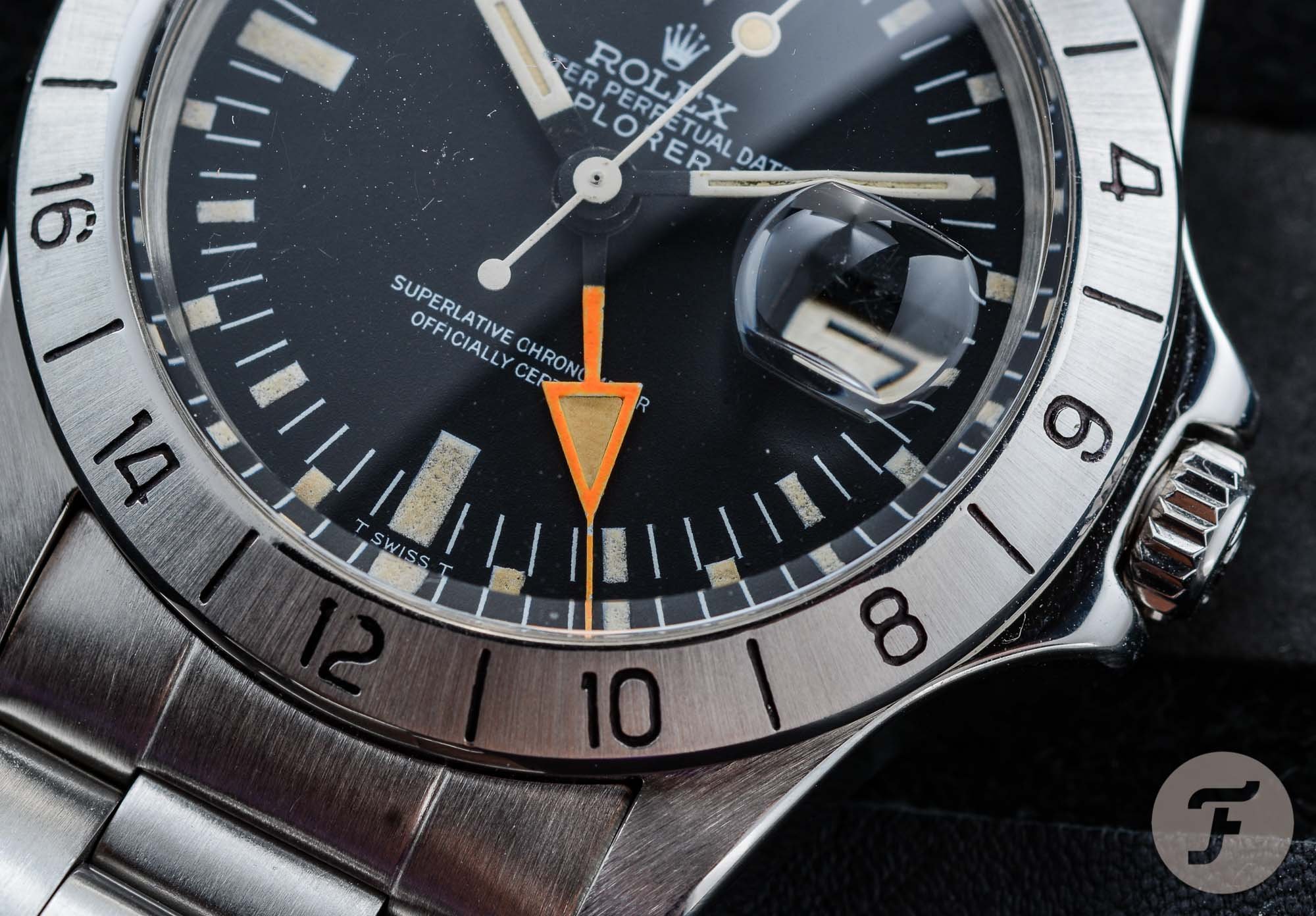 Fat Case
The Rolex Explorer reference 1655 has an interesting case. Where I find my own Rolex GMT-Master 1675 to wear quite 'thin', this Explorer II wears differently. It's even unique versus the Sea-Dweller and Submariner watches I previously owned. Also, the watch measures 39mm in diameter, which is a tad bit smaller than the others I mentioned. It's quite thick, so the dimensions sum up to what feels like wearing a very compact and solid stainless steel watch, which it is of course. Just like the funky dial, this needed some time to get used to.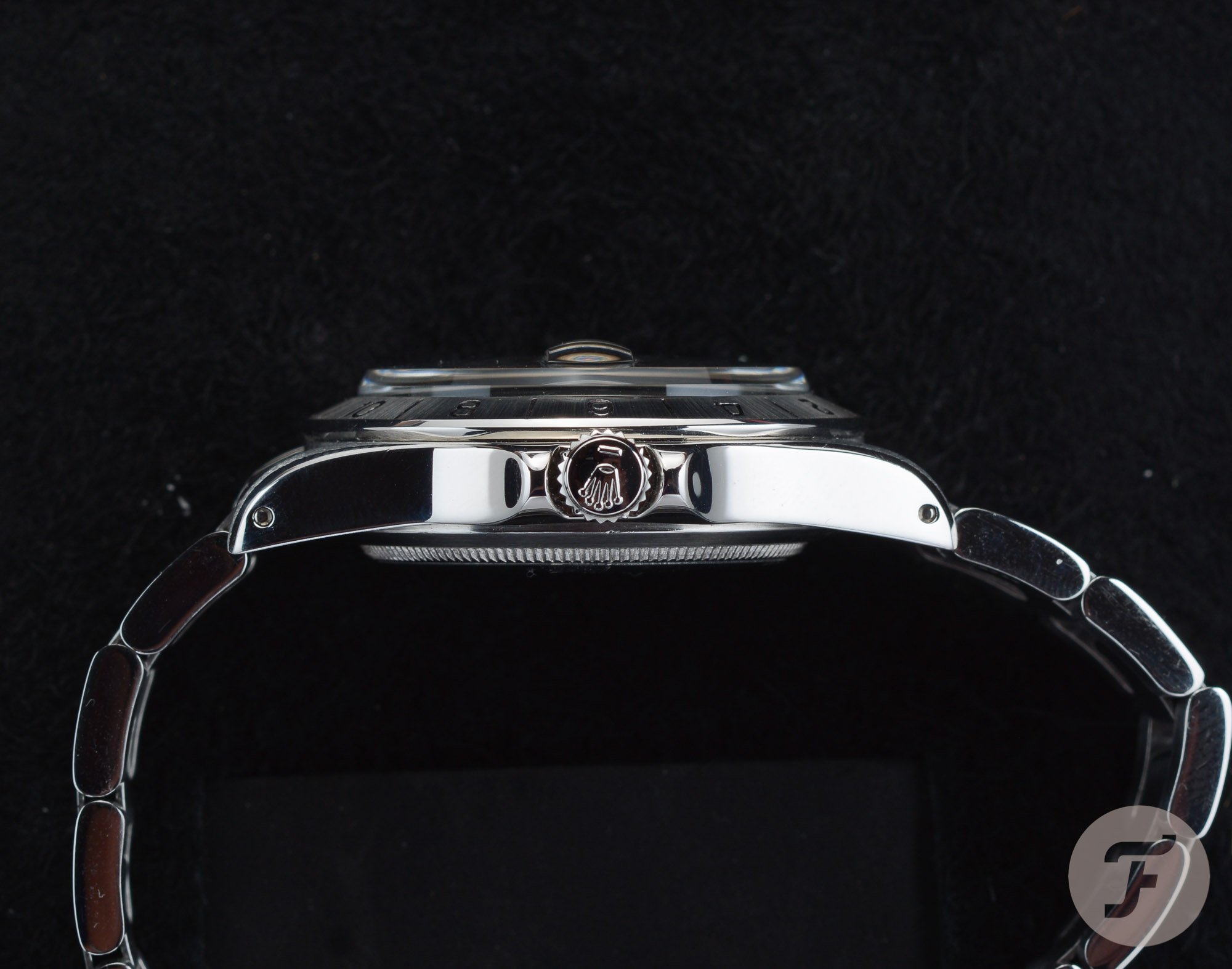 Explorer II Collector's Market
The watch just screams '1970's' and I love that. The large orange hand, the weird minute and hour tracks and the clunky case. It all adds up. They say that the Rolex Explorer II reference 1655 wasn't a popular watch while it was produced. That is probably true, but I also read that the watch wasn't marketed very well on a global level. I can't verify this, but what I do know, is that you only had to open a National Geographic Magazine of the 1970's and you'd see an Explorer II ad inside.
Whether it was the 1970's design or people being unfamiliar with this Rolex Explorer II reference 1655, it wasn't a big seller. You don't see them for sale often and the ones offered on Chrono24, for example, fetch high prices.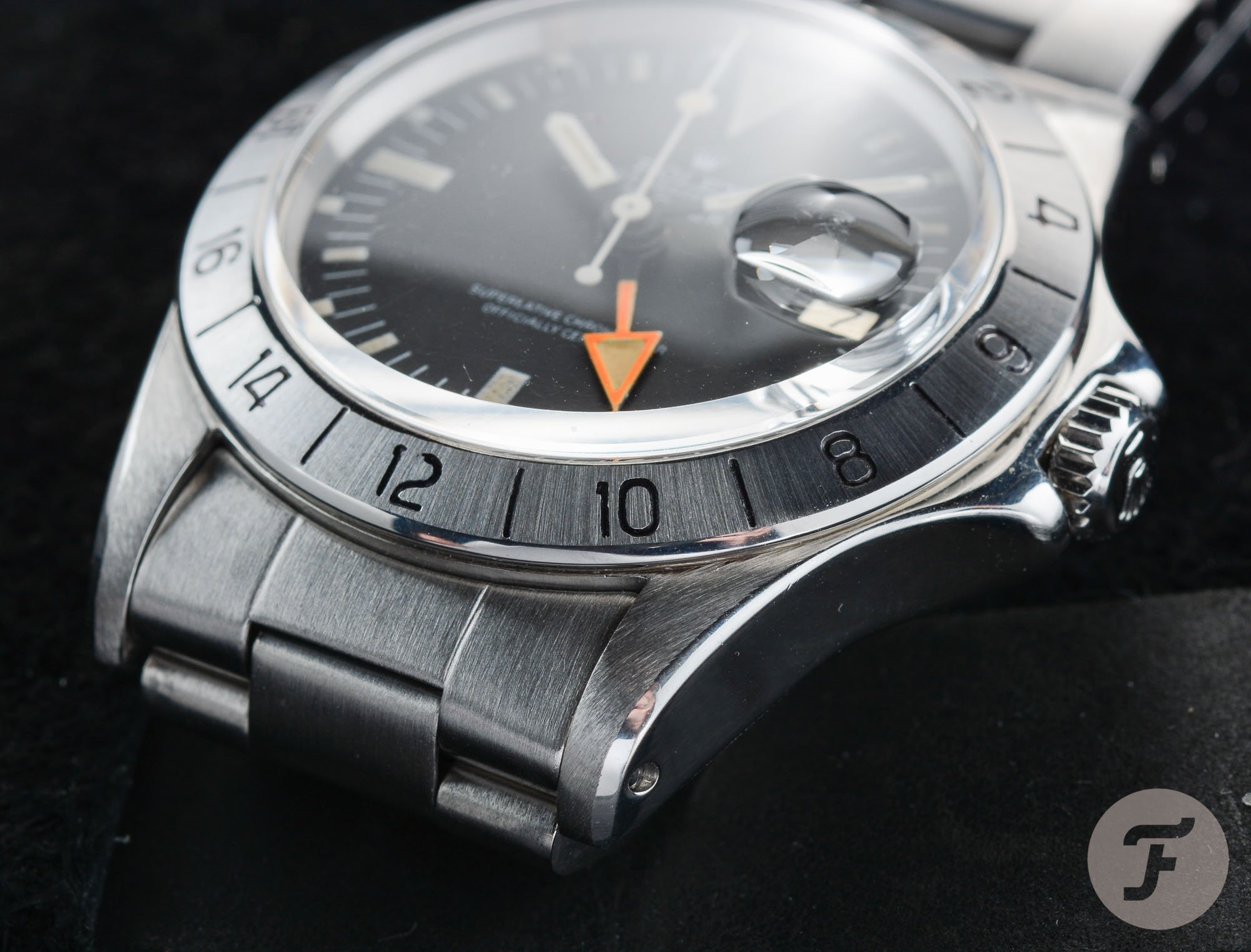 Condition
As always, the condition is everything with vintage Rolex. Prices on the pre-owned market vary quite a bit. On the lower end, you will find mostly those Explorer II reference 1655 models that have been pretty much worn (out). Facets are gone on the lugs most of the time and those watches just look (over) polished. A fine example that still has those big fat facets on the lugs and a pretty dial fetch very decent prices these days.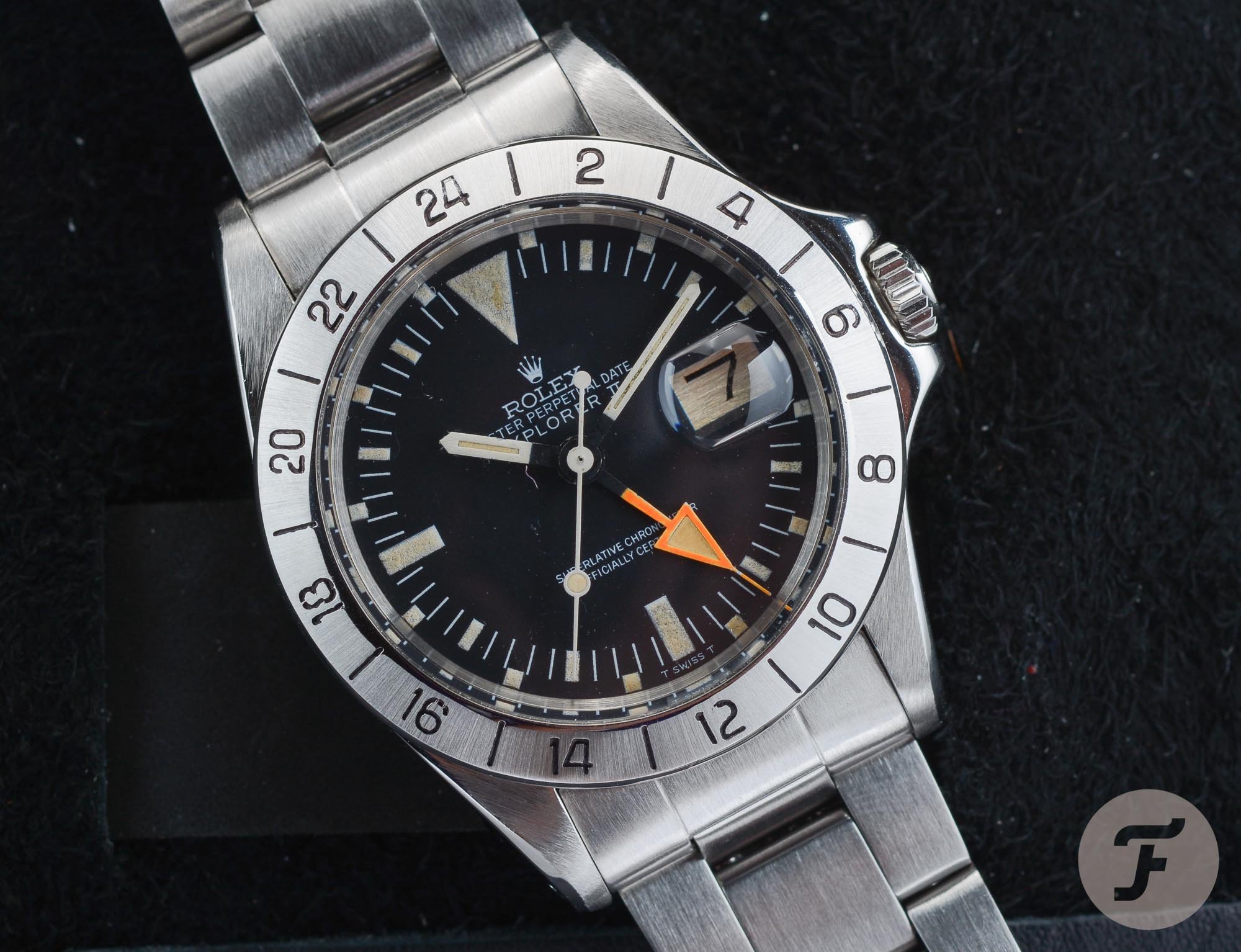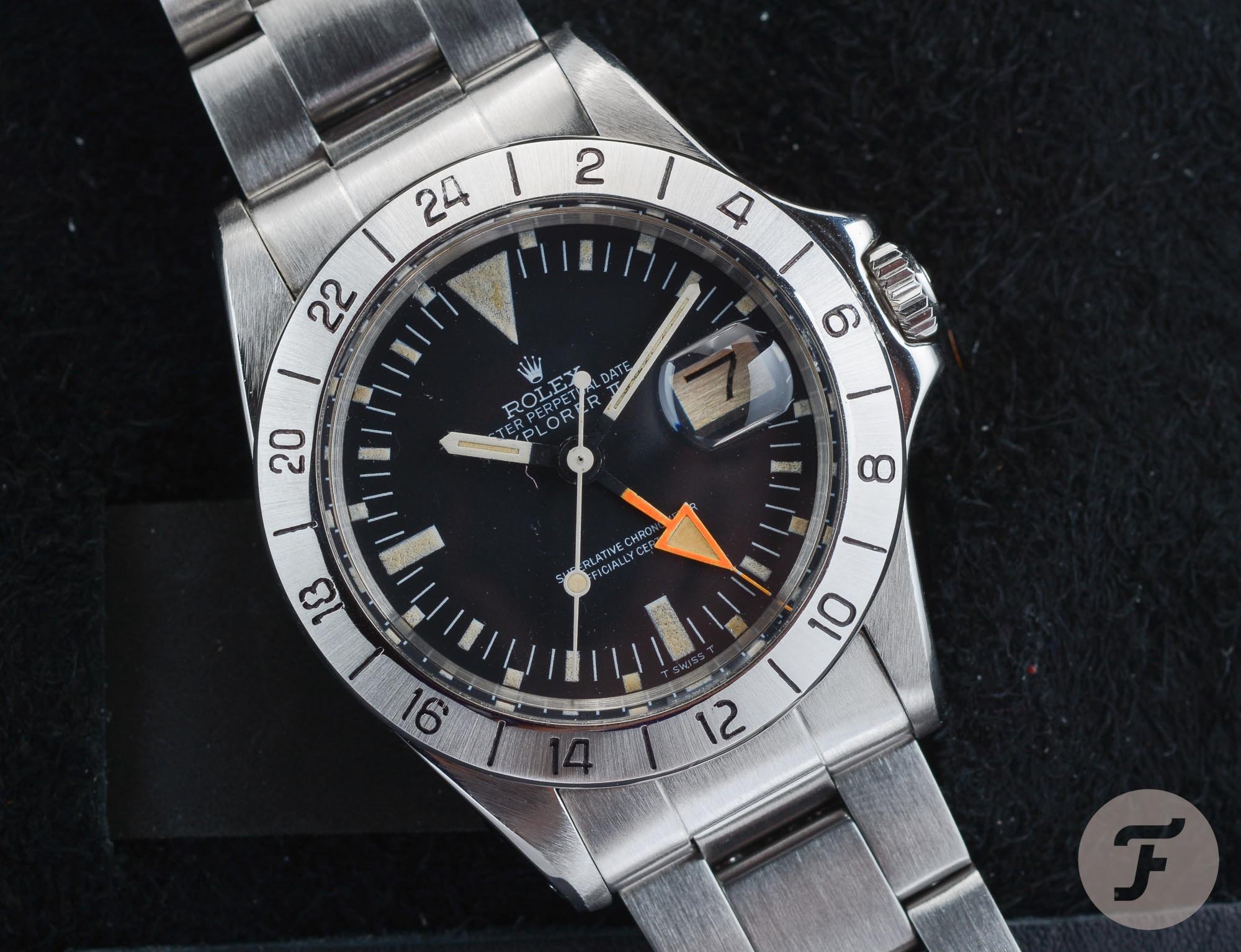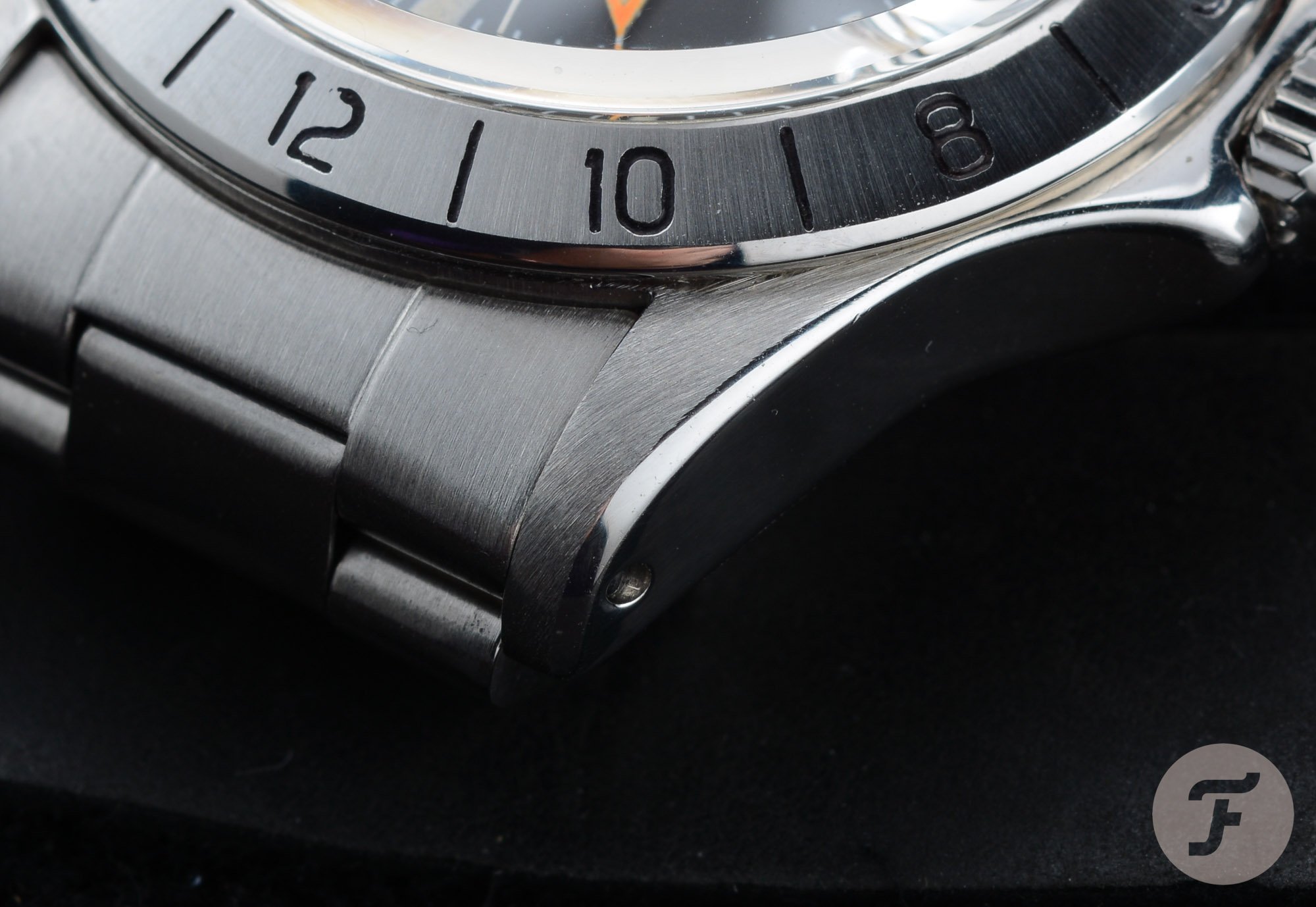 The hands also changed to the famous 'Mercedes' design.
The new Explorer II
In 1984, when Rolex introduced the Explorer II reference 16550, the watch received quite a make-over. With this version, it had a better fit with the other Rolex sports models like the Submariner, GMT-Master and Sea-Dweller. The case dimensions were equal, the dial design was in line with the others and it received a new movement, the Rolex caliber 3085. This movement featured a double bridge and the extra hour hand could be set independently, like the Rolex GMT-Master II. Also, Rolex decided to make this model available with either a black or a white dial much like we are used to from the Daytona. The hands also changed to the famous 'Mercedes' design. Although this model and its later successor (16570) were probably better sellers than the reference 1655, they don't have the same cult status as the original Explorer II reference 1655.
In 2011, 40 years after the initial Rolex Explorer II reference 1655, the new Explorer II was introduced during BaselWorld. It arrived in a 42mm case (remember that most other Rolex sports models still have 40mm cases) and the large orange hand was back on the dial! Rolex made sure to get all innovations onboard this new Explorer II 216570 such as the new Oyster bracelet with Easylink system, Paraflex shock absorber, 904L steel and the latest caliber 3187 movement.  Once again, it was made available with either a white or black dial. 5 years after its introduction, it is safe to say that it still isn't a sales performer like the Submariner or GMT-Master II, but you do see them in the flesh occasionally.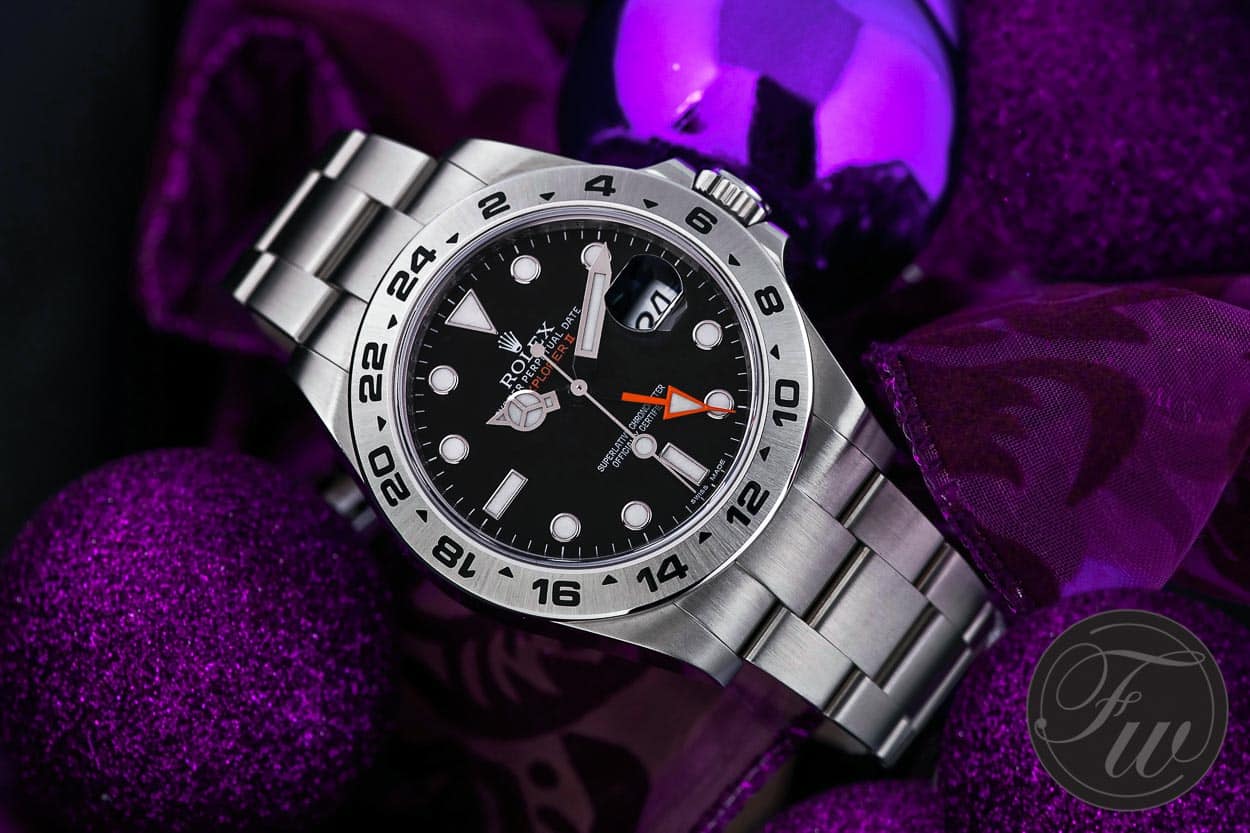 Some Thoughts
Although I made some comments about the thickness of the watch and the quirky looking mix of (2) hour and minute markers, the Explorer II reference 1655 did not disappoint. It is still as magical as I thought it would be and it's really only a question of having the right level of funds for one. And as mentioned, not just anyone, but a good one, as I believe the fun in these pieces is in owning one that has the nice bevels on the lugs and a decent looking dial. The new Rolex Explorer II 216570 can be seen as a substitute, but I don't think it is. It is a great modern watch and I am having a hard time deciding between adding either the Explorer II or the new Explorer 39mm to my personal collection at some point. The influences from the Explorer II reference 1655 make it a very attractive watch indeed. Another option, that also became a favourite of mine, is the Rolex Explorer II 16570 with a white dial. Preferably with tritium markers and hands, slightly turned yellow for a nice contrast with the white dial. I am amazed that these can still be found for relatively 'normal' prices, compared to all other modern sports Rolex watches. Something to think about.
More information via the Rolex website.
*This article was published first in August 2016, but we updated the images and some parts of the text for today's publication (April 24th 2019).