#TBT Rolex Explorer 1016 – The Last of the Breed
An Explorer in production for over 25 years
The Rolex Explorer 1016 sprawls on a table, a scant few years shy of its 30th birthday, appearing much as it did when it was produced in 1989.
An odd paradox of a watch by this time, its ultimate year of production, for it must have looked like something from so long ago, but yet it bore, and still bears, that newish look of a semi-modern Rolex. These contradictions, and the fact that the 1016 is, in my highly biased opinion, the most starkly beautiful Rolex sports watch ever created, make it a highly covetable timepiece indeed. In this week's edition of #TBT, we take a closer look at the end of the line for one of Rolex's greatest creations.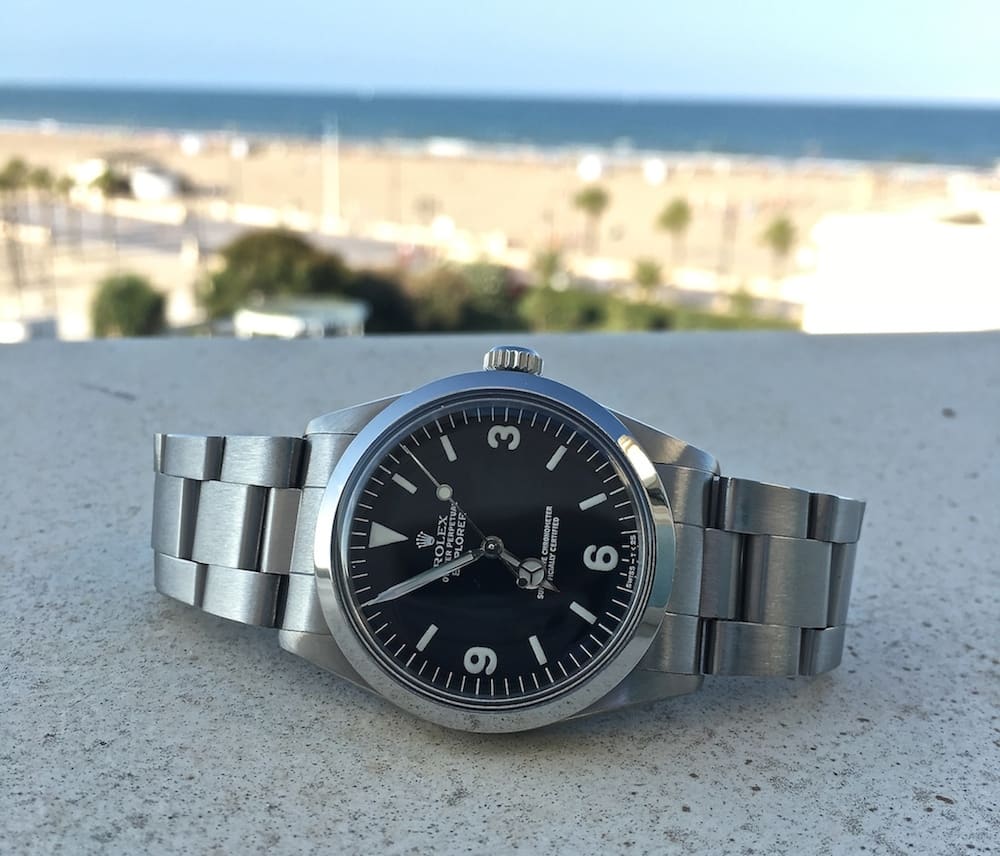 The Rolex Explorer 1016
The Rolex Explorer 1016, of all of the brand's sport watches, has always been the under watch in the brand's lineup. Compared to heavyweights such as the Submariner, GMT, and Daytona, the Explorer has always ranked as understated, underappreciated, underexposed, and, one could argue, "under-updated". Released in 1963, the 1016 basically soldiered on through 1989 (some say 1990) with very few updates aside from a move away from gilt to matte dial, a change from non-hacking 1560 to hacking 1570 movement, and the ultimate addition of a solid bracelet. Yes, the Rolex 5513 Submariner was another study in longevity, but even it had a shorter run bridging from 1966 to 1984. The 1016 very quietly held down the fort for a long, long time.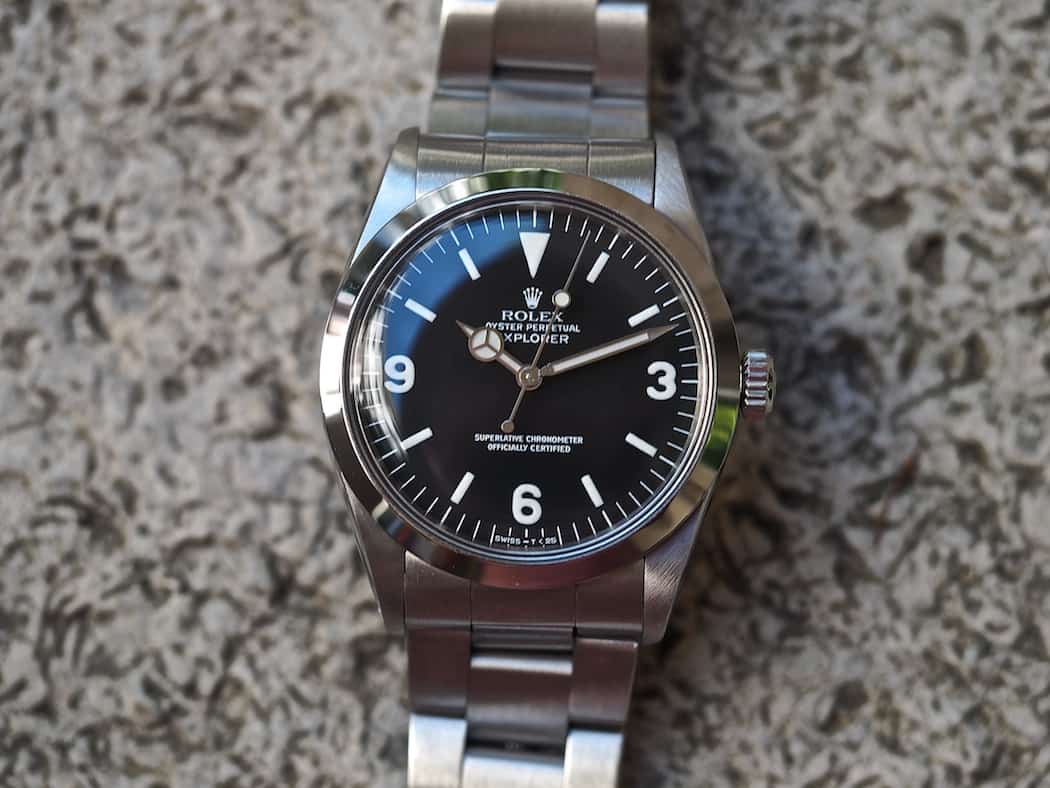 So it climbed Everest, but what makes the Explorer unique?
The Explorer is most famous for its inclusion on the first summiting of Mount Everest in 1953. Furthermore, the various models released until the Rolex Explorer 1016 debuted in 1963 are well documented on many sites. In doing some research for this article, what I really wanted to understand, and share, was what made the 1016 different than other Rolex Oysters of the day. Aside from a different dial design, what made the Explorer fit for a mountain climber? It's a question worth asking because the Explorer is, and always – with few aberrations – has been, a simple three-hand watch without any complications. Notably, the 1016 shared its case with the Datejust of the time: reference 1603. Plus, it later used a hacking 1570 caliber automatic like many other Rolexes (sports and non), so that wasn't anything special. So, was the Explorer simply a case of window dressing?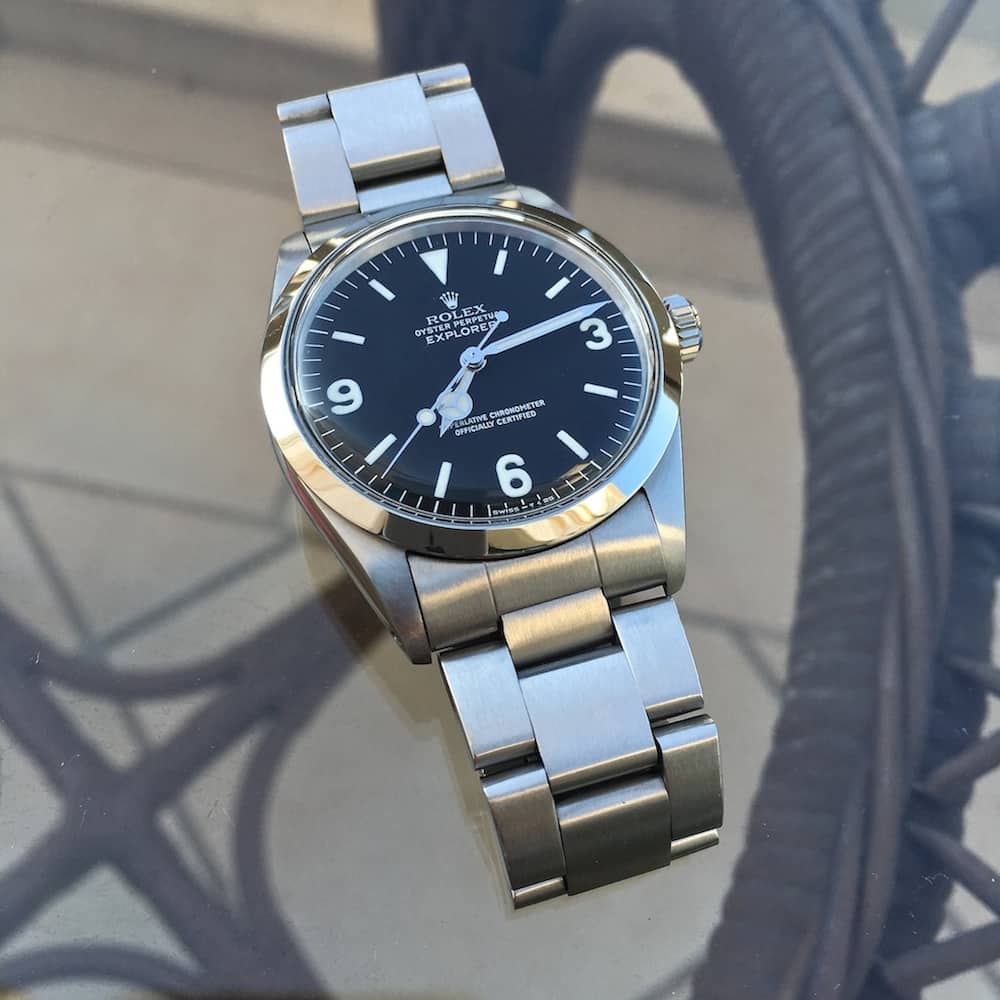 Actually, the Rolex Explorer 1016 did contain notable upgrades versus the similarly cased Datejust and it received enhancements versus its predecessor, the Explorer 6610. The greatest difference found in the Explorer was its water resistance to 100m. This was actually double all other non-sports Rolexes and was achieved via a thicker domed acrylic crystal and a round (cross-sectional) case back gasket. 1603's as an example used an edged crystal and a flat gasket. Another small, but thoughtful difference found on the 1016 was the inclusion of slightly thicker, more robust, spring bars. Finally, if the potential owner desired, Rolex would supply the 1016 with low viscosity lubricant installed in order to aid operation at low temperatures. So, while the differences may have been subtle, I'd actually prefer to think of the Explorer more like a Porsche Clubsport – purpose built with everything one needs and nothing superfluous.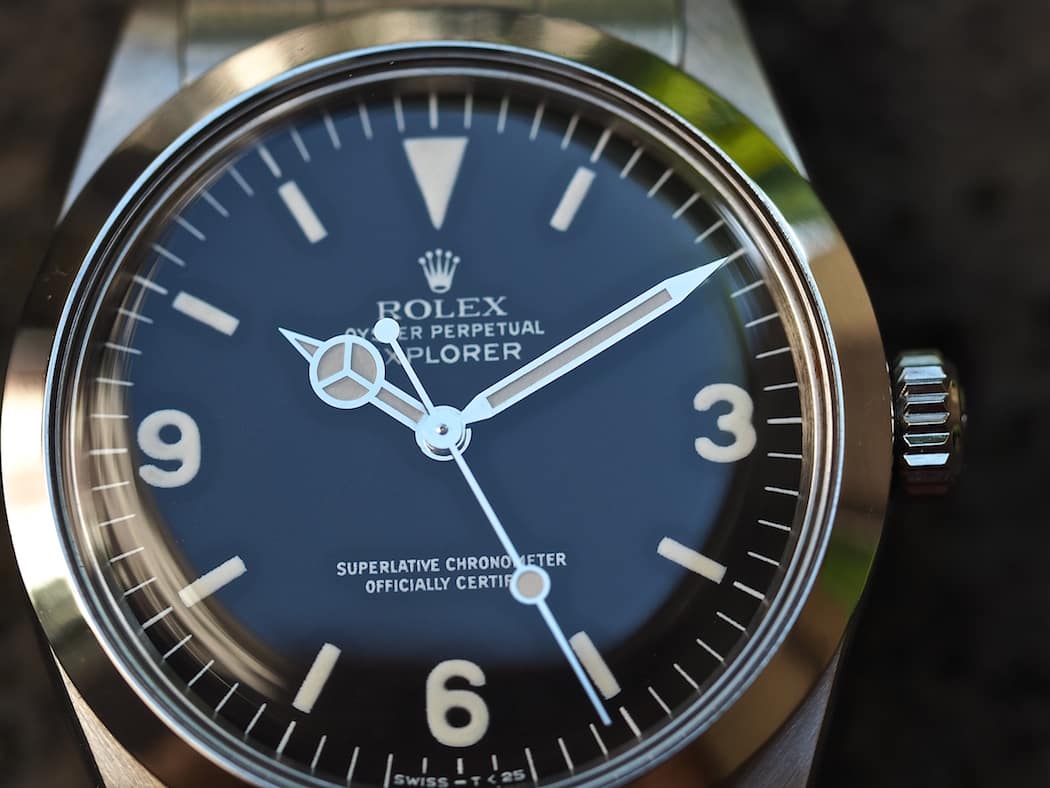 Up until this point I've purposely omitted the most salient characteristic of the Explorer that has not only made it so famous, but also made it so good for mountaineering: the dial. Why?  Well, it deserves its own paragraph.  All the way back in the early 1950's, Rolex designed the familiar 3/6/9 dial as seen on the Rolex Explorer 1016 because it was so legible for quick and crucial time telling under tough conditions such as, say, hanging off the side of a mountain. The large amount of tritium on the dial plus the later addition of the big, bold Mercedes hands also enhanced visibility under low light conditions. It's a show of absolute simplicity that rivals the Submariner with ease and easily earns its place amongst the most iconic in history.  Of course, Everest helped cement the Explorer's legacy no matter what.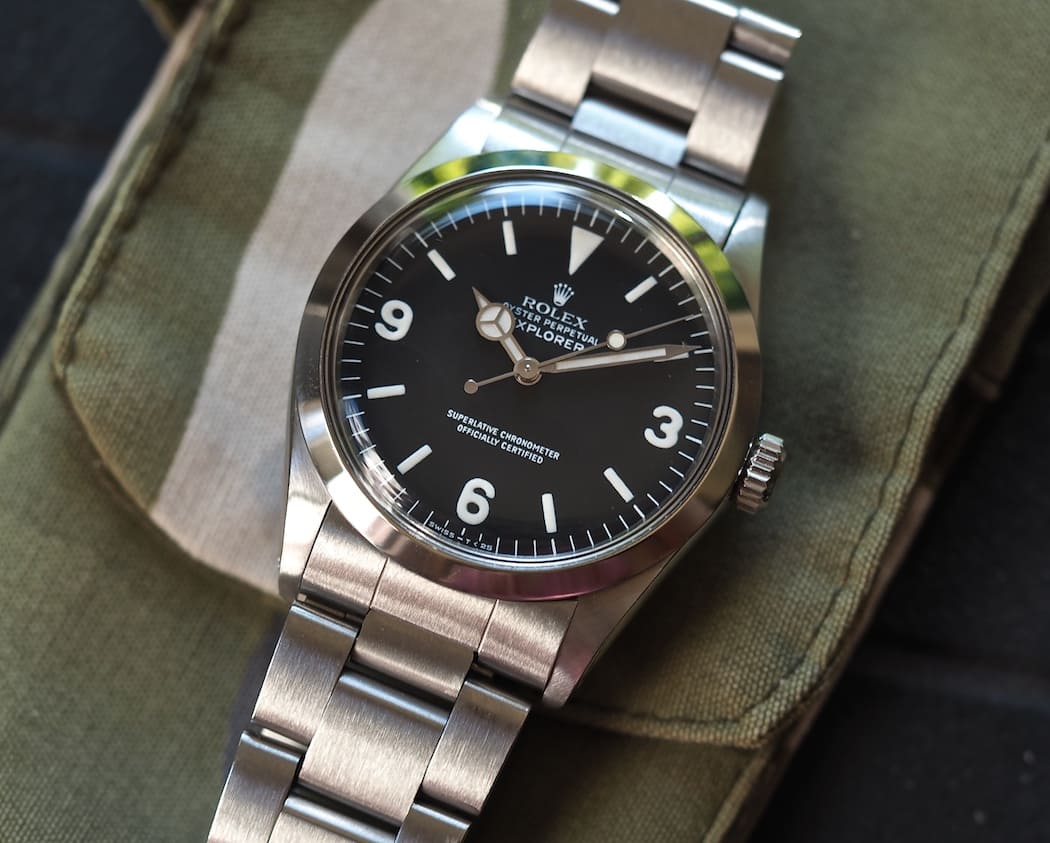 A love affair with the Explorer 14270 led to a hunt for a 1016
I wrote about the follow up to the 1016, the Rolex Explorer 14270, in an earlier episode of #TBT and we covered the newly revised (thankfully) 214270 that wowed us at Basel, so it's clear we like our Explorers. In my earlier article, I mentioned that the 14270 was a watch that basically lived on my wrist day in and day out from 1998 until 2011 – so comfortable, so versatile and so non Rolex in so many ways. I meant and mean that in the nicest way possible only because it's a watch that doesn't attract too many eyes, isn't seen often, and is typically worn by those who really love watches; it's simply not a glamour piece. So, it was in early 2012, after looking for various vintage watches, that I thought why not recapture the magic that I felt for the 14270 by finding its direct precursor, the Rolex Explorer 1016.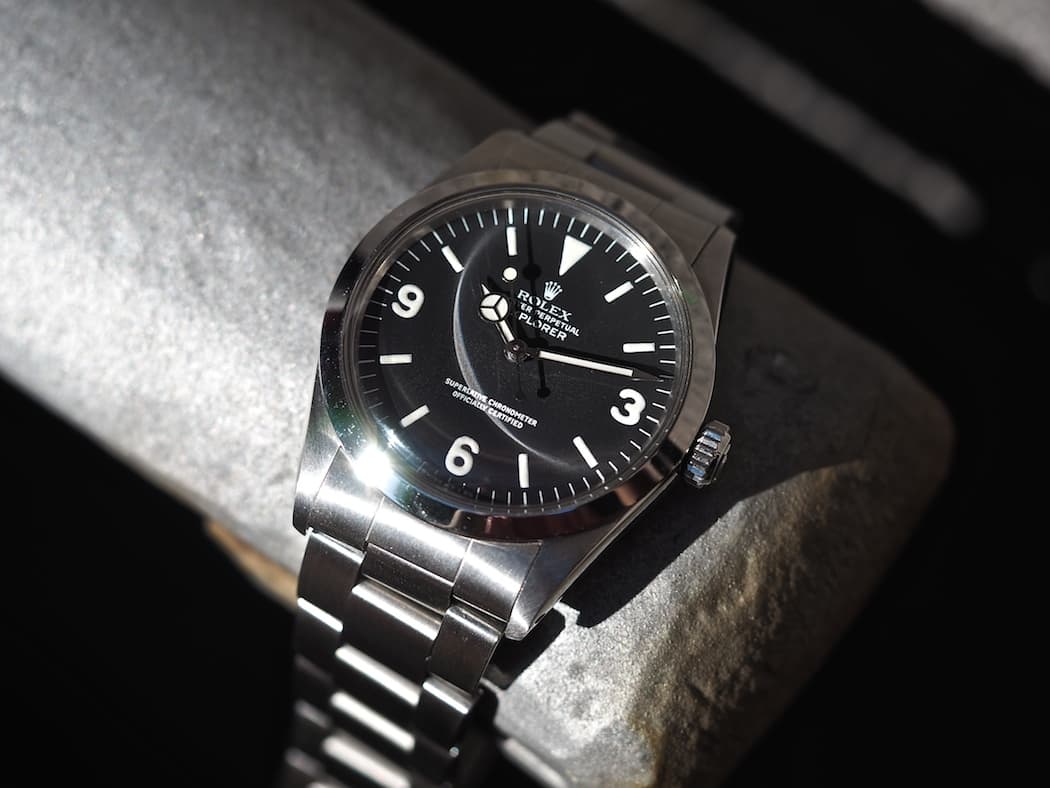 I wasn't after just any Rolex Explorer 1016, though. No, in a show of direct opposition to how I behave today, I wanted a model as late as possible in the production run, in beautiful condition, and with all the paperwork.  Something like a 1988 R-series or an L-series from 1989 was my direct target.  A 20-25 year old Rolex with all the goodies shouldn't have been so tough to find, should it? Scores of Submariners, GMT's and Datejusts sat out there, so an Explorer should have been easy prey. Well, not so fast.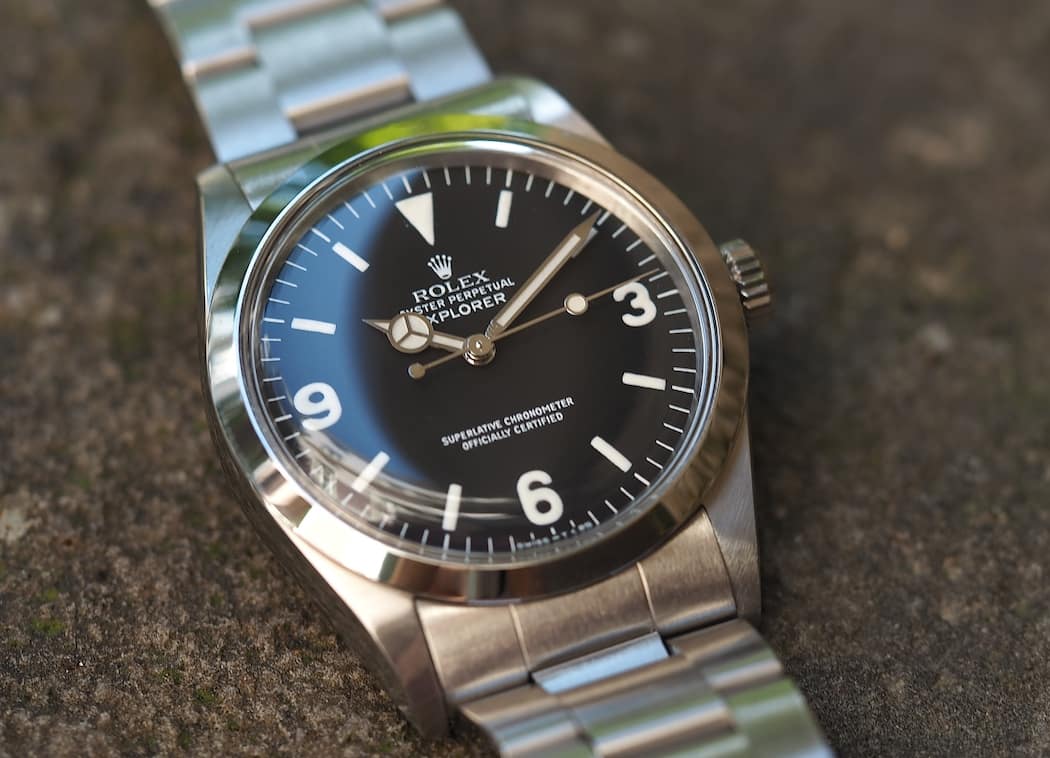 Late production 1016's are notoriously hard to find
I started looking for a Rolex Explorer 1016 in all the usual places such as chrono24, eBay, and the big Rolex forums and found nothing. More specifically, I saw a lot of ratty 1960's and 1970's Explorers with highly overpolished cases, redone hands and dials, and various other maladies. Frankly, they just weren't very attractive and, yet, they were expensive. Then, while the Japanese Yen was still very strong, I took a business trip to Tokyo and had a weekend to browse the litany of used/vintage shops that make up the city's fantastic watch landscape. I came upon one boxed mid- 1980's piece that had just been marked as sold moments before I arrived and I realized that Japan was and is nuts over these pieces. The store graciously allowed me to try on the sold watch, my first time with a 1016 on the wrist, and I came to the conclusion that owning one was even more of a requirement.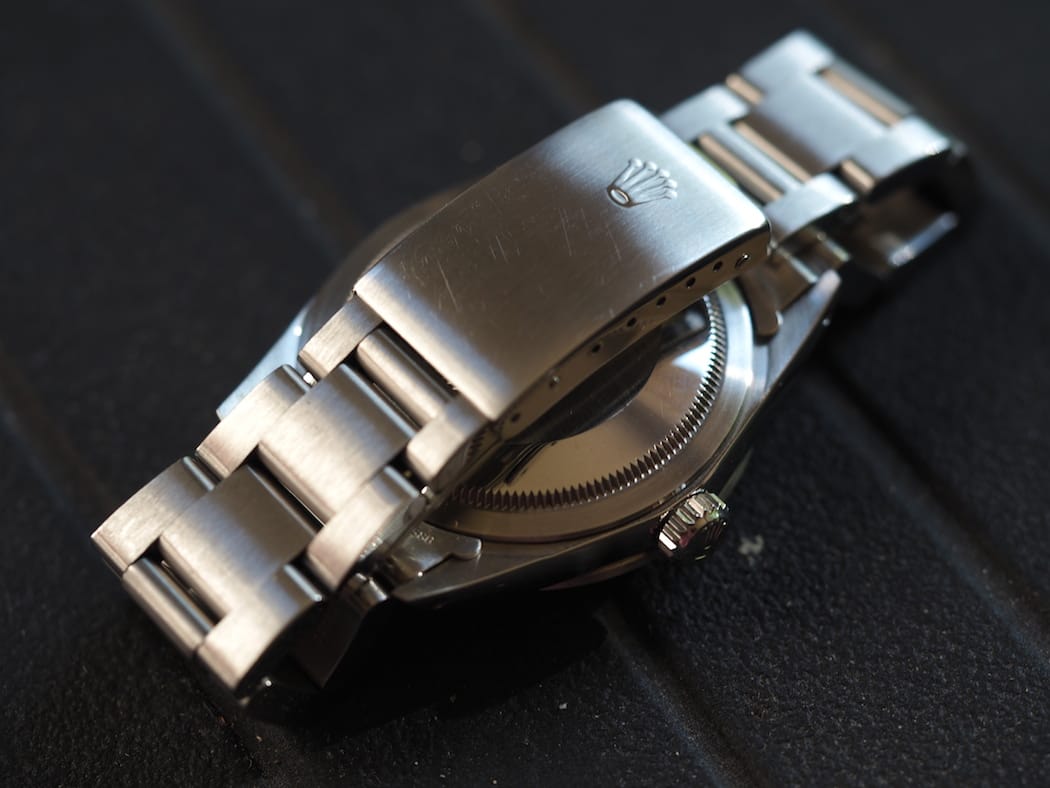 Dismayed and back home, I resolved to find a good, late model Rolex Explorer 1016 and returned to checking my usual online haunts on a daily basis. Finally, in the autumn of 2012, my ship came in as a private seller listed a piece out of Italy – where, seemingly, the overwhelming majority of good vintage watches live. The seller was half-heartedly letting go of his beloved 1016 in order to fund a not-yet-located Double Red Sea-Dweller, but the piece he had listed was an absolute gem. It was an L-series, boxed with papers, had just been restored and serviced, and came with all of its changed parts – the crystal and crown. It was exactly what I wanted save for one issue; it was extremely expensive.
The Explorer 1016 is a pricey Rolex
The Rolex Explorer 1016 is a bit of an oddity when it comes to values. Much in the way that the Explorer hides from the spotlight in Rolex's current lineup, vintage pieces don't get a ton of press unless a rare early version comes up at auction. However, and I must admit that I have zero proof of this, I contend that Explorers were not made in high volume like Submariners or GMT's. Sure, the 1960's saw the world enter into all kinds of outdoor sports, but mountain climbing had to appeal to a far smaller crowd than, say, diving or getting on an airplane. (By the way, showing no desire to lessen its focus on niche activities, Rolex followed the Explorer up with the Explorer II – made for spelunking, talk about appealing to 1% of the 1%!) Plus, the other phenomenon I've noticed with 1016's is that owners tend to hold onto them; they simply don't trade with the regularity of other Rolexes. And prices? They're surprisingly expensive and have been for quite some time. How expensive? Try roughly $7,000 to well over $15,000 for early gilt pieces. The late model editions such as you see here actually command a premium and market for $10,000-12,000 in great condition with all the kit.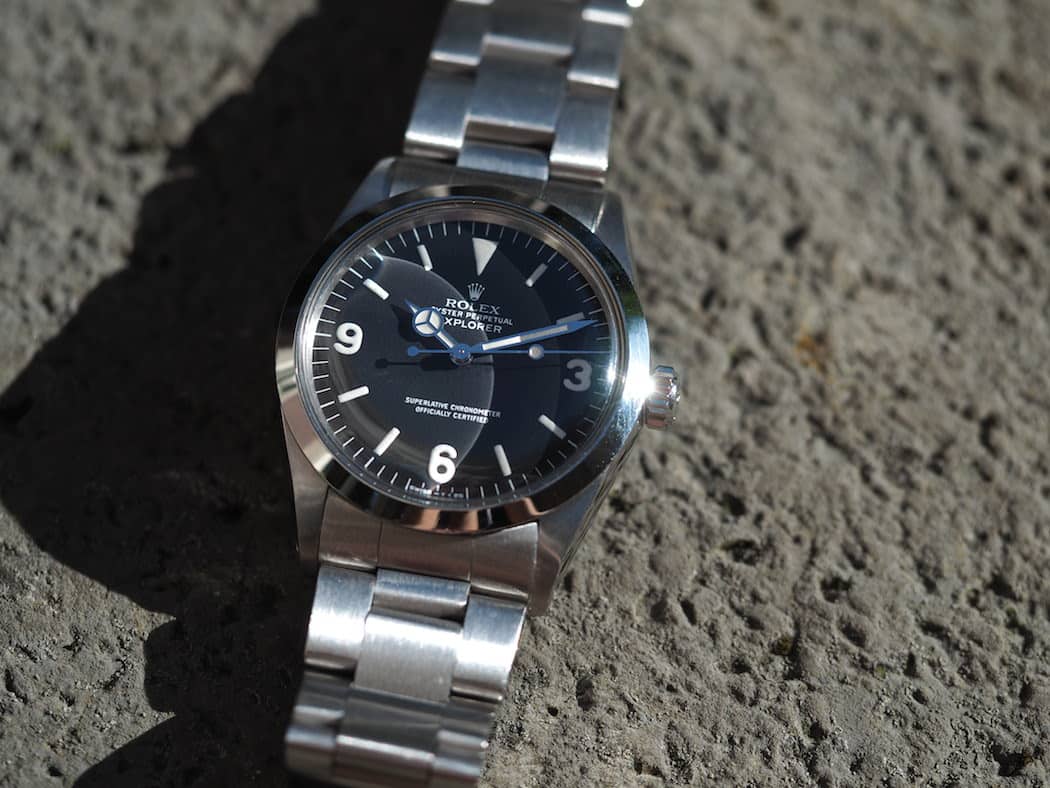 Getting back to the purchase of the Rolex Explorer 1016, I engaged in over a month of correspondences before the seller and I agreed on a price that at least had a modicum of sanity. A week or so later, the watch arrived and I was absolutely impressed. As a two-owner piece, the seller bought the watch from its original owner, an Alitalia flight attendant who bought the watch from a Swedish AD. The watch was well kept, but the seller had the watch restored – masterfully – in Bologna and the case and bracelet (a 78360 with 20mm 580 end links) actually look amazing.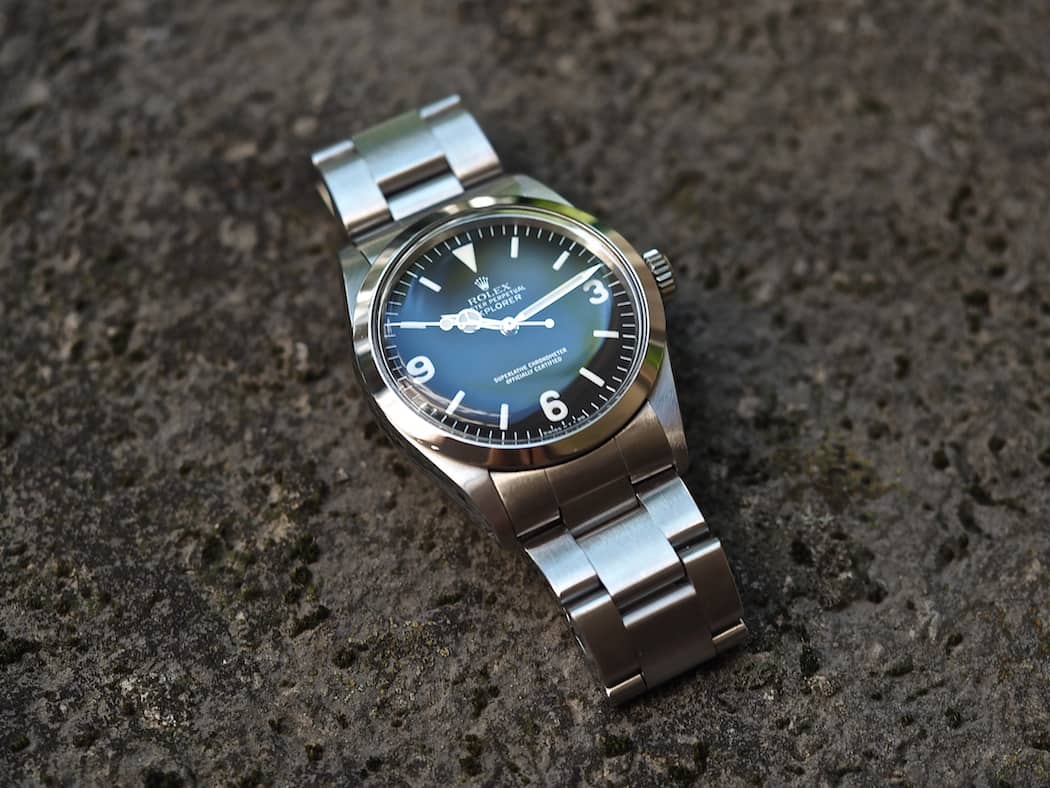 The end links on the Rolex Explorer 1016, by the way, exhibit a very common 1016 trait in that they rise up above the case slightly when it is viewed from the side and they clang and clatter in that most charming way. Regarding the case, the seller estimated that it is at about 95% thickness, but it looks near new to me. It exhibits the beautiful polished finish on its sides and the coarse, directional finish on its top. Like a proper sports Rolex, it contains drilled lug holes, but the healthy thickness of the case has ensured that the holes haven't widened or that the spring bar ends aren't exposed.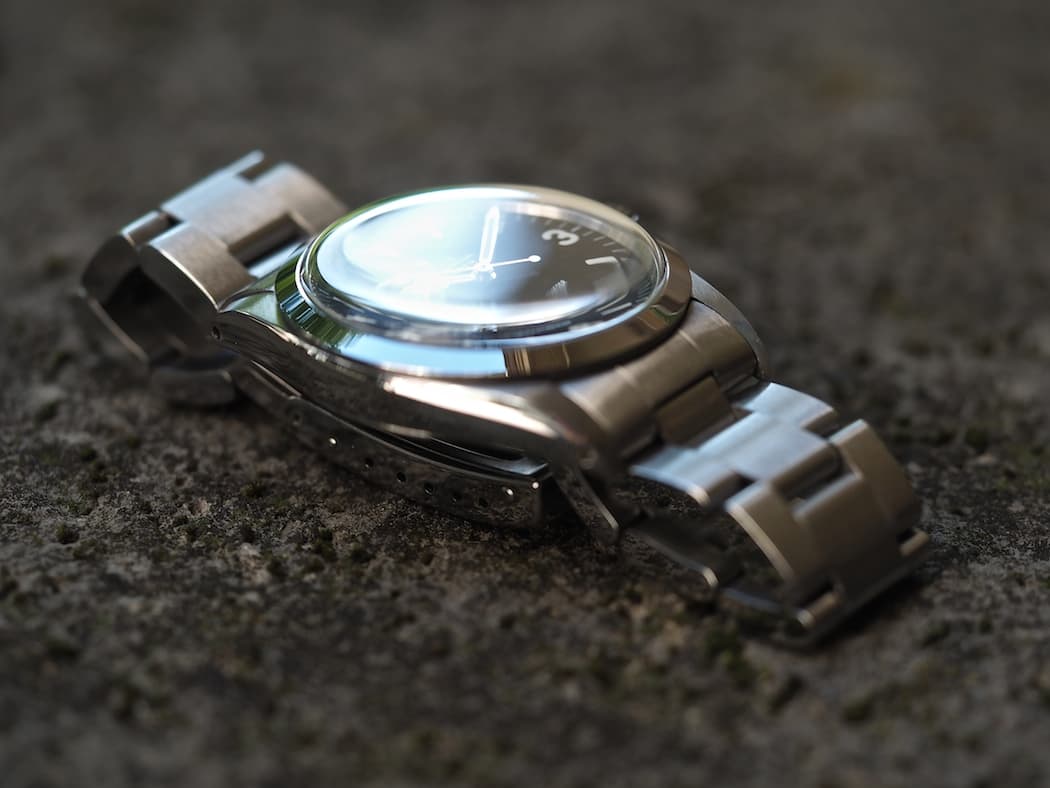 When a crystal "makes" the watch
The dial on this Rolex Explorer 1016 is absolutely perfect and like so many R and L-series pieces, it exhibits no aging. It doesn't glow at all, but it's crisp white and matches the hands beautifully. Everything on the dial is printed and in the case of the numbers, covered in tritium. The printed dial font looks like something out of the 1960's for sure and as said in my initial paragraph, must have looked positively dated by the late 80's – but, certainly not passé. Topping off the 1016 might be one of what history's greatest domed crystals. From top hats to super domes, cool crystals are synonymous with vintage Rolex and whatever this lens is called, it's a good one. The crystal on the 1016 blends so perfectly with the liquid-like forms of the polished case and bezel and actually transitions a rather starkly dialed watch into something that I'd actually refer to as sexy. Yes, believe it or not, a crystal can achieve this level of influence. And that is precisely why it's such an absolute travesty that the majority of 1016's on the market are fitted with Rolex-issued service crystals that aren't domed at all. They're walled, chamfered, and, dare I say, they ruin the watch!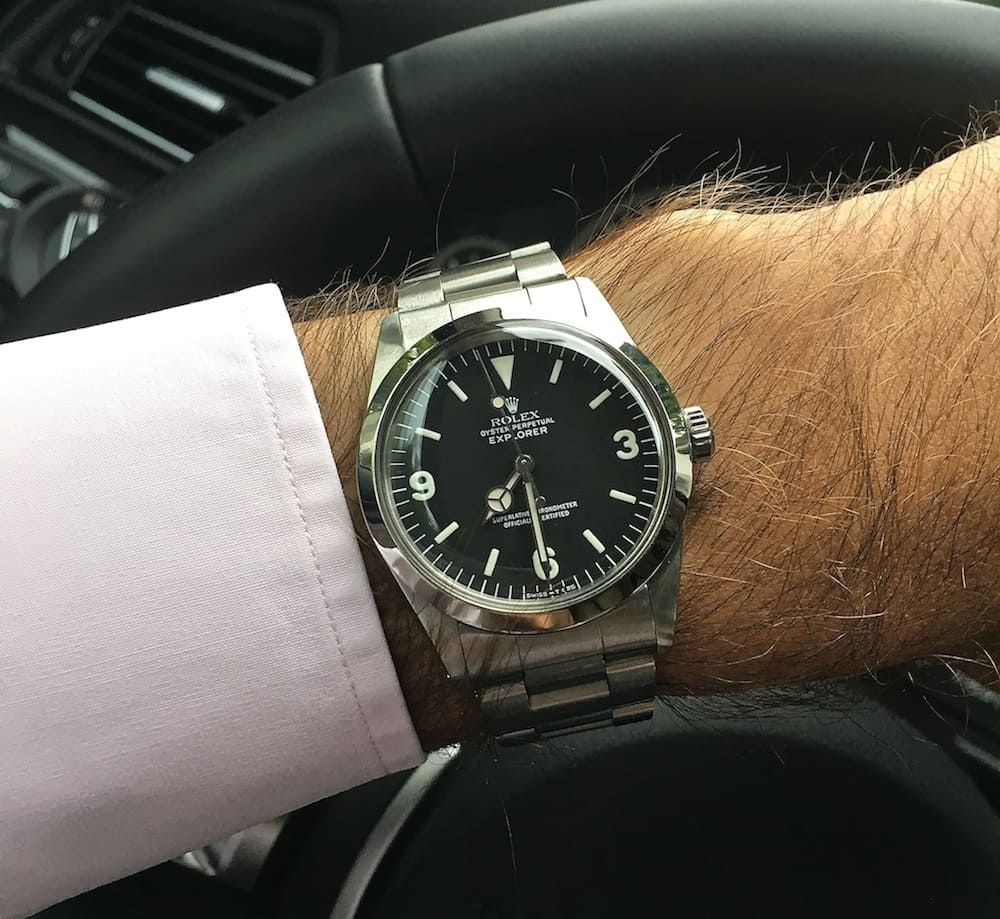 Is the 1016 Rolex's most beautiful sports watch?
On the wrist, the Rolex Explorer 1016 is an absolute gem. At 36mm, it's a great size – I won't even argue with those who rally for larger – and it just looks stunning. It lacks a little of the dressiness of the next-gen 14270 because of its matte dial, but the watch can still function across all boundaries. Note how slender and pointy the lugs are when viewed from the top and you really begin to appreciate the delicate artwork Rolex produced case-wise. It's this type of styling that makes the watch so much more than just a pure sports watch. Also, while strap changes are a breeze, I struggle to see the need to go with anything other than the factory supplied Oyster bracelet. I see pictures of 1016's on leather, NATO's and Jubilees, but to me, a sports Rolex fits on only one style of bracelet if the owner is fortunate enough to own one. The Oyster bracelet is sublimely comfortable and despite its large links, doesn't detract at all from the main stage that is the case and dial.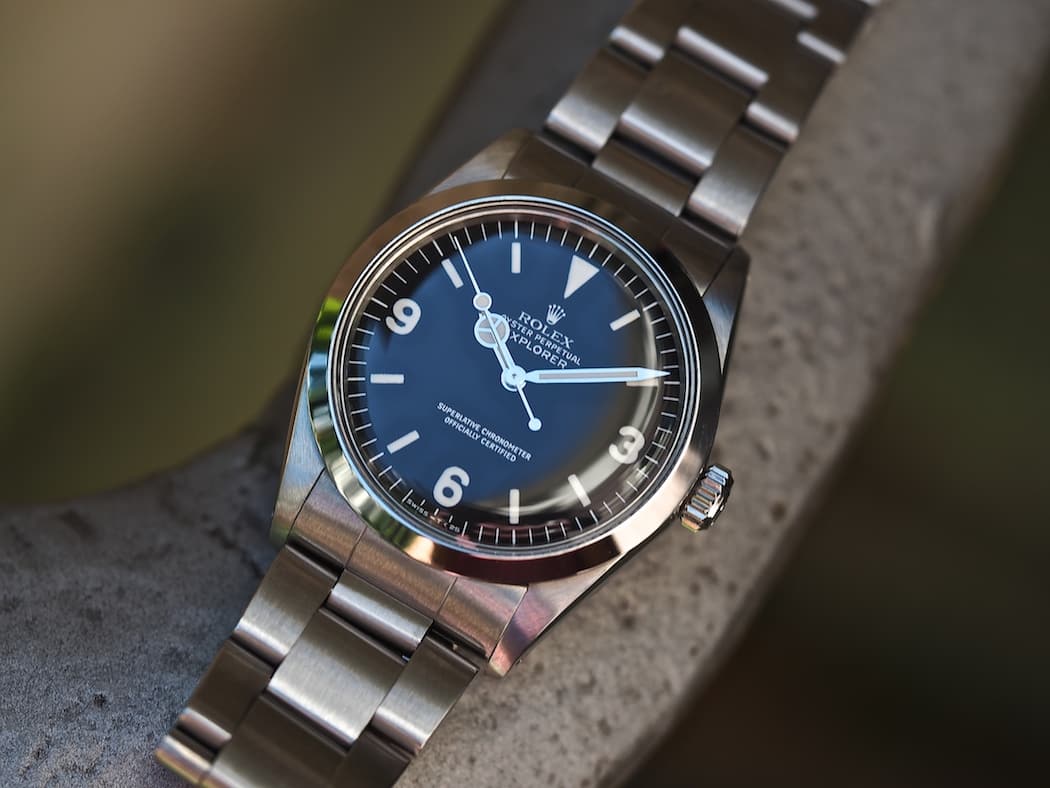 Buying techniques for a Rolex Explorer 1016 are relatively similar to those employed for other vintage Rolex models and that means one thing: caution is advised! Yes, many man-eating sharks infest these waters, but thankfully good resources exist in places like the vintagerolexforum and rolexforums. Folks there are usually eager to help and will also provide references on sellers if they're deserving. With Rolex, buying original is important if investment potential is of concern and finding original cosmetic parts can be difficult and is always expensive. I mentioned some of the pitfalls earlier such as replaced or relumed hands and dials. Also, there's the whole domed crystal issue and finding a spare original is extremely tough.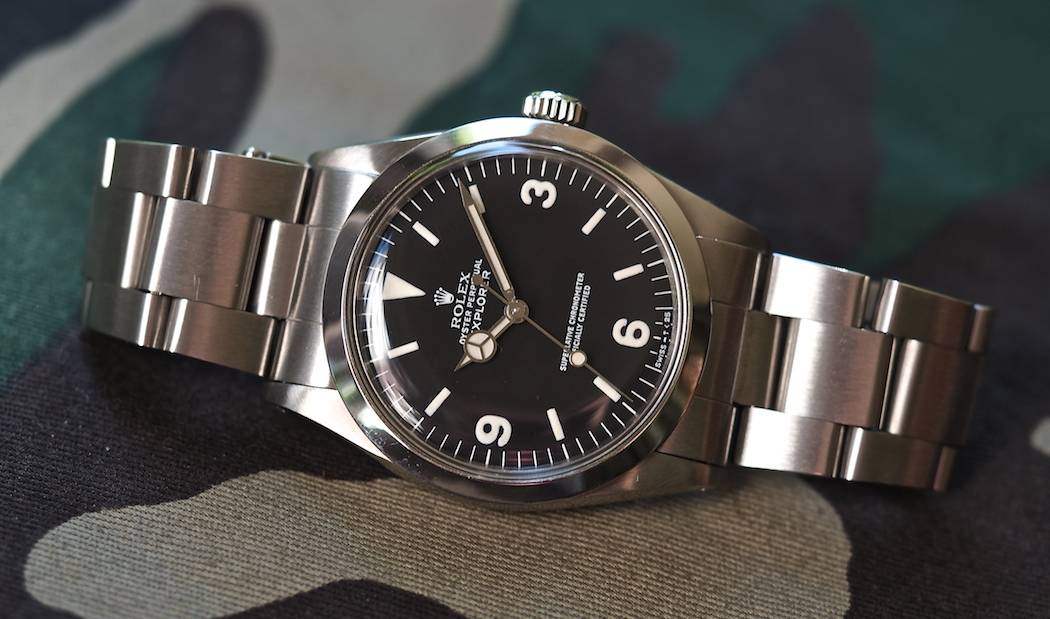 In the end, I don't regret buying the Rolex Explorer 1016 despite a high price at the time. It's increased in value since that time, but more importantly, I've maybe seen a handful of similar pieces since that time. If you'll allow me, I'll recall a brief story from perhaps 6-8 months prior to buying the example you see before you. I was riding on a bus to the plane from Frankfurt's main terminal (if you know what I'm talking about, you're shaking your head in recognition) and sitting across from me was an American in his mid-40's. On his wrist, exhibiting slight bracelet stretch, was what looked like a 1980's 1016. This was clearly the traveler's everyday watch and it was in nice, worn condition. The owner probably had no idea that his Rolex, maybe bought as a graduation gift or who knows what, was now an awfully desirable piece but he wore the watch with such ease and comfort – and it just looked quietly good. Like Explorers always do…