Hands-On With The Seiko Prospex Dawn Grey Series
Long-Winded Opinion Included
Seiko introduces two new models of their popular Turtle and Samurai collections, both part of their limited edition Dawn Grey series. And what's more, these watches are for the European market only. That said, we are pretty sure that Seiko fans outside Europe, can source one if they want. The Dawn Grey series has a nice colour-scheme of grey and orange, according to Seiko it should remind you of the colour of dawn over the Sea. Well, there's that, but these are also simply beautiful looking watches. They also reminded me of something we've seen earlier though, but about that later on.
Let's have a closer look at this new Dawn Grey Turtle and Samuari.
Seiko Automatic Diver's SRPD01K1 Dawn Grey
A lot of Seikos come with nicknames, whether it is the affordable "Turtle", that is actually an "Automatic Diver's" or the more expensive Grand Seiko SBGA211 (or "Snowflake"), they all seem to have one. Perhaps because it is easier to remember a watch by a certain name, then by the reference number, in this case, SRPD01K1. Especially when you have a lot of references per model, it easily becomes confusing or simply too much to remember. The Dawn Grey Turtle is my favourite of the two, let's get that off my chest first. I have a weak spot for the Seiko Turtle series and own a number of them, including the original 6309 as well as the SRPC49K1 (there you go), also known as the Black Turtle (much easier eh?).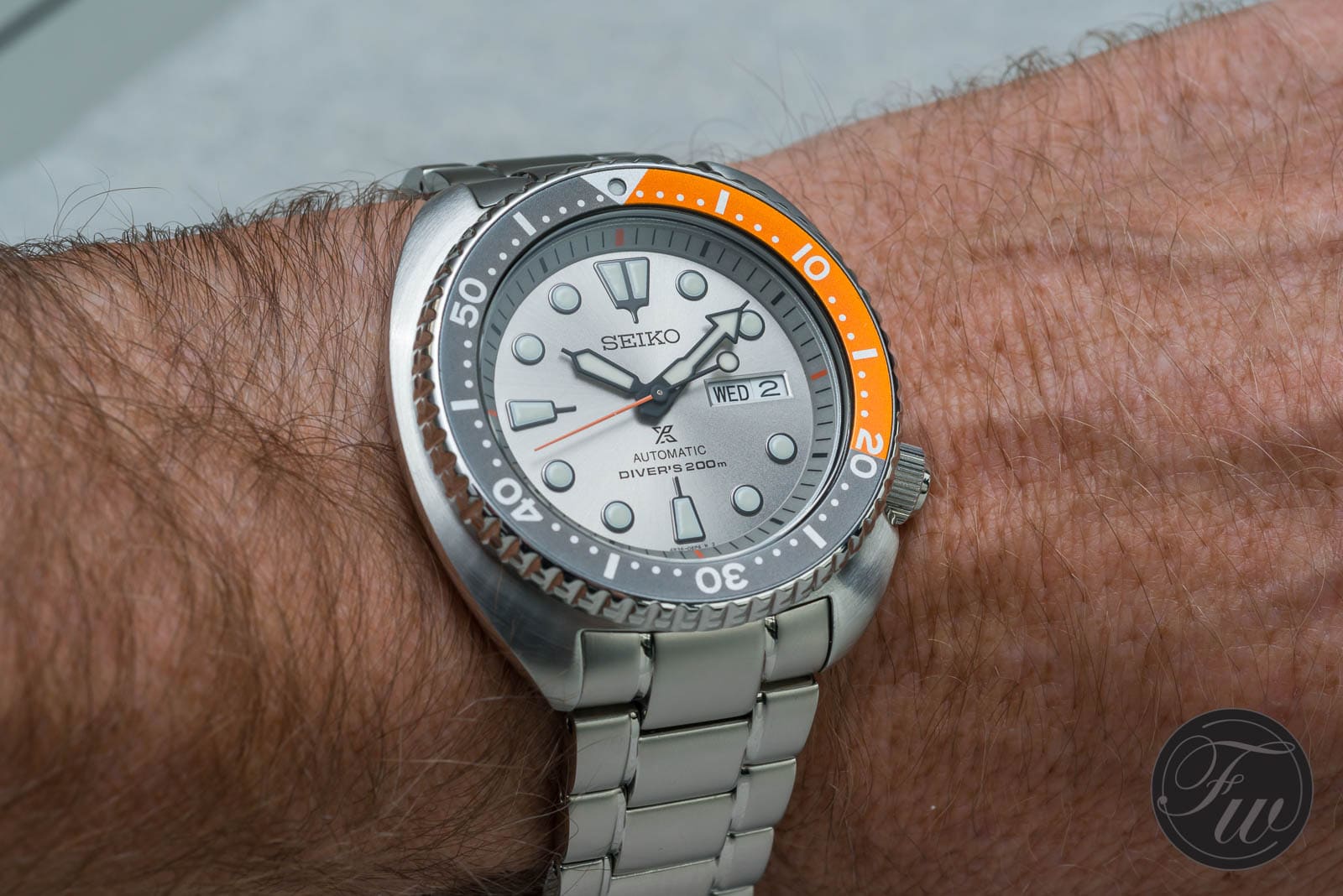 Also For Smaller Wrists
Other than the colours, little changed about this classic Seiko Turtle Dawn Grey series. It is powered by the Seiko 4R36 movement, which ticks at 21600vph and has a power reserve of 41 hours. It also has a day and date indicator, which is very easy to correct with the crown (you set each with their own turning direction of the crown). With a 45mm case diameter, this is not a small watch. However, due to the shape, it doesn't wear as big as you would think. Above you see Gerard (who is responsible for all the images in this article) wearing the Seiko Turtle Dawn Grey series, and he doesn't have a big wrist (but despite that he is a nice guy anyway). As you can see, the grey dial matches nicely with the steel case and bracelet. The dark grey bezel has the first 20 minutes of the diving scale in bright orange. As always, Seiko uses their Lumibrite material for the large hour markers and hands. It is no secret that Seiko watches lume like crazy during low-light conditions. I find my own "Black Turtle" often on the nightstand of my 5-year old daughter, as she seems to be using it as a 'night light'. Probably one of the most expensive ones out there.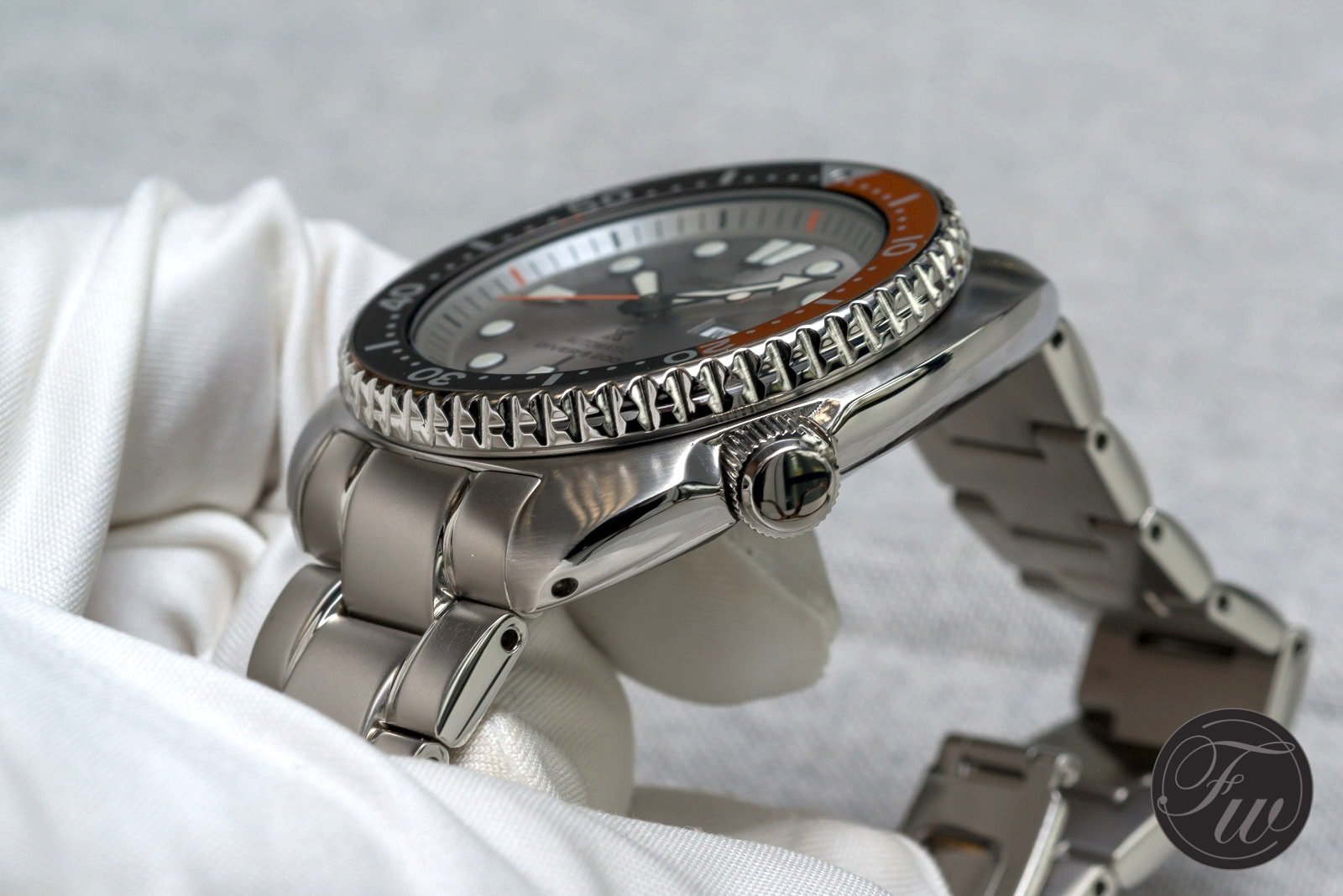 Silicon Preferred
The watch has a thickness of 13.4mm which fits the diameter and shape in my opinion. Seiko used their own 'Hardlex' material for the crystal, which is cheaper than sapphire but very resistant to scratches. According to Seiko, the little bit of extra hardness that sapphire has compared to Hardlex doesn't justify the difference in price. Collectors might complain a bit about this, and that might be the reason that Seiko started using sapphire on certain models (like the green Prospex SLA019 'Marinemaster' that Michael Stockton compared to the Rolex Submariner Hulk in this article).
The Turtle Dawn Grey series comes on a stainless steel bracelet and an addition silicon strap, which is, in my opinion, the best option. For those who prefer it on stainless steel, the bracelet is very comfortable and the finish is actually quite nice for a watch with this price tag. It is just the design that is a bit too bold for a tool watch in my opinion. The silicon strap gives the Seiko Prospex SRPD01K1 a more utilitarian look.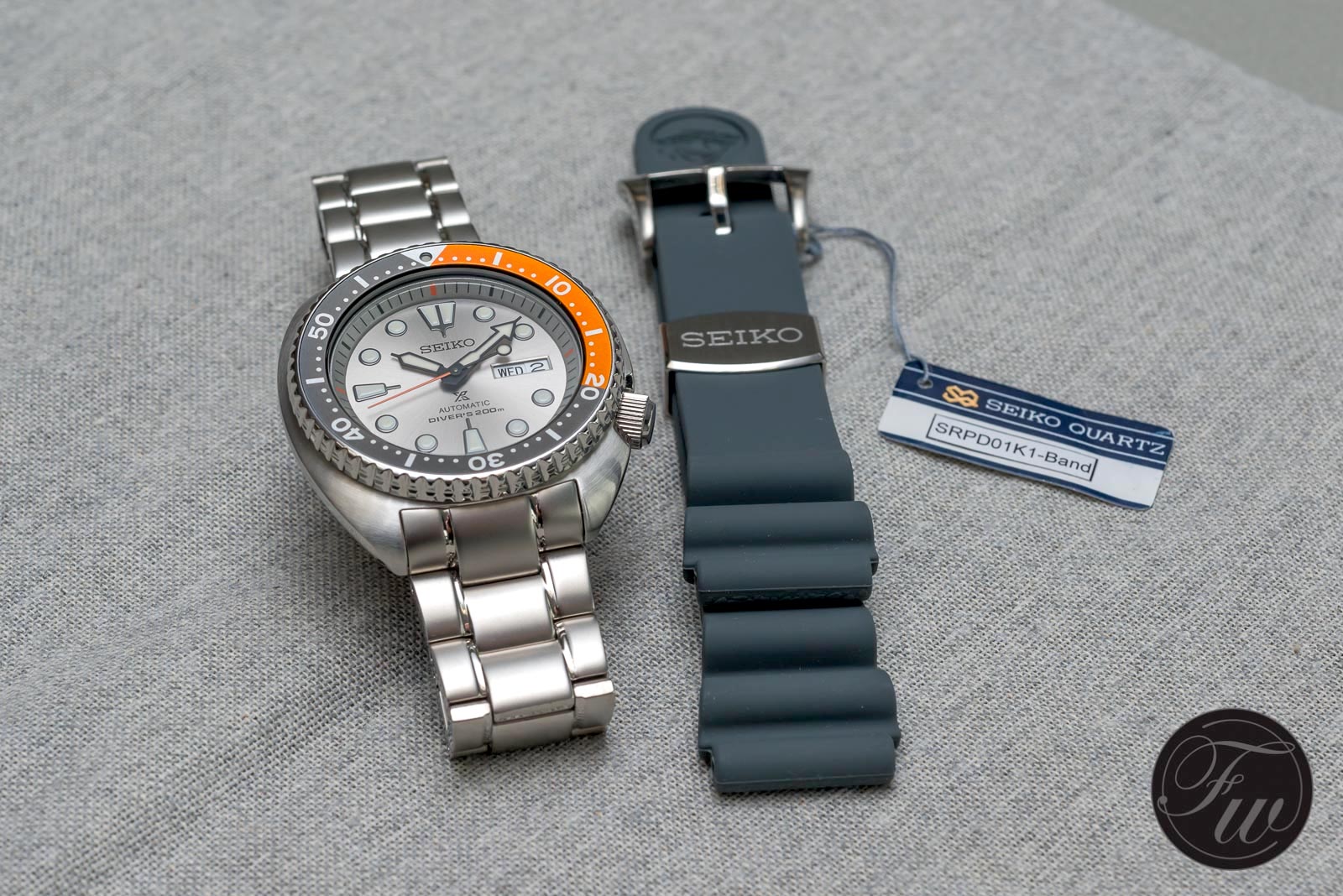 Availability And Price
If you like the colours of the Dawn Grey series Turtle watch and your budget allows, then this Limited Edition Seiko SRPD01K1 basically a no-brainer. With a retail price of 530 Euro, it is a lot of bang for the buck. Watches like this Turtle give Swatch Group's entry-level brands like Certina and Tissot a tough time, as well as many of the Kickstarter microbrand watches that are introduced on a daily basis. Seiko has a good after-sales service, and I wonder how microbrands can and will deal with service, especially in years from now.
The Seiko Prospex Turtle Dawn Grey series is limited to 2018 pieces and available in November, on the European market only. This might set off Seiko collectors outside Europe, but welcome to our world for a change… But just like us getting JDM (Japan Domestic Models) watches, I assume that there will be ways to get them abroad as well.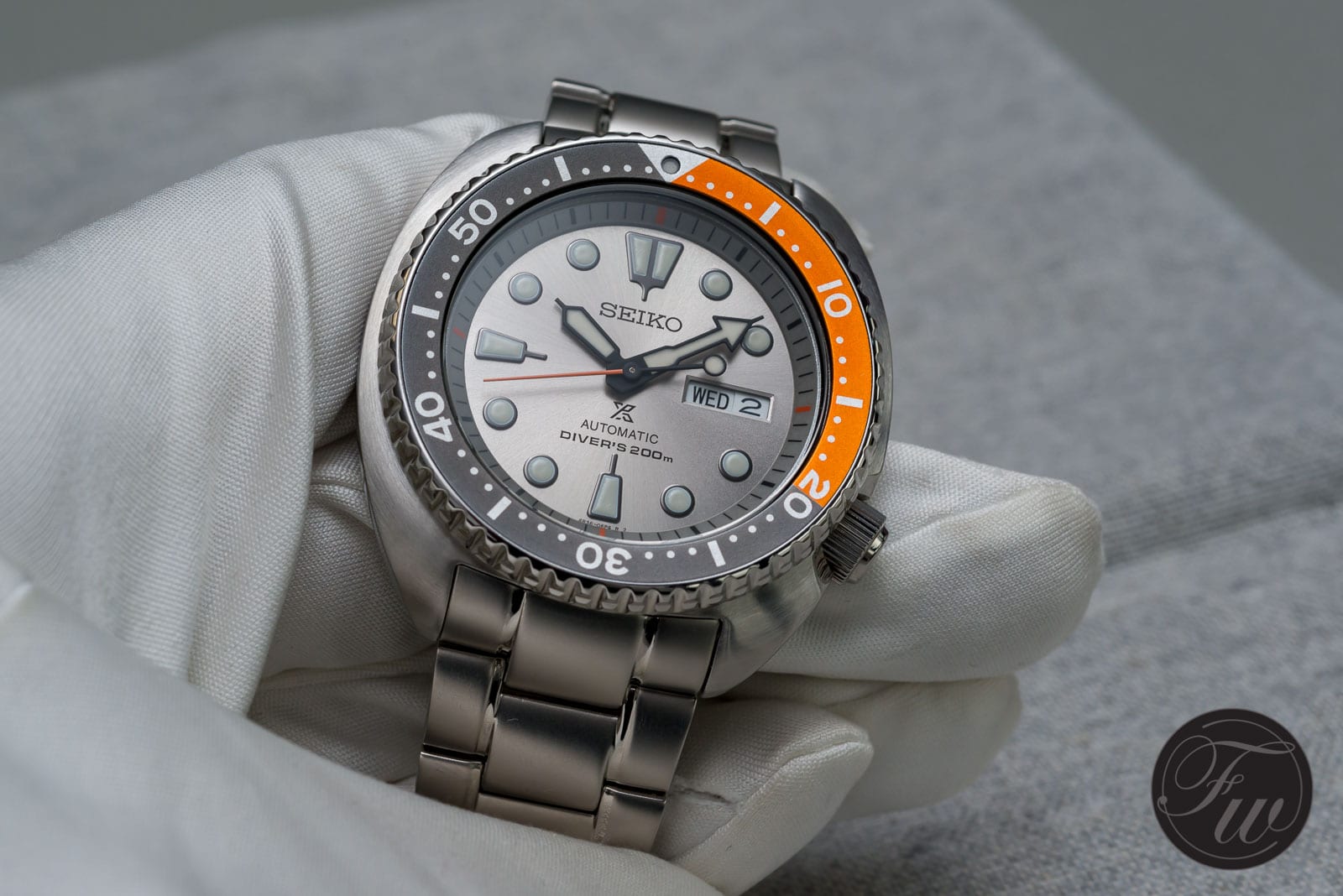 Seiko Automatic Diver's SRPD03K1 Dawn Grey
Next up is the Samurai. I know this watch has a quite a following among the Seiko collecting community, but I have to admit that it never made it to my own (modest) collection of Seiko watches. This might have to do with my preference for watches that have a bit more vintage inspiration, but the case shape of the Samurai is definitely interesting with its sharp corners and polished surfaces. There also lies my personal 'against' perhaps, as I feel the watch is a bit too polished compared to the Turtle.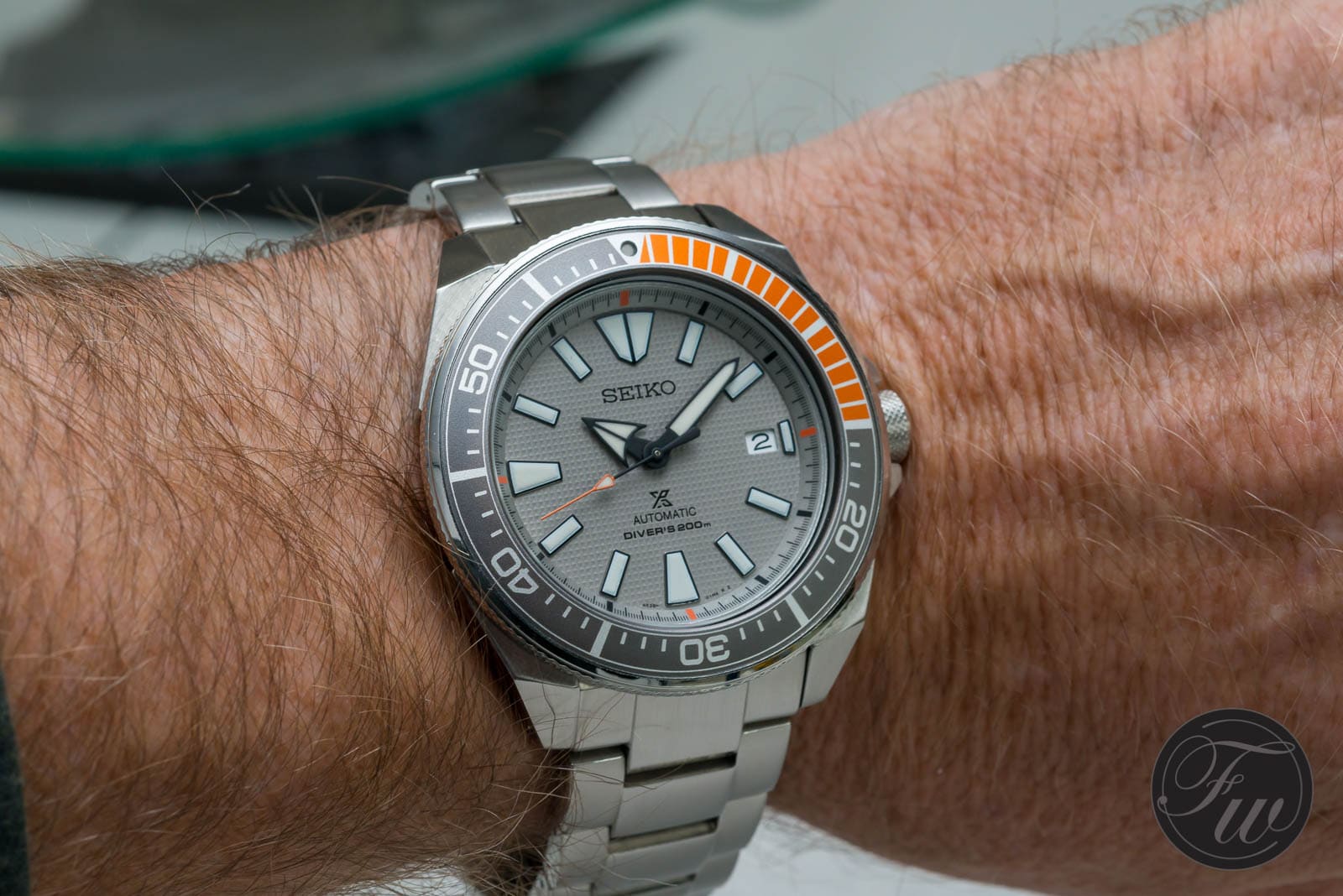 Cool Elements
What I do like about the Samurai Dawn Grey series, is the dial. The hobnail dial makes it very much alive and more playful than the Turtle. Perhaps I shouldn't look at the Samurai as a tool watch, that could actually change the entire perception of the watch I guess. There is a lot to say for this limited edition Samurai, with its unusual case shape, grey & orange colours, hobnail dial and sober (again, compared to the Turtle) designed bracelet.
On the wrist, the Samurai Dawn Grey sits very comfortable with its 43.8mm (x 13.4mm thickness), a tad bit smaller than the Turtle. As the lugs have this slope downwards, it doesn't appear to be a large watch on the wrist as you can see. Inside is the Seiko calibre 4R35 movement. This is more or less identical to the 4R36 but without the day indicator. And I have to say, I could have done without the day indicator. The date at 3 o'clock looks a bit cleaner and – especially – in combination with the hobnail dial, I think that an additional day indicator would make this dial cluttered.
The bezel of the Samurai is also grey and orange, but apparently, the orange stops here at 15 minutes (and not at 20 minutes, like the Turtle). The colours look very nice on the watch, especially in combination with the grey hobnail dial and the stainless steel case. Compared to the Turtle, the Samurai has a bit more of a metallic look, probably due to the polished surfaces on the case.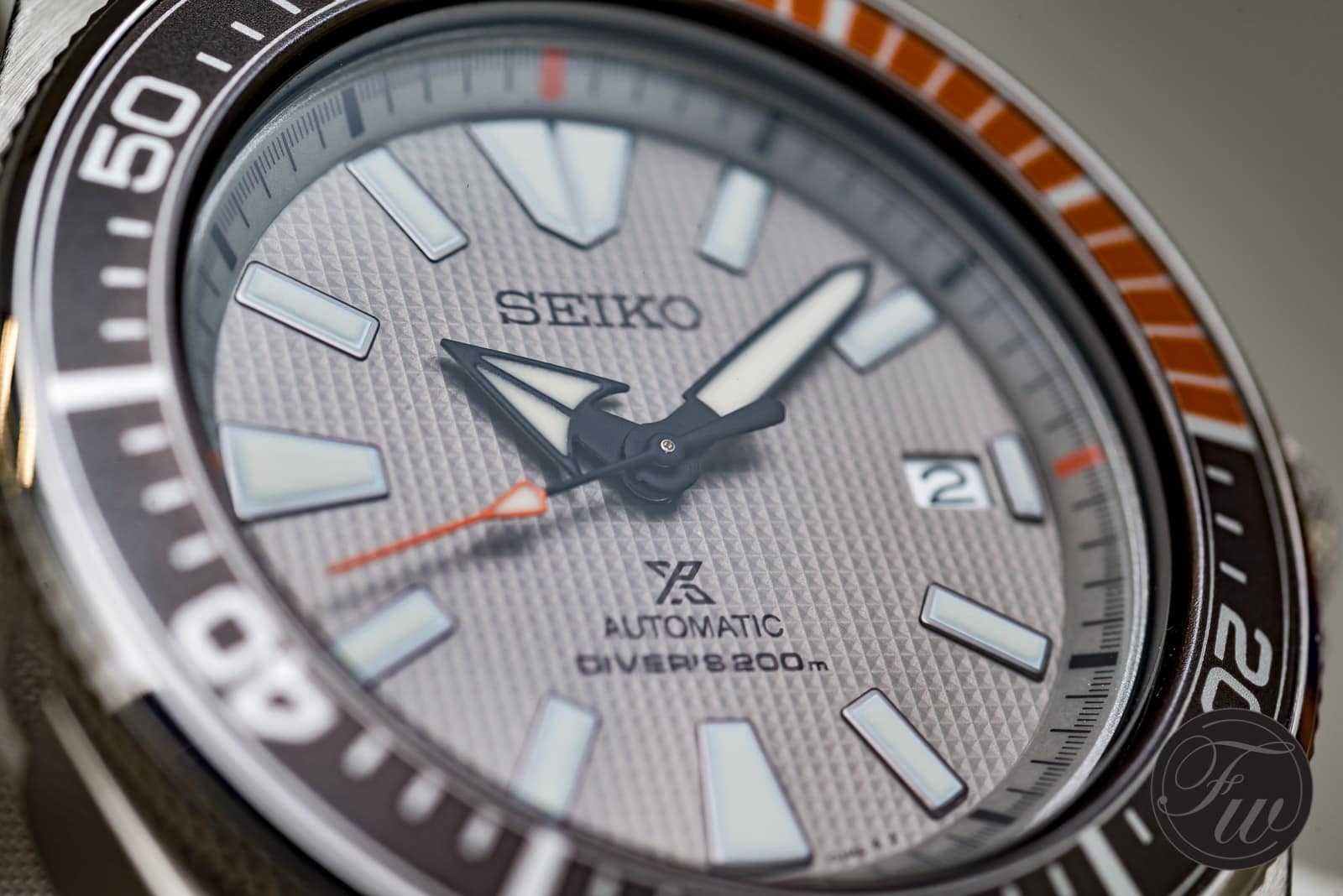 I have to say that this watch looks good on a bracelet, which has a more sober design than the one on the Turtle. Still not a fan of the clasp, that always feels a bit cheap-ish, but the quality is definitely there, especially for the price of this Samurai Dawn Grey. There is no additional silicon strap for this watch (reflected in the price though), but I am also not sure that this would be a nice fit to the Samurai.
As you can see below, the case back has been engraved with the unique number of each limited edition (2018 pieces).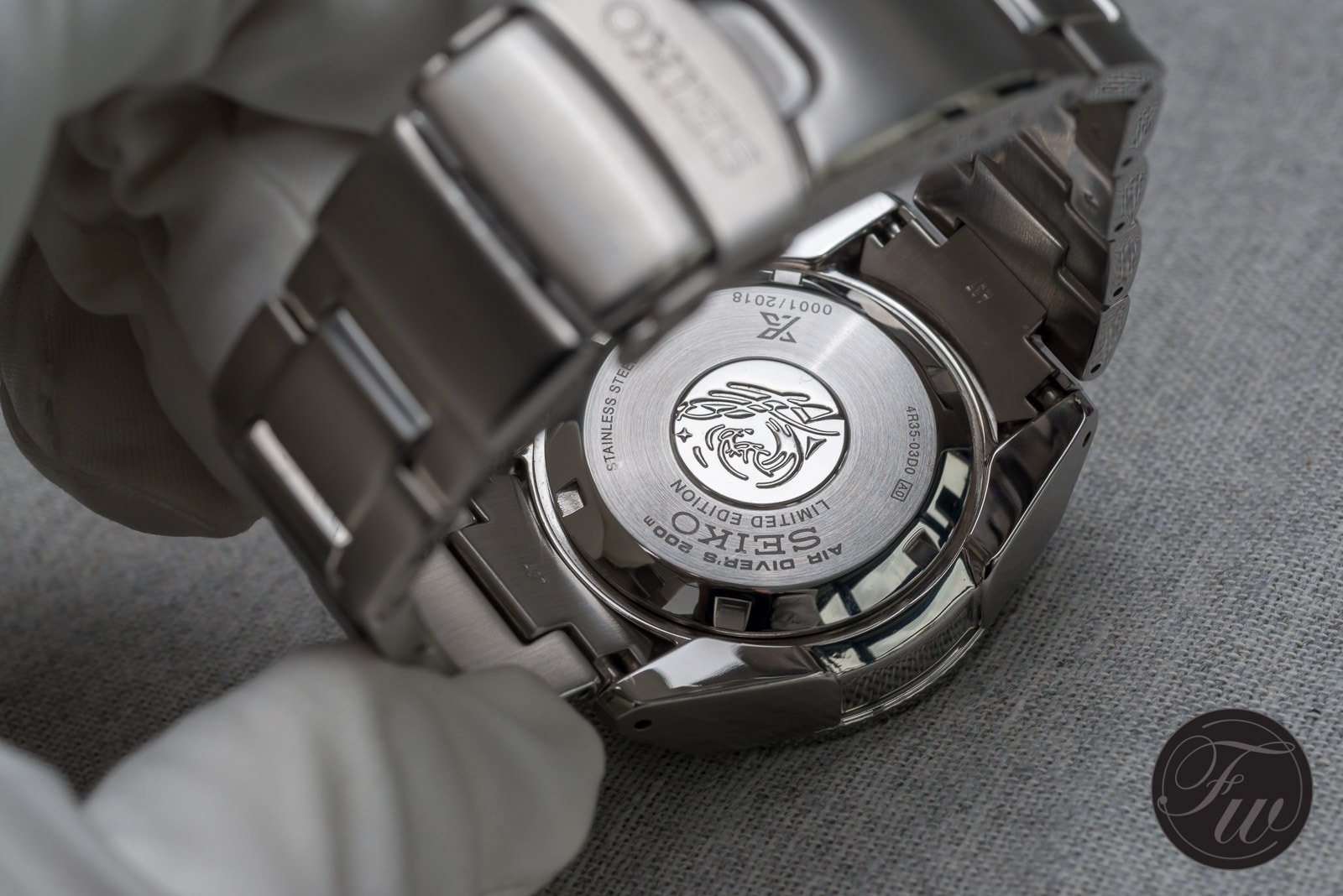 Availability and Price
Just like the Turtle version, this Samurai Dawn Grey with reference number SRPD03K1 will be available in November for the European market. With a retail price of 470 Euro, a little cheaper than the Turtle. Normally, the turtle (SRPC23K1 for example) is a little cheaper than the Samurai (SRPB51K1), so the price difference between the Dawn Grey watches is mainly caused by the additional silicon strap for the Turtle.
Both Dawn Grey Watches
Before I forget, both watches have a water resistance of 200 meters. So this makes them very suitable for actual use in the water, hence the Prospex (Professional Specifications) label. Also, both watches come in a special box that indicates you're dealing with a limited edition here. We have no images of our own of the box, but it is a nice dark grey box with orange accents. Nothing super special, but something different from the standard Seiko boxes. They end up in the attic anyway most of the time.
Both watches are also equipped with a screw-down crown, screw-in case back and a uni-directional bezel, making it a proper diving watch.
Conclusion
That I (and Fratello in general) have a weak spot for (Grand) Seiko is not a secret. We are also (and luckily) in the position that we can write about the watches we personally like, and the Seiko Prospex collection is often one of them. Although I certainly feel the Samurai Dawn Grey is a good watch, the model itself doesn't really appeal to me somehow. Which is a bit awkward actually, as I do love the case design a lot. The Turtle is my pick between these two, mainly due to the soberer (and classic) design. That said, you can't go wrong with any of these and especially not when you take the price into account.
The grey and orange colour scheme is very appealing, but when Gerard Nijenbrinks and I sat down with Seiko to have a preview of these watches, we immediately both felt we'd seen this before. Well, besides Seiko we also know our Omega models quite well, so it didn't take long to remember the Seamaster Planet Ocean in similar colours. This is only an observation and I think that it looks great on any of these watches, and interestingly enough all are diver's watches.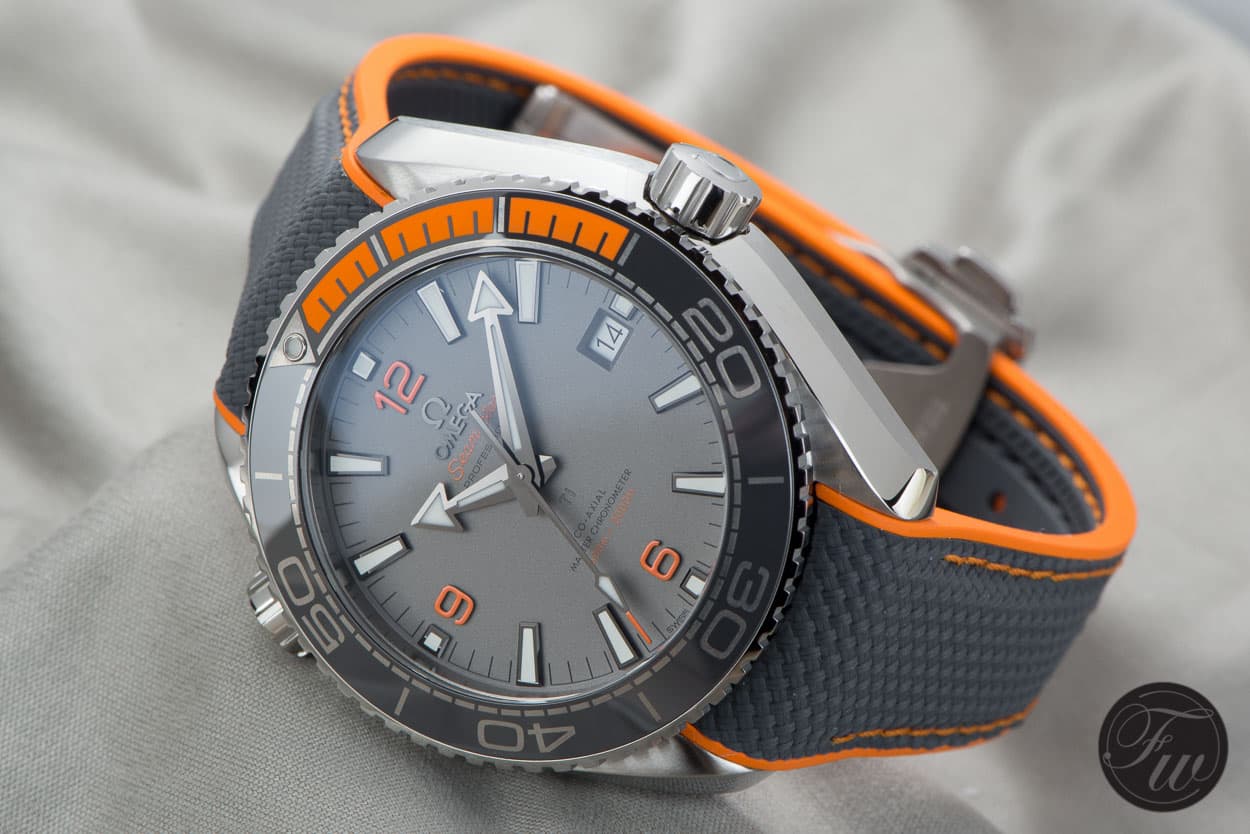 Just like Omega, the variety of models is quite big in the Seiko catalogue, which is often considered a bad thing by some collectors (or criticasters). I don't feel it that way, as it gives more options to buyers and chances are big that there will be something nice offered that will fit any of us. The only thing that often bothers me with these many variations (whether it is Seiko, Omega, Breitling, Oris or whatever brand) is that the brands feel the urge to make an association with something (an event, a location, a person, etc.). If it is a nice watch, it is just that, a nice watch. I feel there is no need to come up with an association with the colour of a leaf, tree, ocean, fruit, sky etc.
And that's basically how I feel about the Dawn Grey series: nice looking diver watches with a very well-done colour-scheme that will probably attract many Seiko fans. The quality that Seiko offers with these watches, for these prices, is almost unbeatable. It is just a matter of taste, in the meanwhile, there are quite a number of nice executions of both the Samurai and Turtle. Go pick one.