Rolex Submariner Hulk versus Seiko SLA019 : Shades of Green
Does the use of the color green make for a natural and competitive battle between the Rolex Submariner Hulk and the newly released Seiko SLA019 or is there simply too much that separates these deep water tool watches to make the comparison interesting? Well, since you're here and because the two watches are pictured side by side, you know that we're going to take a look. In fact, we'll spend more than a cursory amount of time with each of these divers because, more than proclaiming one the victor, it's a nice opportunity to look closely at a couple models that are amongst the most popular within each brand's lineup.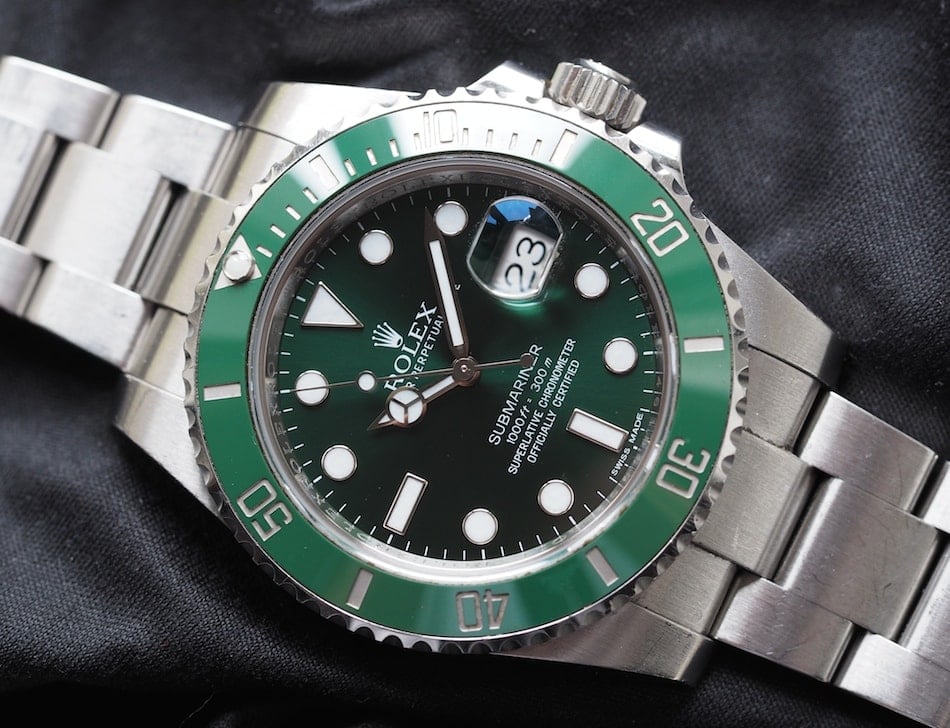 Hailing from Geneva, Switzerland, the Rolex Submariner Hulk 116610LV is a watch that took people by surprise when it was first revealed at Baselworld in 2010. It was during this year's show that Rolex made the momentous move away from its long-running 16610 Submariner Date and replaced it with a new 116610 complete with a ceramic bezel, newly styled clasp, and a chunkier, albeit still 40mm in diameter, "maxi" case. However, perhaps realizing that its prior green bezel, but black-dialed 16610LV "Kermit" was so popular, Rolex threw us a real wild card by coming out with not just a new all-black Submariner Date, but also an all-green version in what almost instantly became known as the "Hulk". For some, the all-green piece was immediately hated, some loved it for its wild card audacity, and others considered it an acquired taste. 8 years on, you could consider me in the camp of the latter group because it has finally grown on me. Nonetheless, it's a popular watch and like most other stainless Rolex sports watches, it's not easy to procure one at your local AD without twiddling your thumbs for weeks or months on a waiting list. Full disclosure: the Hulk is owned by a good friend. He wears it daily as the head of an ER unit at a large hospital. Therefore, my apologies for the scratches and occasional grime.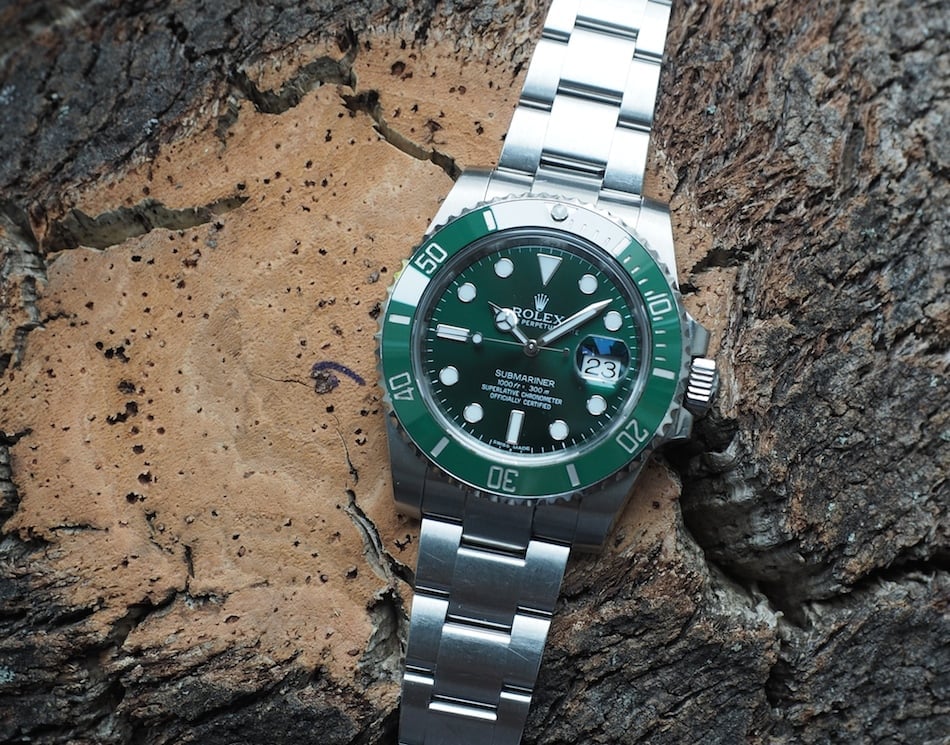 The Rolex Submariner Hulk comes in at 40mm in diameter, 48mm lug to lug, 12.5mm thick, and contains 20mm lugs. Water resistance is rated to 300M. It's constructed from 904L stainless steel and is paired with an Oyster bracelet with Oysterlock clasp and the patented Glidelock extension system that allows the watch to be adjusted to fit anything from a wetsuit to dealing with a changing wrist size during temperature extremes. The bezel is made of green "cerachrom", is uni-directional and rotates with 120 clicks. Inside, we have the venerable cal 3135 automatic with 31 jewels beating at 28,800 bph. It hacks, features a quickset date and a power reserve of 48 hours. As a plus, it's chronometer rated. The retail price in Gerany is 8200 Euros.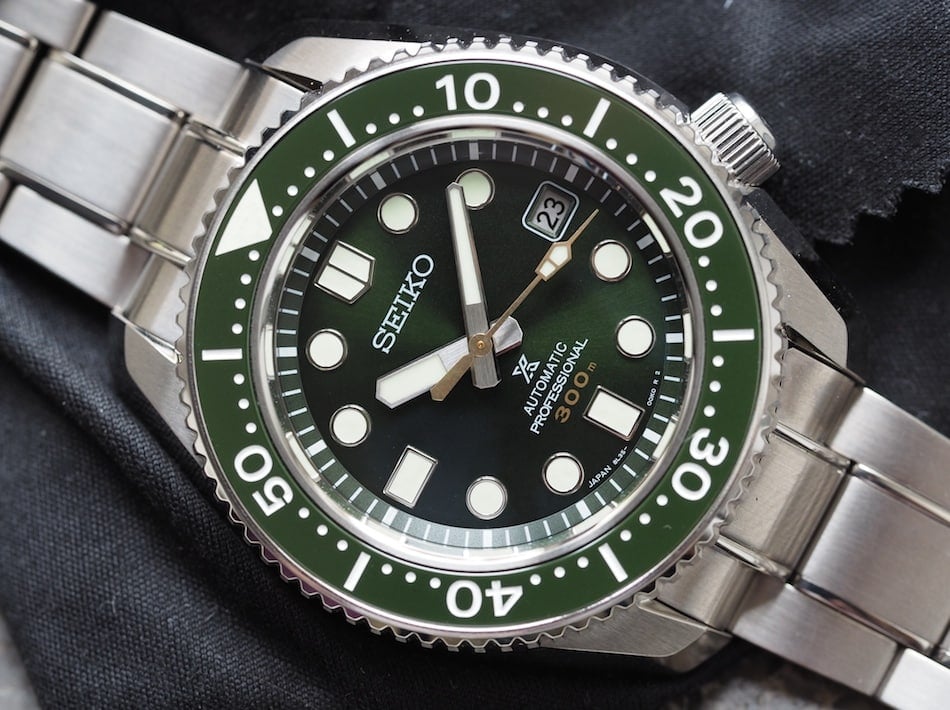 In the opposite corner, born and raised in Tokyo, Japan, we have the brand new Seiko SLA019. We first saw this surprise introduction at Baselworld 2018 as one of several pieces issued to commemorate the year 1968 – the year of Seiko's first Professional diver. When I say it was a surprise, the SLA019 was unexpected because it was clearly an evolution of the famed and recently discontinued Marinemaster 300 (the SBDX017 or earlier reference SBDX001) and it was and is green.   Regarding the 1968 tie, aside from the fact that the Marinemaster 300 style of case has clear lineage with the 60's diver, the green apparently references the forests of Yakushima island and this locale is a famed diving spot. It's a reach, but the watch itself is thankfully a real looker. More than this, though, the SLA019 brings two upgrades to the Marinemaster case that collectors have been begging for: a ceramic bezel and a sapphire crystal. Full disclosure: I purchased the SLA019 a month ago from the great team at the Seiko Frankfurt Boutique. A big thanks to them for finding this sought after and soon to be sold-out watch.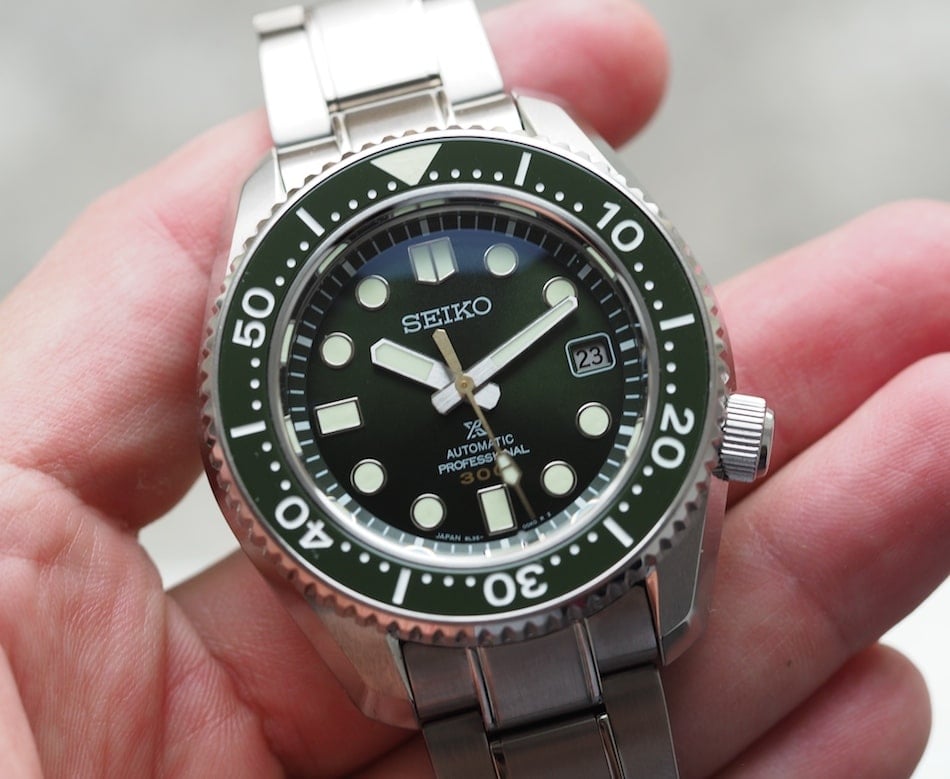 The Seiko SLA019 weighs in at 44.3mm in diameter, contains a lug to lug size of 50.5mm and a thickness of 15.4mm. The watch is coated in scratchproof DiaShield and is a "front-loader" case wise. The watch boasts 300M of water resistance, is made of stainless and comes equipped with both a silicone diving strap and a stainless bracelet complete with a ratcheting wetsuit extension. The bezel is made of green Zirconia, is uni-directional and is of the 120-click variety.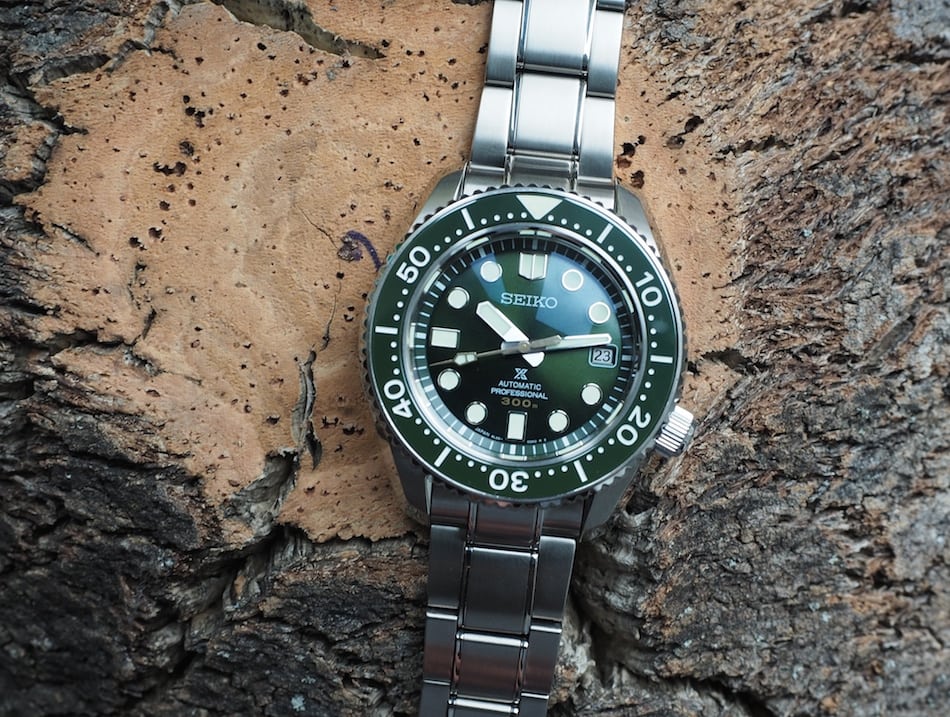 The Seiko SLA019 sports the handmade 8L35 automatic with 26 jewels beating at 28,800 bph. Like the Rolex, the Seiko hacks, contains a quickset date, but has a power reserve of 50 hours. The retail price in Europe is 3200 Euros.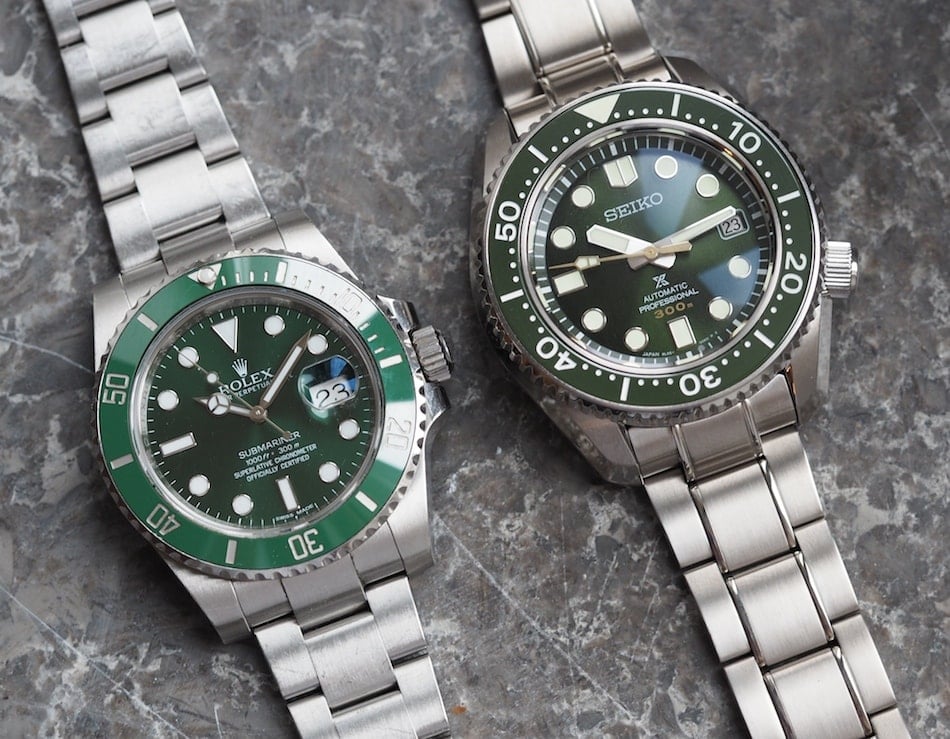 Now that we have the basics out of the way, let's get into the reviews of the Rolex Submariner Hulk and Seiko SLA019. But before we dive into it, a couple points need clarification. First, the Seiko SLA019 is one hell of a watch and for many, it received the necessary upgrades in order to further back up its "giant killer" reputation. Second, and I will explain why, the Seiko SLA019 simply isn't the Rolex Submariner Hulk despite the color similarity. So, if you were hoping for a major upset, you can stop reading now.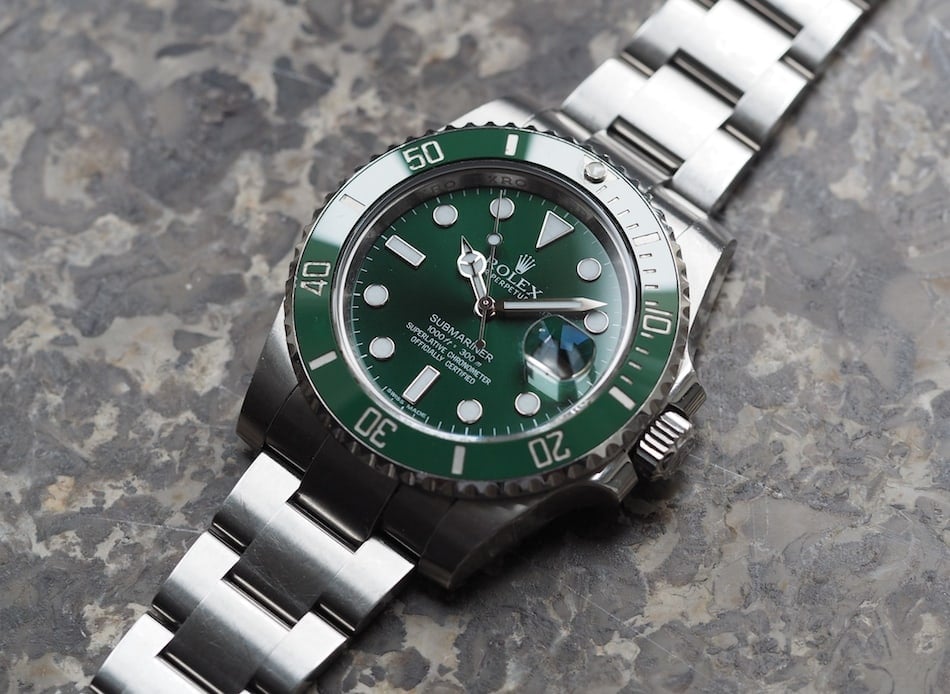 I'll be open and honest; I stop just short of despising the maxi-cases that are found on the bulk of the modern Rolex sports watch lineup. We have a legendary brand that could never be accused of making beautiful watches, but the sports pieces that predate watches such as the Rolex Submariner Hulk look positively graceful versus these brick-like structures. Robert-Jan hypothesizes that Rolex gave their watches more visual heft (like, a lot more) to help appease those who complained about Subs being "only" 40mm, while still kowtowing to the faithful. Whatever it is, I'm still not completely sold, but the vitriol doesn't run quite so hot any longer. This is the first real amount of time I've spent with a maxi-cased specimen and I can tell you that, thankfully, it does feel like a real Rolex. Translation: it's solid and seemss as if it were hewn from a solid block of steel. With its ingenious clasp and solid fitments, the charming rattling that once accompanied Rolex watches is gone (something I love but many hated). Plus, in green at least, I think the chunkiness fades when the watch is on the wrist.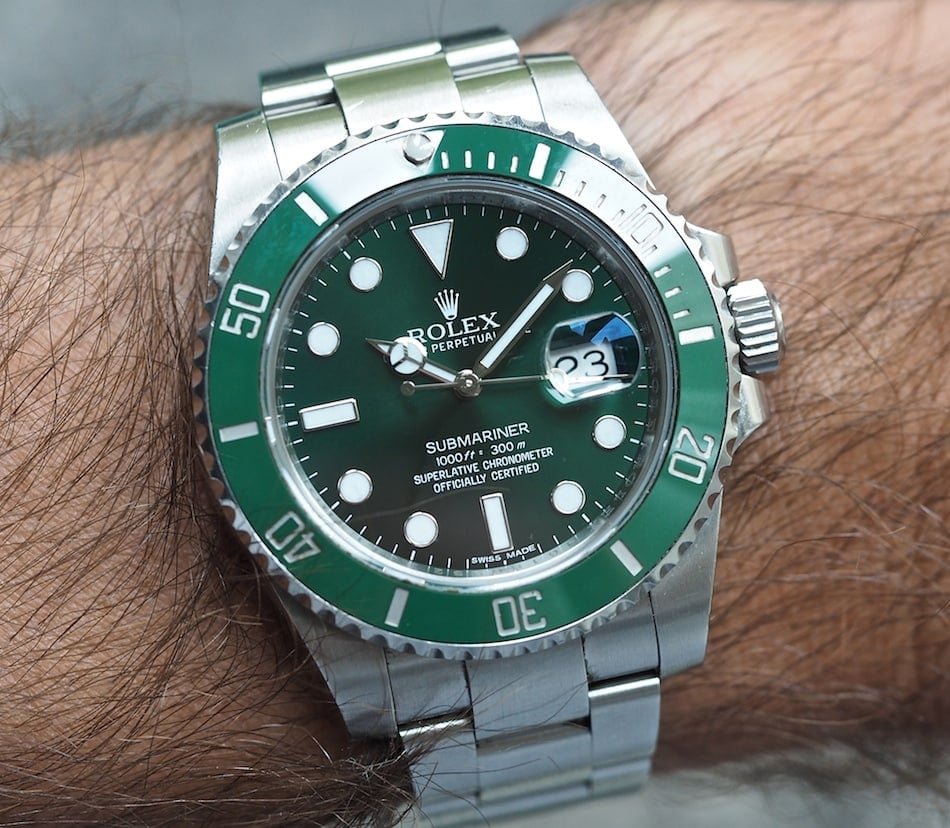 As mentioned, the Rolex Submariner Hulk feels great on the wrist. With its slim height and great finishing, it's highly versatile as well. Some might say that it stops just short of being able to function in more formal situations like a traditional black Sub, but I tend to think that the deep green radiating dial exudes a classiness that allows it to play up more than one might think. And even though the bezel comes off as a lighter shade when compared to the dial, it doesn't necessarily detract from the total picture by making the watch look too casual.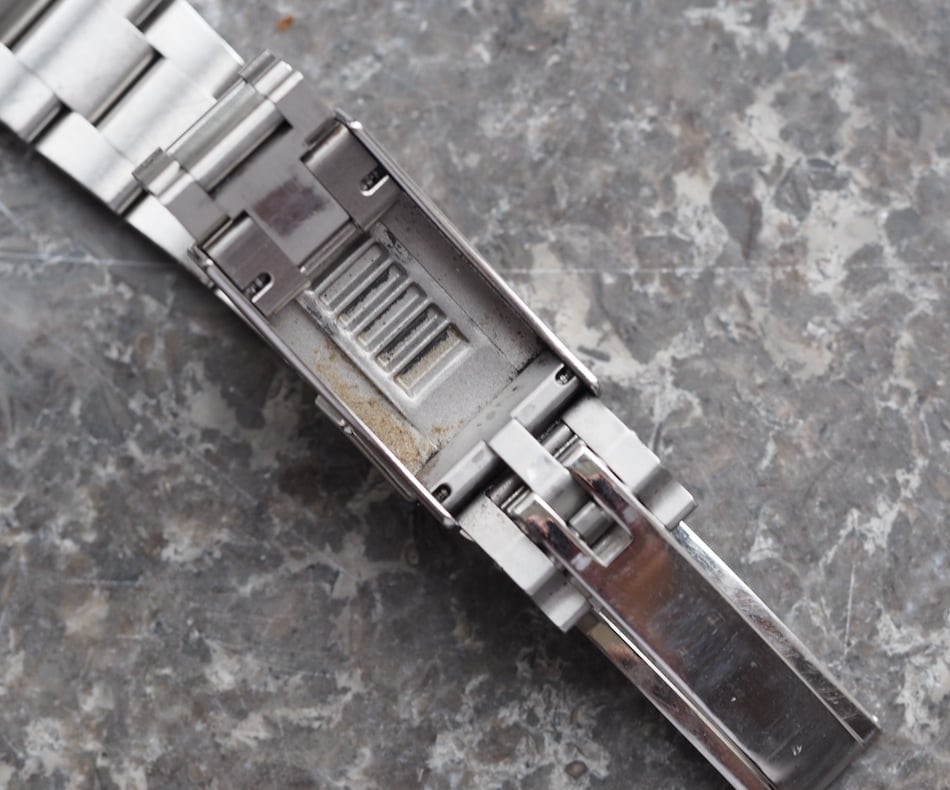 When it comes to the bracelet on the Rolex Submariner Hulk, I still like the nice lightweight feel of older stamped Rolex clasps, but I cannot deny that this clasp is beautifully crafted. The fliplock is smooth and the "tongue" is hinged to help release the clasp itself. The Glidelock wetsuit extension is something to marvel at, though (yes, this one is dirty). It's smooth and super easy to use. The bracelet itself is typical Rolex and that means top class finishing and serious comfort combined with screwed-in links that make adjustments a breeze.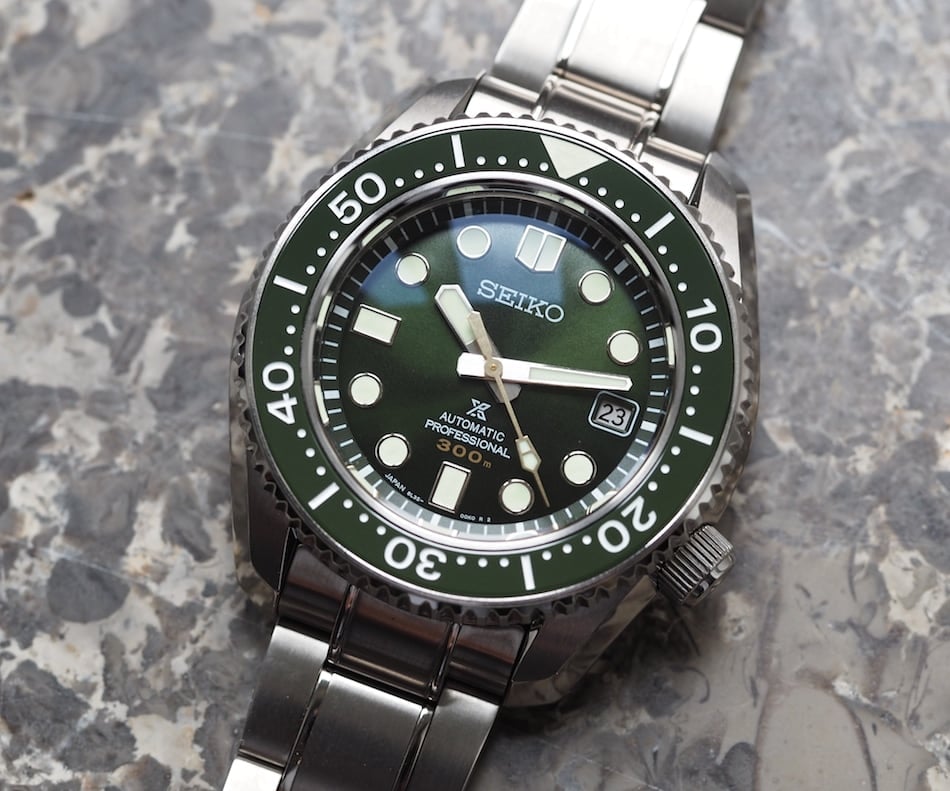 When it comes to the Seiko SLA019, I was turned on by its color in combination with the aforementioned material upgrades. Still, though, I had reviewed the SBDX017 a couple years back and I wasn't in love. Something literally didn't sit correctly with me and it came down to the watch having a tall, somewhat narrow look on my wrist. So why did I break down and buy a new watch with the same case? Yes, the color was a difference maker, but what has surfaced from owners is that the ceramic bezel is flatter versus the old 017 and also wider.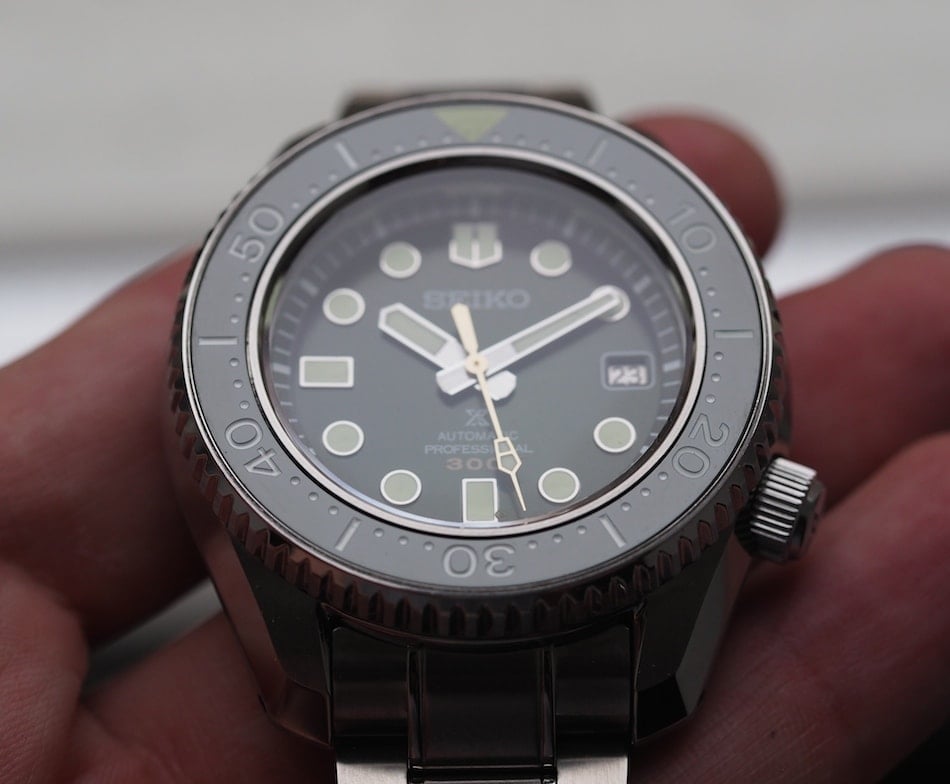 Plus, the sapphire crystal on the Seiko SLA019 is flat. All of this gives the watch a less inwardly sloping look that appeals more to me.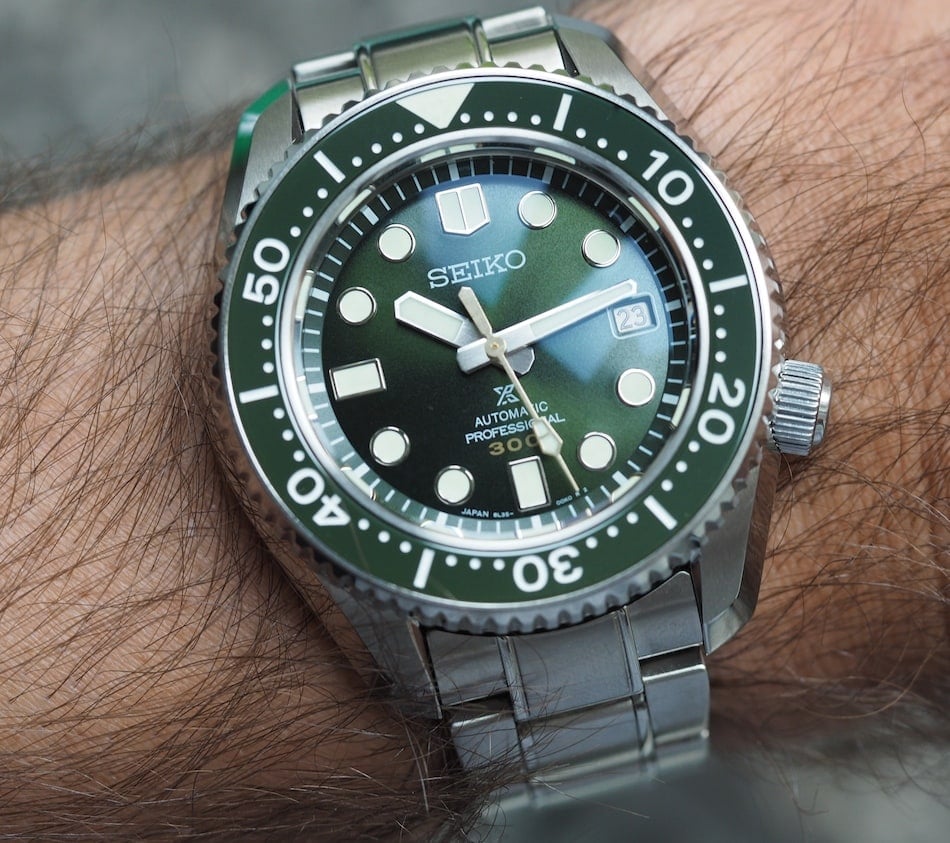 I disagree with those who say that the Seiko SLA019 can't be worn on smaller wrists. Despite having a larger lug to lug than the Rolex, the wonderfully executed case feels fine on me.  On the negative side, it is tall and it is heavy.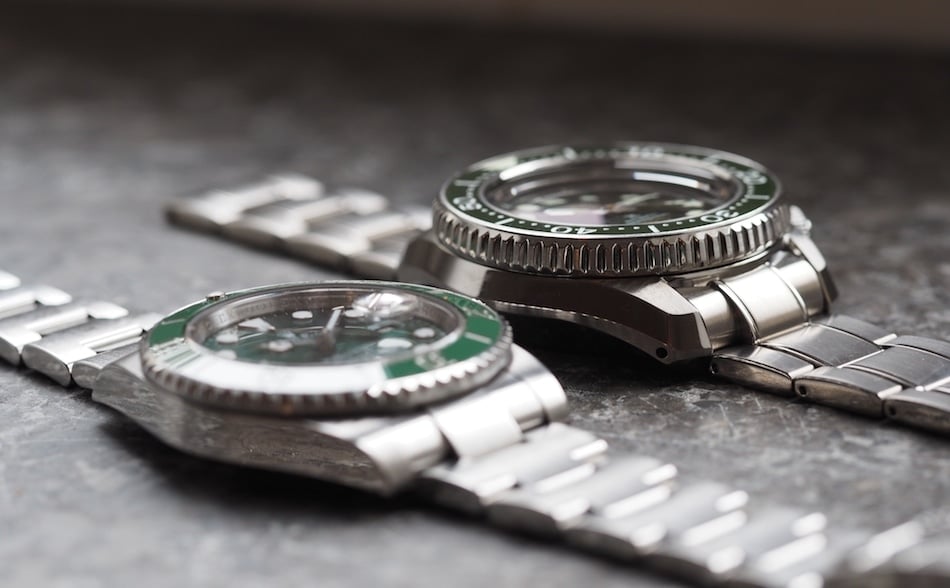 These attributes make the Seiko less versatile than the Rolex in my eyes. The Seiko SLA019 struggles to fit under a shirtsleeve and that's a bit of a shame because it possesses an overall aesthetic that would allow it to function in most environments.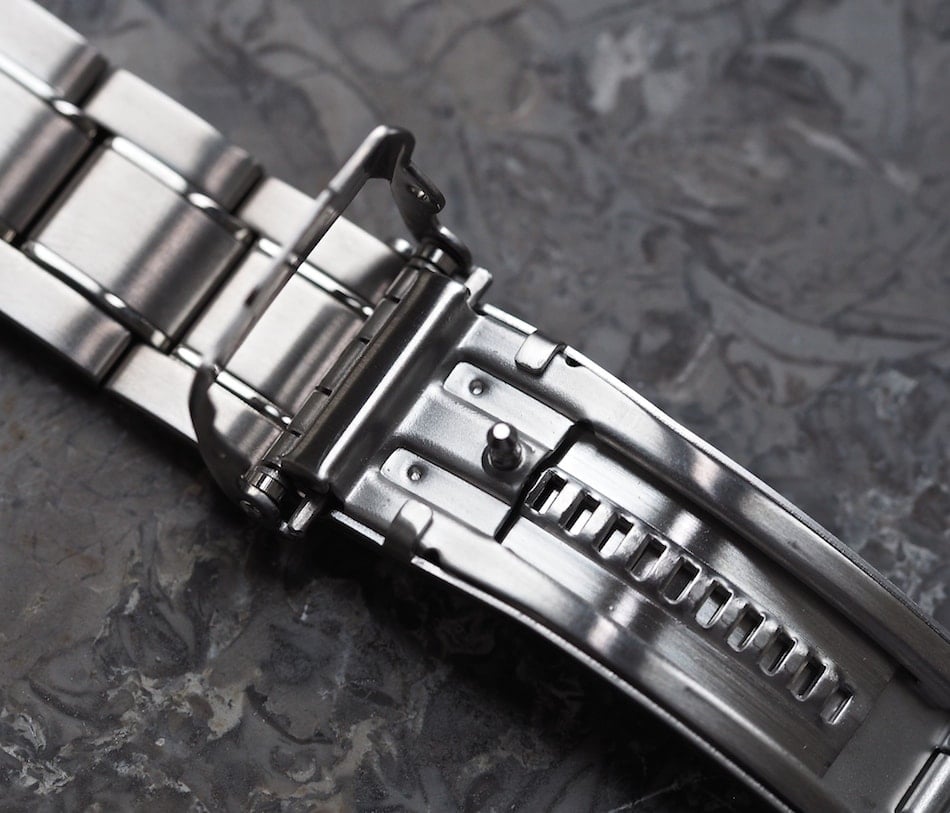 And then there's that bracelet. Seiko bracelets are the target of all sorts of venom due to everything ranging from the general design to the finish quality of the clasp. Throwing popular opinion aside, I decided that I was going all in with the bracelet to really put it to the test on the Seiko SLA019. My feeling after wearing this watch for quite awhile is that it's functional and nowhere near as dislikable as some portray. No, I don't like the polished strips on the links and the use of pin and collars to remove links is pretty weak, but the finishing is nice enough and it is comfortable.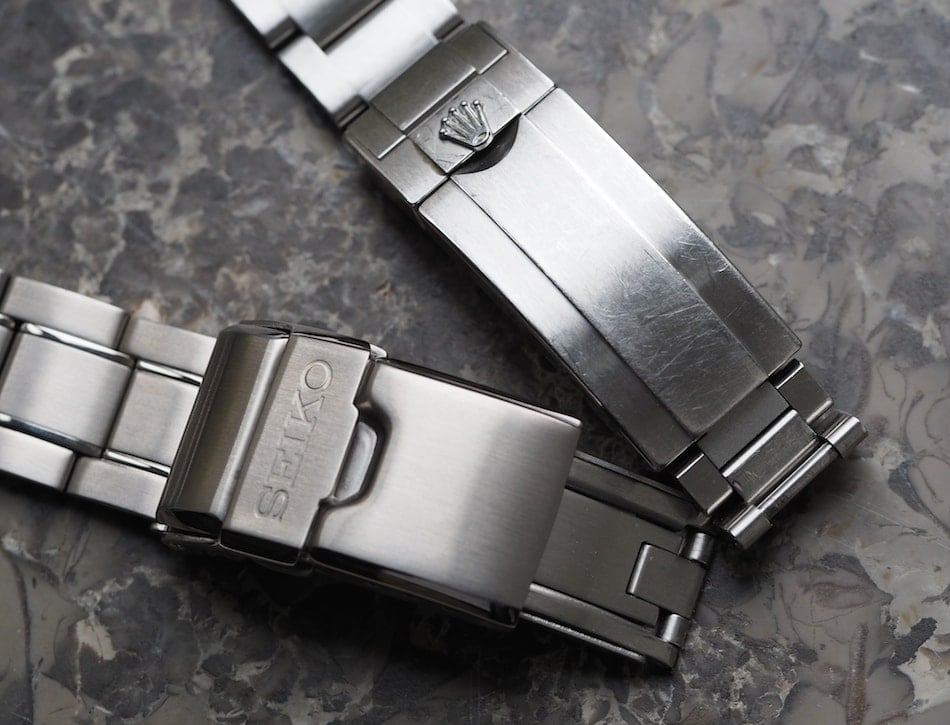 The clasp, though, is a bit of a different story. It's amazingly functional and I actually like how the wetsuit extension works, but it's just isn't pretty. From the outer clasp on the Seiko SLA019 to its insides, there's just too much evidence of stamping for a watch of this price. In fact, someone at Seiko must really be in love with this system or has a case of the "if it isn't broken, don't fix its" to keep it in production. I'll leave it at this by simply saying that I've gone hands-on with $500 micro brands that boast a higher end system.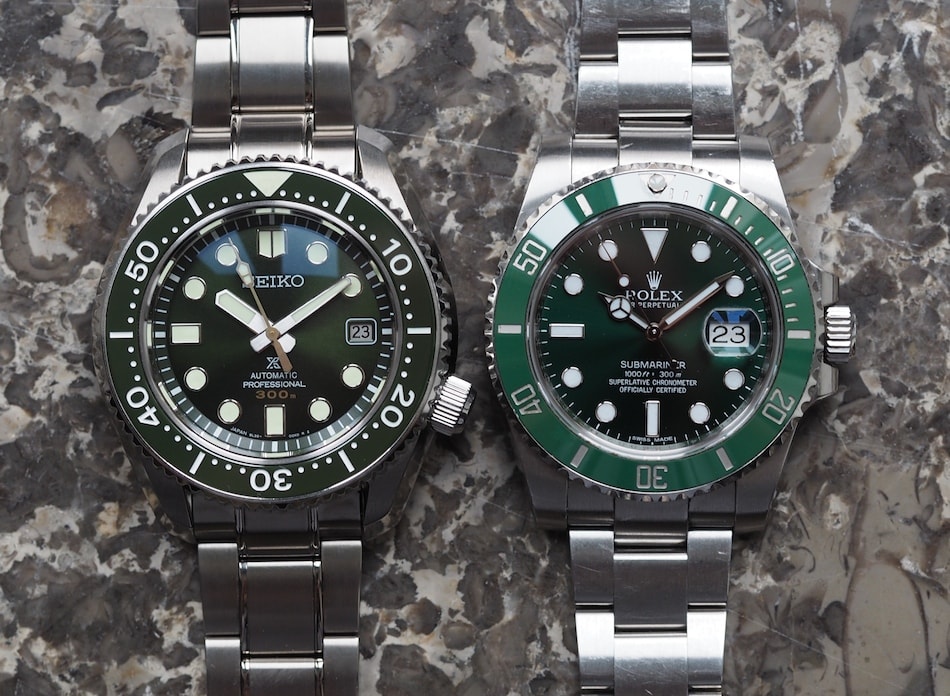 When it comes to dial quality, it's hard to find fault with either of these watches. The Rolex Submariner Hulk is a green take on an absolute classic and the Seiko SLA019 is in a similar position. Both dials are perfectly legible and have beautiful deep green color – I do find the Seiko's to be darker and almost black in some lighting. It's easy to stare into each trying to find flaws, but you'll struggle to find them whether you're looking at the hands, lume, or the printing. Speaking of which, both are also a little controversial as the Rolex contains far too many lines of print for some and many Seikophiles decry the inclusion of the Prospex insignia. Honestly, I'm fine with both. When it comes to the quality of the ceramic, the rolex is hard to fault. The Seiko is almost there, but in some lights, the exposed lume found at 12:00 can show some irregularities. It's not an obvious flaw as it depends on the lighting, but it strikes me as an oversight from the normally persnickety brand.
I'm no technical master of movements, but whether you're considering the Seiko SLA019 or the Rolex Submariner Hulk, you're getting a respected movement. With the Rolex, the caliber 3135 has been around for roughly 30 years and has seen some improvements along the way – most recently a more shock and temperature resistant Parachrom hairspring. There's little to say about this movement that hasn't been covered and I found it to be a smooth operator on winding and date changing. On top of it, using the tactile crown felt solid and it was easy to screw and unscrew with its large threads.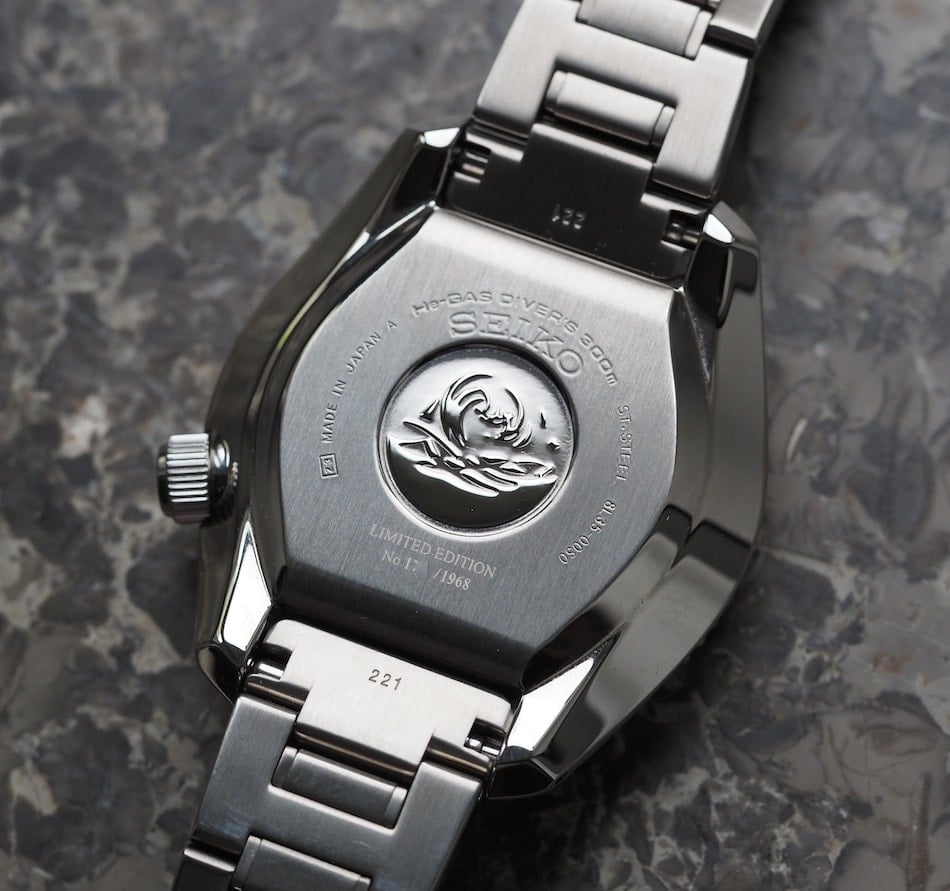 The Seiko SLA019 is powered by the 8L35, which is an undecorated version of the Grand Seiko 9S55. It's even hand built in the same workshop that builds all the GS movements. Like the 3135 in the Rolex, the 8L35 feels like quality when winding and changing the date. My only beef, and it has nothing to do with the movement per se, is the crown threading that Seiko uses. They're quite fine and shallow, which makes it difficult to seat when trying to screw back into the case.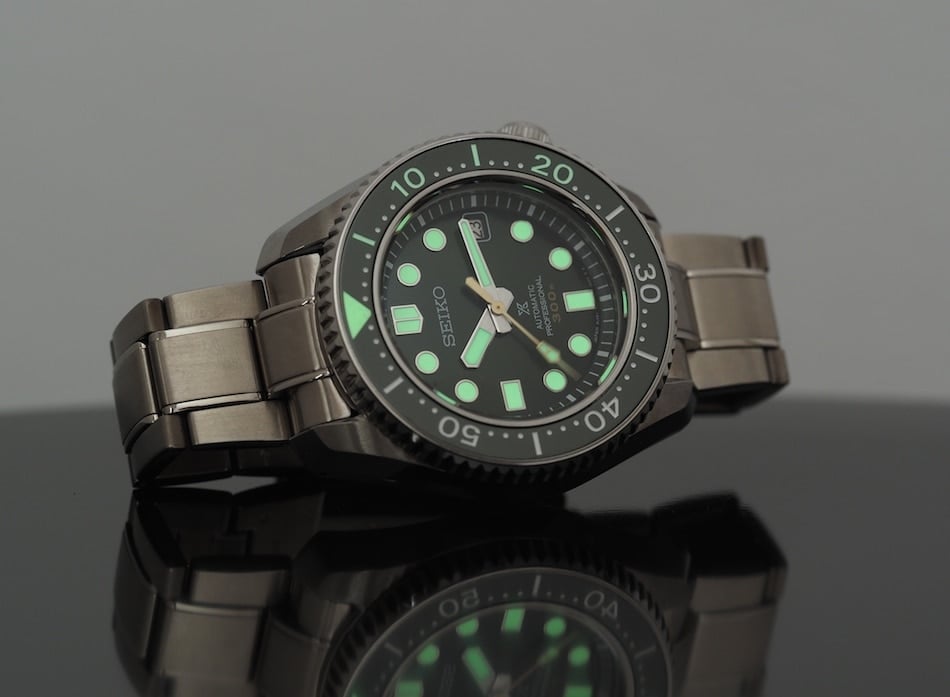 Regarding the intangibles, the Seiko SLA019 loads up on things like drilled through lugs, the fantastic DiaShield coating that defends against desk diving scratches, the included strap, the fact that it's limited, and greenish lume on the dial and bezel that makes the blue lume of the Rolex Submariner Hulk want to run home and cry to its Mama.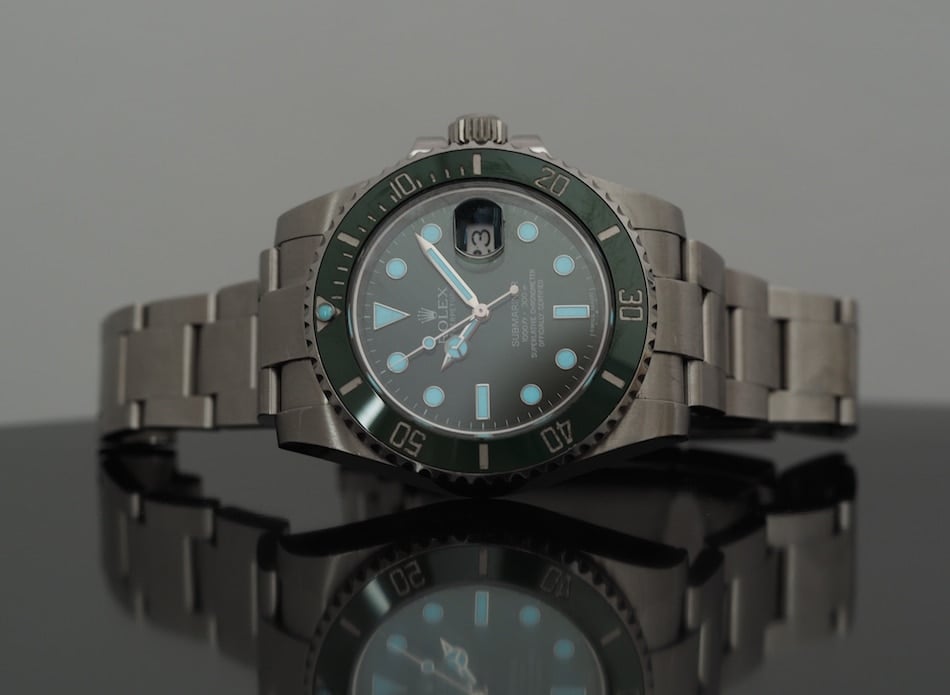 With the Rolex Submariner Hulk, you're getting, well, a Rolex. It's not a limited edition, but the fact that one can't easily get a new one makes it limited in nature. Plus, there's no denying that it's well made and that its resale value is almost guaranteed to be better than most. If you're looking sexy packaging materials, both underperform in my view as Rolex sticks with its plastic fantastic wave box and Seiko offers a very cardboard-like container. It's fine as even the best end up in a drawer in my house, but I know that some put a lot of focus on the whole package.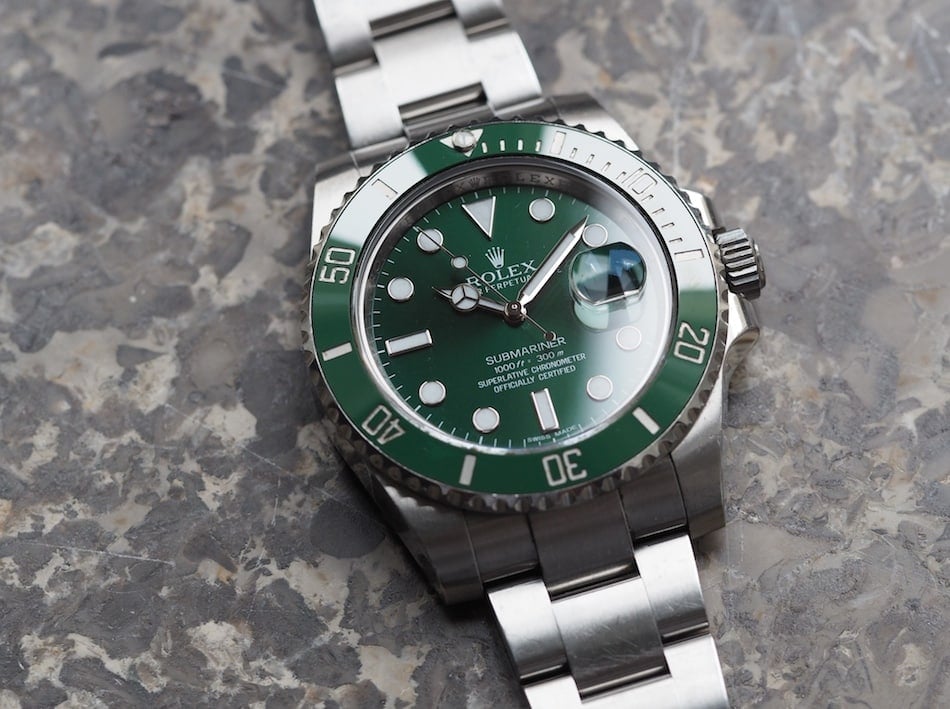 We keep repeating it, but the Rolex Submariner Hulk is, like all stainless sports watches from the brand, hard to find at your local AD. At 8200 Euros, it's also 450 Euros dearer than the black version, but that doesn't seem to have a damper on demand. In looking at the specs alone, it's hard to justify the price of a Sub, but when you consider the brand cache, the history, and – sorry to say it – the resale value, the mind can actually be pushed into thinking it's a relative bargain for being under 10K.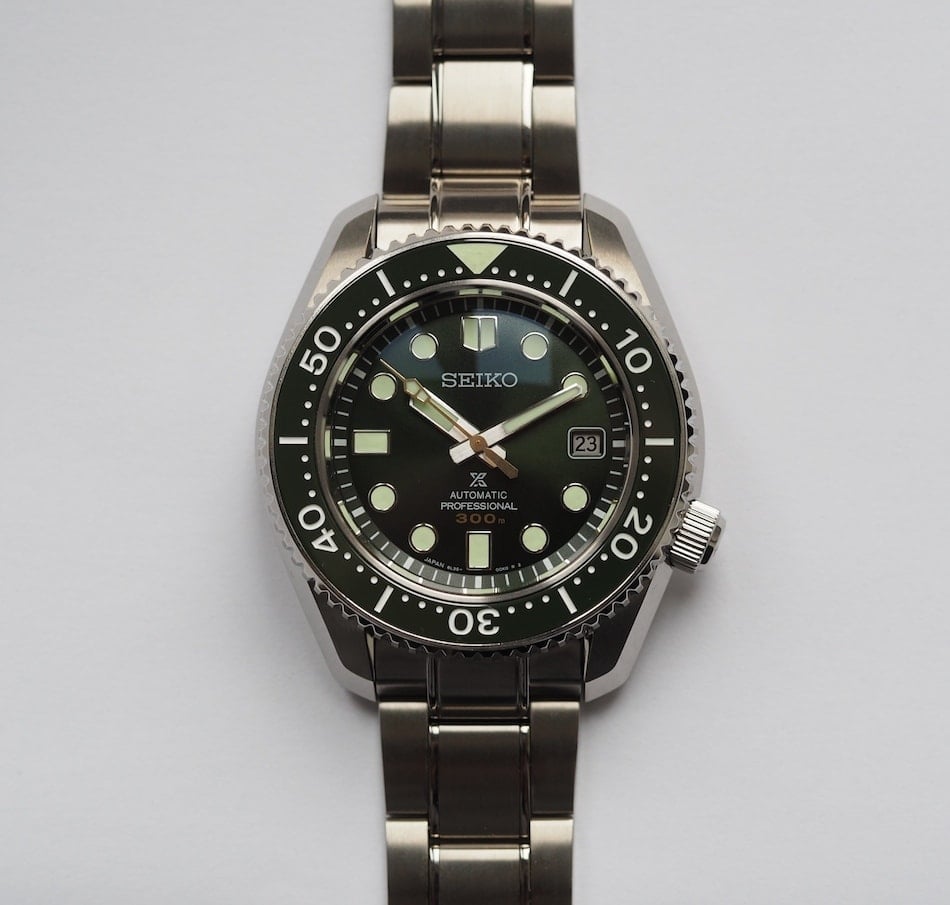 It's a funny thing because the Seiko SLA019 at 3200 Euros ticked off a lot of Seiko collectors. After all, the SBDX017 that came before it was about 25% less expensive and the only real changes aside from color are a couple pieces of ceramic. It's hard to argue with that comment, but like the Rolex, the Seiko has had zero issues in selling out its run of 1,968 pieces.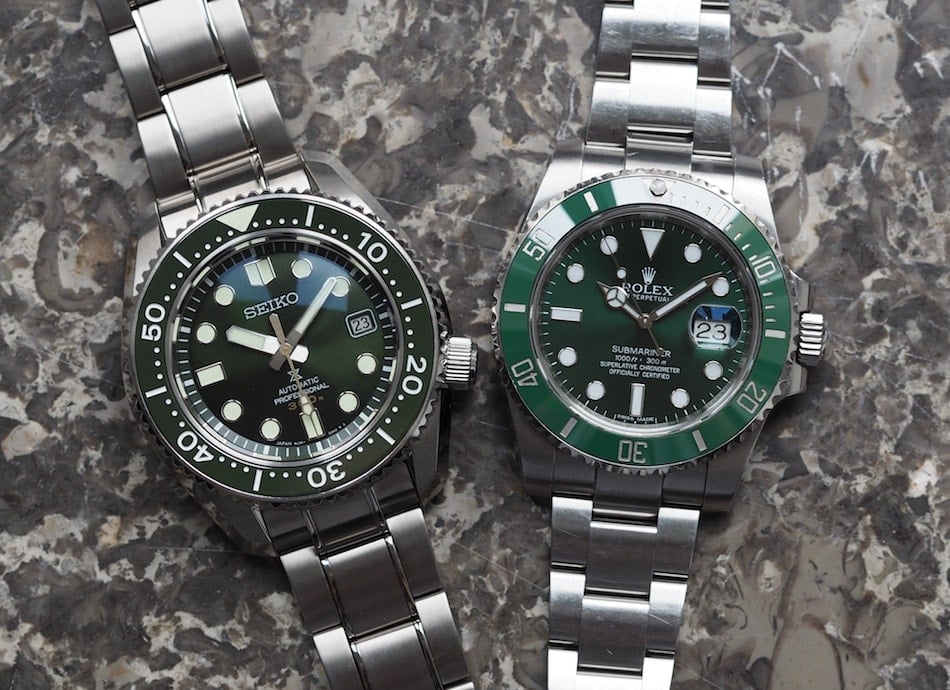 To make things more confusing, there's no world I know of – unless there's one I've missed where 20 Euro bills are used as tissues – where spending 8200 Euros on a stainless diver such as the Rolex Submariner Hulk can be considered as a good deal. To put that into perspective, I could almost say the same about spending 3200 Euros on the Seiko SLA019. One subtlety, though, is that I don't find 3200 Euros expensive because the watch says "Seiko" on the dial. No, it's still a lot of money no matter what brand is featured. But, when I consider that the Seiko is made in-house just like the Rolex and contains detail work that's at a very similar level, it's the far saner choice. Furthermore, if we were comparing the Seiko to divers either slightly below it in price or up to 2000 Euros more, I wouldn't have any issue in calling this piece a clear winner. Of course, there are those who will always favor a Rolex and with its clear advantages as far as bracelet quality and, most noticeably, thickness, I can see why the Sub would be the watch of choice. Also, if we were comparing a Sub to a more expensive diver, I'd struggle to choose anything other than the Rolex.  Either way, it's impossible lose with either of these high quality choices provided that green is the color that tempts you to part with your green.
For more information on the Rolex Submariner Hulk, head to the Rolex official site.
For more information on the Seiko SLA019, head to the Seiko official site.