5 Audemars Piguet Royal Oak Watches Everyone Should Know
The essential models to know from Genta's iconic design
The Audemars Piguet Royal Oak is a somewhat polarizing timepiece among watch guys these days.
Audemars Piguet is a powerhouse with deeply rooted in the Swiss watch industry. Many of their models are legendary, and after so many years, AP still operates independently opposite the watch conglomerates like Swatch Group, Richemont Group, and LVMH. Not only do they swim instead of sink, but AP is also actually doing very (and I mean very) well financially. However, their flagship the Royal Oak has become the status symbol for pretty much everyone who wants to flaunt their wealth – or lack thereof. From SoundCloud rappers with incomprehensible lyrics, to up and coming 17-year old football players who don't shy away from making a move on a "bust down AP" sold by a dealer with a questionable background. And while these demographics – hopefully – don't represent the majority of the Audemars Piguet Royal Oak owners I believe they are hurting the image of the brand. In the eyes of true watch connoisseurs, at least.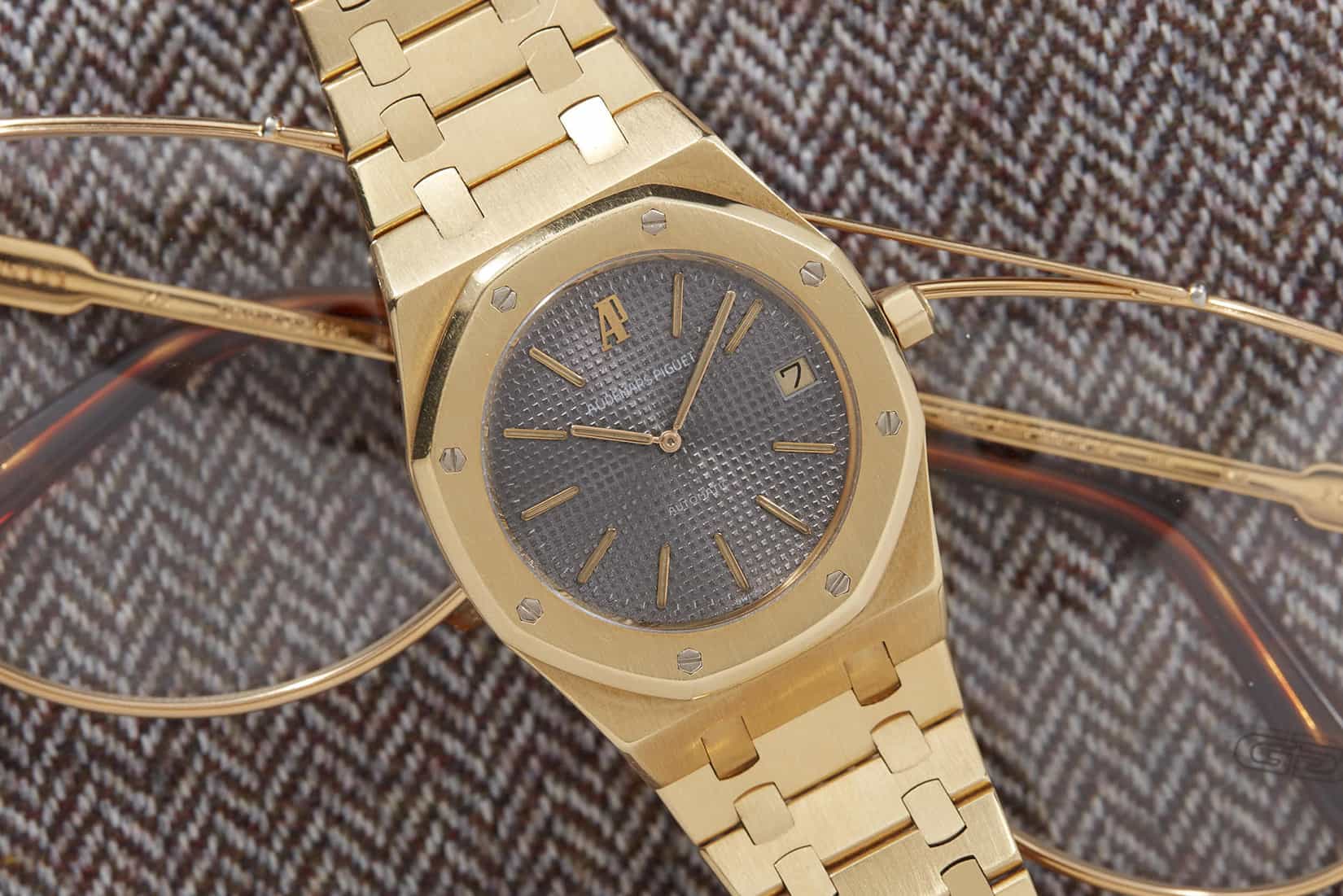 Royal Oak
Especially nowadays, when the competition is fierce, and great deals for expensive timepieces are pretty easy to find, brands should pay more attention to their perceptions. I hate to see this happening as I genuinely believe that Audemars Piguet has so much more to offer. More than some other brands that proudly reshare a lukewarm post by a lame influencer whose gained-and-lost followers' chart on SocialBlade looks like an EKG of an old racehorse. You know what I mean. So, I thought it would be beneficial to take a closer look at some of the models from Audemars Piguet's Royal Oak line. Watches that are tasteful, different, classy, known, and in general, amazingly well-made timepieces through and through. Why? To remind ourselves that the real value of the Royal Oak lies within these pieces. I picked five specific models from different times and very distinctive backgrounds.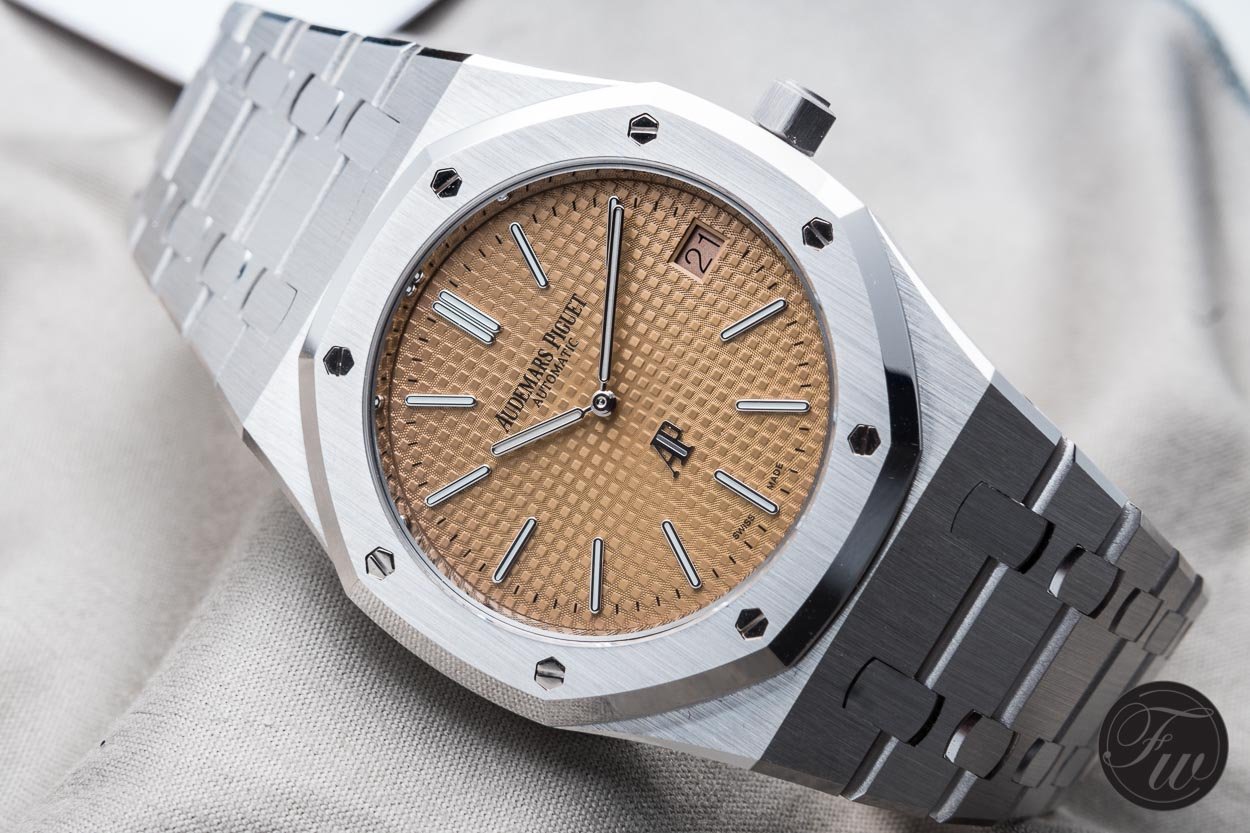 5402 – The First Reference
Where it all started. We all know the story (but in case you don't, click here). Many associate the quartz crisis with the late 1970s / early 1980s, but it started way earlier. AP, among many other Swiss brands, already felt the declining market demand as early as the beginning of the 1970s. So, when the Italian market expressed their interest in a steel luxury sports watch – during the Swiss Watch Show in 1971 – Georges Golay (CEO of AP) called the legendary Mr. Gerald Genta to the rescue. He delivered, and in 1972, Audemars Piguet presented the Royal Oak Reference 5402ST. At the very same show (which by the way was the predecessor of Baselworld). A 39mm steel sports watch with integrated bracelet, steel bezel with eight visible screws, only 7mm thick with their caliber 2121 movement. The Royal Oak 5402 was and still is a modern masterpiece, so we have to start our list with it.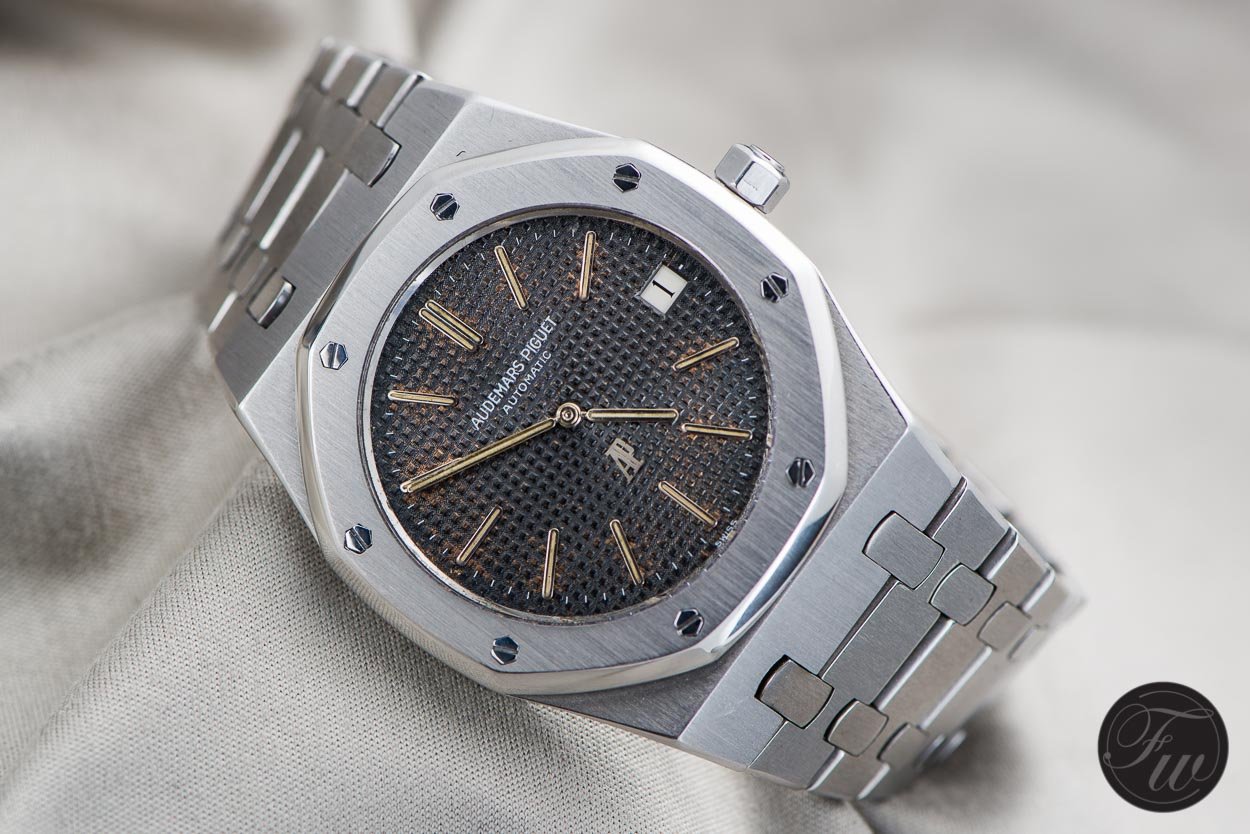 Prince Michael of Kent's Two-Tone Royal Oak
Needless to say, the Royal Oak took the market by storm. It became prevalent and pulled AP out of the financial troubles the quartz crisis pushed them into. As you'd imagine, the Royal Oak made its way onto the wrists of celebrities. Fashion designer Karl Lagerfeld wore a customized all-black A-series 5402. The French movie-icon Alain Delon also wore his Royal Oak while out and about back in the days. Still, the most tasteful of all is a two-tone Royal Oak that has an equally royal owner, His Royal Highness Prince Michael of Kent. Prince Michael's watch is similarly a 5402(SA).
Interestingly enough, it's also a unique reference as AP never made another Jumbo two-tone after the 5402SA. Over the years, the watch became Prince Michael's trusted companion; one can find many images of him wearing it. A sophisticated watch for an elegant English royalty. The perfect match.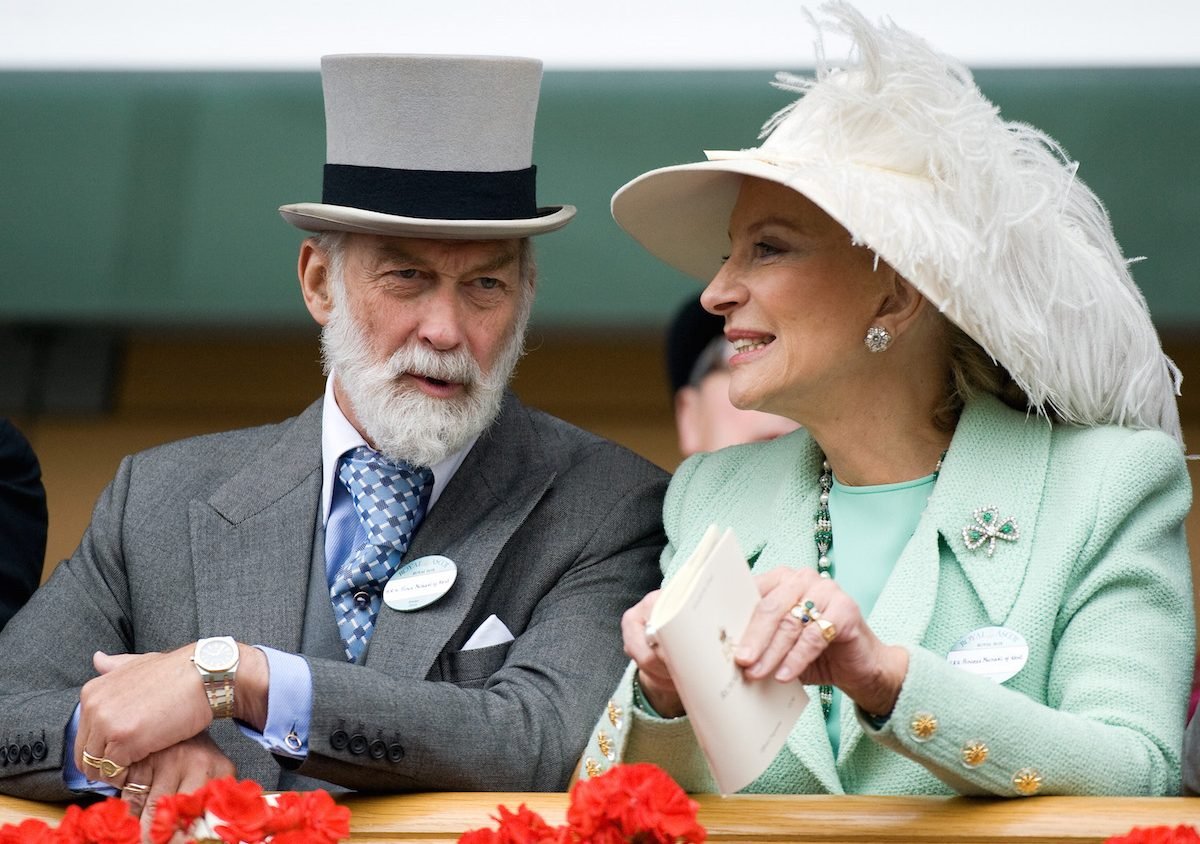 20 years later – Royal Oak Offshore
The Royal Oak craze that I talked about briefly above pretty much started with the Offshore. These bigger, bulkier cousins of the original Royal Oak were the ones that began to circulate in the wrong crowd. It has to do with the fact that 10-15 years ago literary everyone wore an Offshore from Jay-Z to Shaq, Arnold Schwarzenegger, Flavio Briatore (who remembers him anymore, right?) and so on. But the idea behind the Royal Oak offshore was great. After 20 years of success, Audemars Piguet wanted to launch a new line, that took inspiration from the RO but adapted to the trends of modern times and was masculine enough. In 1993 (21 years after the original RO came out), AP presented the first Offshore. The industry had mixed feelings about it, but once again, the Italians came correct with high sales numbers. The rest is history. We wrote a 25-years history overview of this model last year, here.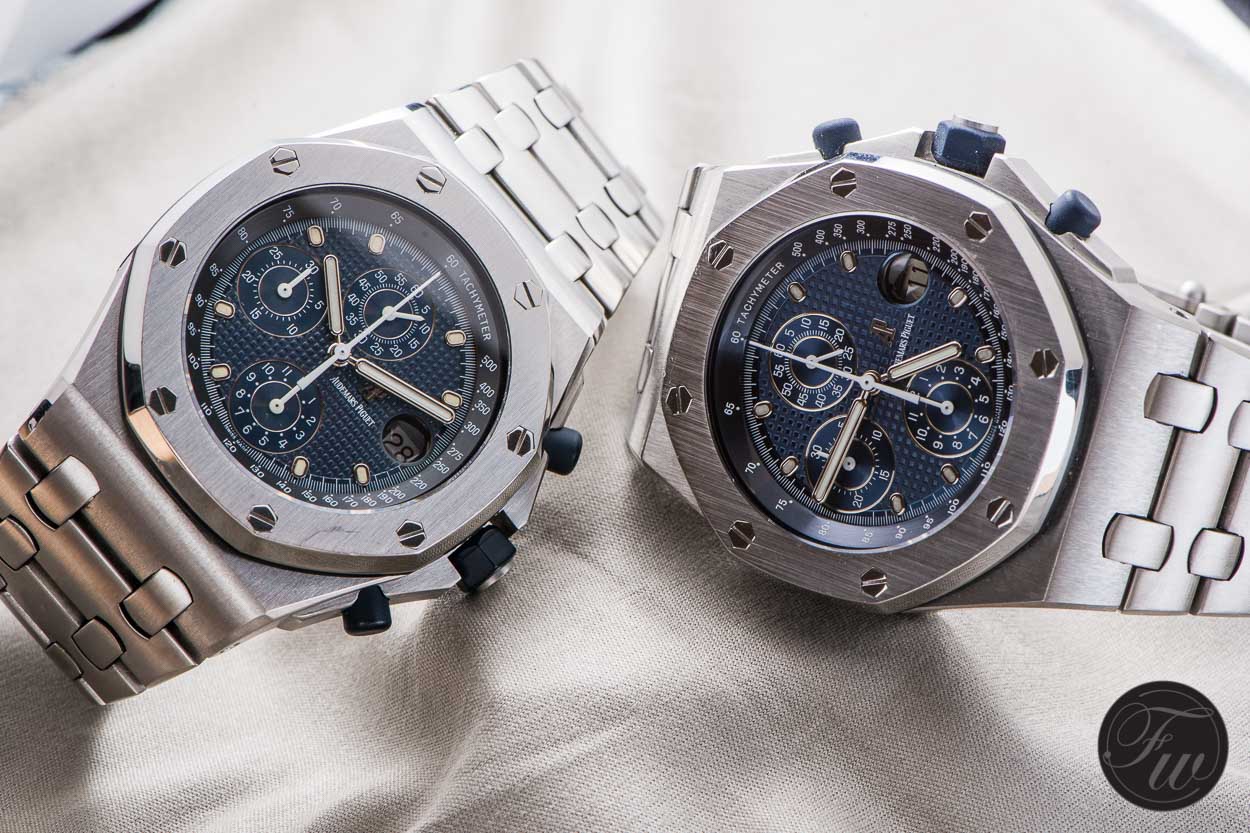 Royal Oak Concept
Another anniversary asks for another model. Nine years after the Royal Oak Offshore hit the shelves and 30 years after the Royal Oak came to the market, AP released its Royal Oak Concept. The timepieces were supposed to pay tribute to the success Audemars Piguet had with their most popular model, the Royal Oak. Even though the very first Concept watches looked a bit quirky, they brought something new to the table; pioneering technical developments and super complications by AP. Dial-less front housed in a futuristic watch case that resembles the original form of the Royal Oak but adapts to the 21st century. It's hard to imagine that it has been 17 years since the very first Royal Oak Concept watches came to the market. Flying tourbillons, super sonneries, and tourbillon chronographs to name the latest complications all this while using materials like titanium, carbon, or ceramic.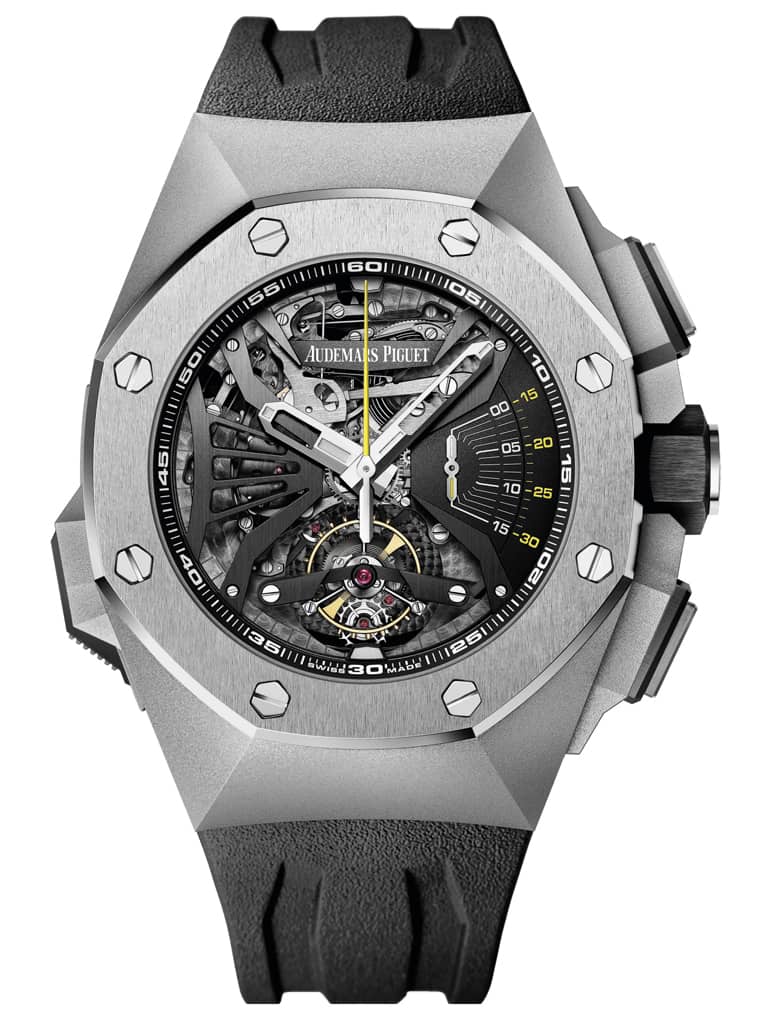 Royal Oak Perpetual Calendar Black Ceramic
The year was 2017. Somehow, the news leaked a few days before SIHH that AP was going to release a "new ceramic Royal Oak." By the time the press got to the Swiss watch capital, everybody knew about it already. A ceramic watch is not a big deal; others did it already – I hear you say, and you're right. However, keep in mind that the Royal Oak took pride in being the world's first all-steel luxury sports watch. So, creating their first ceramic model using the look of the original design was a milestone for AP. Also, this was a ceramic timepiece where the case and integrated bracelet are both made of the same material. Ceramic Offshores had been out but with rubber straps only. Lastly, it was not a simple time-only model but a perpetual calendar. A historic Audemars Piguet Royal Oak model, worth remembering.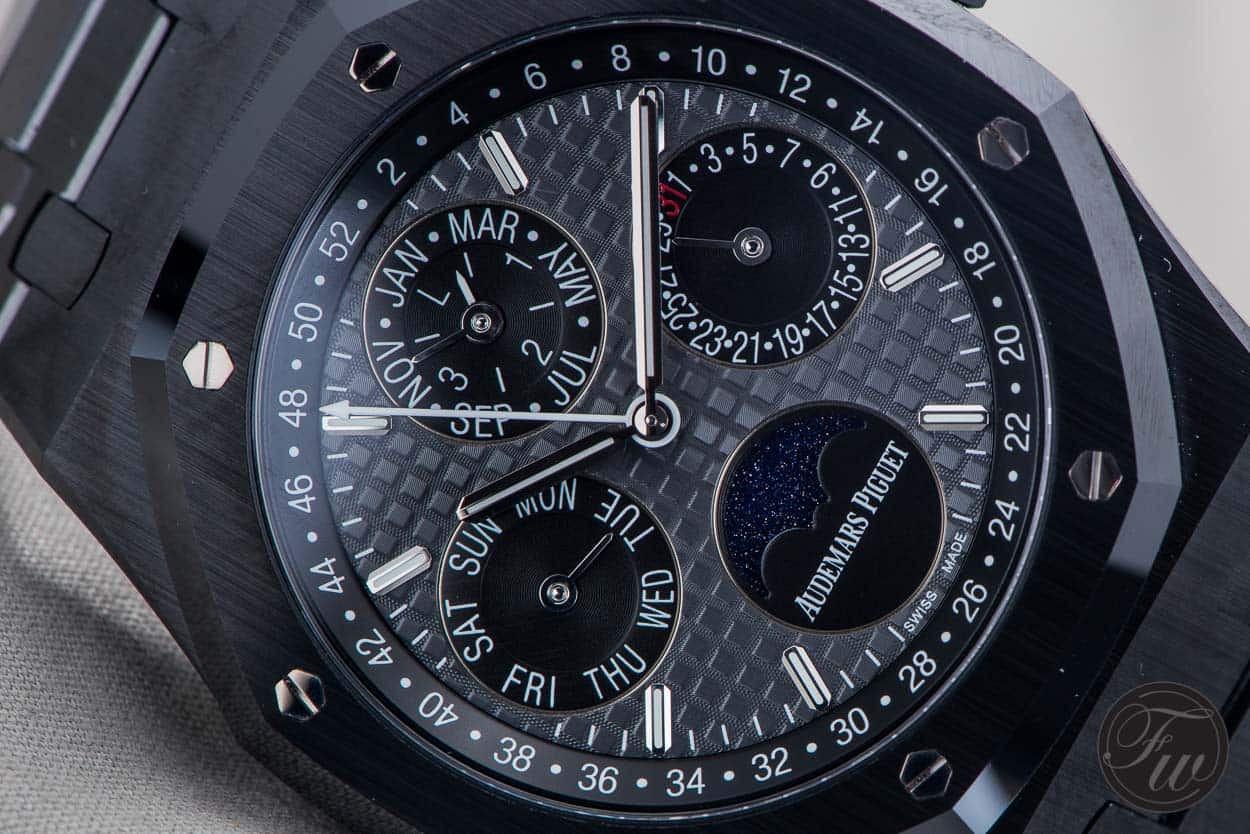 +1
A few weeks ago, the internet was full of Justin Bieber's wedding. As for me, I could not care less about Mr. Bieber or his marital status. I'm not his biggest fan, nor will I ever be. What caught my attention, though, was an Instagram post from said Canadian performer. In this post, Ontario's shame pride was flaunting his wedding watch, none other than a vintage solid gold Audemars Piguet Royal Oak 5402BA. After seeing his impeccable style in fashion, I was a bit surprised to see his choice of wrist game. It is sporadic from a performer in his genre to choose an attractive and cool timepiece as the 5402BA instead of going on the usual "iced out" route. Credit is where credit is due, congrats on the excellent watch, Justin.
View this post on Instagram

If you wish to visit Audemars Piguet's website, you can do so by clicking here.