A Brief History of Time: Chopard's Watchmaking History — Part Two: 1997–2021
A look into Chopard Manufacture's greatest hits to date
Welcome back to another installment of A Brief History Of Time. Today's spotlight is on Chopard. In Part One, we went over the brand's history, from its founding in 1860 to the release of its first manufacture wristwatch in 1997. Since the release of the L.U.C 1860, the brand has done some spectacular things in the world of horology. Many of these, however, may have slipped under the radar of the casual watch enthusiast. While Chopard is still a huge name in the jewelry industry, let's face it: you're probably not here to read about that. This is a watch publication, after all. So, with our focus on its watches, today, we'd like to shed some light on just a few of Chopard Manufacture's greatest horological milestones of the last 25 years. We hope you enjoy it.
The first great follow-up
The sophomore release from Chopard Manufacture came in 2000, taking the form of the L.U.C Quattro. As originally intended, its movement was based on the brand's foundational caliber 1.96. Discussions among the Fleurier-based team had led them to contemplate how a longer power reserve could be achieved. The obvious answer was, of course, to add more mainspring barrels. But where? In jest, Daniel Bolognesi, current-day head of watchmaking at the manufacture, suggested that they remove the micro-rotor. In doing so, they could put two more stacked barrels in its place. Not wanting to compromise the architecture and slimness of the movement, this turned out to be an ideal solution. The result was the 39-jewel manually wound caliber 1.98, with a massive nine-day power reserve.
Offered in a 38mm white, rose, or yellow gold case just 9.8mm thick, the Quattro echoed many of the stylistic elements of the 1860. Dauphine hands, matching indices, and a rose-lathe guilloché solid-gold dial all remained. The dial, however, also included a pointer date at six o'clock and a power reserve indicator at 12 o'clock. Although caliber 1.98 featured a full nine-day power reserve, the indicator only marked eight days. This reminded the wearer to wind the watch before torque decreased too much and accuracy suffered. The pointer date was an elegant touch. It not only eliminated the need for a date window, but it also featured integrated small seconds. Like its predecessor, the movement bore the Geneva seal for its immaculate hand-finishing, with Geneva stripes, perlage, and bevels aplenty. The Quattro, like the 1860, was a COSC-certified chronometer.
The first Chopard tourbillon
In 2003, the L.U.C Quattro Tourbillon made its debut. Inside lies the new 33-jewel caliber 02.01-L, which featured the same Geneva-seal finishing and an eight-day power reserve display, just like the previous Quattro. Like its base caliber, the 02.01-L beats at 28,800 vibrations per hour. This, however, is a rarity among tourbillons, which typically have a frequency of either 18,000 or 21,600. Further separating itself from its tourbillon peers, the movement was a COSC-certified chronometer. To date, the only other brands to successfully certify their tourbillons as such are Patek Philippe, Arnold & Son, Tag Heuer, and Breitling.
Chopard released the Quattro Tourbillon in a 39.5mm case, with just 100 pieces in rose and white gold. Its styling was indeed quite similar to previous L.U.C. releases. Notable exceptions, however, included a bolder Chopard logo and large Roman numerals at three and nine o'clock. These provided a more modern, new-Millenium aesthetic. The tourbillon featured a thermally-blued small seconds hand and a unique bridge, shaped like the traditional L.U.C "bone" logo.
Bringing steel into the mix
The year 2004 saw the release of the Pro One diver, which, like the St. Moritz in 1980, was a radical departure from previous precious metal L.U.C releases. It marked Chopard Manufacture's first attempt at a stainless steel sports watch with an in-house caliber. Although the movement did not meet the standards for Geneva seal finishing, caliber 4.96 was nevertheless COSC-certified. It also featured the manufacture's signature micro-rotor, dual barrels, and 4-hertz frequency. The Pro One diver came in a 43mm stainless steel case, just 13mm thick, with a full stainless steel bracelet. Its dial featured a date display at 4:30 and dauphine/dart hour markers, this time, filled with Super-LumiNova. With luminescent hands, a unidirectional rotating bezel, and 300m of water resistance, the Pro One was a capable diver with a serious movement at its core.
Chopard subsequently released a GMT version of this watch, known as the Pro One GMT Cadence. Limited to 1,000 pieces, this collaboration with the Cadence D35 regatta team was one of the first watches with a sapphire-capped bezel insert. The bezel featured deeply engraved luminescent numerals, matching the luminescence of the hands. Blackened hour markers stood in stark contrast to the brilliant white dial. The watch housed the manufacture caliber 96H24, a modified version of the 4.96 with the date relocated to the three-o'clock position and additional 24-hour functionality.
The Pro One GMT was also produced in a non-limited edition with a black dial, orange bezel numerals, orange minute markers, and orange luminescent paint on the GMT hand. Produced only until 2009, the Pro One series offered rugged functionality. These models still remain a phenomenal value proposition on the pre-owned market today.
A brand on a roll
In 2005, Chopard Manufacture returned to its dressier roots. Building further upon its formidable in-house caliber, the brand released the L.U.C Lunar One Perpetual Calendar, with 250 pieces in both rose and white gold. Its 1.96QP caliber featured not only all of the qualities of the base 1.96, but also a perpetual calendar with day, month, leap year, and 24-hour indications, a big date display at 12 o'clock, and an orbital moonphase at six o'clock. In contrast to a standard moonphase, the moon made a complete visible orbit around the sub-dial while also changing phases. This is a feature rarely seen in modern watches, especially at that time.
The L.U.C Strike One made its debut in 2006. Though not the manufacture's first visually striking release, it was the first functionally striking one. Its caliber 96.SH combined all of the best aspects of the 1.96, but with an additional hour striker mechanism. In chiming mode, a visible hammer at one o'clock would strike every hour, on the hour. The watch also featured an on/off pusher at 10 o'clock. A rotating small seconds disc and a raised chapter ring further differentiated the Strike One from its predecessors.
Venturing into chronograph territory
In 2006, Chopard also released its very first in-house chronograph, the L.U.C Chrono One. As one might expect, the new manufacture chronograph caliber 03.02-L featured a column wheel, vertical clutch, and a jumping minute counter. An instant zero-reset mechanism for the running small seconds allowed even more convenient adjustment than standard hacking. In addition, a free-sprung balance with a full balance bridge assured both accuracy and the utmost resistance to shock. A departure from the micro-rotor or manually wound calibers the brand had become known for, this caliber featured a full rotor in 22K white gold, visible through the sapphire case back. Sapphire sub-dials also allowed a glimpse of the new caliber from the front. Chopard debuted the Chrono One as a limited edition of 100 pieces in a white gold 42mm case. 
Chopard's 150th-anniversary masterpiece
Chopard celebrated its 150th anniversary in 2010, and what better way to mark the occasion than with a veritable tour de force displaying all of the brand's horological mastery? Settling for nothing less, that year, Chopard introduced the L.U.C All in One. On the dial side alone, this magnificent masterpiece of watchmaking wizardry combined a perpetual calendar with day, month, leap year, 24-hour, and big date indicators with a rotating tourbillon. Upon flipping the watch over, one found an orbital moonphase, 7-day power reserve indicator, day/night indicator, and for the first time in a Chopard watch, sunrise/sunset indicators and an equation of time complication. Due to the ever-changing variance in the earth's orbit around the sun, true solar time usually differs from civilian time. Chopard's equation of time complication displayed this variance to an accuracy of +/-15 minutes per day.
The movement at the heart of this masterpiece, caliber 4TQE, was, of course, a certified chronometer. It featured a staggering 516 components, four barrels, and a patented variable-inertia balance wheel. As one would expect of the Chopard Manufacture's finest calibers, the 4TQE also bore the Geneva seal for its outstanding finishing. The white dial, with its beautiful guilloché pattern radiating outward from the big date apertures, was adorned with contrasting applied Roman numeral hour markers and new "dauphine-fusée" hands. These hands combined the traditional dauphine shape with a conical "rocket" motif. Available in 46mm case white and rose gold cases, the model was limited to 15 pieces in each metal.
A new standard of quality
In 2011, Chopard announced its new triple certification process. Timepieces bearing this designation had received not only the Geneva seal and COSC certification but also a new certification from the Fleurier Quality Foundation. Whereas COSC certification merely required testing of an uncased movement, the "Qualité Fleurier" certification demanded more. Requirements included pre-certification by the COSC, immaculate finishing, casing, and 21 days of durability tests. In addition, all fully cased watches (excluding the strap and buckle) must be 100% Swiss-made, numbered, and further subjected to 24 hours of testing on the Fleuritest simulator. This machine replicates real-life wear and allows no greater variance than +5/-0 seconds per day.
Chopard's first release to bear this triple certification came that same year in the 100-piece limited edition L.U.C Triple Certification Tourbillon. Luminescent dauphine-fusée hands lay inside a 43mm rose gold case and atop a silver grained dial with applied Roman numeral hour markers, power reserve indicator, and tourbillon aperture. The new 8-day caliber 1.02QF also bore exquisite perlage, Geneva striping, chamfered bridges, and visible Geneva and Fleurier seals.
No time to slow down
The year 2012 saw yet another horological innovation from Chopard when the brand introduced the L.U.C 8HF. Utilizing the experimental in-house caliber 01.06-L, a full-rotor, non-Geneva-seal-bearing in-house movement, the watch beat at an extremely uncommon frequency of 8 hertz (57,600 beats per hour). While not the absolute highest-frequency escapement ever produced, the watch was nevertheless a horological milestone. It was the first watch ever with a high-frequency escapement to receive COSC chronometer certification. As the entire purpose of a higher frequency is to enhance accuracy, chronometer certification was a logical step for Chopard. Nevertheless, it is one that remains somehow overlooked by a majority of brands producing high-frequency movements. Additionally, whereas a higher frequency generally means a shorter power reserve due to the additional demands of the escapement, Chopard's 01.06-L caliber was unique in that it provided a full 60 hours of power reserve from a single mainspring.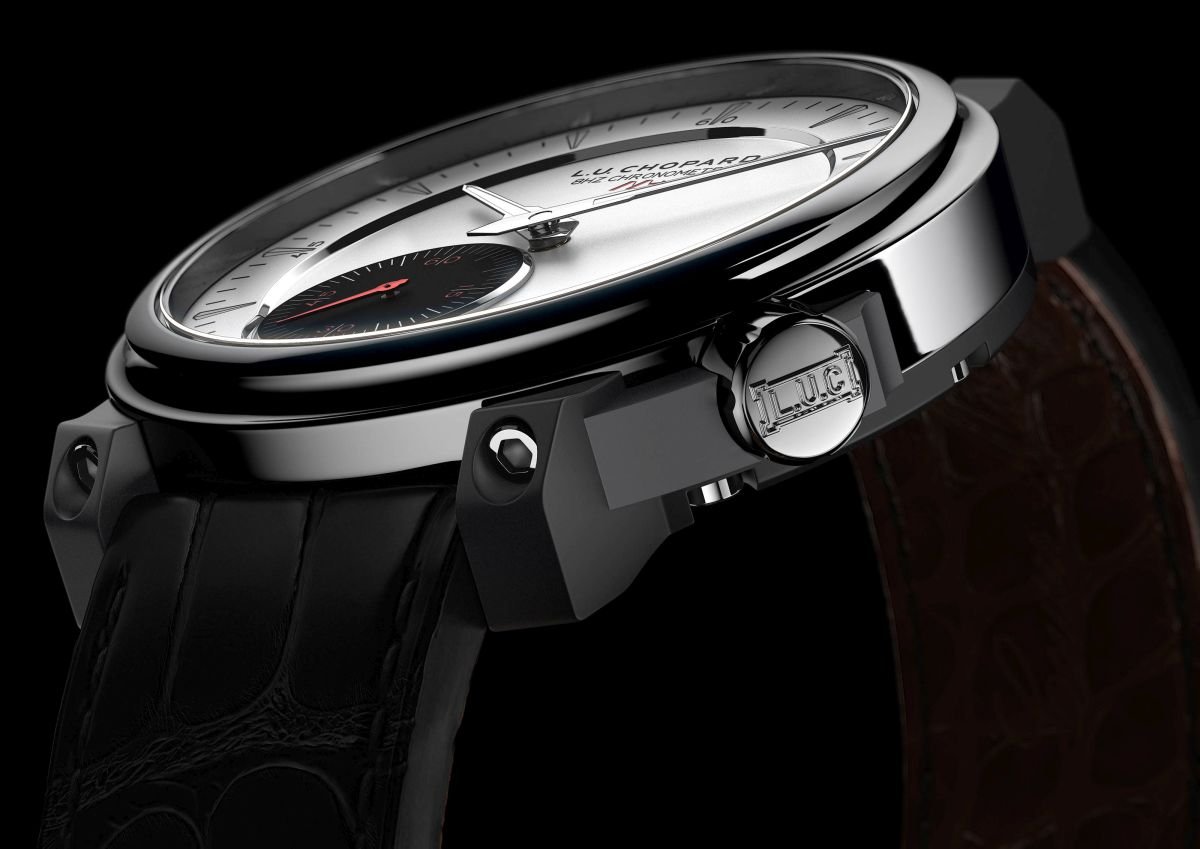 Originally available in a 100-piece limited edition, the 8HF utilized a sporty 42mm case in highly polished titanium, with the crown at 4 o'clock. Uniquely the black titanium mono-block case back was one with the lugs themselves. The grained and stepped silver dial featured painted hour markers and a uniquely shaped date aperture between five and six o'clock. A black small seconds sub-dial was also present at seven o'clock. This sub-dial was accented with red numerals and a red small seconds hand, while the luminescent dauphine-fusée hour and minute hands lie at the center.
A momentous year for Chopard Manufacture
The year 2016 marked the 20th anniversary of the manufacture, and Chopard responded in grand fashion with a slew of incredible releases. These included an elegant, aesthetically updated reissue of the 1860 and a new GMT. That year, the brand also debuted its first perpetual calendar chronograph and in-house world time watches. It was, no doubt, a massively important year for the manufacture. While there are simply too many releases to fully examine here, we would be remiss not to cover the year's pièce de résistance, the L.U.C Full Strike minute repeater. Ten years earlier, Chopard had illustrated an intent to pursue this grand complication with the Strike One. Simply producing a minute repeater is of course deserving of massive horological bragging rights. Chopard, however, was not content to do like "everyone else". Rather, the manufacture would claim a world-first.
A crystal-clear minute repeater
In contrast to a typical repeater, with gongs made of steel or gold, the L.U.C Full Strike was the world's first minute repeater watch to feature gongs made of sapphire crystal. Not only that, both the gongs and the crystal were machined from a single solid piece of sapphire. Due to sapphire's molecular properties, the watch crystal itself acted as an acoustic amplifier. The seamless integration with the gongs gave the melodious chimes a (quite literally) crystal-clear tone. Rather than a traditional slide lever to activate the minute repeater, the watch featured a single pusher set within the crown. Through this crown, the wearer could wind independent barrels for both timekeeping and the minute repeater mechanism. The dial displayed both of these power reserves at two o'clock.
The Full Strike's 08.01-L caliber also featured non-traditional construction. The repeater mechanism was located on the top side, and thus completely visible through the semi-skeletonized dial. With over 500 components, the extremely complex caliber employed a variety of patented safety systems. Most notable was a disengaging crown, making it impossible to set the time during chiming. This greatly reduced the risk of disastrous malfunction. The Full Strike was housed in a 42mm rose gold case. Just 11.5mm thick, the vertically brushed sides contrasted the highly polished bezel and lug tops. As you may expect, the watch was a limited edition of just 20 pieces. The following year, in 2017, the L.U.C Full Strike was awarded the most prestigious prize at the Grand Prix d'Horlogerie de Genève, the "Aguille d'Or," marking an unprecedented accomplishment for the 20-year-old Chopard manufacture.
The eagle takes flight
By 2017, Chopard had a wide array of in-house movements and complications already in its arsenal. As such, the brand spent much of the next few years reimagining previous L.U.C releases. In 2018, though, Chopard made an industry-leading environmental pledge to only use ethically sourced Fairmined gold in all of its gold products. The following year, the brand also revived its classic St. Moritz in the form of the Alpine Eagle. Its release garnered criticism from those less familiar with Chopard's past. Indeed, many saw it as simply another attempt to jump on the bandwagon of Genta-inspired aesthetics. The release, however, was of great importance for the family-owned brand. For the first time, three generations of the Scheufele family had come together to bring a watch to life.
As you may remember, the young and determined Karl-Friedrich Scheufele had convinced his reluctant father to release the St. Moritz as the brand's first steel sports watch in 1980. This time, however, Scheufele had found himself on the receiving end of paternal persuasion. Back in 2014, his son Karl-Fritz discovered an example of the St. Moritz on his desk. After wearing the watch for days, he became enamored with its styling and practicality, and he posed the idea for a revamp to his father. Karl-Friedrich was indeed quite skeptical, just as his own father had been in the late '70s. After all, the St. Moritz design had become so iconic for the brand, it seemed untouchable. So Karl-Fritz sought the help of his grandfather, Karl Scheufele III. Together, they re-imagined and prototyped a new St. Moritz for today's market.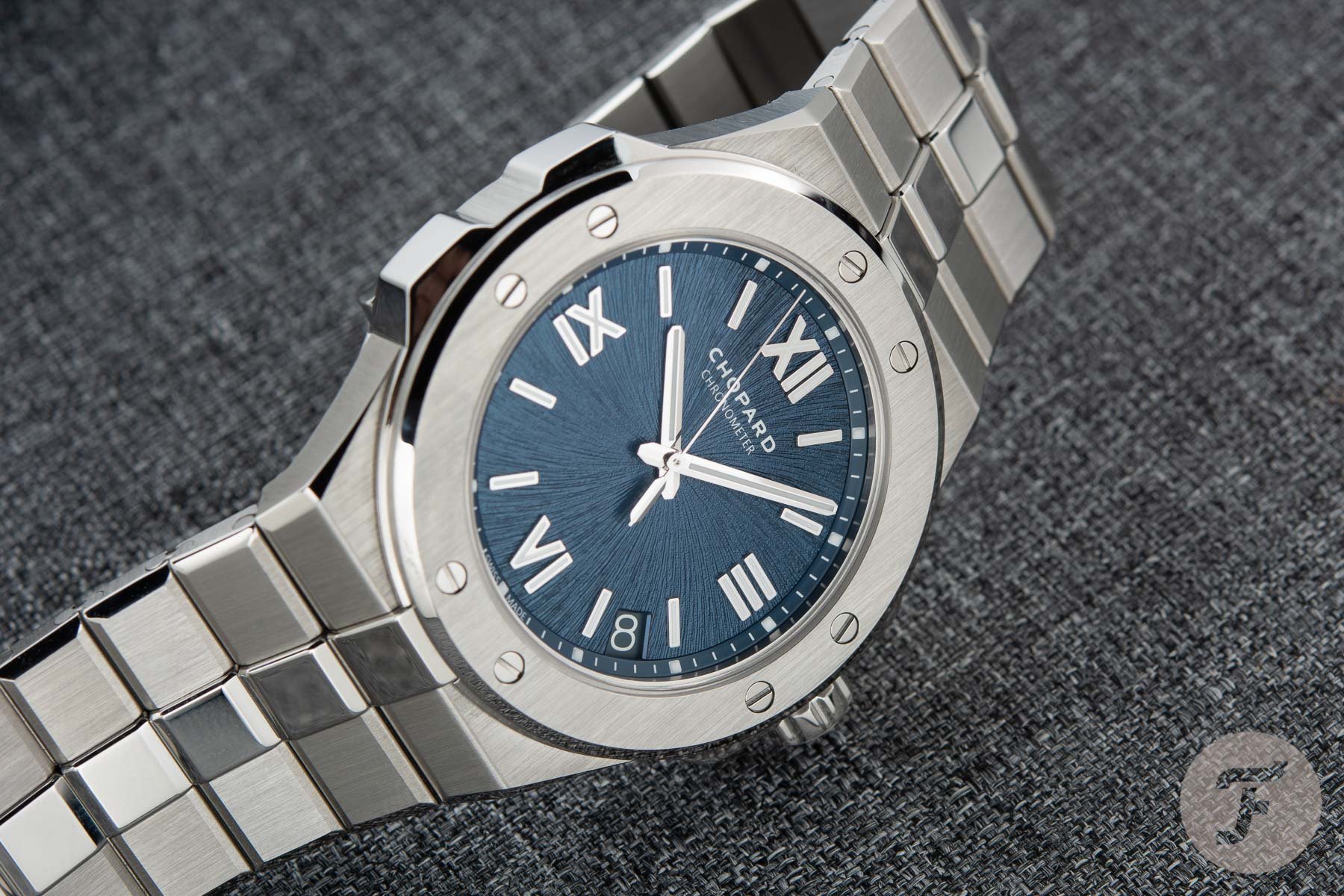 A family affair
Upon seeing the updated design, Karl-Friedrich understood his son's vision. The new, intriguing dial drew inspiration from an eagle's iris. The watch's angles were sharper and more modern. The design had potential indeed. Not only that, his son's vim and vigor truly mirrored his own from 40 years prior. Recalling how much it had meant to him when his own father approved the St. Moritz, Karl-Friedrich gave his son's design the green light. Thus, three generations of the Scheufele family began a four-year journey to bring the Alpine Eagle to life. Along the way, the brand even developed a new stainless steel alloy that debuted with the model. Equipping the watch with a COSC-certified in-house caliber, Chopard launched the Alpine Eagle in 2019.
While not an L.U.C release, the Alpine Eagle was nevertheless an important marker on Chopard's historical timeline. As a family-owned brand, Chopard cherishes the intergenerational collaboration that defined the model's journey to production. To learn more about the Alpine Eagle, check out RJ's in-depth review here.
Commemorating 25 years of Chopard Manufacture
At the time of writing, Chopard has just celebrated its 25th year as a true manufacture of high horology. To mark this occasion, the brand has once again released a first in its lineup: a watch with a jump hour complication. Though Chopard Manufacture has produced an amazing array of complications in its relatively short history, it had long been Karl-Friedrich Scheufele's dream to produce a watch with a jump hour. This complication is not only fairly uncommon in modern watches, but an engaging and extremely satisfying one to behold if executed properly. 2021's L.U.C Quattro Spirit 25 is everything about the jump hour done right.
As a majority of jump hour watches on the market have the hour window at 12 o'clock, the wearer can quite easily miss the transition between hours as the minute passes over it. This ultimately renders the complication quite useless. The Quattro Spirit 25, however, with its hand-filed framed hour aperture at six o'clock, allows the wearer to never miss that most magical moment. The solid gold base dial has been expertly finished in white grand feu enamel.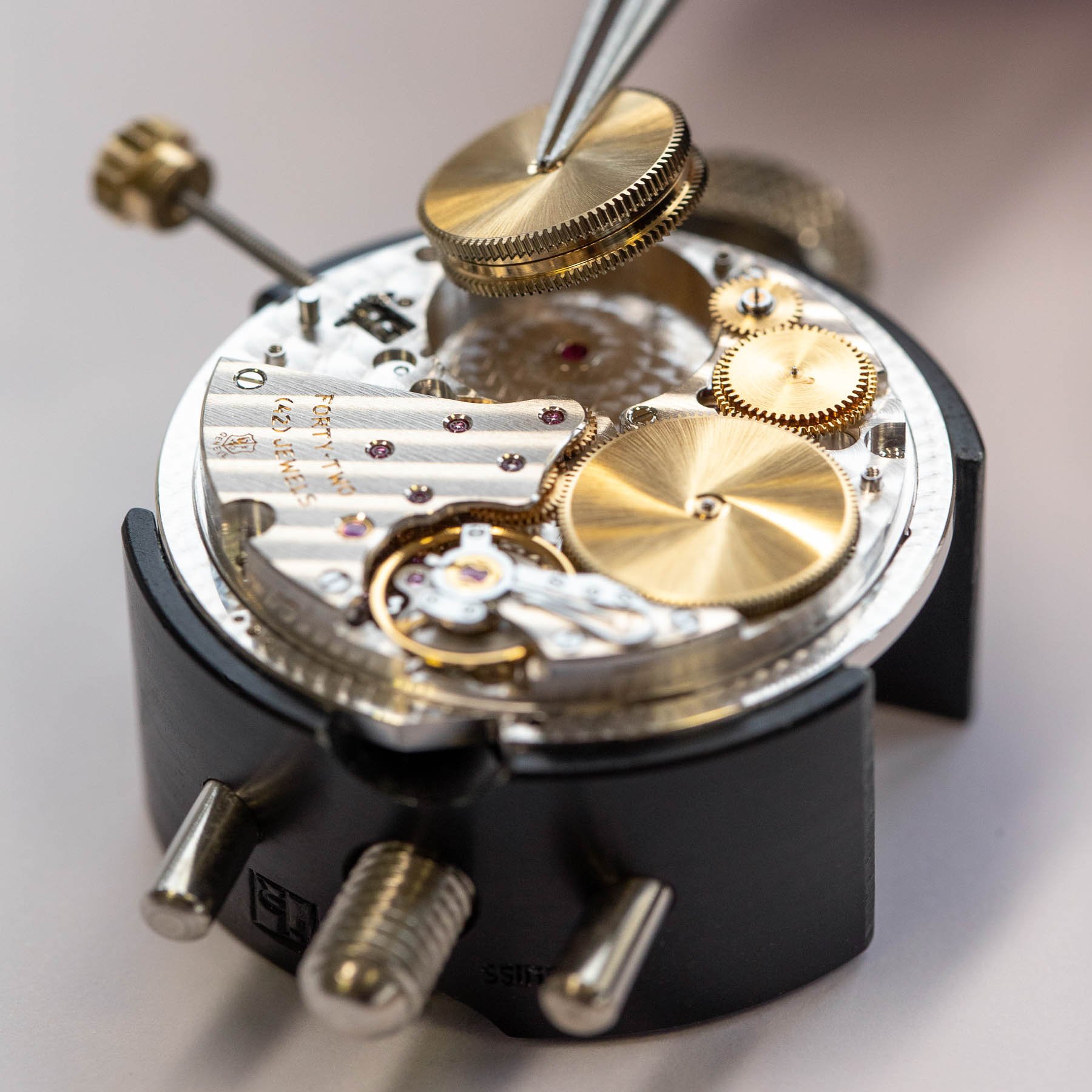 At the heart of the watch is the new L.U.C caliber 98.06-L, a 42-jewel, four-barrel, manually wound movement. Based on the original Quattro caliber 1.98, it has up to eight days of consistent power reserve. This 192-hour capacity is perfectly suited to a jump hour complication, which requires a large amount of energy to instantaneously rotate the hour wheel 24 times a day. As is standard practice with all L.U.C calibers, the 98.06-L is chronometer-certified. It also bears the Geneva seal. Produced as a limited edition of 100 pieces in rose gold, the Quattro Spirit 25 features a modern case size of 40mm in diameter and 10.3mm in thickness.
All this, and still…
Most of the watches featured in this article represent historic firsts for Chopard as a manufacture of high horology. Despite such great accomplishments, Chopard's watches still somehow remain undervalued in the secondary market. The results of the brand's quest for true vertical integration are now even trickling down into its more accessible lines. Since 2015, even some models in the Mille Miglia line, such as the GTS Power Control, have in-house movements. Thus, even if you don't have a lavish watch budget, there is still a good chance you can find an incredible Chopard for a relative steal.
We thank you for taking the time to explore the historic Chopard Manufacture with us. We hope that this series has given you a new appreciation for the brand's heritage, accomplishments, and of course, its watches. If you have any personal favorites from the lineup that we didn't cover here, drop them in the comments below and let the Fratelli know. Let's not allow this well-kept secret of a brand to be too well-kept for much longer!
Find out more about the brand and explore its catalog by visiting Chopard's website here.