A Closer Look at a Bell & Ross Classic: the Vintage 123
When thinking of Bell & Ross many relate the company to the popular and conspicuous designs of the BR "Instruments." It is pretty obvious that these square watches were responsible for exploding the manufacturer's popularity, but Bell & Ross was very active even before the BR timepieces existed. Bell & Ross had built a solid collection of more traditional watches, of which one of the best sellers was the Vintage 123. The Vintage 123, attracted many watch enthusiasts thanks to its palpable high quality, simple and clean design, and great value. These are all reasons why it is still in demand today.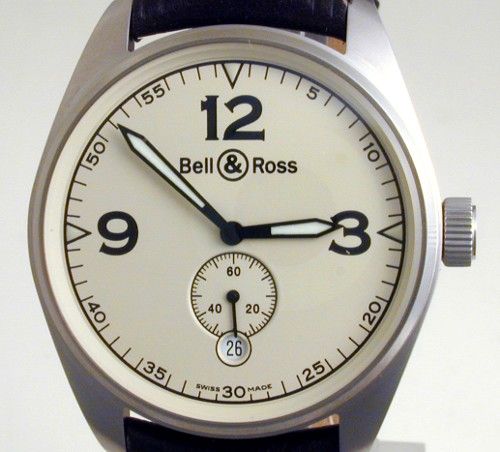 Presently the Vintage 123 is attracting many clients, albeit different from those who are attracted to the BR Instruments. The first aspect about the Vintage 123 that captivates watch enthusiasts is its purity. The watch is well designed. It is simple and clean without any frills and the same is also apparent on the movement's elements within the case. The stainless steel case is 39mm in diameter. Some may consider this small by today's standards, but if you can easily picture yourself wearing a Rolex Submariner (39-40mm) or an AP Royal Oak (39mm), then you will not. Vintage is an apt name when considering the watch's sixties-like, minimalistic, classic style. The dial is also styled in accordance to the name. The hands and hour markers in particular.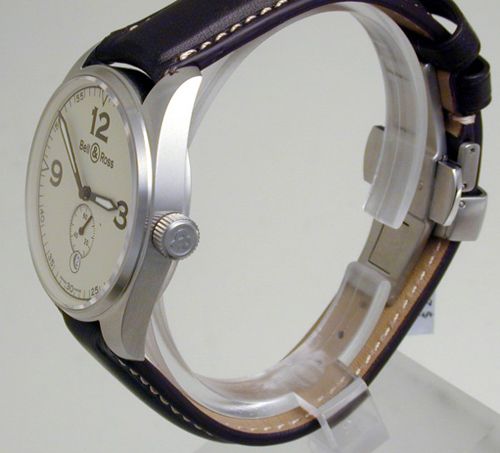 Aside from the style, the other aspect that attracts many to the Vintage 123 is the quality of the watch. The best way to appreciate the quality is to take a close look at the details. The brushed finishing on the case is evidently done by hand with visibly unidirectional grooves and well defined corners. The back of the case displays deep, sharp engraving for both the company ampersand logo and the case markings. Through the sapphire crystal window, the same quality engraving and finish can be witnessed on the movement. The crown screws in easily and feels quite solid, and the 100 meter water resistance rating is a testament to the cases durability. Another nice feature is the 'deployante' clasp that is fitted to the leather strap. It is comfortable and sturdy and protects the leather from creasing too much.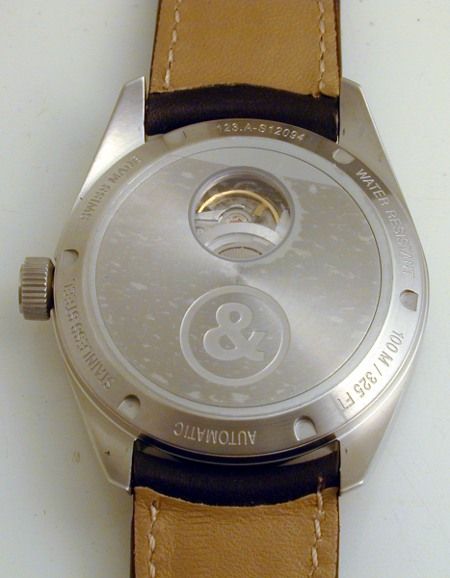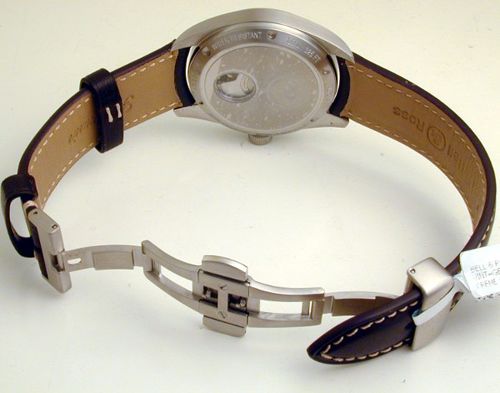 The Bell & Ross Vintage 123 is not an attention grabber. Unlike its young BR cousins, it is content with looking sharp in a quiet way. When wearing it you are likely to receive the majority of compliments from those who are knowledgeable about watches, and the exhibition window on the case back can be used to impress the others. The Vintage 123 is the definition of "classic" and at the same time demonstrates that to be classic, something must stay fashionable indefinitely.
Written by Marco, a specialist of Bell & Ross watches at Matt Baily.