A Hitchhiker's Guide to Omega's Exclusive Gold Alloys — Moonshine, Sedna, Canopus, and Bronze Gold
A free ride to space and back
It must have been a lifetime ago (or it certainly feels like it) when RJ first sported a Speedmaster in full-gold armor on his wrist. My instant reaction was, "Wow, that's lit." In that moment of unexpected infatuation, gold watches for men changed forever for me. Fast forward to last week when I saw RJ's Instagram post of a roll of gorgeous gold Moonwatches. Interestingly, those feelings of awe somewhat evolved into inquisitive curiosity. Moonshine Gold? What is that, exactly? And there's also Sedna Gold, Canopus Gold… The rabbit hole thence emerged.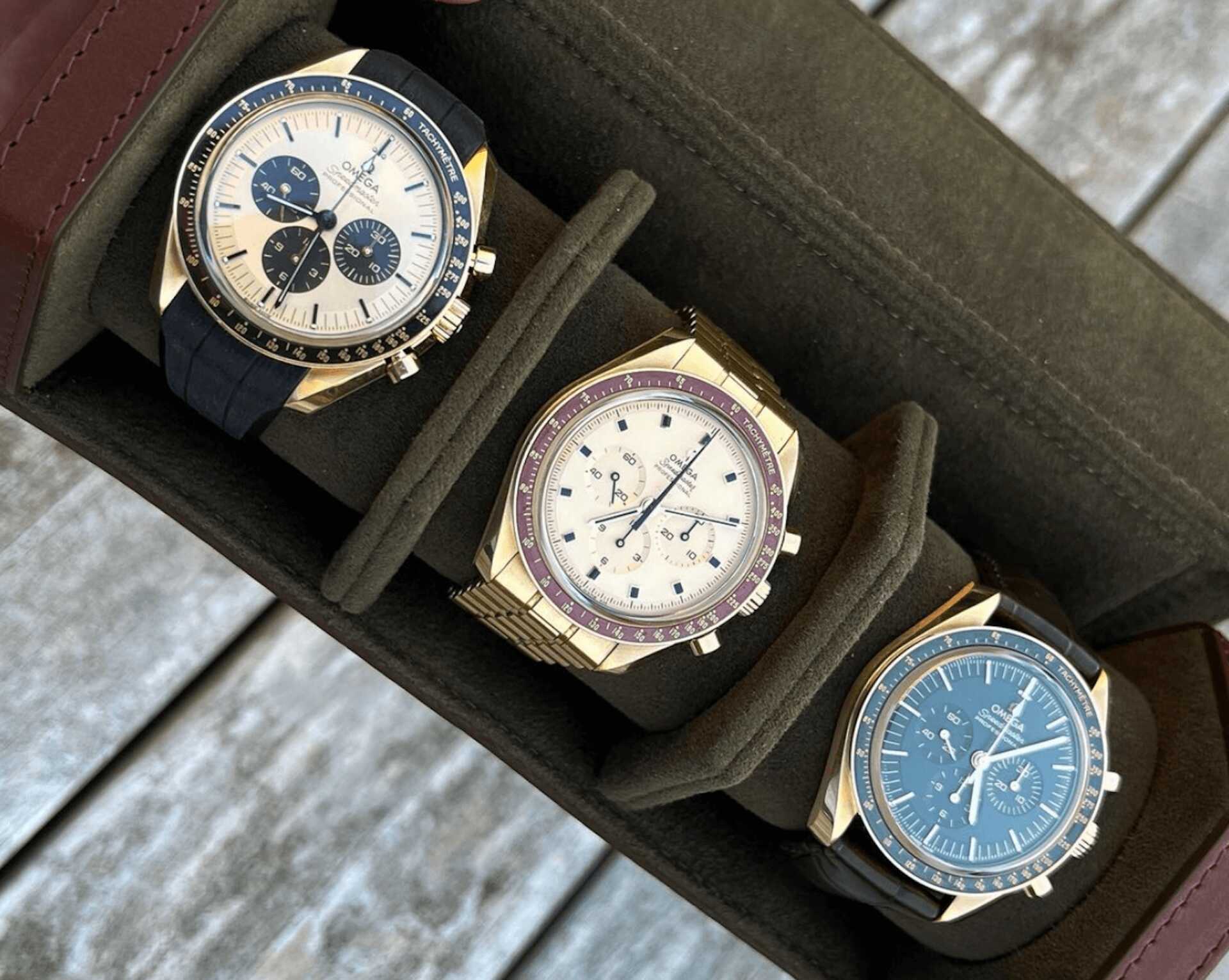 Let me rewind a bit to my mental block. For so long, the ones who flaunted the shiny wrist game were typically the likes of mobsters or rap stars. You remember the "bling era", yes? And the next-level case materials for respectable men would become platinum, white gold, and high-tech materials. At least, that was the case in my watch universe. I amused myself by thinking, "RJ is the Fratello gangster boss after all, ha." But seriously, that was when I realized that a gold sports watch could look so "right" on a down-to-earth family man.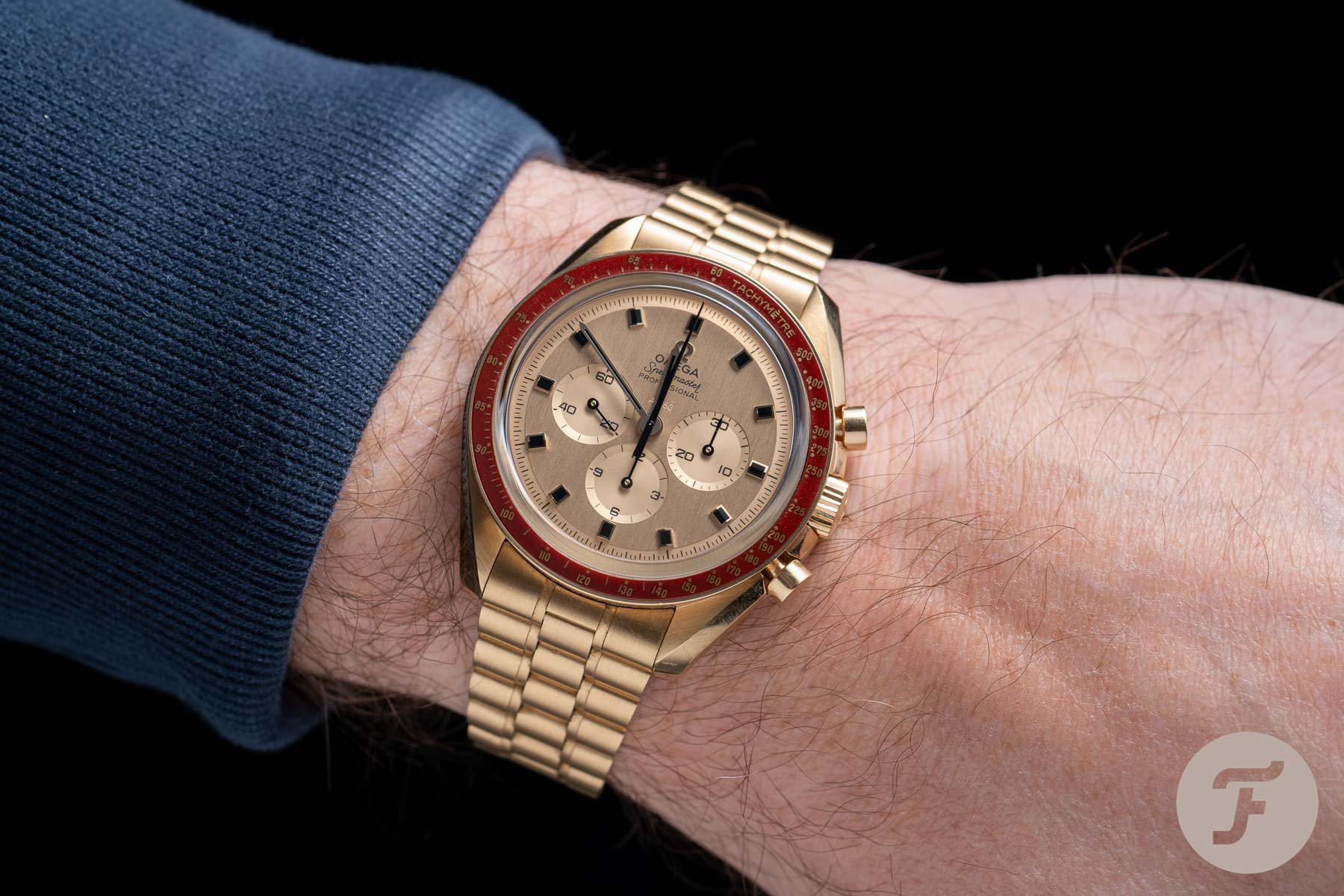 The new golds
Of course, gold was gold back then, as in 18K yellow gold, which contains 75% pure gold. That is the ultimate standard in the industry for its perfect balance between purity and strength. Pure 24K or even 22K gold is too soft to use in watches and most jewelry making, so it needs to be blended with other metals. Rose gold and white gold in turn got marketed as the "classier" options. Still, they are ever-present enough to offer a sense of value. Last year, when Omega re-introduced gold editions into the regular Speedmaster Professional collection after an almost decade-long absence, things got too fancy for me to decipher. What were all these outer-space-sounding versions of gold?
I contained my inquiring mind long enough, until the aforementioned IG post. That was it. It was time to hitch a ride to the Moon and travel down the rabbit hole with some of our hands-on insights. Once you start digging, you find out that Omega has its own metallurgists to create exclusive alloys, including these proprietary gold materials. And yes, their names do have planetary connotations!
Sedna Gold
First forged into the Constellation and, more recently, the gold-on-gold Speedmaster Moonwatch and the Seamaster Diver 300M Chronograph, this 18K rose gold has a rich rosé wine color. The Swatch Group developed this alloy entirely in-house and named it after Sedna, one of the reddest orbiting planetoids in the solar system. For those geekier than me, Sedna is a "Trans-Neptunian object", a dwarf planet found orbiting our sun further beyond Neptune.
To live up to its name, Sedna Gold incorporates a precise (but secret) amount of more than 20% copper into a minimum of 75% gold for its vibrant color. It also contains more than 1% of palladium to strengthen the luster and keep the red hue longer-lasting. Omega has been using Sedna Gold since 2012. As RJ noted here, "Especially in low light conditions, the Sedna gold is really red." Mike even calls it "juicy!" Click on the embedded links for more first-hand experiences with the material.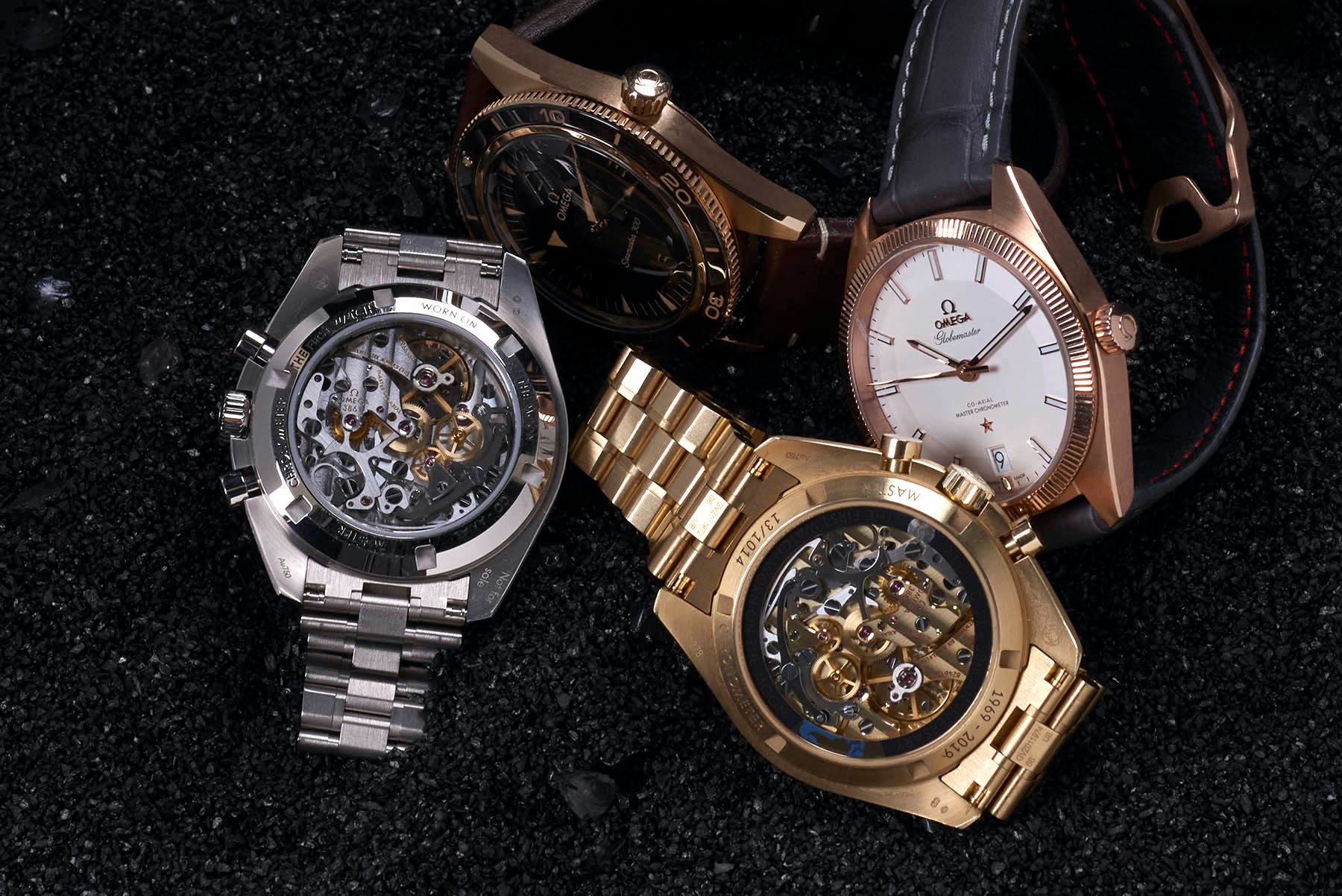 Canopus Gold
According to Omega, Canopus Gold is its proprietary 18K white gold alloy that has been in use since 2015. And of course, it is the special material that sends the new Speedmaster Moonwatch to the top of the line. In addition to the noble characteristics of other 18K white golds, Omega's Canopus Gold has a gleaming grayish silver hue. Its namesake, Canopus, is the second most luminous star in the sky, but it is only visible in the Southern Hemisphere and below the 37th parallel north. It is more than 70 times bigger and 10,000 times brighter than our sun. Its blazing brilliance has been an important reference for sea and space navigation, and it is now the inspiration for Omega's white gold alloy.
This exclusive metal has an undisclosed formula of a minimum of 75% gold, 20% palladium, and 1% platinum, as well as > 1% rhodium for its whiteness and durability. In another review, RJ explains that Canopus Gold may look like steel "to the untrained eye… But the moment you put it on the wrist, you know that it's not… [The weight] keeps you constantly aware you are wearing something precious."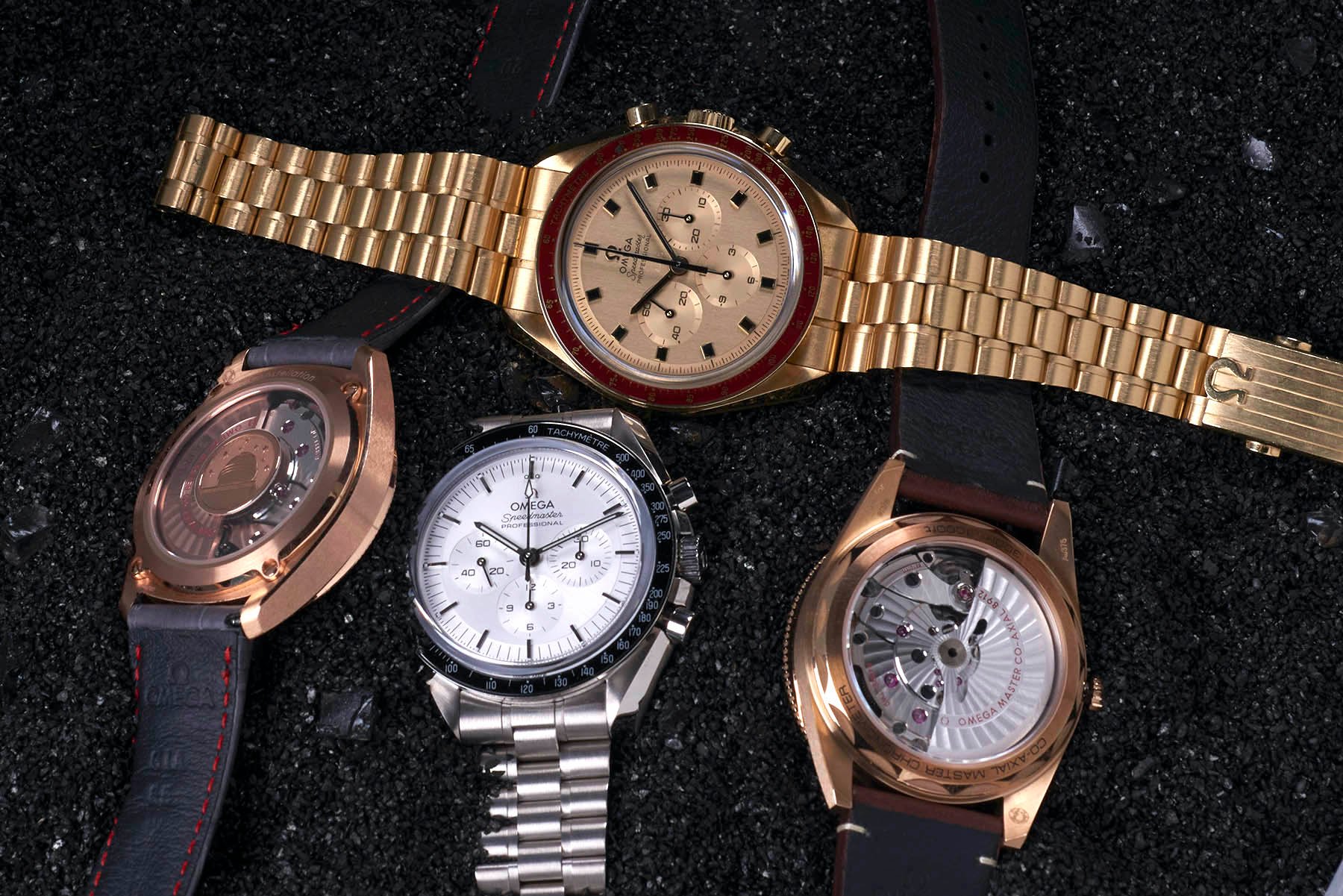 Moonshine Gold
As I said earlier, even Omega's yellow gold is not simply 18K yellow gold as we know it. Omega debuted its new 18K yellow gold alloy, Moonshine Gold, in 2019. The inspiration for this one is much closer to home — our own Moon. As such, it is decidedly fitting for the Moonwatch to make a comeback in yellow gold with a twist. Moonshine Gold has a paler shade than traditional 18K yellow gold to distinguish its own special standing. It consists of a minimum of 75% gold, 14% silver, 1% palladium, and less than 9% copper. This unique recipe enhances the longevity of its color and luster, but it also offers a cooler golden hue akin to shining moonlight. Well, unless you wear it in glaring sunlight, as Lex found out with the Speedmaster Professional Moonshine Gold "Panda". He says, "It turns the soft, vintage-like hue of the Moonshine Gold into a warmer color tone. It's not as strong as yellow gold and not as bold as rose gold, but it's classy and luxurious in a soft-spoken way."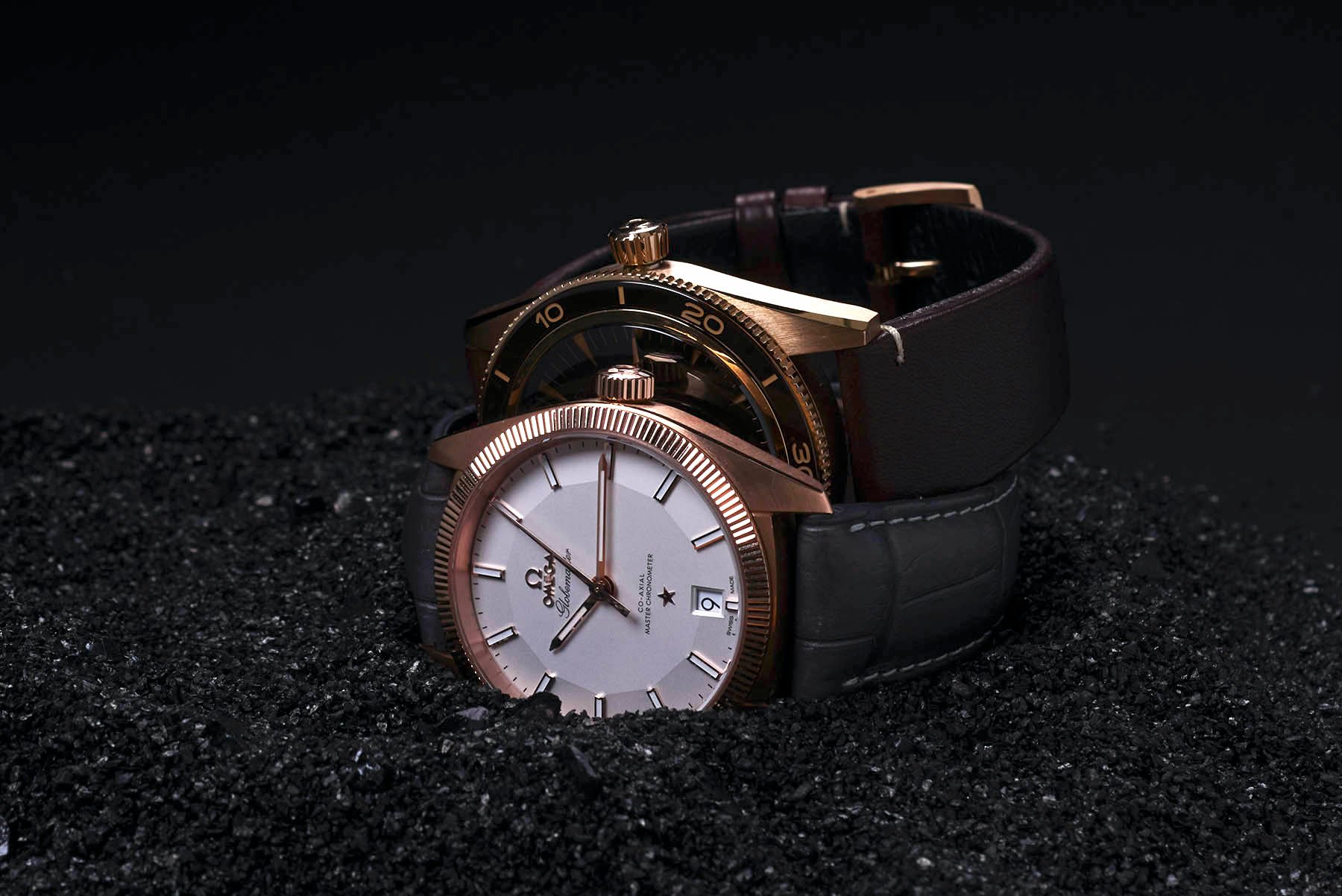 Bronze gold
The latest innovation in the Swatch Group's lab of alchemy is the patent-pending Bronze Gold alloy. The Seamaster 300 and the most recent Speedmaster Chronoscope have already been blessed with this striking new Bronze Gold look. Finally, bringing our imagination back to Earth, the name of the material says it like it is. This new proprietary alloy aims to elevate humble bronze from its conventional form to a somewhat-precious metal. Its composition includes 50% copper and 37.5% gold, which is classified as 9K gold. Blended with more than 5% silver and a small amount of gallium, the bronze gold has a one-of-a-kind color that sits somewhere between Sedna Gold and Moonshine Gold. As per RJ, "It's less coppery and more yellow." As with the other alloys above, a small percentage of palladium is added to make the color more luminous for longer.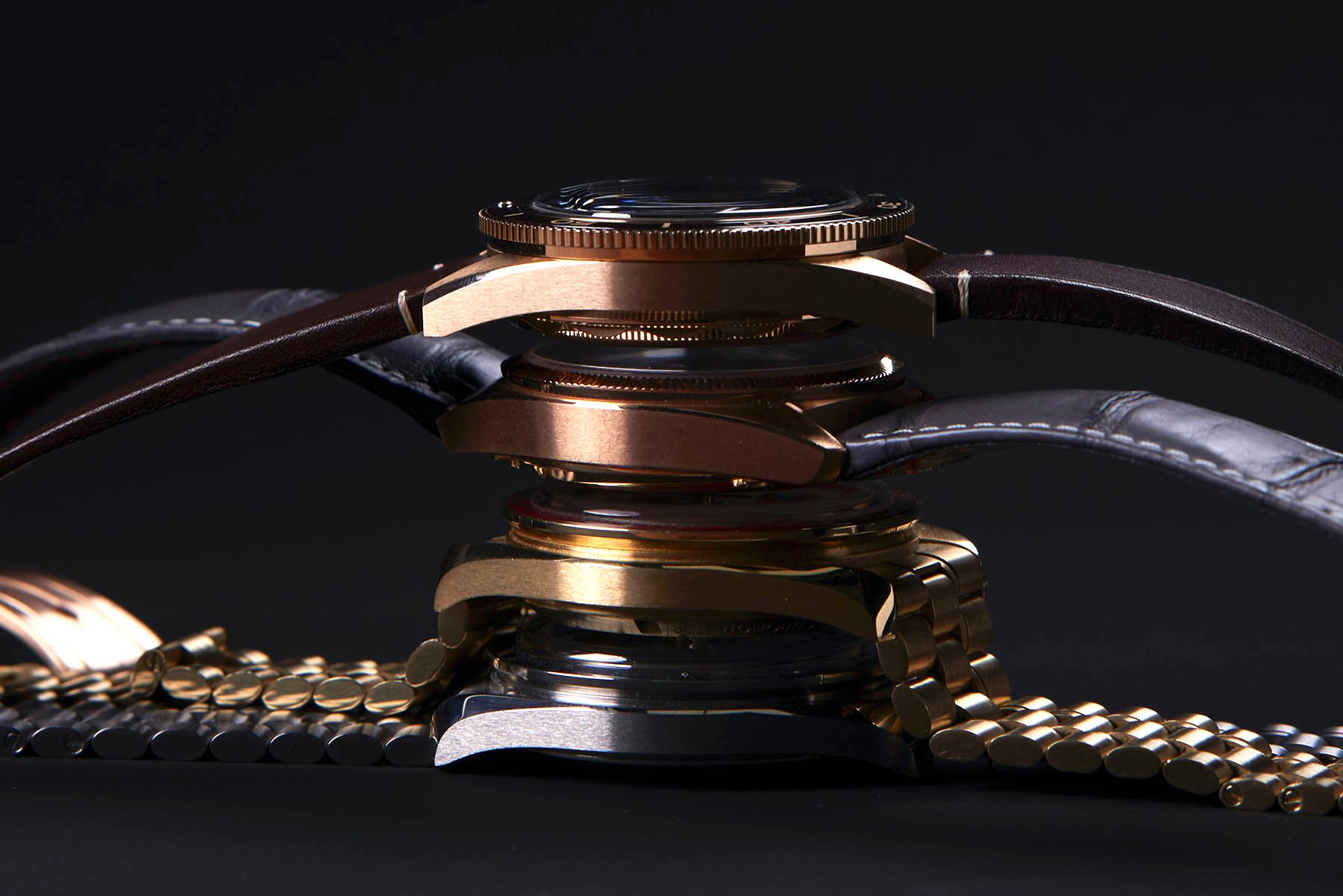 And if you're wondering about the natural patina that bronze should develop, fret not. Omega's Bronze Gold still ages and retains its beautiful brown patina but over a longer time compared to "regular" bronze. This also underscores the alloy's exceptional resistance to corrosion and verdigris oxidation. Best of all, this new formula renders the alloy hypoallergenic. Thus, an entire watch including the case back and the buckle could all be made of the same material for a full Bronze Gold look.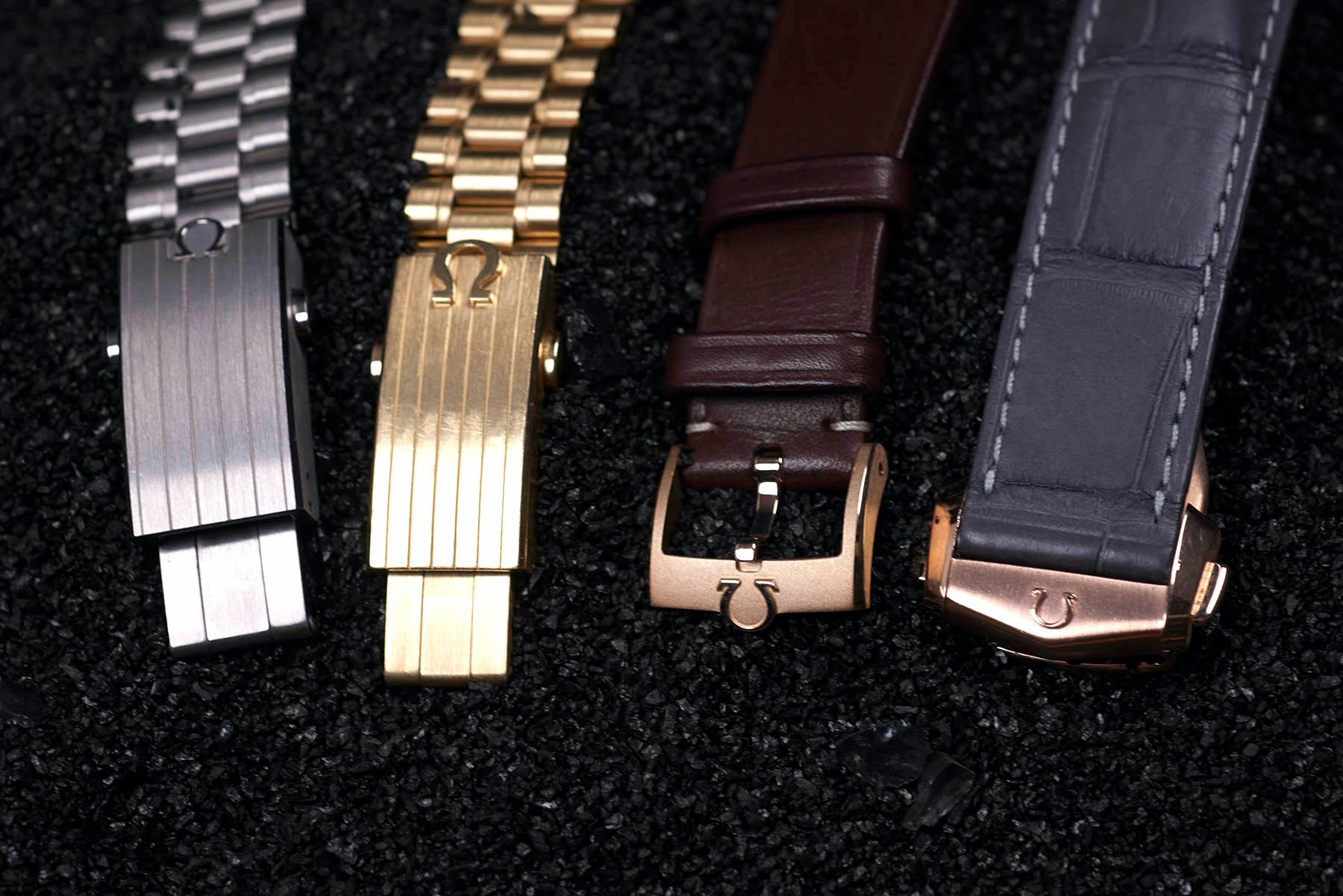 Back to base
That was fun — a free ride with our team's reviews for a space tour with Omega and back. Now I have a better idea as to what those cosmic names constitute. These exclusive materials no doubt give Omega an opportunity to offer watches with unique characteristics. These alloys also show up as materials in hands, applied elements, bracelets, clasps, and movement components. Next time you see them being used, you will have a few pointers to associate the added value to the timepiece.
For more information, visit Omega's official website.