Why The A. Lange & Söhne 1815 Chronograph Is My Favorite Dress Chronograph
A pink gold chronograph with a black dial. To me, that's the perfect combination for a chronograph that can be worn during diners, on formal occasions but perhaps even with a nice pair of sneakers and a polo shirt. The A. Lange & Söhne 1815 Chronograph in this article is not entirely new, but this combination of pink gold and black was introduced to us in Geneva, earlier this year. Actually, this combination already existed in 2004. Be it that the subdials were done in silver/off-white, a reverse panda dial if you wish. The 1815 chronograph changed a bit over time, like a slightly larger case (and with slightly I mean slightly, just 0.5mm) and an update on the movement. The current movement is Lange's calibre L951.5 and has a power reserve of 60 hours. At the time of introduction, the 1815 Chronograph used Lange's L951.0 movement, with a much lower power reserve of 36 hours.
Let's have a closer look at this beautiful watch from Glashütte.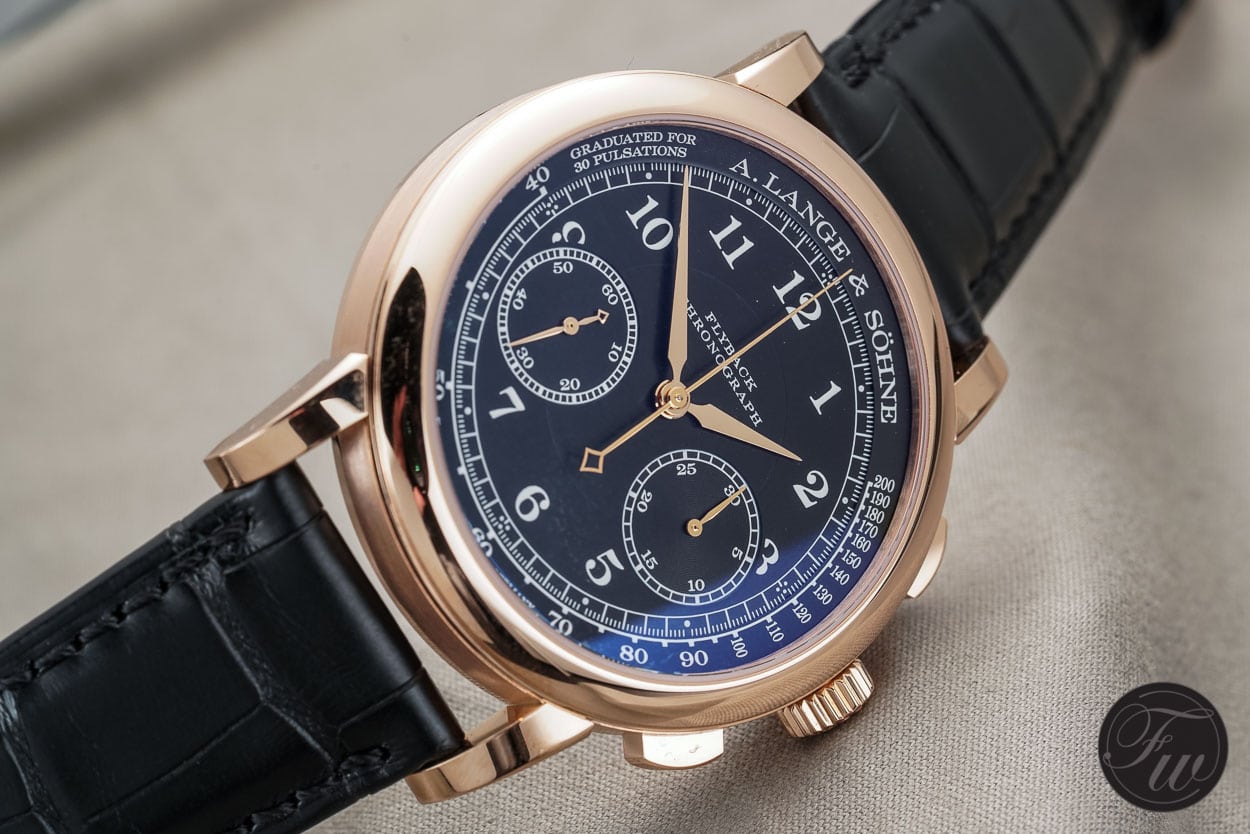 A. Lange & Söhne 1815 Chronograph
I was already familiar with the 1815 Chronograph, of course. However, I only have the opportunity to handle this kind of watches during events with A. Lange & Söhne, during SIHH or when we have a watch from them for review or a photoshoot. It is always under 'stress' or at least time pressure. A few years ago, I was invited by A. Lange & Söhne to join them at Lake Como in Italy, for the prestigious Concorso d'Eleganza Villa d'Este. This is where my friend and colleague Ben Clymer showed me his personal 1815 Chronograph. Sitting on the grass at Lake Como, circumstances are much more relaxed to really study a watch and absorb it. I am not sure he still has it today, but Ben's watch was the first generation of the 1815 chronograph. In white gold, with a silvery white dial. The watch made a lasting impression on me for sure.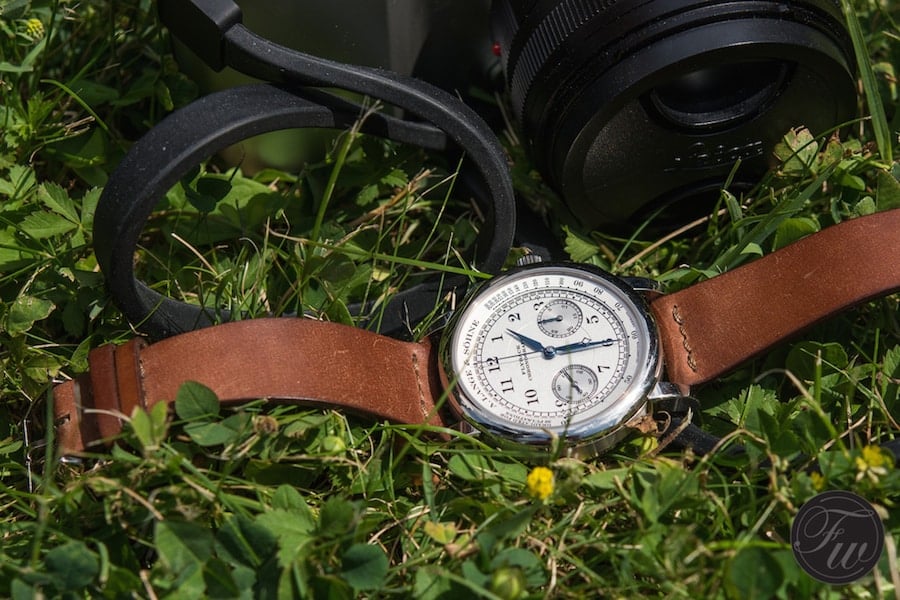 1815 Chronograph Movement Caliber L951.5
As written above, the use of a black dial and pink gold for the case and hands isn't new for the 1815 Chronograph. Although I think there's little wrong with a reverse panda dial, the all-black dial in the pink gold A. Lange & Söhne 1815 Chronograph does make the watch chicer. I used to own a vintage chronograph with a pink gold case and a black dial, with a Landeron 248 movement by a long-gone brand called Titus Geneve. The watch was cheap in its construction (very thin hollow case) and the dial showed quite some patina, but I just bought it because I loved the looks of pink gold and black. The A. Lange & Söhne 1815 chronograph in pink gold with black dial is far from cheap of course and it ranks among the best in the world, in my book.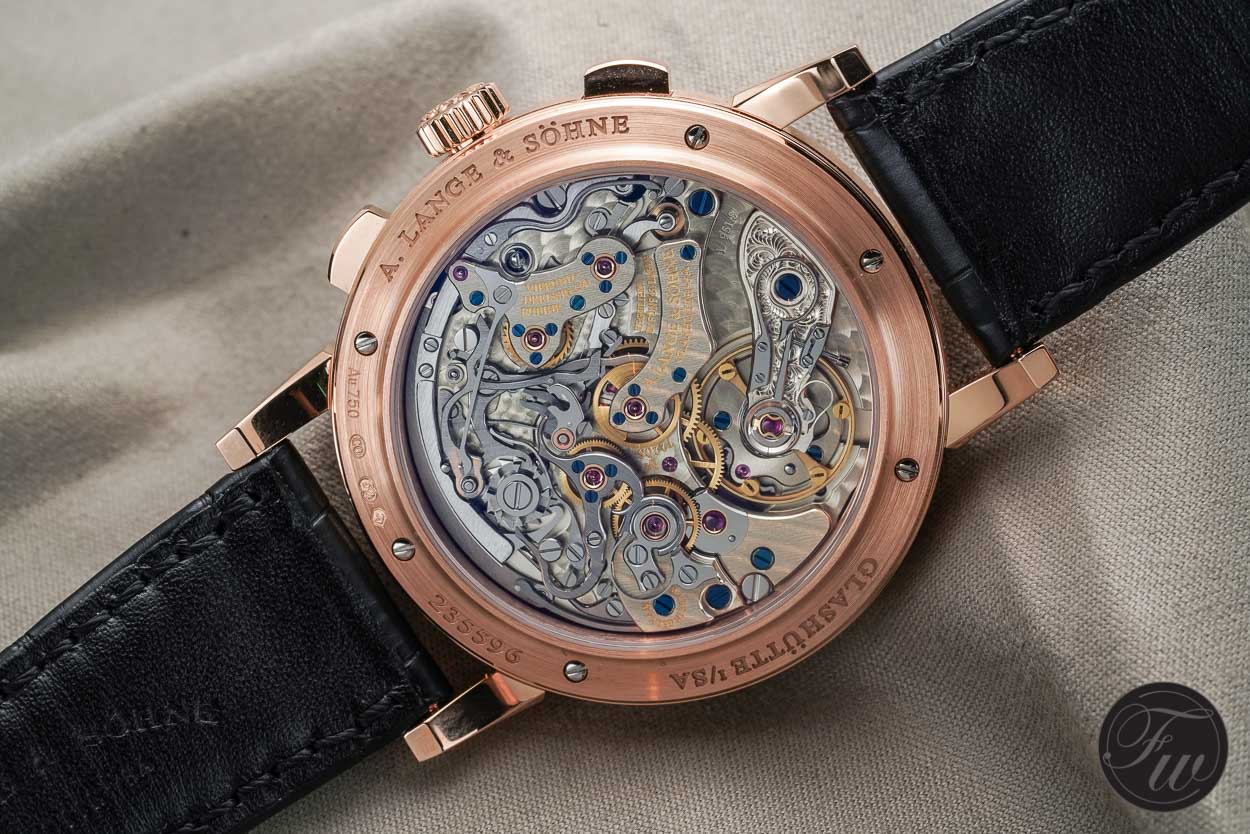 A. Lange & Söhne is one of the few brands that actually accomplish to make a watch equally beautiful on both sides. This is quite an achievement, as I feel many brands have to make a compromise here. Either their movement is brilliant and their overall design is lacking or vice versa. Only a few brands master this. A (chronograph) movement from Lange shows so much depth, it makes you want to become really small (a Honey I shrunk the kids kind of situation) and take a walk between the beautifully finished components there. The use of German Silver, the hand-engraved balance-cock and the incredible finish on the all the different parts is just breathtaking. In this case, the contrast of the German silver and the pink gold case makes it even more impressive I think.
This calibre L951.5 movement consists of 354 parts and measures 30.6mm in diameter and a height of 6.1mm. The height of this 39.5mm watch itself is 11mm which allows the depth of the movement. This slow-ticking movement (18.000vph) is simply an eye-catcher on its own. It is – of course – a column-wheel movement and also has the flyback function.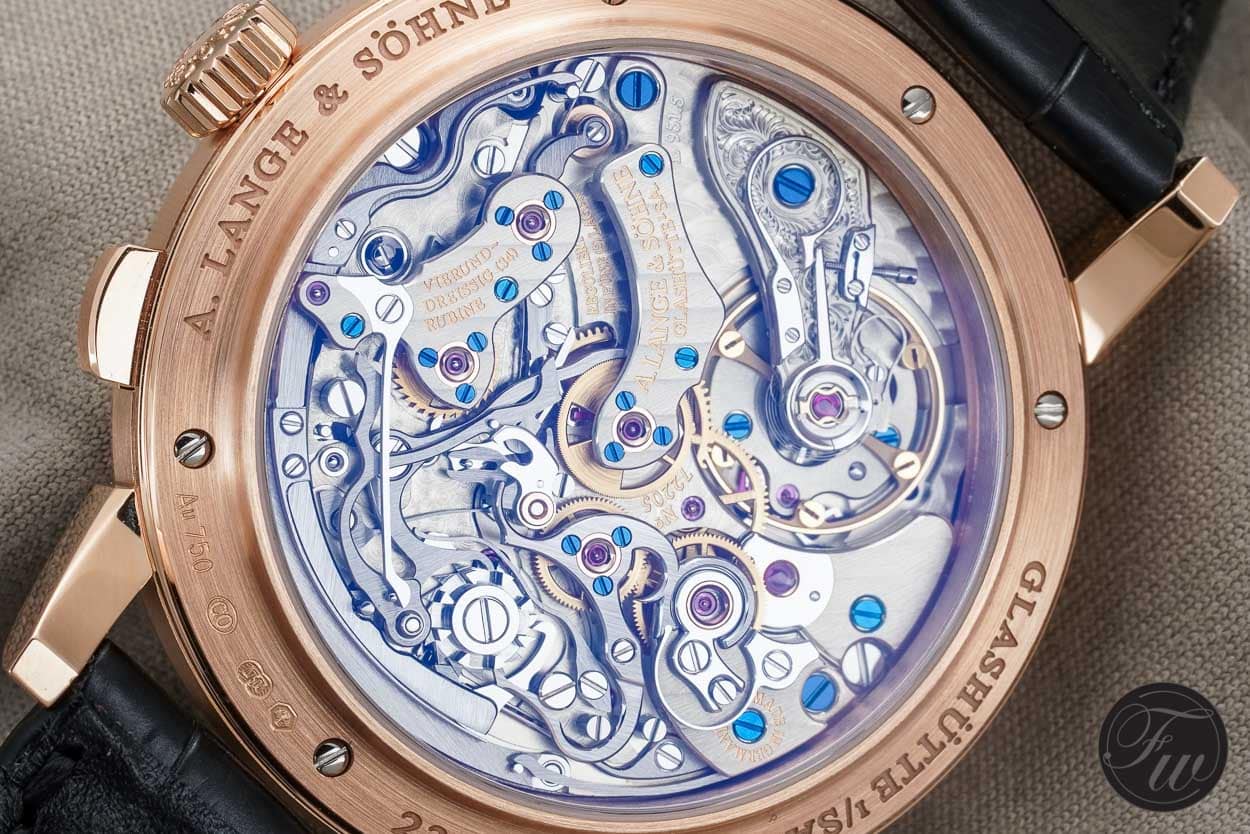 Pink Gold Case and Black Dial
At first, it is a bit strange to see a chronograph with this particular layout. However, it has been there for over a decade, so one gets used to it I guess. If you think of it though, it is quite an interesting approach to decide that the subdials need to be aligned this way. The use of just two subdials isn't so strange of course. In the past, many brands used this bicompax layout and since a few years, we see this 'trend' again. For Lange, it was never a trend though, the 1815 Chronograph but also their successful Datograph (chronograph and big date) both used these lower positioned two subdials from the start. Respectively in 2004 and 2006.
On the dial we find 10 Arabic numerals, the 4 and 8 are sacrificed for the two subdials. Then, around the dial, you see the pulsations scale. Graduated for 30 pulsations, it says. Which means you need to feel puls, count 30 of them and then you can read the pulse rate from the scale. The chronograph is operated by two gold pushers, located at 2 and 4 o'clock, where you'd expect to find them basically. The shape of the pusher is rectangular and to me, this already refers a bit to the watch being a dress watch. This has to do, valid or not, with the level of water resistance. Sure, you can make a watch with rectangular pushers water resistant, but somehow I just associate this shape with that of a dress watch chronograph. The large signed crown is of course for setting and winding the movement.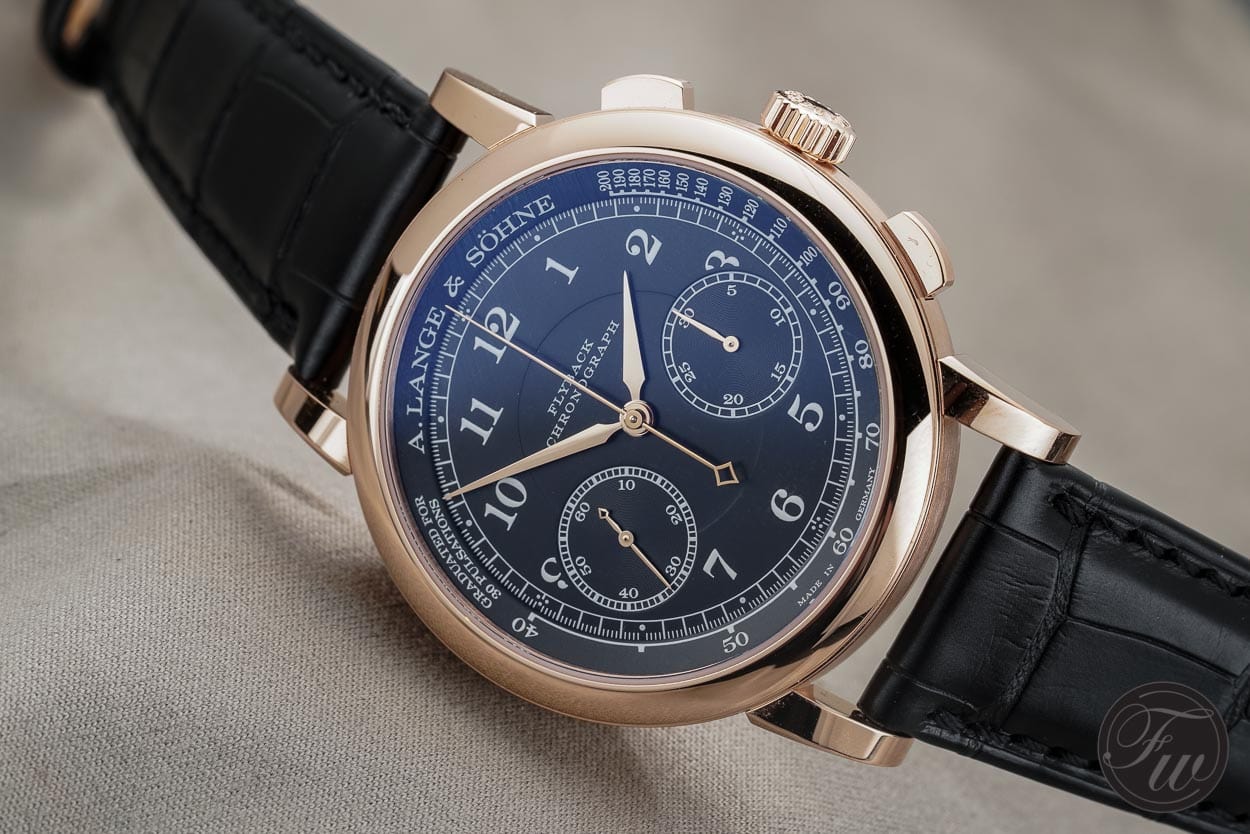 All 5 hands are pink gold and have this sleek and elegant design. Both seconds hands have this small diamond-like shape on the short end, while the hour and minutes hand have this lance or Alpha shape. A. Lange & Söhne is printed on top of the dial, on the rehaut you could say. Below 12 o'clock you will find 'Flyback Chronograph'. I always feel that there is a lot of printing on the dial of a Lange. The Pulsometer scale occupies a lot of space of course, as well as the tracks on the subdials and centre dial. However, all is done in a very elegant way. The typography is beautiful and I don't feel and see the whole ensemble as being cluttered or simply busy. It is well-balanced and makes it a lively dress watch in my opinion, which is quite the achievement on its own. Although the pink gold case 'just' measures 39.5mm – which I happen to find a perfect size for me, despite my relatively large wrists – the lugs extend it a bit. So it fits my wrist perfectly, and those of many others I am sure.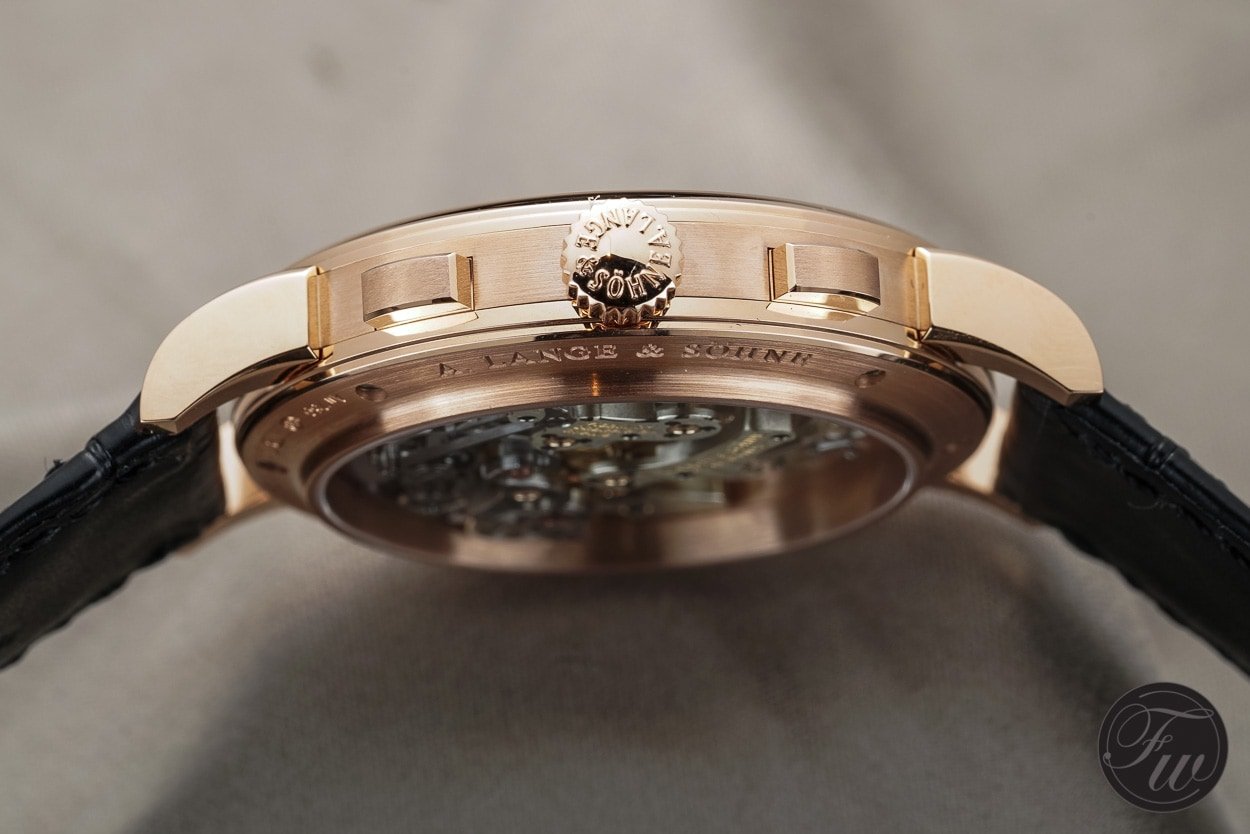 Some Thoughts
A. Lange & Söhne introduced this black version (reference 414.031) and one in white gold (reference 414.032), with a silver dial. Both versions have the same specifications and price, €49.000,-. My choice would be the pink gold version, with the black dial. Where the white gold version is perhaps an understatement watch, the pink gold with black dial makes it really chic.
At this moment, I can't think of any other high-end watch that I find more beautiful as a dress chronograph. Beauty is in the eye of the beholder of course, but the design is amazing, on all levels. The case design is very sleek and elegant, perfectly sized. The black dial with the contrast of the pink gold hands and the subtle printing of the scales and numerals and then there's the incredible fly-back chronograph that, as I wrote above, makes you want to dive into it.
To be honest I would the first version, in pink gold and with the black dial with off-white subdials as my second choice. These watches simply look stunning, and I feel there's nothing wrong with showing a little pink (or yellow) gold these days. You don't always have to be under the radar.
More information via the official website of A. Lange & Söhne, here.