A. Lange & Söhne 1815 "Homage to Walter Lange" – First Look
When Anthony de Haas (Director of Product Development at A. Lange & Söhne) started his job in Glashütte in 2004, he was welcomed by Walter Lange. Walter Lange explained to him that he would like to see a watch with stop seconds, like his ancestors did for their A. Lange & Söhne pocket watches. Last year, in January 2017, Walter Lange passed away and Anthony de Haas thought of his wishes for a timepiece.
The 1815 "Homage to Walter Lange" is exactly what he would have liked, ensured to us by Anthony de Haas. Walter Lange actually insisted on having a watch like this for a long time. Now, at the SIHH 2018, Lange presented us this watch with stop seconds in a 1815 case with a manual movement. There will be four variations of this watch, three limited editions and one unique piece for a special auction. Details of the auction will be revealed later on this week at SIHH (probably tomorrow evening, Tuesday the 16th).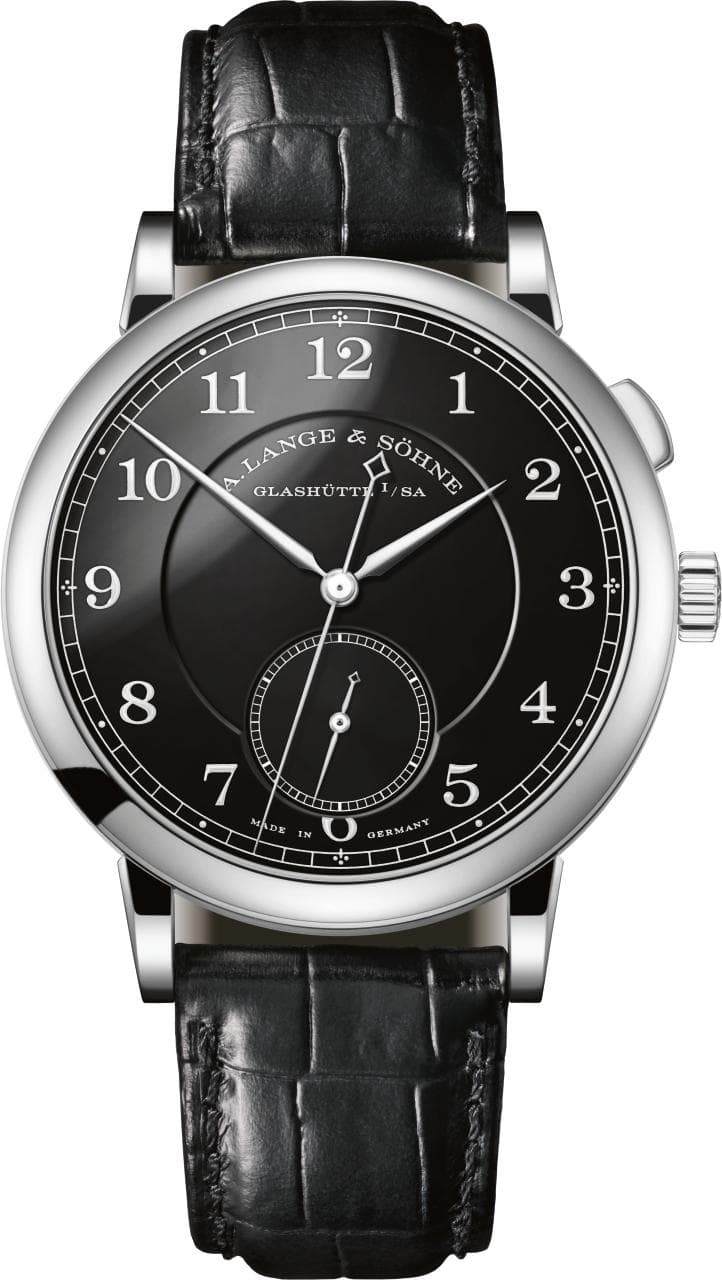 1815 "Homage to Walter Lange"
In this article we have a first look at their 1815 "Homage to Walter Lange". Especially on the three limited edition, the fourth, a unique piece in stainless steel we will cover more intensively when the details about the auction will be made public.
The limited edition 1815 "Homage to Walter Lange" is a 40.5mm piece, available in yellow gold (reference 297.021), white gold (reference 297.026) and pink gold (reference 297.032). All three watches have a beautiful silver argenté dial with blued steel hands and come on an alligator strap with matching buckle.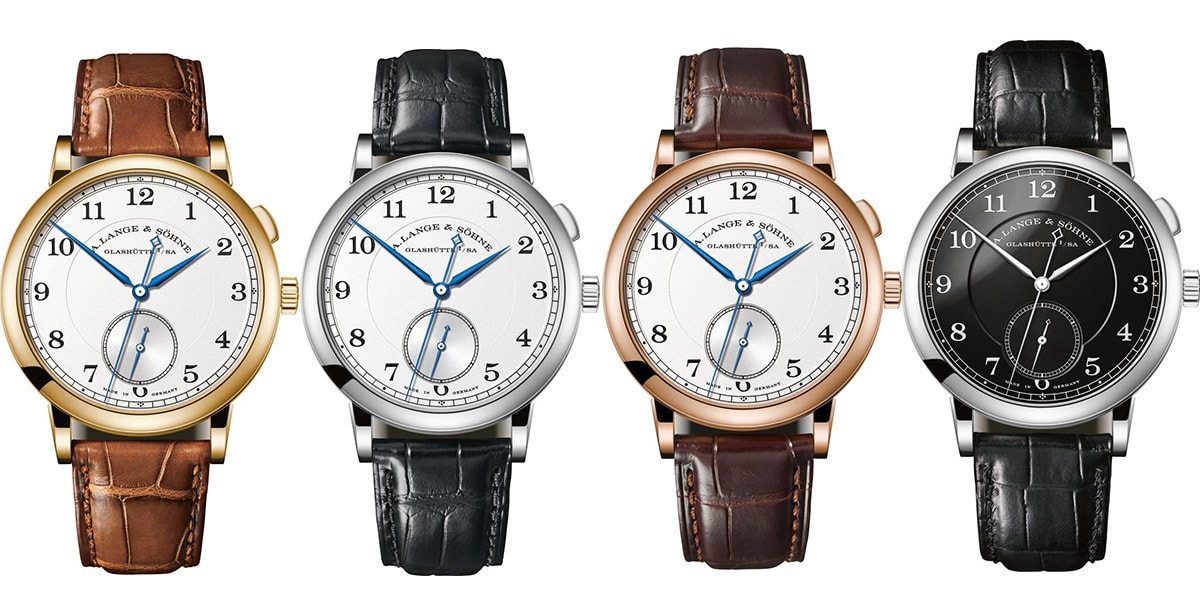 The yellow gold version will be limited to 27 watches, as it took 27 years from the founding year of Lange Uhren GmbH in 1990 and the day that this watch was unveiled (December 7, 2017). The white gold version will be limited to 145, as the company was founded (again) exactly 145 years after Ferdinand Adolph Lange established the company on December 7th, 1845. And finally, the pink gold version is limited to 90 pieces, referring to 1990, the date when Walter Lange founded the Lange GmbH as we know it today. As written above, the stainless steel version with black enamel dial will be a piece unique.
L1924 Movement
The stop seconds, a central second hand that actually 'ticks' per second and can be stopped by a pusher at 2 o'clock. The running seconds are in the sub dial at 6 o'clock. With the stop seconds function, you can simply stop and restart the central seconds hand. There is no reset (chrono) mechanism whatsoever. It remains a bit unclear why Walter Lange insisted on this typical pocket watch functionality, other than nostalgic reasons. Nevertheless, Lange honored this wish and created this complication for their 1815 "Homage to Walter Lange" timepiece. For now, the only image we were able to take of the movement is below. But you will get the idea.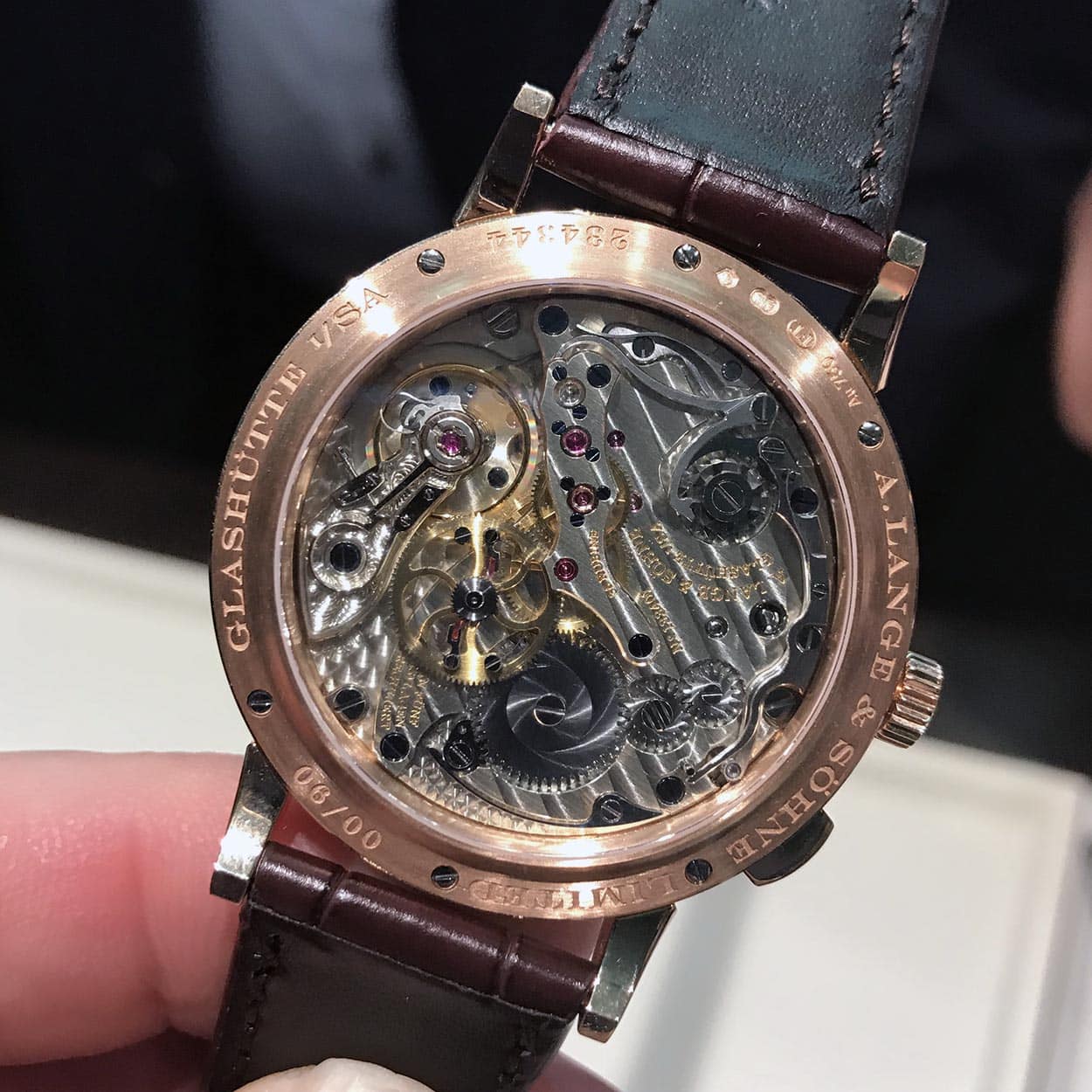 The movement is beautiful as you are used from A. Lange & Söhne. A caliber L1924 movement ticks inside, which is manually wound. It has been decorated and assembled by hand and regulated in 5 different positions. For the plates and bridges, Lange used untreated German silver and the balance cock has been hand-engraved. In total, the L1924 movement consists of 253 parts of which 36 are jewels. It has a power-reserve of 60 hours and the movement has a height of 6.1mm, making the entire watch 10.7mm in height.
Price of the A. Lange & Söhne 1815 "Homage to Walter Lange" is 47.000 Euro, including sales taxes. More information via their website.